Are you ready to put your best foot forward and dive into the world of selling feet pics on Twitter? You might be surprised to know that there's a thriving demand for these unique and niche photographs.
With the growing foot fetish community and the power of social media, Twitter provides an incredible opportunity to monetize your feet and turn your passion into profit!
In this guide, we'll walk you through the step-by-step process on how to sell feet pics on Twitter from the best poses to tax rules for making money on Twitter. Whether you're an experienced seller looking to expand your online presence or someone new to the game, we've got you covered.
From creating an eye-catching profile to building a brand that stands out, we'll show you the ropes to succeed in this exciting and unconventional venture.
To begin, here are the highlights of selling feet photos on Twitter.
How to Sell Feet Pics On Twitter [Key Takeaways]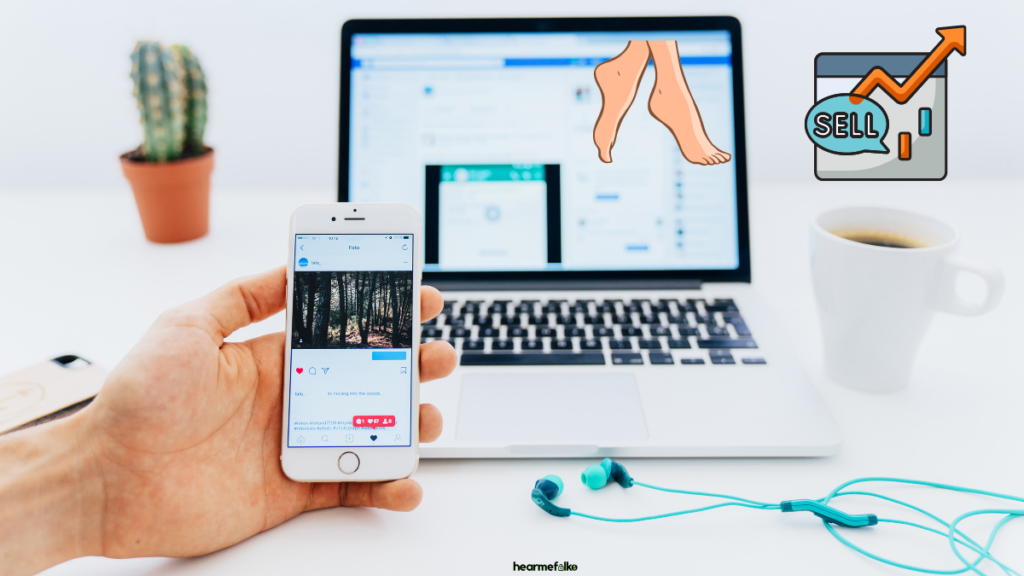 Prepare your feet for photography; pedicures, tattoos, and so on.
Use the proper camera and gear to capture stunning feet pics.
Open a Twitter account to start selling feet pics.
Create your seller bio including an exclusive feet-related profile photo.
Post sample feet pics with the appropriate hashtags.
Have a payment system ready to share with buyers after they DM you.
Be active in feet lovers forums to grow your following.
Use your account to market your other feet pic accounts, eg FeetFinder, Onlyfans, Instagram, etc
Sell pics and pay the taxes
Be on the lookout for scammers.
Is It Illegal To Sell Feet Pics On Twitter?
The answer to this question is NO!
Selling feet pics on Twitter is generally not illegal. It falls within the realm of online commerce, where individuals can sell various types of content, including photos. However, it's important to keep in mind that laws and regulations vary from country to country and even within different regions. So, it's always a good idea to familiarize yourself with the laws in your specific location.
In most cases, as long as you are selling legal and consensual content, such as feet pictures, and you are of legal age to engage in such activities, you should be on the right side of the law. However, it's crucial to adhere to Twitter's terms of service and community guidelines. These guidelines prohibit the sharing of explicit or adult content, so make sure to stay within the platform's boundaries.
As with any online endeavor, it's vital to prioritize the safety, privacy, and well-being of your customers. By conducting your business in a professional and respectful manner, while being aware of legal regulations, you can enjoy selling feet pics on Twitter within the bounds of the law.
How to Sell Feet Pics Like a Pro ebook!
Introducing, the 'How to Sell Feet Pics Like a Pro!' ebook!
In this 60-page ebook, I detail exactly how to sell your feet pics online (step by step).
I reveal what sites to use, how to price your photos, how to get clients, how to take photos (with examples), how to grow your business, how to avoid scammers, how to respond to DMs, receive payment, and much much more.
Did I mention this ebook is available for only $9.00? Yes, you can now avail of a 65% discount as against its $25 regular price.
Grab your copy before the price goes up and get ready to earn like a boss!
Why Sell Feet Pictures On Twitter?
Now, you might be wondering, why Twitter? Well, this platform is more than just a place for sharing thoughts in 280 characters or less. First off, the platform is the 6th most popular social platform in the world with over 556 million monthly active users.
It's a hub for communities, and the foot fetish community is thriving on Twitter!
By tapping into this niche, you can reach a targeted audience who genuinely appreciates the beauty of feet.
Additionally, with the introduction of the Twitter Shopping beta program, the site is well-suited for creators. Specifically, the feature allows people from everywhere to buy photos and videos from creators across the globe.
So, why not take advantage of the opportunity to showcase your unique foot features, unleash your creativity, and connect with potential buyers?
CRITERIA
TWITTER

FEATURES

Year Established

20

06
Purpose

Business and Social Networking App

Available Countries

Worldwide

Applicable

13 years and above

Visitors

6.3 Billion+ per month

Subscription Plans
Twitter Blue subscriptions are paid on a monthly or annual basis on web, iOS, or Android with localized pricing starting at $8/month or $84/year in available countries.
Avg Earnings

$5 – $100 per feet pic

Shares & Cuts

None. Charges from your preferred payment option apply

Payment Method
Stripe, PayPal, Cash App, Venmo, Chipper, Patreon, Strike, Bandcamp, and more.
Verdict: Selling Feet Pics on Twitter

The app is 100% legit, free, and a perfect platform to sell and advertise your feet pics across the globe.
How Much Should You Charge For Feet Pictures?
As a rule of thumb, Buyers have paid anything from $5 to $100 per pic for this service, as stated on this SubReddit thread. However, the is no one-price-fits-all when it comes to charging your feet pics. Pricing depends on the platform you are selling, the client, and your goals as a seller/creator.
If you're looking to make decent cash selling your feet pics, there are a few things you should keep in mind.
First, consider what type of feet pics you're selling. Are you selling individual photos or as a collection?
You may also want to consider custom orders and private orders curated to the needs of your clients.
Selling Custom orders is a worthwhile money-making technique in this line of work. They can be priced higher than pre-made foot pictures, owing to their greater appeal and ability to meet the specific demands of certain foot enthusiasts.
Finally, set a competitive price for your feet pics. As mentioned before, there's no standard price for foot photos, so you'll need to do some research to figure out what other vendors are charging.
After you've identified the going rates from other sellers, you may set a reasonable and competitive price.
PRO TIP
Another option is offering bulk orders, which are beneficial for both buyers and sellers.
Bulk orders are usually cheaper per unit than smaller orders since sellers can offer a discount for buying in larger quantities. This benefits the buyer, who saves money on their purchase. Bulk orders also benefit you as the seller, as you can sell more products at once and make a higher profit.
If you want to sell your feet pictures as a collection, you may test this pricing for starters:
$50 per 5 photos
$100 per 10 photos
So, with a little effort, you can make some extra cash by selling your feet pics in bulk!
How to Start Selling Feet Pics On Twitter?
A seller account on Twitter costs you nothing. This is a free social profile where you can engage followers through Direct Messenger, run ads, and participate in feet pic forums.
So, if you are wondering how to start selling feet pics on Twitter, follow these simple steps below.
Step 2: Install the app, Open it, and click 'Sign Up' or 'Create Account'.
Step 3: Input Your Account Details
Fill in the required fields, including your name, email address or phone number, and date of birth. Tap Next to customize your experience and complete the sign-up process.
The above steps help you open a basic Twitter account. To benefit from Twitter monetization tools, switch from a normal account to a business/professional account.
NOTE:
Better be cautious and use an email account that matches your
feet brand nickname
on Twitter, so make sure you create one just for this purpose. It could be something like
lovelyfeetpics@gmail.com
Step 4: Create a Brandable Twitter Handle
Your Twitter handle is your brand on the platform. It's how people will find you, and it's a representation of who you are and what you're all about. So, it's important to make it brandable and memorable.
So, choose an appropriate Username.
NOTE:
Keep it short, catchy, memorable, and related to feet or foot fetish.
Most importantly, avoid using your real name for privacy reasons.
Step 5: Craft a Compelling Profile & Twitter Bio for Selling Feet Pics
The next most important component of your feet photo-selling business's success is to create the ideal Twitter profile to attract potential clients!
If you're looking to become successful selling your feet pics, there are a few things you should include while creating the bio:
Select a Profile Picture – Use an attractive image that showcases your feet (without revealing too much). Ensure the picture is of high quality to make a good first impression.
Cover photo – Feature your brand or product prominently to make the first impression you want (recommended dimensions are 1500 pixels by 500 pixels)
Determine your target audience (foot fetish enthusiasts, artists, etc.).
Bio – Describe exactly what you're about and what you sell (like photos, videos, and custom orders), in 160 characters or less.
URL – Include a link to your website or a specific page curating your highest priority links and products on your profile.
Pinned Tweet – Identify what sets you apart from other sellers (specific foot features, artistic approach, etc.) and make a great first impression with an announcement or a sample of your best tweet to convince people you're worth following.
Payment Method
Note: The number of links allowed in the Twitter bio is one. So, you may use Linktr.ee tool to connect your audience to all of the channels you utilize to sell your foot pics with this single link.
For example: Take a look at the bios below, which meet all the criteria listed above. Notice, how one of the sellers directs her audience to her accounts on OnlyFans and CashApp.
Further Reading: Feet Pic Bio Examples
Step 6: Take perfect snaps of your feet in both everyday and provocative poses
Next, edit and post the shots using popular feet-related hashtags and descriptions as you build the right fan base to buy your exclusive pics.
Step 7: Post-high-quality GOOD-looking Feet Pics Consistently!
The success of your business lies in maintaining consistency.
Regularly post captivating pictures of your feet. Experiment with various angles, lighting, and settings to showcase diversity. Be creative and consider using props or accessories to add uniqueness.
For the first 60-90 days, you may post 5x-10x times a day to fill the feed, and gradually reduce it to 3x daily!
Step 8: Market Your Feet Pics
Find potential customers using Twitter's powerful search features. Respond to comments, DMs, and inquiries promptly and respectfully. Encourage feedback and suggestions to foster a sense of community. Retweet and engage with relevant content to build connections.
Market your business by following skincare manufacturers, modeling agencies, and popular online stores. Reach out to fellow sellers or influencers for cross-promotion. Participate in foot fetish forums or communities to find potential customers.
As mentioned before, linking your other online selling accounts to your bio will also come in handy for advertising your pics.
Step 9: Determine Your Pricing Strategy
Research the market to understand the average rates. Consider your age, exclusivity, and demand when setting prices. Start with competitive rates and adjust based on feedback and demand.
Step 10: Avoid Scammers
Lastly, often remain very wary of scammers and avoid creeps that pose to be a threat to ensure your pic business runs smoothly (more on this later in the article).
How To Set Up Your Twitter Shop to Sell Feet Pics
Here I recommend using a Professional account over a Basic account!
Unlike the basic account, the professional account gives access to more tools to better connect with your customers and grow your brand.
Step 1: Switch to Twitter for Professionals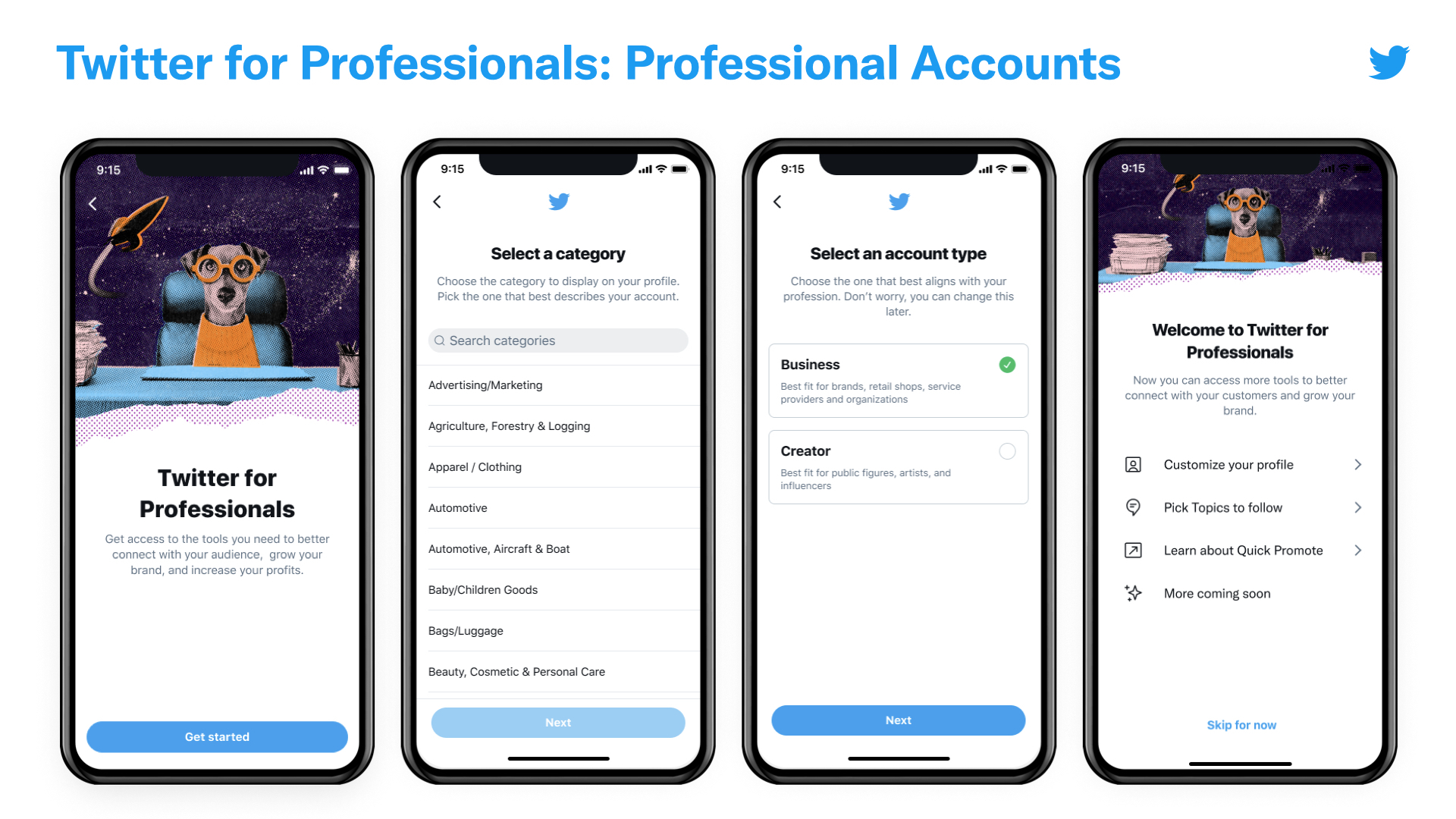 From your account page, tap on your avatar at the top left-hand corner, scroll down, and tap on Twitter for Professionals. This will direct you to customize your profile, explore profile spotlights, pick topics to follow, make connections, or even promote a tweet for selling your feet pics.
With your Twitter for Professionals ready, you can now access marketing and analytical tools that make selling and running a pic business easy. The platform is optimized for organizations and individuals looking to advertise services to the Twitting community worldwide.
Tap To Convert Your Twitter to a Bussiness Account
Step 2: Add Your Location
After you have added your account bio, as explained earlier, Twitter advises that you add your location for a business account through the Location Spotlight feature. This allows the site's algorithms to showcase your profile to local followers.
Though the feet pic business is usually run anonymously, your location can be handy when selling items such as dirty panties. Twitter allows you to set your actual location, cities that you ship to, or a designated HQ.
Step 3: Add Contact Method
Add the method via which you would like buyers to reach you. You have the option of Twitter DM, Email, text, or phone call. This ensures that you serve feet pic clients away from prying eyes.
Step 4: Work On Your Pinned Tweet
As a seller, your pinned tweet needs to keep changing to fit your current feet pic business' vision. For example, if you are running a promotion on pic bundles, let that be the first thing buyers see.
Step 4: Upload Your Pics
Via the Twitter Shop Spotlight, showcase your best feet pics and other products. Once your pics are live, fans can scroll through the carousel, tap on an item, and continue to check out without leaving the app.
Note, Twitter prohibits showcasing "sex toys, pornography and items displaying nudity or implied sexual acts".
Step 5: Display Your App
Do you have a personal app for running your pics business? Twitter for Business allows you to display your app (link) that people can click and download from App Store or Google Play, depending on their device's OS.
Step 6: Add A Call To Action
To allow interaction with other services that you might be offering, a business account comes with several CTA options; Listen, See, Watch, Stream, Book an Appointment, View Menu, plus more on the way.
Step 7: Quick Promote Your Tweets
To get favorable visibility on Twitter feeds within your target community, use Quick Promote to boost a post for between $10 and $5,000. The cost depends on your business and how long the campaign runs- up to a month for each promotion.
Step 8: Create Twitter Ads for Your Pic Business
Provided your Twitter is verified, you can create Ads to help improve your reach, engagements, followers, and external website traffic. Ads can be in the form of a Photo or Video showcasing your feet pics.
Other Ad formats include Carousel (6 images and or videos), Moments (280 characters), and Text (160 characters). What I love about Twitter Ads is that there is no minimum spend on a campaign's budget.
Step 9: Leverage Other Professional Home Features and Tools
Twitter is still developing tools for business users which are become available via the Professional Home feature. As of publishing, the feature is only available via desktop and exclusively to Twitter for professionals.
The best part is that the business account is open to all users worldwide, though some tools are geo-blocked. To know what's available in your area and new tools for expanding your photography business, keep an eye on the Professional Home tab.
Twitter Bio For Feet Pics
Let's go through some feet image seller profiles on Twitter for insights on writing your feet pic bio.
Bio Idea 1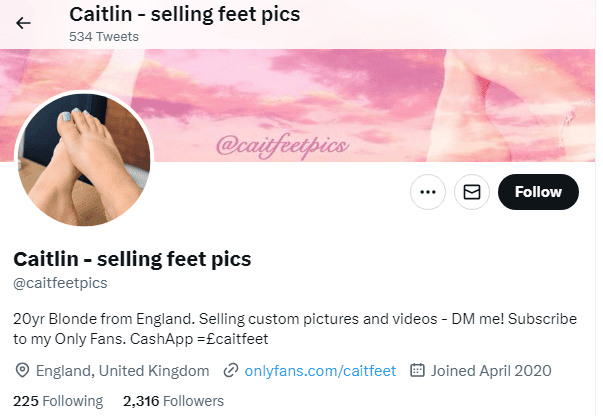 From the first look, it's unquestionable that the account holder sells feet pics; their name captures her business perfectly: Caitlin – selling feet pics.
What's more their handle also has feet pics in it. If that's not enough to announce what the account is all about, the account features a banner and a profile image with feet!
Getting to the bio, you can tell their age, hair color, and nationality; 20 years, blonde, and England respectively. The first line also lets buyers know that the user sells custom videos and pictures.
Additionally, Caitlin, who has over 2,300 followers, states that DM is their business communication platform. Ready to buy? The bio clearly singles out Cash App money transfer as the wallet of choice when buying pics and other content from Caitlin.
Lastly, the user shares their OnlyFans account to direct interested feet enthusiasts to more premium content. Another worthy observation is that the user has added their location, in line with Twitter's recommendation for business accounts.
Twitter Bio Idea 2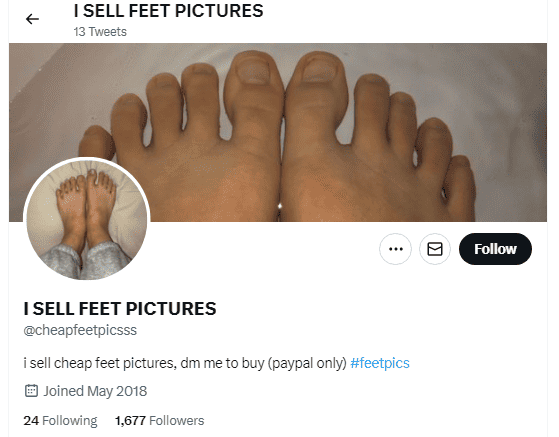 The second bio is a simple line; "I sell cheap feet pictures, dm me to buy (PayPal only)".
From the line, you can tell their preferred contact method (DM) and payment option (PayPal), which is basically all you need to make the transaction happen.
Hashtags For Selling Feet Pics On Twitter
It is of no use listing amazing feet pics on Twitter if nobody can find them.
Twitter uses identifying phrases to help users browse through different topics, known as hashtags, these are words preceded by the # sign that appears on the description of media and text posts.
Currently, popular hashtags for selling feet images on Twitter include:
#feetpics

#feetloversonly

#feet

#Feetfinder
#Feetpicture

#sellfeetpics

#feetcontent

#feetfettish

#f

eetpicsforsale

#feetpicswanted

#feetfinder

#cutefeet
Note, while a hashtag like #feet is more popular than #sellfeetpics, the latter is more likely to get you buyers, fast than the latter; the reason is that it specifies your intention to sell pictures.
With this in mind, tag your photos with both generic and business-specific hashtags. Luckily, Twitter allows you to use as many hashtags as the characters' field allows.
I recommend using between 5 and 10 targeted hashtags to ensure your posts look neat and not spammy. That said, Twitter recommends using not more than 2 hashtags per post.
Best Feet Pic Poses for Twitter
Apart from hashtags, you need to take stunning photos that attract buyers across the board.
Here, you have the choice of using generic poses such as stretched and arched feet pics, or creative and seductive photos. This all depends on what poses sell best for your business.
Below are the top feet pic poses for making money selling feet pics on Twitter.
1. Arched FEET
Arched feet are in huge demand and can create an elegant look. Try a combination of high arch feet (side view) paired with flat feet (top view) to cover two different angles of your feet!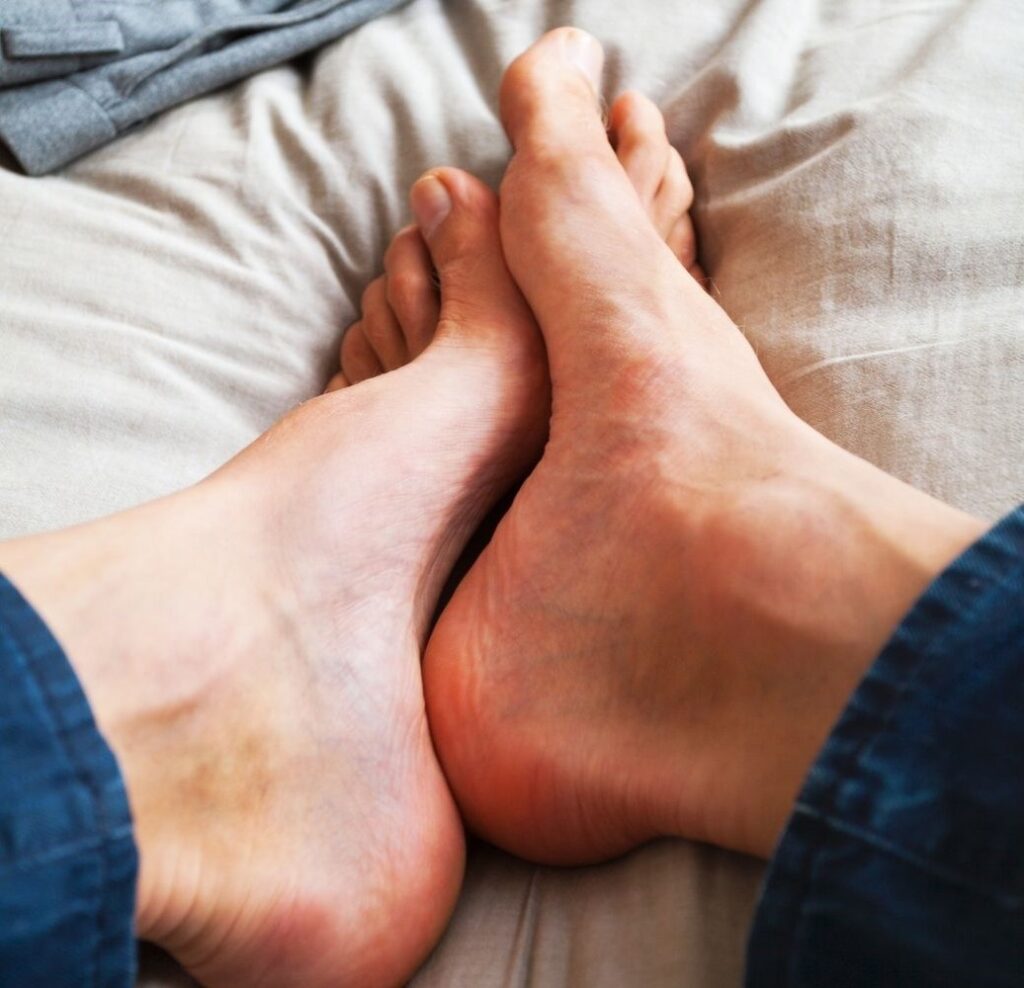 2. Wrinkled FEET/TOES
There is something about wrinkled toes that just makes them so irresistible to most feet lovers! Check out the photo below which is a combination of the wrinkled feet and toes spread out!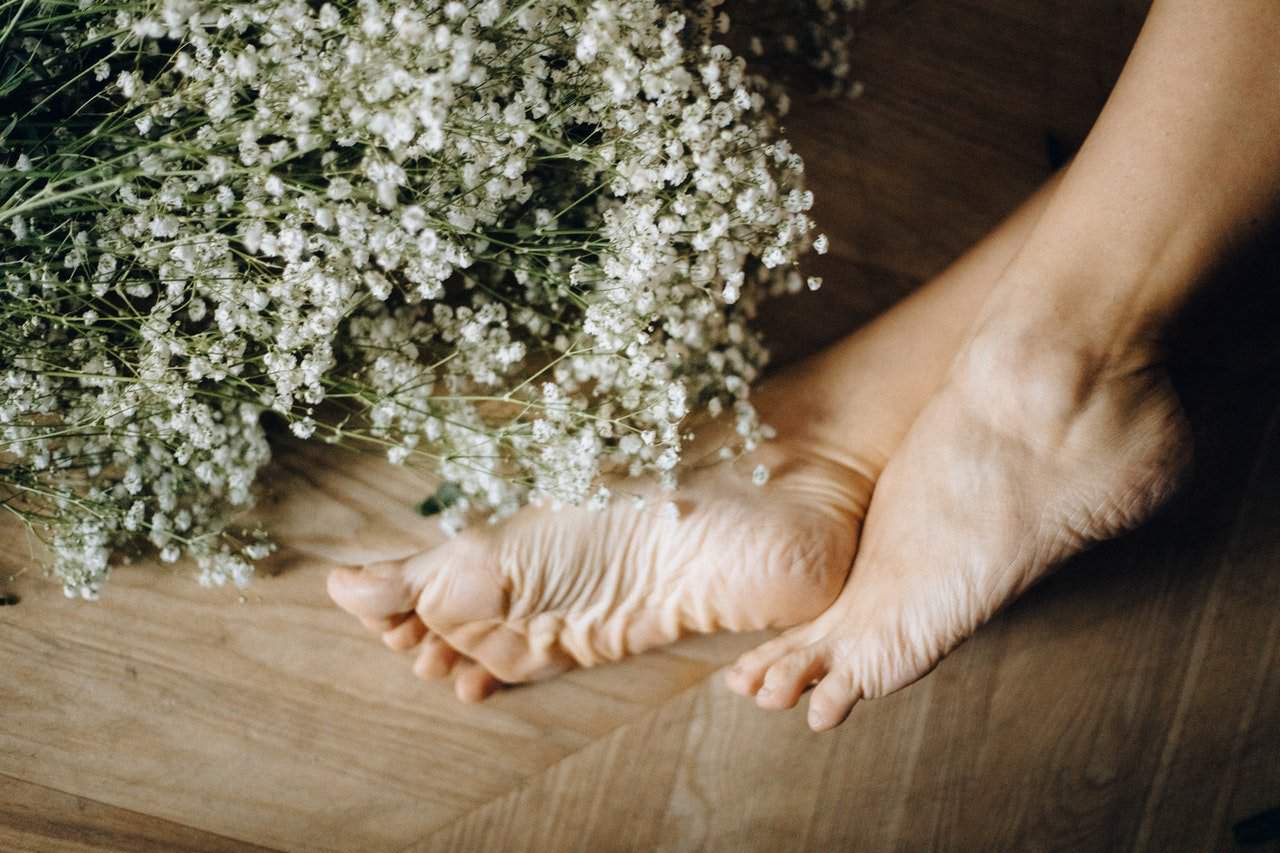 3. Sole Close Ups
A close-up of your sole can also be quite sensual and appealing. Try different angles and views to find the most flattering ones for your feet.
You can also use props to add interest to your photos, such as flowers, scarves, paintings, or even jewelry.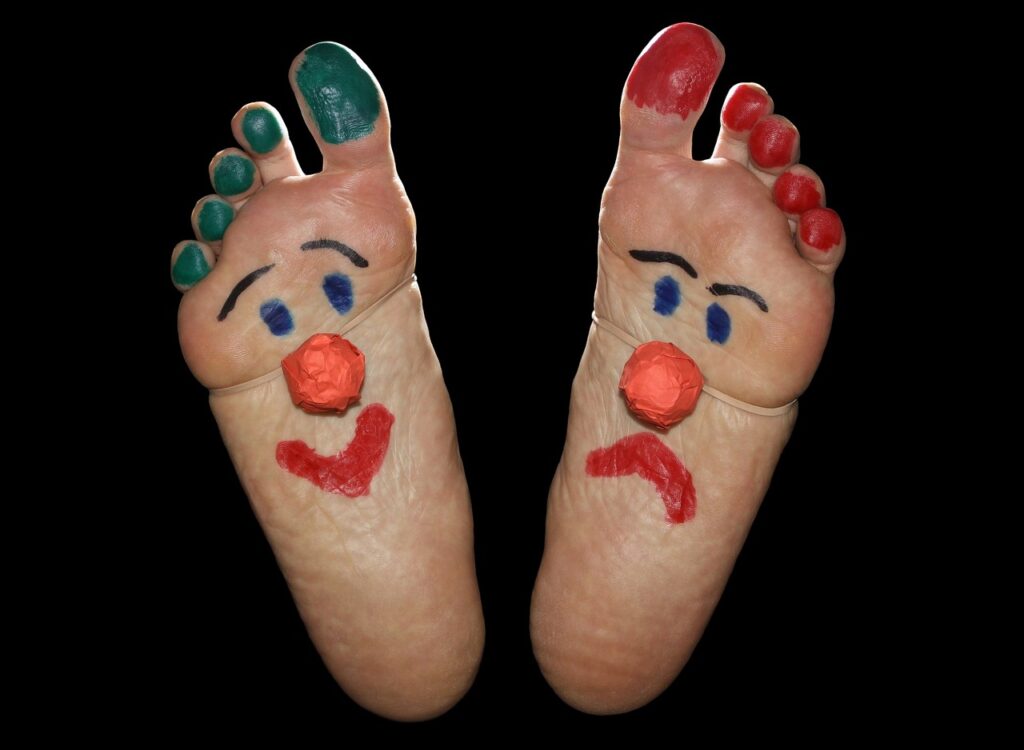 How to Get Paid for Feet Pics on Twitter
Sellers on Twitter are free to share payment information on Tweets, messages, images, and even videos. For instance, during my research, I have come across bios featuring Cashtags (for Cash App) and email addresses (for Paypal).
However, I can't advocate sharing financial info publicly. Instead, once a buyer gets your attention, direct them to DM for further terms. Take the opportunity to specify your prices and preferred payment options.
The other most common ways of getting paid on Twitter include:
1. PayPal
You must first open a PayPal account in order to receive payments for your Twitter foot pictures via PayPal. It's completely free and comes with no subscription expenses.
2. Amazon Gift Cards
Depending on how you plan on using your money, gift cards can be as good as cash. As for that, Amazon eGift Cards are the most popular way to get compensated for your feet pics on Twitter.
For example, you can exchange them for thousands of items on the marketplace.
To receive the eCard, you'll need to share your email address with the interested buyer for them to send you the card or claim code.
New Post: Exchange Amazon Gift Cards for PayPal Cash
3. Zelle
Want to get paid instantly for your feet pic selling services? Zelle is a direct-to-bank system of sending or receiving money, available only in the US. The service does not charge for sending or receiving money.
With just an email address or U.S. mobile phone number, you can quickly receive money (within minutes) from your clients regardless of where they bank.
All you need is a checking account in the U.S. to get started.
If your bank or credit union offers Zelle, you already have it in your mobile banking app or online banking. If your bank does not partner with Zelle, you can link a Mastercard or Visa debit card to receive Twitter payments.
Just download the Zelle app to start getting paid for your feet pics.
This is one of my go-to payment systems for online transactions lately. You can definitely try it out to get paid instantly to your bank account!
For starters, this is a peer-to-peer money exchange service that only requires a unique username to send/receive money. Just provide your buyer with your $cashtag and wait for your cash.
Additionally, you can use the app to receive payment in Bitcoin and trade the virtual currency for profits.
Open a Cash App Account and use my Cash App referral code ZFXCWHR to get $5 free!
5. More Payment Options
Sellers on Twitter can also accept payments via Stripe, Venmo, Chipper, Patreon, Strike, Bandcamp, and more. To share your method, apart from DMs, just turn on Tips (money Icon) and provide the payment option of your choosing. The feature allows the use of almost all third-party wallets as well as Bitcoin.
How to Sell Feet Pics Without Getting Scammed On Twitter?
As with most online transactions, selling feet pics on Twitter can open you up to scams. Without due diligence on your part, swindlers can get your feet pics for free or, worse, use your payment details to access your bank accounts.
Here are a few ways to stay ahead of scammers:
Only sell to buyers you can trust. It can be difficult to ascertain a buyer's intentions, but you can start by looking at their bio and posts to know more about them.

Insist on getting paid first as a prerequisite to sending your photos. You can use photo editing software to blur your pics for free viewing and only send the originals after you receive the agreed fee.

Never provide more than the necessary payment information. For example, if you are using Cash App, all you need is your username. As such, sharing your name, physical address, or email is unnecessary.

When tagging your photos, avoid geotags that may be used to show where you live or work.

Keep it professional. Do not let selling feet pics morph into something else. The moment the conversation becomes about you instead of your photos, end it.
Tips to Sell Feet Pics On Twitter
Here are some important pointers on how to make money and build a feet photography business on Twitter.
1. Use Quality Feet Photos
Think about the quality of your photos. Feet pics can be taken with any type of camera, but if you want to sell them, you'll need to make sure they're high quality.
Poor-quality photos can discourage potential buyers, so it's important to make sure your photos are clear and well-lit.
2. Use Advanced Search to Build Quality Following
Instead of following each and every user to increase engagement, use Advanced Search to filter feet pic lovers.
I find the search extensive with fields such as Minimum Likes, Retweets, Replies, Date, Links, Words, and Hashtags.
The idea is to find, follow, and engage with people who not only enjoy foot content but are also intentional buyers on Twitter.
3. Work With Influencers
Do you personally know a feet pic seller, or a local celebrity, with impressive Twitter numbers? If yes, have them shout out your Twitter handle in their Tweets. You can also ask them to retweet a promotional post.
This is a quick way of amassing a following, owing to the clout the association with a celeb attracts.
4. Add Twitter to Your Shopify Store
Twitter integrates with e-commerce sites like Shopify. The point is, a huge catalog of pics, printables, and other products listed on your e-commerce store or website can benefit from linking the platform to your Twitter.
Not only is social selling easy, but buyers also use social media buttons on other sites to contact business owners directly.
Pros and Cons Of Selling Feet Pics On Twitter
Before we cover some important questions on how to sell foot pictures on Twitter, let's look at the drawbacks and advantages of the business.
| Pros Of Selling On Twitter | Cons Of Selling On Twitter |
| --- | --- |
| Selling pics on Twitter is free and legal | You can get scammed. |
| You can sell your feet photos at a price. The site does not limit what you can make from your photography business. | To make good money, you have to promote your hustle widely. This can cost you time and money without any guarantee of high ROI (return on investment). |
| All you need is a good phone and no training is required. | You have no control over where your feet pics will end up another reason why you should remain anonymous. |
| You can sell anonymously. | |
| Twitter has many in-app professional tools for sellers and businesses | |
| Access to billions of worldwide audience. | |
How to Sell Feet Pictures On Twitter: FAQs
1.
Do I Have to Be a Foot Model to Sell Feet Pics on Twitter?
Feet pics selling is not for models only. Anyone can take feet photos and sell them on social media.
Furthermore, you don't need to sign up with a modeling agency to help you market the business. By using Twitter monetization tools and constant hashtag research, you can easily reach millions of paying customers on your own.
2.
Can Guys Sell Feet Pics On Twitter?
The answer to this is a yes! Both men and women can sell feet pictures on Twitter.
That said, ladies' feet pics are more popular with buyers. With the right hashtags though, you can get exposure to women, agencies, and marketers looking for feet pics from men.
Such hashtags include #guyfeet, #bigmalefeet, #bearfootmen, #piesdehombre, #maletoes, and #malefeetlover.
3.
Can You Sell Your Feet Pics if You Have Ugly Feet?
Buyers of feet pics include skincare manufacturers and feet fetishists who may find ugly feet appealing. So, if you are asking "Can I sell feet pics if I have Bunions?" the answer is yes!
Whether your feet are deformed, full of calluses, or cracked on the heels, the internet is full of people willing to pay for all kinds of pictures.
To sell such pics, use hashtags like #uglyfeet, #crackedheels, #bunionfeet, and #bunions.
4.
Do You Have to Pay Taxes on Feet Pics Sales?
Selling feet pics online is a real and taxable income earning stream, hence if your net income from Feet Pics sales exceeds $400 or more, you'll have to pay self-employment taxes at a rate of 15.3 percent!
In the US, you'll have to file Form 1040 or Form 1040-SR under Schedule C for any loss or profits you make from the business.
Note that, failure to pay the tax can earn you a penalty of up to 25% of the unpaid tax.
Conclusion: How to Make Money Selling Feet Pics On Twitter?
Selling feet pics has been made easy by the popularity of dedicated platforms like OnlyFans and Instafeet. Mainstream social platforms like Instagram, TikTok, Facebook, and Twitter have also not been left behind.
By applying monetization tools, you can now sell pics on Twitter through a business profile or use your account to direct buyers to external platforms such as Feetify or Fun With Feet Website.
How else can you make money from feet pics? Share your ideas below.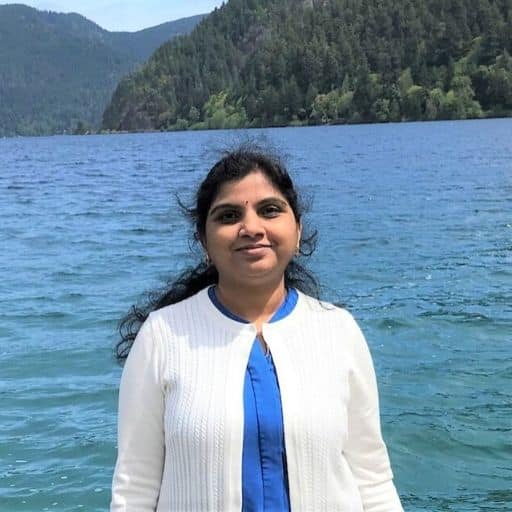 Howdy Folks, thanks for stopping by my blog.
I'm Swati, a proud mom, dedicated side hustler, full-time blogger, and a recognized millennial work-at-home expert. My expertise has been featured on esteemed platforms such as Forbes, CEO Blog Nation, Referral Rock, Vital Dollar, Databox blog, and many more. I have embarked on this incredible journey to share my firsthand experiences in the world of online income generation and to assist all of you in earning money from the comfort of your homes.
Join me in my mission to revolutionize the way we make money and achieve financial freedom. Trust me, it's not as challenging as it may seem!
Together, let's explore the boundless opportunities and pave our paths towards a prosperous future.