If you are for the idea of either selling or purchasing feet pictures and videos, this FunWithFeet Review 2023 is just for you. This is a website that links sellers of feet pics to potential buyers.
Did you have a dream to become a model that was cut short by the industry's highly set bars? FunWithFeet is one of the best and easy ways to rekindle that dream.
The site is open to all, including people with feet fetishes or some amazing foot pictures that just need to be shared online. Nevertheless, the idea of making extra money on feet pic websites sounds absurd and a little suspect, doesn't it?
Basically, you have to consider the legality and morality of selling images of feet, the kind of clientele the business attracts, and the possibility of being conned on online feet pic selling marketplaces like FunWithFeet.
EDITOR'S PICK: FeetFinder is our #1 recommendation for all users looking to buy or sell feet pics because of their unparalleled levels of trust, safety, and affordability. Try it out for yourself!
However, to help you know what you are getting into, this review gives details on how FunWithFeet operates, how much there is to earn from selling pictures of feet, and hacks to improve your earning if you are already a Fun With Feet user.
Let's first take a brief outlook of the platform before we dive into the details:
FunWithFeet Review Overview
| | |
| --- | --- |
| Criteria | Features |
| Year Established | 2021 |
| Purpose | Selling feet photos and videos |
| Available Countries | Worldwide |
| Applicable | At least 18 years of age. |
| Subscription plans | $9.99 for three months$14.99 for six months |
| Average Earnings | $5 per photo |
| Cuts & Commissions | None |
| Minimum Payout | None |
| Payment Method | Bank account |
| Bonus Program | Affiliate marketing- not specified |
| Google Play & App Store | None |
| Ratings % Accreditations | 58.2/100 – ScamDetector 3.4/5 – Trustpilotnot BBB accredited. |
| FunWithFeet Review: Final Verdict | Not safe. Not legit. Possible scam. |
What Is FunWithFeet? How Does It Work?

Fun With Feet is a platform that creates a link between prospective feet pics sellers and prospective feet pics buyers.
The website provides a secure environment for freelance content creators to upload diverse feet-related content including photos and video clips.
Who owns FunwithFeet? The platform is silent on "About us" information.
From different sources though, I was able to glean the following information about the site's ownership and business statistics:
The site was created on May 24th, 2021, making it almost 2 years old.
ScamAdviser awards the site a 96/100 Trust Score.
The company's address is 152 – 160 City Road, London, EC1V 2NX.
It's a UK-based company with servers in the US.
There are very few online reviews about it.
That said, FunwithFeet seems popular among foot enthusiasts, with over 1M monthly visitors.
A casual look at the marketplace shows a large assortment of available photos of varying sizes and shapes. The video section includes pedicures, foot massage, BDSM, tickling, dance, and gentle flexes among many others.
There is a range of potential customers for your feet content including feet enthusiasts, footwear brands, and even model pages.
Moreover, this site offers insights, tools, and tutorials to digital marketers on ways to better their content.
How FunWithFeet Works?

Source: Funwithfeet
Feet models on FunwithFeet need to register, create a profile, upload feet-related content, market their digital shop, communicate privately with potential buyers, and make sales.
Below is a step-by-step guide to becoming a sexy feet pictures seller on Fun With Feet:
Create a FunWithFeet account by filling in your personal information (Email address, user name, country of origin, short bio, & gender)
Create a strong password and confirm.
Choose a subscription and payment system.
Upload your sample feet pics and have fun with feet pic selling.
How to Make Money With FunWithFeet Website?
FunWithFeet allows you to set your preferred prices for each photo or video you upload. The number of buyers that your content generates is what determines your earnings.
This is because you earn each time a buyer pays to unlock your content for viewing or downloading.
You can also earn money from private shows, premium subscriptions, and customized collections. More to this, just like in stock photo sites, you are free to resell one pic over and over.
Fun With Feet Bio Ideas
Source: funwithfeet.com/collections/fees-advanture/
A bio is a brief description of yourself and the content on your Fun with Feet profile. It is a vital aspect of your profile given that it is the first impression that prospective buyers will get of you and your content.
A well-drafted bio with a catchy feet profile name helps you to add traffic to your content and the opposite is also true. Your bio should therefore give feet pics hunters more urge to discover what you have to offer.
To illustrate, above is a FunWithFeet user bio from a seller going by the name Stasysexyfeet.
Using the bio as an example, below are ideas for writing a killer Fun with Feet bio:
Should be straightforward – users should easily and clearly understand your bio without straining. For this, you should avoid strong vocabulary but rather stick to direct-to-the-point phrases.
Brief users on what to expect – your bio should give an idea of what prospective foot pics buyers can expect from you in terms of content.
Case in point: The bio in our example helps you create mental imagery of different scenes; bedroom, pool, and feet in slippers.
Use keywords in your username and bio – you need to include words that most users would type on the search bar to make sure that it easily leads them to your content. Use words that most buyers would search for; such as pretty, sexy, beautiful, and amazing feet.
Convey your content's aim – great bios display what you had in mind while creating the content. It helps in portraying to users what they seem to achieve by following your content. For example, "Welcome, I have the remedy to your fetishes".
Basically, your bio should be based on self-adoration and confidence. It should also touch on the aspects of your content that stand out to gather more buyers.
Tips to Be Successful With FunWithFeet
Selling any product via web applications, such as a mobile app or browser marketplace, requires more than creating a seller account and listings. Furthermore, selling feet content is a very competitive hustle.
Below are some tips for becoming a serious seller:
1. Stay Active
For you to thrive on FunWithFeet, you need to be more engaged in creating new content and communicating with customers. Be responsive to customer questions and suggestions and you will surely make more sales.
2. Use of Keywords
You need to be crafty when creating your bio and titles for your content for ease of access to customers. Research on SEO for feet pics to come up with words that are most used in the industry.
3. Offer Packages
Customers feel better placed when they buy a bundle at a slightly lowered total price than single content.
Typically, selling discounted packages will help boost your gross sales as compared to selling singles. You can also combine your best shoots to create an exclusive package for your loyal customers.
4. Try out Diverse Ideas
Markets are ever-changing. To keep yourself in the game, you need to be dynamic in your content and even marketing strategies.
I recommend you create seller accounts in different foot fetish apps and use your social media handles to market your profiles. Also, have a personal blog dedicated solely to foot-related content.
5. Posting Quality Photos
High-quality photos and videos will help you attract more customers at a better price. To this end, click here for info on taking feet pics in 2023.
6. Ensure Competitive Pricing
Pricing is a key aspect of any business as it can either attract or chase genuie buyers.
Food for thought: Which is easier, selling 10 photos at $100 or one photo at $100? The point is to think like a buyer before you quote prices.
How Much Money Can You Make With FunWithFeet?
According to Fun With Feet approximations, feet pics sellers averagely accumulate 6 unlocks for their collections monthly. Note, this is a dip in earnings with previous reports recording an average of 15 unlocks in a month.
Depending on your quoted price and collection, a single unlock can make you between $5 and $100+. This means that you can earn around $75 or more per month.
There is no set limit on the maximum you can make from FunWithFeet. It goes without saying that the amount you earn is proportional to the number of unlocks, tips, and consequent sales that your content attracts.
The amount you can earn from feet pics also depends on who the client is. Normally, agencies and other corporate buyers pay higher than the average individual enthusiast.
How much should I sell my feet content for? Feet pics and vids prices range between $5 and $100 per item.
In the video above the creator shares their pricing catalog that you can emulate:
$10 – 1st photo for new customer.
$20 – A bundle of pics (normal poses)
$40 – 2 to 3 pics of special/custom poses.
$40 – 30 second video and up to $100 for a custom video; the longer the video, the higher the price.
Note: Showing your face on feet pics for sale is not a requirement and neither can I recommend it. Nevertheless, if you are ok with the idea, charge a premium for such pics; $100 per pic and even higher for videos.
Content with accessories such as socks, high heels, BDSM material, or at a specific location, also attracts high prices. Engage such clientele to buy your used undies, socks, and the like.
Related Post: How and Where to Sell Dirty Underwear
How to Get Paid?
When a buyer unlocks your content, the money is deposited to your Fun With Feet wallet instantly. To withdraw your feet pic earnings, you can send the amount directly to your bank account.
Do You Have to Pay Taxes On FunWithFeet?
Though selling feet pics cannot be considered a proper job, you still have to pay taxes for the income you receive from it.
FunWithFeet taxes are paid under the business income category as a sole proprietor.
The procedure involves filling form 1099 and reporting earnings of $600 and above in a given financial year. FunWithFeet, in accordance with federal regulations, provides the form to all sellers who fit the criteria.
Is Fun With Feet Legit & Safe?

Fun With Feet is not legit or safe. First off, the site isn't verified on Trustpilot where it's rated an average 3.5 stars from 294 reviews. While websites with such ratings are generally safe and legit, it's worth noting that Trustpilot reports removing fake reviews about the marketplace.
Secondly, it has a verdict of 58.2 out of the possible 100 on the Scam Detector website, an average rating termed as "mediocre".
Given that this rating is arrived at by analyzing lots of website factors including public opinions, it is safe to say that FunWithFeet is not a reliable site for selling feet pics.
FunWithFeet Reviews [Positive]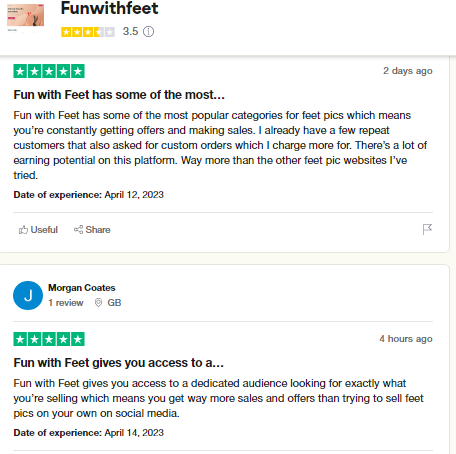 On Trustpilot, most users praise the company for its ease of use, its quality, and its broad range of products for buyers. Some also commend them for their responsive customer service.
The platform lets you keep all of your earnings, a feature that gets lots of positive mentions from reviewers.
Nonetheless, a good number of the Fun With Feet positive Trustpilot reviews are from sellers seeking publicity for their profiles.
FunWithFeet Reviews (Reddit)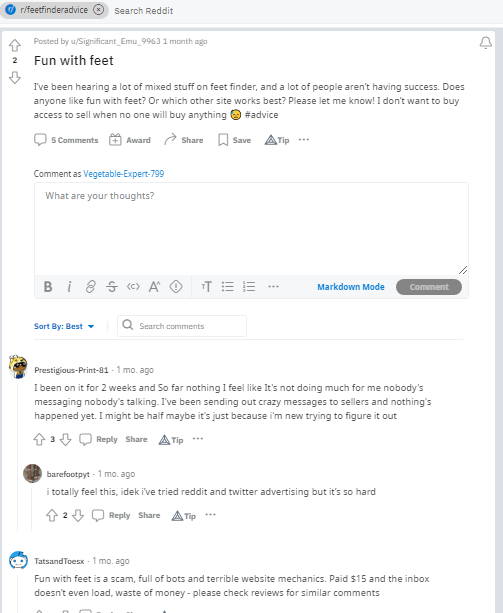 On Reddit, most new Fun With Feet sellers claim that they were banned from logging in to the site after paying the subscription. There are also complaints of low volume of feet pics purchases on the website.
Many also go on to outrightly state that Fun WIth Feet is a scam. The major allegation is that the site is only interested in the $15 subscription fee from sellers, after which you don't get any buyers for your content.
Even when you get 'interested buyers' in your inbox, the chats seem to originate from bots seeking to redirect you to other websites.
Similar sentiments are to be found on Trustpilot where one user wrote that their inbox is full of useless messages, to the extent that they can't receive or read new messages.
FunwithFeet customer support also gets negative points for not responding to queries and sometimes giving false information on tickets. To sum up, the general feeling from negative reviewers is that the website is a scam.
FunWithFeet Pros and Cons
| | |
| --- | --- |
| Easy sign-up process – the process of creating an account is short and easy. | ID verification needed – to ensure legitimacy and that you have reached the legal age, Fun with Feet has an ID verification process for all prospective users. |
| No cap for earnings – there are no set limits to the amount a user can earn from this website. You therefore can improve your catalog to maximize your earnings. | Seller listing fees – before you can add your feet content for sale, you are required to first pay a listing fee of $14.99 for six months or $9.99 for three months. |
| Anonymity – you can make foot pic sales through FunWithFeet and not disclose your identity. | There is a very high possibility that this is a scam site. |
| Room for buyer-seller interactions – it allows more earnings from custom requests by creating space for communication between feet pics buyers and feet pic sellers. | |
Best FunWithFeet Alternatives
Below are some safe and legit platforms where you can sell feet pics for real money from home.
1. FeetFinder
If you want an easy and financially convenient way of selling lovely feet photos, FeetFinder is one of the best sites for listing pictures of your feet.
Joining the site costs just $4.99 per month and $14.99 per year for active sellers.
Once you create a seller's page on FeetFinder, you upload free previews to the Gallery and describe your feet content, and wait for customers to reach out via a simple chat feature.
Buyers can instantly purchase your albums or send custom offers that you can accept or reject. Once accepted, snap the desired photo or video and submit it for payment. To guarantee full payment, all content is automatically blurred by FeetFinder.
With a rating of 4.9 stars on Trustpilot, FeetFinder is a worthy alternative to FunWithFeet.
Check out our FeetFinder reviews
2. Feetify
Just like FunWithFeet, Feetify is a website that links buyers and sellers of feet galleries. It has a free signing-up process and allows users to make money by selling photos to agencies and individuals.
A good side to Feetify is that you can pay $49 to join as a premium member and earn up to $100 in cash awards without selling.
3. OnlyFans
Onlyfans is a website that is based on subscriptions and allows earning from users' content creations.
Once you are done with the account creation process, all you need to do is to upload your feet pics and promote them by use of other social media handles.
Customers have to pay first before accessing your account. OnlyFans, however, hold 20% of the revenues you generate from their site as a commission.
There are plenty of other sites you can sell your feet pics in including Craigslist, and Instafeet, among many others. You can also list your foot pics through a personal website.
Fun With Feet: Is It Really Worth It? [Final Thoughts]
FunWithFeet is styled as one of the best websites for people seeking an extra income stream by becoming online foot models. The platform is easy to use and markets user content to feet lovers.
Furthermore, FunwithFeet promises users anonymity and timely payments. Your earnings, however, depend on how much effort you put into the business and the quality of your content.
Admittedly though, FunWithFeet has all the hallmarks of a scam website. Its positive reviews seem self-manufactured or paid for with the genuine ones pointing to a marketplace that's only interested in your monthly subscription fee.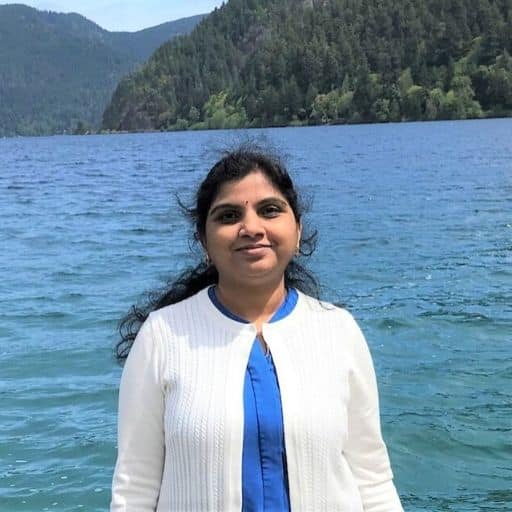 Howdy Folks, thanks for stopping by my blog.
I'm Swati, a proud mom, dedicated side hustler, full-time blogger, and a recognized millennial work-at-home expert. My expertise has been featured on esteemed platforms such as Forbes, CEO Blog Nation, Referral Rock, Vital Dollar, Databox blog, and many more. I have embarked on this incredible journey to share my firsthand experiences in the world of online income generation and to assist all of you in earning money from the comfort of your homes.
Join me in my mission to revolutionize the way we make money and achieve financial freedom. Trust me, it's not as challenging as it may seem!
Together, let's explore the boundless opportunities and pave our paths towards a prosperous future.