This Instafeet review 2023 sheds light on queries like what is Instafeet? Is Instafeet Safe & Legit? Can you really make money selling pics on Instafeet? Most importantly, is the Instafeet website still active?
Before we get to that, did you even know that you can earn money selling feet pictures? Yes, you heard me right!
There is quite a large market of foot lovers out there. What's more, there exist many websites and apps that have made this a very lucrative business – screaming feet pictures wanted!
If you have good-looking feet, or bad-looking – yeah, it doesn't really matter – you can still make your pics a good source of income.
And the best part is that selling feet pics is legal in most countries including the USA, Australia, Canada, and New Zealand.
So, back to our question, what is Instafeet and how can you earn from it?
Instafeet Review: Overview
Let's dive in but before that here's a quick rundown of Instafeet's features just for you:
| INSTAFEET | FEATURES |
| --- | --- |
| Year Established | December 2018 |
| Purpose | Exclusive for Buying and Selling Feet Pics |
| Available Countries | In most countries like the USA, Australia, Canada, and New Zealand, where selling feet pics is legal |
| Applicable | All genders 18 years of age and above |
| Instafeet Pricing | FREE for Sellers; $10 per month for Buyers |
| Commissions | Instafeet takes a 10% commission on all sales made by sellers |
| Avg Earnings | $5 – $100 per pic |
| Minimum Payout | No minimum payout. Payments are made twice on the 1st and 15th of every month. |
| Payment Method | PayPal, Cashapp, & Venmo |
| Referral Program | No referral schemes |
| Seller Rating | 3.3 out of 5 on Trustpilot |
| Instafeet Verdict | The site is 100% legit and safe. But, not worth the time! |
Is Selling Feet Pictures Legal?
In most countries, selling feet pics is legal. That said, there are guidelines on what passes for acceptable pics. Restrictions are usually placed depending on a country's legal age and religious values.
Typically, to sell feet pics you must be at least 18 years old. Also, the pic should not be pornographic in nature – anything above the knee, and if so, you should be in clothes.
How to Sell Feet Pics Like a Pro ebook!
Introducing, the 'How to Sell Feet Pics Like a Pro!' ebook!
In this 60-page ebook, I detail exactly how to sell your feet pics online (step by step).
I reveal what sites to use, how to price your photos, how to get clients, how to take photos (with examples), how to grow your business, how to avoid scammers, how to respond to DMs, receive payment, and much much more.
Did I mention this ebook is available for only $9.00? Yes, you can now avail of a 65% discount as against its $25 regular price.
Grab your copy before the price goes up and get ready to earn like a boss!
What Is Instafeet?


Instafeet, as the name suggests, is a new platform for people who love feet. The site mainly involves buying and selling feet pictures.
New users have to create a seller profile to start posting their pictures. Interested clients then subscribe to your account and buy your feet images.
For starters, Instafeet only allows sellers who are 18 years and above.
Unlike other social media platforms, Instafeet is a private platform with an official website and an active presence on Facebook, Instagram app, and Twitter.
Your images will not be visible to the public, but only to you and your subscribers.
As such, Instafeet is a safe platform for people who like privacy.
| Official Website | https://instafeet.com |
| --- | --- |
| Facebook | https://www.facebook.com/instafeet |
| Instagram | https://www.instagram.com/instafeet.yea |
| Twitter | https://www.twitter.com/instafeet_com |
| Contact Page for Customer Support | https://instafeet.com/contact-us/ |
Who Owns Instafeet? (Newest Update!)
My continued research into where to sell feet pics for free always takes me to websites like Insatfeet and Feetify. This is in addition to dubious sites that are either scams or x-rated platforms.
With this in mind, it helps to know the entities behind your side hustle business. Instafeet was founded by Fabian Lejsek, a US-based property manager and investor, in 2018.
The company is registered in Santa Clara, California. Currently, there are over 200k registered users on the site.
Toward the end of 2022 though, something changed with the site. The website www.instafeet.com redirects to htts://app.feetfinder.com
This suggests absorption by Feet Finder platform, a marketplace originally designed to be a feet pics app. The merger happened sometime in November 2022 when the Instafeet site was down for a while.
How Does Instafeet Work?
Starting on Instafeet is pretty easy. You first have to create a seller account, also known as a creator account. For this, you need a valid photo ID to facilitate verification. Other details required to sign up include your email address and location.
Your request will be reviewed for approval, and if successful, you'll receive an email confirmation with your sign-up seller account details.
From there, the site recommends that you start by posting at least 5 photos. You can continue adding more pics as you seek to grow your subscriber list by sharing with friends on social media.
This is a subscription-only service so each person who joins as a prospective buyer will be charged a monthly fee. A standard subscription is about $10/month.
When Does Instafeet Pay You?
The payment is done twice a month – on the 1st and 15th of every month via PayPal, Cashapp, or Venmo. Instafeet will take their commission from your earnings and the rest is deposited into your account instantly.
Who are Creators On Instafeet?
Only women can sell pics and make money on Instafeet. There is no limitation on nationality or race, the site accommodates all female creators.
The majority of the sellers are gig workers and stay-at-home moms looking to make some extra cash. The site is also popular with college students interested in foot modeling.
Note: As a creator, you won't be charged anything, be it registration or subscription fees. The only condition is that you must be 18 years and over to sell on Instafeet.
Interested? Click here to register on Instafeet for free.
How Much Money Can I Make On Instafeet?
How much you can earn on Instafeet depends on the quality of your feet pictures and the number of subscribers you have. You first have to set rates when starting out.
Typically, pictures on the platform go for about $5-$100 per image.
For example, if you are an average seller with 4 subscribers, you can make over $70 in a day from a single photo. How?
If you charge $20 per picture, this sums up to $80 upon selling one picture to all 4 of your subscribers. Instafeet will only take 10% of this amount as their commission – that's $8 subtracted from your earnings.
Top earners on the site make up to $500 a day.
From this, it's evident that you can earn money online easily with Instafeet. Why not you? All you have to do is drive traffic to your profile and get visitors to subscribe.
The last thing you need is a creep obsessed with you or your feet, especially with the high rise of cybercrime and cyberbullying nowadays.
Hence, you might be worried about how safe Instafeet might be, and the measures the website has laid to enhance your security and privacy.
Related Read: How to take good-looking feet pics to sell
Is Instafeet Safe?
If you ask, 'How safe is Instafeet?', the answer is yes, it is completely safe!
Instafeet is a private social platform. This means that your account is your own private space, it's not visible to the public, unlike other social platforms like Facebook and Instagram.
The platform clearly states that when you post your feet pictures, only you and your paying subscribers can view your feet. This assures you that your account is safe from intruders and creeps on the internet.
NOTE: Also, not everyone can join Instafeet. Being a private platform, you must first email the admin for approval to join.
Currently, it can take about 1 to 3 weeks for the accounts to be reviewed. Instafeet states that only 10% of creators get accepted to join this platform.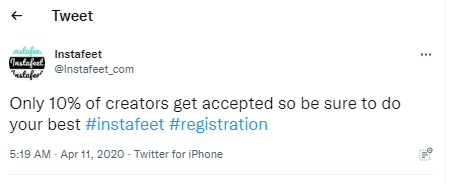 Therefore, you can expect some form of a background check before you get approval. Instafeet sends out emails when you have been approved.
That said, no online platform can be said to be 100% secure. Therefore, to a small extent, it falls on you to ensure that your Instafeet account is safe.
How to Get Started On Instafeet?
Below are the steps to get your feet pic selling gig up and going on Instafeet.
STEP 1: Sign Up
Click on https://instafeet.com/register/ and start filling in the required details. You'll also be required to set up your account username and password at this stage.
STEP 2: Wait for Approval
The company goes through your application to ensure that you are not a bot. They may also carry out other background investigations including asking for a photo ID.
STEP 3: Create Your Profile
This is the point you create the profile that potential subscribers will see. You will also be prompted to provide your Instafeet seller username.
STEP 4: Post Your Feet Pictures
The site allows you to populate your user profile with up to 10 pics. Go for the most beautiful, thought-provoking, and clear pics of your feet.
STEP 5: Set Your Subscription Rate
How much do you wish to charge people to view your content? You are free to set any price rate. Typically, beginners charge below $10 per month.
STEP 6: Start Marketing Your Hustle
The site provides you with a unique clickable link containing your username. Copy it and start posting it on your social media, blogs, and other applicable online platforms.
Instafeet Application Rules: Dos and Don'ts
The platform offers some pointers to help you sell pictures without hassle. First and foremost, to get paid and have your account approved, you must provide a valid photo ID.
Other rules before you apply include:
| DO's | DON'Ts |
| --- | --- |
| Ensure your feet, as well as your toes, are well moisturized. | Don't apply more than once. |
| Pedicure and use beautiful colors on your toenails. | Do not submit blurry pics or downloads from stock sites. |
| Pluck unsightly leg hairs. | Choose between submitting face or feet pics – never both. |
| Submit face pics together with your feet pics. | Never submit photos with socks. |
| Toe rings and bracelets are allowed. | |
NOTE: The approval process is strict, with Instafeet tweeting in 2020 that only 10% of new applicants go through. Also, after approval, the company reviews your account, constantly. As such, it's best to stick to the rules.
How To Get More Subscribers on Instafeet?
Selling feet pic apps that rely on paid subscriptions requires sellers to amass huge and quality followership. The same is expected from Insatafeet creators looking to earn $5,000, 0r even $10,000, every month from their content.
To hit such numbers, you need to use mainstream social platforms like Reddit, Instagram, and Facebook to ensure a strong online presence and traffic for your pics and video business.
Review sites like Trustpilot, Quora, and Glassdoor are also rich platforms for marketing your Instafeet profile through comments.
It also helps to keep your audience interested by releasing teasers of your upcoming photoshoots.
Lastly, you need to ask and act on customers' feedback; simply put, give your subscribers what they want by keeping up with their demands.
I found a thread on Quora that highlights exactly what it takes to become a top seller on Insatfeet. Below is an excerpt from the conversation.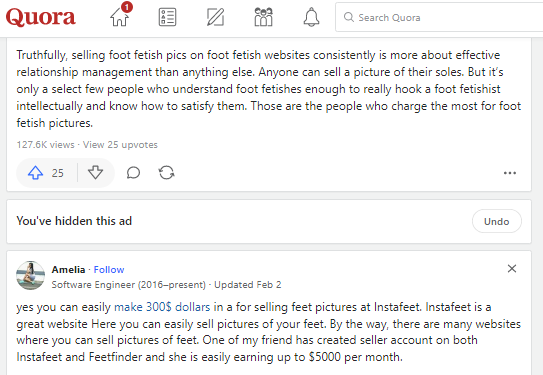 How to Keep Your Instafeet Account Safe?
Below, I have shared tips that will go a long way to keeping your Instafeet account safe and feet buyer scam-free.
Don't give out your personal information when sharing your feet pics. Make sure to scan the environment where you are taking the picture, to avoid giving out clues about your location.
Since it's you who decides what your subscribers see, come up with a profile that does not divulge much about you. For example, use made-up names or initials on your seller account.
To mask your personal information, use secure payment methods like PayPal or direct transfer. In particular, avoid mobile money transfer as it makes tracking you down easy.
Shut down any of your customers who try to get too familiar. Remember to do it politely so that you don't lose the customer. In simple terms, keep it professional!
As a recommendation by a majority of feet-selling platforms, always include a watermark on your pics. Also, most sellers always write "instafeet.com" under their pics when uploading. This is a marketing strategy that also serves as an added security feature.
How Much Should You Charge for Feet Pictures?
As I had said earlier, what you charge for your photos depends on you and your client.
That said, a single pic goes for anything from $5 with no cap on the maximum amount.
As a pointer, you should keep your price relative to the price of other feet pics sellers on Instafeet. You don't want a situation where you are charging your clients too high or too low, making your pics unsellable.
For a new member, it's advisable to start at a low price of about $10 per picture. Then you can later increase your rates after gaining a larger audience.
You can also charge more for buyers who ask for photos with different specs than the ones that you have posted. Similarly, you should expect modeling agencies to buy feet pictures at a higher rate than individual buyers.
Basically, factors that affect the price of your pics include:
1. The Buyer
Individual vs corporate buyers.
2. Your clout as a Feet Content Seller
Your influence, expertise, and follower numbers can be the difference between selling a single photo for $5 or $200.
3. The extras that clients get with their purchases
Most feet pic buyers are on the kinky side, which calls for using freaky backgrounds and props to land high prices. Mayo on feet? Go for it!
4. The Quality of your Feet and Media
Frequent pedicures are a must if you going to sell pics of your soles, feet, toes, and more. You should also consider investing in photography software and equipment for high-quality content.
5. The Content Format
Take advantage of the different media formats to charge varying prices for your feet' content. For example, you can have media in GIFs, JPEGs, Vectors, MP4, and MKV formats. Such varieties ensure your media appeals to a wide range of audiences.
6. The package – Singles vs Bundles
Buyers want to feel that they are saving money when they buy from you. A simple way of meeting this intrinsic need is by selling in bundles that are a few dollars cheaper compared to the price of a single item.
For instance, you can price a bundle of 3 pics at $20 and 1 pic at $10. Subconsciously, buyers will buy the bundle (spend $20) so as to save $10 on the singles.
Also Read: How to Earn Money Flirting With Phrendly App?
Instafeet Reviews & Instafeet Pay
Before you try out any get-paid online hustle, it's paramount that you seek advice from those who have already given it a go.
It's from trusted platform review boards and social platforms that you can get pay details as well as both the positives and negatives of different platforms.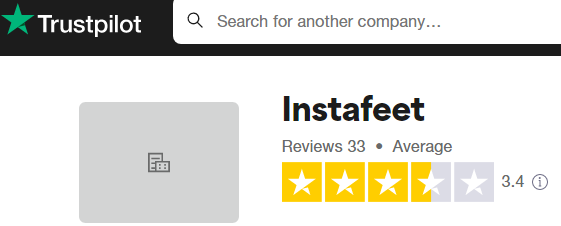 Despite a good number of glowing reviews, Instafeet attracts some negative mentions in cyberspace. On Trustpilot, Instafeet has since moved from a poor 2.2 rating (mid 2021) to a rating of 3.4 out of 5, which is considered average.
Of the total 33 reviews submitted on this platform, about 65 percent suggest that Instafeet is quite a new photo marketplace with low trust levels among new members.
Instafeet Positive Reviews
There are thousands of positive Instafeet reviews on the internet, but one that caught my eye is a review by Rachel Mended, a user on the Adopt10plus reviews platform.
She is a web developer who's been selling her feet pictures on Instafeet as a side hustle.
She earns over $6000 UAD in a month, about $4,280 US dollars, and even provides her PayPal account as evidence to back her claim. According to her, business is so good that she is even considering quitting her web development job!
Source: Adopt10plus.com
Instafeet Negative Reviews
Despite a good number of glowing reviews, Instafeet attracts some negative mentions in cyberspace.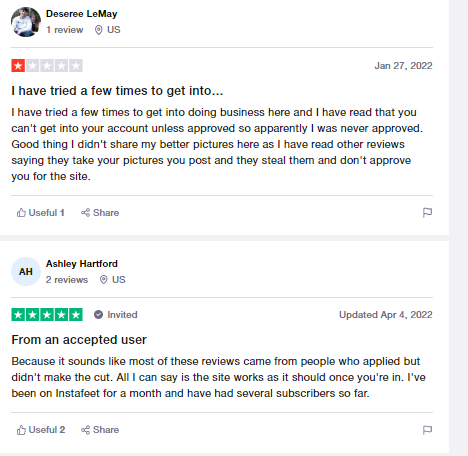 From the above reviews, getting approved on the site is a major issue. Potential users are also concerned about the safety of their personal information.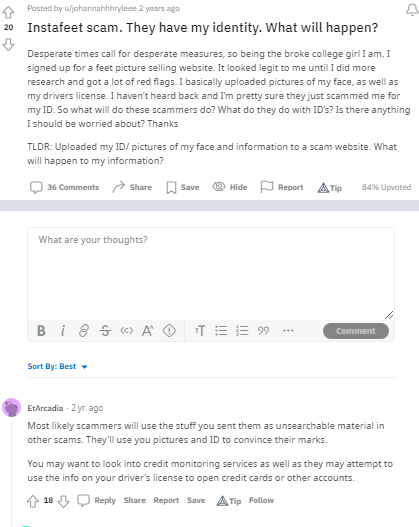 Similar sentiments can be found on Reddit as illustrated by the above screengrab of this subreddit.
There are also drawbacks pertaining to technical issues like slow loading times, terrible customer service, and frequent errors.
So, what's the truth about the Instafeet website?
Instafeet web traffic ranks at #718,322 on Alexa, an Amazon-owned market and website analysis platform. Although the rank is low, it translates to low traffic, a testament to the private nature of the site.
Still, on the reviews, it's worth noting that Instafeet's ranking on Alexa has been on a steep upward trend.
As of publishing, the site had jumped up over 170,000 places in 3 months, with a similar trend being observed since it was founded in December 2018.
Is Instafeet Legit?
Yes, Instafeet is 100% legit and safe to use with some caveats!
It's definitely possible to make money online by selling your feet pictures by staying anonymous on Instafeet because it is a private site.
However, it's not an easy job for many people to get approved to sell feet pics on Instafeet. Even if you do, you might have to deal with page load delays and bad customer service!
But don't worry if Instafeet isn't what you're looking for.
There are plenty of other alternatives to Instafeet, both websites, and apps to sell feet pics from home.
Instafeet Alternatives – Selling Feet Pics Apps
Whether you are unsatisfied with Insatfeet fees or Instafeet payout you are still in search of the best app to sell feet pics, below are the top Instafeet Alternatives in 2023.
1. Feetify
If Instafeet or FeetFinder is not working for you, I recommend you sell your pics on Feetify. This is a subscription-only media marketplace with a 4.4-star rating on Trustpilot.
Pics on the site sell for up to $100 with active creators getting extended access to exclusive marketing features.
Related Resource: How to Sell Feet Pics On Feetify [Ultimate Guide]
2. OnlyFans
This is a popular website for creators in the adult industry, as well as celebrities looking to earn extra cash from their private photos.
Apart from subscriptions, you can earn from OnlyFan's Per Per View model. Creators also earn extra through paid messages and tips during live-stream sessions.
How does making $10 for a short video of your feet sound? That's the amount DollarFeet pays for a 10-minute video with custom content earning you up to $100 for each video.
The site pays via PayPal, BitPay, and Paxum. Your earnings are disbursed within 8 – 24 hours. Currently, sole show and sweaty feet vids are selling fast on the site.
This is a leading stock photography site that allows creators to post content, under various licenses, and get a commission when their media is downloaded. Typically, Shutterstock pays you between 15% and 40% for each download.
If you are looking for an "only feet app" Wikifeet is on the path to introducing a subscription-only mobile application. The app will cost feet pic sellers around $10 per month and will operate like a dating app.
Before the app launches, you can use its Wikipedia of feet website to create a profile, upload your pics, and connect with willing buyers through email.
Instafeet Pros and Cons
Pros Of Instafeet
Free to join
Available in most countries
A huge community of both buyers and sellers
Private Platform
Allows anonymous selling
No minimum payout limits
Flexible schedule
100% Legit
Cons Of Instafeet
Requires admin approval, hence significant delays in the process.
Photo ID verification is a must, so not everyone is accepted
Member profiles are under constant review
Website loading issues, slow site speed, and frequent errors.
Poor customer support.
No "About Us" page and "Contact form" on the website
Not BBB Accredited.
Overall, 2.4 rating on Trustpilot.
To add to this, Instafeet is quite inactive on social media.
For example, Instafeet joined Twitter in April 2022 and since then, they have only tweeted 10 times, and all in one day. Also, all the posts have to do with the rule of registration.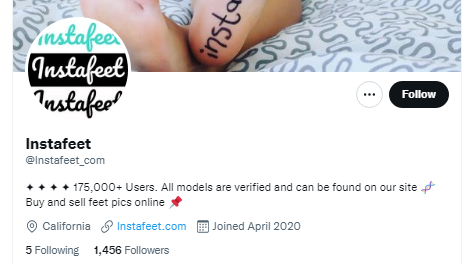 On Facebook, the scenario is the same: Just a few posts since 2018, with the last one being in Feb 2019.
On Instagram, the site only features 9 photos that make up a single montage.
2023 Instafeet Red Flags

The beginning of the year has seen major changes on what we know about Instafeet. Unfortunately, the news isn't great for feet sellers who were used to the platform. Some of the red flags include:
The Instafeet website is no longer active. Its URL now redirects to htts://app.feetfinder.com.

No official communique has been released on the site's closure, merger, or buyout.

Many of the site's positive reviews are from sellers who are clearly marketing their Instafeet profiles.
Instafeet FAQs
Here are some frequently asked questions about selling feet pictures:
1. Do You Have to Show Your Face On Instafeet?
Whether or not to show your face depends on you. Understandably, you might be worried that showing your face may welcome creepy guys and stalkers to your timeline and other social apps.
While that's a risk that comes with the site, it's worth reiterating that only you and your subscribers can view your feet pictures.
But what is Instafeet's policy on showing your face?
First, the practice is not mandatory. Nevertheless, you are advised that not showing your face will be a big disadvantage for you. Why? Apparently, most buyers want to see the face that comes with the feet!
It is also, worth noting that pics of feet in socks don't count. The platform also reserves the right to delete inactive users in order to make room for new and active members.
Related Read: Want to go anonymous? Check out these feet-selling apps!
2. Can You Sell Hand Pics On Instafeet?
Instafeet solely focuses on the sale of feet pictures. If you want to sell hand pictures, you can look for hand and foot model agencies.
Alternatively, you can start your own blog where you sell your hand pictures.
There are also photo marketplaces such as Shutterstock where you can make over $100 in a month selling all kinds of pics.
3. Who Buys Pictures Of Your Feet On Instafeet?
You might be wondering why anyone would pay for pictures of your feet, right? Well, these pics are of use to many people and for various reasons. They can be individuals, groups of people, or even companies.
Let's look at the various groups who buy feet pictures and why:
Stock Photography Websites
Publishers for such websites often buy your feet 'pics to post and store them in their library. This is because their audience needs an image variety to choose from. These websites may also ask for your pictures for resale to their customers.
These are people with sexual interest or fetish for feet. You will be surprised that this crowd includes celebrities like Britney Spears and Quentin Tarantino.
With such high-end clientele, it makes sense that making hundreds of dollars daily from your feet is well within reach.
Artists and painters search for creativity anywhere. And for some of them, images of feet are the perfect muses. They are willing to buy your pictures to draw them, paint, frame them, or for other artistic purposes.
Modeling agencies are always on the lookout for images to enhance their creativity when recruiting new foot models. They also have magazines where they publish all sorts of pictures.
Publishers and News Agencies
The web has billions of pictures and they all have to come from somewhere. Webmasters occasionally buy feet images when they are publishing articles that require body parts.
The same goes for news and marketing agencies that need to display feet pics for advertising or branding purposes.
Movie Production Companies
Many Hollywood movies have foot-fetish storylines in their scripts. Luckily for you, not all actors have the 'right' feet for the parts.
Film directors buy feet pics from both modeling agencies and independent sellers to hang on movie sets.
It's also possible for you to receive requests for paid video footage of your feet to be edited into movie scenes.
4. Will My Instafeet Application Be Approved?
First off, Instafeet does not guarantee approval of your profile. Depending on the number of applicants at a given time, the company can take between 1 day and 3 weeks to approve or reject your seller account.
5. How Do I Get Paid On Instafeet?
Instafeet pays creators via PayPal, Venmo, or Cashapp accounts. Your earnings are aggregated every 2 weeks and sent to your preferred payment system on the 1st and 15th of every month.
6. Do I Have to Pay to Sell On Instafeet?
Like many apps to sell feet pics, the Instafeet website does not charge sellers to open an account, upload content, or market their profiles. The site and sellers make money from the fees charged to buyers when they subscribe, view, buy, or interact with the platform's paid features.
7. Can Selling Feet Pics Make Good Money?
Is selling feet pics good money? Depending on your client base and dedication to the business, there is good money to be made here. With subscription services, you can earn $500 monthly from just a small pool of subscribers.
A creator with high-paying followers who require custom pics and videos can easily make the same amount on a daily basis.
8. Who Can Sell On Instafeet?
Not everyone can sell on Instafeet. The site has a minimum age requirement of 18 years. As such, your approval as a creator can be contingent on providing legal documents, such as a government ID, to verify your age. Other than that, anyone above the age of 18 can sell pics and videos on Instafeet.
9. Do I Have To Pay Taxes On My Instafeet Money?
Any money you earn from a business activity is subject to the self-employment tax. The IRS expects you to file taxes for your gig work as a self-employed model. To ensure compliance, it helps to keep your Instafeet seller payment account (business) separate from your personal account.
Also, keep proper records of your photography/videography expenses and tips for ease of filing taxes.
10. How to Contact Instafeet Customer Service?
To contact customer support, the faster way is via an email to the site's help desk at hello@instafeet.com.
You can also reach support via Insafeet's social media pages like Twitter or Instagram.
After the merger, the internal support link (https://instafeet.com/contact-us/) promptly directs you to https://www.feetfinder.com/contact.
Instafeet Review 2023: Final Thoughts
If you are passionate about selling feet pictures, and you are confident enough, then you could be standing on a gold mine.
What are you waiting for? Start earning money right away by selling your beautiful feet images on Instafeet! Note though, many Instafeet Seller reviews point to credibility issues, including personal data fraud and website instabilities.
What's your take on the platform? Has the apparent merger with Feet Finder affected your earnings? Are there better websites for selling feet pictures? Share your thoughts below.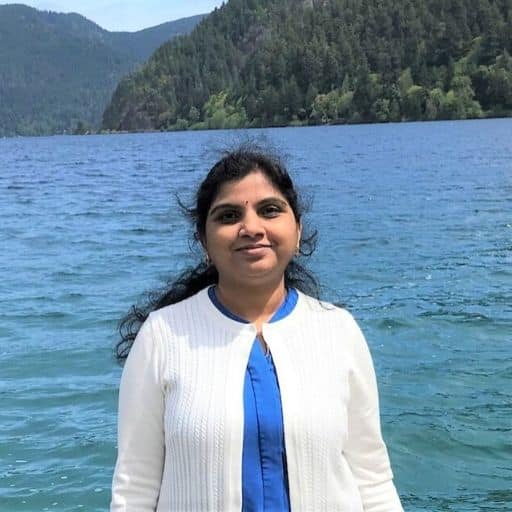 Howdy Folks, thanks for stopping by my blog.
I'm Swati, a proud mom, dedicated side hustler, full-time blogger, and a recognized millennial work-at-home expert. My expertise has been featured on esteemed platforms such as Forbes, CEO Blog Nation, Referral Rock, Vital Dollar, Databox blog, and many more. I have embarked on this incredible journey to share my firsthand experiences in the world of online income generation and to assist all of you in earning money from the comfort of your homes.
Join me in my mission to revolutionize the way we make money and achieve financial freedom. Trust me, it's not as challenging as it may seem!
Together, let's explore the boundless opportunities and pave our paths towards a prosperous future.