This Feet Finder review answers questions about making money from taking feet pictures and selling them online. I shall be addressing key concerns such as; Is Feet Finder Real? Is FeetFinder Legit or a Scam? Is FeetFinder Safe to use?
If you've ever wanted to monetize your feet photos on FeetFinder, and looking for genuine FeetFinder Reviews, this article is just what you need.
Also, is Feet Finder Instafeet? What's the association between the two marketplaces?
This blog post will tell you everything you need to know about selling feet pictures online with FeetFinder and alternative marketplaces.
We'll cover how to get started, what to expect, how to make the most of your experience, and, most importantly, how to make money on FeetFinder in 2023.
FeetFinder Review: Feet Finder App Reviews
Here's a quick rundown of Feet Finder's features before we get into the deets.
CRITERIA
FEETFINDER FEATURES
Year Established
2019
Purpose
Exclusive for Buying and Selling Feet Pics
Available Countries
Globally.

Currently, FeetFinder is only verifying accounts from the US, Canada, Europe, and Australia.

Applicable
All gender and races 18 years and above
Basic Plan
$4.99 per month or $14.99 per year
Premium Plan
$14.99 per month or $29.99 per year
Avg Income
$22 per pic or $19 for a video*
Shares & Cuts
FeetFinder takes a

20% commission on all sales

made by sellers
Minimum Payout
$30, weekly payouts
Payment Method
Segpay or

Paxum

Referral Program
Yes, available
Seller Rating
4.8 out of 5 on TrustPilot
FeetFinder Review:
Final Verdict
The site is 100% trusted, legit, safe, and it pays creators as advertised.
What Is FeetFinder? How Does Feet Finder Work?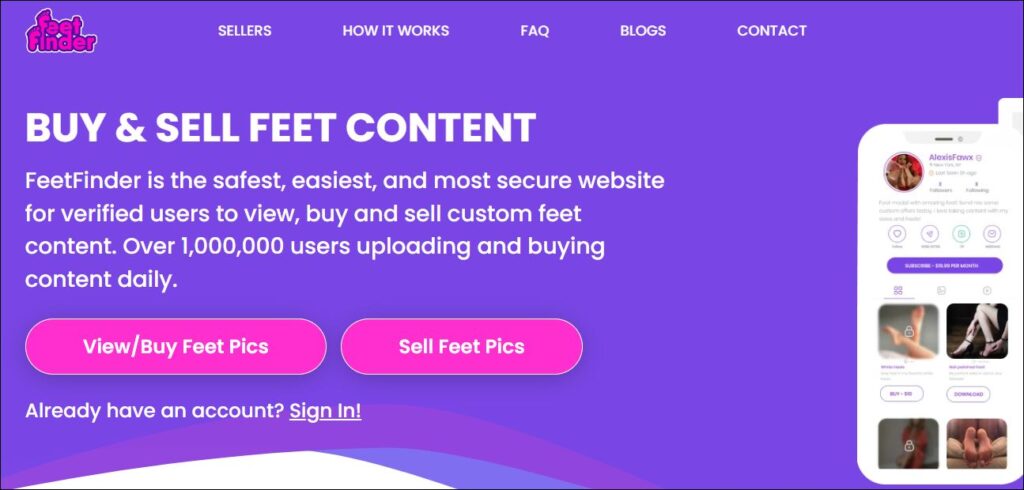 FeetFinder is an eCommerce website that has been in existence ever since 2016 and is almost dominating the market. The platform is designed for those interested in both the buying and selling of exclusive pictures and videos of feet. It's one of the incredible ways for making money passively.
This probably sounds too good to be true, right? Well, this is a legit social platform that also doubles up as a marketplace for feet lovers.
After you have signed in, you will need to verify your ID.
This step is put in place for communication, to ensure you receive special offers sent your way, and also to verify that all of its users are 18+ years of age as stated in FeetFinder's privacy policy.
Buyers find this platform as a store for valuable pictures whereas sellers see FeetFinder as an opportunity for making good money trading their feet pictures.
This site is considered to be a fetish website since there are individuals who purchase these pictures to satisfy their sexual gratification.
They express and satisfy their sexual fantasies by either worshiping or touching images of feet.
I'm also taken by the site's simple layout that's easy to navigate including a dedicated blog that covers how to sell feet pics. But that's my view of the site, read on to form your own opinion of FeetFinder.com
Is FeetFinder the Same as Instafeet?
They are two different platforms. Lately, though, Instafeet sign-up searches started redirecting to app.feetfinder.com. Why is that?
Officially, no statement has been released by either company on the apparent merger. As such, it's not easy to know if Instafeet has been bought off, closed its door, or rebranded to FeetFinder.
I can also not tell whether the development is permanent or temporary.
The facts are:
Instafeet.com went down in early November 2022.
Shortly after, the URL started redirecting to www.feetfinder.com.
Towards the end of 2022, Feet Finder saw a spike in numbers and web traffic.
If you are looking to improve your Feet Finder income one of the best practices is to branch out your business to alternative sites like Instafeet.
Is FeetFinder Legit?
If you ask, 'Is FeetFinder a Legit Website?', yes Feet Finder is 100% legit and safe with a 4.8/5 rating on TrustPilot
It is among the very few foot fetish sites where you can buy and sell videos and images of feet at a good price. Up to date, there are no serious allegations have been raised challenging the legitimacy of the platform.
Creators are paid on time with the company charging you 20% of your sales for the service.
It is also known for excellent customer support that goes out of its way to ensure your account starts and keeps earning.
Is FeetFinder Safe?
Another most commonly asked question for typical sites such as FeetFinder is whether or not such platforms are safe. So, if you ask me , "Is Feet Finder Safe?"
The answer to this question is a firm yes!
FeetFinder is a safe website to start selling feet pics online and make money. Also, you can confidently open your account on FeetFinder without being distressed about any data breaches.
There is a verification process that is mandatory and kept in place to ensure that your personal details such as your phone number or personal email are kept safe.
Further, FeetFinder is also encrypted to make sure there's no possibility of scammers leaking data from the company's database.
It uses Sitelock to stop traffic from bots and its payment methods are PCI compliant.
That being said, you also have an important role to play in ensuring the security of your data and avoiding possible feet scams.
Start by making sure to never reveal your contacts, sign-up details, or any other personal information shared with FeetFinder to anyone; not even your most lucrative buyer.
Who Is FeetFinder For?
This platform is currently gaining popularity in the USA, UK, and Canada.
So if you are a lady or a gentleman from either of these countries and have beautiful click-worthy feet, why not give it a try?
In addition to that, you must also be comfortable sharing your photos with the public.
Potential buyers can also opt to privately get in touch with sellers and request a specific pic.
It's, however, within your power as a seller to decide whether or not a specific buyer gets to subscribe to your profile.
Who Buys Feet Pics On FeetFinder?
Potential buyers in the FeetFinder marketplace include:
Feet picture collectors:

These are the kind of people with a passion for collecting different kinds of pictures and storing them as valuables.

Advertisers:

These are brands that purchase these images and videos for their advertisement campaigns.

They will use them to advertise their nail polishes, footwear, cosmetics, anklets, or any other products that are worn or applied on feet.

Bloggers: Web content

creators who blog about feet, shoes, health, and so on source feet pics from sites like FeetFinder.

Feet fetishists:

These are buyers who buy feet content for sexual gratification.

Feet model agencies:

Such agencies often purchase feet images from candidates who have the right foot features for different marketing campaigns.

Newspaper or magazine publishers: Be it news or publishing houses, there is always a market for amazing feet pics that can make the covers.
FeetFinder Pricing: Is FeetFinder Free? Does Feet Finder Cost Money?
No, FeetFinder is not free anymore for all. It does cost money and has a fee!!
As of now, Buyers can access the site for free, but the sellers must pay a monthly subscription of $4.99 per month, or $14.99 per year.
The FeetFinder premium plan for sellers costs $14.99 per month or $29.99 a year.
Initially, when FeetFinder first launched, it was free for both buyers and sellers. They, later on, came to learn that the quest for making money by selling foot pictures was growing rapidly with thousands of new users signing up to sell content on a daily basis.
Although a huge number of buyers were also signing up and purchasing content, the number of sellers still outdid that of the buyers.
As a result, the company chose to charge the sellers rather than restrict the number of those who could join, post, and sell content.
The annual plan lets you save over $45 which you would part with if you go with the monthly plan.
Is FeetFinder Premium Worth It?
The subscription fee is to be paid before being allowed to sell your own photos to ensure that only those sellers that are serious about making money out of their content are in the market.
In addition to that, rather than the company taking the money that has accumulated from the subscription fee, they use it in ways that benefit both the buyer and seller.
First off, this sum is used in designing a bigger marketing budget that attracts potential buyers on the Internet. This way, the cost of marketing your products is off your table. How amazing is that!
For much better results, I'll advise you later in the post on how to also promote your accounts on various social media accounts.
Secondly, your subscription fees go to weekly cash giveaways.
The company purchases content from users who are active on the platform, increasing the amount they make from selling feet pics to buyers. This implies that you can make money for the hours you spend on the site without counting direct sales.
For you to make a good earning from selling non-repulsive feet pictures and videos, you will need to be creative.
How to Get Started On FeetFinder?
Now that you know what FeetFinder entails, let me take you through steps to follow to get your feet pics gig started.
Step 1. Sign Up for an Account
Visit the FeetFinder homepage and click on sign-up to initiate the account creation process. You have the option of clicking on either a View/Buy Content or Sell Content button.
Click the latter, read the welcome instructions that display, and at the bottom of the message, click Continue to open the sign-up page.
Step 2. Verification of ID
This step is put in place for security purposes. Here, you will be required to take two photos, one is one of your issued government IDs and the other is a selfie of you holding the same ID.
By doing this, the company is certain that all account owners are 18+ years of age. Any underage individual who tries opening an account won't get verified!
Step 3: Complete Your Profile
This is the last step in the registration process. Here, you are required to submit basic information. You will need to fill in your name, date of birth, age, email address, and your bio.
Understandably, this is critical information but relax, the company doesn't share such info with anybody else as stated in their privacy policy.
Check out these top Feet Finder Bio Ideas and feet nicknames for inspiration.
Feet Finder Login
After having created an account and it's verified, you are now eligible to use the FeetFiner platform.
To have access to your account, you will be required to submit the email address you used during the registration process and the password you set.
The email is useful in that, in case you have forgotten your password when trying to login into your account, the company will use the address to send you a link that will assist you in resetting the password.
How to Make Money On FeetFinder?
I am confident that by now you have already familiarized yourself with the registration process. However, before you start reaping the benefits of selling your feet images or videos on FeetFinder there are two more steps to consider.
Step 1. Upload Your Pictures and Videos
You can choose to upload a picture or video so long as it falls under one of the categories listed by the company. These categories are:
Nail polished feet

High heels

Lotion

Socks

Tattoo

Dirty feet

Pedicure

Dancer

Male
To upload content, visit the website and click on the upload button. At first, all your pictures will be blurred. This is by design to guarantee buyers won't be able to see your content not unless they purchase the package.
There's also a restriction on the size and length of the pictures and videos you can upload: Your pic uploads should not exceed 1GB and videos should not be more than 10 minutes long.
Step 2. Consider Upgrading Your Account
In order to access all the potential money-making streams of this website as a seller, you will need a premium account.
You can opt to pay $14.99 every month or an annual subscription fee of $29.99.
Premium sellers with huge social media also stand a chance of becoming featured models (known as "Featured model") on FeetFinder.
Expert tip: Leave your feetfinder.com review on sites like Reddit, Facebook, and Trustpilot. Such social sites serve as free advertisement platforms where you can direct potential buyers to your seller profile(s).
How Much Money Can You Make On FeetFinder?
The average price of a pic goes $22 and $19 for a video. That's according to this FeetFinder blog post, which also notes some sellers have made over $30k to date!
The lowest rate for selling pretty feet images is $5 but you can raise the price to whatever amount the buyer is willing to pay.
The company currently charges a 20% fee on all the sales of your photos. This amount is to cater to the transaction charges as well as data security.
For example, a handful of models have been reported to have earned up to $100 dollars per picture.
An important aspect that will help in determining the price per image is the number of followers you have on both your FeetFinder account and other social media accounts such as Instagram or Facebook. The more followers you have, the higher your pricing can go.
That's not all, more followers mean more people to recommend the site to.
Why is this important? Let's discuss how you can make money via the FeetFinder referral program.
When you complete your sign-in process, you are issued a referral link. It's up to you to decide where to share your link. This is where your social media friends come in handy.
By doing just that, you'll earn 10% of any sales they make on the site, for life, provided they sign up using your site.
One thing I like about the referral program is that the 10% is not charged from the seller's earnings but rather from the company's fee. This means that your seller friend keeps his/her 80% of her sales.
How Does FeetFinder Handle Sellers' Payouts?
The FeetFinder company has partnered with Segpay and Paxum companies which are responsible for handling the transactions between the buyer and seller.
These companies are extremely secure and are trusted by models for they have been managing millions in payouts all over the globe.
Your location determines which of the two companies to use. Users located in the US have their transactions handled by Segpay while users outside the States have their money flow handled by Paxum. Both companies have a feature that allows FeetFinder sellers to track their sales.
Unfortunately, the company does not partner with cash apps such as CashApp and Paypal.
The reason is that most mainstream online payment platforms terminate any account that either receives or sends money from fetish websites.
FeetFinder Minimum Payout & Taxes
The payments are made weekly once the account accumulates a minimum of $30 via Segpay or Paxum.
If you ask, 'Do I have to submit and pay taxes on my earnings?', the answer is yes!
If you live in the US and make more than $600 per year, you must complete the 1099 forms provided by Segpay and file your taxes. And, if you're based outside of the United States, you'll need to comply with your nation's tax rules.
Pros & Cons Of FeetFinder Website
| PROS OF FEET FINDER | CONS OF FEET FINDER |
| --- | --- |
| The company facilitates most of the advertising process: Out of the 20% commission that the company charges, some of the money is used in boosting the marketing budget so as to attract new buyers. | Limited to Only the West: Currently, FeetFinder is only verifying accounts from the US, Canada, Europe, and Australia. |
| Cash Giveaways: These giveaways take place once a week. FeetFinder searches for an active seller who also happens to interact with them on their social media handles and purchase some of their content. | Monthly Subscription Fee: Spending money before you even start earning is a very tough call to make. Apart from the 20% commission on all sales, sellers have to pay a monthly subscription fee of $2.99 or an annual fee of $24.99 to keep their accounts active. |
| Total Transparency: The company does not have any hidden servicing or processing fees. It ONLY charges a 20% commission on every sale. | ID verification: Even though the company won't disclose your ID details to anyone, you need to take a selfie holding a government-issued ID. Not everyone is okay with this. |
| 14-days Trial for Sellers: Although you must pay a subscription before you start selling, you have a 14-day window to try out the platform. If it pleases you well, and good. If on the other hand it doesn't, you can cancel your subscription and get a full refund. | There's NO FeetFinder App: Unfortunately, FeetFinder has no app in either Google Play Store or Apple App store. The existence of such an app would have simplified the money-making process since uploading content would be fast compared to when using a website. However, the company says it is ready to launch an app the moment "fetish" sites are allowed to by Apple and Google. |
| Complete Control: Users can open and close a FeetFinder account anytime. | |
| Marvelous Reviews: FeetFinder has a 4.8 star rating on TrustPilot. The company has less than 2% negative complaints. Most of which are reviews from sellers who are not patient enough to wait to start making meaningful sales. | |
| Excellent Customer Service: Also, the service responds quickly to any negative experiences posted on TrustPilot. They even offer to assist new sellers having trouble getting started by sending tips to their emails. | |
| | |
FeetFinder Reviews [Seller]

As you surf the internet, you will come across plenty of reviews on the likes of Reddit that claim FeetFinder to be legit.
Also, leading review platforms like Trustpilot have given FeetFinder a 4.8-star rating from over 5,565 user reviews.
Update 2023: FeetFinder real reviews on Trustpilot have more than tripled since November 2022. What's more, Feet Finder reviews for sellers have pushed the site's ranking to 4.8 stars.
Here, you will come across new sellers who had trouble settling their accounts and their issues were resolved in a blink of an eye.
Also, some of these sellers praise the site's layout claiming that it makes uploading and navigating the website easy.
FeetFinder Reviews [User]
Above are just three of the hundreds of FeetFinder reviews on Trustpilot that prove the legitimacy of the company with users talking being satisfied by the site's customer care team.
Apart from the usual accolades, the above reviews raise some concerns about FeetFinder.
One user alludes to receiving 'nonsense' messages from other users. They recommend that FeetFinder charge 50 cents for sending messages, which I must say is not uncommon on these kinds of platforms.
Another buyer laments that buyers with low ratings are less likely to make buys.
They suggest having a way to filter buyers based on their ratings. That said, they all agree that the site is trusted, and legit, and that it pays creators as advertised.
How to Cancel FeetFinder?
If your hustle of selling feet pics on FeetFinder is not making you money as expected, you have the option to cancel your subscription and delete your FeetFinder account.
You can also go further and delete your accounts on Segpay and Paxum, the payment systems of FeetFinder. This option is especially important if your reason to cancel FeetFinder has to do with getting scammed online.
NOTE: If you don't cancel your membership on FeetFinder, 24 hours before your current billing period expires, your subscription of $4.99 or $14.99 per month will automatically renew.
How to Cancel Feetfinder Account?
Here is a step-by-step guide on the termination of a FeetFinder seller account:
Start by visiting the official FeetFinder website and log into your account using your email or username, and password.
Click the company's logo, at the top right of the page, to display menu options.
Find and click Delete Account.
On the pop-up that appears, click OK to consent to the removal of your seller data.
You will receive a cancellation email as a confirmation that your account is no longer active.
How to Cancel FeetFinder Subscription?
Your FeetFinder subscription runs until the end of the relevant period you paid for, then your plan renews by charging your selected payment system.
As such, the subscription you wish to cancel can be achieved by turning off the Auto-Renew option. Go to your user settings or profile page and toggle the option from On to Off.
To cancel the subscription from Segway, open the company's Self-Service Portal and fill in the information required to Cancel the Billing.
You can also cancel FeetFinder subscriptions via:
Chat with a Segway representative on the Self-Service Portal (bottom right corner).

Email help@segpay.com explaining the request.

Calling 866-450-4000.
If you are paying via Paxum, the process is basically the same: Log in to your user profile, use the menu button to go to Settings, Payment, or Billing, and click and follow the instructions.
Additionally, you can initiate the cancellation by communicating with Paxum Support.
Feet Finder: FAQs
1. How Much Is FeetFinder Premium?
The FeetFinder premium plan for sellers costs $14.99 per month or $29.99 a year(as opposed to the usual $4.99 per month or $14.99 annual subscription plan).
2. Does FeetFinder Have a Refund Policy?
Unless the transaction in question has to do with fraud, the company does not agree to refunds. If a buyer tries to charge back, his/her account will be terminated immediately.
For security purposes, Segpay, one of the company's trusted Payouts partners, allows the FeetFinder company to see the user's card, home address, and name.
If the user attempts to chargeback, through the help of the Segpay compliance department, his/her email and card are blocked and banned from future purchases.
3. Can You Sell Hand Pics On FeetFinder?
No, you can't sell hand pics, FeetFinder exclusively sells feet pics. They maintain a zero-tolerance policy for anything that might be considered inappropriate, and they strictly enforce it.
4. Can Guys Sell Feet Pics On FeetFinder?
Yes, guys can sell feet pics on FeetFinder. The platform permits anyone, regardless of gender or race, to sell photos of their feet as long as they are at least 18 years old!
5. Does FeetFinder Have an App?
No, FeetFinder does not have an app either on iOS or Android, though it was originally intended to be one.
The company says it is ready to launch an app the moment "fetish" sites are allowed by Apple and Google. However, their site's layout is super simple and is easily navigable even on a mobile device.
CAUTION: Searching "FeetFinder App reviews" may land you on Feet Finder app on App Store or FootLove on Google Play. This app is the product of The Feets Company that is not affiliated with FeetFinder.com.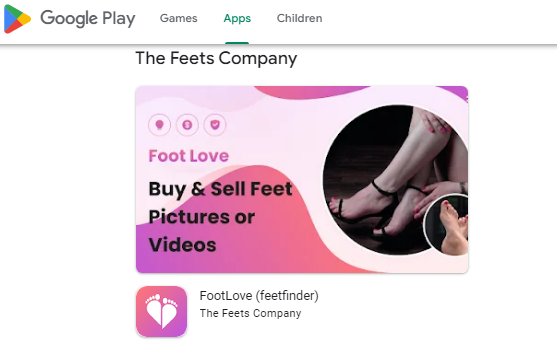 6. Why Does Feet Finder Need My SSN?
As a seller, FeetFinder is interested in your personal data including your Social Security Number, email, name, and photo ID.
The information helps the company to identify and verify you as a user to enforce "rights arising from any contracts with you, including for billing or collections, or comply with legal requirements".
7. How Long Does It take to Get Verified on FeetFinder?
According to FeetFinder, "the website requires time to verify the stuff that you provide once they are satisfied your account will be complete and shows as verified users".
There is, however, no indication of how long the process takes; it can be days, weeks, or months.
8. How to Cancel FeetFinder Seller Subscription?
To cancel your FeetFinder seller subscription, navigate to your user profile or account settings. Find the Auto-Renew toggle and set it to the "OFF" position.
Your current/existing subscription will run until the end of the month or year, depending on the period you have paid for. Thereafter, you'll need to subscribe again and continue selling your feet content.
Nevertheless, some Feet Finder seller reviews point to some trouble when trying to cancel the subscription.
As Honest Betty complains, "With that being said I have submitted to cancel my subscription however, they want to know why and charged me for another month".
9. Can You Make Good Money On FeetFinder?
Is Feetfinder a good way to make money? The answer is a big yes!
Feet Finder is one of the best online platforms to make good money selling both pics and videos of your feet.
And the best way to achieve such a goal is to join FeetFinder and promote your account on your other social accounts.
10. How Do I Get More Buyers on FeetFinder?
First, create a compelling profile. Include a clear and concise description of your services and highlight your unique selling points. You should also add several high-quality photos that show you in action.
Your feet are the foundation of your business, so make sure you take care of them!
Get a pedicure, wear comfortable shoes, and regularly moisturize and exfoliate your skin. Your buyers will appreciate your effort and be more likely to return for future appointments.
11. How Do I Change From Buyer to Seller on FeetFinder?
Changing your preference from a buyer to a seller on FeetFinder is quick and easy.
You can change your preference at any time in your account by going to the "Settings" page and selecting the "Change Role" option. If you're a buyer, you'll see the option to switch to a seller.
Once you've made your selection, click "Save Changes," and you're all set! You'll have access to additional features such as creating listings and setting your prices as a seller.
12. Can I Use Feetfinder If I Live Outside Of THE US?
Yes, you can use FeetFinder to buy or sell pictures even if you live outside of the US.
Currently, FeetFinder is only verifying accounts from the US, Canada, Europe, and Australia. You can list your pictures for sale on the website, and buyers worldwide will be able to see them.
13. Do I Have To Show My Face When Selling Content?
No, you don't have to show your face when selling content on FeetFinder. It is understandable that some people are uncomfortable showing their faces online, so it is not required. However, it is recommended.
Those who sell content that includes their face tend to have more buyers. Why? Well, it adds a personal touch and helps build trust.
Additionally, it lets buyers see what they're getting before buying. If you're not comfortable showing your face, that's perfectly fine. Just know that it might limit your buyer pool somewhat.
14. What Type Of Content Is Prohibited on Feetfinder?
Prohibited content on Feetfinder includes, but is not limited to: nude content, illegal content, copyrighted material, and spam. Nude content is any content that shows bare breasts, buttocks, or genitalia.
Illegal content is any content that violates local, state, or federal law. Copyrighted material is any material that is protected by copyright law.
Spam is any content that is repetitive or irrelevant. FeetFinder prohibits all types of content from maintaining a safe and friendly environment for all users.
15. What Is Feet Finder Customer Support?
You can reach FeetFinder.com support on the company website via messaging or through an email addressed to hello@feetfinder.com.
The customer service team also runs several social media handles where users can raise issues and get timely responses:
| Official Website | https://feetfinder.com |
| --- | --- |
| Instagram | https://www.instagram.com/finder/ |
| Twitter | https://twitter.com/feetfinder |
| Reddit | https://www.reddit.com/r/feetfindercom |
| YouTube | https://www.youtube.com/@FeetFinder |
| TikTok | https://www.tiktok.com/@feetfindermerch |
| Pinterest | https://www.pinterest.ph/feetpicslover/ |
| Contact Page for Customer Support | https://www.feetfinder.com/contact |
Most Feet Finder experiences shared by users rate the feet pics marketplace's customer service as good. Moreover, the company is registered in Carson City, Nevada 89701 USA at Suite 208, 318 N. Carson Street.
16. What is a FeetFinder Referral Code?
To get others to enjoy your Feet Finder experience selling personal content, the site assigns you a referral code to share with others. People who successfully use your code to sign up make you a 10% commission on their earnings.
17. Does Feet Finder Take Your Money?
No, Feet Finder doesn't take your money. The company charges a 20% fee on all the sales of your photos. This amount is to cater to the transaction charges as well as data security. And, some of this money is used in boosting the marketing budget so as to attract new buyers.
18. Does Feet Finder Report to IRS?
Yes, if you are based in the US and make over $600 per year Feet Finder will send you 1099 forms to report to the IRS. The forms will come from Segpay (their partner bank) and will be discreet. If you are based outside the US, you are responsible for filing your taxes in accordance with your countries tax laws.
19. Does FeetFinder Encrypt Your Data?
Yes, FeetFinder encrypts your data to make sure there's no possibility of scammers leaking data from the company's database. They also keep a check on bot traffic which can effectively protect users' data. Moreover, It uses Sitelock to stop traffic from bots and its payment methods are PCI compliant.
20. How Do I Get a Payout from FeetFinder?
The payouts from FeetFinder are made weekly once the account accumulates a minimum of $30 via Segpay or Paxum. The funds are released within 3-5 business days after the payment request is approved.
Sites Similar to FeetFinder
Feetify Platform

– Over 172k active members with feet pics going for up to $100 apiece.

Instafeet Site – This is one of the oldest players in the industry with a pic selling for up to $100.
OnlyFans Portal – One of the most popular subscription-only sites for feet models and celebs. Pics and videos on OnlyFans can make you $100 in hours easily.
Stock photo sites–

Examples of such websites are: Shutterstock and iStockPhoto.com

Social media – P

opular interactive places where people sell and promote their feet images and videos. Try selling on

Snapchat, Instagram, Facebook, and Whatsapp
Ecommerce platforms –

These are sites where creators, promoters, and consumers meet.

Etsy and eBay are good examples of such places.
FeetFinder Review: Is FeetFinder a Scam? Is FeetFinder a Good Company?
FeetFinder is a great company and definitely not a scam!
FeetFinder is 100% legit, safe, and is the only one of its kind to approve only verified seller's accounts.
As I was conducting research on this Feet Finder review, I came across 91% of real users' testimonials rating the site at 5 stars on Trustpilot, with just 1% of the testimonials awarding the marketplace a 1-star score.
FeetFinder gets lots of praise for excellent customer care service and a team that is fast at delivering replies and answers to queries. Nonetheless, FeetFinder is not BBB (Better Business Bureau) accredited.
Moreover, the website has a strong social media appeal and promotes its content and users on its various social media handles.
So, if you are interested in making money from selling custom pictures and videos, I highly suggest that you join FeetFinder and create an account with other legit sites like Fun With Feet and Feetify.
Ensure that your accounts stay active to make more money and also connect with other sellers for winning insights.
I believe that after having read the above FeetFinder Review, you are now satisfied that this is not a fraudulent website but a rather legit marketplace for the buying and selling of feet images and videos.
So if you are certain that you have very nice feet and a good number of followers on social media, give it a try.
I assure you, this could turn out to be your best passive job. I look forward to hearing about your experience as a foot model in the comments.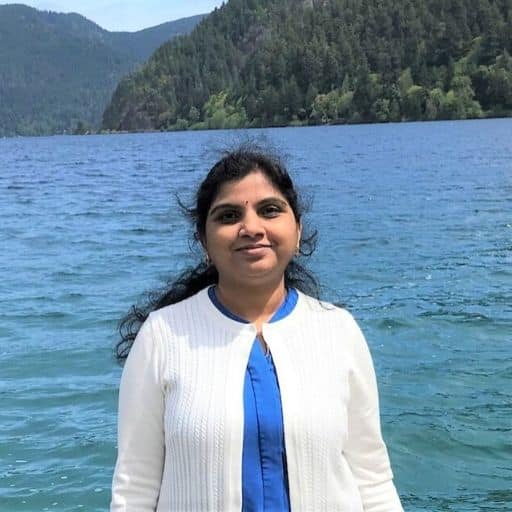 Howdy Folks, thanks for stopping by my blog.
I'm Swati, a proud mom, dedicated side hustler, full-time blogger, and a recognized millennial work-at-home expert. My expertise has been featured on esteemed platforms such as Forbes, CEO Blog Nation, Referral Rock, Vital Dollar, Databox blog, and many more. I have embarked on this incredible journey to share my firsthand experiences in the world of online income generation and to assist all of you in earning money from the comfort of your homes.
Join me in my mission to revolutionize the way we make money and achieve financial freedom. Trust me, it's not as challenging as it may seem!
Together, let's explore the boundless opportunities and pave our paths towards a prosperous future.