Would you like to get paid to drink coffee? Believe it or not, there are several ways to make money by sipping on your favorite morning beverage.
There are plenty of money-making opportunities for caffeine aficionados, from working as a coffee taster to being a coffee industry influencer. But how to get paid to drink coffee?
No matter what your goal is in the coffee industry, whether it be a career, side hustle or supplementary income, read on for tips on how to get paid to drink coffee.
Can You Really Get Paid To Drink Coffee?
Yes – it may sound strange, but you can actually get paid to drink coffee by getting a coffee-related job or running your own coffee shop!
Additionally, you can make money semi-passively by vlogging and blogging about coffee products on youtube, websites, or social media.
How to Get Paid To Drink Coffee?
Do you like to learn about new things and explore different career paths in the coffee industry? If so, I have you covered. Each option listed below is unique and opens the gates to a great future. Let's get started without any further ado!
1. Get a Coffee Roaster Job
Do you savor the smell of freshly roasted coffee? If so, becoming a coffee roaster may be the perfect job for you.
Coffee roasters are responsible for all aspects of coffee production and quality, from selecting the beans to grinding them to brewing the perfect cup.
And, the average hourly pay for a Coffee Roaster typically falls between $17 and $20 in the United States, according to Salary.com and the median salary with a High School Diploma or Technical Certificate is $23,677 – $24,743.
Thankfully, there are numerous coffee roasting jobs open to passionate coffee makers – Start right here to get an understanding of the coffee roasting process.
2. Become a Coffee Technician
Do you like working with your hands and being creative? If so, consider becoming a Coffee Machine Technician.
A professional coffee machine technician is one who fixes, installs, maintains, and troubleshoots coffee machines and related equipment.
Turns out, that becoming a coffee technician doesn't require any formal degree or huge experience. The qualifications needed are a high school diploma, prior repair, and maintenance experience, and at least one year of experience working with coffee machines.
As per Salary.com, a Coffee Technician's salary ranges from $40,027 to $51,857, with the average being $45,060/year in the United States.
Interested in a career as a coffee machine technician? Enroll in the International Barista Coffee Academy (IBCA) Technical Machine Maintenance course which offers both basic and advanced classes for job seekers in this line.
3. Become a Coffee Shop Barista
A coffee shop barista is one who prepares and serves specialty coffees and other beverages. Being knowledgeable in the art of making espresso-based coffee drinks like café au lait, iced lattes, and mocha is an added bonus.
As a barista, you must be able to work quickly and efficiently, as well as possess excellent customer service skills including identifying the needs of your customers and answering their questions.
So, if you love coffee and want to learn how to make amazing coffee drinks, then becoming a coffee shop barista may be the perfect job for you!
How Much Do Coffee Baristas Make?
The average annual salary for a Coffee Shop Barista is $27,303 ($11- $15 per hour) in the United States.
4. Become a Coffee Shop Manager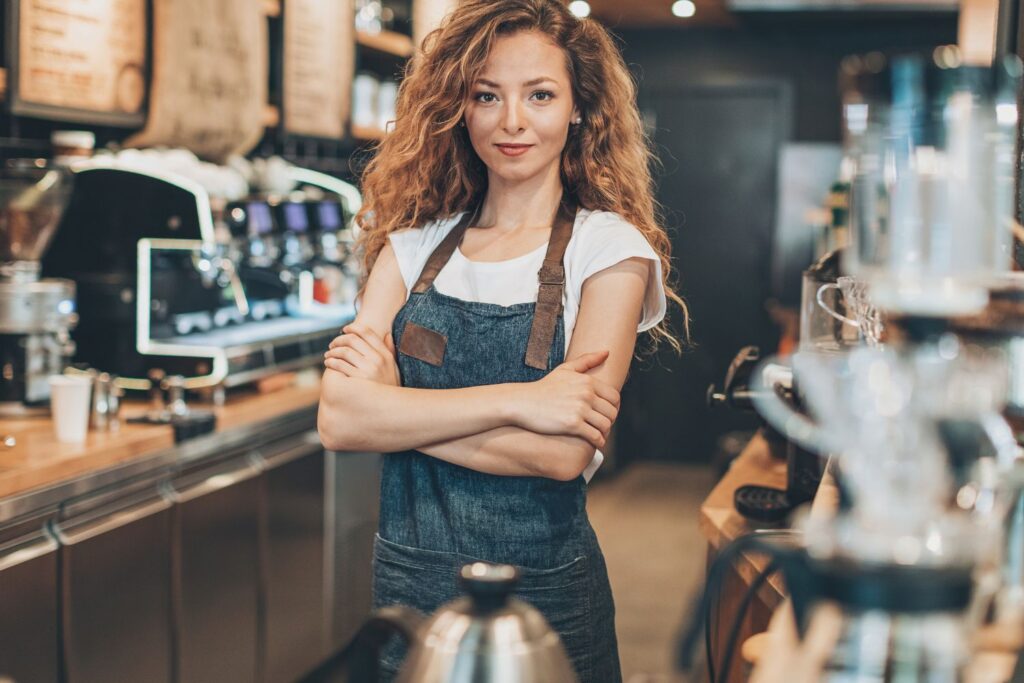 If you love coffee and have strong customer service skills consider becoming a coffee shop manager!
The job primarily requires you to manage all daily operations of the shop and employees, plus stock, order, and track inventory of ingredients, supplies, and merchandise.
There are plenty of hiring opportunities on job boards like Indeed, ZipRecruiter, LinkedIn, and Craigslist local job listings. The compensation typically ranges from $21-$26/hr + bonuses depending on your responsibilities.
5. Become a Director Of Coffee Quality
As per ZipRecruiter, the national average for Coffee Director jobs is $68,279 per year.
The job involves Quality Control, Cupping and Tasting, Blend Development, Roast Profile Development, Green Coffee Purchasing, Curation of Coffee Offering, and Public Relations.
Look out for job availabilities on the websites of coffee shops or through online job boards.
6. Coffee Intern Jobs
Coffee interns get to polish their love for coffee while working with some of the best baristas in the business.
As an intern learn how to make coffee drinks from scratch, understand different brewing methods and how to keep a coffee shop running smoothly.
If you're passionate about coffee and want to learn more about the industry, then becoming a coffee intern is a great way to start your career even as a teen.
Most of the offers are paid positions that see your work under supervisors and managers. The pay rate is around $10 an hour or more with the promise of getting a part-time or a full-time job after you complete the training.
Depending on the company, you may also get stipends for travel, housing, and medical expenses. You'll typically work on shifts that may include weekends and holidays.
Check out the internship opportunities at Starbucks
7. Become a Coffee Ambassador On Instagram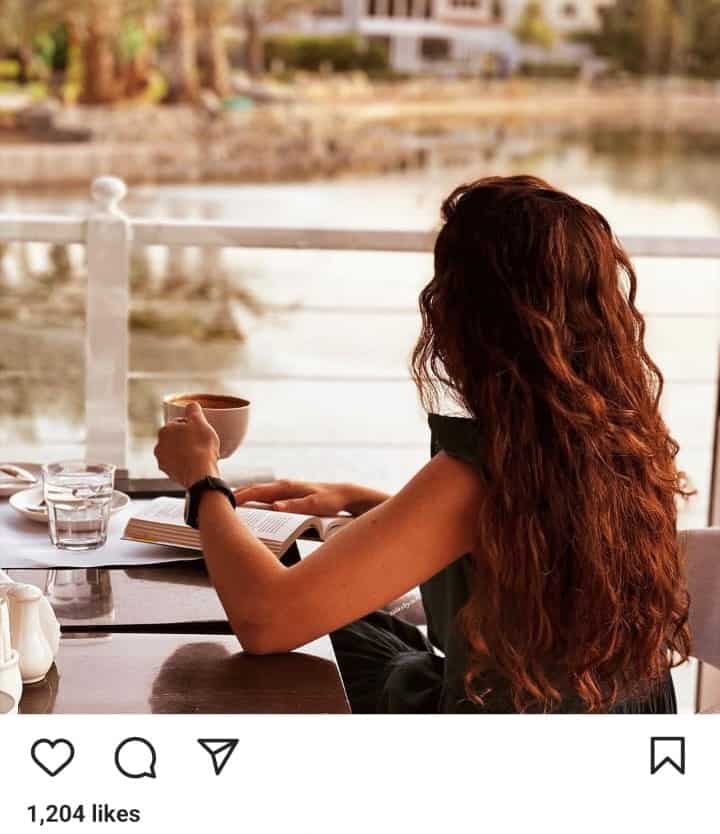 | Annual salary: $49,645
Want to get paid to market coffee as an Influencer on Instagram?
Here's the thing — brands are quickly realizing the power of micro-influencers to promote their products.
So you don't need thousands of followers on Instagram to land sponsored posts, any number of fans could go a long way in getting you lucrative deals.
Brands can pay you to sponsor their coffee products on your timelines and drive the most engagement.
If you're wondering how much could influence make you?
According to Quora, an average Instagram influencer with 100,000 followers can make $1,000 per post. Of course, the amount could be more if you're a specific niche influencer. While adweek reports that, the average price for a sponsored Instagram post is $300!
For example, a coffee influencer cannot earn the same as a generalist on a coffee sponsored post.
Related Read: How to Get Sponsored on Instagram (Even if You Just Started Out
8. Invent Coffee Flavors as a Coffee Specialist
There is always room for new flavors in the billion-dollar coffee industry. You could get paid for your creativity by working under a company to invent unique coffee flavors.
If you don't want to work under a company, inventing a flavor that ends up going viral could position you as a seasoned expert. That could convert to coffee-related gigs such as a product manager and more.
Also Read: How to Get Paid to Taste Tea
9. Start a Coffee Channel
| Average salary: $52,806 /year
YouTube is a video-sharing platform, and it's the second-largest search engine.
Youtubers post videos for people to watch, and if they love the content, they subscribe to the channel. As a result, the Youtuber earns for their number of subscribers, video views, and ads.
Establishing your brand as a coffee taster and reviewer on this platform could be resourceful and can attract thousands of subscribers.
Even though gaining the required 1000 subscribers could take time, YouTube turns out to be very profitable to coffee influencers.
But don't be discouraged yet! That's not the only way to earn from your YouTube videos. There's more!
Like social media influencers, YouTubers also sell ad space to reputable coffee brands. Also, you can be an affiliate marketer to different brands or even do paid reviews on products.
Quora reports that YouTubers with 100K subscribers make roughly $2000 per marketing video.
Interested? Check out this renowned Coffee Channel with over 1.3 Million subscribers that publishes videos on coffee and other related topics.
11. Start A Coffee Blog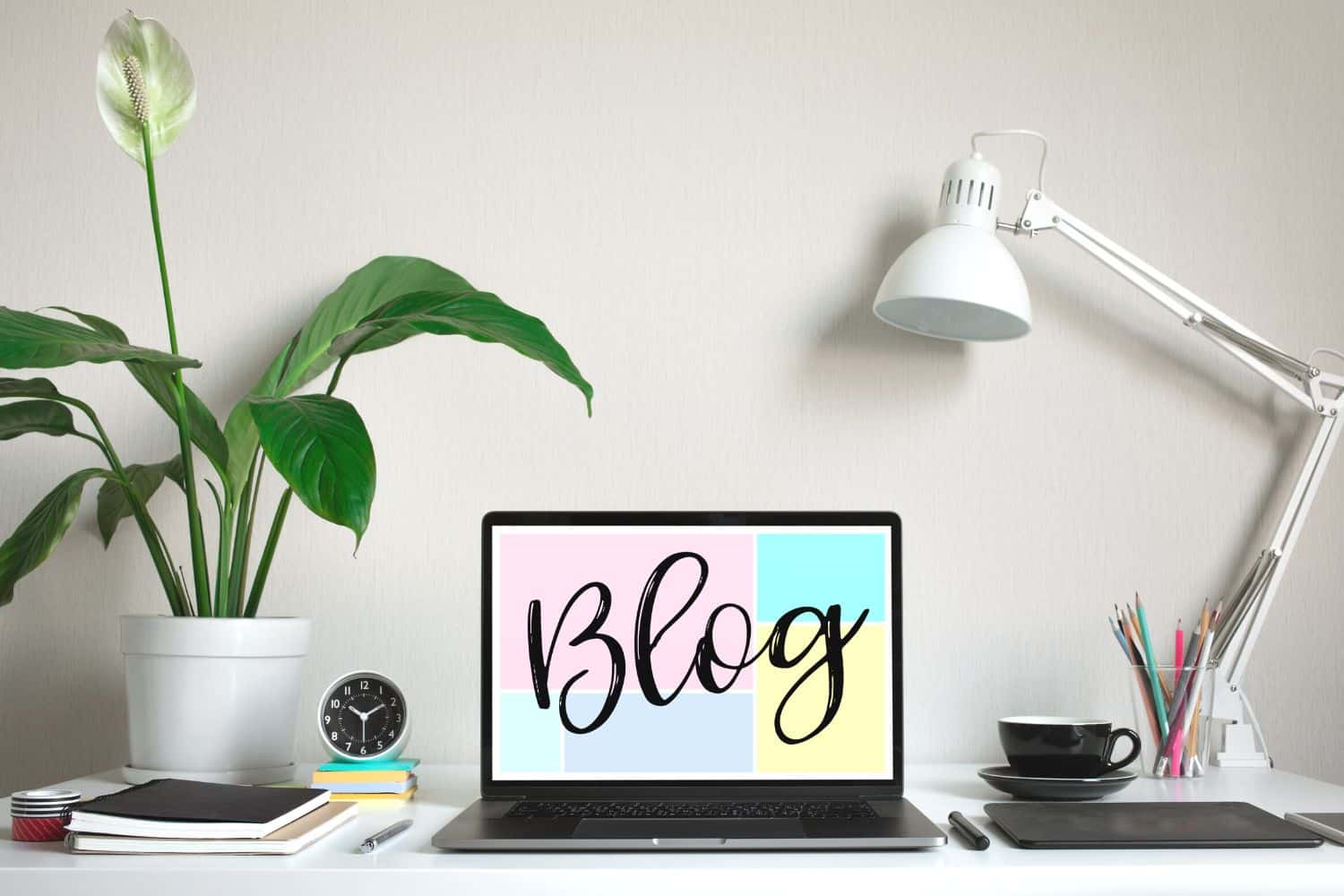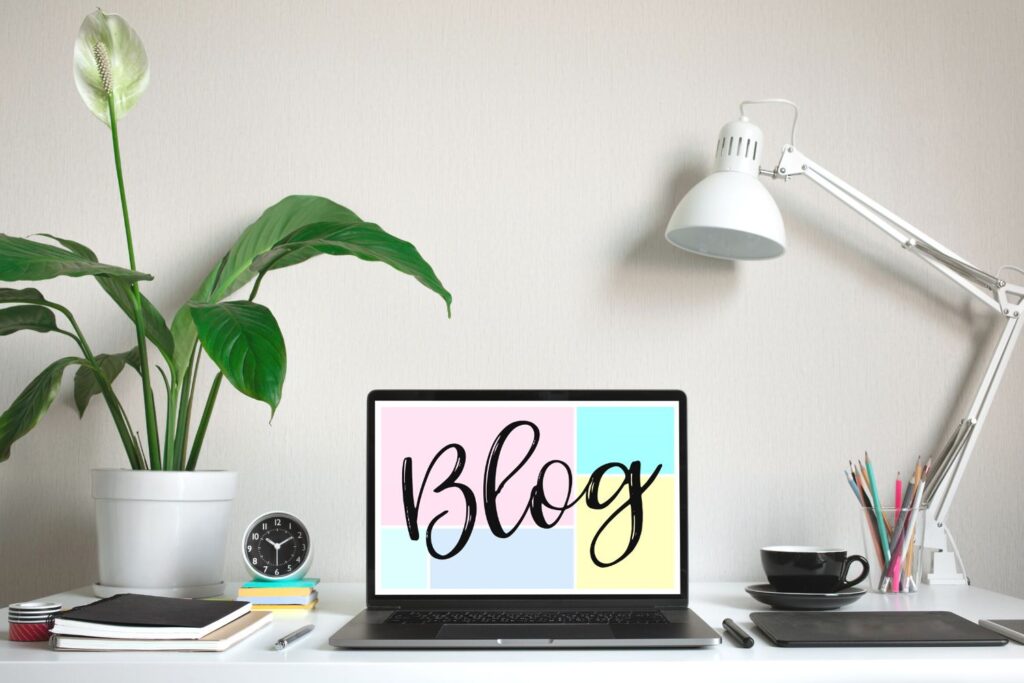 | Average annual salary: $43,878
I mentioned creating an e-commerce site to showcase your coffee products. I added that one of the best ways to develop customer traffic is through SEO and content creation. You can improve your store's visibility by running a coffee blog on the website.
If you don't have an e-commerce store yet, create a blog where you will be reviewing coffee products, publishing how-to guides, and answering related coffee queries. Unlike YouTube, a blog gives you more ownership of your content and an opportunity to build a personal brand.
But how do you get paid to drink coffee using a blog?
First, you can get paid by selling ad spaces on your blog through Adsense. Additionally, you can be an affiliate marketer of all the products that you review and recommend. Usually, once a reader buys a product from Amazon through your affiliate link, you will receive a commission.
Other bloggers have a unique way of monetizing their content by collecting donations from dedicated fans who want to support their work.
Also Read: How to Make Money Drinking Beer
12. Become a Coffee Taster
If you have passion and love, you can make money with coffee working as a coffee taster. But who needs a coffee taster, you ask? The coffee industry is booming, and various coffeehouses want to up their game by meeting customer expectations.
Coffee tasters in the United States have an average salary of $16,500 to $49,500. You can get jobs that pay you to drink coffee online from jobs sites such as ZipRecruiter, Simplyhired, etc.
Also, you can pitch directly to organizations that need your services, such as Business.org.
Also Read: How to Get Paid to Drink Wine
13. Participate In Challenging Coffee Contests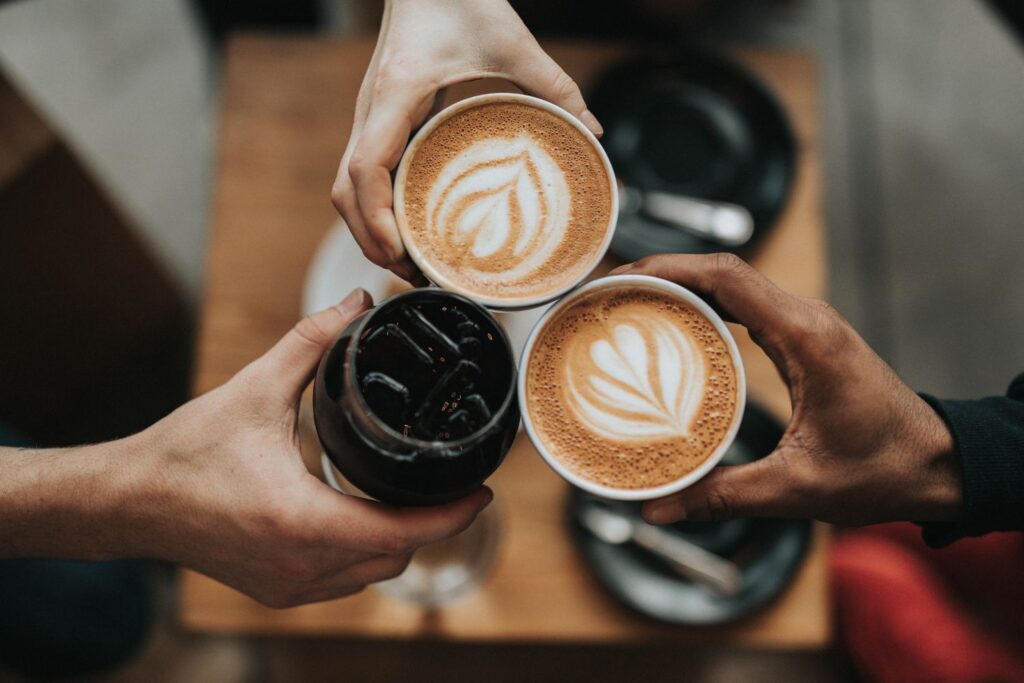 If you love coffee & competitions? You can enter coffee contests and earn cash prizes or rewards.
These competitions are held by companies and brands that want to promote their products or services. And they're willing to pay people like you to sample their wares and give feedback.
So how do you get started?
First, find a contest that interests you on the brand's official website or their Instagram feed for upcoming coffee contests.
Next, sign up and pay the entry fee (if there is one). This will give you access to the contest materials, which will include information on the contest.
If you win, you'll receive a cash prize and bragging rights. But even if you don't take home the top prize, you'll still have had a great time and gotten to try some delicious coffee.
So what are you waiting for? Start entering coffee contests today!
14. Earn Cashbacks On Coffee Purchases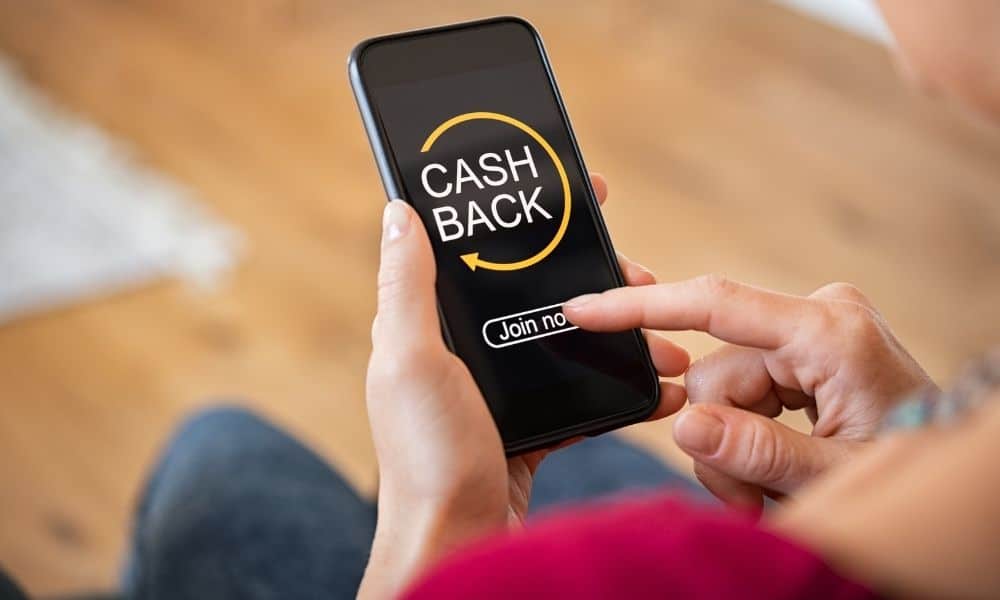 As a coffee lover, you can save a few bucks by enrolling for cashback offers!
Cashback apps give discounts or rebates on your daily shopping. This can be in cash or points (redeemable for free gift cards).
Here are a few cash-back apps to start buying coffee for a discount.
Ibotta
Ibotta is an American company that allows users to cash back on their mobile app, in-store, or online purchases. The company has partnered with over 1500 top retailers like Walmart and Amazon. Since it was founded, it has paid more than $1billion in cash to over 35 million users.
Previously it used to be a grocery Rebate Company but later expanded its wing to stores, clothing, and electronics. So, whether you're buying coffee or groceries they got you covered.
Create your account with Ibotta, and shop for coffee in-store or online like you always do. Submit your receipt or link your grocery account and get a discount.
Right now, Ibotta is offering 100% cashback on your first purchase (limited time).
Checkout 51
Similar to Ibotta, you can save a lot using Checkout 51. Here is how it works: Just scan your coffee receipt, wait for verification, and earn.
Opening a Checkout 51 account is free and takes a few minutes to fill in the application. Their easy-to-use app is compatible with both iPhone and Android systems. However, you need a minimum payout threshold of at least $20 to withdraw your earnings.
Sign Up for Checkout 51 Discounts
15. Try Coffee Mystery Shopping
You may have heard of mystery shopping before, but did you know that you can get paid to do it for coffee? That's right – there are companies out there that will pay you to visit coffee shops and collect information about the experience.
Mystery shopping is a great way to earn some extra money, and it's also a great way to get out and explore new coffee shops. If you're looking for a fun and flexible way to earn some extra cash, then mystery shopping for coffee might be the perfect gig for you.
So, how does it work? Well, first you'll need to sign up with a mystery shopping company.
Once you're registered, you'll be given a list of coffee shops that you need to visit. You'll then need to go to the shops and collect information about your experience, including things like the quality of the coffee, the service, and the overall atmosphere.
Once you've collected all of the required information, you'll simply need to submit your report back to the mystery shopping company. They'll then pay you for your efforts, usually via PayPal or direct deposit.
So, if you love coffee and you're looking for a fun and easy way to earn some extra cash, then mystery shopping for coffee might be the perfect gig for you.
Give it a try today – you might be surprised at how much you enjoy it.
Also Read: 10 Ways to Make Money as a Foodie
BONUS: Sell Coffee Accessories or Home Decor
If you're a major fan of coffee, then why not put your passion to good use and start making some extra cash by selling coffee-related items on Etsy and RedBubble?
Whether you design your own products or source unique items from other creators, there's a market for just about anything coffee-themed on these popular e-commerce platforms.
This could include mugs, cups, saucers, filters, home decor, or even create your own branded accessory line!
To get started, simply create an Etsy or RedBubble account and start listing your products. Be sure to take great photos and write detailed descriptions to entice potential buyers, and don't forget to promote your items across your social media channels to reach a wider audience.
With a little effort, you could soon be earning a nice passive income from your coffee-themed creations!
Also Read: How to Get Paid to Drink Water
How Can I Make Money With Coffee?
You can make money with coffee by selling coffee products online, opening a local shop, or getting paid to drink coffee. The earnings from each of the three options can be north of $1000 if you position your strategy right.
Let's expound on the three options.
1. Sell Coffee Online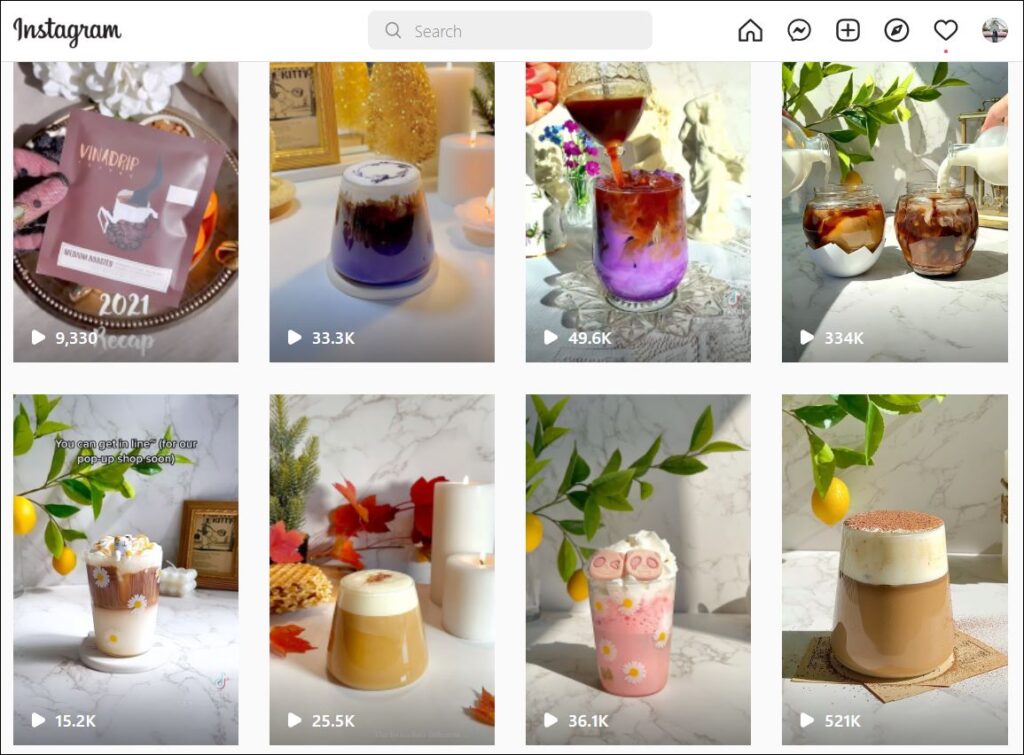 Drinking coffee is one of the most routine activities in the united states. Reports by the National Coffee Association indicate that 79% of people report having brewed coffee in the past day. Therefore, there's coffee demand, and all you need to do is provide an efficient way for them to buy it.
Apart from being convenient to the buyer, selling online is an easy way to monetize your coffee passion. You can reach a global audience and earn enormous profits.
But before that, you will need a few things to get started:
An e-commerce website
Targeted customer base
Coffee supplier
Let's break it down further.
An e-Commerce Website
You need to create an e-commerce website where you'll showcase and sell your coffee. The website doesn't have to be as comprehensive as Amazon but presentable and functional.
You can use content management systems (CMS) like WordPress, WooCommerce, Shopify, or Wix or create a custom website. However, unlike a custom website, CMS platforms provide a shopping cart and checkout functionalities that could otherwise stress you to set up.
If you don't have a small budget to get you started, you can list your products on major e-commerce platforms such as Amazon and eBay.
Unlike a website where you have to create a customer base from scratch, listing on e-commerce stores(Amazon) offers the benefit of having already existing customers.
Once you set up an online presence, the next step is to populate it with products. And that's where a coffee supplier comes in.
A Supplier
You need to identify and partner with a coffee supplier. The supplier provides you with the raw coffee beans, ground coffee, or roasted coffee that you'll sell on your website.
When sourcing for a supplier, look for someone who shares your values and is willing to partner with you for the long term. Also, remember to consider price, quality of coffee, and delivery time.
A Customer Base
Major eCommerce stores such as Amazon have existing customer traffic, and therefore you don't have to create a customer base from scratch. But if you self-host an e-commerce website, you need to build trust and visibility.
You still need customers to buy from you, even with a website and products. To get customers, you need to market your site and product.
There are many ways to do this, including SEO, social media marketing, Google Ads, and content marketing, among others. The key is to find a method (or a combination of methods) that works for you and your budget.
2. Open A Local Coffee Shop
If you'd love to avoid website technicalities, you can make money with coffee by opening up a local coffee shop. On the other hand, if the budget is low, your passion should guide you to open a cart and not quit!
Whether you settle for a cart or a permanent shop, here are a few factors to consider for maximum income generation.
Operation Location
The location of your coffee shop matters; location can build or break your business. For the best results, your location should be a highly visible spot with a lot of foot traffic.
If you can find a space in a famous mall, that's ideal. But if that's not possible, don't worry – as long as your shop is easily accessible and visible, you'll eventually attract customers.
Coffee Supplier
Once you've found the perfect location for your coffee shop, it's time to find a reliable coffee supplier. If you're able to find a local roaster, that's ideal – fresh coffee is always best.
If you can't find a local roaster, find a reliable supplier who has a balance of your budget and the coffee quality you need. It would be best to avoid going wrong at the initial stages of your business.
Perfect Menu
A great menu is one of the keys to success for any coffee shop. Make sure you have various options, including iced and hot coffee drinks.
You should also experiment with different flavors to find the perfect balance for your customers. But, again, the goal is to have a unique, accommodating, and appealing menu for your target customers.
Get Paid to Drink Coffee: Conclusion
If you love coffee, you can make it an excellent opportunity to make extra money. First, however, passion must push you to learn more. Luckily, there's no rush; you can set your hours and work as little or as much as you want.
If you want to take your passion further and get paid to drink coffee, you need to rebrand as an expert. That means creating your social media presence, a youtube channel, or a blog. The journey may be long, but it's rewarding.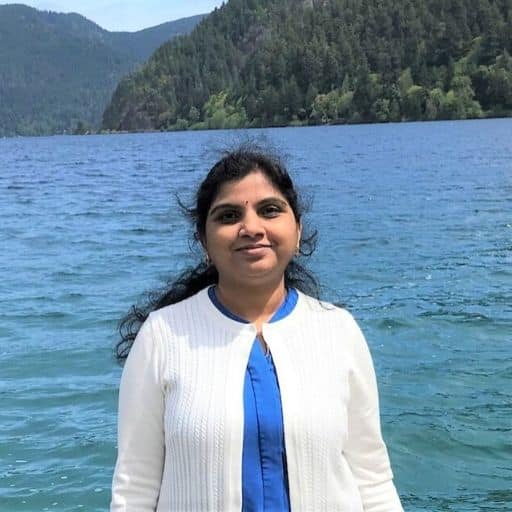 Howdy Folks, thanks for stopping by my blog.
I'm Swati, a proud mom, dedicated side hustler, full-time blogger, and a recognized millennial work-at-home expert. My expertise has been featured on esteemed platforms such as Forbes, CEO Blog Nation, Referral Rock, Vital Dollar, Databox blog, and many more. I have embarked on this incredible journey to share my firsthand experiences in the world of online income generation and to assist all of you in earning money from the comfort of your homes.
Join me in my mission to revolutionize the way we make money and achieve financial freedom. Trust me, it's not as challenging as it may seem!
Together, let's explore the boundless opportunities and pave our paths towards a prosperous future.