Do you want to know ways to get paid to drink wine?
Usually, with the festivities coming up, many wine companies launch new tastes of wine to attract buyers. Hence, they hire wine tasters to market the wine products.
Nonetheless, a wine tasting job can also be full-time, year-long, if you are lucky to get a company that offers the position. Dream job, right?
The good news is that you must not be a pro in wine tasting because most companies offer training. Your passion for wine is your primary selling point.
One thing is true- good wine is expensive! That's why it would be nice to earn through drinking wine or even getting discounts on wine.
Keep reading to learn different ways of getting paid to drink wine.
High Paying Wine Drinking Jobs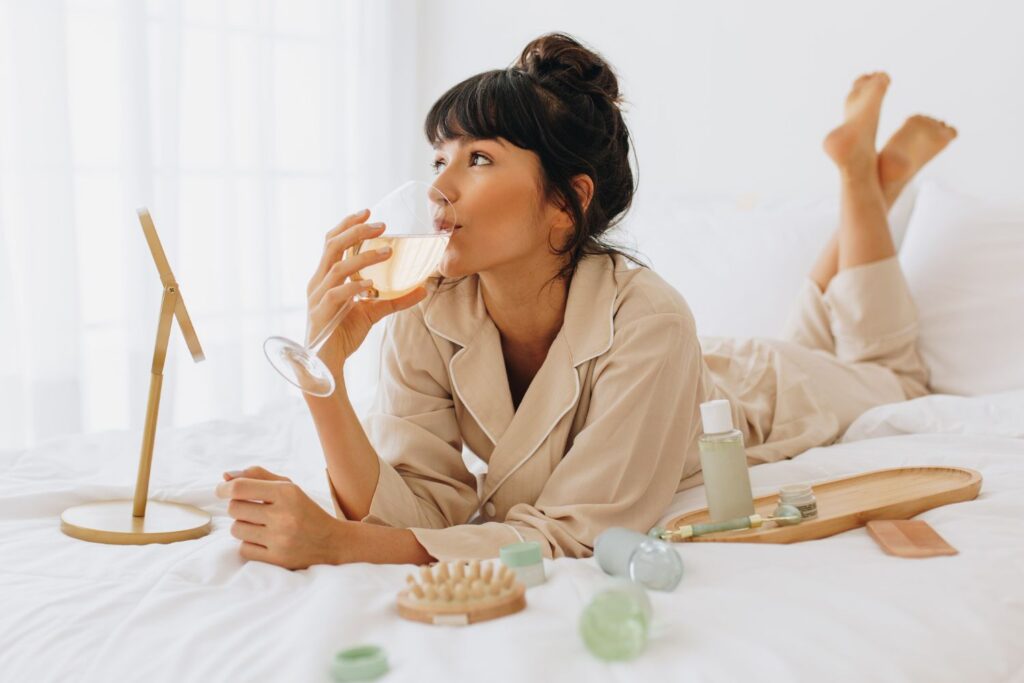 While these jobs sound interesting, they are not for everyone. If you are one person who can't control their drinking habits or like to overindulge, this is not a good career decision.
If that's not the case and you want to combine your passion and work, check out the jobs below.
1. Wine Sommelier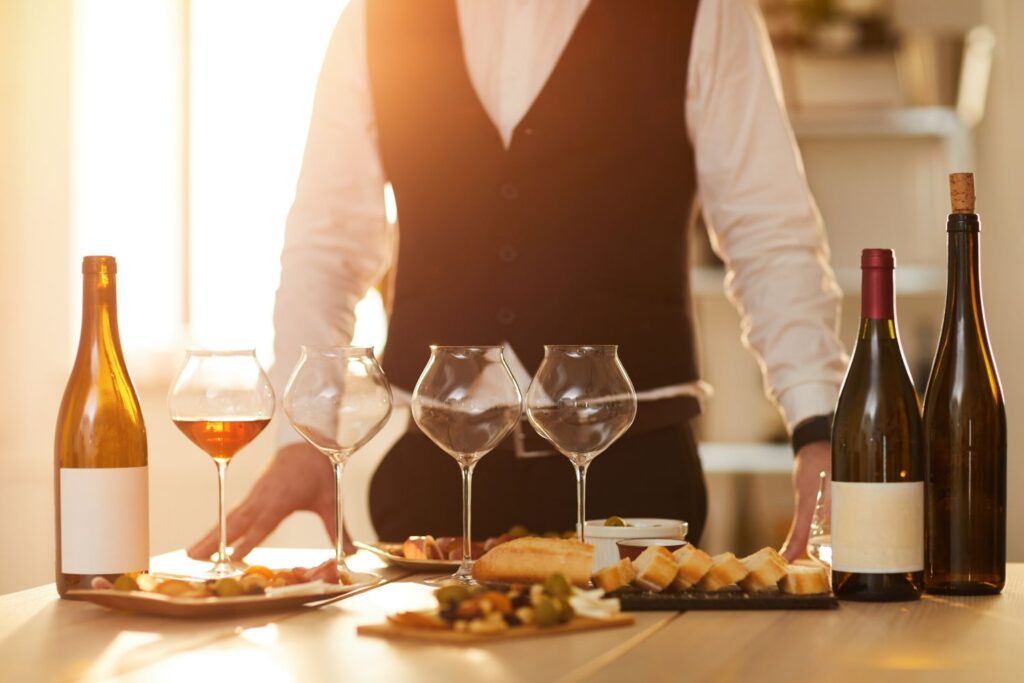 A wine sommelier is a professional who specializes in everything related to wine. This includes its history, production, and most importantly, its taste.
A wine sommelier typically works in a restaurant and has profound knowledge of wine, spirits, and beers as a wine steward. This way, they can instruct patrons and waiters on the best wine pairings and accompaniments.
Generally, a sommelier is in charge of the restaurant's wine list and cellar and is an expert in everything wine.
In recent years, the role of wine sommelier has become more popular, as people have become more interested in learning about and enjoying wine.
The average pay for a certified wine sommelier is $62000, and this doesn't include tips and can go beyond $100000.
To become a sommelier, you will need to take wine classes and wine exams. Win Certification will help improve your knowledge in the field of wine and also give you an assessment of your tasting abilities.
How Much Do Wine Sommeliers Make?
Here's a chart with the average sommelier salary for each level:
| Wine Sommelier Level | Average Salary Range |
| --- | --- |
| Level 1: Introductory Sommelier | $40–50k |
| Level 2: Certified Sommelier | $60–70k |
| Level 3: Advanced Sommelier | $70–80k |
| Level 4: Master Sommelier | $150k |
Source: https://home.binwise.com/blog/sommelier-salary
2. Bartender
If you didn't know, bartenders tend to earn much more than their basic salary in the right places. Some bartenders can bring in up to $1000 a night from tips.
Additionally, the cocktail culture has become a norm in the past few years. This makes a bartender job even more enjoyable.
So, if you find it interesting mixing different wines, juices, and vodkas while naming them, then this is it.
Bartenders' job requirements vary by state, but they can earn around $15 an hour on average.
To be successful as a bartender, it would help if you were of the legal drinking age (according to The Federal Uniform Drinking Age Act of 1984) of 21 and good with people. Being fast and well-coordinated is also a significant bonus.
Also Read: Ways to Make Money as a Bear Taster
3. Winemaker
You, too, can become a well-known winemaker if you grow your burning passion for wine. Imagine how much a winemaker makes if there's a bottle of wine that costs over $550,000!
As a winemaker, you process fully-matured grapes into a good wine that meets the market's demands. Well, you must taste the wine until it reaches the required standard. Also, you don't only need to understand winemaking but also business sales and marketing.
A winemaker can make as much as $88,374 annually in an established winery. It's essential to undertake winemaking courses in top schools to ensure you start a great career.
Also Read: Ways to Make Money as a Coffee Taster
4. Wine Export Manager
As an export manager, you get paid to travel around the globe looking for people to import your brand. Still, this job involves dining and wining in fancy restaurants as you build your wine collection.
Even though this sounds extremely fun, it's a job full of challenges. After winning customers in your travels, you also need to go back for several meetings with these clients. You get to sample so many wines, negotiate and sometimes get a contract or not.
It's a well-paying job that pays about $83727 if you work for a reputable wine house.
Also Read: How to Make Money as a Water Tester
Other Ways You Can Get Paid To Drink Wine
Aside from the full-time wine jobs, there are other ways you can make extra cash by drinking wine. Here's how;
5. Get Cash Back On Wine Purchases
Some sites have apps that allow customers to earn cash back after buying wine. For instance, Ibotta pays $8 for a wine of their choice. This amount can be over 50% cashback.
So, you get to take home good wine without paying for it. If you subscribe to a wine site, some sites can pay you back up to $44.
Also Read: Ways to Make Money Eating Food
6. Become a Wine Blogger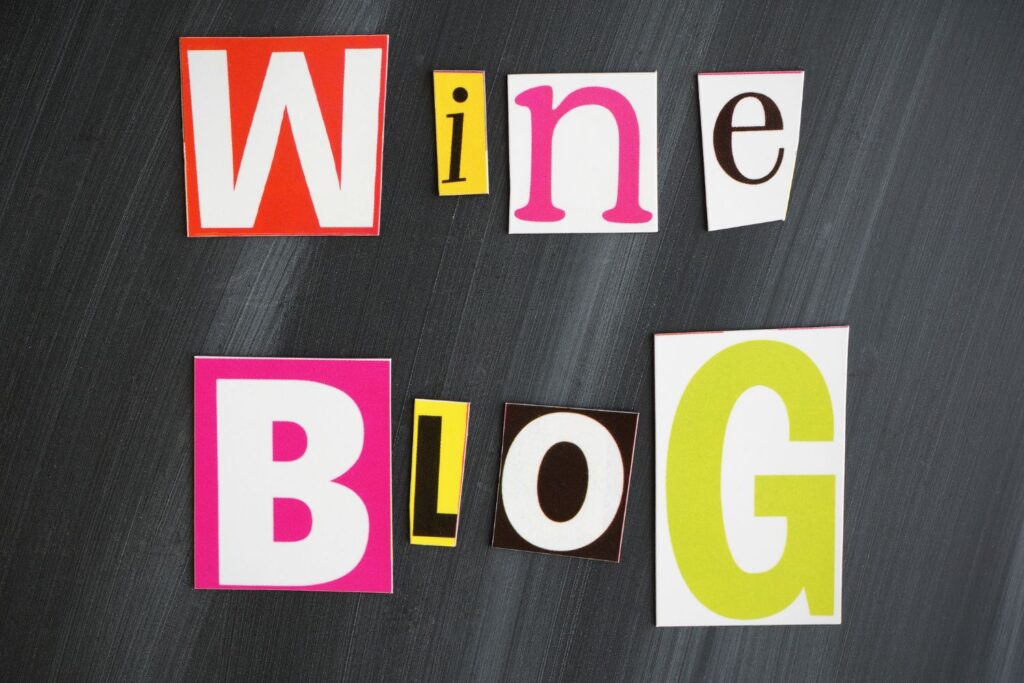 Do you want to talk about your interest in wine? Blogging is a wonderful way to express yourself!
Blogging about wine involves writing reviews and guides on choosing the best wine in the market. Still, you can give your opinion on different wineries.
Once you amass considerable traffic, you can earn money by promoting Amazon products on your blog using affiliate programs, such as the Amazon Associates or Commission Junction.
You may also join ad networks like Google Adsense, eZoic, and Mediavine for display advertising. And, also get paid for sponsorship s and brand mentions on your blog.
Also Read: Ways to Make Money Drinking Tea
7. Wine Tasting
If you love the taste of different wines, you can be an asset to several wine companies.
Wine tasting is a great and well-paying career for someone who can differentiate the taste of wine. In your elaboration of the flavors, you should be able also to tell people how they'll enjoy the experience of different wines.
Aside from controlled drinking, a wine taster should also possess sales experience because their job involves selling the product.
Wine companies like the renowned Murphy-Goode in California hire wine tasters to drink and live there.
8. Wine Tour Guide
Aside from talking and tasting wine, you can also become a wine tour guide. The good thing is that this only requires some bit of wine knowledge.
Luckily, virtual tours are becoming popular, providing a convenient way to guide a wine tour.
You can sell your favorite wine to people as they taste different wine samples during the virtual wine tour. However, you need to place preferred wine orders for your customers. Luckily, this can earn you significant commissions.
9. Sell Wine Accessories on Etsy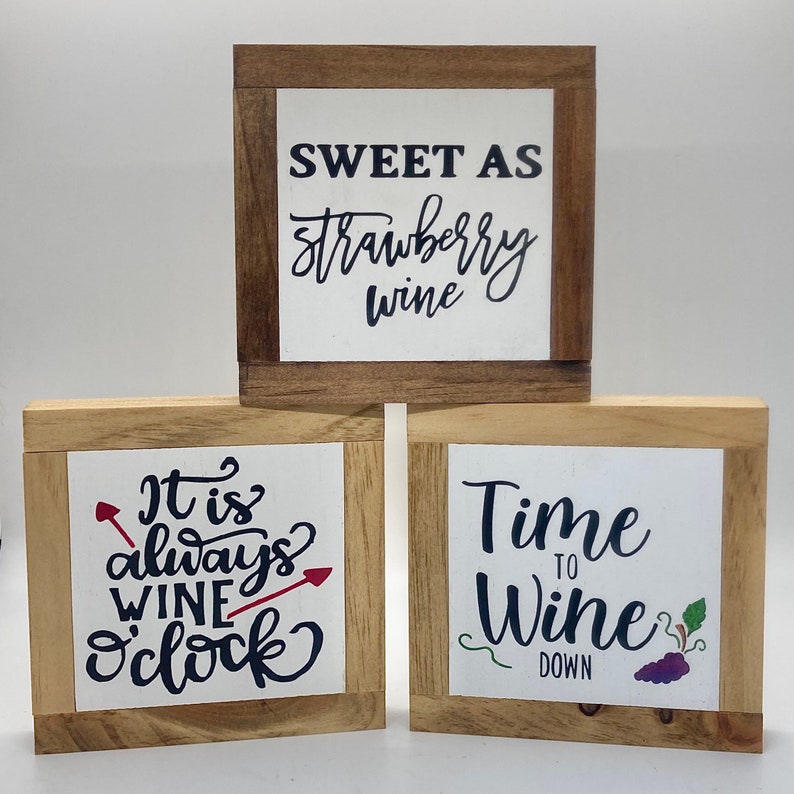 As a wine enthusiast, it's not difficult for you to gaze at the pulse of co-wine-accessory purchasers, match it with your love for DIY projects, and start selling them to earn passive income.
You may consider selling wine accessories like personalized wine corks stoppers, sommelier wine boards, wine dispensers, wine bottle holders, wine glasses, hanging wine bar signs, or anything that catches your target audience's attention.
Wine captioned t-shirts, mugs, socks, mobile phone covers, and home decor sell well too!
Etsy and Redbubble are two great platforms to sell your handcrafted wine accessories since they make it simple. You may also set up your own blog and sell items for your followers to buy.
10. Wine Vlogger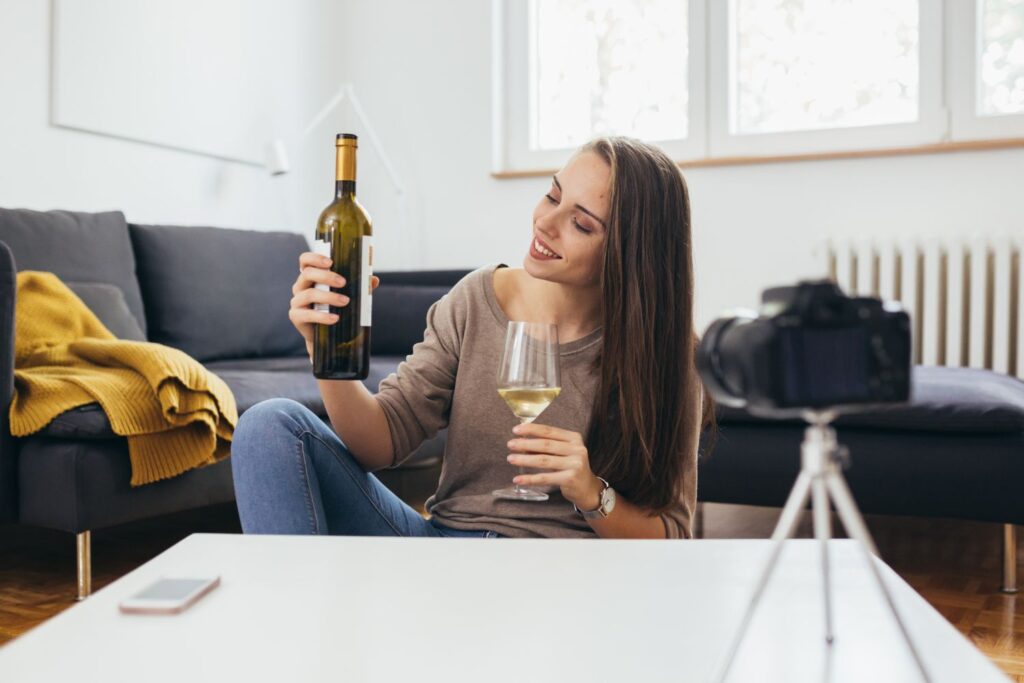 As a wine enthusiast, you can share all things wine, from trying new wines and learning about the different grape varietals, to visiting vineyards and wineries on your vlog.
Your vlog can be a great way to connect with other wine lovers and learn about new wines, as well as share your own tips and tricks for enjoying wine. You can use your platform to support local wineries, sell merchandise, promote wine accessories, and get paid for doing so.
So pour yourself a glass of your favorite vino and get started on your very own wine vlog today!
Start your Wine YouTube channel and start making money on the side!
11. Participate In Wine Contests
You could be one of the lucky few who get to participate in wine contests and get paid to drink wine.
These events are usually held by wineries or other companies that produce alcoholic beverages, who are looking for winemakers, sommeliers, and wine tasters with a refined palate to come and judge their products for quality assessment purposes.
If you think you have what it takes, then you should definitely look into attending one of these events. Not only will you get to drink some amazing wine, but you'll also get paid for your participation.
It's a win-win situation!
Check out these upcoming wine competitions held by:
How to Start On Wine Tasting As a Career
Why not build a career by drinking for pay if you love wine? Here are some steps to take to ensure you start on the right foot.
1. Always Learn
The general love for wine is not enough to hold you in the wine industry. While it gets you a job opportunity, learning more about wine helps you grow and secure better-paying jobs.
Better still, take on courses and certifications to convince employers that you have what it takes to stay at the top of the game. But, passing exams is not enough; read more about wine and taste different wines like your life depends on it.
2. Network
Usually, networking is a challenge for many people. Fortunately, the wine industry is friendly and gives you a chance to meet people and learn more about wine and its difficult names. So, look out for wine tastings and attend. Don't display yourself low but search for the high-end tastings and attend them. Here, you are likely to meet the top-of-the-industry specialists.
And most definitely, get online! Social media is the best place to network and sell yourself. Join relevant groups and contribute to discussions you have in-depth knowledge of. Ask questions as well.
3. Start Low
Even though you scored best in the highest rank of wine education, you need to start at the bottom. This means working long hours of physical labor and getting low pay. Though it doesn't sound like something to celebrate, starting from the ground level will likely offer beneficial insights into your career.
4. Flexibility
A wine job requires you to work unsociable hours and in different places. So, it would be best if you were ready for frequent and many travels to both high-end and local destinations. Your career in wine also needs to be flexible.
One day, you will need to fill in the shoes of a brand ambassador while you start as a wine taster.
Companies That Offer Get Paid To Drink Wine
Now that you know of wine-drinking jobs let's look at places to search for them.
1. Pinecone Research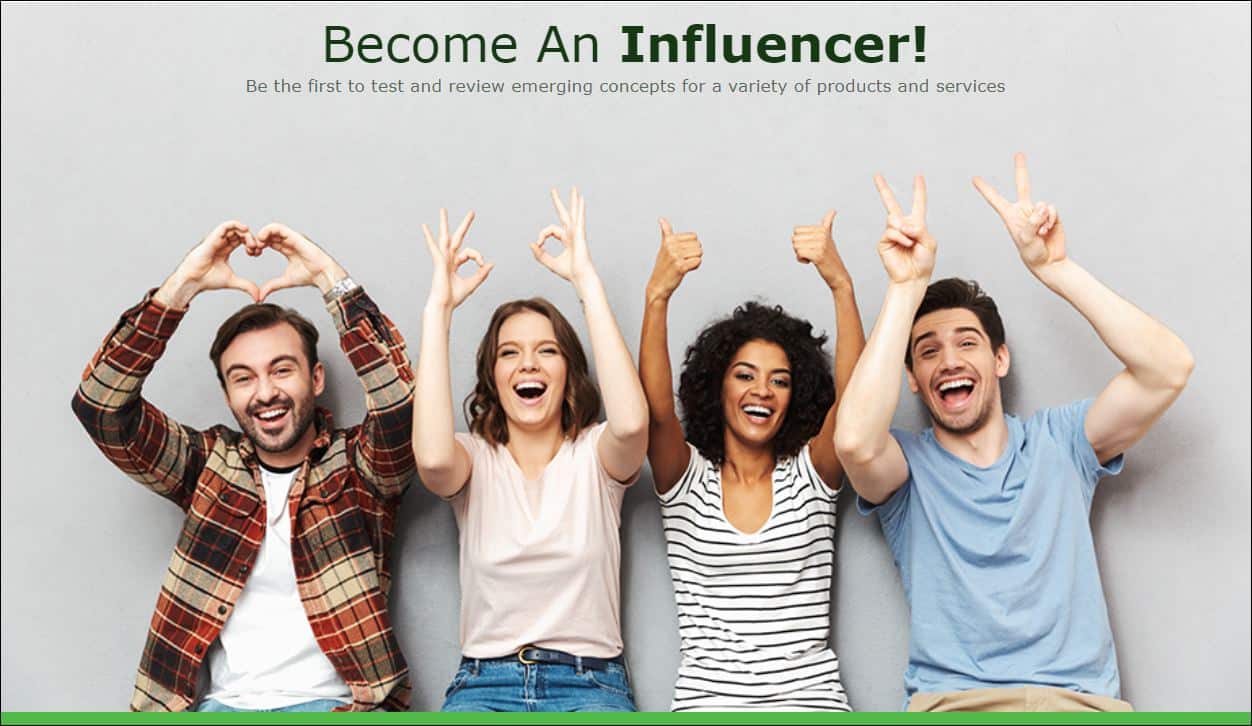 Besides tasting wine you get to enjoy free wine with Pinecone Research. How fun is that?
It is a trusted leader in voicing the opinions of consumers nationwide. Companies are seeking your input to develop new and improved products and in the process pay you for your opinion.
However, you must be a member of Pinecone Research to be a product tester. Luckily, signing up is effortless and takes the shortest time for approval.
Pinecone Research is a company that pays $3 per product survey and $7 for product testing, plus you keep the tested goods!
Become a member of PineCone Research and have the opportunity to evaluate products before they hit the shelf.
2. Cruise Croatia
Imagine tasting wine and getting paid on a Croatian cruise? The good news is that Cruise Croatia is looking to hire wine enthusiasts to review their different wines.
Usually, they prefer having refreshed wine menus for their guests and patrons; hence your wine tasting services are of much help.
Remember that this is no ordinary wine but the famous and rich Croatian wine.
For this job, you must show your passion for drinking wine and availability for the job (you'll be traveling quite a lot). Though the pay is not high, there's nothing wrong with cruising freely and drinking expensive wine.
3. Bacovino
This winery is hiring culture-focused wine fans. Bacovino ensures that they produce wine that meets the highest standards.
Getting a job here requires you to taste, manage trials and inventory, and still learn the winemaking process.
If you want more than drink wine for pay, this company offers you an opportunity to learn how to make wine. This is perfect for people wanting to start their winery.
4. 5 Soul Wine Co.
Here's your chance if you think you can make a great brand ambassador for wine. This company located in Texas hires brand ambassadors for $335 an hour.
The top qualities of this job are serving and marketing. Above all, you must be knowledgeable about the subject since it's a company that upholds high-quality luxury.
Apply to become a Brand Ambassador
5. Gravity Winery
Apart from getting paid to drink wine, Gravity Winery also requires you to manage the vineyard and tasting room.
With pay of $30 per hour, you enjoy drinking wine and cider and carrying several wine bottles. Better still, you'll have to market the products to the customers in-depth.
Lucky for you, Gravity Winery doesn't work up to late hours. This way, you get home before 9 pm daily to rest.
6. Dragon Spirits Marketing
You have to be both a brand ambassador and wine taster to qualify for this job. Apart from the $30 per hour in a single shift, you can also earn commissions for the sales you generate.
Dragon Spirits Marketing also needs you to be online most times selling their wines on social media.
7. Texas Heritage Vineyard
You want to see people buying the right wine as a wine fan. Therefore, Texas Heritage Vineyard offers you a job to help people make the best wine decisions and taste wines.
You'll get about $20 per hour to drink and serve people great wine in this job.
Texas Heritage Vineyard only offers part-time work. However, if you want to earn more, you can choose to work for more hours.
8. Rockfish Creek Winery
At Rockfish Creek Winery, you get paid to drink wine. All you need to do is enjoy their wine and spend more time with the winery patrons. Of course, you should also try to make sales!
When the vineyard heads are around, your job will be to serve them wine and drink to give their wine opinions.
However, you must have the ability to control yourself due to heavy wine drinking. But generally, it's a lot of fun, and you can always choose to leave the job when you want.
9. Union Wine
Union Wine Company is looking for someone who has the flexibility to travel around quite a lot. This job requires the "ambassador" to sell their wine at a mobile wine bar.
Usually, people who love attending parties and festivals are excellent for this job.
10. Wine Affiliate Programs
As a wine affiliate, you get paid to sell wine products!
For example, Winc, a personalized wine club that offers products tailored to customers' tastes has an affiliate program that allows you to earn referral fees per product sale.
Get Paid to Drink Wine: FAQs
1. How Much Does Wine Tasting Cost?
Averagely, you'll need to pay $12 for each wine tasting. However, some wineries have free wine tastings, so do lots of research first.
2. How Best Can You Get Paid To Drink Wine?
It all depends on what you like to do. Some people like to blog about wine, while others want to guide virtual wine tours and even taste different types of wine. Still, you can choose to market wine content on social media platforms.
3. What Do You Need To Start On Getting Paid To Drink Wine?
Usually, the job determines the requirements. However, necessities like legal age and passion for wine are mandatory. Other employers also need you to have primary or in-depth wine knowledge.
Conclusion
Wine is not just a drink, but it's also a hobby. So, why not get paid to drink wine?
Remarkably, there are several ways of capitalizing on your wine hobby: blogging, tasting, wine tour guide, and even affiliate marketing.
While some ways don't pay much and can't replace your full-time job, they make excellent and fun ways of earning extra cash. Remember that to enjoy wine also requires you to appreciate people in nearly all situations. Wine, not?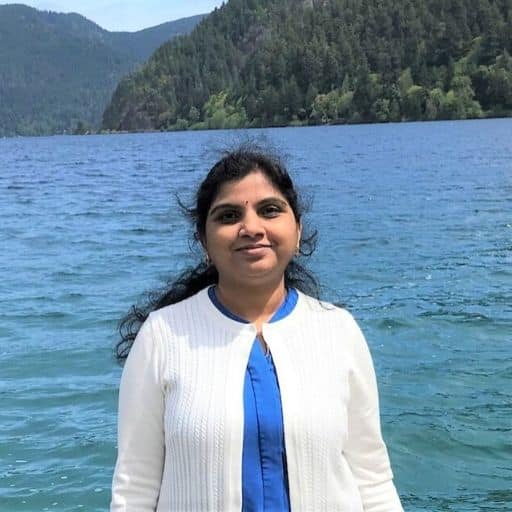 Howdy Folks, thanks for stopping by my blog.
I'm Swati, a proud mom, dedicated side hustler, full-time blogger, and a recognized millennial work-at-home expert. My expertise has been featured on esteemed platforms such as Forbes, CEO Blog Nation, Referral Rock, Vital Dollar, Databox blog, and many more. I have embarked on this incredible journey to share my firsthand experiences in the world of online income generation and to assist all of you in earning money from the comfort of your homes.
Join me in my mission to revolutionize the way we make money and achieve financial freedom. Trust me, it's not as challenging as it may seem!
Together, let's explore the boundless opportunities and pave our paths towards a prosperous future.