One of the reasons that make the gig economy appealing is that you can work and get paid today.
With just a phone or a computer, you now have access to many instant pay gig apps and job websites.
I'm referring to online home jobs that let you earn quick money from easy tasks; from completing online surveys and playing video games, to testing apps and writing blog posts.
These are tasks that anyone can do without much training or even a college education. Let's get at it.
You need money now, right? Here are 23 ways to get paid fast:
GET PAID TODAY FOR FREE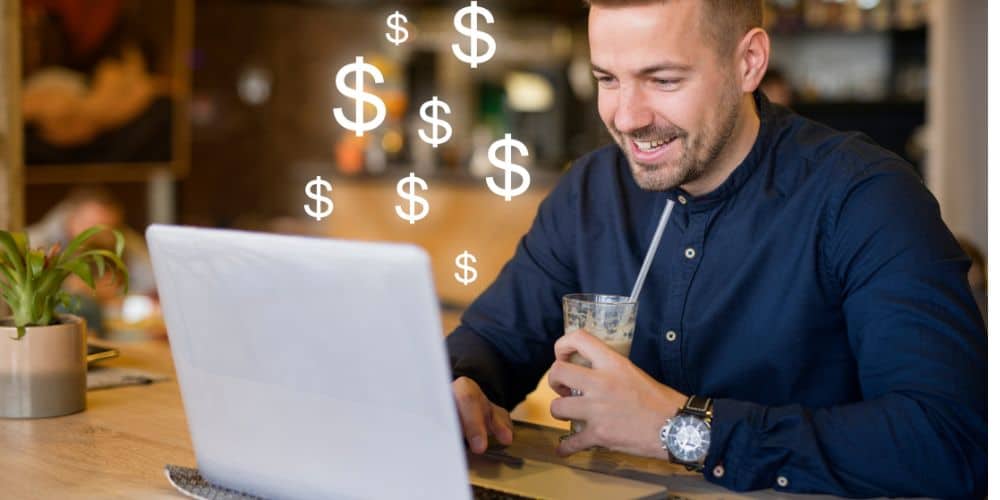 In today's internet and consumer-fueled economy, you can get free money without breaking a sweat. I'm talking about instant cash for things that you already do for free.
The list of activities that get you free money is endless including, downloading apps, shopping online, walking, and so much more.
1. Inbox Dollars
If you are looking for a survey site that rewards you with real money, look into the InboxDollar App.
Studies on the site pay $0.25 – $5 for each survey with PayPal and gift cards as alternative payment systems.
Other offers on the app include $5 for downloading apps such as DoorDash and $1 for opening a Green Dot account.
Interested in absolutely free money? Inbox Dollars is starting you off with $5 when you sign up.
2. Share Opinions On Branded Surveys
Branded Surveys is a BBB-accredited market research website that pays both adults and teens for sharing opinions. Basically, the platform pays you to rate and critique products and services.
Each survey on the platform pays you up to $3 and you can earn extra money through referrals.
There are no daily requirements and membership is absolutely free.
Claim Your $0.05 Branded Surveys Sign Up Bonus
3. Make Free Money With Airbnb

Why should your spare room go to waste when you can earn extra cash from it? Just list it on Airbnb as a quick way to get people to rent it for a night or a few days.
You can also charge extra for services such as laundry and meals. Another way to grow your bank account with Airbnb is by renting your car to guests.
4. Get Instantly Paid Today as a Pet/Baby Sitter
Sitting jobs don't require you to do much. The gig is especially lucrative for teens, retirees, and stay-at-home moms with kids and pets of their own.
Essentially, you will just be taking care of an extra baby.
For babysitting gigs, list your services on Care.com, with reported earned income ranging from around $20 – $25 per hour.
On the other hand, register as a pet sitter on the Rover app and make $17.88/hr.
MAKE MONEY ONLINE AND GET PAID TODAY
You can now make quick cash by working gig jobs on popular job boards like People Per Hour and Fiverr.
Some of the legit online jobs to earn you money on such sites include:
5. Get Paid Today Online Through Freelance Writing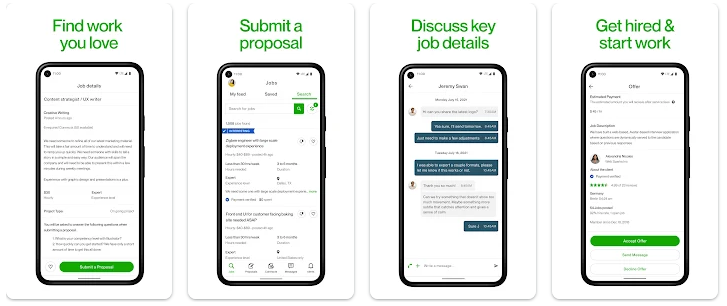 Are you a native English speaker? For most freelance or ghostwriting gigs, all you need is a native mastery of the English language.
What's more, earning as a freelance writer is easy through websites like Upwork. A laptop and a steady internet connection are just about the equipment needed for the gig.
Pay is fixed per word or hourly depending on how long it takes to write a blog/website post.
According to Indeed, freelance writing pays $22.52 per hour on average.
6. Play Online Games, Get Paid Now
Another quick way to grow your savings account is by playing games on apps such as Mistplay. With just a mobile phone, you are able to access new games, play, and get paid.
The platforms partner with game and app developers, who pay to get gaming data and other user statistics. You earn money for downloading games, moving through different levels, and providing reviews on gameplay.
The Mistplay app is available for Android users and pays via PayPal, Amazon, and Google Play.
7. Earn Money Shopping Online


If you shop online regularly, you could be missing on quick cash via cash back. To save money shopping and earn your favorite gift card, purchase stuff via sites like Rakuten and Ibotta.
There are no hidden fees and your earnings are paid via PayPal cash. Additionally, both Rakuten and Ibotta reward you for successful referrals.
Claim Your Ibotta Welcome Bonus
8. Test Websites To Get Paid Today
Web testing involves analyzing a website's performance and providing a detailed review of usability.
This is an easy online gig that takes around 15 minutes and does not require any particular skill.
The daily pay depends on the website you register on and the hours you put in. Nevertheless, gigs in this field may not be enough to engage you full-time.
You can also opt for app testing jobs.
This online job can pay you USD 400 every month for just completing one test daily.
Interested? Find More About Web Testing Jobs
9. Ask Trim To Save Money
Sometimes all it takes to get paid today is trimming your spending.
As such, I recommend using the AskTrim app to manage your monthly subscriptions, utility bills, and online purchases.
The app negotiates bills, tracks overpayments, and auto-saves money on your behalf. Simply put, the service does all the heavy lifting to get you money that you'd have lost.
The app is BBB accredited and gets a 4.2-star rating on Trustpilot, a testament to the effectiveness of the service.
GET PAID TODAY APPS
Just open Google Play or App Store on your smartphone and search for instant pay apps. You'll find many 'work today get paid today' apps that pay via Paypal, check, and more.
So, which are the legit apps that won't get you scammed?
10. Earn from Survey Junkie
Survey Junkie is available for both Android and iOS smartphones. The app has a total of 110k+ reviews and at least a 4.4-star rating on both platforms.
As the name suggests, you earn via paid surveys that take 5 – 20 minutes to complete. Pay is via PayPal cash and eGift cards. Each survey pays up to $3 with the withdrawal minimum limit capped at $10.
RELATED READ: How Survey Junkie Works
11. Shipt Shopper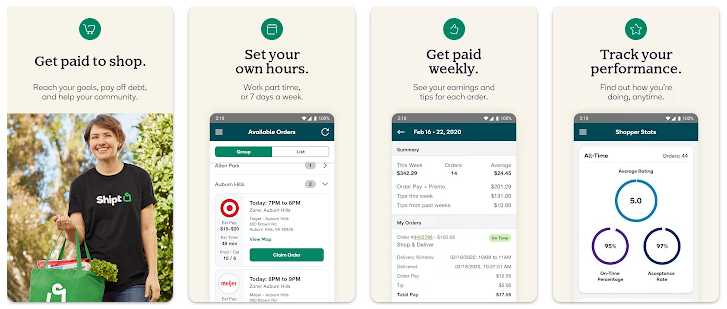 Get paid today for shopping by registering on the Shipt Shopper app. The gig is to shop and deliver groceries to clients' locations.
Shipt Shopper gets a 4.2/5 rating on Trustpilot and commands a huge market share to get you full-time employment.
Payment is per order (plus 100% tips) and can be withdrawn once daily or via a weekly direct deposit to your bank account.
Apply To Work As A Shipt Shopper
12. Work Today and Get Paid Today Via Upwork
The Upwork for Freelancers App is a desktop application from one of the leading work-from-home platforms in the world.
It gives you access to around 150k clients.
The Upwork for Freelancers App is a desktop application from one of the leading work-from-home platforms in the world. It gives you access to around 150k clients.
You can earn quick money via the app from gigs such as SEO, web development, and data entry.
There is no minimum payout and you can make daily withdrawals via debit card, mobile money services, PayPal, and more.
Download Upwork For Freelancer Now
13. Get Money In Your Bank Account Today
Sometimes it's not possible to get paid today for work that you have already accomplished. This is where a salary advance from your employer or bank comes in handy.
You can also turn to payday loan apps that allow you access to your earned wages, days before you get paid.
The best apps for such short-term loans include:
14. Earnin
Need $500 today? Earning is an earned wages access service that has been around since 2013.
The app is designed for both iOS and Android devices. Users are not charged hidden fees, with the app being absolutely free. However, you have the option of leaving a tip to support the service.
Once you sign up, the app tracks your wages, pay schedule, and work hours. These statistics determine how much cash advance you can get, to the tune of USD 500 per pay cycle.
The service is legit and heavily encrypted to protect your personal information.
15. Bridgit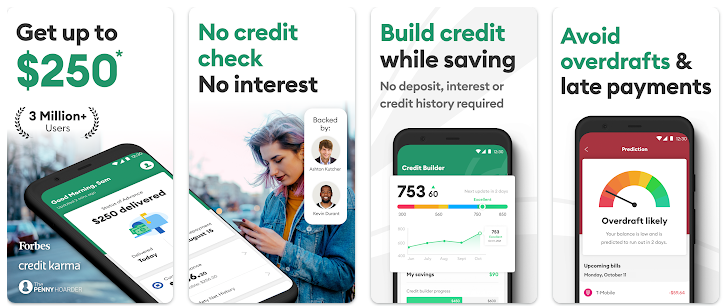 In just 2 minutes you can get $250 in your bank account through Bridgit. The app has over 3M users and does not run credit checks and neither does the service attract interest.
Unlike Earnin, this app does not ask for 'tips', making it a truly zero-fee salary advance service. What's more, the service comes with a $1M identity protection cover.
I also like the fact that Bridgit provides you with insights into your spending habits. This makes it easy to save and manage your earnings.
16. Empower.me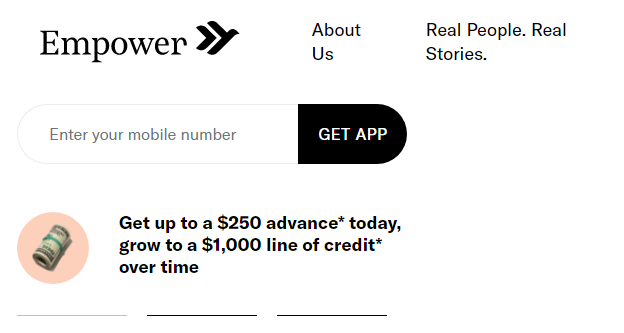 Empower allows you to get up to $250 of your monthly salary today. Timely repayments attract 0% APR plus, the service gives users a Visa shopping debit card with up to 10% cashback offers.
Additionally, the service is introducing a credit building service to help you access up to $1000 credit. Empower has over 1m users and 'excellent' reviews on Google Play and App Store.
17. Branch

How much do you make every month? The branch is ready to advance you up to 50% of your upcoming earned income.
This is a payroll advance app that also helps you manage your cash flow. Additionally, you get a free digital wallet to help you purchase and pay for services without the hassle of hard cash.
Caution: While most paycheck advance apps promise 0% interest, the facility can end up costing you hundreds of dollars. Failure to repay the advance at the agreed time attracts an exorbitant APR over 35%.
17. Take a ZippyLoan

Will I get paid today from my hustle? If your payday is upon you but no cash is hitting your bank account, consider taking a personal loan.
On ZippyLoan, you can find lenders willing to loan you up to $15,000 in about 5 minutes. The service offers loan terms of up to 5 years.
The company provides loans for people with varying creditworthiness, meaning even people with bad credit have a chance here. If approved, funds are sent to our bank account within a day.
18. Borrow Money On MoneyMutual

MoneyMutual connects you to lenders at no cost. Through the service, you can apply for payday loans of up to $5,000 in 24 hours.
To get the loan, you fill out a form online and wait for a lender to reach out, usually within minutes. The site then transfers you to the lender's platform to complete the application.
MoneyMutual is paid by the lenders, ensuring that the borrower does not pay for the service.
MAKE MONEY FROM HOME GET PAID TODAY
The job market has undergone a huge revolution, allowing people to work from home and make a substantial living.
Apart from working from your house, you can now run a lucrative business online without ever walking into an office. Here are some perfect examples of these earning streams:
19. Get Paying Jobs On TaskRabbit
Looking for "work and get paid today near me" gigs? Head over to Taskrabbit for all sorts of odd jobs in your neighborhood. The platform is owned by IKEA and features thousands of jobs across the board.
Once you create a Tasker profile, the service matches you with jobs depending on skill, availability, and hourly rate. You can access the platform on your browser or via mobile apps.
Typical jobs on Taskrabbit include window cleaning, moving, furniture assembly, and event staffing. You get to keep 100% of your wages plus all tips.
20. Deliver Food for DoorDash
DoorDash is one of the leading US-based food delivery platforms that allows users to order food and groceries online. Dashers, basically freelance delivery drivers, deliver the orders for a fee.
To start earning, you need a car, bike, or scooter. You choose when and where to work, and for excellent service, you earn tips on top of the base pay.
DoorDash's payment method is a weekly direct deposit to your bank account. Dashers in the US can also get daily pay via FastPay.
How To Maximize Your DoorDash Earnings
21. Work from Home & Start Earning Today By Investing In Robinhood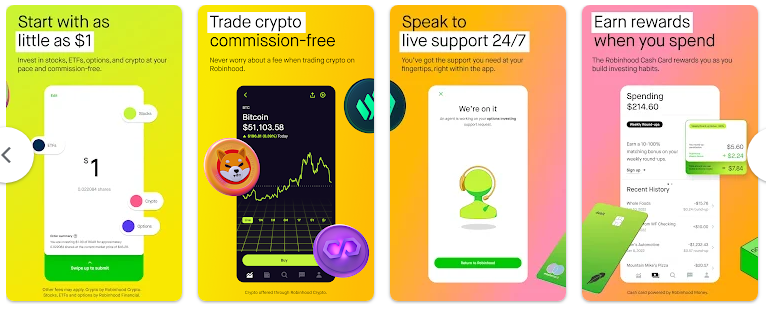 Stock trading is a high-earning investment that can make thousands of dollars every day. However, trading in stocks is not as rosy as it sounds; you can lose your savings fast.
To get started as an amateur, a platform like Robinhood allows you to start trading fractions of shares with just a dollar. The service also lets you trade crypto at no charge.
Robinhood also offers users banking services like savings and checking accounts. You also get a Mastercard debit card as the preferred payment method.
Related Read: Robinhood Vs Acorns Vs Stash
WORK TODAY GET PAID TODAY TEMP AGENCY
Temporary staffing agencies can help you get daily pay fast. These are employment services that are engaged by companies to find workers to fill in different roles quickly.
The leading temp agencies include:
22. Labor Works
This is a labor supply agency that gets you the same payday jobs in select locations in Kentucky, Ohio, Minnesota, Indiana, and North Carolina.
Typical jobs on the service include construction, landscaping, machine operation, and waste removal. Their offices are usually open for 24 hours and you get paid in cash by the end of the gig.
Register for Jobs That Pay Daily on Labor Works
23. Get a Daily Pay Job On JobStack
JobStack is an app run by PeopleReady, a jobs platform with over 600 offices in the US, Canada, and Puerto Rico.
This is a temp-to-hire agency with jobs in manufacturing, construction, hospitality, retail, and disaster management. These are all same-day gigs that require both skilled and unskilled workers.
20,000+ companies source workers from the agency, whereby you can apply directly on the official website or through the JonStack app.
Sign Up for Job Alerts or Get the JobStack App
Also Read:
GET PAID TODAY: FAQs
1. What Apps Pay Immediately?
To get paid today, get jobs on apps such as Shipt Shopper, Survey Junkie, and Upwork for Freelancers. Other mobile apps with similar offers include JobStack and DoorDash.
You can also use Earnin, Bridgit, Branch, and Empower for a payday loan.
2. What Can I Do Online To Get Paid Today?
Online jobs that pay daily include freelance writing, data entry, product reviews, web development, and virtual assistance.
Payment is usually via PayPal, Cash App, direct deposit, and gift cards.
3. How Can I Get Paid The Same Day?
To get paid today start by getting online jobs on sites such as Upwork and People Per Hour.
You can also go for cash gigs from temp agencies like Labor Works, PeopleReady, and Labormax.
Same-day pay jobs can be both skilled or unskilled, with the potential for long-term engagement.
4. How Much Can I Get Paid Today?
Depending on your skill, you can make anything from $10 to over $5,000.
For example, online surveys can pay you up to $50 while loan apps can get you up to $15,000 in under 24 hours.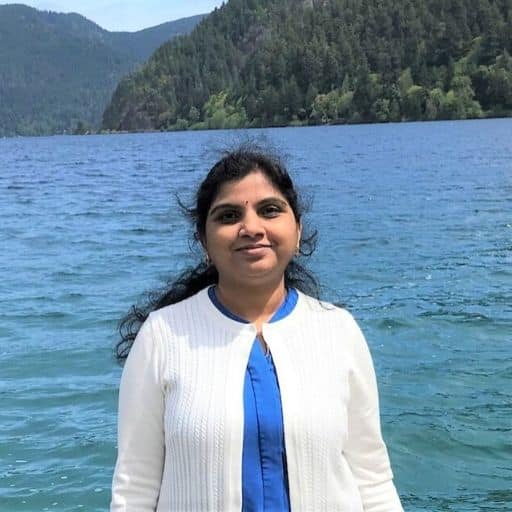 Howdy Folks, thanks for stopping by my blog.
I'm Swati, a proud mom, dedicated side hustler, full-time blogger, and a recognized millennial work-at-home expert. My expertise has been featured on esteemed platforms such as Forbes, CEO Blog Nation, Referral Rock, Vital Dollar, Databox blog, and many more. I have embarked on this incredible journey to share my firsthand experiences in the world of online income generation and to assist all of you in earning money from the comfort of your homes.
Join me in my mission to revolutionize the way we make money and achieve financial freedom. Trust me, it's not as challenging as it may seem!
Together, let's explore the boundless opportunities and pave our paths towards a prosperous future.