Acorns, Stash, and Robinhood are undoubtedly the best investment apps aimed at beginners who are unsure of money-management techniques.
Are you looking to invest, but don't know where to begin? With a plethora of investment opportunities, taking the first step can be an overwhelming challenge. You've come to the right place, here you will find information about three popular investment apps that can be managed right from your phone.
That's right- no need to make appointments or even get off the couch. You can sign up and start investing today. Here you can learn the pros, cons, along with some insider tips to get started today with these top three automated investing apps.
Ready to take a plunge?
Firstly, let's check out the basic requirements to get started with these apps:
Basic Requirements: How To Get Started?
Be 18 years or older
Have a valid Social Security Number
Have a legal U.S. residential address within the 50 states or Puerto Rico
Be a U.S. citizen, U.S. permanent resident, or have a valid U.S. visa
Toggle Content
Acorns – Invest spare change!
Out of the three, Acorns is the simplest way to start saving and investing money. This is the first of the three money-making apps that I used and was pleasantly surprised by the ease-of-use. I remember meeting with an investment advisor at Edward Jones when I was 19 or 20. I left with a folder of paperwork and information I didn't fully understand. Acorns takes away the complications of investing your hard earned money with simple automation.
When signing up for Acorns you choose a monthly plan (more on that later) and answer a few questions about your financial goals. You can choose the level of risk you want to take, and how much money you want to have in your investment account.
From there, you can set up recurring investments from your bank account, as well as round ups. Round ups are what makes Acorns unique. Let's say you go to the grocery store and spend $32.60, if the card you use at the grocery store is linked to your acorns account, 40 cents will be added to your account and invested. Round ups are fully customizable, so you can set up your account to invest 99 cents when you spend $2.01, or set a max round up of 25 cents. You can also choose which card has round ups turned on.
The benefit of this style of investing is that it's continuous, as long as you're making purchases, you're also investing for your future. Get started with Acorns and earn a $5 Referral Bonus!
Pricing & FEATURES
Acorns has three options for their monthly subscription fees, ranging between $1–3 per month. While a dollar a month may not seem like a big cost, Acorns suggests investing a minimum of $20 per month so the interest gained is at least $1.
The basic $1 monthly subscription includes an account, round ups, investment articles, and opportunities for bonuses when you make purchases from sponsored companies.
The $2 per month subscription unlocks the ability to open an individual retirement account (IRA). You can start investing in an Acorns IRA with just $5, and set up a recurring deposit from your main bank account.
The $3 per month subscription adds a spending account. You will receive an Acorns debit card and the ability to deposit money that you want to spend. As you spend money with your Acorns card, you will invest round ups and be able to track your spending on the app.
You can invite friends to use Acorns, and if they sign up you will receive $5 to invest.
STASH – Invest with just $1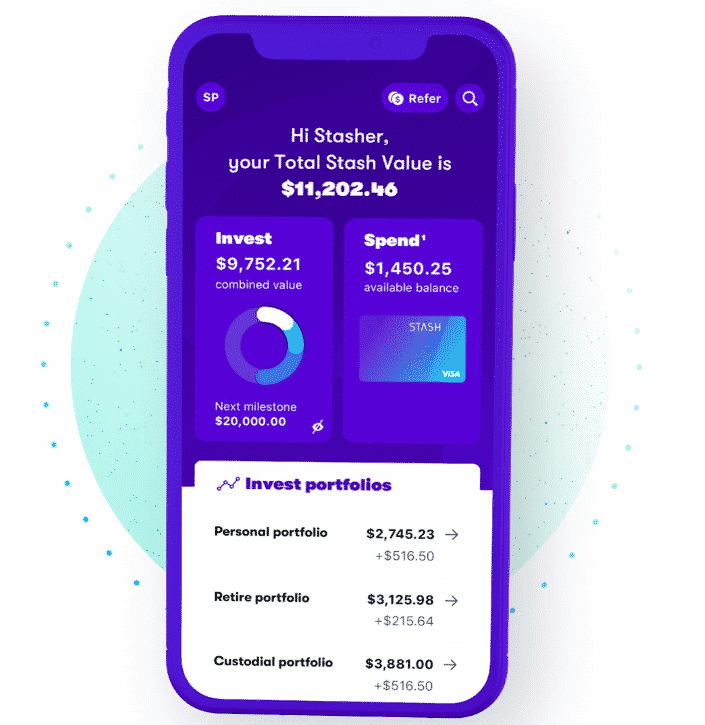 Stash Invest is similar to Acorns in that you can easily get set up right on your smartphone and begin micro-investing.
With Stash, you can start investing as little as $5 in fractional shares and have more control over your investment portfolio. Instead of everything being automated, you can pick which investment folders or companies you want to invest in.
This implies that you can now own a fraction of a share rather than buying the entire stock. They also offer a wide range of investment opportunities you can choose from depending on your goals and holding period.
If you want to invest in small businesses, there is a folder, or ETF, called Small but Mighty, where you can invest your money in a variety of small business stocks and bonds. There are currently 76 different ETF's available to invest in, as well as 1600 individual companies.
If you feel like you're missing out on the round ups that Acorns offers, Stash has a similar offer. Stash offers what is called Stock-Back, similar to cash back offers with credit cards. Stash sends their users a Stash Visa debit card linked to a Stash savings account separate from their investments.
You can set up your Stash account to auto deposit money weekly or monthly from your main bank account into your Stash account. Then simply use your Stash debit card to make a purchase at Target and you receive a partial share of Target stock.
These Stock-Back rewards are free, so unlike rounding up your $32.60 purchase, you get free stocks, which makes it unique. And the program runs promotions that will increase the 0.125% reward depending on the merchant.
PRICING & FEATURES
Similar to Acorns, Stash offers three monthly subscription levels starting at $1–9. Their basic plan starts at $1 a month. Keep in mind that the $1 monthly fee is for accounts with a balance under $5,000 – which is incredibly high!
Again, you will want to ensure you are making enough money from your investments, as $9 per month can easily wipe out the gains you're making.
At $1 per month, you will have an investment account, debit account access, and stock-back benefits. Stash also has financial education so you can continue learning how to invest for success.
The intermediate Stash account costs $3 per month. This subscription offers a retirement account setup that can be started with $5.
The $9 per month Stash account offers a few more benefits, including investment accounts for your kids. You will be able to open up two accounts for kids in your life to set them up for their future. In addition, you will receive a metal debit card and 2X stock back rewards. The last benefit you will get is a monthly market report.
Lastly, you can also receive a $20 referral bonus by inviting your friends to Stash.
ROBINHOOD – INVEST. SAVE. EARN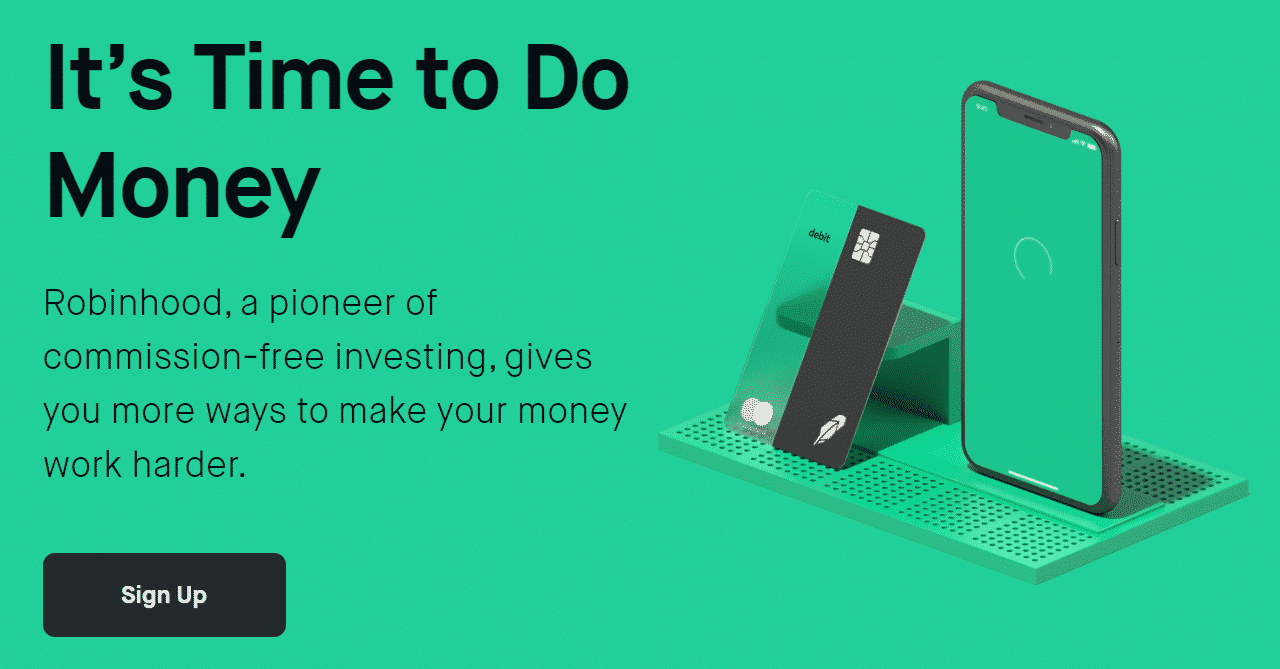 Robinhood is a pioneer when it comes to commission-fee investing. The best part is you can start for free. There are no monthly fees for trading.
They offer a variety of assets that you can invest in, from stocks to crytocurrencies. It can be seen as being more similar to E-Trade or Fidelity, because you are in complete control of your investments.
Over the next couple months, Robinhood is rolling out the option to purchase partial stocks, which really gives them an advantage and brings them closer to Acorns and Stash.
Apple stock typically costs around $200 or more per share. If you don't want to invest $200 with Apple soon you won't need to. Similarly to Acorns and Stash, you will be able to purchase a partial share, meaning you can invest $20 in Apple and purchase 1/10th of a stock share.
If you already have an idea of where you want to invest, Robinhood app is the best fit. Most investment accounts charge a commission fee every time you purchase a stock, which are typically $5-6 per purchase. Robinhood does not charge a commission fee, so you can purchase stock at original price, and save hundreds, or even thousands of dollars on commissions.
PRICING & FEATURES
Robinhood is one of the only investment apps that doesn't require you to pay a monthly subscription fee. Unlike Acorns, Robinhood is not a robo-investment app.
You can start investing for free or with as little as $1. You can transfer up to $50,000 per business day into your account and up to $1,000 in instant deposits for zero fees.
The best part about Robinhood is their referral program.Each time you refer someone to Robinhood – both receive a free stock. It's a win-win situation and no-brainer to get free stocks – Invite your friends right now!
The free stock is picked randomly and valued between $2.50-500. Additionally, you can also receive up to $500 in free stock per year through referrals. Isn't that cool?
The only drawback is you'll have to do research on your own and invest wisely. The Gold account which usually costs $5 a month comes with an extensive market research data. You can access the Gold subscription for free for up to 30 days. And, the weekly email newsletter – 'Robinhood Snacks' also offers fresh takes on the financial news to keep you updated on the market trends, which is highly beneficial.
Acorns Vs Stash Vs Robinhood apps
APPS
Features & Pricing
Monthly ($)
Min Investment
Buy Individual Stocks
Referral Bonus
Other Apps
Popular
ACORNS
Invest Spare Change
$ 1-3
STASH
Start with Less than $1
$ 1-9
ROBINHOOD
Invest & Earn
$ 0
Stash charges a management fee of 2.4% for $500, 0.48% for $2,500 respectively. The $3 monthly fee makes the fee damage even worse. While, Acorns charges just $1 for up to $1 million investment, Robinhood charges none. In my honest opinion, you are unlikely to get a good exchange for Stash's ongoing monthly fee. So, its a good idea to chose Acorns over Stash.
Now, between Acorns and Robinhood, it depends on your personal preference. Let me tell you why?!
If you don't know much about the stock market or investing, Acorns is the way to go. You don't need to worry about choosing the wrong stock, or investing in a company that ends up bankrupt. Acorns spreads out your investment and is designed to make you money.
The biggest downside of Acorns compared to Stash or Robinhood is the inability to choose where to invest. Acorns will invest in folders of various stocks, bonds, and mutual funds based on the level of risk you want to take.
On the other hand, Robinhood app is an amazing option and one of the top choices for anyone getting started with investing. Their interface is easy to use and beginner friendly. You may not find it robust but it offers you the flexibility to choose your investment options. It allows you to invest in companies you love and that too commission-free! Besides this you can also earn a monthly 0.30% APY on your uninvested cash.
I personally use both Acorns and Robinhood app and definitely recommend them to anyone willing to get started with Investment.

Start Investing Your Spare Change With Acrons!


Get Your Free Stock at Robinhood!

Which of these three apps do you prefer and recommend to your friends. Write down in the comments below.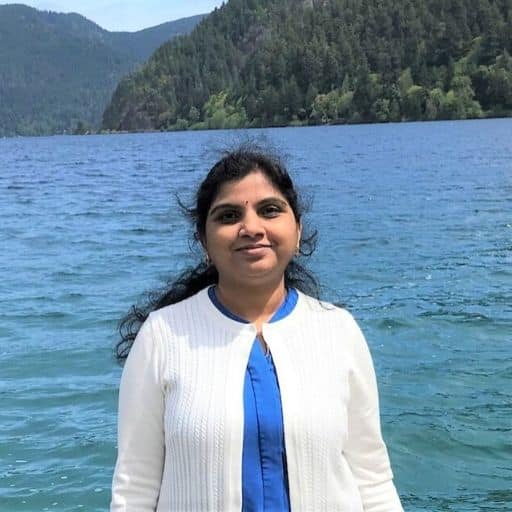 Howdy Folks, thanks for stopping by my blog.
I'm Swati, a proud mom, dedicated side hustler, full-time blogger, and a recognized millennial work-at-home expert. My expertise has been featured on esteemed platforms such as Forbes, CEO Blog Nation, Referral Rock, Vital Dollar, Databox blog, and many more. I have embarked on this incredible journey to share my firsthand experiences in the world of online income generation and to assist all of you in earning money from the comfort of your homes.
Join me in my mission to revolutionize the way we make money and achieve financial freedom. Trust me, it's not as challenging as it may seem!
Together, let's explore the boundless opportunities and pave our paths towards a prosperous future.