The best food delivery jobs are just an app away. Yes, that's how easy you can get into the delivery business which only requires you to have a phone and a car or a bike. What's more, some delivery driver companies will even let you deliver on foot.
So, what's the job all about?
Basically, food delivery is taking freshly cooked food from restaurants to the customer. You may also be tasked with delivering groceries and other products, including alcohol.
To get a food delivery driver job near you, simply walk into local eateries and ask for the opportunity. Today's extensive internet coverage also makes the entire process easier.
All it takes is going to the Play Store, App Store, or Google and searching for delivery or shopper sites. So, which are the best food delivery jobs platforms, and how much do they pay?
Food Delivery Job Requirements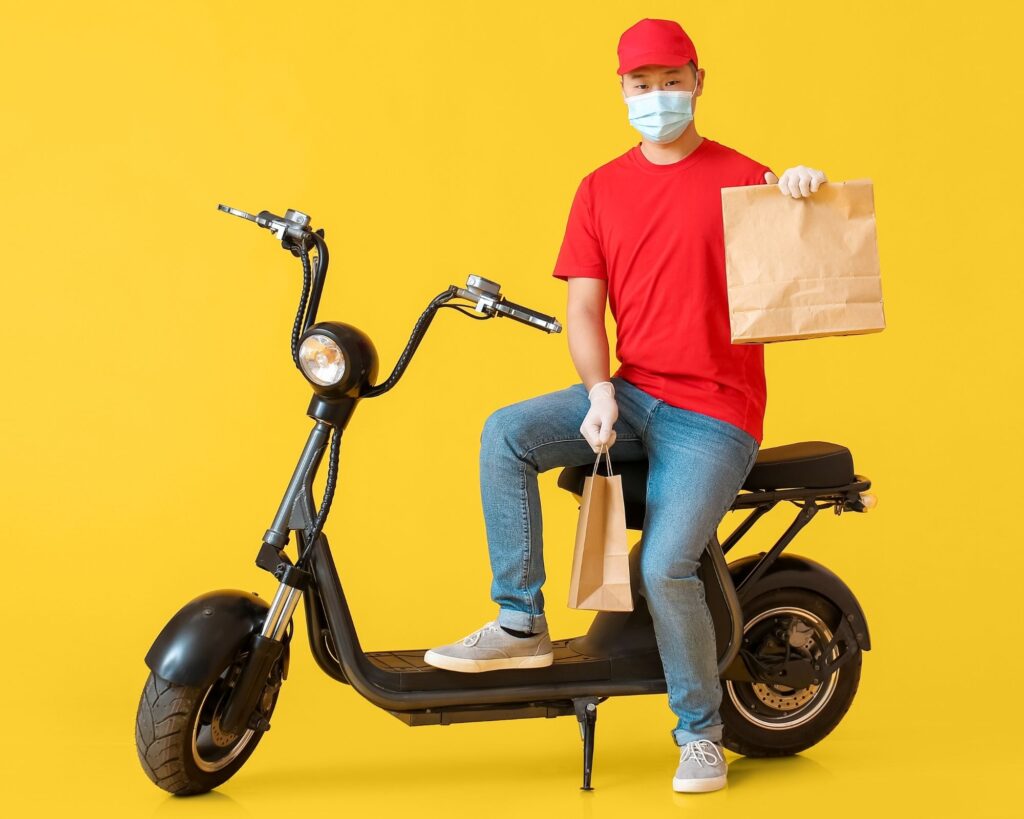 A typical food delivery job description requires that:
You must have a suitable mode of transportation in that particular area; a car, motorcycle, bicycle, or scooter to enable swift movement. The job can also be done on foot, especially in crowded cities like New York where parking is a problem.
You must possess a valid driving license and pass a background check.
Drivers are also expected to have a high school diploma or at least a GED.
Further, your car must have the necessary auto insurance policy that's in line with your state's requirements.
Driving skills aside, your driving record needs to be clean.
Lastly, food delivery service requires a stellar knowledge of your area's road network and common traffic scenarios. This is to ensure that you can navigate different routes with ease.
Food Delivery Driver Salary
Wondering how much food delivery jobs pay? The base pay for delivery drivers is $33,554 per year or around $17 per hour.
The income estimate is based on Glassdoor salary reviews that show some drivers making over $30/hr, while others earn as low as $5/hr.
Factors that affect the pay include:
The delivery area: Delivery jobs in busy and larger cities pay higher since you'll have more orders.
Your schedule: Peak hours and weekends can pay more. Also, as a gig worker, you need to work many hours to increase your take-home.
Bonuses and tips: Some services pay you extra for referrals, and order completions, and let you keep some or 100% of your tips.
Navigation skills: Unfamiliar routes can reduce your trips per day and cost you more for gas. A GPS system can be handy but you need familiarity with an area to judge the reliability of some 'shortcuts'.
Customer service: Be presentable, punctual, and friendly to ensure good tips and better reviews.
Food Delivery Jobs Near Me
Before we get to delivery apps, it is possible to deliver to any restaurant, grocery retailer, or supermarket near you.
Check local job ads for groceries, restaurants, or food delivery jobs where you work as an in-house driver using a company delivery vehicle and on a fixed salary.
Additionally, check which of the following takeaway food delivery app services recruit you locally.
Highest Paying Food Delivery Jobs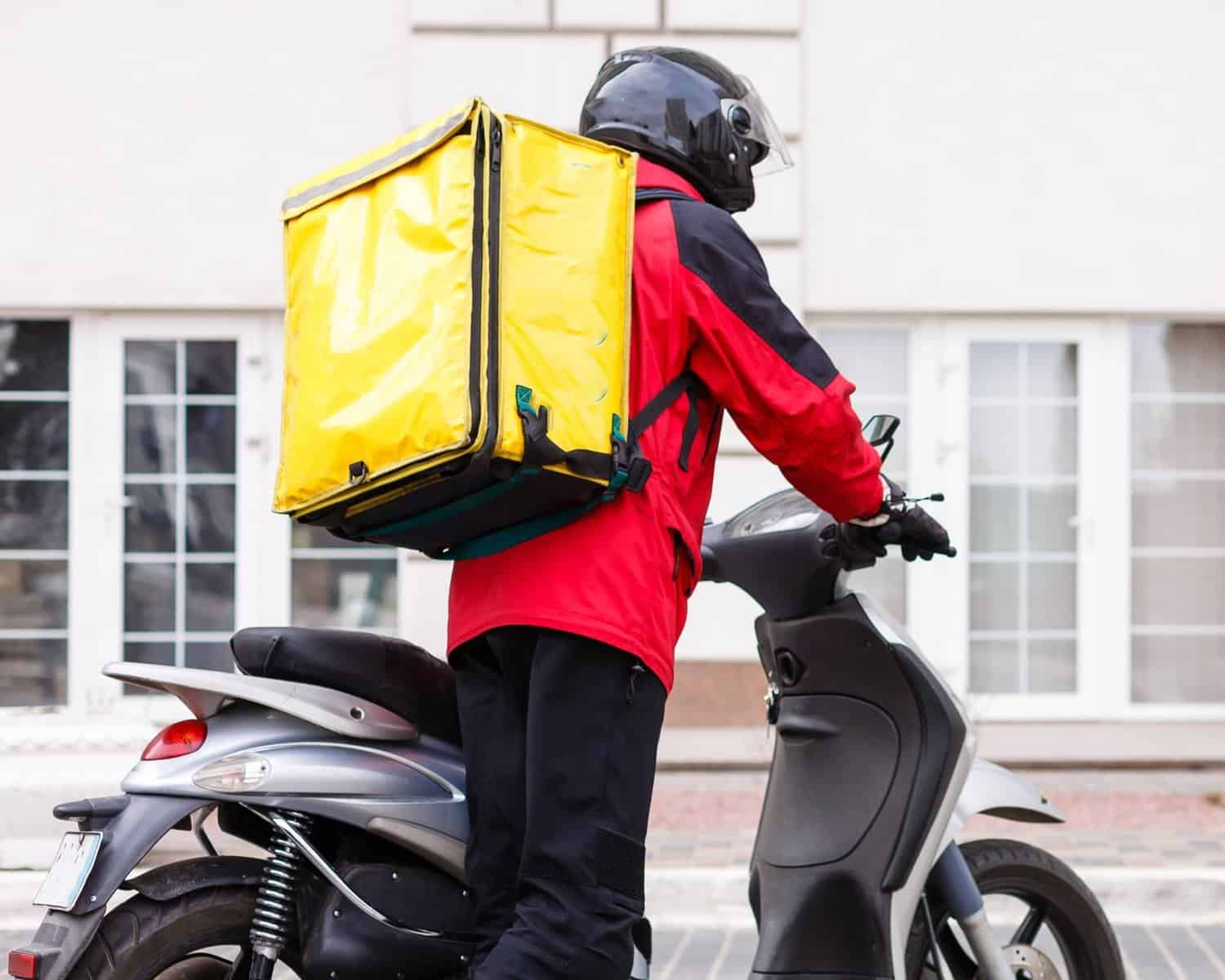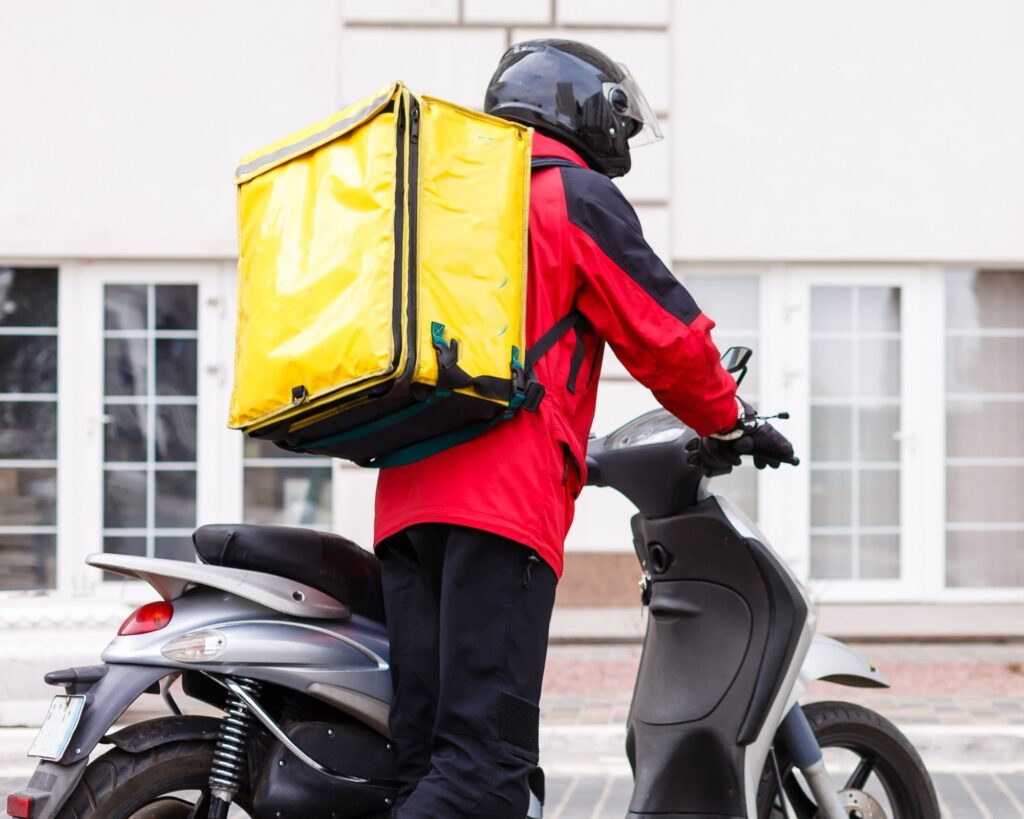 To find apps for best paying delivery jobs, I did a quick research on the likes of Glassdoor and ZipRecruiter for app reviews from users.
I found the approach more reliable as opposed to the figures stated by the apps. So, which apps do drivers say pay the best? Let's explore:
1. DoorDash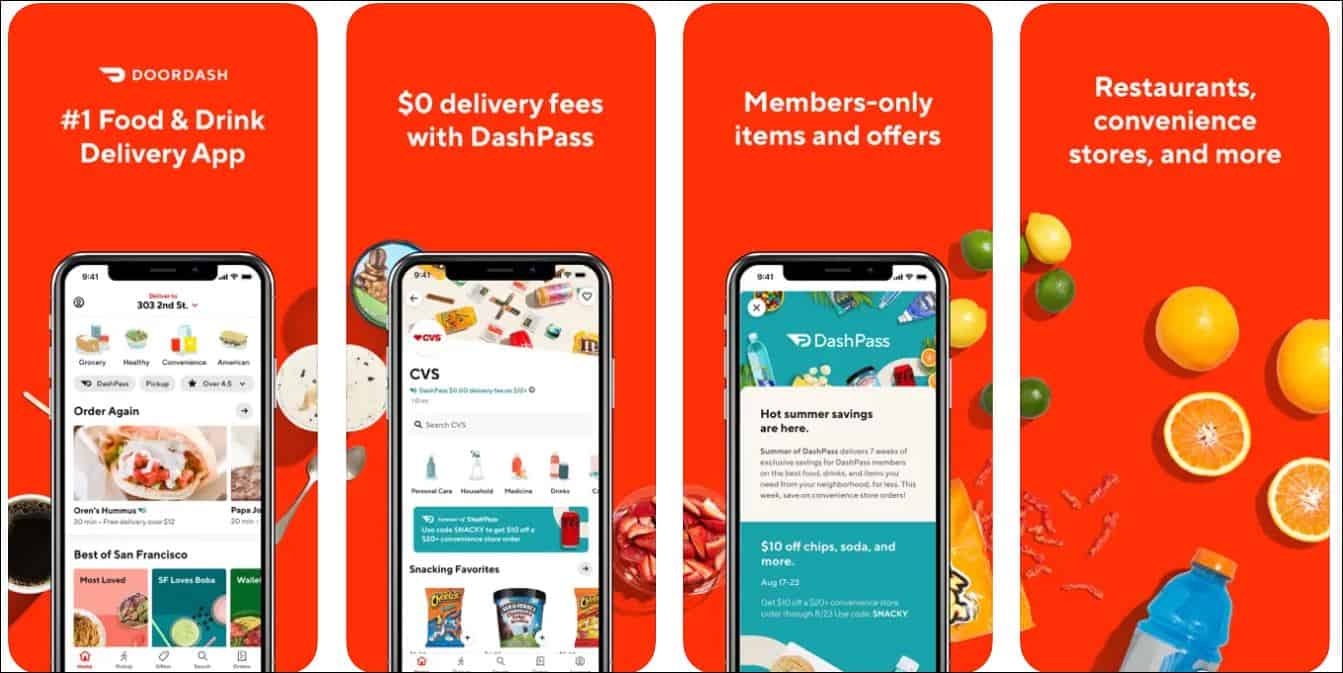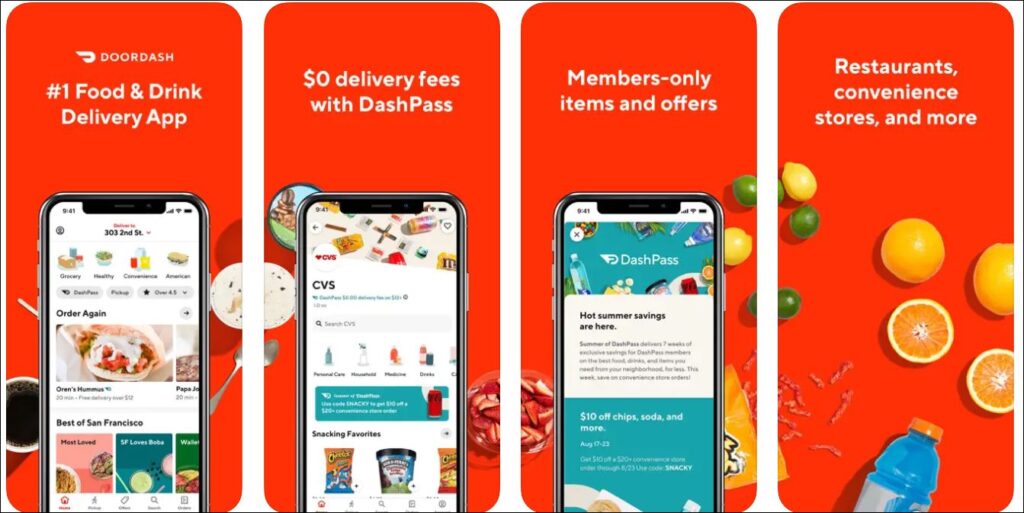 Job Profile: Food delivery
Average earnings: $25/hr+Tips
Availability: U.S.A, Canada, Australia, & New Zealand
Doordash is the most popular food delivery driver app in the U.S. with a network of top-rated restaurants and convenience stores across the U.S., Canada, Australia and New Zealand.
It offers an easy and fastest way to earn extra money for Dashers. You can work as much or as little as you want, making DoorDash a great option for those who need flexible earning opportunities.
You can use a car, bike, scooter, or even a truck to deliver food in your designated area during the peak hours. In cities such as New York, Denver, and Los Angeles, you can deliver for DoorDash on foot.
Most dashers make $300-$500 per week, and there are no delivery quotas or minimum hours required. Plus, you get to keep 100% of your tips, so it's a great way to boost your income.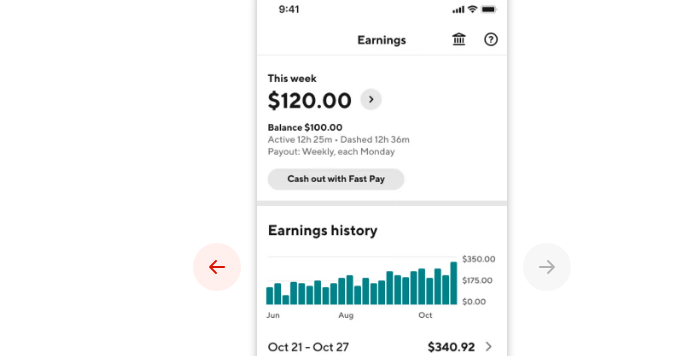 Signing up is easy, and you can start earning money right away. So if you're looking for a simple way to make some extra cash, DoorDash is definitely worth checking out.
2. Grubhub
Job profile: Food Delivery
Average earnings: $28/hr
Availability: U.S.A 4,000+
At $28 per hour, Grubhub is one of the leading food delivery driver job apps for gig workers in the US. You keep the full amount received in tips and get compensated if an order is canceled.
Note that the amount of compensation is calculated as a percentage of the distance you committed to the order.
To be a GrubHub driver, you can either use a car or a bike, depending on your city. After the initial registration process, you'll have complete flexibility in choosing your work hours.
They have their own app for the delivery drivers where you can easily schedule your timing, check earnings, and get the complete details of the delivery location.
Apply to Become a Grubhub Driver
3. UberEats

Job Profile: Food Delivery
Average earnings: $37,293/yr ($19/hr+)
Availability: Worldwide
Without any doubt, UberEats is one of the best platforms for food delivery job opportunities all over the world. As of 2019, they are accepting delivery mates in different countries with just basic educational qualifications.
All you'll need is just a bike, scooter, car, or any other mode of transportation. An Uber food delivery driver also requires legal papers of the delivery vehicle, along with a valid driving license, to initiate the registration process.
Once you are accepted, you can simply log on to your account and start receiving delivery orders. The best part is that you can always keep track of your earnings on the driver app.
Become an Uber Eats Delivery Driver
Grocery Delivery Driver Jobs
Some best food delivery driver jobs require you to shop and deliver to the customer within a given time period. Most of such services partner with food and grocery retailers, with dedicated apps to coordinate orders and deliveries.
4. Instacart Shopper and Driver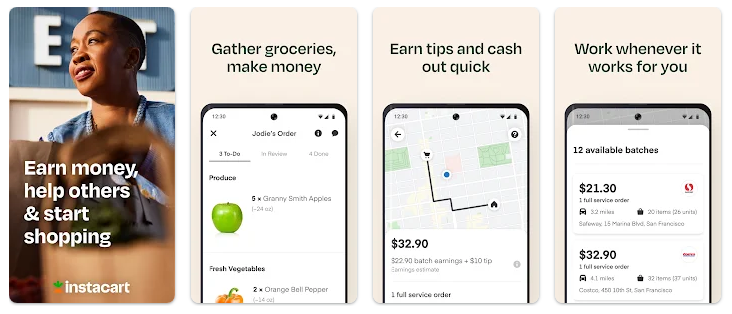 Job Profile: Grocery Delivery
Average earnings: $31 per hour
Availability: the United States & Canada
Like Shipt, Instacart also shops and delivers groceries to its customers all over the United States. An Instacart shopper can either be a full-service or in-store shopper. The former pays per order, while the latter gets you an hourly wage, plus tips.
Instacart is available in virtually all cities in the US, meaning you can work from your preferred location. Apart from the normal wage, Instacart shoppers earn referral bonuses for getting new shoppers to use the service.
5. Favor Delivery Driver

Job Profile: Food & Groceries Delivery
Average earnings: $11 per hour
Availability: Several cities in the U.S.A
This is a delivery service with a difference, in that they deliver whatever you need; be it tacos or dry cleaning. Known as personal assistants or runners, delivery drivers earn a percentage of the delivery fee and make extra money from tips.
After your account is approved, you attend an orientation program where you'll get to know the secrets, tips, and tricks to earn more while working as an independent contractor.
The service is only available in select cities in Texas, US.
6. Postmates Driver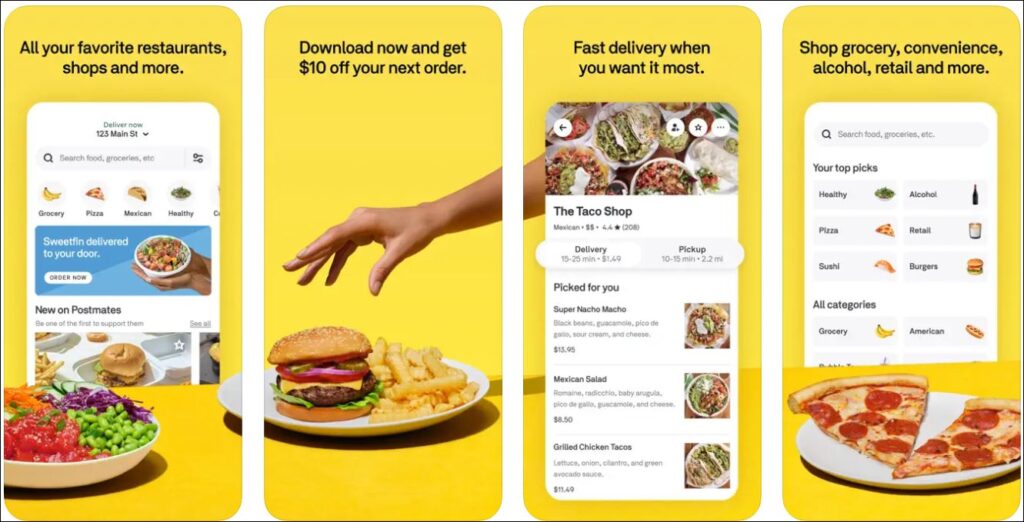 Job Profile: Food, Groceries, and Alcohol Delivery
Average earnings: $13/hr
Availability: Over 1500 cities in the U.S.A & Mexico
Postmates is one of the best delivery companies, paying an average of $13 per hour. You keep all of the tips that you get from the customer plus occasional bonuses depending on the originating store or restaurant.
But here is the kicker, as of August 8, 2022, the app will cease to operate. The reason is that Postmates has been acquired by Uber and will be totally absorbed by then.
7. Shipt Shopper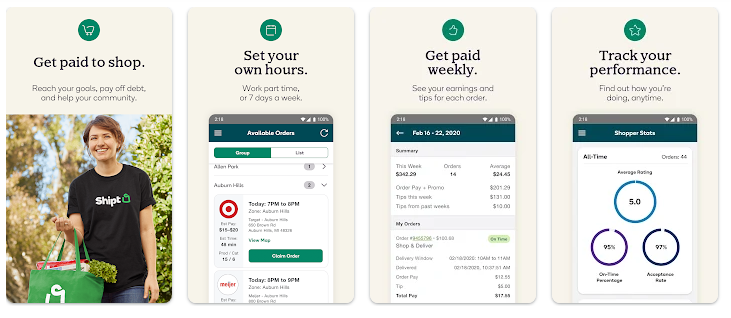 Job Profile: Grocery Delivery
Average earnings: $15/hr
Availability: Southeast and Midwest U.S.A
Shipt is one of the fastest-growing delivery companies in the United States. Apart from food, you can also deliver liquor via the app.
Your pay depends on the number of deliveries and the total amount per order. Each order pays you $5 + 7.5% of the order amount.
As a Shipt Shopper, you can choose to either work on full-time or part-time food delivery jobs. As for the major requirements, you need to be 18 years or older and able to carry at least 40 pounds with ease.
8. Fantuan Delivery Driver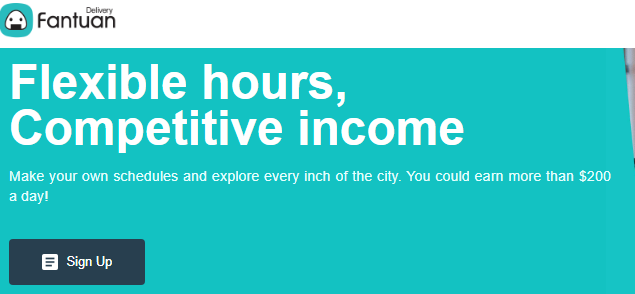 Job profile: Grocery and Consumer Good Delivery
Average earnings: $24.51 per day
Availability: U.S.A, Canada, & Australia.
Do you need a food delivery job and you don't have a car? Apply to deliver for Fantuan, a company that allows you to rent their electric bikes for your trips.
Further, couriers are provided with free food delivery gear, including thermal bags. Their pay is also high, with the company estimating $200+ per day.
What's more, this Canada-based delivery service allows international students, with the right work paper, to earn as they study. Even better, no work experience is required, making the application process fast and easy.
Become a Fantuan Food Delivery Driver
9. Walmart Grocery Delivery Driver

Job Profile: Grocery and Consumer Good Delivery
Average earnings: $20.26/hr
Availability: 41 U.S States
Known as a Spark Driver, the position sees your shop and delivers customer goods bought online on Walmart. Tips are optional but once rewarded, the driver keeps every penny.
The company carries out extensive background checks that can take up to 7 days to complete.
Walmart grocery delivery drivers have to be 18 years or older and own or rent a car and be the insured driver. The Spark Driver App lets you know the timeframe for delivery and the expected payout.
Best Delivery Driver Apps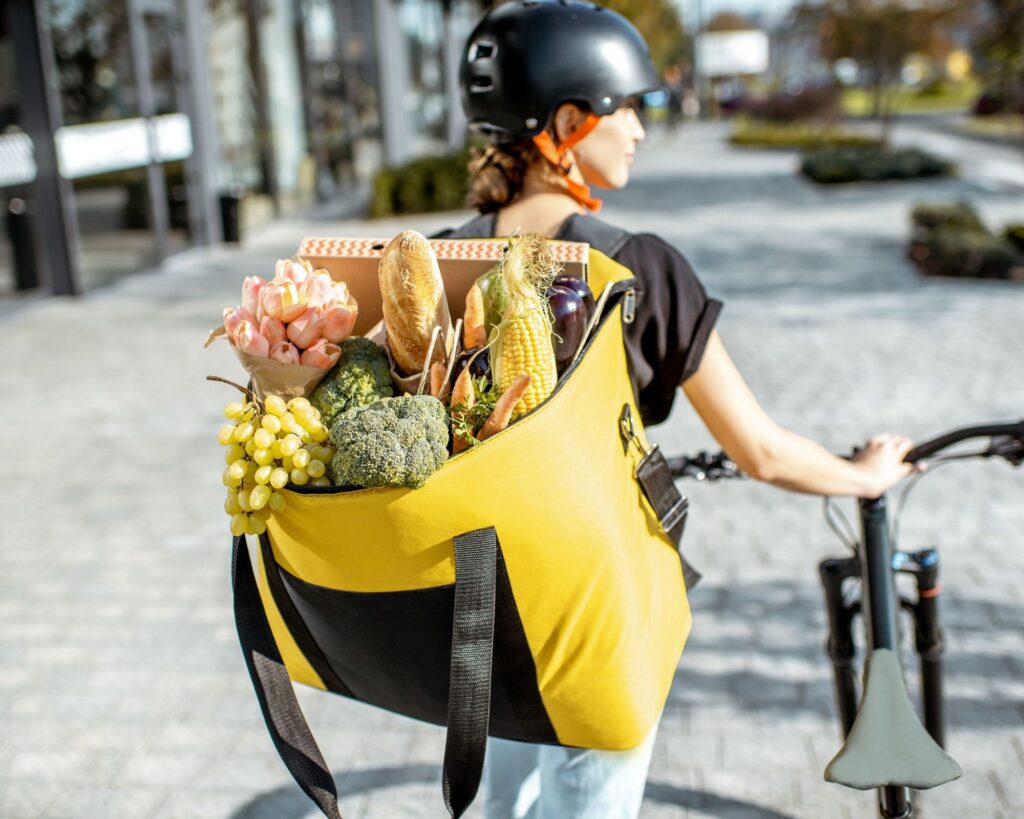 The coronavirus pandemic of 2020, led to an upsurge of customers ordering food online. This led to mushrooming of scores of food delivery apps for drivers. Some apps have a global or national reach, while others serve a small locality.
The point is, to work as a delivery person, all you need is to search for delivery or local restaurants' apps in your state or area. Now before you download and register on an app, ensure that it is among the top delivery services outlined below:
10. Roadie
Job Profile: Cross Country Delivery
Earning Potential: $16-$33/hr
Availability: U.S.A
Looking to save on gas? The Roadie platform allows you to deliver during your road trips. How the model works is that once you specify your destination, the app lets you select a delivery request along your route.
According to the platform, Roadie deliveries can earn you $8 – $60 on local trips and up to $650 for long drives. The earnings are dependent on the delivery distance and the package itself.
For example, a fragile package will earn you more than takeout French fries. The service delivers everything from food and groceries to furniture and lost luggage. So, if you are a truck driver, this is the delivery company to earn you extra cash.
Become A Roadie Delivery Person
11. Burro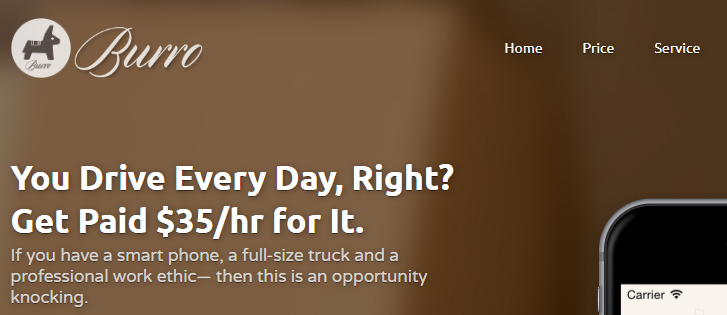 Job Profile: Delivery Service
Earning Potential: $16.34/hr
Availability: United States
Burro is an app that delivers to individuals and businesses. Just like with Roadie, you can deliver food as well as bulky items.
The average weight for deliveries is 92lbs, so you need a sturdy delivery vehicle for the job. Potential earnings for truck deliveries are estimated at $45/hr, with the rate fluctuating depending on the package and distance.
12. Saucey

Job Profile: Alcoholic Beverage Delivery
Average earnings: $15-$27/hr
Availability: Several cities in the U.S.A
As a delivery person on Saucey, the job involves delivering alcoholic beverages like wine and beer to go with your favorite dishes.
You get to select your preferred locations, to get the most out of your working hours. Couriers earn $5 per delivery and an extra $0.50 per item. You also earn tips.
As for requirements, Saucey couriers must be 21 years or older to purchase and deliver alcohol. Additionally, you need valid car insurance and maintain a 4.8/5 star rating.
13. GoPuff

Job Profile: Food & Consumer Goods Delivery
Average earnings: $19.85/hr
Availability: U.S.A and UK
GoPuff is available in 650+ cities in the United States and is currently making inroads in the UK's food delivery market. Typically, the app delivers household items, including baby and pet products.
The app also delivers alcohol, meaning all drivers must be 21 years or older to get approved. Unlike most delivery platforms, goPuff stocks merchandise, supported by an online shopping portal, where customers buy for you to deliver.
Download GoPuff Driver App Here
14. Delivery.com

Job Profile: Food & Household Goods
Average earnings: $16.27/hr
Availability: U.S.A
Delivery.com recruits independent contractors to deliver food, groceries, alcohol, gifts, and laundry. To work, you need a reliable vehicle, with proof of auto insurance, in addition to a good smartphone.
The service promises competitive pay on all deliveries and 100% customer tip. You can also make extra money by referring friends to register on the platform ($10/referral).
The company operates in 100+ US cities
Fill out this form to get started on Delivery.com
15. Bolt Food

Job Profile: Food Delivery
Average earnings: $20/hr
Availability: Global
With the Bolt Food app, you get flexible working hours and can deliver using a car, scooter, or bicycle.
Depending on your location, the company requires a valid government-issued photo ID for you to pass the onboarding test before you can start working.
What I like most about the company is that their pay rate increases during bad weather and peak hours. Remuneration is weekly and there are no maximum or minimum working delivery hours.
Sign Up For a Bolt Food Delivery Job
16. Amazon Grocery Delivery Driver
Job profile: Grocery Delivery
Average earnings: $21/hr
Availability: 15+ U.S Cities
As the largest online retailer, Amazon gets thousands of grocery orders that have to be delivered by independent drivers. Basically, you receive the orders from the company's grocery warehouses and deliver them to various customers.
You'll be working under the popular Amazon Flex Delivery Driver program that pays up to $25 per hour. Applicants must be 21 years or older and have a truck or a midsize vehicle.
Get Amazon Food Delivery Jobs Alert
Milk Delivery Jobs
Delivering milk to people's doorsteps is one of the oldest delivery jobs in the world. Typically, you are employed by farms or milk distributors to deliver crates or bottles of milk to the assigned addresses.
The average salary for delivering milk is $19 per hour. Note, that while the pay may be lower than the rates for most delivery apps and companies, the position is usually permanent.
As such, you do not have to worry about peak hours or tips. However, the work requires strength to load and unload heavy crates, sometimes at night without a helper.
To get such job opportunities, visit the likes of Glassdoor, Indeed, and local job boards.
Food Delivery Jobs: FAQs
1. What Are The Benefits of Food Delivery Jobs?
Food delivery drivers work on their own hours and have the final say on the trips they wish to make. This makes it easy to only work during weekends or every day after a 9-5 day job. Some companies pay a bonus once you hit a set number of deliveries, plus a share of any customer tip.
2. Can You Make a Living Working Off a Food Delivery Service?
It is possible to make enough money from food delivery platforms on the condition that you work for many hours, especially during peak times. For a hefty paycheck, drivers work for two or more services, making it easy to pick the best-paying orders and never be idle. The last trick is to provide excellent customer service for high tips.
3. What Are The Top Vacancies For Food Delivery Drivers?
The highest-paying companies for delivery drivers include GrubHub, DoorDash, and UberEats. These are services with lots of partnering restaurants that also make for many repeat customers. Other services that employ delivery persons in large numbers include Instacart, Postmates, and Shipt Shopper.
Food Delivery App Jobs – Conclusion
Food delivery apps are some of the tools you can use to make money fast and without any experience. All it takes is a clean driving record and a willingness to pick and deliver food and groceries to people's homes or places of work.
Typically, the delivery company pays per order, or per mile, and shares part of the entire customer tip with freelance drivers. According to salary reviews, the hustle can make you $30+ per hour and provide you with a full-time job.
Some platforms provide instant pay jobs, while others reward you at the end of the day, week, or month. Your earnings are subject to the base pay, the number of deliveries in an hour, and other perks, including referral bonuses.
But what makes a good delivery driver and what tricks can help them earn more? Let's hear from experienced gig workers in the industry, below: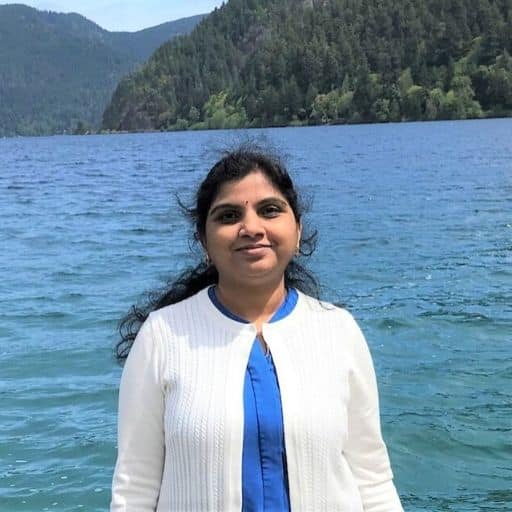 Howdy Folks, thanks for stopping by my blog.
I'm Swati, a proud mom, dedicated side hustler, full-time blogger, and a recognized millennial work-at-home expert. My expertise has been featured on esteemed platforms such as Forbes, CEO Blog Nation, Referral Rock, Vital Dollar, Databox blog, and many more. I have embarked on this incredible journey to share my firsthand experiences in the world of online income generation and to assist all of you in earning money from the comfort of your homes.
Join me in my mission to revolutionize the way we make money and achieve financial freedom. Trust me, it's not as challenging as it may seem!
Together, let's explore the boundless opportunities and pave our paths towards a prosperous future.