Are you on the lookout for affordable online courses to work from home as a secondary source of income?
Almost 2 million Americans quit their jobs every month. The #1 reason being the boss, then come stress and long work hours. Today's internet has opened a plethora of opportunities to all those wanting to escape the rat race and make money from home.
No wonder, Work from home jobs offer the flexibility to work anywhere in the world. Since you are your own boss, you can decide which clients to work with and what projects you want to work on. Some jobs help you generate a full-time income — even if you have no prior experience. Yes, there are plenty of online jobs waiting for you. And, with a bit of sweat equity, you can build a business that allows you to work from home (or anywhere really!) and that offers freedom and flexibility.
If you have the willingness to learn and the zeal to triumph you can reach great heights in no time. Experience is not required to get into these remote jobs. You get paid as soon as you procure your first client. These work at home jobs can also be turned into a full-time business someday.
Today, I'm gonna list out the most lucrative remote side hustle ideas that anyone can do without any prior skills. It doesn't matter if you're a stay-at-home mom, a retiree, a millennial, a college student, or an employee who hates their 9-to-5 desk job. You can still work from home and make extra money.
Online Courses to Work from home
I hope this post will answer all the questions you have in mind. Just keep on reading and sign up for the courses and FREE resources. The courses will serve as a roadmap for building a successful work from home career. Some of them even provide access to a private Facebook group where you can chat with and seek help from fellow learners and coaches.
Avg Earning Potential – $36,000/yr
Do you have the ability to spot errors with ease? Do you frown at the sight of misspelled words?
Then, Proofreading is the perfect fit for you!
General proofreading transforms this skill into a money-earning side hustle. Proofreaders are always in huge demand nowadays. As per Glassdoor, the average earning of a Proofreader is around 36,000/yr.
Caitlin Pyle, a successful freelance proofreader and owner of Proofread Anywhere makes a full-time income proofreading from home and on the side. She clearly explains the motive, skills, and tools needed to become a freelance proofreader in her free 76-min workshop.
Her signature course – General Proofreading: Theory and Practice™ (GPTP) includes 40+ lessons spanning 8 info-packed modules delivered 100% online via worksheets, handouts, video, and text. You can further expand your skills with Transcript Proofreading: Theory and Practice™ on successful completion of GPTP.
Related Read: How this MOM (Caitlin's student) makes $2,700/mon proofreading from home.
Ready to start your freelance proofreading hustle?
➡ Click here to get started with this FREE 76-min Workshop!
Want to learn more? Check out this ultimate beginner guide for everything you need to know to become an online proofreader.
Avg Earning Potential: $36,000/yr – $45,000/yr
Transcription is yet another in-demand remote job option that fits around a schedule. If you please to make money on the side from home, it's indeed a great option. Whether you are a student, stay at home parent, employee, or anything transcription is an amazing side hustle.
So, what does a transcriptionist do?
In simple, transcription is converting audio or video files into text documents. Speaking of skills, all you need is efficiency, good typing speed, and good knowledge of grammar. Most of the resources are easily obtainable on the internet.
Here's one such popular course for aspiring transcriptionists:
Janet Shaughnessy, a professional transcriptionist, owner of Zoom Transcription Services, and TranscribeAnywhere for the last 10 years teach everything you need to succeed as a transcriptionist.
She covers three types of transcription jobs – General, Legal, and Medical. While the average median annual income for a general transcriptionist is $45,000. Legal and medical transcriptionists can earn around $60,000 or more.
Interested in becoming a transcriptionist?
Click here to enroll for her FREE GENERAL TRANSCRIPTION MINI COURSE.
Related Read:
Avg Earning Potential: $35 – $80/hr
Bookkeeping is a high-paying work at home job that isn't as sophisticated as it sounds. Having a financial background or being an accountant is an added bonus but not mandatory at all.
Want to GET PAID WELL, become a bookkeeper, and build a thriving career?
I highly recommend you sign up for this FREE 3-part video series by Ben Robinson and learn the essentials needed to become a successful bookkeeper. The instructor of this course has successfully coached 8,000 Bookkeepers so far.
Most of them now earn a full-time income. Some even command $125/hr in just 6 months after taking his course.
Yes, you heard me right!
For instance, this woman makes $500/day as a part-time freelance bookkeeper. You can also achieve the same, create your own 6-figure success path, uncover the roadblocks, and get results fast! How cool is that?!
Here's a quick glimpse of what's included in his free video series:
Class 1 – Why Bookkeeping Rocks?

Class 2 – Your Recipe For Success

Class 3 – Start Your Biz + Get Your First Client
Also, gain free access to surprising techniques, case-studies, and life-changing success stories of various bookkeepers. Click to register for a free intro class>>
Gain immediate access to the full course and the private community of virtual bookkeepers with this Black Friday deal. Save big and sign up to become a virtual bookkeeper before the offer ends.
---
Interested in learning more about freelancing? Check out Micala Quinn's revolutionary program Overwhelmed to Overbooked.
With over 600 mamas enrolled, Micala is changing what it means to be a working mom. And now it's your turn. Her 7-step, proven process to build a profitable business from home is open for enrollment – Get started with this free workshop!
---
Avg Earning Potential: $16 – $40+/hr
The demand for virtual assistants keeps on increasing day by day as technology advances further. Startups and entrepreneurs are always on the lookout for Virtual Assistant who can help their businesses grow.
Companies and brands are ready to pay a decent sum to skillful Virtual Assistants. Luckily, this job doesn't even need a degree if you possess – Good communications, confidence, and multitasking skills. Still Skeptical? This post and this post are solid proofs of how one can make a full-time income as a VA staying at home.
Becoming a virtual assistant is easy, and it requires zero experience. Many successful virtual assistants that I know of, began their journey right here.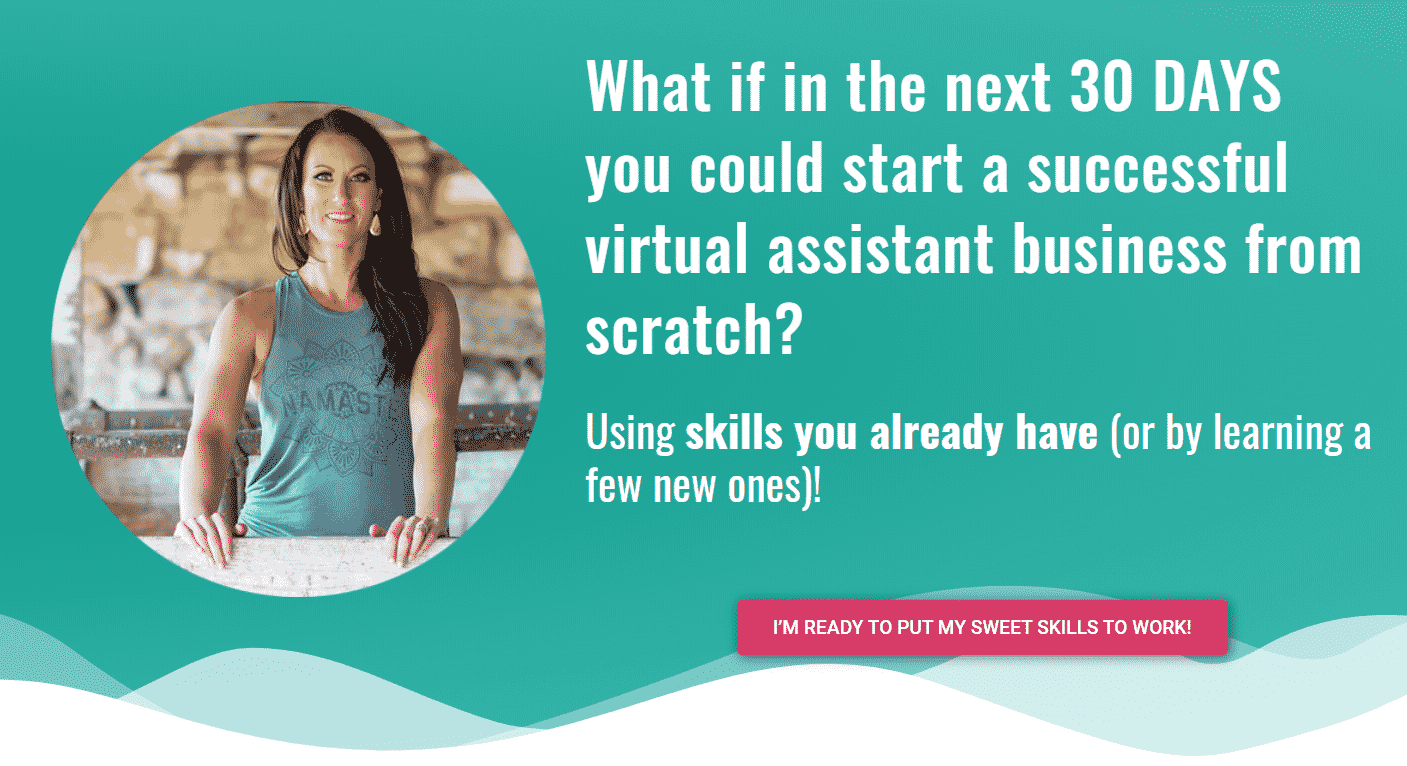 If you wish to do the same, don't wait anymore. Here are 150+ VA Services you can offer to become a Successful Virtual Assistant from Scratch.
Not to forget, 30 Days or Less to VA Success can help mold your career, launch a business, and thereby make a living staying at home.
Avg Earning Potential: $20 – $100+/hr
Do you want more control over when you work, what you do, and how much you earn? Then, freelancing is the perfect option to choose.
May it be, freelance writing, freelance proofreading, freelance transcription, you'll have full control of your work hours.
Freelance writing is an evergreen field and suits best if you are good at writing. The best part is you pick the clients, and you can do as many projects as you desire. Skeptical? See how this woman makes $2,500 a month as a part-time writer.
What if, you want to become a full-time freelancer without any prior experience or degree. Here are 200+ freelance writing niches for a great start. Creating an Upwork profile won't help you right away, you'll need to learn the skills needed to market yourself. This free course covers everything in detail and will help you get paid to write online so that you can earn an income as a writer.
Want to learn everything in one place? Elna Cain, a prominent freelance writer (who charges $1,200 per post) has designed the perfect course with a solid proven strategy to help you become a well-paid writer…in just a few short weeks – Write Your Way to Your First $1k!
Learn to create a portfolio that actually gets clients, how to craft a list of template proposals, and every other component you'll need in order to start your freelancing career right here>>
7. Real Estate Virtual Assistants
Avg Earning Potential: $25 – $50+/hr
Do you have an interest in Real Estate and possess good organizational skills? If you have an eye for detail and love working as part of a team, then there are realtors who DESPERATELY NEED YOUR HELP.
A good trained VA can make between $25-$50 an hour. And clients aren't hard to find. It's hard work – this isn't some walk in the park, but it's got freedom, flexibility, and a lot of potential.
I've found a course by Gina Horkey of the Horkey Handbook that will help you get started. You'll learn the basic skills needed, how to set rates and create packages, where to find clients, how to keep your clients happy, and build your business through referrals.
And the best part is that you can start your business in just 30 days.
Are you ready to get started? Just click this link to see this terrific program Gina is offering and the pricing involved to see if this is a good fit for you.
8. Digital Marketing
Avg Earning Potential: Unlimited
Looking to pick up highly paid freelancing skills?
Digital marketing is a trending option for small business and website owners who don't know where to get started. There is an increasing demand for this skill that's not going to fade up anywhere near.
If you want to learn digital marketing skills to build your career? Whether you want to grow your business or that of your clients, wait no more. Join 200,000+ students in this bestselling digital marketing course on Udemy!
With over 20 hours of training, quizzes, and practical steps you can Go from Beginner to Advanced – This is the most comprehensive digital marketing course available. It covers SEO, YouTube Marketing, Facebook Marketing, Google Adwords, Google Analytics, and more!
By the end of the course, you will know how to define your audience, set up a website, and be driving traffic from all the major marketing channels.
9. Email Management VA
Avg Earning Potential: $15 – $25+/hr
Are you an effective communicator? Do you enjoy helping people? Then, Email management might be an apt choice for you. Your job is to help small business owners manage their email lists and respond back to them in a timely manner.
If you think, this is the right option for you, learn how to begin as an Email Management VA, Trello basics, and the nuts and bolts of running email management services – Right here.
10. Internet Scoping School
Avg Earning Potential: $30,000 – $50,000 per year
Have you heard of Scoping before?
A scopist is quite similar to editing. Your job is to proofread and edit transcripts for court reporters. Excellent punctuation, word use, and vocabulary skills are the only prerequisites.
This lesser-known work-at-home job makes it easy for you to get hired if you have the necessary foundation. On average, a scopist earns between $30,000 and $50,000 per year — sometimes more.
In contrast to degree programs that cost tens of thousands of ​dollars, scopist training is much more affordable. Internet Scoping School is one such solid training program offered by Linda Eveson (a professional scopist for over 35yrs) for aspiring Scopists. And, frankly speaking, this is the only scoping course that includes lifetime access to support and all content updates.
Check out these genuine student reviews for understanding the scope of this in-demand work-at-home job.
Interested in scoping?
Join her FREE 7-day scoping mini-course that will teach you how to make $3,000/mon as a scopist.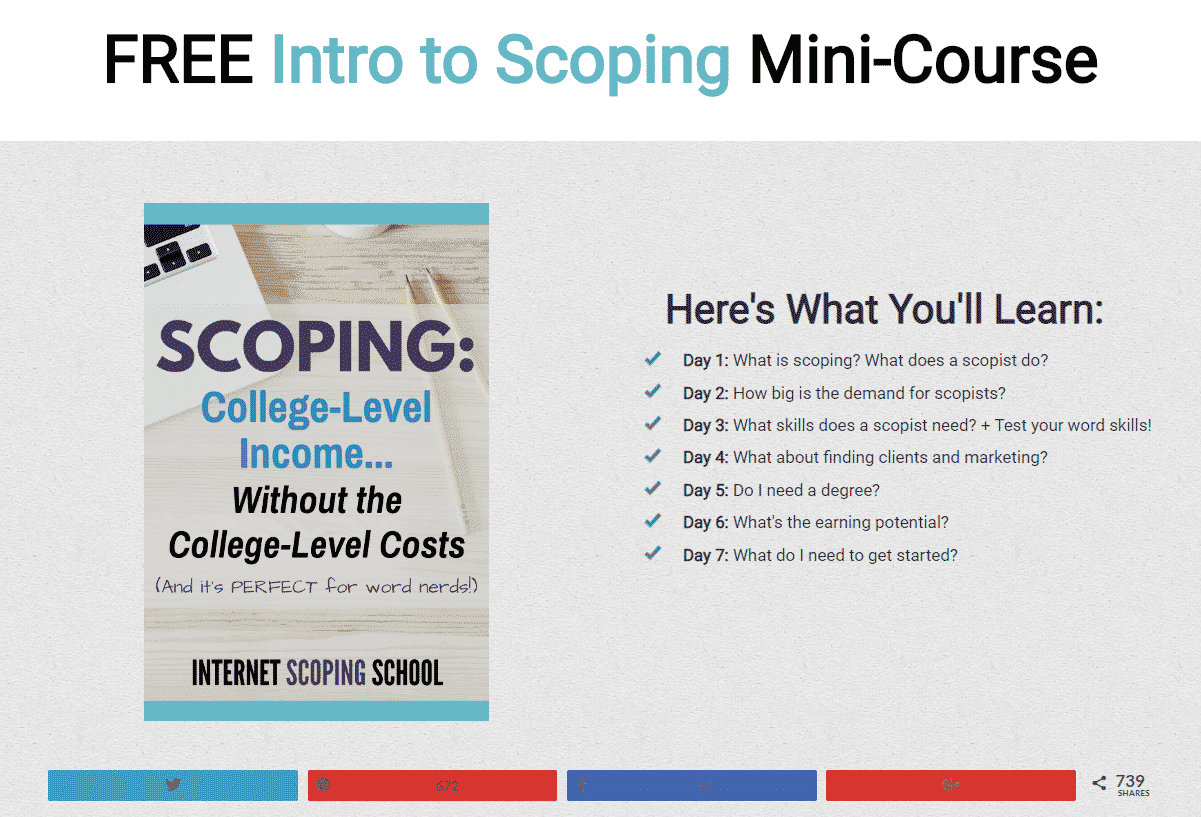 Avg Earning Potential: $75- $300+/hr
Do you know, Search Engine Optimization is a lucrative job with never-ending demand? While an average SEO consultant charges $75-$100/hr, experts charge between $300-$500 (or more) per hour.
Becoming an SEO expert requires you to be aware of On-Page and Off-page SEO that'll help a website rank #1 on search engines. The blogging background will help you understand SEO faster. Starting a blog isn't that tough and anyone can learn SEO with no degree or prior experience.
Mike Pearson of Stupid Simple SEO, created an amazing course that explains every detail of SEO in a friendly manner. The course only opens up only four times per year and 600+ bloggers have taken the course.
For Newbies, it is a thousand times better course as it is very well presented (step-by-step video guide) and easy to understand.
Not to forget, his website and FREE course are loaded with tons of valuable inputs and case-studies that'll greatly improve one's website's rankings. Many people who've taken this course including me are doing better with organic traffic.
Interested in becoming an SEO expert, sign up for his COURSE right here>>
Have you taken any of these Work from Home Courses?
That's it, guys!
Which of these online courses do you prefer to take in 2019? Leave your suggestions in the comments below.
I'd suggest you sign up for at least a few, analyze, learn, and then go out to find your dream job!