Wondering what is MobileXpression? And, if there are any apps like MobileXpression? If my guess isn't wrong, you're probably looking for ways to get paid for using your smartphone, right?
If so, you are in luck! In this post, we are not just going to review MobileXpression but also look into more apps similar to MobileXpression.
What is MobileXpression?
MobileXpression is a market research panel that records and collects trends and behaviors of people using the internet. In return for your data, you get paid!
Just like TV utilizes ratings to determine the top-rated and most-watched shows, MobileXpression uses the information collected from its members to determine the popularity and importance of certain apps and websites. Companies can then use this information to make themselves better for their audience.
The app is run by Comscore, Inc. a digital research company based in Virginia, United States.
Before we get to how to make money with MobileXpression, let's answer some important FAQs, starting with membership.
Who Can Join MobileXpression?

All participants must be at least 18 years of age and should have a mobile device that can access the internet. The device should also be compatible with the iOS or Android MobileXpression software.
Generally, the software requires not more than 100kb to install and 128kb to store the collected information. However, membership is only limited to residents of Canada and the United States.
Join MobileXpression today and earn credits for a gift card after you've been an active member for only 1 week!
Click here to start earning within a week!
What Data Is Collected by MobileXpression?
MobileXpressions collects information regarding mobile data usage through an app or a VPN connection. They observe other activities including messaging services, mobile browsing, video streaming, camera usage, and the links you access.
However, when joining, be ready to share some of your personal information such as emails, gender, age, education level, etc. This is to help provide information on the type of people who have different opinions about mobile apps.
Nevertheless, the company behind this platform assures you that none of your identifiable information is shared with participating outlets.
How Do You Sign up for MobileXpression?
Do you want to become part of the MobileXpression panel? For starters, it is absolutely free to join, but since you have to be connected to the internet, depending on your data plan, you may incur some costs.
Here is how to go about it:
Fill in their registration form with your general information. Also, provide your basic demographic information as required.

Download and Install the MobileXpression app via Google Play or the Apple store.

Run the application constantly to win gift cards.
Also, note that as a new member MobileXpression rewards you with a $5 Amazon gift card.
How to Earn With MobileXpression?
MobileXpression has three main features that make it easy for you to earn cash and prizes:
1. Mobile App
You earn gift cards by having the app run on your mobile phone.
After installation, tap the permit button to allow the MobileXpression app to collect data from your mobile device. However, if you are edgy about your internet activity being since monitored, go for the second feature to earn rewards. Remember though, you don't need a new device for the app to work.
MobileXpression operates on Android version 5 and up.
2. Mobile Surveys
Here, you only need to answer the occasional surveys that come your way and earn some cash from MobileXpression. And, if you don't meet the required qualifications for a given survey, you will be informed beforehand to help you avoid wasting time.
3. Sweepstakes
How would you like a chance to win an iPad for just having an app run in the background? That's what MobileXression's sweepstakes offer members.
Every week, users are entered into a draw where they can win digital devices and kitchenware, among other prizes. The only requirement is to ensure that the app is working properly all week long.
Become a member and earn a gift card in only 1 week!
How Much Does MobileXpression Pay?
Wondering, how much can I earn with MobileXpression? Hear me out…
Just by installing the app, you start making points. These are credits that can be redeemed or exchanged for various rewards.
Members get Amazon gift cards for their points with the added advantage of taking part in a $100,000 weekly sweepstake.
As a new member, you get a $5 Amazon gift card a week after registration. To earn more, take surveys on the go.
Typically, MobileXpression rewards you with around $1.30 per week for collecting your data, which's $5.20 monthly. At the end of the year, assuming that the app runs uninterruptedly, you make a little over $60.
Add this to other prizes that you may win and the prospects are not bad for this passive income-earning opportunity.
Join MobileXpression today and earn credits for a gift card after you've been an active member for only 1 week. Plus, by keeping the MobileXpression software on your phone or tablet computer, you'll be eligible for additional credits each week that can be redeemed for more gift cards!
Got a smartphone? Click here to get MobileXpression
Apps Like MobileXpression
There are similar apps like MobileXpression, some that can even run in multiples on one device. Read on to learn more about these amazing apps that make you real money.
1. Drop
Drop is an app that lets you earn points via your mobile device. Start today to earn points for almost everything, from shopping online to ordering food.
So how do you make money here? Well, it's simple: install the app, use your phone to shop for food, clothes, cabs, or even air tickets, and get rewarded.
Rewards points can be redeemed at places like Netflix, Amazon, and Starbucks. On top of that, you can cash out your earnings through PayPal.
However, the minimum cash-out amount is $25, which is a bit high for get-paid-to reward apps. Drop app is available for both Android and iOS systems.
2. Ibotta
For over 18 years, Ibotta has added flair to the culture of shopping online with cashback deals and rewards on a wide range of products and services by partnering with more than 1,500 brands and retailers.
Submitting a photo of your receipt in the Ibotta app will help earn cashback on your qualifying purchases within 24 hours. In fact, Ibotta has paid out over $980 million in cash rewards to more than 35 million users since its founding in 2012.
The app also comes with a referral program that awards you $10 for each friend who joins using your link. To receive payments, you will need to accumulate a balance of at least $20 in your account.
The Ibotta app is available on both Play Store and App Store users, and is a browser extension for PC use.
Claim Up to $20 Ibotta Welcome Bonus
3. Swagbucks
Swagbucks is a reward and loyalty program where you get to earn redeemable points by taking surveys.
You can also play games, test products, watch videos, use digital coupons, and try free samples for additional rewards. Most of these tasks do not require too much of your time or attention.
Swagbucks is free to join and use, and you get a $10 bonus just for signing up.
That said, it has one of the highest cashout minimum amounts at $25. You can, however, donate as little as 5 points to a charity. Points earned can be redeemed for Visa gift cards or cash via PayPal.
For tips on making the most from this app, read my Swagbucks Review
4. Life Points
Are you multilingual and looking to answer surveys? If so, sign up with Life Points, an app that offers surveys in around 26 different languages.
What I like most about the platform is that their surveys take at most 15 minutes to complete. To join you will have to provide some personal and demographic details.
With Life Points, it's all about sharing your opinions in exchange for rewards such as Google Play Credits. Your virtual points can also be redeemed through PayPal cash, Argos, and Tesco gift cards.
A typical survey can see earn 1,080 life points, which is equivalent to $10.80.
Register for Life Points Surveys for Free
5. Fetch Rewards
Fetch Rewards is an easy shopping app with cashback offers for both in-store and online users. With this app, regardless of the store, you shop in, just upload a picture of your receipt and earn cash back instantly.
What's more, from the Fetch Reward app, you can join other partner loyalty programs. With a balance as low as $3 you can start redeeming your points for gift cards including Huggies and Pepsico.
Download the Fetch Rewards App Today
6. Panel App
If you're looking for a mobile research app like MobileXpression, Panel App is a perfect bet. You will get rewards from the start by just installing the app on your mobile phone. The app tracks your activities such as the apps you use frequently.
You can cash out via gift cards for popular brands like Starbucks, Target, and Google Play.
However, you need to share your location to receive local-based studies. Apart from completing surveys, you also get a chance to win prizes such as PS4 and Xbox One.
100 points are equivalent to $1, and you need a minimum of $2 before you can cash out. The app is also available for both Android and iOS devices.
Passive Income Apps
Passive Income streams help you earn without much effort. However, you may need to invest a little of your time or money to reap big.
One can earn through different ways such as the returns on investment, rent paid on the property, or just start, watching ads and getting paid.
To this end, there are different types of apps you can use to make money passively. After in-depth research, here is a highlight of the best passive income apps for beginners and experts alike. Scroll to learn how each works and how much to expect.
7. Outdoorsy
Outdoorsy is a legit and fully insured passive income platform with free membership.
So doy have an RV? Well, many people own RVs but they surely want to rent one. The reason being that camping with an RV is fun and it's reported that the unit helps you save up to 60% on regular camping. With such benefits as renting out, your RV becomes a no-brainer.
Instead of just packing the RV around your compound, sign up on outdoorsy, take pictures of the RV, post it on the app, set your rates, and proceed to show on a calendar when it's available. Payment is received within 24hrs of booking with Outdoorsy promising you to make $50,000+ annually from the rental service.
On top of that, Outdoorsy has over 55k plus reviews with a 4.87 star average rank amongst members.
Honeygain is an app for you to earn rewards for sharing your data. You get paid per GB.
How does it work? Just download the app, install it, and sign up and allow the app to run. As of now, the app is available for Windows, Android, macOS, and Linux operating systems.
Payment is $1 for every 10 GB, and you get to withdraw when you hit $20, minimum.
However, to make the most out of it you will require high internet speed to rack in the GBs.
Honeygain is 100% safe since only publicly available information is gathered from your traffic and shared with trusted partners.
Even more, the app never affects your mobile device storage and you can cash out using BTC or PayPal. The platform estimates that you can make $10 per month by sharing traffic from just a single device.
Download Honeygain for iPhone Now
Dosh is an advertising platform that links with your credit cards and rewards you when you shop online, dine, or book a hotel. It connects popular brands such as Walmart, Finishline, and many other retailers directly to consumers.
Moreso, if you are worried about your safety, Dosh is very clear that they do not store any credit or banking information. You need to at least make $25 for the cash to be transferred to your bank, Venmo, or PayPal. The average return is 2% – 3%, or up to 10% when there is an offer.
Sign Up With Dosh for Free Cash
Inbox Dollar is an e-commerce rewards site similar to Swagbucks where you get to earn through activities such as shopping.
You make a 5$ bonus for signing up and more cash by watching short video snippets, playing video games, reading emails, answering polls, taking paid surveys, name them.
You can redeem your funds in gift cards or cash via PayPal.
Claim Your $5 Inbox Dolar Welcome Bonus now!
If you like dining out, then Seated is an app worth looking at. It offers gift cards for when you make a reservation in restaurants, as well as for walk-ins.
The best part is there is no minimum amount to spend to get the rewards.
Restaurants pay you up to 30% in cashback for just having the app run on your mobile device. All you have to do is upload a photo of your receipt for verification.
Register here to Save On Your Restaurant Bills
Here, net in points by just having ads and other mobile content display on your lock screen. The app offers more opportunities for you to earn by playing games. Here is how it works:
You will receive relevant content on your lock screen

Click to watch or just swipe up to dismiss- either way, you earn

Make more money by referring to friends
The points you make are redeemable for gift cards via brands such as Amazon, Walmart, Target, and more. However, the app is available for residents in the United States only.
Apps Similar to MobileXpression: Final Thoughts
Whether you use your phone to shop, chat, listen to music, list an asset, or book diner reservations, there are apps to make your online life seamless. So, why not make money by using these apps?
Start with the MobileXpression app for a sure way of getting paid for your mobile phone usage. The fact that you don't have to engage with the app is an added incentive to make money for doing nothing.
That's not all, there are more apps like MobileXpression, as explained above, that help you make money by sharing links.
How else can you get free money through mobile applications? I would like to hear from you.
Leave a comment with tips and insights on the best apps of 2022.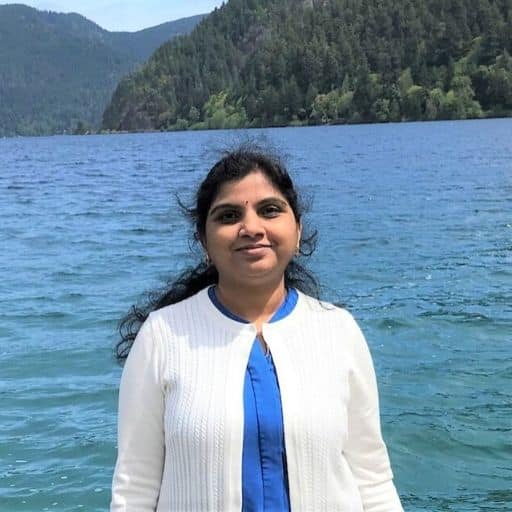 Hey Folks, thanks for stopping by my blog!
I'm Swati. I'm a mom, side hustler, full-time blogger and a millennial work-at-home expert featured on Forbes, CEO Blog Nation, Referral Rock, Vital Dollar, and Databox blog. I embarked on this impeccable journey to expose my online monetary experiences and help you all earn money from home. Come join my make money revolution and attain financial freedom – it's not as hard as you think!