NexRep reviews on the likes of Reddit, GlassDoor, Indeed, and Trustpilot are mixed on the agents' experience on the NexRep marketplace. To clear the air, this post looks at what it entails to get paid from the comfort of your own home working at NeRep.
Apart from NexRep contractor reviews, we shall explore the different jobs offered by the company and their typical wages.
What are the technical requirements for NexRep employees? You shall find detailed answers on NexRep home jobs requirements (both technical and educational), as well as the application process and hiring procedure.
Ready to be your own boss? Dive into the most comprehensive guide on becoming a customer service professional at NexRep.
Let's get started by understanding what this US-based remote work company is all about.
NexRep Review: Overview
| | |
| --- | --- |
| Year Established | 2009 |
| Applicable | 18 years and above, US-only |
| Subscription Plans | Free |
| Average Earnings | $15 to $34 per hour |
| Cuts & Commissions | None |
| Minimum Payout | Not specified |
| Payment Method | Direct Deposit & Payment Card |
| Bonus Program | Free training, Job Incentives & Contests |
| Ratings & Accreditations | 3.6/5 on Glassdoor, not BBB accredited |
| NexRep Review: Final Verdict | Legit and safe for freelancers |
| NexRep Log In | https://nexrep.com/marketplace/ |
What is NexRep?

NexRep is a service business that provides solutions in the contact center industry. The company provides virtual call center jobs for home agents across over 40 states in the United States.
Founded in 2009, NexRep has thousands of customer service agents whose tasks include taking inbound calls and closing inbound sales on the behalf of companies and individual clients.
NexRep sources agents and trains them to ensure a world-class remote workforce for food, fashion, music, automotive, electronics, travel, education, and other industries.
As a virtual receptionist and sales rep, you'll be representing brands such as Priceline, Southern New Hampshire University, Sprint, SweetGreen, Vroom, and Newell Brands.
NexRep headquarters are in Portland, Maine. The business also has office branches in San Francisco, California and Salt Lake City, Utah.
On the company's Linkedin page, the specialties offered to NexRep's clients include:
Call Center Consulting
Direct Response Solutions
Revenue Enhancement Programs
Outbound / Inbound Call Center Solutions
Customer Service Solutions
Database Management
NexRep Hiring Process: How To Join NexRep?
Looking to work flexible hours and a great opportunity to be your own boss, NexRep has you covered. The industry is, however, competitive and to become a good fit, NexRep agents are expected to be highly efficient.
To this end, the company employs a rigorous hiring process, leading to signing an independent contractor agreement.
No matter the job title, the NexRep hiring process takes around 45 minutes. Generally, the hiring process takes 3 steps:
The first step is to sign up for the NexRep Marketplace online. Once your application is accepted, the Contractor Launch Team takes over the onboarding process to make you ready to thrive in independent contracting.
The next step is a 10-minute of talk time with a Marketplace Coordinator. The phone interview is conducted at a time that's convenient to you, per the time recommendations you make after your registration is received and accepted.
Lastly, the coordinator matches you with a client (whose requirements you meet) and advises on the next steps in working as an agent with NexRep.
Among the main things that the coordinator instructs new agents is ordering a background search. The search involves third-party companies and costs you a one-time fee of $25.
You'll also be directed on how to complete your tax forms and work contract.
Additionally, you'll learn about scheduling an hour-long Meet & Greet session where NexRep will introduce you to training materials and the client-sponsored certification process, which is the last step to becoming a NexRep Marketplace Contractor.
How NexRep Hires People: What Are The Requirements?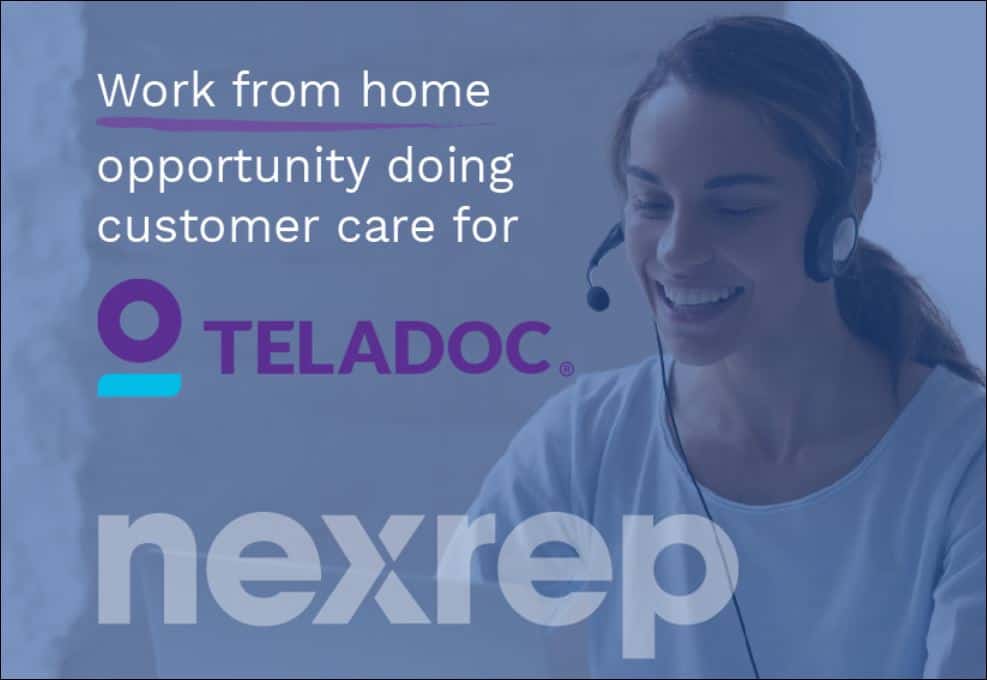 NexRep work from home reviews points to an intensive hiring procedure including going through a third-party background check service and a certification class.
Before you get started though, I recommend going through the NexRep Opportunities page for an overview of the technical and personal requirements for different jobs.
Typically, NexRep expects you to possess strong communication skills, especially when applying for customer support gigs. Basic computer skills such as using the internet and MS Office.
Some of the best companies that work with NexRep will also insist on having a college degree as one of the minimum entry requirements.
In addition, you may be required to show proof of prior experience in your field of interest. For example, most jobs in inbound sales call centers ask for a 2-year sales experience.
NexRep Technical Requirements

Education and professional requirements aside, working remotely calls for a flexible schedule, and above all, the right equipment and a quiet space.
Further, your workstation should allow you to access the internet and make phone calls. As such, you need:
A PC / Laptop installed with genuine and up-to-date Windows OS, plus a quality webcam.
Stable and fast internet connectivity. NexRep insists on having a hard-wired internet connection to ensure continuous web access.
Noise-canceling USB headsets to ensure clear communication when offering services such as tech support.
What Does a NexRep Agent Do?
NexRep contractors work from the comfort of their own homes with tasks being carried out in a virtual environment. This is made possible through cloud-based systems that enable connecting a company, the consumer, and agents.
The working process is not uniform but rather varies depending on your job title. Going by NexRep contractor reviews below is what to expect when looking to make extra money from NexRep's main job opportunities:
NexRep customer care virtual assistants enjoy flexible scheduling to enable 24/7 jobs. Depending on previous experience, the job can involve simple tasks such as password resets or complex tasks that require expert technical know-how.
Other tasks include customer escalation support, appointment setting, consumer product services, delivery support, and sales support. Typically, the minimum work hours is 15 per week.
Related Post: How To Earn As a Virtual Assistant
Among the best-paying NexRep jobs work from home opportunities is outbound sales. The gig involves placing outbound calls to potential or existing customers of various brands.
You'll be marketing products and services such as household goods, nutraceuticals, personal services, and cookware.
Outbound calling involves support for different programs including B2B and B2C sales, lead generation, upselling and close-selling, company surveys, special promotions, and political promotions.
The job requires a commitment of at least 2 hours per shift and pays an hourly rate of $25+.
Normally, the tasks of an inbound sales rep are similar to that of an inbound sales representative. The only major difference is that as an inbound sales agent, your work is to receive calls instead of placing them.'
It's your work to inform callers of the new opportunities offered by the brand, which has already piqued their interest. The position requires at least 20 hours of weekly availability and pays $20+ per hour.
NexRep Interview Questions and Answers
This NexRep review would be incomplete without informing you of what to expect during the interview with the Marketplace Coordinator. Your preparedness for the process can help you land the best remote job for your skill set.
Starting with NexRep reviews on Glassdoor, I was able to get the frequent questions during the NexRep agent interview. Here are my top picks:
What is your employment background? The company is interested in your previous positions involving sales, remote work, virtual assistance, and customer service.
Why are you interested in working with NexRep? Here, the answer can be anything from making extra income to looking for growth opportunities in a particular field of sales.
Why do you want to work from home? Be sincere in explaining your need for work-life balance.
Do you know that NexRep jobs are 1099? Explain that you are okay with paying taxes as an independent contractor.
Tell me about your experience as a sales rep. This is a representation of job-specific questions related to what you fill in your application.
Do you know how to use Hootsuite? Such a question requires honesty to enable the coordinator to provide you with the right training materials.
How many hours are you available in a week? Give a schedule that you are able to stick to.
What internet connectivity do you use? The preference here is hard-wired internet as opposed to wireless internet.
Do you have a quiet working space and a noise-canceling headset? The interviewer is interested in knowing how your home office is set up, including your remote work hardware.
What kind of company or client are you comfortable working with? Get to know companies that partner with NexRep to be prepared for this type of question.
Ready with your answers? Good luck as you apply to get paid on NexRep.
NexRep Reviews On Reddit
For an in-depth look at the ins and outs of working on your own schedule on NexRep, below are some of the company's reviews on the Reddit social media website.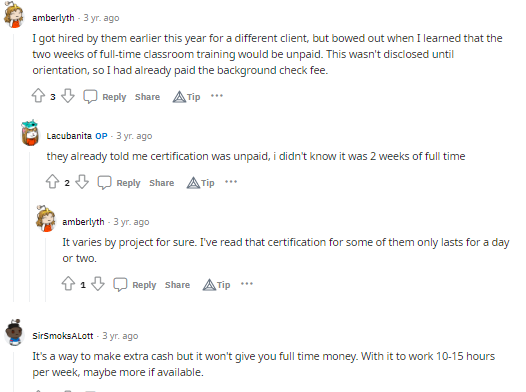 From the above excerpt of a subreddit discussion on "Is NexRep Legit", we get to learn that the client-sponsored training takes 2 weeks. This is a full-time class that's unpaid.
From the same forum, it's also clear that your coordinator may or may not, during the interview, disclose that training is unpaid.
The inconvenience of being ignorant of the class's lack of compensation is that you'll have already paid for the background check before the training starts.
Another reviewer comments that the job may not require full-time availability and is best for around 15 hours a week. To this end, I recommend signing up on NexRep for work-from-home side jobs.
Source: Reddit
Other NexRep reviews on Reddit show that the company is not only legit but you also get paired with a company that fits your schedule. The above screengrab also shows NexRep agents getting paid above the minimum wage.
You'll also be happy to know that NexRep allows you to switch contracts. The subreddit, however, unearths a couple of negative NexRep remote reviews.
The claim is that some clients require Tier 2 agents to sell fraudulent offers to customers for a commission. In the highlighted case, the pay was $2.40 for each successful signup.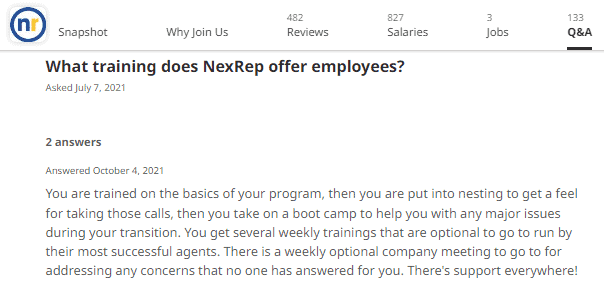 On the upside, reviewers praise the company for its stellar support team.
According to the above NexRep review on Indeed, there is enough support from the company at every step of the onboarding process, including optional weekly Q&A training by the top agents.
To know the cons of working with any company, I find Glassdoor to provide unique perspectives.
For example, some NexRep Teladoc reviews on Glassdoor claim that the trainers were rude, taught too fast, and used malfunctioning computer programs.
Other NexRep independent contractor reviews on the site say that some support agents are intimidating, no pay for inbound agents who don't get any calls, and unattainable contests and incentives.
NexRep Pay Schedule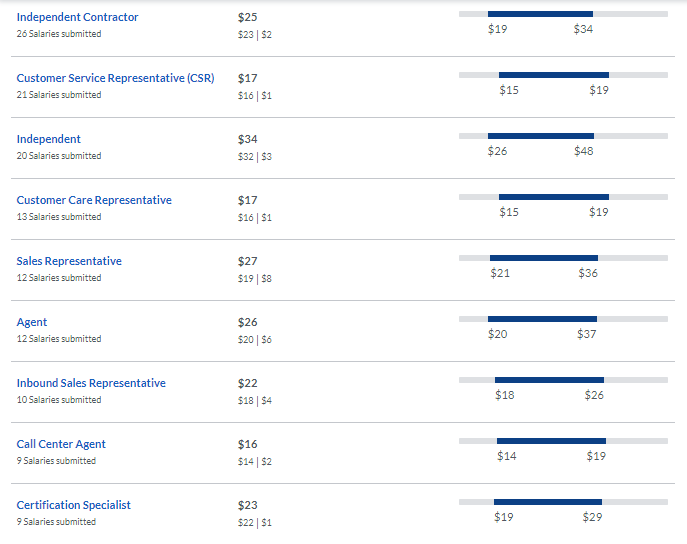 NexRep salary reviews provide unique insights into the company's average pay, payment schedules, payment methods, and taxation for freelance agents. Below is an overview of the payment schedule:
1. How Much Money You Can Make With NexRep?
First off, NexRep pay rate depends on the job and the client. So, how much does NexRep per hour? Data on Glassdoor report $15 per hour as the lowest pay and $34 per hour as the highest pay.
Customer service representative is the site's lowest-paying job at around $32,766 annually. Job titles such as Quality Assurance Lead, Real Estate Agent, and Corporate Merchandiser get the highest salary.
2. When Does NexRep Pay? Does NexRep Pay Weekly?
NexRep pays biweekly. Payment is via direct deposit to your personal bank account. Independent contractors can also opt for a payment card that works like a normal credit card.
3. Does NexRep Charge a Fee?
NexRep does charge a commission or any fees on your pay. The company enters into an agreement with the client independently, meaning, they recoup their cost before your biweekly payment is sent to your account.
4. Is NexRep a 1099 Job?
NexRep is a 1099 job, meaning you have to pay taxes on your biweekly pay. The reason is that as a NexRep agent, you work as a freelancer which IRS classifies as an independent contractor job.
What Work-From-Home job is Similar to Nexrep?
There are many reasons to work on NexRep, including keeping your own hours and working from home. As noted earlier though, NexRep jobs may not offer you a 40-hour-week engagement.
The best way to make a tidy sum at the end of the month is by having other freelance gigs on the side. Leading NexRep alternatives you can look at include:
You can also sign up on freelancer websites like Upwork, PeoplePerHour, and HubStaff. The home-based services you can offer on these sites include:
1. Captioning Jobs
Known as closed captioning, this is a remote job that closely resembles transcription. The task involves typing and embedding words for visual display on videos, news clips, and social media clips.
Captioning jobs are in high demand and require expert training in transcription. In addition, you'll need gear that includes a computer, internet, headsets, and a foot pedal.
The pay ranges from around $0.45 to $0.75 for every video minute with expert captioners making $1,500+ per month.
Click For Captioning Jobs Near You
2. Form Filling Jobs
Form filling falls under data entry and pays around $10 to $30 per day. As such, the gig is not highly lucrative, but the work is simple.
This is a beginner kind of job that sees you getting paid to type numbers and figures on forms. The main requirements for the gig are fast typing and competency in using databases and data entry software.
Find Form Filling Companies For Freelancers Here
3. Legal Transcription Jobs
Transcription is one of the highest-paying freelance jobs in the world. Among the many transcription gigs, working as a legal transcriber puts you ahead of the pack.
In addition to medical transcription, legal transcription is reserved for expert-level transcribers. The pay is high with top earners making $45k or more yearly working from home.
Legal transcribers working in courts and law firms can earn more money, including employment benefits like dental insurance. To get started in the field enroll in Transcribe Anywhere's Transcription Course.
15+ Best Transcription Opportunities for Newbies
NexRep Pros and Cons
| NexRep Pros | NexRep Cons |
| --- | --- |
| Free comprehensive training. | Unpaid 80 hours of mandatory training |
| The pay is above the federal minimum. | Fast-paced trainers. |
| Clear career and growth opportunities. | No daily payments. |
| Great support team. | Open to US residents only. |
| Freedom to choose work hours. | |
| Easy hiring process. | |
| Freelance work from home. | |
NexRep Job Benefits
NexRep estimates that working from home saves each home-based agent $1,000 per year in clothing alone.
Another key benefit is that as a 1099 job, you get to claim $1,500 in tax reductions for home office equipment.
Lastly, working from home as a consultant, customer care agent, or sales representative can provide a good work-life balance.
Is NexRep Legit?
NexRep is a legitimate US-based company with a physical address at 465 Congress Street Suite 700, Portland, ME. The business is 17 years old and is among the industry leaders for at-home virtual contact agents.
The company has an average rating of 3.6 on Glassdoor from over 800 reviews. Diversity & Inclusion are some of the factors that award NexRep high scores. Reviewers also find the company to offer a great work-life balance.
Further, the company's trust score on Trustpilot is 3 stars. Notably, no reviewer claims that the business is a scam. That said, NexRep's payment schedule, training, and low pay are highly criticized aspects of the company.
Also, although the company has been reviewed by BBB, it's not accredited by the bureau.
NexRep Review: FAQs
1. Can You Make Money with NexRep?
It's possible to earn good money with NexRep, working directly from home and on your own schedule.
Reviews put the base pay at $15 per hour with upper management making over $250,000 per year. Amongst independent contractors, Tier 2 agents and expert freelancers such as tech sales representatives earn $25+ per hour.
2. Is NexRep a Good Company to Work For?
NexRep is an excellent company to work for, especially for freelance beginners in the customer service industry.
In particular, new agents are offered free training that sets them up to work with specific clients for long-term work. Nevertheless, payment is not on demand but rather on a biweekly schedule.
NexRep Jobs: Are They Really Worth It? [Final Thoughts]
NexRep at-home jobs are worth your time when looking for work-life balance but may not be a solution for long-term employment and high salaries.
The jobs are, however, perfect for making extra income for beauty consultants, outbound sales reps, and similar jobs that can be done during your free time.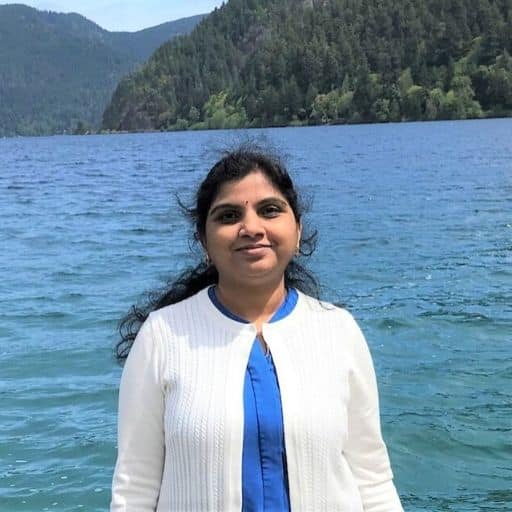 Howdy Folks, thanks for stopping by my blog.
I'm Swati, a proud mom, dedicated side hustler, full-time blogger, and a recognized millennial work-at-home expert. My expertise has been featured on esteemed platforms such as Forbes, CEO Blog Nation, Referral Rock, Vital Dollar, Databox blog, and many more. I have embarked on this incredible journey to share my firsthand experiences in the world of online income generation and to assist all of you in earning money from the comfort of your homes.
Join me in my mission to revolutionize the way we make money and achieve financial freedom. Trust me, it's not as challenging as it may seem!
Together, let's explore the boundless opportunities and pave our paths towards a prosperous future.