What time does Cash App direct deposit hit and how long does the debit take? You need answers to these queries before you set up your Cash App for receiving checks.
Cash App direct deposits, depending on the originating bank, debit your account at around 11.30 AM CST. The deposit may also reflect at around 12.30 PM EST. Generally, your account receives the check, 2 days earlier than a traditional check deposit.
If you wish to get your paycheck or government benefits via P2P platform, Cash App offers the service, and in an expedited manner. You can enable the service using a form that's generated by the app and sent to the payer.
This post guides you on how the deposits work, which routing number to use when you should expect the payment, and how to view the transactions.
Read on to know common Cash App direct deposit issues and how to resolve them. We shall also be looking at the reliability of the deposits.
Let's get started…
How Does Cash App Direct Deposit Work? How To Set Up?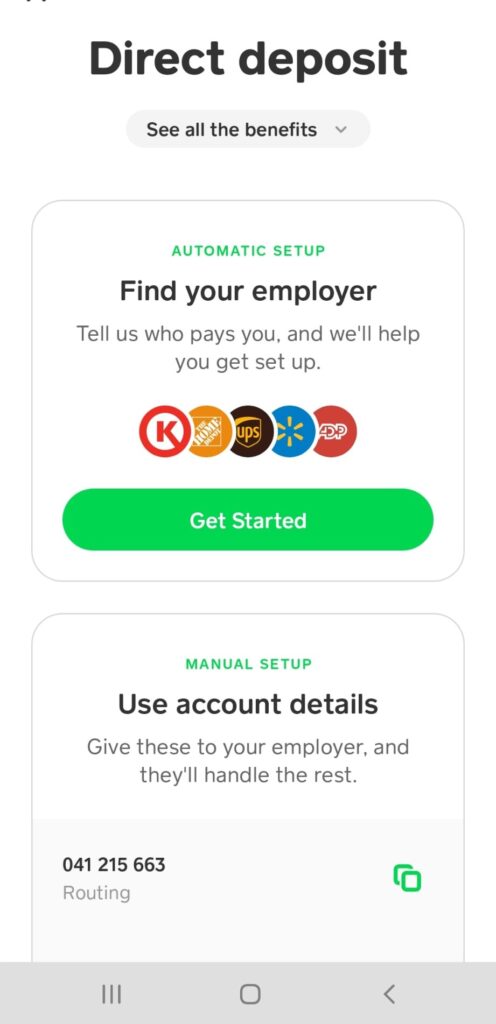 To provide direct deposits via Cash App, the sender needs the routing and account numbers associated with your Cash App account.
This feature is provided by both Lincoln Savings Bank and Sutton Bank.
All Cash App users have unique account numbers and a general routing number used for direct deposit setup.
For a new user, after you sign up for a Cash App Account, you need to order a Cash Card to enable direct deposit.
Pssst. Use my free Cash app referral code "ZFXCWHR" during sign-up to earn a $5 bonus after you use the app to send $5.
To get a customizable Visa card for your Cash App, go to the app's home screen and click the Cash Card tab.
From the next menu, tap Get Cash Card followed by tapping Continue, and following the prompts.
Once your card is approved, you should be able to access your direct deposit details.
If not, your card should arrive in 10 days or less, after which you need to activate it to know the banking details associated with it.
Follow the steps below to activate your new Cash App card:
Click the Cash Card tab from the home screen then touch the Cash Card image.
Click Activate Cash Card to open your camera for scanning your card's unique QR code.
To know the account number and the routing number related to your Cash App:
From the Cash App home screen, click the Banking tab.
Below the account balance, you'll find the Cash APP routing number and account numbers.
You can copy and share the numbers when requested by the depositor.
Here's how to change the routing of your Cash App
The person or business paying may also insist on a duly filled Cash App direct deposit form. To get the form:
Go to the home screen and click the Money tab.
Click Direct Deposit then choose to Fill Out a Form under manual setup.
Key in all the required details including the payment amount and your signature.
Choose Email Form to enter the depositor's address and tap Send.
Cash App Direct Deposit Limits And Benefits
The Direct Deposit feature allows you to receive checks of up to $25,000 per check. Your Cash App Direct Deposit Limit within a day (24-hour period) is $50,000.
The feature makes it possible to get paid 50 times over what you can receive on Cash App from a payer using your $Cashtag, email, or mobile phone number to send you cash.
Other benefits of getting paid via Cash App's direct deposit include:
You get an automatically generated form that captures your account and routing numbers.
The form is sent via email, right from your Cash App, to ensure authenticity.
You can access all of your debit statements.
You can use the routing information to pay bills via direct deposit.
Cash App expedites your deposits, faster than many banks.
Direct deposit on Cash App enables you to receive stimulus checks, tax refunds, and unemployment benefits fast.
Note: The initial Direct Deposit for a new user may take longer, depending on the time the payer/employer takes to verify your request and send your money.
How Long Does it Take to Receive a Cash App Direct Deposit?
After the payer releases the funds, it takes 1 to 5 business days for a Cash App direct deposit to show in your account. Cash App assures its users that they release the funds as soon as the company receives them.
The time taken for the processing and release of direct deposits depends on how fast your bank is. Expect to get your money between Monday and Friday.
If the funds don't show within 5 days, get in touch with the customer support team at Cash App to log a dispute.
What Times Does Cash App Direct Deposit Hit Typically?
Direct deposits typically hit in a day and a few hours early provided there are no holidays.
In the Central Standard Time zone, for example, in Lowa and Arkansas, Cash App users get direct deposits at around 11.30 AM.
Users in the Eastern Standard Time zone, for example, Delaware and New Hampshire, receive the deposits at around 12.30 PM. In the UK, users get the funds around 11 AM to 12 AM CST.
The time may vary depending on the time your bank initiated the transfer and the transaction volumes being handled by the Automatic Clearing House network at the time.
Holidays and weekends can also increase the processing period for your deposits since Cash App does not process such transfers outside of business days.
For the probable times of getting direct deposits, refer to the table below:
What time does Cash App direct deposit hit on?
Monday
12 AM – 10 AM PST
Tuesday
12 AM – 10 AM PST
Wednesday
2 AM – 10 AM PST
Thursday
12 AM – 10 AM PST
Friday
12 AM – 10 AM PST
Important Read: Can I Send Money From Cash App to Earnin App?
How to View Your Cash App Direct Deposit Transactions?
To help you keep tabs on your direct deposit payments, Cash App makes your account statements available within 5 days of the end of each month.
You can access your transfers' history on the in-app B "Account Statements" page:
Launch and sign in to Cash App.
On the home screen, tap the user Icon.
Scroll down and choose Documents.
Click Account Statements.
You can also view the statements via the Cash App website; after you log in, click the Statements button to get to the monthly statement you wish to view.
Your bank also provides monthly or yearly statements, where you can find details of all of your transfers to and from Cash App.
Cash App Direct Deposit Issues
There are several issues associated with direct deposits across the board. Such problems include declined deposits, funds taking longer to hit your Cash App, and pending transfers.
Some of the issues are technical in nature and may affect large numbers of Cash App users, while others are as a result of user mistakes. Below are the common Cash App direct deposit issues and how to solve them.
Cash App direct deposit failed and returned to originator mean?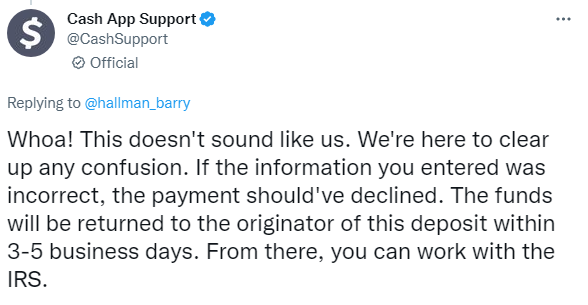 Cash App cautions that if the information you provide when setting up or sending a direct deposit is incorrect, the transaction will decline. In such a case, the money reverts back to the sender's account.
Ensure that you enter the details associated with your Cash App Account. The details, bank name & address plus account & routing numbers, are provided by Cash App in partnership with Sutton and Lincoln Savings banks.
A typical Cash App account has 10 digits that start with the number '4'. Your routing number is 073923033 (Lincoln Savings) or 041215663 (Sutton).
Why Was My Cash App Direct Deposit Declined?
Declined transfers are one of Cash App's frequent issues. This is occasioned by using an old version of Cash App, having insufficient funds in your account, and utilizing blocked or expired bank cards.
The problem can also originate from the servers used by Cash App or the bank's. Your Cash App limits could also be below the amount of funds being sent to your account.
It's also possible that the payer never released the cash to begin with.
Since there are a myriad of reasons why a direct deposit never hits your account, call the app's support to find out what the issue is and how to handle it.
Cash App Direct Deposit Not Showing Up [Here's Why]
Cash App is known to sometimes change routing numbers, which can cause delays in receiving your funds. The company assures users that such kind of delays is to be expected and only adds at most 2 days to the processing period.
What Cash App version are using? If your app is outdated, it may be missing updates that enable the Direct Deposit feature to show. Start by uninstalling and reinstalling your app.
Get the latest Cash App version from the App Store or Google Play for early access to the latest Cash App features.
Where Can I Find a List of My Direct Deposits?
Your Cash App transactions are listed in-app and on the browser version of the wallet.
Using your phone click the profile icon then tap the Documents button. Next, click Account Statements to view monthly statements that comprise both debit and credit transactions.
Older deposits can be found by opening cash.app on your browser and clicking the Statements button.
From the list of months displayed on the next page, select open the monthly statement you need to view.
Why Does Cash App Direct Deposit Take So Long?
The processing time for direct deposits is 1 – 3 days after the payer initiates the transaction. Typically, you receive your payment 2 days earlier via Cash App than you do when using your bank account.
That said, the waiting time can be longer depending on the operations through the Automatic Clearing House (ACH) network. The software your employer uses to prepare payroll can also cause delays.
However, if everything goes according to plan, Cash App Direct Deposit early payments hit your account, latest, midnight before the official payday.
How Late Can Direct Deposit Hit?
If there are no issues with the ACH, the payroll software, and Cash App servers, direct deposits get to your account within 3 business days after the funds are released.
If the transfer is missing, the issue takes a few more days to get resolved before the money is debited to your account.
Cash App recommends you notify Support if the delay takes longer than 5 days from the normal payday.
Why Didn't My Cash App Instantly Deposit?
Due to issues with your debit card service provider and Cash App's transaction networks, your deposits may not hit your bank immediately after being released by Cash App.
This is a systems issue that Cash App handles within 72 hours after the expected debit time. Further, the company refunds your instant deposit fees as per the terms of service.
Is Cash App Direct Deposit Reliable?
Cash App is a safe and reliable platform for getting your paychecks and other direct deposit payments. As with any digital wallet though, the app is prone to scams.
In particular, be wary of strangers sending you Cash App money that you haven't earned or requested. It's through such 'free money schemes' that you are roped into sending more money to scammers.
That said, getting paid via Cash App beats depositing paper checks or handling cash. Most importantly, your Cash App balance is FDIC-insured to the tune of $250,000.
Also, they fight against fraudulent transactions by declining payments and enforcing protection.
Read: Can Cash App Overdraft Your Bank Account?
FAQs:
1. How Early Does Cash App Direct Deposit Hit?
Generally, a direct deposit debits your account in 1- 5 business days after the payer sends the money. Cash App makes the funds available to you immediately after they receive them.
The timing may vary depending on the sender's bank schedule. Cash App promises to debit your account 48 days earlier than you would when working with a traditional bank or credit union.
For example, if your official payday is Fridays, you will get your salary on Wednesday via Cash App.
2. What Time Does Cash App Direct Deposit Hit Eastern Time?
Cash App users in the Eastern Standard Time zone, such as South Carolina, New York, and Western Virginia, get their direct deposits at around half past midday (12.30 PM).
The time may vary due to a number of factors, with different Cash App users reporting getting the funds at 9 AM, 12 AM, 2 AM, 4 AM, and 6 AM.
For the states in the Central Time Zone, the deposit hits at around 11.30 AM.
3. What Time of Day Does Cash App Direct Deposit Hit?
Depending on your time zone, sender's bank, and the ACH's processing period, the deposits hit between 2 AM and 12.30 PM.
Cash App Direct Deposit Late transfers can hit your wallet a few minutes before midnight on the eve of your pay date.
4. Does Cash App Direct Deposit Hit 2 Days Early?
Cash App sends funds to the receiver's account immediately after the app gets the money from the sender, usually 2 days earlier than traditional financial institutions.
The company does not hold your money after it's cleared by the ACH, meaning you can start cashing out your paycheck the moment it debits your Cash App.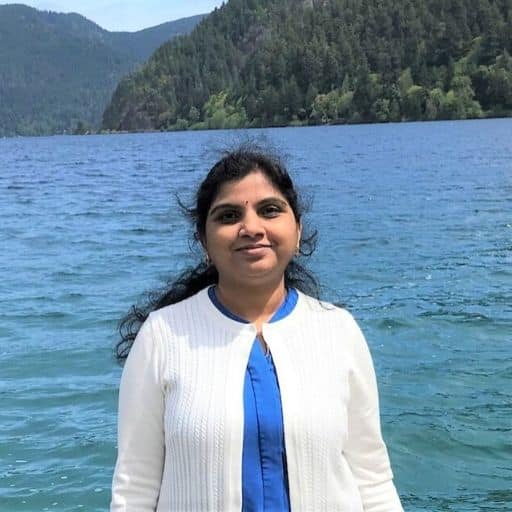 Howdy Folks, thanks for stopping by my blog.
I'm Swati, a proud mom, dedicated side hustler, full-time blogger, and a recognized millennial work-at-home expert. My expertise has been featured on esteemed platforms such as Forbes, CEO Blog Nation, Referral Rock, Vital Dollar, Databox blog, and many more. I have embarked on this incredible journey to share my firsthand experiences in the world of online income generation and to assist all of you in earning money from the comfort of your homes.
Join me in my mission to revolutionize the way we make money and achieve financial freedom. Trust me, it's not as challenging as it may seem!
Together, let's explore the boundless opportunities and pave our paths towards a prosperous future.