How to link Cash App to Earnin is a common query for people who look to get short-term loans from Earnin from monthly payments made via Cash App direct deposit. The idea is to get earned wages via payday loans before the salary due date.
Unfortunately, Cash App does not work with Earnin. Basically, the two financial applications work differently and do not allow a direct connection between them. Earnin is a paycheck advance app while the Cash App platform offers users a fast way to transfer money and make payments for goods and services.
To answer, can I use Cash App for Earnin? This post explores the two apps in detail, including features that enable ease of use of funds in the wallets and useful similarities in their features.
Read on to understand the financial services you can expect from each, plus possible workarounds for transferring funds from Earnin to Cash App and transacting in reverse.
Cash App vs Earnin
Cash App offers lightning speed transfers of money and allows you to fund your account from a linked traditional bank account or a credit union account. With a Cash App account, you can receive cash from other Cash App users, make check deposits, and get your salary or government benefits.
This app from Square Cash also comes with a debit card that you can use for store purchases and online shopping. The Cash App card is customizable and powered by visa with a $7,000 per transaction limit.
To get a Cash App account, you just need to register using your email address and phone number to allow the transfer of funds.
Typically, you can only use the money in your account, though your Cash App may overdraft automatically when making payments.
On the other hand, Earnin gives you early access to your next paycheck, akin to a payday loan. The company recovers the loaned amount when your salary hits your account. Instead of an interest rate or overdraft fees, the mobile application earns from tips (optional).
Most importantly, your credit score does not factor in when getting an Earnin loan since a credit check is not done to determine your suitability for this type of short-term loan.
To start getting up to $750 per day from your pay Earnin App just requires you to sign up for free, and provide employment information plus your salary bank account. The best thing is that Earnin allows you to Cash out to a debit card and access a savings tool.
Click Here to Register for a Cash App Account and Get $15+ Free!
Can You Link Cash App to Earnin?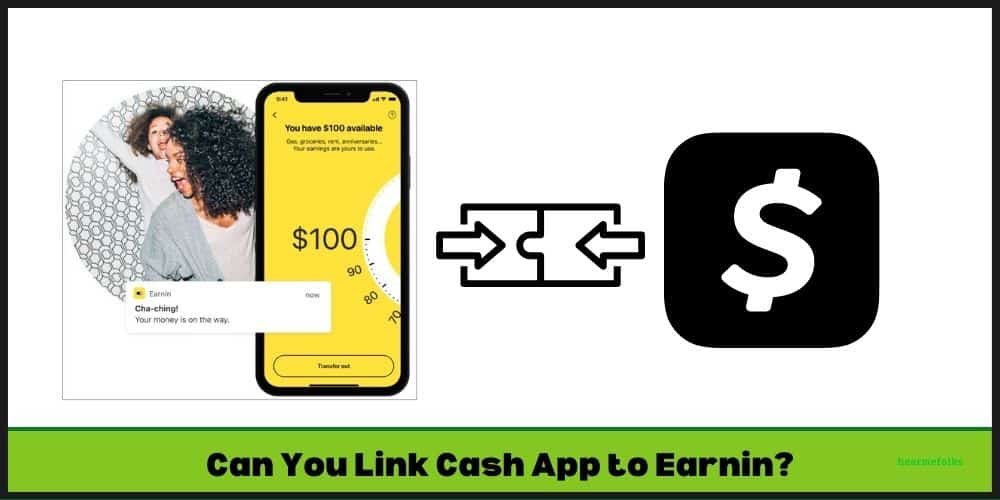 Now that you understand the main features of both apps, let's look at their compatibility. As stated earlier though, Cash App and Earning are incompatible.
Unlike Cash App and Varo which offer a connection in-app via Plaid, to connect Cash App to Earnin, your only option is to use third parties such as a bank account that's linked to both accounts.
So, can you connect Cash App to Earnin? Yes, through a workaround. The easiest connection involves using your salary account as your payment method on Cash App.
Note, the process would be easier if either Earnin or Cash App accepts each other's debit cards. Unfortunately, both apps aren't banks, but rather fintech platforms supported by traditional banks for banking, account numbers, debit cards, and direct deposit features.
For example, Earnin works with Evolve Bank & Trust while Cash App banking services are supported by Lincoln Savings Bank and Sutton Bank. These are all FDIC member banks which means they are regulated by the Consumer Financial Protection Bureau.
How to Link Cash App to Earnin?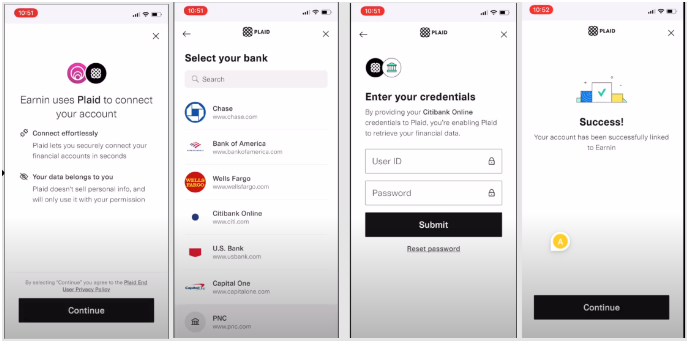 Below are step by step guides on how you can overcome the incompatibility between Cash App and Earnin. The methods are only a viable option if you are willing to use one primary bank for both your Earnin and Cash App accounts.
Through the Cash App mobile banking app, you can add your linked Earnin bank account as a payment method in three ways:
Using the bank's debit card information.
Through the Plaid network that lets you access your bank's login panel.
Manually by using the bank routing information supplied by Cash App.
Method 1: How to Your Salary Debit Card On Cash App?
Launch Cash App on your smartphone and Log in.
Tap Profile tab- icon at the top right corner of the home screen.
In the next screen, click Linked Banks.
Click Link Debit Card in the next page.
Enter the card number, expiration, and other details per the prompts.
Tap Link Card to complete.
Source: https://hearmefolks.com/can-you-add-a-gift-card-to-cash-app/
Method 2: How To Add Your Salary Bank Account to Cash App?
Click on the profile icon on Cash App
Go to 'Linked Banks'
Click on 'Link Bank'
Scroll or use the search bar to find your bank and tap on it.
You will be redirected, via Plaid, to your bank's login credential page – enter the required information.
Follow the steps to link the accounts.
Source: https://hearmefolks.com/how-to-pay-with-cash-app-in-store-without-card/
Method 3: How To Add Your Salary Account to Cash App Manually?
Log in to Cash App and click the Profile icon.
Choose Linked Banks.
Click Link Bank.
Tap Continue.
Click on your bank or use the search bar to find the institution and tap on it.
In the next page where you are prompted to 'Enter your credentials', tap the X at the corner to cancel.
You'll be asked to confirm the option of exiting the process, tap Yes, Exit.
Enter your routing number and press Next.
Key in your account number and press Next.
Re-enter your account number to confirm, then press Next.
Source: https://hearmefolks.com/does-plaid-work-with-cash-app/
Does Earnin Work With Cash App?
The short is No. While you can use Cash App to receive your wages, Earnin does not support adding Cash App as a your work payment bank account.
The reason behind this is that while Cash App account numbers are provided by partner banks, the app in itself is not a bank. To illustrate, Sutton and Lincoln Savings do not offer support to Cash App users on account of the banking features of the mobile device application.
In fact, Earnin states explicitly that the app does not support the Cash App Prepaid Card. Essentially, Earnin only accepts regular payday deposits from traditional banks as the guarantee that you'll repay your cash advance.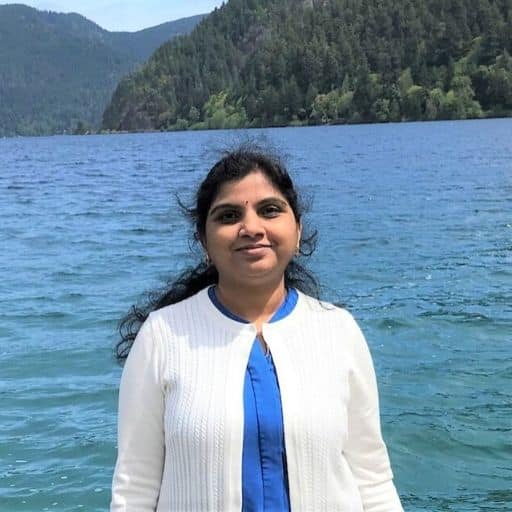 Hey Folks, thanks for stopping by my blog!
I'm Swati. I'm a mom, side hustler, full-time blogger and a millennial work-at-home expert featured on Forbes, CEO Blog Nation, Referral Rock, Vital Dollar, and Databox blog. I embarked on this impeccable journey to expose my online monetary experiences and help you all earn money from home. Come join my make money revolution and attain financial freedom – it's not as hard as you think!