Does your job pay via check and you are wondering where can you deposit a paper check on Cash App? Well, deposits of paper and electronic check payments are some of the emerging features on mobile device fintech applications.
The good thing is that Cash App has an in-app check deposit system that allows seamless check deposits. The feature works efficiently provided that the check meets the eligibility standards set for mobile check deposits and that your phone features a good camera.
The use of physical checks to make payments is gradually declining with the ACH recording, with the current trend pointing to an end of the payment system by 2026. This situation is hugely attributed to the fast development and acceptability of mobile banking platforms.
However, millions of employers and businesses still find paper checks to be an easy way of making secure payments and bookkeeping financial accounts. records. some people still opt for this mode of money transfer.
In addition to payroll checks, government checks are also common for payments such as Social Security, tax refund, disability benefits, and child support. So, how can your Cash App account help you cash checks of this nature?
Read on to understand how to deposit checks with Cash App, right on your phone.
Can You Deposit A Paper Check On Cash App?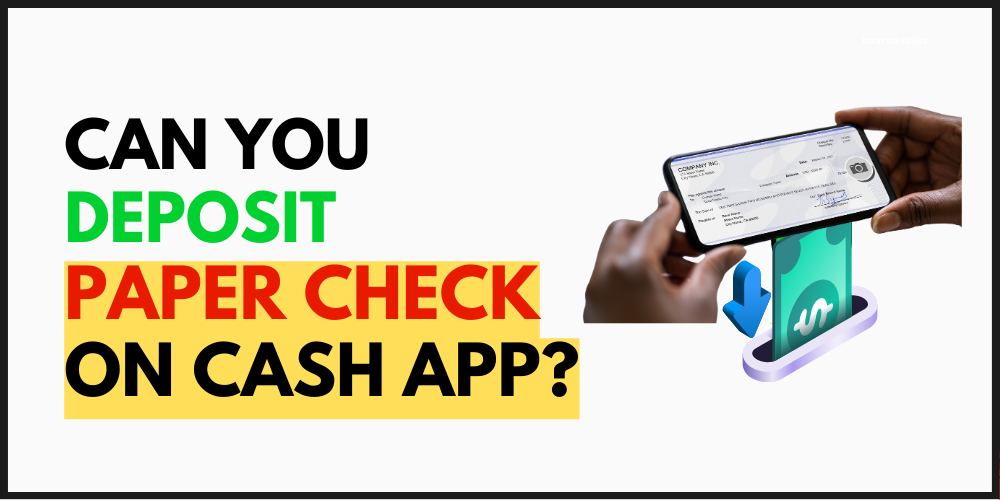 Yes, you can deposit a paper check on Cash App!
In fact, Cash App offers a convenient way to deposit physical checks as guided by the "Mobile Check Capture" terms of service.
The service allows you to use a mobile device to take photos to create electronic images, then transmit the files for processing and debiting your Cash App money.
The feature is not without fault, which is why Cash App advises you to hold on to the physical leaf in case the mobile check deposit system fails. Further, the check option is still being rolled out and is not available to all Cash App users at the moment.
How To Deposit Checks Using Cash App?
Cash App has joined the list of virtual financial institutions that allow people to cash personal checks without having to visit a bank branch. The best part is that depositing a check using a mobile app isn't at all sophisticated.
You just need to launch your Cash app, tap on your balance and choose the check deposit option. You then take a photo of both the front and the back of your check, fill in the date and the check's dollar amount, and submit the information for processing.
However, the mobile check deposit option is still under development and has not been fully rolled out.
Paper Check Deposit Requirements With Cash App
Paper check deposit to Cash App is subject to several pre-set requirements. The conditions set by the mobile banking app are a checklist to ensure you have an "eligible check". The requirements include:
Be in physical possession of the check.

The check needs to be in good condition (visually).

The document should be addressed to you individually, or jointly.

Only checks drawn in US Dollars are eligible.

It needs to be properly signed by the signatories.

The check is dated and current (the deposit date cannot exceed 90 days after drafting).

No alterations have been made to the document.

Not previously dishonored.

Payable by a U.S. bank or depository institution.

Should not be previously deposited to a Cash App or cashed.

The check amount must not surpass your cap for mobile check capture deposit.
Failure to stick to the rules may lead to a claim from the collecting bank to try and re-acquire the deposit amount.
Also, your check deposit may fail to go through, at Cash App's discretion, even if it meets the pre-set eligibility standards such as using a dark background for the images.
In addition to the above requirements, Cash App accepts your use of the check capture option as your warrant that:
The electronic image of the paper check you submit is created from an eligible check.

You have inspected the photos of both the front and back of the document, as well as other details, for accuracy.

The images are clear, and legible, and have not been tampered with in any way.

Legally, the name of the payee as seen in the photo of the front of the check legally represents you.

You have authenticated the writer's signature and your endorsement.
How to Mobile Deposit a Check on Cash App? (Step-by-Step)
Below is a detailed step-by-step guide on how to make a mobile check deposit on Cash App:
Launch your Cash App.

Tap your balance.

Find the "

Check

" option and select it.

Tap Continue after reading the "

Deposit your check

" instructions.

Key in the amount of the check (in dollars) and tap "

Confirm Amount

".

Tick to confirm the information on your check is correct, as per the prompts.

Follow the prompts to capture a front and a back photo of the check you intend to deposit.

Tour endorsement is necessary for the deposit so make sure you sign the document at the back before taking the photo.
Note: After confirmation of the successful submission of check capture, you should keep the original check safe, for at least two weeks. You should also be available in case Cash App needs to contact you.
How Long Does It Take to Deposit a Check on Cash App?
Wondering how long to cash check on Cash App? Check deposits take approximately 1-3 business days for you to be able to Cash Out or make a payment using the amount.
Just like normal bank transactions, check deposits to Cash App takes several business days for the amount to reflect in your Cash App balance.
The duration may vary based on either the bank that issued the check or the type of check issued. For example, U.S. Treasury checks are can reflect in your balance within the day of deposit.
All other checks from banks or credit unions can be subject to a hold of up to 15 business days.
Note: A typical business day ends at 4 pm. This means that a check deposited after 4 pm is considered to have been submitted on the next business day.
Can I Deposit a Check at an ATM with Cash App?
You can use your Cash Card at any ATM that takes a visa to make withdrawals. However, Cash App, like many other digital wallets, lacks a direct connection with the ATM network. For this reason, it is impossible to deposit funds, including a check, directly to your Cash App via the ATM.
At the same time, you cannot deposit your paycheck at retailers like Walmart and 7-Eleven which accept deposits of paper money for Cash App.
Cash App Check Deposit Limit
Initially, you can receive $1,000 or less within a month. After your Cash App is verified, you can deposit $7,500 or less every month. The highest amount you can deposit per check is $3,500.
Cash App, like most other digital wallets, has set limits to the transaction amount including check deposit, direct deposit, and normal transfers. However, the limits vary may from user to user.
So, why does Cash App limit my transactions? The limits are there for your protection against Cash App fraud, meaning the mobile application may fail your check transaction to keep your wallet safe.
Cash App Check Deposit Fees
Luckily, Cash App charges no fees for check deposits. The lack of charges is a common feature of the platform with only instant deposits getting charged 0.5% – 1.75% and ATM withdrawals that charge $2.50 per transaction.
Why Can't I Deposit a Check on Cash App?
There are many reasons why a check deposit may not go through, the common ones being:
You may have installed an old version of Cash App.

Your Cash App may not be linked to a bank or card.

Your phone's camera may not be properly working.

You could be trying to deposit a defaced or fraudulent check.
If you update your Cash App to the latest version and still lack this option, the feature may have not been made available for you yet.
How To Endorse a Cash App Check Deposit?
Among the eligibility standards set for Cash App check deposits is proper and accurate check endorsement. Any slight inaccuracy may lead to unsuccessful deposit attempts.
To be fully indorsed, the check needs to:
Have accurate information (well-spelled recipient's name, correct date, and signature).

Should only be signed at the back (note that some checks have a dotted line for the signature).

If the check has more than one recipient, the pay-to line should be properly addressed: for example, if the check is for "Jack

and

Jill Doe", then both Jack and Jill must sign at the back.
FAQs
Does Cash App Deposit Checks Instantly?
No. Currently, Cash App doesn't offer instant deposits for checks from financial institutions. As a security measure, a check deposit to the Cash App may take several business days for the funds to show in your Cash App balance.
However, checks from the U.S. Treasury are expedited and get approved within the first business day after you make the deposit.
Can I Deposit a Check at an ATM with Cash App?
No, you cannot deposit a check directly to Cash App at ATMs.
The reason is that to successfully make a check deposit via an ATM the machine's service provider must be in partnership with your bank account provider; and therein lies the problem since Cash App is not a bank
The app partners with Lincoln Savings and Sutton for issuing Cash Cards and routing information only.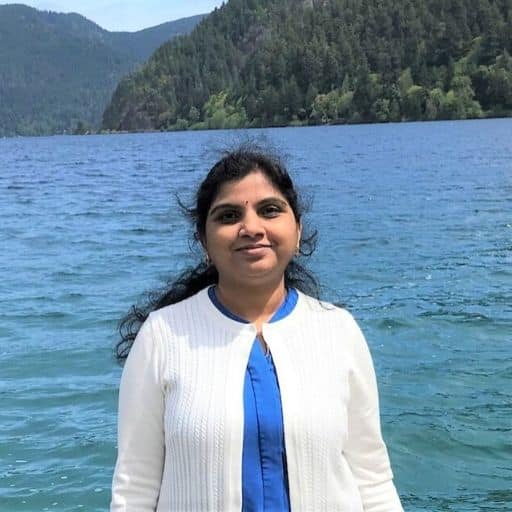 Howdy Folks, thanks for stopping by my blog.
I'm Swati, a proud mom, dedicated side hustler, full-time blogger, and a recognized millennial work-at-home expert. My expertise has been featured on esteemed platforms such as Forbes, CEO Blog Nation, Referral Rock, Vital Dollar, Databox blog, and many more. I have embarked on this incredible journey to share my firsthand experiences in the world of online income generation and to assist all of you in earning money from the comfort of your homes.
Join me in my mission to revolutionize the way we make money and achieve financial freedom. Trust me, it's not as challenging as it may seem!
Together, let's explore the boundless opportunities and pave our paths towards a prosperous future.