Do you have some dollar notes and are wondering how Cash App paper money deposit works?
As you know, the platform makes it easy to send and receive money electronically, however, it does come with an option for adding paper money into your account or Cash Card.
This post looks at how to add money to Cash App Card In-store and the retailers that offer the service.
It also covers quick steps for safely using Cash App on your mobile whenever you want to load your Cash app Card with physical cash.
Most importantly, are there charges when you deposit paper money into Cash App? Read on for this and more about adding money to your Cash App without a debit card.
Here we go…
Cash App Paper Money Deposit [Quick Steps]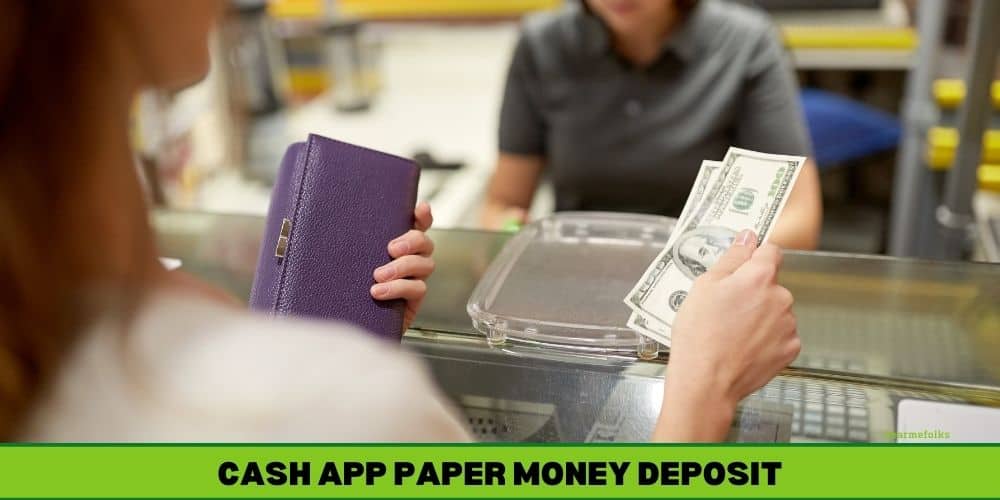 To add physical money to your Cash App balance, start by finding supported merchants like Walgreens.
STEP 1: Tap the money tab on your Cash App home screen and proceed to the "More ways to add money" section.
STEP 2: Select the "Paper Money" option.
STEP 3: On the map that is displayed, find the nearest retail store and get there.
STEP 4: Go to the cashier and tap "Show Barcode" as displayed in Step 3.
STEP 5: Show the cashier your phone for them to scan the barcode.
STEP 6: Hand over your physical money + fee for the cashier to deposit cash into your account.
STEP 7: The money reflects on your account instantly.
STEP 8: Tap "Done" to complete the transaction and get your receipt.
STEP 9: Repeat the steps to get a new barcode, if need be, to deposit more cash.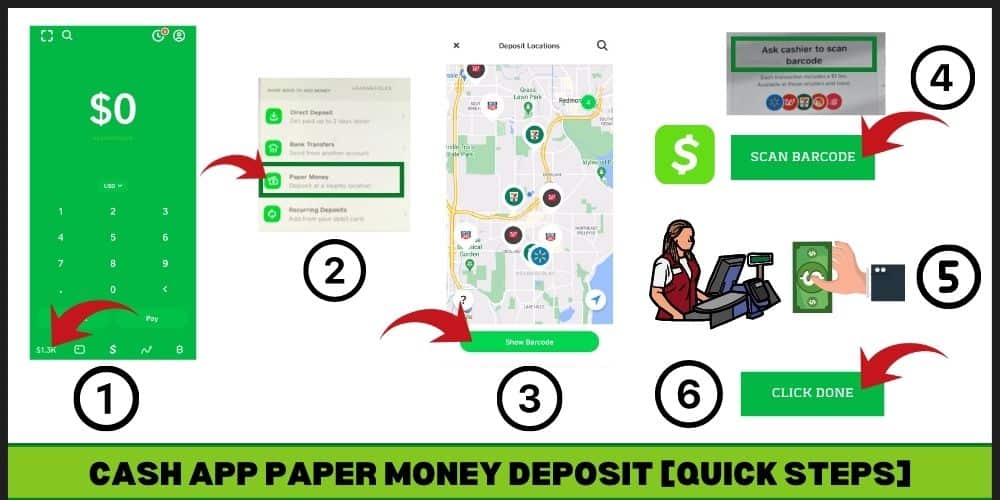 However, check out this video for guided instructions:
Cash App Paper Money Deposit Locations Near Me
How can I load my Cash App Card with cash directly in a physical location? Square Inc, the company behind the platform has partnered with 15 retailers commanding hundreds of outlets all over the US and the UK.
You can use the app to find nearby locations to deposit money into your Cash App account.
To access the map or use the search bar to enter an address for a deposit location near you, open your Cash App Account and:
Go to your Cash App home screen and Tap on the Banking tab
Next, click "Paper Money"
The location displayed will include any of the retailers below:
Walmart

(Customer Service Desk/ Money Centers)

Duane Reade

Walgreens

Sheetz

7-Eleven

Family Dollar

Dollar General

Thorntons

GoMart

H-E-B

Kum & Go

KwikTrip

Speedway

Rite Aid
Once you've found a convenient store, use the options to get directions or copy the address into your preferred navigation app.
Also Read: Cash App Free Money Code Legit 2022
Cash App Paper Money Deposit Not Showing Up [Troubleshooting]
Some of the problems you may encounter when trying to make a cash deposit on the Cash App is the Paper Money feature not showing, or disappearing between transactions.
So, if you have been wondering, why can't I add paper money to my cash app?
Don't be alarmed, your Cash App account is secure.
Before we get to why this happens, it's worth noting that you can't use physical money to load your account without the feature.
Why? It's the only feature that generates the barcode that cashiers and merchants use to scan and add cash to your Cash App.
The main reason why the option may not display is due to using an outdated or old version of the Cash App.
The feature was added about a year ago, in September 2021. By then, the app has been around for almost 8 years.
At the same time, the company may disable access to the feature for reasons they are not obligated to share, mostly to do with the app's security.
How to Get Paper Money Option on Cash App:
To get physical money into your Cash App account, the Paper Money tab should be available and active on your app. If not, try the following:
Firstly, turn your mobile device off and then back on. Then, force quit the app on your device and then log back in.
Next, make sure both your mobile device and the app are up-to-date. The current version (January 3, 2023) is 3.80.2, which includes bug fixes and performance improvements.
If unsure, Log out of the Cash App on your phone and delete the app. Next, head to the Google

Play Store

or

App Store

and find the latest version of the app, and re-install it.

Get your account verified – If you are new to the app, use the Cash App to send a large amount, say $300. This will trigger a verification process, for example sending your photo ID, etc.
Some people have reported being able to load cash after getting the Cash app Card. To order a card, open Cash App Home Screen > Get Free Cash Card > Continue

, and follow the steps.

Talk to Cash App Support at 1 (800) 969-1940 or tap on Support

from the home screen, then tap

Start Chat

to send a message to the Cash App Customer Care Team.
If none of the above hacks works, the feature might not yet be activated for use in your area or device.
It is still in the pilot stage and has not been rolled out to all 70M+ Cash App transacting users. So, just wait for your turn.
Note, no representative from Cash App will ever ask you to provide your account password, full Cash Card number, SSN, or sign-in code.
As a matter of fact, anyone who is interested in such details is most likely running a Phishing Scam or Other Cash App Scams.
Also Read: Can Someone Hack Your Cash App With Your Name and Email?
Where Can I Add Money to My Cash App for Free?
It's not possible to add cash to your Cash App for free from any of the participating stores.
In addition to the cash you want to load cash onto your Cash App, you have to add a $1 fee for each transaction.
The $1 fee applies from USD 5 (minimum deposit per transaction) to USD 500 per deposit (maximum deposit per transaction). To add more cash to the Cash App, you have to restart the process and pay the fee again.
The deposit limit for paper money transactions is $1,000 every 7 days (rolling) and $4,000 every month (30 days).
How to Get Cash App Barcode to Load Money?
As noted earlier, you need to show the cashier your Cash App Paper Money barcode for them to add money to your Cash Card. And to get the code you must follow the above Steps (Step 1 to Step 4).
From the Cash App home screen, tap the money tab, select Paper Money, pick and go to the store near you from the map, then tap Barcode.
How to Load Money On Cash App Without Card?
You can add money to Cash App without the app's Cash Card, or even without your phone. Yes, Cash App is that versatile. Choose among the different methods of depositing money outlined below:
You can add physical cash by clicking on

"Paper Money

" on your app and following the prompts. This method requires having the app on your mobile device at hand.

Have a friend or customer transfer money from their bank or Cash App account to your Cash App. All they need is your email address, $Cashtag, or phone number.

From your Cash App linked bank accounts, transfer money directly to your Cash App account.
How to Deposit Paper Money to Cash App? [Key Takeaways]
To deposit physical money onto your Cash App Card, you need to find a Cash App authorized retail store near you.
All such stores are available in your Cash App, just click on the Paper Money tab to get the map.
You then drive or walk to the store you have identified, and tell the cashier that you want to add funds to your Cash App, they will ask to scan your deposit barcode.
If the app is not running, repeat the process and get to the Show Barcode tab and tap it. The cashier will ask for the physical cash, scan the Cash app barcode, and send the money to your Cash App.
The amount credits your account instantly, in 30 seconds or less.
Also Read: How to Load Money on Cash App Card at ATM?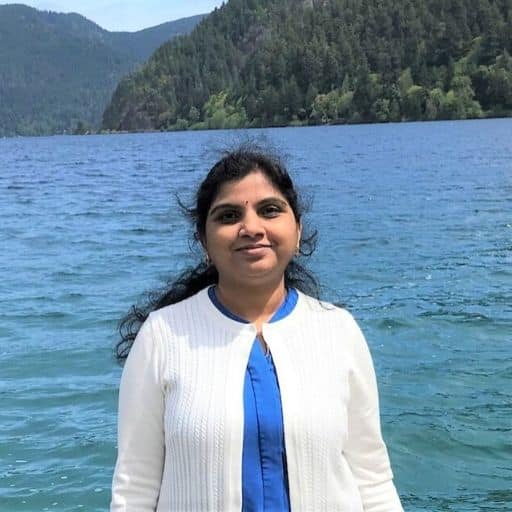 Hey Folks, thanks for stopping by my blog!
I'm Swati. I'm a mom, side hustler, full-time blogger and a millennial work-at-home expert featured on Forbes, CEO Blog Nation, Referral Rock, Vital Dollar, and Databox blog. I embarked on this impeccable journey to expose my online monetary experiences and help you all earn money from home. Come join my make money revolution and attain financial freedom – it's not as hard as you think!