This timely Qriket review is for game show lovers ready to make money from home. The game promises you a chance to win real cash prizes by spinning a virtual wheel.
Qriket joins the likes of Fortune Wheel in giving away instant cash prizes to interested contestants. The main difference is that the Qriket Live Show is run online and is open to people around the world.
The best part is that all you have to do is choose your lucky color, let the roulette spin, and wait to see where the arrow lands. It does not take a lot of time to play the wheel game, meaning you can win real money in seconds.
Sounds too good to be true, right? Well, that's the nature of spinning wheel games. Playing online games for money, however, raises many questions.
Is Qriket a real game, how much are the cash prizes, and who is eligible to play?
In this Qriket review, you'll learn how to join the gaming platform as well as its grand prizes, payment methods, referral program, and live channels.
Is the Qriket wheel app available in 2023? Read on to find out.
Qriket Review Overview
CRITERIA
Year Established
2009
Purpose
Live and in-app paid wheel game
Available Countries
Global except for India, Bangladesh, & Pakistan
Applicable
18 years and above
Subscription Plans
$0.05 per spin
Average Earnings
$0.05 to $500 per spin
Cuts & Commissions
None
Minimum Payout
CAD 25 ($18.50)
Payment Method
PayPal & Qriket Card (Mastercard)
Bonus Program
Free spins with store purchases, sign up, and referrals (25 spins)
Google Play & App Store
None
Qriket Support
support@qriket.com;
Ratings & Accreditations
Not reviewed on Trustpilot; Not BBB accredited
Qriket Review: Final Verdict
Not safe, not legit
What Is Qriket? How Does It Work?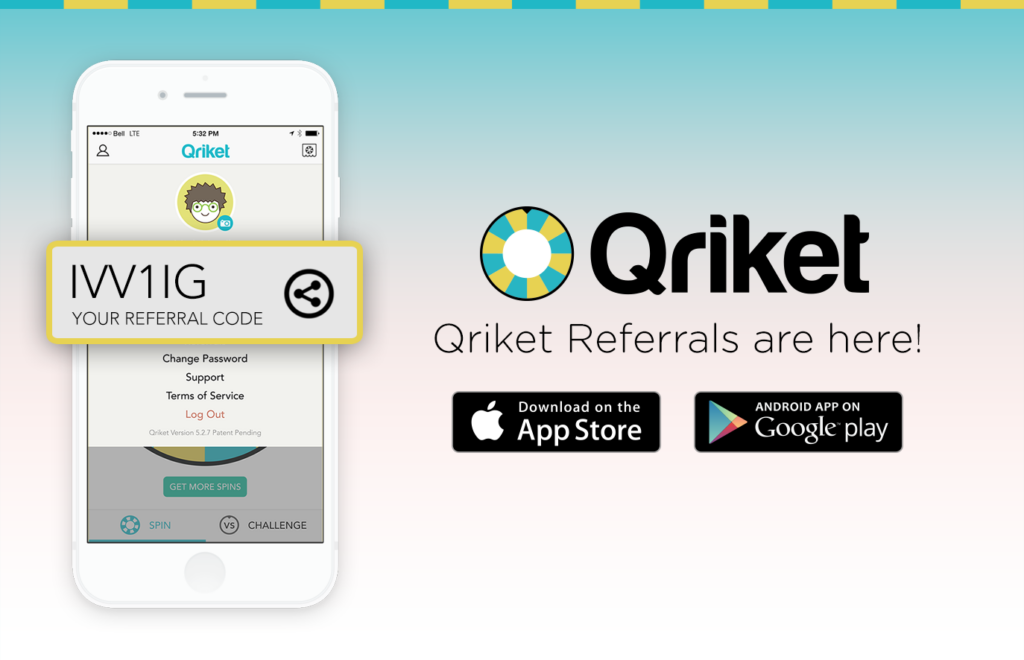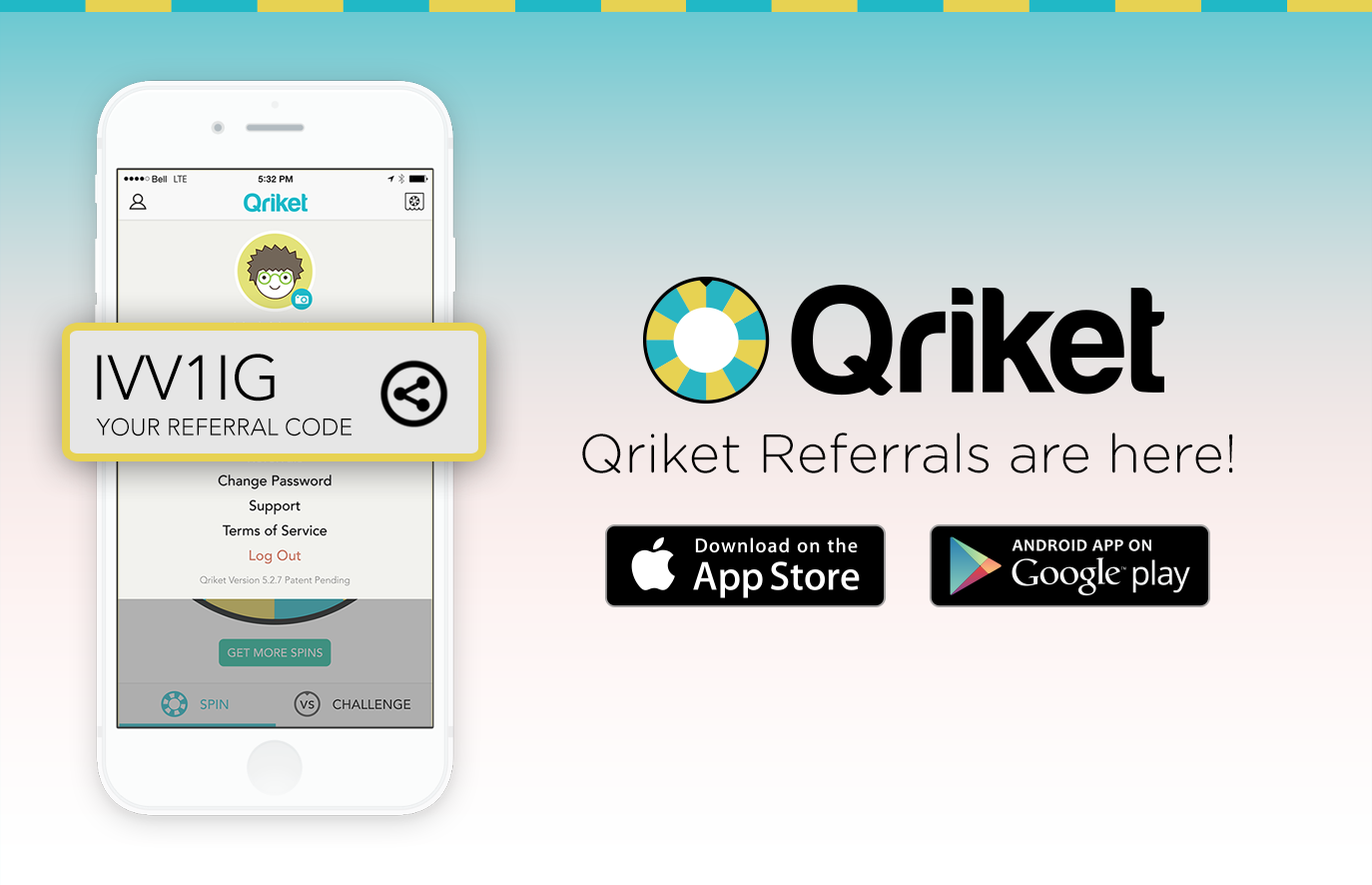 How does making $500 free on every spin sound? That's what you stand to win whenever you start a new Qriket game. More to this, you can share a referral code to earn extra cash.
Qriket was cofounded by Jonny Comparelli in 2009. Based in Toronto Canada, Jonny started working on the free app at 18. Currently, the platform has over 5 million users and gets 1m+ live viewers on a daily basis.
$5+ has been won on the free Qriket spins, with Qriket family members making $5m over the years. The company reports that its mobile app generates $3 million in yearly revenue.
Qriket underwent a private sale in 2019, in a deal that's yet to be made public. The app has since been removed from Google Play Store and Apple App Stores.
How Does Qriket Work?
To become the grand prize winner or at least share in the runner-up prizes, you need to download, install, and play the Qriket free spins game.
Where to download Qriket in 2023? Download the Qriket iOS or Android App on third-party mobile application providers like APK Pure, UpTo Down, Appstor, and Aptoide.
To get to Qriket sign up, install the app, and allow the required permissions. The next step is to create a Qriket account by signing up via email or your Facebook account.
To complete the sign-up, the app will request your phone number to verify your application and send you a verification code. Lastly, you'll need to provide an active PayPal account to access your cash prizes.
NOTE: The latest Qriket APK file is 14.2MB in size and is compatible with Android 5.0 or higher, and iOS version 3.2.4 and above.
How to Make Money With Qriket?
The only way to get easy money on the Qriket App is by chancing on your daily spins on the Qriket wheel.
To increase the probability of winning a tidy amount of money, you need to keep spinning the wheel. There are several ways to increase your number of spins and get instant prizes.
Interested?
Below is all you need to know about getting money with Qriket:
1. Playing the Qriket Wheel
Once you download, sign up, and register, Qriket awards you 2 free spins. All you have to do is choose between two colors (blue or yellow) and tap the wheel to get it spinning.
The wheel spins for a few seconds and if it stops on your chosen color, you get the prize you were playing for. Unfortunately, new users only have 2 chances to make money before they have to pay $0.05 for each spin.
2. Watching Sponsors' Ads
Qriket also makes money by running adverts from third parties. You get to share in the profits by watching the short ads. However, the payment is in points that earn you a few extra spins.
Each ad typically runs for 30 seconds. On the downside, ad revenue is not the primary Qriket's profit stream, meaning you may have to wait a long time before there is an ad to watch.
3. Referring Friends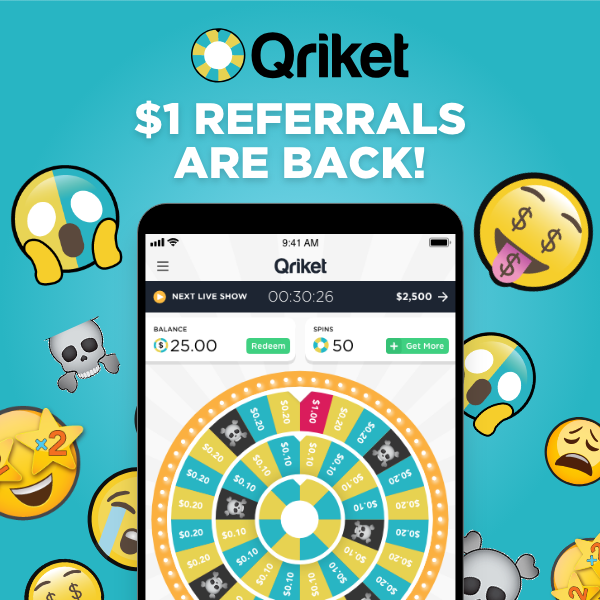 Qriket features a referral program that pays you in spins. Every user gets a unique code that earns them free spins when new users enter it during sign up.
Generally, after your friend uses your active referral codes and starts playing, you get up to 25 free spins. During promotional periods, successful referrals can also earn you cash rewards.
The free spins, come with the same winning chances as paid spins. As such, you can make anything from 5 cents to 500 US dollars for each free Qriket spin.
To get people to use your code, share it on your social media platforms and review posts.
4. Participating in the Qriket Liveshow
To get the big prizes on the Qriket reward app, you need to register for the daily shows. Here, the Qriket sign up process requires you to opt into the next live gameshow as a participant.
The second step is to pick between 2 colors; blue or yellow (gold). Lastly, the daily Qriket live show host takes over the game and spins the wheel.
Just like in the normal game, you just have to wait for the wheel to stop spinning. If the arrow lands on your color, you move on to the next round.
If you miss the color, your entry is dropped and you can only wait for the next live show to earn big.
The game continues from one round to the next, for about 40 minutes, until a winner emerges.
Unlike the self-spin play, the Daily live shows usually have higher stakes for free money. Basically, to get many people watching, the prizes for live casino games can hit thousands of dollars for every spin.
Read: 30 Online Tasks That Pay Daily
Is Qriket Legit or a Scam?
The idea of an online casino game raises eyebrows, and for a good reason; online cash scams are on the rise. That said, Qriket claims to provide legit ways of earning real money playing a wheel game from home.
So, is Qriket legit or is it a Scam? Informed by the current trend, I would say that the app has lost most of its legitimacy in the last 3+ years. It's also worth noting that Qriket App has been removed from App Store and Play Store.
Since October 2019 though, www.qriket.com has gone dark. Notably, this is after the sale of the app. Additionally, the last Qriket live show, according to Facebook, was held on 4th October 2019.
The shows' participants on Qriket's official social handles complain that apart from being unable to access the site, you cannot withdraw cash from your account.
Can You Really Make Money With Qriket?
Depending on your luck, you can make good money on Qriket without answering trivia questions or solving puzzles. Playing the game via the app can get you between $0.05 and $500 per game.
With your two free spins, you stand a chance of winning $1,000. That's a grand for just tapping your phone two times.
Nevertheless, this great app may end up taking your money for nothing.
In the live show, the wheel spins fast with over 50 possible positions where the arrow can rest. This puts your probability of winning at minuscule.
The same goes for the app wheel that has over 10 winning positions and similar odds to coin flipping.
Simply put, you can end up losing money from all of your spins.
For better odds, players can go for Qriket Challenges. Introduced in 2014, these are head-to-head wager games between two players with the winner taking all!
[su_label type="important"]CAUTION:[/su_label] The Qriket app offered by APK sites promises the same goodies as the product previously listed on Qriket.com. However, after the company changed hands, it's safe to say that you may not make a single cent from the app in 2023.
How Much Money Can You Make On Qriket?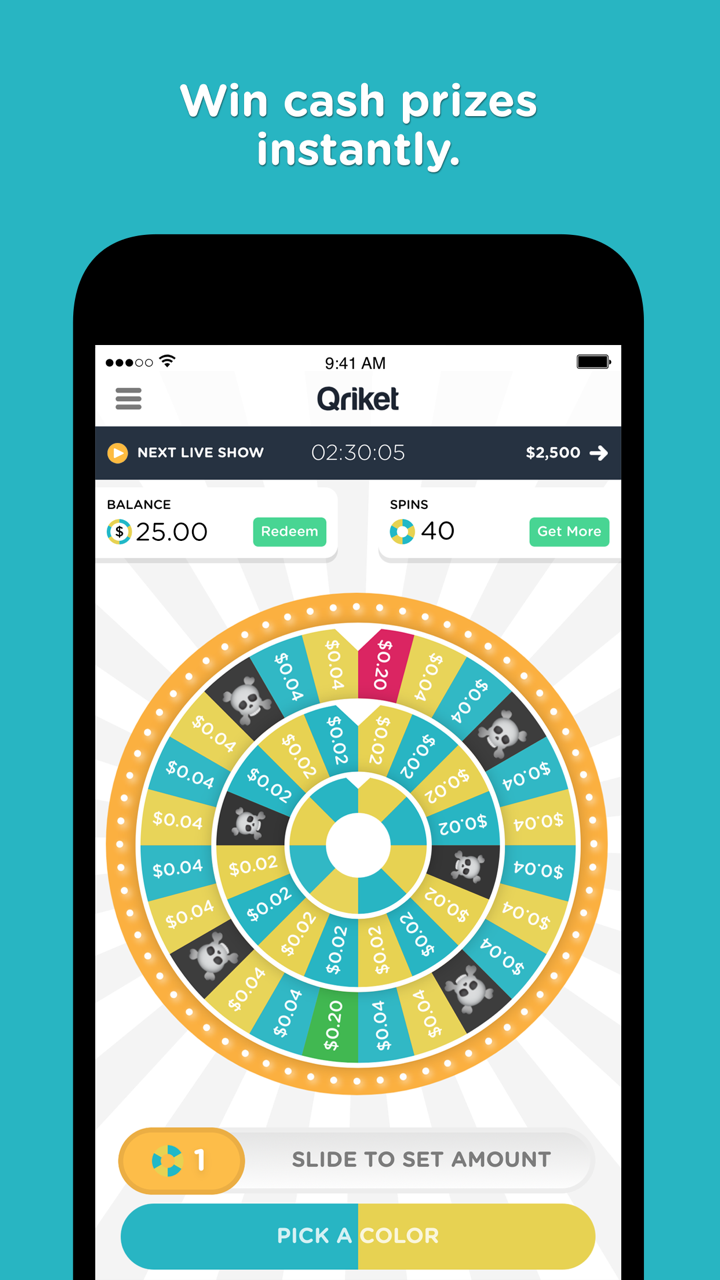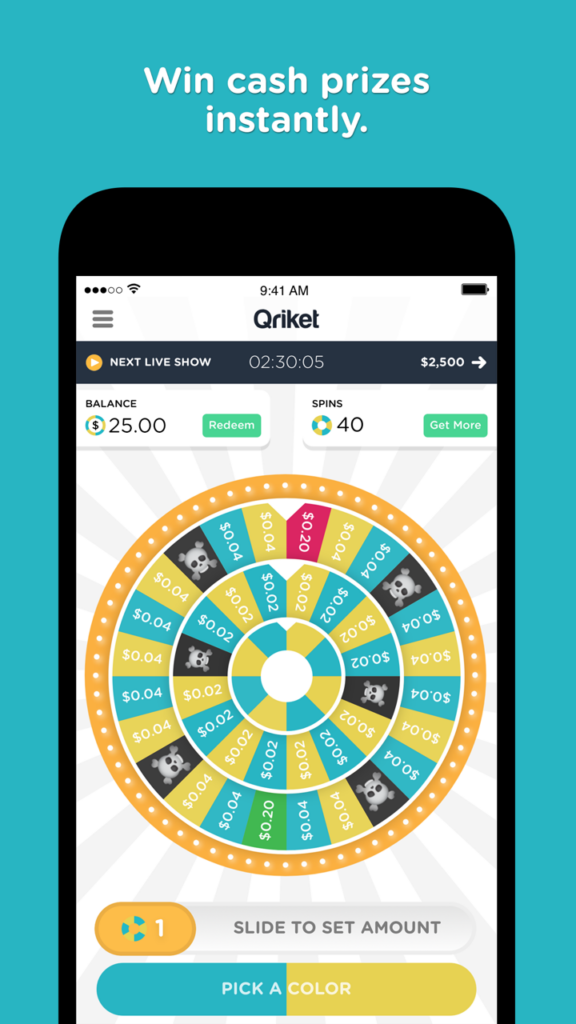 Gaming mobile apps are not known to make players lots of money. Qriket is no different. As a game of chance, you can rarely hit $500 in a single try.
User reviews from 2019 and before show that you could hit a few hundred dollars in a year playing Qriket. The normal winnings, however, were a few dollars after every few days.
On the other hand, first-place winners of the daily live show could take home up to $2,500. There were also runner-up prizes that could earn you $50, $150, or more.
Qriket Payment Methods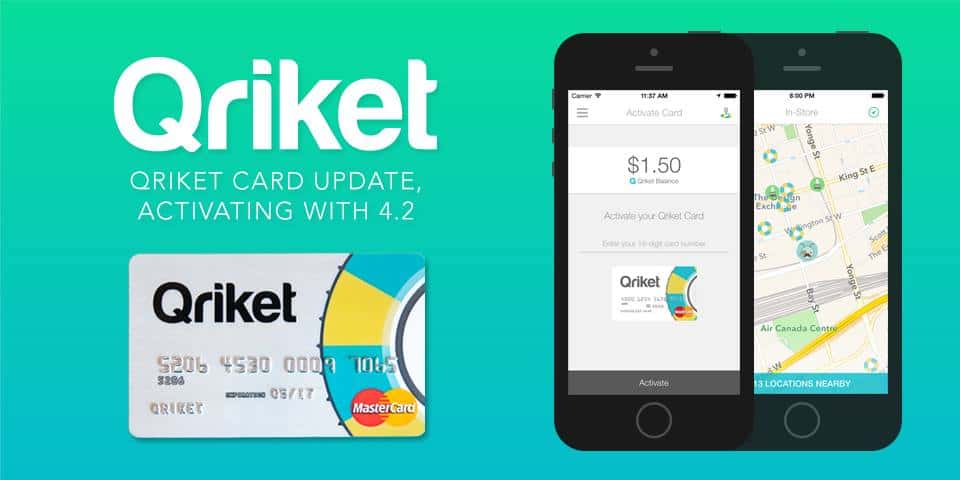 Qriket pays winnings in Canadian Dollars through PayPal. The advantage of this payment method is that you can convert the money into U.S. Dollars and withdraw it in cash.
To access your Qriket balance, you must hit the minimum payout which is CAD 25. In 2023, the minimum payout value of CAD is around $18.50.
What is a Qriket Card?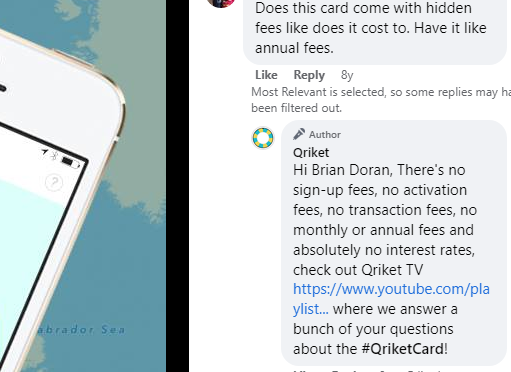 For in-app purchases and placing wagers on one-on-one challenges, the app offers the Qriket Card.
This is a Mastercard-powered debit card introduced in 2014. You can load the card with cash, withdrawal Qriket earnings, and make in-store purchases.
The best part is that signing up for the reloadable card awards you a Meg Spin entry where you can easily make $5 to $500. Also, the card can be used for in-store purchases with selected stores offering discounts in way of free spins.
Qriket Pros and Cons
| Qriket Pros | Qriket Cons |
| --- | --- |
| The app is free on APK sites. | The application is no longer available on the main mobile app stores. |
| It is a simple and fun game. | You can lose money playing Qriket. |
| The Qriket installation process is easy. | Except for a few free spins, you pay to play. |
| No education or skill is needed to play Qriket. | The app is not available in some Asian countries like India and Pakistan. |
| A single spin can earn you $2,000+ | |
Qriket Reviews – Positive and Negative
There are no Trustpilot reviews about Qriket. The app is also not rated by the Better Business Bureau (BBB). To get an authentic take on Qriket payout and other features of the app, I turned to Reddit.
From the above forum on r/beermoney, a Qriket user Priestiana1 comments that they made $75 from the Qriket referral program.
Nonetheless, other players on the thread feel that Qriket is a scam. In particular, one user says that her app shut down, losing them $50.
In yet another negative Qriket review, Elistariel says that she had made CAD 24.64 on the app, less than a dollar off the minimum payout threshold. However, while their previous withdrawals were successful, they lost their balance when the app went offline.
What Happened to Qriket?
The Qriket App was removed from Google Play and App Store sometime in early October 2019. At around the same time, the Qriket live shows disappeared from social media feeds and the app.
So what happened to the site? It's reported that the owner of Qriket sold the business in late 2019. This was followed closely by the Qriket website shutting down.
Astute players can also recall that Qriket had been changing a lot, long before it shut down. For example, the live shows went from 4 games in a day to 2, then 1, and finally none.
Additionally, the live game show started late with players waiting up to 20 minutes for the host to show up.
The shows also moved from the official YouTube channel to Twitch. Further, the number of gamers per show declined from thousands to a few hundred.
What's more, the premium subscription feature Qriket+ was discontinued in 2017, with users losing their money after the number of live shows declined.
It is also worth noting that IMDb reports Qriket Live, hosted by Jocelyn Bedard and Melissa Melottey, as having run from 2016 to 2019.
Lastly, most of the prizes' value on the wheel reduced from tens and hundreds of Canadian dollars to less than a dollar; $0.10, $0.20, and $0.50.
Qriket App Review [Final Thoughts]
From the information above, it's clear that, currently, Qriket can not stand the legitimacy test. This is despite being one of the best ways of making money playing games from 2009 to 2019.
If you are still interested in the app though, you can get it on independent APK sites. The present versions of the game still promise the same winnings but the only way to verify the claim is to give the game a try.
But if you are like me, I suggest waiting for the official announcement on who bought the app, the name change (if any), and the new live show channel – until then, KEEP OFF QRIKET!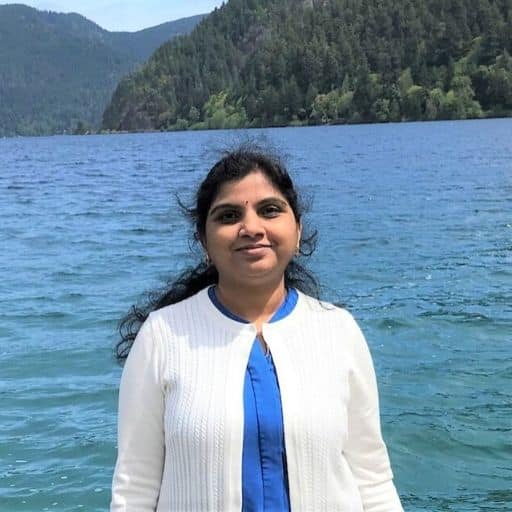 Howdy Folks, thanks for stopping by my blog.
I'm Swati, a proud mom, dedicated side hustler, full-time blogger, and a recognized millennial work-at-home expert. My expertise has been featured on esteemed platforms such as Forbes, CEO Blog Nation, Referral Rock, Vital Dollar, Databox blog, and many more. I have embarked on this incredible journey to share my firsthand experiences in the world of online income generation and to assist all of you in earning money from the comfort of your homes.
Join me in my mission to revolutionize the way we make money and achieve financial freedom. Trust me, it's not as challenging as it may seem!
Together, let's explore the boundless opportunities and pave our paths towards a prosperous future.