If you are fascinated by the idea of making extra money from wherever you are, this Zoombucks Review 2023 is just for you. The GPT platform has a wide range of tasks that users can complete to get rewards, in PayPal cash and gift cards.
The site is accessible via an official website and welcomes members from almost all nationalities.
To give you a headstart on how the platform, this ZoomBucks website review guides you on how to make money on the site, its payment methods, referral program, and the amount you can expect to earn on ZoomBucks.
Find all the answers to your pressing ZoomBucks questions below.
Let's start with a short overview.
ZoomBucks Review: Overview
| | |
| --- | --- |
| Criteria | Feature |
| Year of Establishment | 2012, Made a comeback in 2018 |
| Purpose | GPT Site: Surveys, watching video, referrals, and online offers. |
| Available Countries | Worldwide except for 5 countries |
| Applicable | 18+ years13+ years with Parent's Consent. |
| Subscription Plans | None |
| Average Earnings | Not Specified. |
| Cuts And Commissions | None |
| Payment Methods | Paypal & Gift cards |
| Bonus Program | Referral program ($0.50) |
| Minimum Payout | $5 (5,000 points) |
| ZoomBucks App | None |
| Ratings and Accreditations | 4.6 on Trustpilot | 91.6 – Scam Detector. |
| ZoomBucks Login | https://members.zoombucks.com/ |
| ZoomBucks; Final Verdict | Zoombucks is legit and safe. |
What Is ZoomBucks?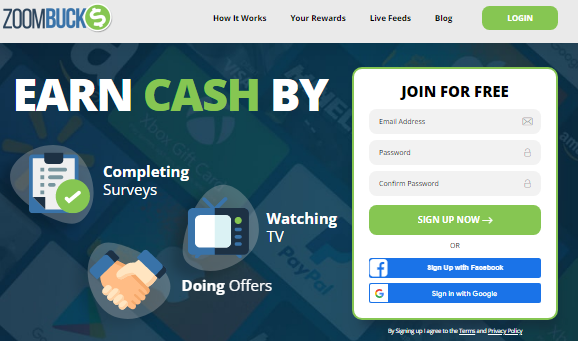 ZoomBucks is a GPT site that pays members for completing remote tasks. The company was established by Reward Holdings LTD, a legit company registered in Hong Kong.
Like most other reward sites, ZoomBucks creates a bridge between companies/marketers and consumers who provide actionable data.
Different brands need market research to improve product outreach and others need to increase the traffic hitting their online platforms. ZoomBucks steps in to provide the necessary solutions while sharing profits with a remote workforce.
The ZoomBucks platform pays you to complete surveys, shop, watch videos, take telephone surveys, visit websites, and sign up on third-party platforms.
This paid survey was founded in 2012, took a short hiatus, and resumed operations in 2018.
You can visit their offices in Room 1203, 12th Floor, Tower 3, 33 Canton Road; Tsim Sha Tsui, Kowloon Hong Kong City. The company is also the owner of Grab Points, GC Loot, and Free Crypto Rewards.
Interesting Read: How To Earn Free Crypto With MinePrize
How Does ZoomBucks Work?
Complete tasks on ZoomBucks pays you via a point system.
While you can't make a full-time income on the site, you can get extra cash by redeeming the points for Skrill and PayPal money, or PlayStation Plus, iTunes, Netflix, Walmart, Pokemon Go, XBOX, Steam, and other popular gift cards.
You need to be 18 years or older for ZoomBucks to approve your application. The site also accepts kids who are at least 13 years, on the condition they get parental consent to share their personal information and make free money.
Membership is free on ZoomBucks.com and it can be done via Facebook or Google accounts.
Among the different ways that you can earn on ZoomBucks, signing up alone gets you 500 points free! Also, the site gets you access to the offer wall of sites like PeanutLabs, SaySo Rewards, and TapResearch.
Join Zoombucks for Your 500pts Welcome Bonus
How to Make Money With ZoomBucks?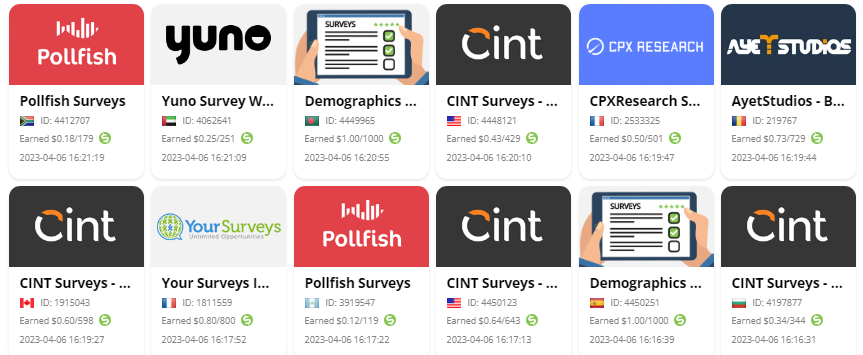 There are four major ways that Zoombucks allows you to earn; surveys, watching videos, online offers, and referrals. Looking at the ZoomBucks' Live Feed, Surveys make up the bulk of the different tasks that make you money on ZoomBucks.
Basically, you get invited to participate in free offers that require basic computer skills like typing. These are usually simple tasks best for stay-at-home parents, students, and freelancers with spare time to earn real rewards.
Below is a look at the different ways of making extra bucks on ZoomBucks:
1. ZoomBucks Surveys
Zoombucks, like most other GPT sites, gives users access to paid surveys. Zoombucks' survey providers expect honest opinions to enable the parent company to make informed decisions.
To participate in a ZoomBucks survey on the site, you have 3 options:
1.1 Survey Routers
To access surveys using this method, you need to fill in a second personal profile form. They request details on your, age, nationality, profession, gender, and other demographic information.
The survey router will redirect you to specific surveys depending on your profile. Typical survey partners include Your Surveys and Dynata. Note, on ZoomBucks, surveys pay varying rates.
For example, Your Surveys reward 850 points per survey while Dynata gives 1000 points per survey to users in tier 1 countries, like the United States, while users from other nationalities can expect 700-600 points per survey.
1.2 Survey Walls
Just like Survey Routers, you will be required to fill in more information about yourself. The only difference between the two is that the Survey Wall provides a list of surveys that you can access.
You get a chance to choose your preferred survey, unlike Survey Routers which directs you to specific surveys. Surveys in this category include Yuno, Revenue Wall, CPX Research, and Peanutlabs.
1.3 Premium Surveys
Premium Surveys are usually located at the bottom of the surveys page. As the name suggests, surveys in this category pay good money.
Availability of the surveys largely depends on the information you provided in the "About Me". As such, you need to provide factual information for the partnering reward sites to keep inviting you.
What's more, filling out the "About Me" section will reward you with 1000 extra points.
Tip: You need to frequently refresh the Surveys Page since the offers surveys are updated at about 10 minutes intervals.
2. Taking Online Offers
On Zoombucks, you have the option to earn by completing certain easy microtasks offers. They include;
Downloading and playing games from partner companies.
Visiting websites.
Cashback offers for purchasing products.
Trying out new apps.
Paid Trials- Offers that require you to pay to access a service during the trial period.
Non-paid trials- Offers that don't require registration fees.
To access the offers, you simply need to tap the "Offers" bar, then click "Complete Offers" under "Ways to Earn".
Caution: Both paid and non-paid trials may charge you after the trial period. I highly recommend creating a reminder on your calendar to ensure you cancel such memberships on time.
3. Watching Videos
Zoombucks users can accumulate points by watching videos online. It has two main reward sites in this category, namely Lootably, and HideoutTV.
Lootably offers 5 points per 3 videos watched while Hideout.TV rewards 7 points for the same number of videos.
The only downside to Hideout.TV is that you will need a hideout.TV account to transfer your points to Zoombucks.
4. Referral Program
On slow days, you can accumulate some bonus points by referring new users to Zoombucks.
To invite friends, you need to:
Go to the Zoombucks.com login page and sign in.
Tap on "Menu".
Click "My Account" and select "Invite friends."
Select the ZoomBucks page you would like your friends to land at.
Click on "Copy Link To Clipboard" then paste it on your social platforms, or send it via messaging apps to fried and family.
If a friend registers using your ZoomBucks referral code, you make 500 points. You'll also make 10% off referral bonuses from your successful referrals.
The above tasks are easy to go about and some, (like watching videos) are passive. This makes ZoomBucks a cool and seamless way to earn extra without having to give up your other hustles.
Zoombucks Sign Up: Who Can Join Zoombucks?
Zoombucks allows the registration of users from all nationalities, except five. The countries that are closed for registration are Cuba, Syria, Iran, North Korea, and Hong Kong.
However, despite accepting users from almost all nationalities, the earning opportunities available for you on Zoombucks will largely depend on your country of origin.
The minimum membership age is 13 years. However, teens who want to make money on ZoomBucks need consent from their parents to get approved on the site.
To sign up for Zoombucks, you need to;
Type your Email address and create a password. You can also sign up through your Facebook account.
Tap the link included in the confirmation email.
The action will redirected to your Zoombucks account to log in.
However, there are some instances where signing up will take slightly longer than usual due to the need by Zoombuck to manually review your account.
Note, a Zoombucks account under review will automatically initiate an email to your address from the Zoombucks security team.
On the off chance that you don't get the email, you can raise a ticket to ZoomBucks Support Desk using the email you used to sign up. Typically, you may be required to connect to PayPal in course of resolving the issue.
Does ZoomBucks Have an App?
The company is yet to launch a ZoomBucks App. To access ZoomBucks on your mobile phone, you have to navigate to Zoombucks' official website via mobile browsers like Chrome or Safari.
The best thing is that ZoomBucks is optimized to function like a mobile app when accessed via a smartphone or tablet.
How Much Money Can You Make With ZoomBucks?

The amount you can make from GPT sites differs based on several factors and ZoomBucks is no different.
Different users earn differently depending on:
Amount and time a user invests in carrying out tasks.
Demographic profile of the user – this affects the availability of surveys and in turn, affects the amount you can make.
The type of surveys you participates in.
Zoombucks claims that some users make up to 20,000 points per day which translates to $20 in earnings. The amounts other active users are earning are displayed in the Live Feed and Leaderboard section of Zoombucks.
If you are an active user and want to make more ZoomBucks points than you currently make, you need to keep on reloading the page regularly and picking the top-paying surveys and latest offers.
ZoomBucks Rewards
There is a lot you stand to gain from Zoombucks. The platform allows you to choose a preferred reward out of its huge catalog of either gift cards or cash.
You can redeem your ZoomBucks credits for Visa Gift Cards, Walmart gift cards, Amazon gift cards, and much more. Before you can request point redemption though, you just need to have accumulated the threshold of $5 (5,000 points).
If your withdrawal meets the set guidelines, you receive a confirmation email or code. It then takes about 48 hours to receive your reward in your email or PayPal wallet.
Zoombucks Payment Method

Zoombucks has plenty of reward options for users and you are free to choose the reward that suits you. If you prefer cash to gift cards, Zoombucks will pay out to your PayPal account within 2 days.
Note, for every task completed, Zoombucks rewards you with points. Once you have accumulated the minimum payout points, you can cash out via PayPal, which you link by following the steps below;
Sign in to ZooomBucks
Tap "Menu" in the members' area.
Scroll to My Account and Click "Profile".
Scroll to "Wallet" and tap "Connect with PayPal".
You'll be redirected to the PayPal login page, fill in the required account information and press "Log In".
Minimum Cashout Amount For Zoombucks?
One Zoombuck point is equivalent to $ 0.001 meaning 5,000 Zoombucks points. You need to have accumulated at least 5,000 Zoombuck points to be able to redeem your points for cash and or gift card.
ZoomBucks Reviews
ZoomBucks is a legit and safe site that offers rewards and cash to users for completing various tasks. It has an excellent rating of 4.6/5 from 1,300+ reviews on Trustpilot.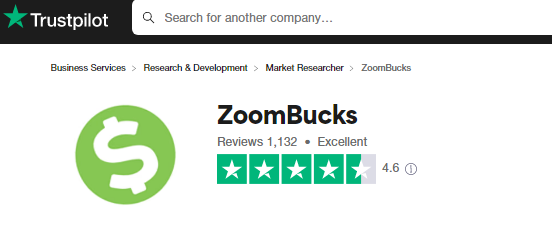 Further, on a 1-100 scale, it is awarded an excellent 91.6 rating on Scam Detector, implying that the site is approved as trustworthy, safe, high quality, and legit site.
Zoombucks Reviews (Positive)
On Trustpilot, some users praise it for the better and more honest surveys they offer, others because of the speedy response of Zoombuck's Support Team, and for the easy redemption of points.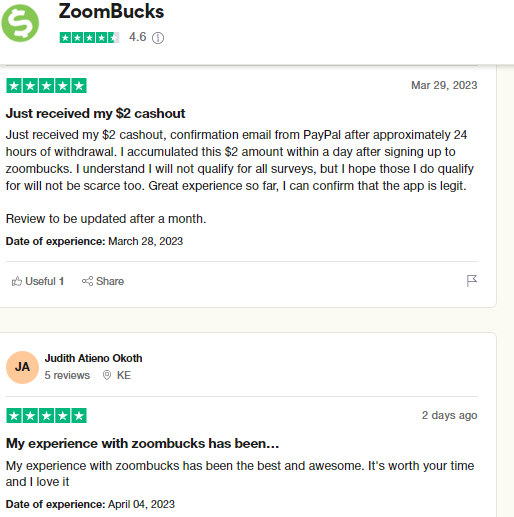 Source: Trustpilot
In the above screengrab, one user comments that they received a PayPal withdrawal within 24 hours. The user goes on to say they made $2 on the day they signed up.
The site also gets favorable mentions for being among the best survey sites that pay real money.
Similar positive ZoomBucks reviews can be found on Reddit.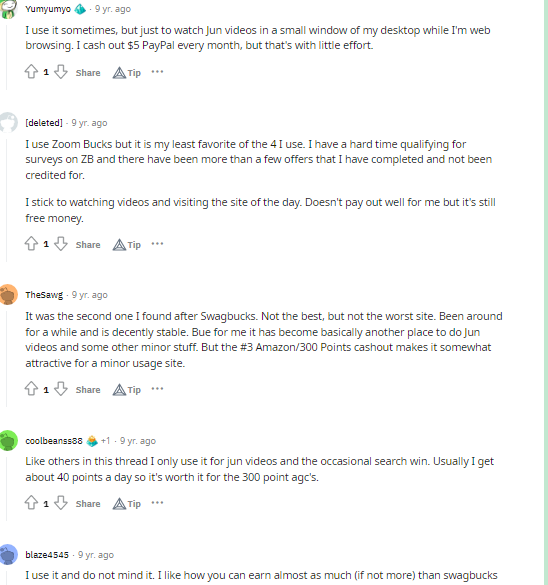 Source: Reddit
In the image below, a reviewer going by the moniker Yumyumyo makes $5 per month from passively watching videos on ZoomBucks as they browse the web. They reckon this is a great way to earn cash with little effort.
The same thread sees ZoomBucks praised for allowing regular withdrawals, diverse gift cards, and rivaling other rewards sites like SwagBucks.
Zoombucks Reviews (Negative)
Despite mostly excellent reviews among get-paid-to sites, ZoomBucks does attract some negative assessments.
Several users complain of unexplained account suspensions while others claim that the site is blocked in some countries.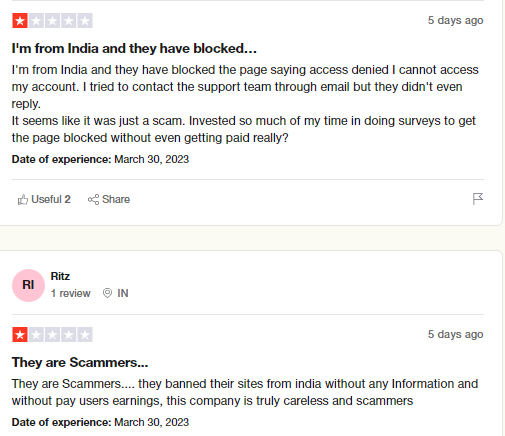 Source: Trustpilot
In the above 1-star reviews, the paid survey site is accused of banning the platform in India without notice. Users complain about losing their account balances and the support team being indifferent to their concerns.
One user Nanu from India reports losing $11 when her ZoomBucks account was closed. Similar sentiments are shared by users from Brazil.
On r/beermoney, a subreddit that's popular with side hustlers, some users complain of having to wait more than 48 hours for their rewards to arrive.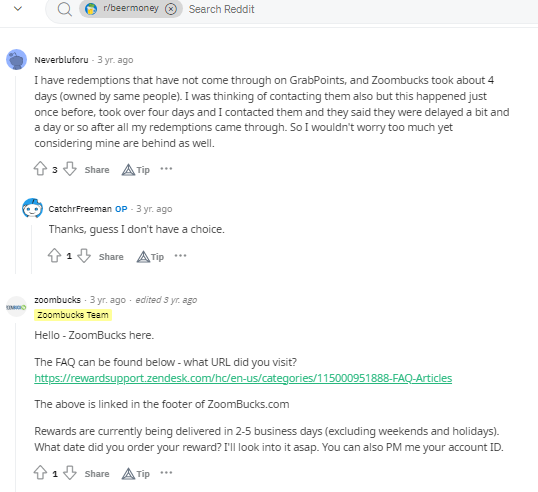 In response, ZoomBucks Team advises that your cash out can take up to 5 days to materialize, without counting weekends and holidays.
Notably, in the forum, ZoomBucks Support responds to almost all queries, with later comments showing that the tickets were resolved amicably.
Generally speaking, the positive remarks Zoombucks gets from users are way more than the negative ones, cementing the platform as a legitimate Gpt site.
Is Zoombucks Legit or a Scam?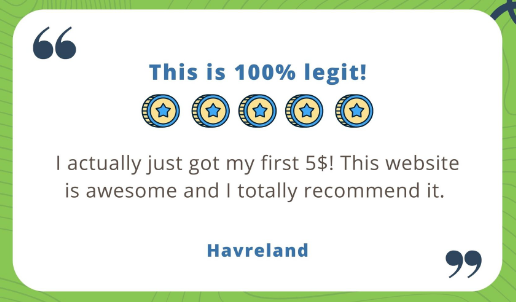 Source: Facebook
Is Zoombucks a genuine website? Well, Zoombucks is a legit and safe website to earn some extra income. There exist many positive reviews from its users with ZoomBucks payment proof on sites such as TrustPilot and Reddit.
Furthermore, it is owned by the same business that owns Grab Points which is renowned for safety and legitimacy. The company also comes with a physical address, a trait that is not seen with scam survey platforms.
Zoombucks Pros and Cons
Before joining ZoomBucks, you may need to evaluate the areas it stands out over other platforms as well as its downsides. Below are the advantages and disadvantages of Zoombucks at a glance:
| Pros Of ZoomBucks | Cons Of ZoomBucks |
| --- | --- |
| No registration Costs. | Low average earnings for users. |
| Low minimum payout threshold of $5 (5,000 points). | Has a low-paying referral system ($0.50). |
| Ease of use. | The varying pay per survey is quite confusing. |
| Has a highly regarded survey system. | Not available to all nationalities. |
| Gets you other survey sites for more opportunities. | |
| An efficient customer service team. | |
Best ZoomBucks Alternatives
Zoombucks sits high in the ranking of reward platforms. It, however, faces stiff competition from other platforms that offer the same or slightly different work and earning experiences.
To increase your options of paid surveys and cash online offers, below are worthy alternatives to Zoombucks that you can try:
As its name suggests, the main way to earn from Survey Junkie is by answering surveys though you can make extra cash through other microtasks such as confirming your email address.
Its surveys are of varying lengths and payment can be redeemed for E-gift cards, PayPal cash, or via a bank transfer. The site has an A+ BBB rating and a 4.3-star score on TrustPilot.
Survey Junkie's minimum payout is $10 with users having the potential to make $300 per month. The site is accessible via an app on Google Play or App Store, or through a browser platform.
Sign up for Survey Junkie here. Proceed here to find my experience with Survey Junkie.
2. Branded Surveys
Branded Surveys allow users to earn money and gift cards by sharing their opinion about services or products from more than 100 brands. It is free to join and offers new users a $1 bonus.
Like Zoombucks, it has a payout threshold of $5. The site is open to residents of the UK, the US, and Canada only. You make between $1 and $3 per survey and $0.50 for a successful referral.
Branded Surveys is accredited by the BBB and has a 4.2 rating on TrustPilot.
Grab Points is a GPT site that is owned by the ZoomBucks' parent. The two sites almost identical in both appearance and functionalities.
However, Grab Points has a wider range of tasks than Zoombucks and this makes it a slightly better option.
Payment is via gift cards or PayPal and the site has a 4.6-star rating from 2,857 reviews.
Also Read:
Is Zoombucks Real or Fake? [Final Thoughts]
ZoomBucks is a legit and safe platform that gives users a chance to earn by carrying out easy online tasks. The earnings per task are slightly higher than many other GPT sites but still not enough to venture into it as your only hustle.
The site reports top users making 20 dollars per day, which translates to around $600 per month. Realistically though, you should expect average earnings of around $3 to $5 per day, or $10 on the higher end.
There are also several GPT sites that are similar to or even better than Zoombucks. The above ZoomBucks reviews direct you to the best alternatives in the market.
However, if you are looking for a side hustle that requires no experince, or a constructive way of using your free time, Zoombucks is worth a try.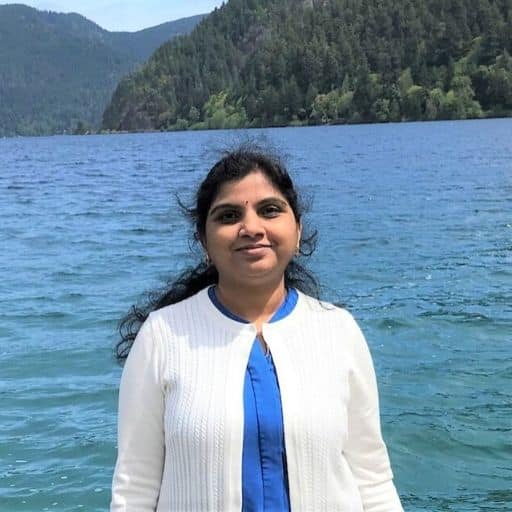 Howdy Folks, thanks for stopping by my blog.
I'm Swati, a proud mom, dedicated side hustler, full-time blogger, and a recognized millennial work-at-home expert. My expertise has been featured on esteemed platforms such as Forbes, CEO Blog Nation, Referral Rock, Vital Dollar, Databox blog, and many more. I have embarked on this incredible journey to share my firsthand experiences in the world of online income generation and to assist all of you in earning money from the comfort of your homes.
Join me in my mission to revolutionize the way we make money and achieve financial freedom. Trust me, it's not as challenging as it may seem!
Together, let's explore the boundless opportunities and pave our paths towards a prosperous future.