Are you looking to working remotely? Do you want to teach English to Japanese students online and turn it into a fulfilling career? If so, this guide is for you!
Asian countries mostly prioritize local languages in their schools, creating a demand for fluent English speakers like yourself to fill the gap by working remotely from home.
Teaching English online to Japanese students is a lucrative opportunity, especially for native English speakers (or even Japanese English tutors) from the US, UK, and Australia. This widely used medium of communication offers decent earning potential while making a meaningful impact.
Now, let's determine if you have a natural knack for this language. In this post, I will introduce you to 20 top platforms where you can make money online teaching English to Japanese students. We will delve into each company's requirements, scope of work, and pay range.
But before we explore these platforms, let's understand the nuances of teaching ESL (English as a Second Language) students located on the other side of the globe.
How to Teach English to Japanese Students?
To become an ESL teacher, you first need to scout for the legit companies that offer remote teaching to students.
Basically, most of these platforms state their requirements and expected pay on their websites. Some offer positions depending on your education level while others allow you to work without experience or papers.
Generally, the application process involves registration, screening, and onboarding.
To register, simply head to the jobs page and click "Apply Now". You will be presented with a form to fill out and may be asked to attach relevant documents before submitting it.
If your application is accepted, you will be taken through screening which involves an oral interview plus teaching a mock class. Screening may also involve an online written test to showcase your grammar skills.
On passing the test, you will be taken through onboarding which helps you learn how to use the specific platform. Additionally, you will be asked to complete your profile before you can start teaching.
Benefits Of Online Japanese Teaching Jobs
With schools having to employ teachers from abroad to teach English and the gains seen in technology, it's easier for students in Japan to learn English online.
This arrangement allows for specialized attention since these online classes cater to about 1 – 4 students per class.
Remote learning also increases the demographic to include Japanese businessmen and everyday folks who want to expand their knowledge of the English language.
A large part of the population is also either working from home or always on the move, reaching them requires the kind of flexibility that online learning offers.
Apart from the pleasure of imparting knowledge, as an online English teacher or tutor you get to enjoy:
Flexible hours – Although you might have to work in the early hours, your schedule will mostly be flexible. Furthermore, sessions usually take less than an hour, with breaks in between lessons.
Decent pay – Unlike paid surveys that pay less than ideal, teaching English online pays $15 – $30 per hour. You also get to enjoy performance-based bonuses and rewards.
Explore new cultures – Teaching is a two-way process; you learn from your students just as much as they learn from you. Both parties make invaluable differences in each other's lives.
Reduced expenses – Working from your home means that you don't have to commute or pay for office space. Your expenses are limited to buying a computer, headphones (optional), and internet charges.
Teach English to Japanese Students Online [20 Platforms]
There are many companies offering tutoring to Japanese students who wants to learn English online. Below is a list of the leading websites that offer English lessons to Japanese students.
1. Eigox
This is a Japan-based school that employs native English speakers from around the globe. If are fluent in speaking English as a second language, you can also get a job with the company.
They require a commitment of at least 10 hours per week. Sessions can be 2-hrs daily for 5 days, or 5 hours for 2 days in a week. However, each lesson is just 25 minutes long.
If you are looking to teach English to Japanese online, this is the website for you. Filipino tutors and other ESL teachers make around $1.5 per session while native speakers and Japanese bilingual teachers make up to $5.50 per session. Pay is done through PayPal.
When starting out, you earn 50% of the pay rate for the initial 10 lessons. You are also expected to submit lesson reviews within a day after a lesson. Students get to choose the learning method including free talk, textbook learning, and online materials. Lessons are run through Skype.
Earning potential: $11 – $12 per hour.
Here is the Eigox application form.
2. S-Lessons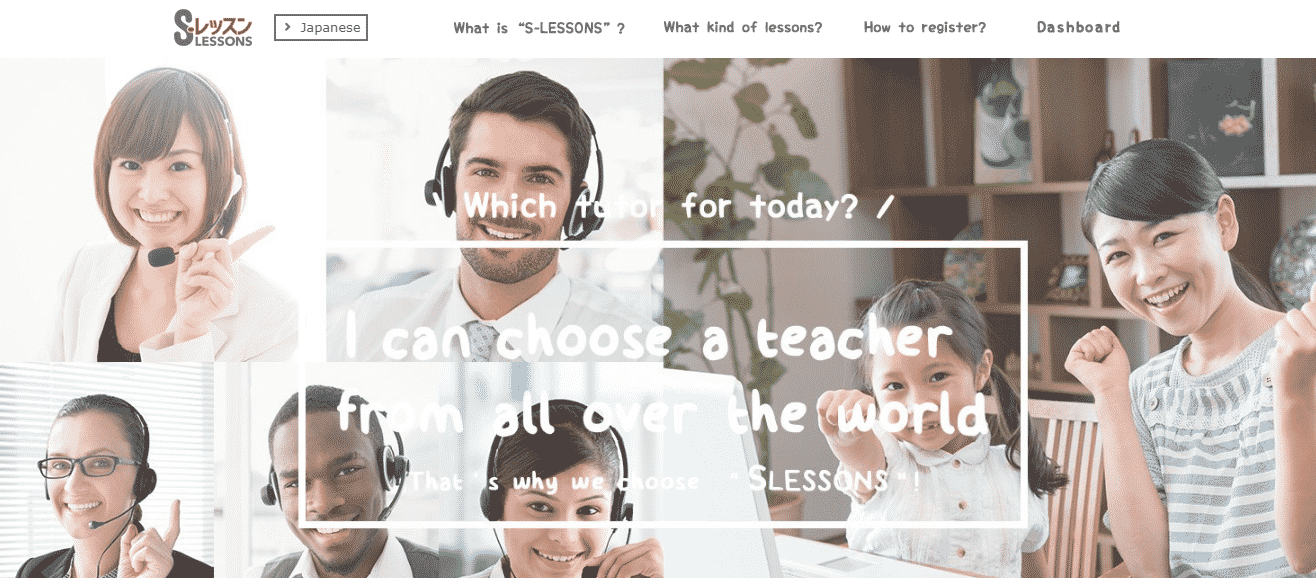 S-Lessons only hires teachers with a Bachelor's degree or higher plus 1-year teaching experience. Their lessons last for around 22 minutes with the option of teaching English to Japanese Elementary students as well as adults.
The company requires you to work for not less than 10 hours per week.
You get to agree with your students on the charges with the company keeping 30% of the pay rate. They pay about $10 – $15 per hour. Higher pay goes to tutors with long experience and expert-rank on the platform.
Teaching on S-Lessons is via skype — Click here to register.
3. iTutorGroup
This website has various employment opportunities including teaching English and mathematics to kids in mainland China, Taiwan, and Japan. They also cater to adults and corporate executives. Their requirements are, however, stringent including a Bachelor's degree and a certificate in teaching English as a second language.
Also, you need 1 year or more experience as an English teacher and be a native speaker. Tutors are hired on the understanding that you will work for at least 5 hours weekly. Currently, they offer positions to 30,000+ work at home teachers from over 150 countries. Their pay is among the highest in the industry at $20 – $25 per hour.
Check iTutorGroup application portal.
4. English Hunt
English Hunt offers online lessons to Japanese and Korean children. They employ tutors with ESL and BA degrees. That said if you have 4 years or more teaching experience you can be employed without a BA. The curriculum is provided by the platform, meaning that you don't need to prepare beforehand.
They pay to start at $14 per hour, with top tutors making $20 per hour. Only US residents can apply on the platform and you must have a US bank account to access payment which via direct deposit. Also, their software runs only on Windows OS and in addition to having a computer, they insist on headsets that come with microphone attachments.
Apply on English Hunt here.
5. Mainichi Eikaiwa
This is among the top online English schools in Japan.
They accept applications from countries where English is the native language. Such include the USA, UK, Canada, Australia, and even South Africa. 1-year experience is required to qualify on the site. They also offer courses such as TOEFL and TOEIC online to ensure high standards are met by all teachers.
You need to work for at least 5 hours a week with a single lesson lasting for about 50 minutes. As such, you need to commit to teaching 5 classes weekly. Pay is $13.50 per class with some tutors making up to $20 per hour.
Classes are one-on-one making the teacher's input minimal and of high quality.
Get started on Mainichi Eikawa now.
6. VIPKID (Update 2023: not hiring)
VIPKID has a tasking application process that requires proof of 2 years of experience, education level, a demo video, quiz, and a demo class. You also need a TESOL certification or equivalent papers from your country of origin. Fortunately, they do offer TESOL courses on their platform for interested candidates.
You need to perform well in the application process since the results determine your salary range. Beyond that, tutors set their schedules and earn incentives on top of the base pay. Generally, VIPKID lessons are 25 minutes long and pay up to $7 – $9 per class.
Also, teachers can make $100 for a successful referral. Typically, their hourly pay ranges between $14 and $22. Visit the VIPKID website here.
Qkids is another leading English tutoring platform, you might want to give a shot. Find out more about Qkids here.
7. 51Talk
This is a premier online school based in China. They cater to Chinese and Japanese students who want to learn English from home. Some of their requirements include proficiency and a Bachelor's degree.
Tutors with diplomas are also given consideration during screening. Technical requirements, teaching environment, and schedule are pictured for you below.

The company prides itself as the only online English school listed on the New York Stock Exchange.
Teachers need to commit to 30 hours a month and be ready to work within 3 days after applying. Yes, their application process is that fast! Each lesson runs for 25 minutes with teachers making $15 – $20 per hour.
Head here to teach with 51Talk.
8. Say ABC
To work here, you need to commit between 10 hours and 14 hours per week. The base pay is $13 per lesson which takes around 40 minutes. On the upper scale, top tutors earn up to $17 per class. Depending on productivity reviews from students and supervisors, you can make an extra $4 per class.
Furthermore, their trial classes earn new teachers up to $8 per hour. Requirements include native level English, certification in TEFL, TESOL, or other relevant certificates. A minimum of a Bachelor's degree is also a must for all tutors plus at least a year of teaching English.
Click here to apply on Say ABC
9. DaDa
This website caters to children aged between 4 and 16 years. They offer training after you apply with the acceptance rate being about 3%. This makes it a very competitive platform so, you need to leverage your experience and certifications. For starters, the company partners with TESOL, and as such their qualification standards are a tad higher than other platforms.
They provide courses and tests which you are to administer and grade. Teaching is one-on-one with each teacher catering to recurring students. This allows you to judge progress and change tact when necessary. Their hours are flexible and they give tutors up to 3 hours before class to confirm attendance. Sessions ran for 30 minutes per class with pay ranging between $15 and $25 per hour.
Visit DaDa website for more on their remote teaching jobs.
10. Teach Away
Teach Away is a broad website that partners with schools, government, and non-governmental institutions from all over the world. They offer different courses to equip you with the necessary skills to teach English online and onsite. You can acquire a TEFL certification through their website and get guidance to try out elsewhere.

They post remote teaching jobs from almost all countries. Popular postings jobs from Japanese students who want to learn online as well as UAE, Hawaii, and China ESL jobs. The pay rate for teachers is $10 – $15 per hour, with top tutors making upwards of $4k per month.
Explore Teach Away jobs here.
11. Magic Ears (Update 2023: Not Hiring)
This is an innovative platform that allows students between the ages of 4 and 12 to learn English online from home. Tutors teach a class of 4 students with hour earnings of up to $26. Typically, the starting rate is $18 per hour for teaching 25-minute long classes. They only hire native speakers from Canada and the US.
Tutors on the platform train for about three weeks before they can start attending classes. Thereafter, you start with 1 or 2 classes per week before teaching more regularly. Most importantly, they have a vast community that makes it easy to exchange teaching tips.
Start teaching on Magic Ears and earn $30 an hour.
12. GoGoKid (Update 2023: Not Hiring)
GoGoKid employs native English speakers from the US and Canada. Applicants need a minimum of a Bachelor's degree and one-year teaching experience. You also be legally able to work in the two countries and have a TESOL or equivalent certification.
Lessons last for about 25 minutes with pay starting at $7 – $10 per class. By ensuring that your work is stellar such that you get high ratings from parents, you can earn points that increase your pay rate by up to 25%. Referrals make you up to $120 per person and 50% of your base rate for every missed class. Currently, top earners on the platform are making $25 per hour.
Send your application to teach@teachers.gogokid.com
Related Read: Gogokid Vs DaDa
13. English Tutor Online (ETO)
ETO employs remote English teachers from the UK and North America. Tutors on the platform are required to possess a minimum of a Bachelor's degree and at least 5 years of experience as a teacher. Their pay is $12 – $18 per hour teaching both adults and children, starting at 5-year-olds.
Teachers commit to availing themselves of not less than 10 hours per week. Classes are flexible and can be one on one or group sessions- you get to choose the arrangement that works best for you. That said, depending on your experience you may have to take specialized training on how to teach ESL to both kids and adults through the platform.
Check out the ETO tutor registration page.
Teaching English to Japanese Students Online [No Experience]
To teach English to Japanese from home does not always require you to hold any certification or have prior experience as an ESL teacher. But for most of the tutoring platforms that don't ask for experience, you may have to undertake an in-house course or training.
Usually, such courses take two weeks to one month, by the end of which you can comfortably handle online classes.
However, you must be able to demonstrate speaking English at a native level. Here are some websites that employ home-based teachers with no experience.
1. RareJob
This is one of the largest ESL companies catering to tutors from the Philippines only. You must be at least 18 years old and have basic computer literacy skills. They also insist that you not be working with another similar company while under their employment.
English proficiency is another major requirement as well as being passionate about the English language. To teach English online to Japanese students you need a desktop or laptop. Other technical requirements include a stable internet and up-to-date anti-virus software.

Pay is between $20 and $25 per hour, making RareJob an above-average online job provider. The work involves teaching school-going children, housewives, and businesspersons.
Apply now to work on RareJob!
Also Read: 20 Epic Online Jobs for Talented Housewives
2. Eigopower
Eigopower offers online teaching jobs to English tutors with BA's or higher education levels. They don't require any specific ESL certification or experience. You need to commit 10 hours weekly of working time. Also, you will be tested on your proficiency and PC usage. The class schedules run from 6 am to 6 pm Japanese time.
I like the fact that Eigopower accepts applications from none native English speakers with good language mastery. Their scope includes school, business, hospitality, and media English. They pay a minimum of $5 per hour and a maximum of $12 per hour, depending on the scope.
Register here to work on Eigopower.
3. Eigoru Online Class
To teach English to Japanese students online from the Philippines, this is the site for you. They employ tutors from Filipino and English-speaking countries. What's more, they don't require you to have a Bachelor's degree or any form of certification to work with them.
Additionally, they offer various payment methods including Discover, PayPal, MasterCard, Visa, and American Express. Lessons are 25 minutes long with tutors making $5 to $10 per hour.
While getting accepted on the website is easy, they do have an age limit of between 20 and 45 years. However, they offer classes to students of all ages including 80-year-olds.
Learn more about Eigoru Online Class here.
4. Sankei English
This is another home-based English school catering to students from all backgrounds.
The company is the brainchild of 3 Japanese multinationals making it a popular online teaching job platform. Also, the pay is decent with Sankei hourly rate ranging from $15 to $20 per hour.
You must have a college-level certificate or 2-year teaching or training as a teacher. If you have ever worked in a call center or taught ESL in the past, your application will be more favorable. Luckily for most newbies, the company also encourages fresh graduates with no experience to apply. The only condition is that you must have native-level English knowledge.
Fill out this Sankei English application form to start earning.
Teaching English to Japanese Businessmen
1. Cafe Talk
This is a Japanese ESL website catering to over 40,000 students. Tutors on the platform can choose between a wide range of subjects including English, Korean, and Japanese. The platform is popular with adults, especially businessmen looking for work-related lessons.
They don't require you to have any teaching experience, but any formal training can help in getting fast approval. Only 20-year-old and above tutors are permitted to work on the website and you must a native speaker.
Lessons are via Skype with each lesson being charged $14 – $36 per hour. While the company does not limit the charges, depending on your experience, they keep 15% – 40% of your earnings.
They give the options of getting paid through Payoneer, direct deposit (for Japan and Korea residents), and PayPal. Teaching hours are flexible, with tutors availing their available time and waiting for students to choose the schedule that fits them.
Head to the Cafe Talk tutor page for more info on their job opportunities.
2. E-communication
E-communication pays online tutors up to $20 per hour, making it one of the best platforms to work on. The company, however, needs up to 20 hours of commitment.
Also known as Ecom, the website mainly teaches English to Japanese businessmen. As such, you need experience in teaching business English with at least 2 years on the job. Having a degree is not a requirement on this site.
Certification in courses such as TOEFL, Eiken, TOEIC, and IELTS is an added advantage while making your application.
Classes are one on one with tutors coming from countries where English is the major language inducing New Zealand, Ireland, and South Africa.
Here are job openings on Ecom
3. English Everywhere (E & E)
To work on this platform, you need to have a certificate in either TEFL or TOEFL. They also insist on excellent communication skills and a fast internet connection. They also insist on having emails replied to within 36 hours. Their platform allows you to set your own time including holiday times.
Other requirements include fast typing speed, teaching experience (a must), and proficiency at using Skype. Pay is up to $15 and $16 per hour via PayPal. Classes are one on one starting at elementary all the way to college level.
You can also teach businessmen and women on this platform.
Fill this form to apply to English Everywhere.
Online Japanese Tutor Jobs: FAQs
1. How Much Do Japanese English Teachers Make?
Depending on the website that you work on, you can make between $10 and $30 per hour teaching online. Most classes last for about 22 – 50 minutes, with the pay rate being offered per class.
The rate usually goes higher as you rack up points from parents and students who review your delivery and professionalism.
However, with companies like Cafe Talk, you can make up to $36/hour.
2. Can I teach English Online To Japanese Students With No Degree?
Yes, you can teach English online to Japanese students without a degree. While having a degree can be advantageous and some platforms may require it, there are still opportunities available for individuals without a degree (although the pay is generally lower than for those with degrees).
Such platforms usually prioritize native-level English speaking skills to ensure high-quality instruction.
By demonstrating your English proficiency and obtaining relevant teaching certifications like TEFL, you can improve your chances of finding online teaching opportunities with Japanese students. Some platforms may even offer ESL training to enhance tutors' skills.
3. Is teaching English Online a Good Job?
Compared to most other remote jobs, teaching English online pays decently. You also get to set your own schedule and choose the number of students you wish to handle per class.
The job also comes with bonuses from missed classes and referrals to the tune of $100+ on most ESL platforms.
Teach English Online to Japanese Students: The Takeaway
Teaching English online is a fun and easy way to earn when working from the comfort of your home. The pay is mostly hourly with the lessons being less than 1 hour long.
Apart from setting your own work times, you get to handle 1 – 4 students at a time, making it easy to impart knowledge and make a difference to kids and adults alike.
The job also gives you the ability to experience different cultures and interact with people from around the world.
Are you ready to earn by teaching a language that is native to you? Have a pick of the best websites above to find work in Japan, Korea, and other Asian countries.
And don't forget, if teaching is not for you can always leverage your English knowledge to proofread and make up to $30 per hour. Or you can choose to write articles and earn $500 per post.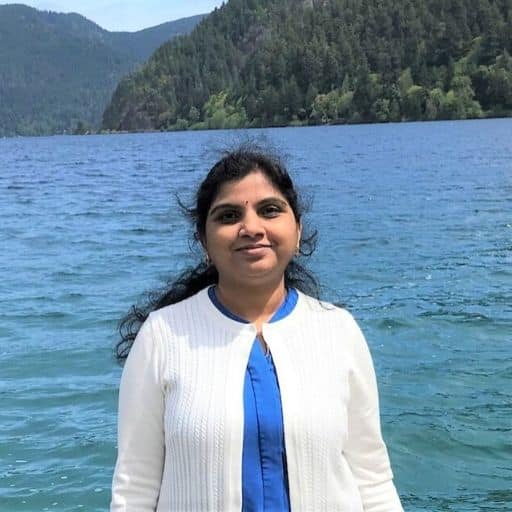 Howdy Folks, thanks for stopping by my blog.
I'm Swati, a proud mom, dedicated side hustler, full-time blogger, and a recognized millennial work-at-home expert. My expertise has been featured on esteemed platforms such as Forbes, CEO Blog Nation, Referral Rock, Vital Dollar, Databox blog, and many more. I have embarked on this incredible journey to share my firsthand experiences in the world of online income generation and to assist all of you in earning money from the comfort of your homes.
Join me in my mission to revolutionize the way we make money and achieve financial freedom. Trust me, it's not as challenging as it may seem!
Together, let's explore the boundless opportunities and pave our paths towards a prosperous future.