Did you know that there are apps that pay you to walk and you can get paid to walk? I'm talking about one of the many ways to turn your daily routine into an income.
As crazy as it sounds, some companies actually pay you for simply walking.
Whether it is for your fitness, walking to your workplace, or simply running your errands; as long as you are making those steps, you are guaranteed to earn some bucks.
Apps That Pay You to Walk [2023 Edition]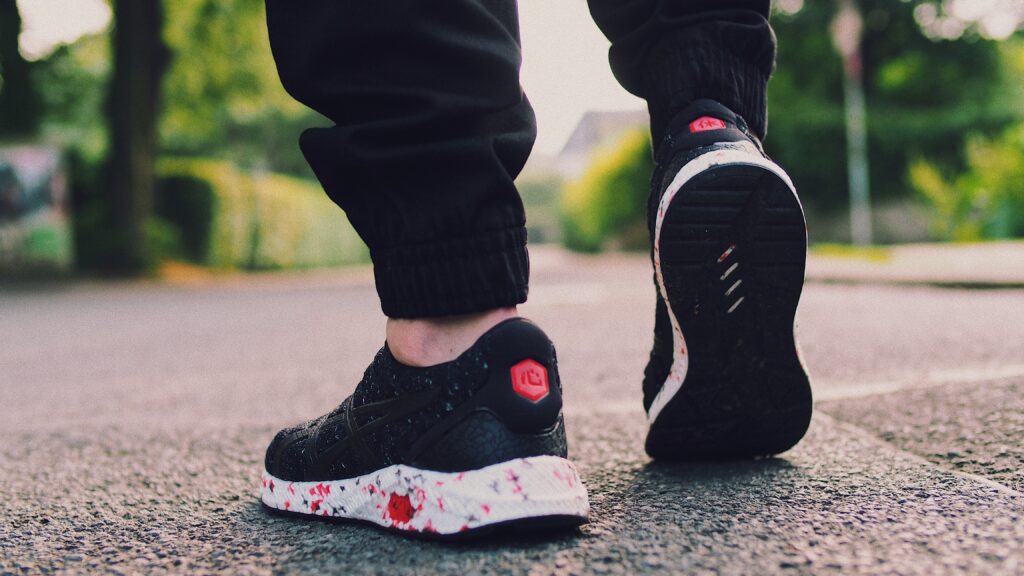 So, why not turn this habit into cash for steps? If interested, then this article is for you. I have done the groundwork on your behalf and compiled the list of legit apps to earn money walking.
Let's get started…
1. Achievement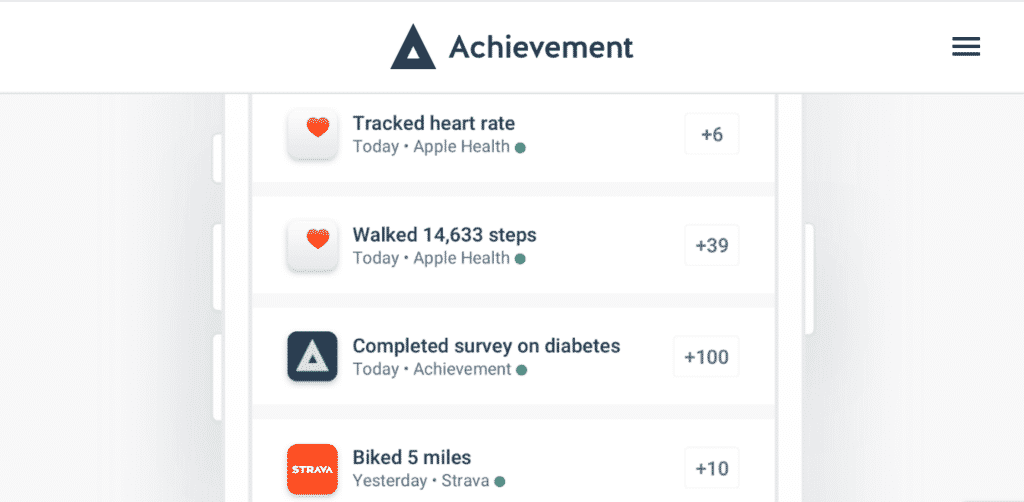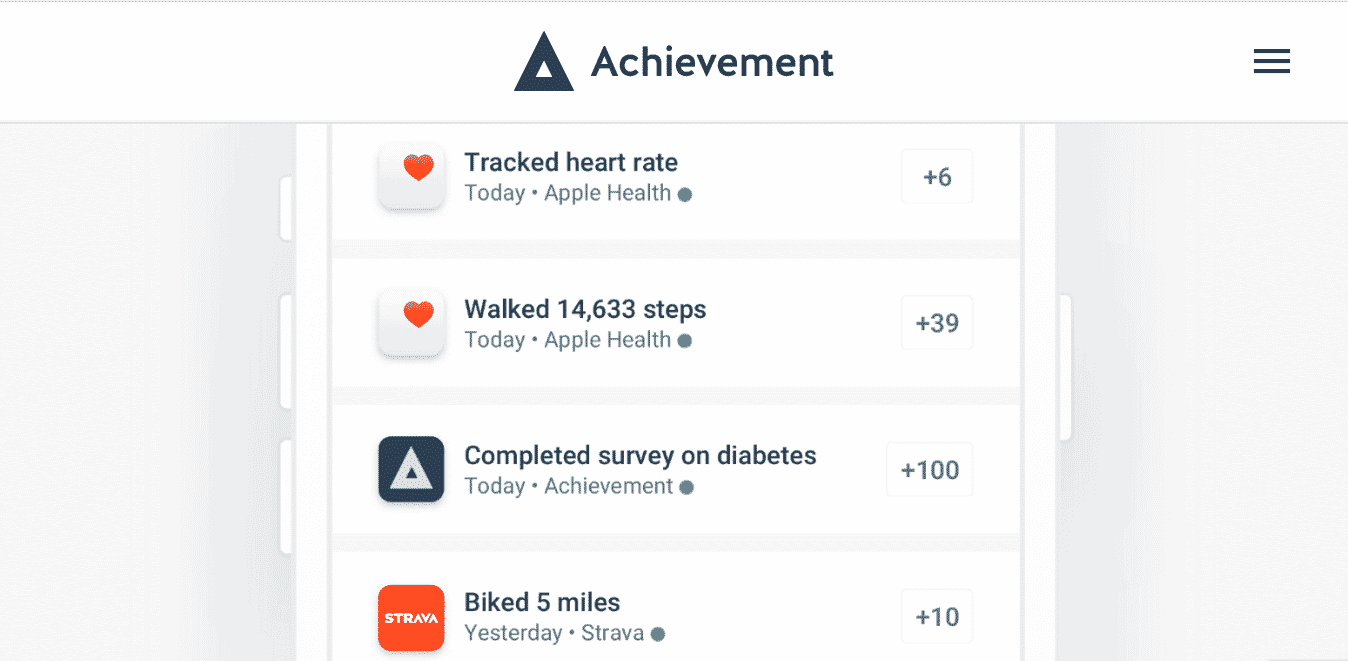 One of the best get paid to walk apps, Achievement, rewards you not just for walking, but also for engaging in other activities like running, swimming, biking, sporting, meditating, and logging food. Rewards are in the form of points.
You earn $10 for every 10,000 points by engaging in different activities that require movement. Typically, Achievement gifts you up to 80 points for a single activity.
And the best part is that this platform has other opportunities, or "offers" to earn bonus points. For example, you get a reward of 6 points by just logging your food intake, sharing your social media journey, sleep schedule, and weight gain or loss.
By keeping the app running throughout the day, you can earn up to $30 a year. And it's up to you to either pocket the cash or donate it to one of the charities listed on the app.
The achievement app pays every week via PayPal or direct deposit. Currently, the app has over 3 million downloads.
Get paid walking by signing up on Achievement on their website, or download their app from Google Play or App Store.
2. StepBet

You love cash prizes, right? That's what StepBet is all about. In the app, you select a game to guide your step goals, then bet some cash to join. The goal is to meet your fitness goals by betting on yourself. If you meet your step goals, then you walk away with cash, and if you don't, then you lose your money.
Think of it as a motivational way to earn money. The entire game period is about 6 weeks. Normally, the app lets you place a bet of around $40. Depending on the number of people that join your game, and provided that you meet your goals, you'll win back your bet plus profit.
StepBet currently has over 1 million players, paid $100 million+ to players, and registered over 198 billion steps taken.
Sign up today and become a StepBet user by downloading the app on Play Store or App Store.
3. Charity Miles
Looking to participate in a charitable cause but don't have enough finances? Worry not, at Charity Miles even though you won't earn cash, you get to donate your rewards to charity without spending money.
You earn from activities such as running, cycling, and indoor workouts. With this app, you can contribute to charities such as Feeding America and Habitat for Humanity; as such, you contribute positively to reducing the effects of famine and homelessness respectively.
Download Charity Miles today and be part of the real change.
4. Win Walk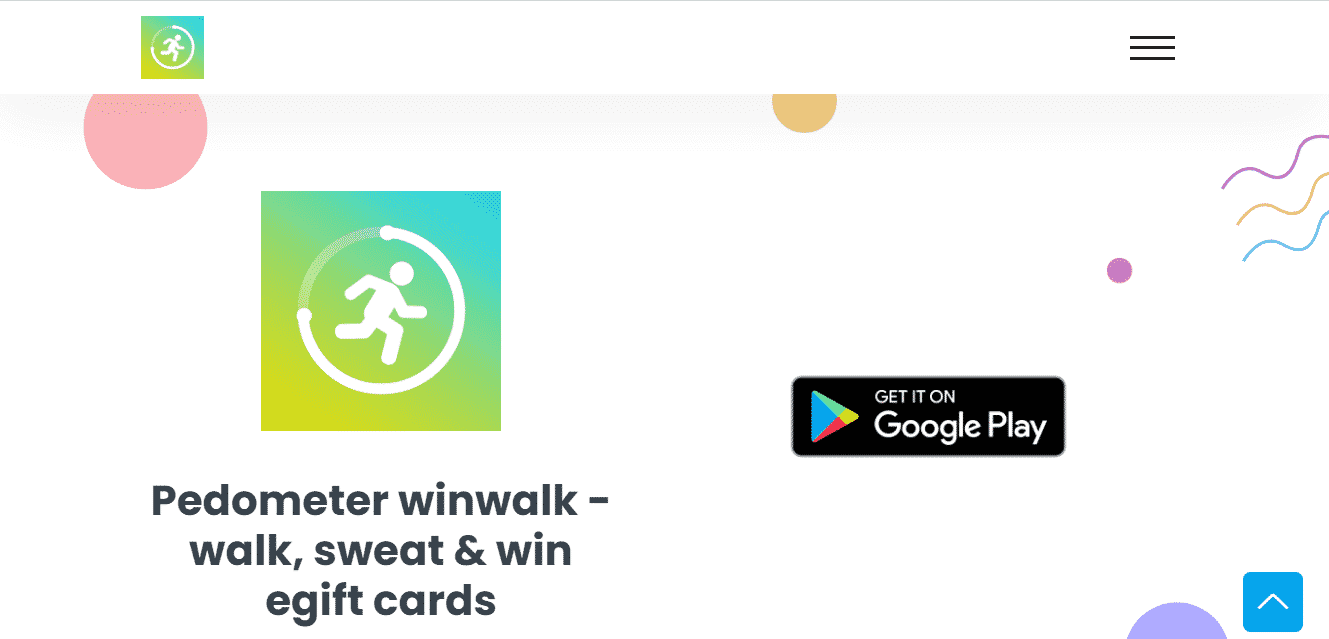 Similar to other get-paid-to-walk apps, Winwalk tracks your walking steps and lets you earn points. However, unlike other apps, this platform is flexible as it doesn't require you to log in, use your email, or switch on your GPS. The downside is that Winwalk is available for Android devices only.
Every 100 steps are worth one "coin" which you can redeem for e-gift cards from popular retailers like Amazon, Walmart, Starbucks, and Target. That said, Winwalk has a daily limit on the amount of "coins" you can make currently 100 coins. This directly translates to a limit of 10,000 steps in a day.
Join the Winwalk movement today and convert your steps into cash.
5. FitFetti
Ever lacked the right type of motivation to help you achieve your walking goals? Well at FitFetti you will get just the right type of motivation in addition to numerous incentives from multiple sponsors. Most importantly, upon signing up, a sponsor is assigned to you.
But first, you have to achieve your set step goals on a weekly basis in order to access locked items from other FitFetti users. If your sponsor pledges money, the pay is via Paypal at the end of the week.
Moreover, you also earn extra cash by referring your friends to join FitFetti.
Are you an iPhone user? Download the FitFetti app and sign up today.
6. Life Coin

Looking for an app that pays you for both walking and running? Life Coin's got your back. Every time you take a walk outside, the platform rewards you with "life coins" that you can redeem for gift cards, gadgets, sporting goods, and more.
Their e-gifts are good for shopping at retailers such as Amazon and iTunes. Additionally, you can go for PayPal gift cards.
Additionally, you earn more by becoming a Life Coin ambassador. Also, for every person that you refer to the app, you make 5 in-app coins.
Life Coin app is free and available on both Google Play and App Store.
7. Fit Potato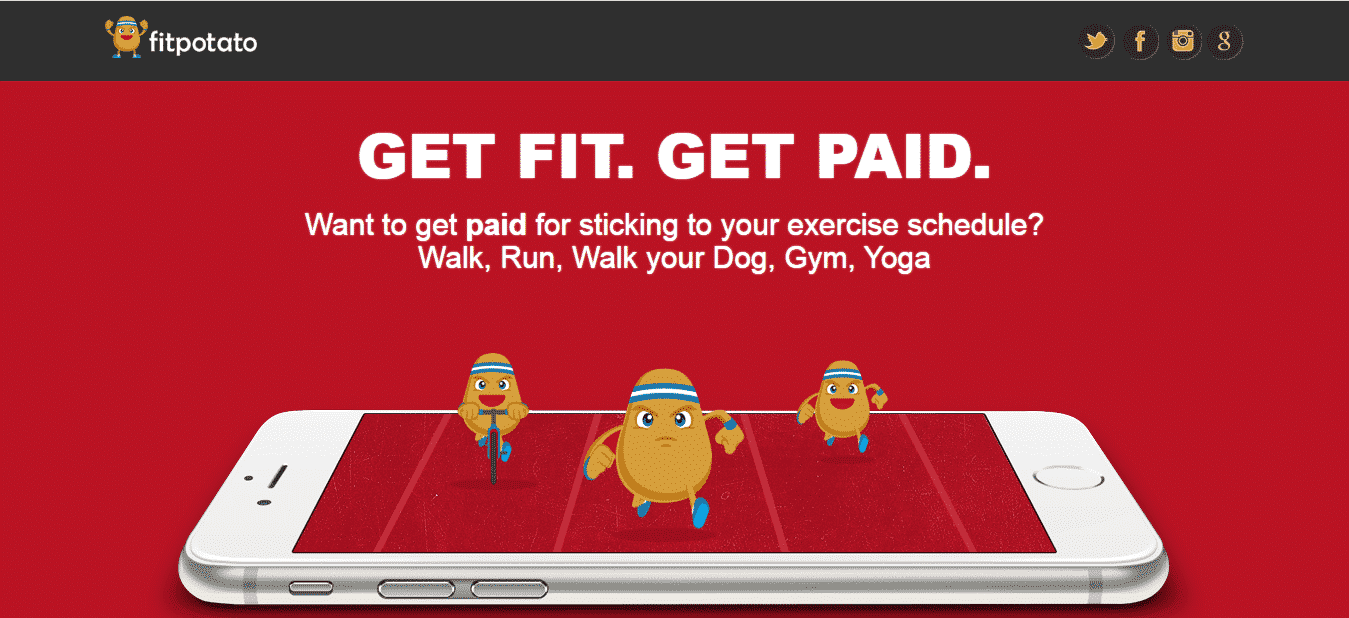 Tired of being called a couch potato? Get paid to walk today!
At Fit Potato they reward you for simply shedding that extra pound. To begin earning, you first have to sign up and join a fitness group. Then you are required to make a commitment to the step goals you hope to achieve during a specific week and pledge money.
Get fit by walking, running, taking your dog for a walk, yoga, or working out in a gym. Upon achieving your weekly goals you get to share the weekly prize with the other winners.
Sign up with Fit Potato and earn cash for staying fit now.
8. MapMyFitness
This app has a wide variety of fitness-related challenges like completing 1,020 KM in 2020. Such kinds of challenges posed by MapMyFitness are open to everyone with timely completion earning you prizes.
To ensure you stay focused on exercise, rewards come in the form of merchandise Under Armour- a sportswear company. Tracking is made easy by connecting your phone's sensor or Fitbit to the app.
MapMyFitness has a variety of other related apps such as MapMyWalk and MapMyRun that will eventually reward you for running and walking, respectively. Ready for a fitness challenge?
Download this MapMyFitness today on your Android or iOS device and challenge yourself.
9. Higi
This platform not only offers you rewards for walking but also ensures that your vital signs remain constant and at a normal range. Higi checks your body fat, weight, blood pressure, pulse rate, and oxygen saturation all for free while being paid as well.
However, to be eligible for a reward, you have to complete a set challenge whether it's on a weekly or monthly basis. For every step you take, Higi rewards you and integrates your activities with other get-paid-to apps such as MapMyFitness.
Register on Higi for rewards and constant health checkups.
10. Walgreens' Balance Rewards

Are you a Walgreens shopper? As the name suggests, this platform rewards you with balance points when you shop at retailers. Plus, the platform pays you to complete fitness challenges.
For example, you earn 20 balance points for every mile that you walk. Every 1000 points are worth $1, which grows up to 50,000 points worth $50. Also, the platform earns you extra points by logging your blood measurements and weight.
The condition set is that you have to sign up at the Walgreens Balance Reward account. With an account, you can download Walgreens mobile app and link it to a fitness tracking app or sensor. With rewards, you can shop at Walgreens or combine your points with coupons and discounts.
Save today by registering for Walgreens' Balance Rewards.
11. Sweatcoin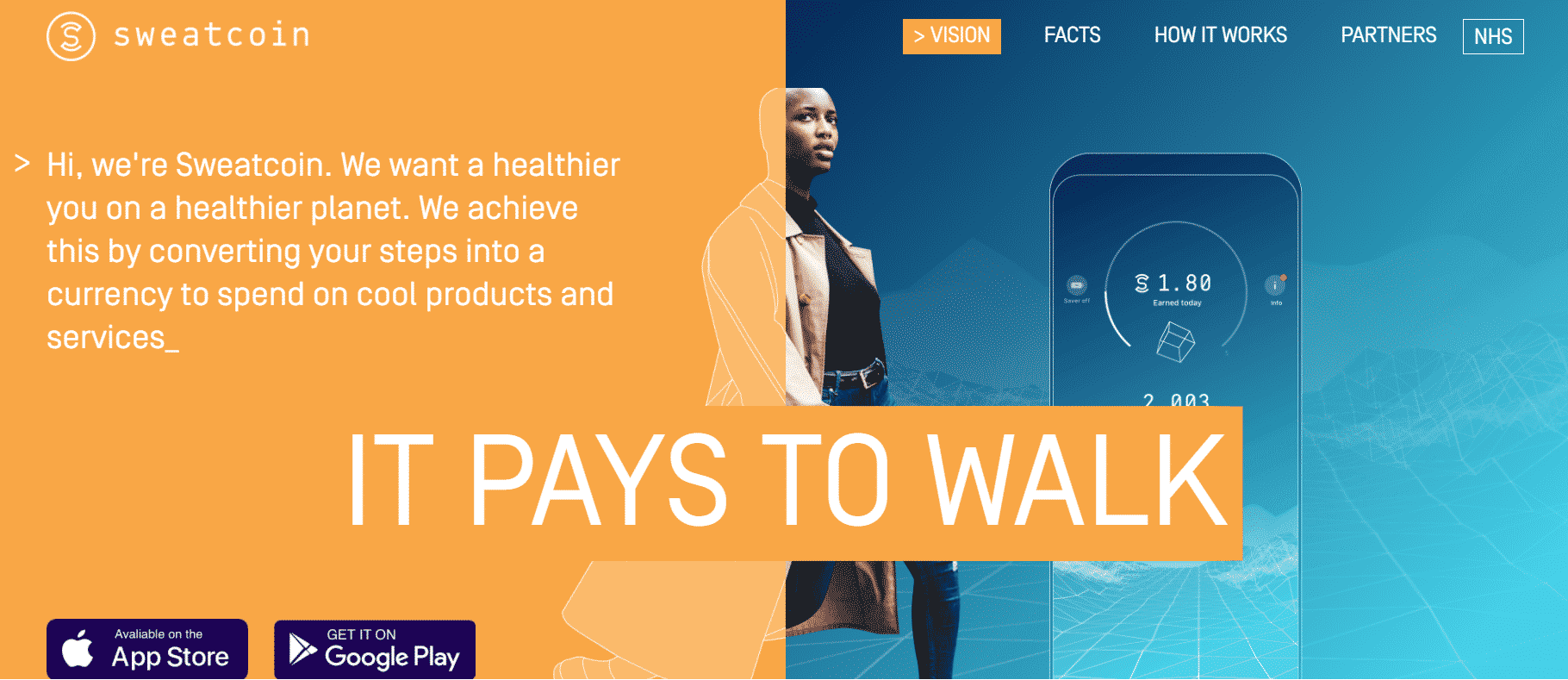 Sweatcoin also lets you earn cash for steps through walking, on the condition that your steps have to be recorded by walking outside, not indoors. For every 2,000 steps you make, sweatcoin converts them into an in-house cryptocurrency known as "sweatcoins".
Joining this platform on a free membership earns you 5 sweatcoins for every 5,000 steps you take. On the other hand, an upgraded membership earns 10 sweat coins per 10,000 steps. You can then redeem the sweatcoins for cash or gift cards.
20,000 sweat coins are worth $1,000 and you get paid to walk around via PayPal.
Sweatcoin is free for both Android and iOS users.
Additional Resource: Sweatcoin App Review.
12. Runtopia

Just like Sweatcoin, Runtopia app also pays you for any movement you make such as running, walking, and even biking.
Basically, you get paid for just keeping fit through different activities. However, with this app, you have to activate your GPS for it to track your movements.
You earn coins that can be exchanged for several rewards such as PayPal cash or gift cards. You'll also be marveled by the fact that Runtopia has a 4.5-star rating on Google Play from over 32,000 reviews. Moreover, it has over 1 million users. And, to earn more, you can upgrade to Runtopia premium and unlock more features.
Get started today by downloading on Google Play or App Store.
13. Yodo
Yodo is another fitness app that pays you to walk, hike, run, or more. Basically, you get paid for making any movement. To track your steps, you are required to download the app, install it, and activate your GPS. What I like about Yodo is that you get to win cash rewards.
You can also earn by sharing your sports history and through referrals. To get started, you can easily login with your phone number or your social media accounts such as Facebook and Google.
Love Yodo? Download it right away on Google Play or App Store.
14. BetWalking
BetWalking is yet another app that pays you to walk. If you an iPhone user, look away. This app is only available for Android users on Google Play. It, however, seems not to be a fan favorite due to lots of ads that jam up the platform. That said, the app does pay.
Every time you take steps, you generate "walking dollars" that are redeemable for a variety of rewards. Payment options include cash through Western Union and airtime recharges.
15. LYMPO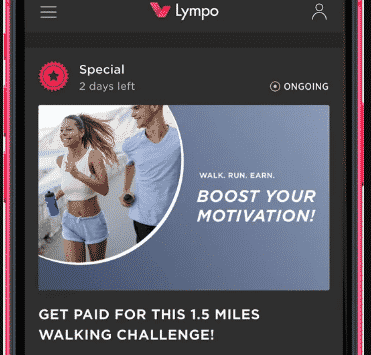 Are you looking for Apps like sweatcoin for iPhone? LYMPO is another great alternative to Sweatcoin and it's available for both iPhone and Android users.
You earn LYM coins that hold real monetary value. You can trade your coins at the LYMPO shop for amazing discounts or other products such as wireless earphones.
The app is known for its simple user interface that displays the challenge, reward, and health benefits. You earn for both indoor and outdoor exercises.
Additionally, the platform has a dog walking feature that allows you to track your path and get paid at the same time.
Download Lympo on Play Store or App Store.
Also Checkout: Get Paid to Drink In 2022
Get Paid to Walk Apps In the UK
Most walking apps seem to be only available to users in the USA. Luckily there is a variety of walking pays if you are in the UK. Here are some of the leading ones:
16. Earthmiles
With a 3.4-star rating on Playstore, Earthmiles is another great app that pays you to walk. This app is however geared towards you living a healthy life. As such, the rewards you earn are health products such as vegan foods and healthy snacks.
Each kilometer you walk gets you 1 earth mile, cycling rewards you 3 earth miles, while running gives you 5 earth miles. To track your steps, simply download Earthmiles for your iPhone or Android phone and link it to tracking apps such as Runkeeper, Mapmyride, Fitbit, or Misfit.
17. BetterPoints
BetterPoints is one of the best walking apps in the UK. Why it ranks among the best is due to the fact that you can earn through a variety of ways, not just walking. For example, it lets you sign up to cycling programs. This is good since you get to mix things up and earn.
What you earn is in-app currency, known as better points, redeemable for a variety of rewards such as vouchers that you can use to shop at Argos.
You can also earn through sharing your experience on Facebook and Twitter. More to this, if you beat your friends on leaderboards, you earn more rewards. Better points also let you donate earnings to charitable causes.
Get started by downloading BetterPoints on the App Store and Google Play.
You Might Be Interested In;
Get Paid to Walk Dogs
Dog walking is one of the easiest side hustles that you can engage in today. Whether you are a kid or a retiree looking for a job, this is an opportunity to earn for doing something that you already like.
Now, here are some apps where you can earn extra as a dog walker:
18. Rover
Are you a pet lover or more so, a person with a great fetish for cuddling with dogs? If so, then go ahead and sign up with Rover and get to sit dogs at your own flexible time. The app also lets you charge your own rates. With Rover, you also get paid to sit and walk dogs at night.
At the same time, Rover comes with other benefits such as insurance and veterinary aid for the dogs under your charge. Also, they manage your payments leaving you with plenty of time to go about your tasks.
Dog sitting on Rover earns you $20-$40 a night which tops up to about $1000 a month depending on the number of gigs you get. You can set your own schedule & prices. Your services are protected up to $1,000,000, with 24/7 support.
19. Wag
Wag brings together dog owners and dog walkers. Download and register on their app to get started. However, it's after approval that you will see the available jobs.
On average, Wag dog walkers earn about $12 plus tip for a 30-minute canine-walking session. This translates to about $25/hour.
The best part is that Wags donates some cash to dog shelters. As such, securing gigs via the app helps you earn while helping disadvantaged dogs too.
Sign up and download Wag app today!
20. Tailster
Tailster is another leading get paid walking your dog platform, but it works a little different from the rest. For starters, it helps you set up your own pet business. How? You set rates, services, and working hours right from the platform. Services include dog walking, sitting, grooming, as well as caring for cats.
For their services, Tailster takes 20% of your earnings and lets you keep the rest (80%). Payments on the platform average at about $8-$13 per hour for any service you undertake.
Become a dog carer on Tailster by signing up, or downloading their mobile app here.
Other Ways to Earn Cash for Steps
There are more available platforms that pay you for doing walking-related jobs besides just walking for fun. These jobs include doing deliveries or becoming a human billboard, advertising a company, and so on.
Favor– Become a "runner" and earn $10-$18 per hour by delivering meals and groceries to customers.
Shipt– Deliver items from grocery stores and earn $22 per hour.
Postmates– Keep 100% of the tips earned by delivering food and packages for customers. Average earnings come to about $10 per hour.
Gigwalk– Help businesses to collect data and receive payment through your PayPal account. Gigwalkers make between $4 and $12 per gig, and up to $50 on exclusive jobs.
Field Agent– Earn about $3-$12 per task by collecting photos, videos, and completing surveys on behalf of retail operations, products, and shoppers. Most importantly, Field Agent is among the best apps that pay daily.
BestMark– Complete an assignment as a mystery shopper, panelist, or auditor and get paid through PayPal, direct deposit, or gift cards. Pay is about $20 per hour.
Vitality– Earn for staying healthy by walking, cycling, and swimming. Rewards include Amazon Prime, Apple, and Waitrose & Partners gift cards.
1. Do the walking apps really pay you?
Walking apps have different unique ways of rewarding users who enroll or sign up with them. Some will pay you cash while others will reward you with points that you can redeem for shopping in popular outlets like Amazon and Walmart.
On others, you can redeem points for cash through PayPal. All in all, be sure to understand how a walking app rewards you before joining.
2. Can you really get paid to walk?
There exist dozens of websites that track your steps and pay you for them. Some get paid for fitness while others require you to undertake a job related to walking.
Delivery jobs earn you between $10 and $50 per task. On the other hand, fitness and health apps pay about $30 per year plus discounts and cashback on sports merchandise.
Apps That Pay for Walking: Wrap Up
Walking is a daily routine that you can turn into an income activity.
Apps that pay you to walk make it a fun way to earn extra cash. For those who don't love walking, seeing that there are cash rewards and gifts inspire you to set and meet goals.
Ready to turn walking into a side hustle? Sign up on any or several of the above apps.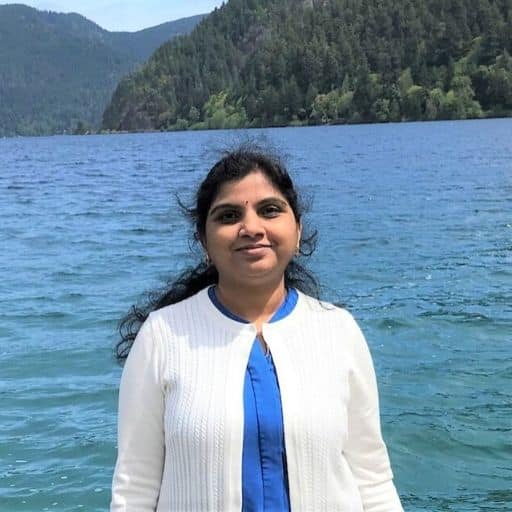 Hey Folks, thanks for stopping by my blog!
I'm Swati. I'm a mom, side hustler, full-time blogger and a millennial work-at-home expert featured on Forbes, CEO Blog Nation, Referral Rock, Vital Dollar, and Databox blog. I embarked on this impeccable journey to expose my online monetary experiences and help you all earn money from home. Come join my make money revolution and attain financial freedom – it's not as hard as you think!