Are you a stylist, entrepreneur, or a fabulous fast-hair grower researching on how to sell hair online free and kickstart a lucrative venture? Look no further!
This ultimate hair selling guide is to help you start a profitable business in the hair market.
With the rise of social selling, selling hair is more accessible than ever. Whether you're starting a full-fledged hair extension, bundles, or wigs business, or just looking to make extra income by selling hair for money, the virtual marketplace has endless opportunities for hair buyers and sellers alike.
And if you've ever wondered why human hair reigns supreme over synthetic alternatives, we've got the answers – Its natural look and versatility make it a top choice for wigs and extensions. From washing to dyeing and styling, it's like your very own hair, only better!
Before you unleash your inner hairpreneur and list your hair for sale, let's delve into the vital aspects of the trade that will set you up for success. Get ready to conquer the hair market with confidence and style!
Can You Sell Your Hair For Money?
Yes, you can sell your hair for money, especially if you possess long, healthy, high-quality, and uniquely colored hair. Hair manufacturers use such hair for making wigs, weaves, and hair extensions.
Additionally, individuals experiencing hair loss due to factors like aging or illness may also be interested in purchasing hair directly. In fact, selling your hair can be a way to earn money while helping others in need of natural hair products or solutions for hair loss.
Is It Legal to Sell Your Hair?
Yes, it is generally legal to sell your hair in most countries. However, some nations have laws that prohibit receiving monetary benefits from selling any part of your body, including hair.
Therefore, it is essential to check your country's regulations before attempting to sell your hair to ensure you are in compliance with the law.
How Much Can You Sell Hair For?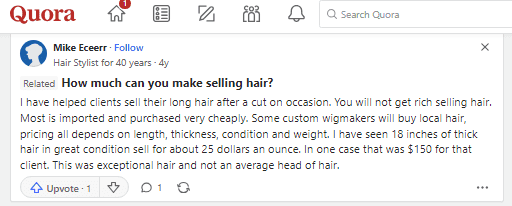 The amount you can sell your hair depends on various factors, such as its length, quality, and current market demand. Generally, longer and high-quality hair commands higher prices.
Potential earnings can range from $100 to $1,000+, with higher prices for exceptionally desirable hair.
Researching recent market trends and comparing prices on different platforms below will give you an idea of the potential earnings for your specific hair type.
How to Sell Hair Online Free?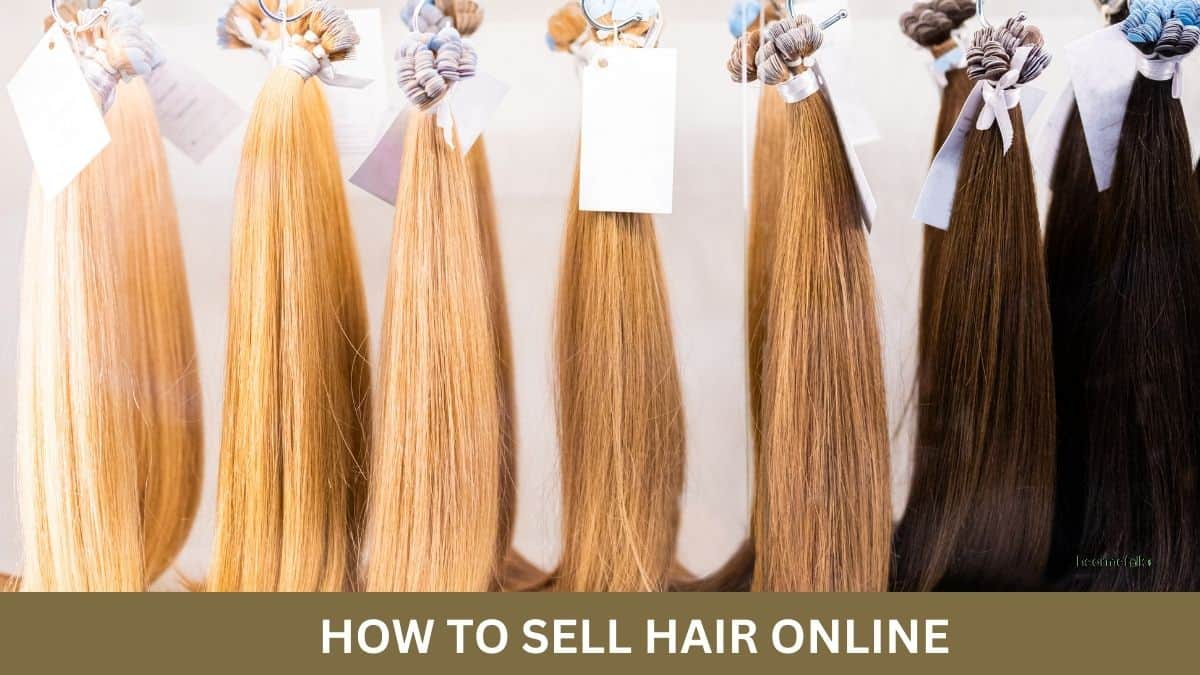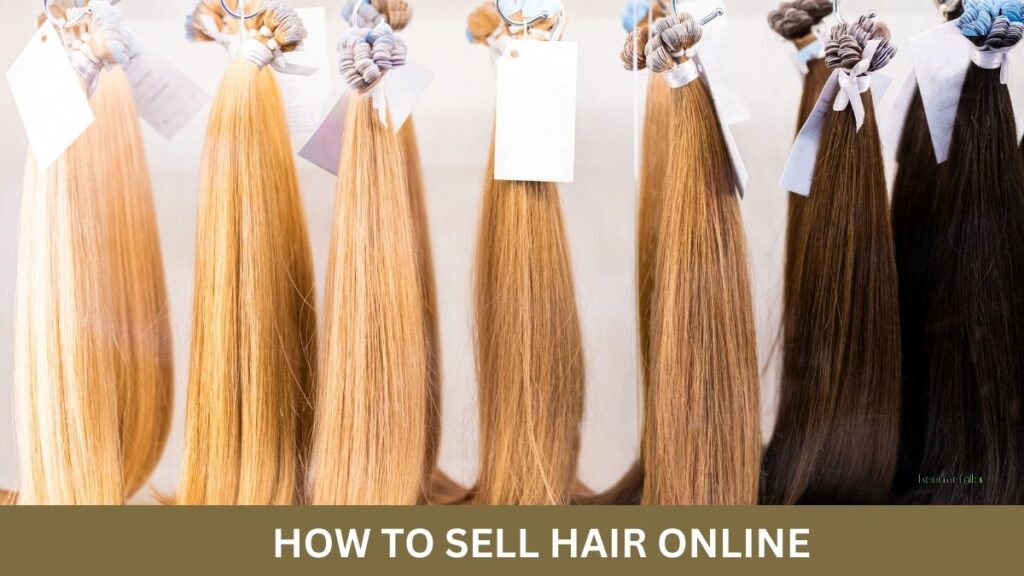 To sell hair online, research the hair market, hair buyers' preferences, and pricing to determine the worth of your hair. You also need to ensure your locks meet the desired length and quality as you choose a reputable online marketplace.
To get buyers online, add high-quality photos and craft a detailed and appealing description, including hair length, weight, and color, and wait for potential buyers to make contact.
a) How to Sell Hair Extensions?
To sell extensions of your hair, know the popular styles, trends, and target customers. Also, ensure your hair extensions meet the quality standards such as good elasticity, shine, and smoothness.
Next, utilize existing online marketplaces to showcase and sell and consider offering a variety of hair extension types, lengths, colors, and styles to appeal to a wider range of potential customers.
b) How to Sell Hair Bundles?
To sell bundled hair, start by sourcing clean high-quality human hair. Sort to remove any damaged or unusable strands, clean, and align in the same direction to ensure and bond together at the top to create a weft. Further, style and process the wefts to achieve different textures, such as straight, wavy, or curly.
What are hair bundles? These are packages of hair extensions containing multiple wefts or tracks of hair, each sewn or bonded together at the top. Each bundle typically weighs 3.5 oz. or 100 grams, and is available in various lengths, ranging from 8" to 30".
Places That Buy Hair for Wigs: Wig Companies That Buy Hair
To sell hair, start by marketing to people and companies that buy hair for wig making. Such buyers also include hair product sellers who need human hair for product testing before market release. You can find these buyers on:
1. World of Wigs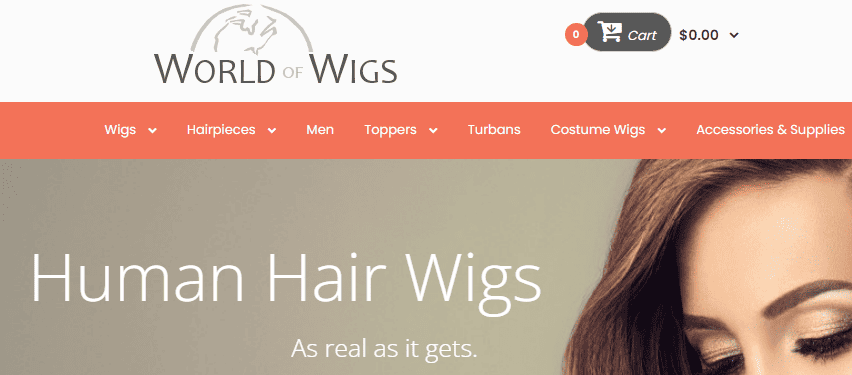 For over 5 decades, World of Wigs has been a reputable provider of quality wigs, hair products, and services. They also offer a unique opportunity for individuals to sell their hair.
To sell hair for wigs to World of Wigs, sellers need to follow their specific cutting instructions, ensuring the hair's proper condition for sale. By adhering to these guidelines, the company ensures gets hair that's in optimal condition and suitable for use in high-quality wigs and hair products.
The company pays between $3 and $5 per ounce of hair.
Ready to sell your hair? Checkout Worlds of Wigs Requirements.
2. Etsy
This is a well-known e-commerce platform focused on handmade and vintage items, making it a great option for selling unique hair products and human hair extensions. The site provides a niche audience of buyers interested in unique and one-of-a-kind hair products.
Sellers can create their own online shop on Etsy, allowing them to showcase their hair creations with detailed descriptions and high-quality images. Additionally, Etsy offers a secure payment system, providing buyers and sellers with added protection during transactions.
A casual look at the marketplace shows bundle dreadlocks fetching high places at $100+. Red hair also sells well at $200 or more.
Create a Hair Seller Etsy Account
3. BuyAndSellHair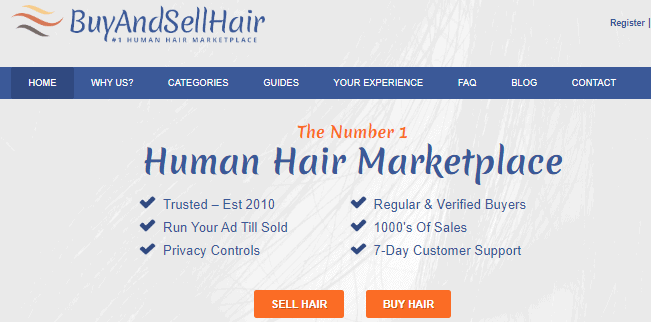 BuyAndSellHair.com is an ads website dedicated to selling human hair. Listing your hair on the site ensures exposure to a vast audience, leading to higher prices for your hair compared to other platforms.
The site's reputation as an established website further ensures a safe and smooth transaction. As a seller, you pay a one-time listing fee of $14.50 for three months, and there are no commissions for completed sales.
Also, sellers can create listings with ease and access a supportive network with real user reviews to guide them through the sales process.
From the featured sellers on Buandsellhairl.com, prices range between $150 and $1,000 for hair of 4 inches or longer.
4. Online Hair Affair
Online Hair Affair's primary goal is to provide a platform where quality hair providers can offer their hair at the best prices. Both men and women can buy and sell hair, including virgin hair, long hair, short hair, and hair treated with color.
Sellers make comprehensive listings with images and descriptions to attract potential buyers seeking various hair types.
Featured listings on the website show hair prices ranging from $275 for brunette's virgin hair to $697 for virgin brown hair.
Post a Hair Ad on Online Hair Affair
5. SellHairStore

SellHairStore.com is among the biggest worldwide marketplace dedicated to selling human hair. It provides a place for sellers to reach far-away buyers, ensuring the best possible price for their hair.
By selling your hair on SellHairStore.com, you not only gain financially but also help others in need, such as cancer patients.
Are you selling red hair? This is your site. Prices for human hair on the platform range from as low as $175 for hair extensions to as high as $1,500 for red-golden Irish virgin hair.
Create a Hair Ad On Sell Hair Store
6. HairSellOn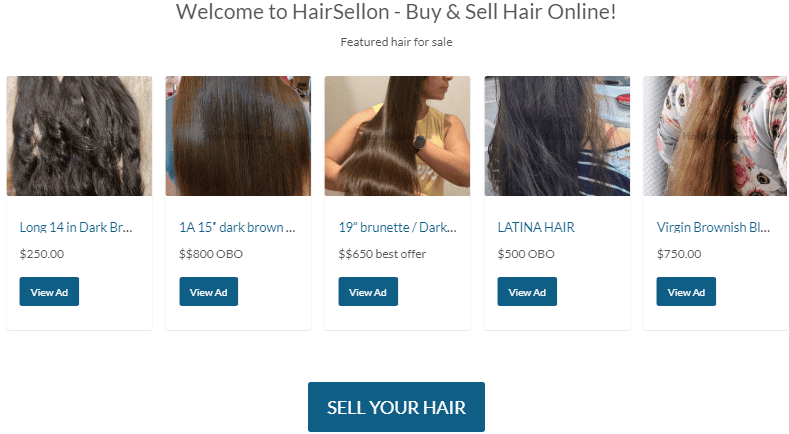 HairSellon is a UK-based platform that serves as an online marketplace connecting hair buyers and sellers. Here you get individual sellers, professional hair styling companies, charities, and medical services that need human hair.
By offering a responsible sourcing option, HairSellon ensures a smooth and efficient trading process for both sellers and buyers in the industry.
To determine the value of your hair, the platform offers a unique Hair Price Calculator Tool, which considers factors like length, thickness, color, and whether it is virgin or non-virgin hair.
7. eBay
To sell my hair on eBay, all I need is to familiarize myself with eBay's policies governing the sale of hair and related items. In particular, the policy selling body parts states that "items containing human scalp hair are allowed (such as lockets or wigs)".
Now to sell your hair on eBay, provide clear and high-quality photographs of the human hair you intend to sell when creating your listing. These images should accurately showcase the hair's length, color, and overall condition.
To set a competitive and reasonable price, conduct research on similar listings already present on eBay. Also, consider factors such as the hair's length, quality, and current demand in the market to determine an appropriate price point.
8. Gumtree (UK)
Gumtree is a UK-based online market, offering a wide range of products for buying and selling, including human hair, vehicles, and furniture. It provides a platform for sellers looking to reach a UK-based audience interested in hair extensions and full locks of natural hair.
Prices on the site vary with a mix of human and synthetic hair priced as low as £30, while brunette human hair fetches £450.
Gumtree offers various communication options as well as payment methods for ease of trading.
9. Mercari
This is a Japanese-based e-commerce marketplace where you can declutter everything from used clothes, hair products, accessories, and raw human hair.
Mercari offers a secure messaging system for buyers and sellers to communicate and negotiate terms comfortably. Additionally, the platform provides a shipping option, allowing sellers to reach a wider audience beyond their local area.
10. Carousell
Carousell is a Sinapolean-based marketplace that accepts listings from around the world. It is a good place to attract hair buyers interested in quality custom-made European and black wigs.
For sellers offering premium hairpieces, Carousell provides a tailored platform to showcase their products effectively. It comes with features like social integration, enhancing the visibility of sellers' listings.
With a community of wig enthusiasts and buyers seeking the best hair solutions, I recommend the site for sellers targeting the Asian market.
The site gets an average 3.1-star rating on TrustPilot and comes in a browser, iPhone, and Android platforms.
Where Can I Sell My Hair Locally? [Sell Hair Near Me]
For a secure and fast way of selling human hair, you can opt to sell your locks, extensions, and hair strands in person. Apart from marketing to family and friends, you can look into the platform below for quick direct sales.
11. Craigslist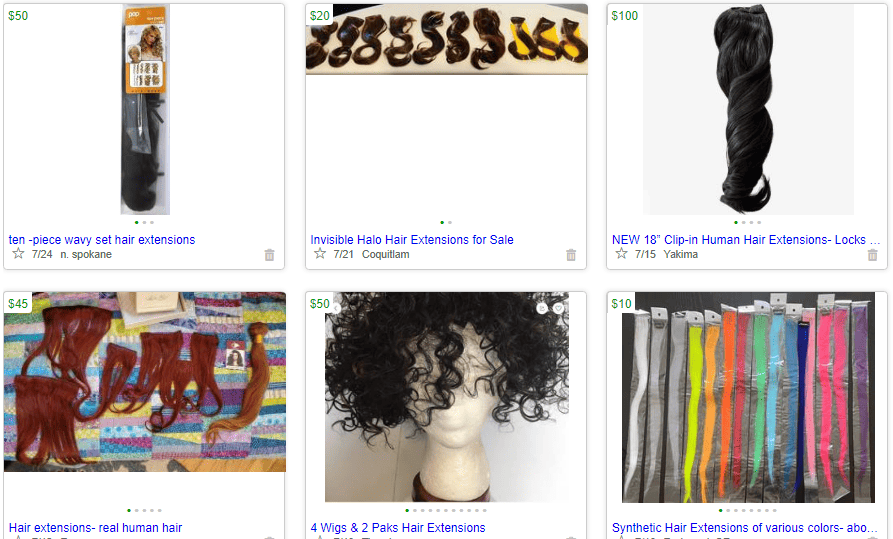 This online classifieds platform allows users to buy and sell various items, including human hair, wigs, ponytail extensions, and even pictures of feet. As one of the oldest and most widely used online marketplaces, Craigslist provides a large audience of local potential buyers looking for hair extensions, wigs, or natural hair.
However, it's important to exercise caution when using Craigslist for selling your hair online since transactions are typically conducted locally. Buyers and sellers are advised to arrange face-to-face meetings.
Nevertheless, sellers should create detailed listings with high-quality images and clear descriptions to attract genuine buyers.
Human hair prices on Craigslist start at around $45.
How to Sell Pictures Of Your Feet On Craigslist
12. Bloomsbury Hair
Bloomsbury specializes in non-surgical hair replacement solutions, catering to individuals experiencing hair loss. While they primarily provide hairpieces and wigs for customers, they also accept hair donations or purchases from those willing to sell their hair.
Sellers can submit their hair to Bloomsbury for evaluation, and if it meets the required qualifications, they may receive compensation for their hair.
Bloomsbury emphasizes honesty and empathy in their approach to hair loss solutions, creating a trustworthy and supportive environment for in-person sellers looking to part with their hair for a meaningful cause.
Payment is via PayPal only with a minimum requirement of 18" bundles at £15 ($19.25) – £150 ($192.50).
13. Letgo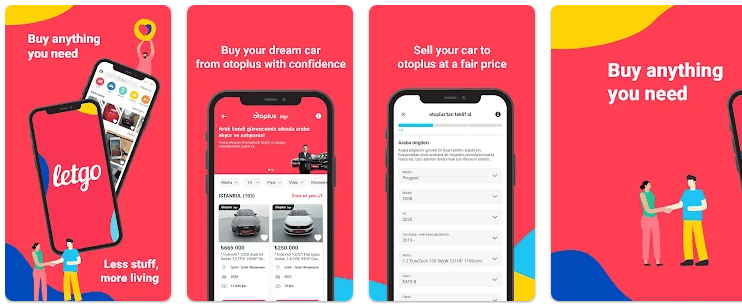 Letgo, currently owned by OfferUp, is another local classifieds app that facilitates buying and selling various items, including human hair. When selling on the site, start by creating a detailed listing for your hair.
The listing should include clear photographs showcasing the hair's length, color, and overall condition. Also, disclose any treatments the hair has undergone.
If you want to sell hair, determine a suitable price for your hair, taking into consideration factors like length, color, texture, and condition.
Lastly, the transaction should occur in person with the buyer, ensuring to meet in a safe location during the exchange process.
Download Letgo Here to Start Selling
14. Banbury Postiche
Are you a hair seller in the UK? Banbury Postiche is a renowned provider of hair products, wig-making materials, and training to the hair market worldwide with over 100 years in business.
Here, you can sell hair for wigs, hairpieces, and hair extensions, as well as access to professional wig cleaning and redressing service.
The shipping process guarantees that all requests are sent out within 2 days. To reach overseas sellers, the company has partnered with reputable carriers like DPD, UPS, FedEx, and DHL.
Banbury Postiche pays £3 ($3.85) to £5 ($6.42) per ounce of hair.
15. OfferUp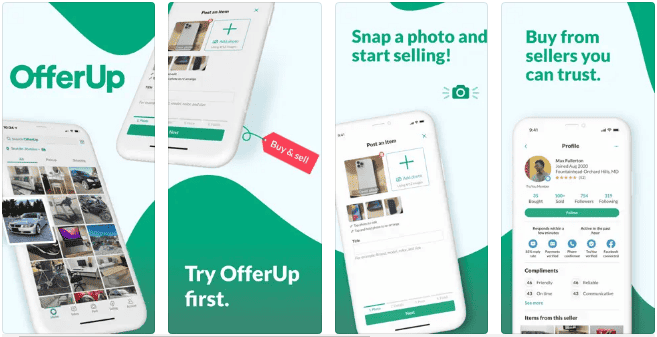 OfferUp, the current owner of Letgo, is a user-friendly app and website that connects local buyers and sellers, making it a convenient option for selling hair to a local audience.
The platform is known for its simplicity, allowing hair sellers to make ads quickly. Sellers can showcase their hair's quality with clear images and accurate descriptions.
Additionally, OfferUp offers messaging functionality, enabling seamless communication between sellers and buyers to discuss details, negotiate prices, and arrange safe meetups or payment systems for transactions
Prices of human hair on OfferUp range from $50 to over $100 according to quality and uniqueness.
Download OfferUp on Google Play or Apple Store
16. Facebook Marketplace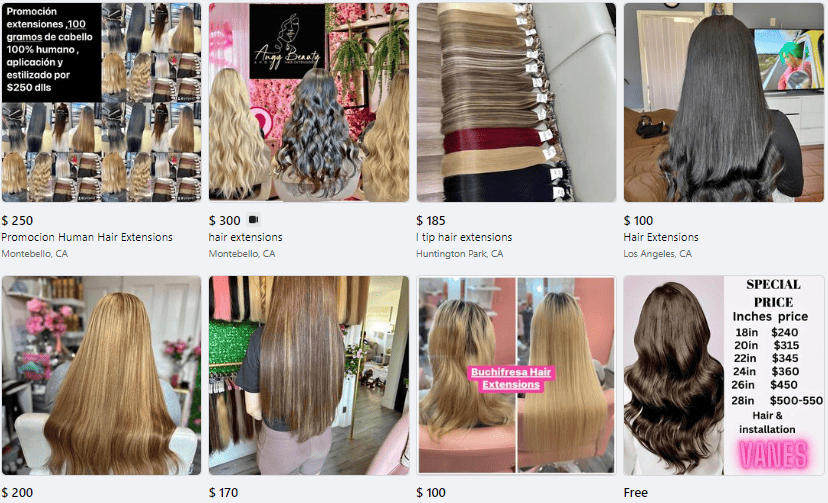 This is a widely used platform for buying and selling a vast array of products, including human hair. Leveraging the immense user base of Facebook, sellers can reach a broad audience interested in hair extensions, wigs, or natural hair.
Creating a listing on Facebook Marketplace is simple, and sellers can add multiple images and comprehensive descriptions to showcase their hair's quality and characteristics.
What's more, parties can communicate through Facebook Messenger, streamlining the negotiation and transaction process. I also like that FB Marketplace allows buyers to filter listings for location and price.
Check out this post of a person selling her hair
How to Sell Your Hair in Person?
If you are thinking "I want to sell hair in person" start by finding a cancer or medical charity, or hair products manufacturer in your area. Approach them for a paid hair harvest.
Keep in mind that there are preferences on the type, length, and condition of hair for sale. For example, most wig manufacturers require hair that is at least 18 inches long. More to this, your hair needs to be root to tip perfect or bound in full and healthy locks.
So, depending on the condition of your hair, the buyer may request that you grow it longer, bleach out synthetic color, or style it in a specific way. The requirements have to do with the final recipient's expectations.
After you meet the requirements, your hair will be cut at the appropriate length and weighed, then you'll get paid.
How Much Can You Sell Your Hair For Per Inch?
Depending on the thickness of your hair, the price per inch can be anything between $1.75 and $10.5+. However, most marketplaces include additional attributes to determine your hair's value.
For instance, HairSellOn's Hair Price Calculator determines the value of hair based on attributes such as thickness, color, and type. Accordingly, hair measuring 10 inches in length, with a thickness of 3 inches, black color, and categorized as virgin hair, has a value of $167 USD.
On the other hand, hair measuring 15 inches in length, with a thickness of 2 inches, blonde color, and classified as non-virgin hair, is priced at $197.
According to Hoodmwr.com's calculator, hair measuring 20 inches in length, with a thickness rating of 3.5, brown color, and classified as virgin hair, is valued at USD 343.
For a different scenario, hair measuring 30 inches in length, with the same thickness and color, and also considered virgin hair, holds a value of 524.4 US Dollars.
Tips to Sell Your Hair
Selling hair isn't difficult but getting the maximum dollar value for your locks requires expert knowledge of the process. You need to know which type, length, and amount, of hair sells best. The following pointers are a great guide to selling hair for cash online:
1. Reduce Heat Styling
To increase the value of your hair, it's essential to adopt practices that preserve its natural beauty and health. One of the most crucial steps in this process is to avoid using tools such as dryers and hair irons.
These styling tools subject your hair to high temperatures, causing damage that can significantly diminish its worth.
Embracing your hair's natural texture and minimizing heat exposure in the months leading up to the sale will help maintain its pristine quality, making it more desirable to potential buyers.
2. Adopt Proper Hair Washing Techniques
Ensuring your hair remains in excellent condition involves not only avoiding damaging heat styling but also using the right hair-washing techniques.
Many commercial shampoos contain sulfates, harsh chemicals that can deplete your locks of their natural oils, leaving your hair brittle and prone to the risk of breakage.
To maintain its shine and vitality, opt for sulfate-free shampoos and wash your hair two to three times a week. This gentle cleansing approach will keep your hair healthy, vibrant, and valuable.
3. Maintain Good Overall Health and Hair Quality
The quality of your hair is intimately tied to your overall well-being. A healthy body supports the growth of strong, lustrous hair. As you prepare to sell your hair online, it's crucial to pay mind your overall health.
Adopt a balanced diet rich in essential nutrients, exercise regularly, and drink plenty of water. A well-nourished body will produce vibrant and glossy hair, increasing its appeal and value in the market.
4 .Maintain the Ideal Hair Length
To make money selling hair, length matters. Growing your hair is a critical step in maximizing its value. Longer hair often commands higher prices in the market, as it provides more versatility for potential buyers.
Most importantly, avoid getting layered haircuts, as most buyers prefer hair with a uniform length at the ends.
Instead, opt for regular trims to prevent split ends and encourage strong and lengthy hair growth, ensuring your locks reach their full potential value.
5. Time Your Haircut
To ensure you get the best value for your hair, hold off on getting a haircut until you find a buyer. Freshly cut hair retains its natural oils, giving it a radiant and healthy appearance that appeals to buyers.
In contrast, when your mom cuts your hair for an extended period tends to dry out and lose its shine, potentially reducing its market value.
Hair buyers advise that you wait for the right moment to cut your hair. That way you can present buyers with a product that exudes original shine, beauty, and allure.
6. Identify the Ideal Online Marketplace
Conduct thorough research to explore various platforms dedicated to hair transactions. Look for reputable websites with a record of successful business and satisfied users.
Consider user-friendly interfaces, listing options, seller protection, and secure payment methods when making your decision. Also, compare fees, commissions, and terms and conditions offered by these platforms.
Lately, use different "sell your hair calculator" online tools to determine the best value range of your hair before you approach in-person or online buyers.
7. Craft an Irresistible Listing
Your online ad is crucial in attracting buyers to make cash selling hair. So, use high-quality photographs of your hair from different angles and in excellent lighting to showcase its texture, length, and color accurately.
In addition, transparency is key, so openly share your hair care routine, the products you use, and any lifestyle habits that contribute to its overall quality.
Further, provide detailed information about your hair, including its length, thickness, natural color, and any unique characteristics it possesses.
Lastly, set a competitive and reasonable price based on other listings in your platform of choice.
8. Finalizing the Transaction
Once potential buyers express interest, communication becomes vital in finalizing the sale. As such, respond promptly to inquiries and provide any additional information or photos requested.
Negotiate the terms to sell your hair online, including the price, shipping arrangements, and payment method. At every step, ensure mutual agreement on all details before moving forward to the next level.
Remember to protect your privacy and financial info. Ultimately, once the deal is sealed, handle the packaging of your hair with utmost care to ensure its safe delivery to the buyer.
What Is The Best Place To Sell Hair Online? [Final Thoughts]
You can get cash for your hair from people experiencing hair loss from medical conditions like cancer and alopecia. Medical charities are also known to buy hair for donations.
To sell to buyers across the country or overseas, you can post hair ads on sites like buyandsellhair.com, hairsellon.com, eBay, Etsy, and Gumtree.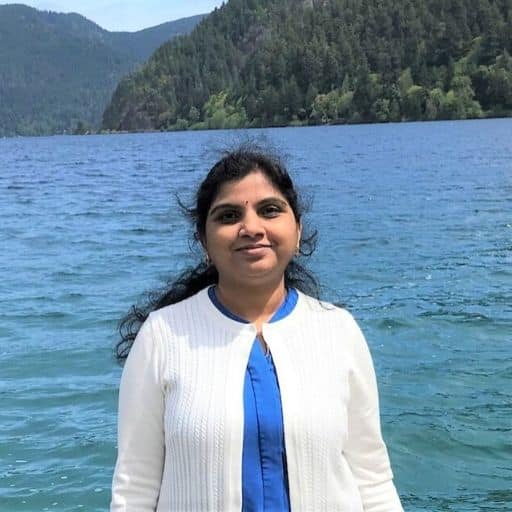 Howdy Folks, thanks for stopping by my blog.
I'm Swati, a proud mom, dedicated side hustler, full-time blogger, and a recognized millennial work-at-home expert. My expertise has been featured on esteemed platforms such as Forbes, CEO Blog Nation, Referral Rock, Vital Dollar, Databox blog, and many more. I have embarked on this incredible journey to share my firsthand experiences in the world of online income generation and to assist all of you in earning money from the comfort of your homes.
Join me in my mission to revolutionize the way we make money and achieve financial freedom. Trust me, it's not as challenging as it may seem!
Together, let's explore the boundless opportunities and pave our paths towards a prosperous future.