Trying to Profit from an Amazon Affiliate Niche Site isn't easy if you don't know what you are doing.
It's genuinely no wonder that most people who endeavor to Make Money from Affiliate websites give up just when they're about to achieve success. They fail to realize that…
"Success is what happens after you've survived those failures"
Frankly speaking, being able to create a conversion proven Amazon Affiliate Niche Website, that's ready to generate commissions on autopilot, isn't tough! It requires diligence, patience, strong determination to succeed, and overcome failures. Everyone has their own style of tackling things.
For some success comes fast… for the rest, it might take ages. I firmly believe success lies in your approach.
Today, I'm gonna guide you through that exact approach (a complete step-by-step guide to succeeding with Amazon Affiliate Marketing).
And, I want you to read till the end.
What is the Amazon Affiliate Program?
Affiliate marketing is nothing but promoting products sold by others in order to drive a sale and earn money by the commission. In this case, you will be earning money from the products sold on the Amazon marketplace. But, why you should do Amazon Affiliate Marketing?
The #1 reason is that it's the most trusted, all-in-one marketing platform that's "Highly Profitable."
Okay, Let's get in detail!
Amazon.com is the single largest e-commerce retailer in the world, and millions of people around the globe enjoy its unparalleled quality of service and reach on a daily basis.
Moreover, people all around the world are using Amazon to grow their businesses.
Every year Amazon pays Billions of Dollars of revenue to affiliates, who bring in sales for this E-commerce giant.
That said, you can use this to your advantage by promoting products from Amazon and make affiliate commissions.
Becoming an Amazon affiliate is as simple as going to the Amazon homepage and logging in to your Amazon account, then scrolling all the way down to the "make money with us" section and clicking on "become an affiliate".
It will only take you about 5 to 10 minutes of your time. You will simply need to login to your Amazon account, then sign up for the Amazon associates program and you are good to go! Besides, it is really, really easy to integrate the affiliate links to your affiliate sites!
What's more, you will be able to promote stuff from broader categories such as Amazon gift cards, digital music, and Amazon devices, with commissions ranging up to 10% depending on the category!
It doesn't matter if you are promoting treadmills and somebody instead buys a TV through your Amazon affiliate link, you make money off each sale! Amazon tracks this by a special code from the URL link on your website.
This means that if someone ends up making a $5,000 purchase through a link leading to a $10 product, you still make a commission off that $5,000 sale!
By doing so, you can make a steady passive income for yourself, without having to create or stock products!
Here are a few Examples of Successful Amazon Affiliate Websites
ThisIsWhyIAmBroke.com – That makes around $20,000+ per month just from Amazon (source)
TheWirecutter.com, TheSweetHome.com – These two sites combined made $150 Million in e-commerce sales In 2015 (source)
Bestreviews.com
Outdoorgearlab.com
TopTenReviews.com
and many such similar sites that make several thousands of dollars each month. Just imagine how much you could make if you can build a few High Potential Amazon Niche Sites.
Disclaimer: I am an affiliate of Bluehost, so I will receive a commission if you sign up through my referral link, at no additional cost to you.
The Ultimate Guide to Building a Profitable Amazon Affiliate Niche Site
Step #1 Find High Potential Amazon Niche Products
To make money with Amazon as an affiliate you'll need to find those amazing products from the Amazon marketplace. Above all, your affiliate success solely relies upon the product you choose. So you should be pretty cautious while filtering the products – that are worth promoting.
With over a million products it's extremely hard to find a good product. But this can be smartly done basically in two methods..so take a pen a paper, relax and make a note of the amazing tips coming your way.
Method 1: From Amazon Marketplace –
Look for the ones that
Falls in 8% or 10% commission category
At the beginning of 2017, Amazon changed their "volume-based" affiliate commissions structure to a "category-based" structure.
As per the new structure, the price of the product you're gonna spend time promoting matters more than ever!
Here's an example of a perfect category you can start promoting today!
Take a look at this, Revised Amazon Affiliate Commission Rates for a clear picture.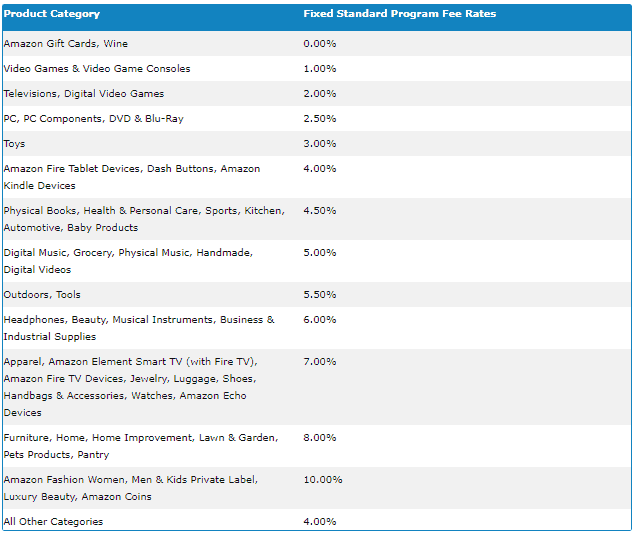 As I said earlier, Amazon doesn't care anymore for the "volume-based" commission structure! So unlike earlier, your commission no longer depends upon the number of sales you generate.
There is no use, wasting your time, promoting those low-ticket products! Straightaway target those high-ticket affiliate products.
Higher-rating tag screams "great product".
It is pretty obvious right!
…no one would ever want to purchase a mediocre product, especially when there's a multitude of highly rated products floating around.
So, if you find a 5-star rated product that also satisfies the rest other criteria..it's gold!
Avoid ones with more than 200 reviews!
This concept is quite similar to keyword selection for Ranking your posts in Google.
You need to target products with no more than 200 reviews.
Anything above that….. is a Red! – indicates "saturation'
Wait! Go!! for the ones around 100-125 reviews.
Also, Recommend Alternate/Secondary Products
You definitely don't want your visitors to get away with a single purchase.
Weave content around your major product…recommend others as well!
Who knows..who connects with what?
Everyone has a different angle towards perceiving things.
Method #2 Reverse Engineering with Keyword Research
The most popular way to arrive at the right products for your Amazon Affiliate websites is to find at least "5-10 Relevant Niche Keywords" for the Amazon affiliate product of your choice.
The easy way to find the most lucrative keywords is to use a paid keyword research tool. (Do you think, you'll be shown the same set of keywords as that of a paid member? I don't think so !! The marketers aren't fools, I believe)
The keywords are the foundation stone for a Successful Affiliate Niche site. All I want to suggest is, buy the keyword package, (for a month at the least)! I bet you won't regret it.
There are multiple tools out there…
Since Google Adwords is not free anymore and doesn't offer an exact search volume, I wouldn't recommend it anymore.
The one that I use is Keysearch (starter plan, usually $17/mon). I sometimes cross-check the results with either Jaaxy (30 searches for free) or Kwfinder. You can choose, any of these….they are definitely affordable, valuable and provide great results which indeed is necessary to easily rank your posts in the search engines.
If you prefer to go for Keysearch.. don't forget to avail of a 20% DISCOUNT, with my link and this coupon code.
KSDISC
The criteria for choosing a profitable keyword are:
Look for Buyer intent keywords
Buyer intent keywords are those long-tail keywords (phrases) which buyers type into search engines before they make the purchase.
For example, you might want to sell drones then you need to look for keywords like "drones review", "best drones", "drones under $500", "drones for sale" and so on.
For more organic traffic, it is suggestible to narrow down and look for 'buyer intent keywords in the sub-category'.
If you're lucky enough, you might land on some golden keywords with a high search volume. Save them in an excel sheet for future projects. The more the better.
Psst! find as many as you can, in case you don't want to continue the plan!
How to find whether the keywords are less competitive?
Keep that detective cap on.
One way is, type the keywords you've just found in Google Search.
Carefully, look through the top 10 results showing up on the first page of Google. If you find some popular websites, niche sites, and the e-commerce giants like Amazon, Walmart, Target…go back and repeat!
If you don't and come across sites like Youtube, Quora, or Yahoo answers then you're good to go!!
Pre-defined Search Volume and Low Difficulty
Higher search volume doesn't mean higher traffic to your site. The higher the search volume, the harder it is to rank your site in the search engines. The number of sites ranking for that keyword increases substantially with the number. So, look for a safe number!
By re-defined volume, I meant anything around 1000 search volume and 25 difficulty score (which means easy to rank in the search engines).
Once, you've successfully found those amazing keywords that satisfy all the above criteria..go ahead and build your affiliate niche website.
Step #2 Build Your Affiliate Niche Site
When it comes to money-making, there's none like a SELF- HOSTED WordPress Website.
Why you need one?
…..because you require one to broadcast your opinions and publicize those amazing products.
More importantly, you need one to sign-up as an Amazon associate.
So go ahead…
Start one…It's pretty simple & takes no more than 10 mins!
Choose a 'Product Oriented' DOMAIN NAME:
Always aim for a .com or a .net top-level domain. That said, it's a "NO" to the rest!
If you want to limit the website to one particular niche – choose a product-related domain name.
For example: If you want to sell drones, try to get dronereviews.com, allaboutdrones.com, bestdronestobuy.com, or something with the 'product name included' in the domain name.
Next comes – WEB HOSTING!
Once you come up with a domain name for your blog, you need to host your blog.
A self-hosted WordPress blog gives your full control over the functionalities!
You can go for either Bluehost or Siteground
[Psst! If you sign up using my link, you can have your own blog for just $3.95/month through Bluehost instead of the regular price of $7.99/month. That's 50% off the regular price. You'll also get a FREE domain for one year, WordPress Hosting, a 30-day money-back guarantee, and more. That's a lot of great incentives for just $3.95/month.]
Simply choose the basic plan (if you want to maintain just 1 website) and get the payment done.
Go to c-panel, install WordPress from your dashboard.
Once done login with your admin URL: http://yoursitename.com/wp-login
CHOOSE a THEME
Please, please if you're serious about making money, I want YOU to get a paid theme. Not just any theme. In this case, it would be 'THRIVE THEMES'.
Do you know, thrive themes are conversion-focused and can grab your reader's attention with their amazon call-to-action buttons.
I want you to know that all those top-notch Amazon affiliate sites are built on thrive architect. The thrive themes do the money-making job for you without you being salesy.
Above all, they are highly affordable.
Wait, these pages are a must!
About
Contact
Privacy Policy
More importantly, Amazon Affiliate Disclosure
Finally, INSTALL & ACTIVATE all the necessary plugins.
Alright, now that you're done…Go ahead and sign up for an Amazon affiliate account
Well done!!
Step #3 Start Writing "AMAZING REVIEWS"
Now that, you've set up a fully functional website, start writing reviews for those amazing products!
I can't stress the importance of "Writing a Killer Review". Crafting a Killer Review is usually tough, but Amazon makes it easy! You can find every detail on the product page itself.
Here are a few tips for writing a detailed product review:
Keep an eye on every nook and corner for some amazing tips you can include in the review.
Read all the customer reviewers, see what they are saying. Create bullet points of all those important points.
Start off with "Product Features".
Quote both the "Pros and Cons".
Keep in mind that, the reviews should be long and detailed, with the length of main product review varying anywhere between 8000-10000 words for higher rankings.
Create comparison tables for relevant products.
According to 70 percent of marketers, video produces more conversions than any other type of content. So an enjoyable or informative video review will add fuel to the fire.
Do you want to monetize your site? Don't lose that personal touch. If you've used the product yourself, share your honest opinion based on your personal experiences with the product.
Conclude with an enticing "Call to Action".
If you don't want to handle this, you can simply outsource stuff. The best place to hire qualified freelance writers is out HERE (my #1 choice, for best ROI).
Your other alternatives could be Upwork, Onlinejobs.ph, or Fiverr.com finally.
Here's a simple CALL-TO-ACTION TIP that multiplied my conversions:
Instead of "Buy This" Ask to "Check the price". Even if the visitor, doesn't buy that particular product, he/she might end up buying something else in their shopping list. This is how most of the Amazon associates make money and make the best of that 24-hour cookie timing.
Amazing isn't it?
Step #4 Build Authority
SEO plays a vital role in ranking your websites.
Backlinks are fundamental to the success of any SEO campaign.
High-Quality Backlinks ==>Higher Ranking ==> More Sales ==> More Affiliate Commissions
I would suggest you set up a plan and start building backlinks…
PBN Links,
Social Bookmarks
Social Backlinks
Forum Link building
Guest Posting, etc
Go ahead and purchase a few backlinks from sites offering SEO services for an initial boost.
It usually takes 3-6 months for your site to rank in Search Engines. So, keep cool and concentrate on building quality links.
Winding Up!
Affiliate Marketing still remains the trending side hustle. If you want to try some more cool options, that makes the most money…I want you to head over here!
The Amazon affiliate websites are definitely doable and I believe anyone with a computer and an internet connection can make this happen with little effort and some guidance. I'm here to help, in case you need any!
I believe I've covered max. If you feel, I've missed out and anything, share your inputs in the comments below!
Go ahead and start building your own amazon niche website.