If you're looking for some easy-approval 'best high–paying affiliate marketing programs' to make money in 2018, you should definitely find them here.
Affiliate marketing is a medium that connects publishers directly with advertisers. Affiliate programs aim to sell products to consumers through partnerships with third-party marketers called Affiliates.
If you read my article about monetizing a blog effectively, you might have understood by now why I prioritize affiliate marketing above all. It is a wonderful means to generate cash without having to create your own product or maintain an inventory. Its a win-win situation for both the advertiser and the publisher. While the advertisers pay for sales, the publisher gets paid for simply promoting.
A successful affiliate marketing campaign can lead to higher commissions to publishers compared to contextual or display advertising with Google Adsense.
This is the reason, why pro-bloggers prefer to sell products/services over paid advertising.
That said, affiliate marketing is still the leading way to earn money online even after several decades. If you want to earn money with affiliate marketing, you need to apply to be a part of their partnership or affiliate program.
Most advertisers require you to own an online asset in order to be qualified. By asset, I mean a website or a blog to attract the customers and showcase those affiliate products. Your prime aim as a publisher is to generate leads and encourage them to buy the advertiser's products. If the lead, makes a purchase, you'll get a commission based on the terms and the percentage the advertiser is willing to pay to his affiliates.
As a website/blog owner, you can monetize your blog by suggesting products and services that you use yourself. You could then use affiliate links to direct your visitors to those products and services.
Based on the prices, these products are basically classified into two categories:
The higher the product prices, the higher the commissions (which are usually a percentage of the product's selling price)
Cheap or Pricey?
One of the biggest questions which new affiliate marketers face is whether they should promote products that are expensive or go for cheaper products that bring more sales. The other reason why many choose to promote low-ticket affiliate products is, they think that it's easier to convince people to buy cheap items.
It's a big mistake to think that advertising cheap products is going to earn you more money. Remember, your commission is directly proportional to the price of the item which sells.
With high-ticket products, around $1000 per sale, you only need to make 2­5 sales a month and you're making some job ­replacing income already.
One of my favorite affiliate marketers John Chow made it very clear on how going for the huge commission is better than chasing smaller ones.
The way he puts it makes so much sense:
He says, "If you want to make $10,000 selling a $10 product, you would need to sell 1,000 "copies" of your product. But if you sell a product that makes a $1,000 commission then you only have to sell 10 copies. Sure, it's much harder to sell a $1000 product than a $10 product, but it's definitely not 100 times harder. You only need to make a few sales to reach your financial goals"
This is extremely logical and I can't agree more with him. Do you get the point?
A Curated List of

Top High-Paying Affiliate Marketing Programs For Bloggers in 2018
Let's get straight to the point…
Applying for each and every affiliate program individually is a cumbersome process. Instead, you can straight away apply to some of the leading marketing networks that run an in-house affiliate program.
Whatever niche you're in, there can definitely find a gazillion affiliate programs to make the big bucks off!
Listed below are three trusted affiliate networks that you can join right now, without a second thought 😉
Upon approval, you'll simply have to search for the products relevant to your niche and join.
The money you can make off these varies depending on the categories and products you're promoting. You can receive your affiliate commissions via PayPal or via cheque or direct deposit.
ShareASale is the most renowned affiliate network, and to date has over 3900 merchant programs hosted, 700,000 affiliates and more than 86% of affiliates on its network platform. It is among the largest U.S. affiliate networks in terms of the number of advertisers who are using an affiliate network to manage their affiliate program. You can make up to $150 for every qualifying merchant.
Most of the high-ticket affiliate programs require you to join Shareasale. Having an account with Shareasale makes the affiliate screening process easy for the partner programs.
So, I highly recommend you to Sign up for a ShareASale account first.
Easy Approval.

Access to a wide range of affiliate marketing programs in various niches.
Two-tier affiliate program: You can quickly make $1 when your referral publisher successfully joins.

Minimum payout is $50, which is easily attainable.
Flex offers is another leading affiliate marketing network that has over 12000 affiliate programs and works on the similar lines as Shareasale and Clickbank!



Just like Clickbank and Shareasale, flex offers also covers a wide range of physical/digital products with good commissions. Flex offer requires you to own a website for signing up!
Sign up as a publisher, start promoting from categories relevant to your niche. On top of that, Flex offers also offer Cost Per Click and Cost Per Action type services from which affiliates earn money through getting simple email signups.
The best thing about Flexoffers is every publisher is assigned to an affiliate manager who helps find the most suitable affiliate offers. They are also the go-to person if you wish to negotiate an increase in your commissions.
FlexOffers has a referral program where if you refer publishers who are approved, you can earn a percentage of their affiliate sales. Yes, by recommending others to join FlexOffers.com through their FlexRev $hare Program, you can earn up to 50% of the FlexOffers profit from promoting products and services upon approval! Simply complete the application form, and your referrals will receive a signup email including your referral tag.
CLICKBANK
When you think of affiliate marketing, what pops up in your mind immediately?
If I'm not wrong, it might be Clickbank 😉
After all, Clickbank is the king of affiliate marketing for decades! With a massive collection of products, recurring and huge commissions (of up to 75%) on several offers, no one would even think of anything else!
For many affiliates, leaving the safe haven of Clickbank is an absolute no-no!
Next, in the list, I have a list of high-ticket affiliate programs for bloggers and content creators! Once you're done joining the affiliate networks listed above, you can start exploring for the affiliate programs listed below and make the big bucks.
Now, I would like to proceed further with some of the best paying affiliate programs based on certain categories and narrow down to the next best!
Top Paying Web-Hosting Platforms
Web-hosting affiliate programs are available to everyone, and you don't even need to have a hosting account with them to sign up. You can either directly sign up under their platform or through an affiliate network!
Most web-hosting affiliate programs pay according to the number of referrals received. First of all…
WP Engine is one of the top-notch managed hosting solution that you can recommend as a blogger without selling your soul. It clearly smashes other WordPress hosting companies who offer small commissions.
Why Should You Go For WP Engine Affiliate Program?
As an affiliate, you can earn up to tens of thousands of dollars (UP TO $7,500+) on just one referral! You can start a 30 days trial to get to know WPEngine and start promoting it. If you bring more than 10 sales a month, you get a bonus of up to $1500.
WP Engine pays a whopping $200 or 100% of the first month's payment (whichever is higher).

They pay sub-affiliates too! Earn $50 per customer your sub-affiliates refers!

Refer other affiliates and earn $50 for every sale they refer.

Incentive bonus commissions start at 5 sales per month.

Up to 180 days cookie period after the first click to track referrals.
Signing up for a WP Engine affiliate account requires you to apply for a ShareASale account.
JOIN THE AFFILIATE PROGRAM
LIQUID WEB
Liquid Web offers Managed WordPress hosting, Cloud hosting, VPS and dedicated server services.
As an affiliate, you can earn cash for every new customer you refer to Liquid Web with their most lucrative affiliate program. Liquid Web pays up to $1500 per sale.
In addition, you earn 5% recurring commissions. To learn more on how to best optimize your referral strategy and to earn the most you can proceed here!
You can either use the CJ Affiliate program or their in-house program powered by Impact Radius to apply.
Yet another web hosting company, that offers recurring affiliate commissions on top of the initial referral payments you receive.
You can earn up to $500 per referral (based on the type of plan) — 10% monthly recurring lifetime commissions.
The 60-day cookie tracking ensures that you're credited for the sale. Granted, the recurring commissions are only 10% but that's 10% more than any other web hosting company offers right now.
Payouts are always made on time and sent right to your PayPal account each month. Sign up Now!
BLUEHOST
Bluehost is the most renowned web-hosting provider, that requires no introduction. It provides Shared Web Hosting, Cloud Hosting, Dedicated Servers, and Reseller Hosting.
For every visitor who signs up for their hosting, you receive a $65 commission. On special promos, you can receive up to $100 per referral.
SITEGROUND & HOSTGATOR
Both SiteGround and Hostgator provide Shared Web Hosting, Cloud Hosting, Dedicated Servers, and Reseller accounts. Depending on the number of sales, your commissions range from $50-$100+ on Siteground. Hostgator also works on similar lines as Sitegorund and you can receive a commission of up to $125 per qualifying signup!
You can get paid by check or PayPal.
For example, based on the number of referrals to Hostgator/Siteground, the commissions are as follows: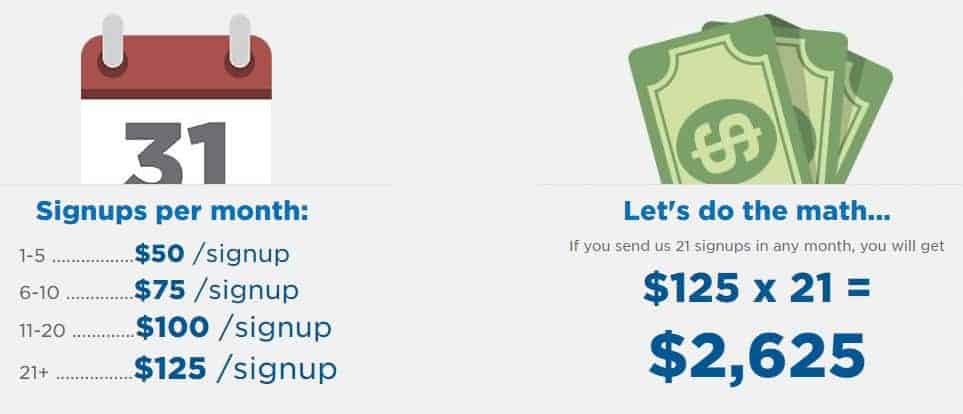 SHOPIFY
Shopify is a robust e-commerce platform that makes selling goods stupid simple and easy. Shopify is the most reliable and trusted platform for anyone looking to market and sell products online. And hence you can quickly make affiliate commissions promoting Shopify.
The good news is Shopify has one of the most lucrative affiliate programs you've come across so far. Above all the commissions are recurring. As an affiliate, you can expect to earn a 20% monthly recurring commission. For example, if the value of your referrals stands at $2000 per month, then you will earn a commission of $400. That's cool!
So, if you want to make recurring monthly commissions, Shopify would be a great choice!
Top Paying WordPress Themes/Templates
StudioPress is an award-winning managed WordPress hosting plus the world's most popular mobile-responsive themes for WordPress. It's the perfect affiliate program for publishers willing to earn generous commissions.
They are the most renowned WordPress themes taking care of the design, security, and SEO foundation for your website thereby building a solid and robust foundation.
The StudioPress affiliate program will reward you for sales you refer to on the Genesis Framework, StudioPress theme, or StudioPress Sites.
All you need to do is join their program and share your recommendation with their special link.
Trusted, renowned, secure, SEO-friendly, and professional!

A flat 35% of every Genesis Framework or theme (which means up to $45-50 per sale).
$75 per StudioPress Site referred. $100 per Site if you refer 6-10 sales in a month and $150 per Site if you refer more than 11 Sites in a month.

Two-tier affiliate program to earn commissions from sales of affiliates signed from your link.

60-day cookie duration.
Sign up for a ShareASale affiliate account and apply for their affiliate program in one step by filling out the application here. (If you already have a ShareASale account use the same link to apply for their program).
ELEGANT THEMES
Elegant Themes are the best in the marketplace, that offer a superb range of WordPress themes and plugins. The most popular of which is DIVI THEME! Its an incredibly versatile WordPress Theme with a Drag & Drop Page Builder that makes it easier than ever to build beautiful WordPress websites. It's no wonder their themes convert better than anything else.
All affiliates receive 50% commission of each sale. Unlike many other companies, they also pay out commissions on yearly renewals. This means that you will continue making money each year as customers pay their yearly renewal fees to continue using our amazing themes.
If you're looking to promote some beautiful feminine WordPress themes? Here is your opportunity! Restored 316 is the top source for professionally designed & premier Feminine WordPress Themes using the Genesis Framework serving tens of thousands of happy customers.
They also provide tools for starting and growing your business, as well as keeping it all organized!
Restored 316's affiliate program offers:
20% commissions on themes and business planner. Their themes are priced at $75, business planners at $34.99. So you can make anywhere from $7-$15.


a 60 day referral period
If you want to suggest someone, best themes to get started in an affordable budget, think of Mythemeshop.
It's an exclusive premium themes club that offers quality products at affordable prices.
MyThemeShop offers the highest commission percentage of any WordPress Theme company on the net. All affiliates receive 55% of each sale (the themes usually range from $27-$47).
You can also earn commissions by referring other affiliates to MyThemeShop. You will also earn 10% of the commissions generated by affiliates who sign up under your referral link for life – Click to Join!
---
Keyword Research Tools
A revenue-sharing program, developed and operated by SEMRUSH, where affiliates use marketing methods to promote services and drive traffic to SEMrush! As a SEMrush affiliate, you earn up to $159.6 per month for every active business plan customer.
SEMrush is an ALL-IN-SEO Suite that offers a wide range of products to help improve SEO and boost rankings. It is the popularly known as a Keyword Research Tool in the internet market. It is essentially used to minimize keyword research time and to track SEO efforts. It makes it easy to find the right keywords for SEO and PPC campaigns. Besides that, you can also get insights into your competitors' strategies in display advertising, organic and paid search, and link building.
Interested, in beating out your competitors and scaling up your business?
➡ Sign up for a FREE 7-Day Trial
This is what many people do to STEAL their Competitor Success Formula
Why should you go for BErush affiliate program?
SEMrush is the most popular, trusted and excellent SEO software that helps you gain an edge in your industry by tracking your competitors
It's a high paying recurring income affiliate program. (i.e. you get a commission every month, not just the first time).
You can earn 40% recurring commission for SEMrush subscription sales. Which accounts to $39.98 to up to $156.9 per active customer each month.

The minimum threshold for PayPal payments is $50, whereas, for a wire transfer, the minimum amount is $1000

10 year cookie period
Jaaxy is yet another popular 'Keyword Research Tool' in the market. Internet Marketers use Jaaxy to find the Hottest and Most Profitable Keywords for SEO to rank their pages in the search engines.
It retrieves data from Google's search engine results and other databases and compiles the information into a simple platform that makes finding keywords a walk in the park.
Why should you go for JAAXY Affiliate Program?
It has one of the most exciting affiliate programs available anywhere online and you can earn consistent revenue by simply referring others to the community!

The 30 free searches offered on Sign Up, makes it easy to attract customers to this platform.

You make from $20/mon – $200/yr on a pro plan, and $40/mon – $400/yr on an Enterprise plan.

Use the earnings calculator to test different scenario's, conversion rates, referral numbers, and retention.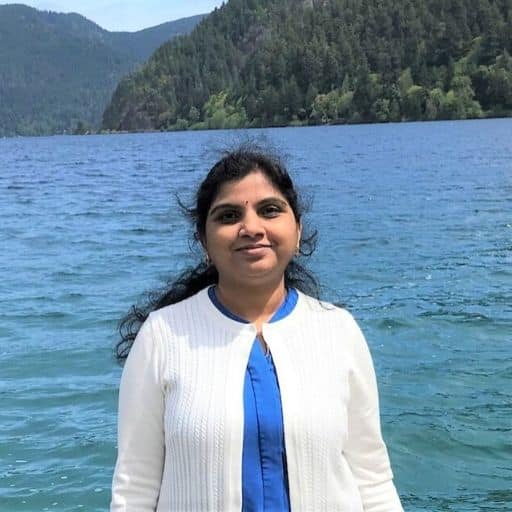 Howdy Folks, thanks for stopping by my blog.
I'm Swati, a proud mom, dedicated side hustler, full-time blogger, and a recognized millennial work-at-home expert. My expertise has been featured on esteemed platforms such as Forbes, CEO Blog Nation, Referral Rock, Vital Dollar, Databox blog, and many more. I have embarked on this incredible journey to share my firsthand experiences in the world of online income generation and to assist all of you in earning money from the comfort of your homes.
Join me in my mission to revolutionize the way we make money and achieve financial freedom. Trust me, it's not as challenging as it may seem!
Together, let's explore the boundless opportunities and pave our paths towards a prosperous future.