This post is an invaluable guide on how to sell feet pics on Foap. As you know, the business of earning money from pics in your gallery is becoming a huge hit in 2023.
Foap is among the apps leading the business with opportunities for both amateurs and professionals. The platform has open policies on how to sell your collection, compensation, and promote your brand.
For more on what to expect from the app, including the expected income, let's take a deep dive into selling pic through the Foap App.
How to Sell Feet Pics On Foap [Key Takeaways]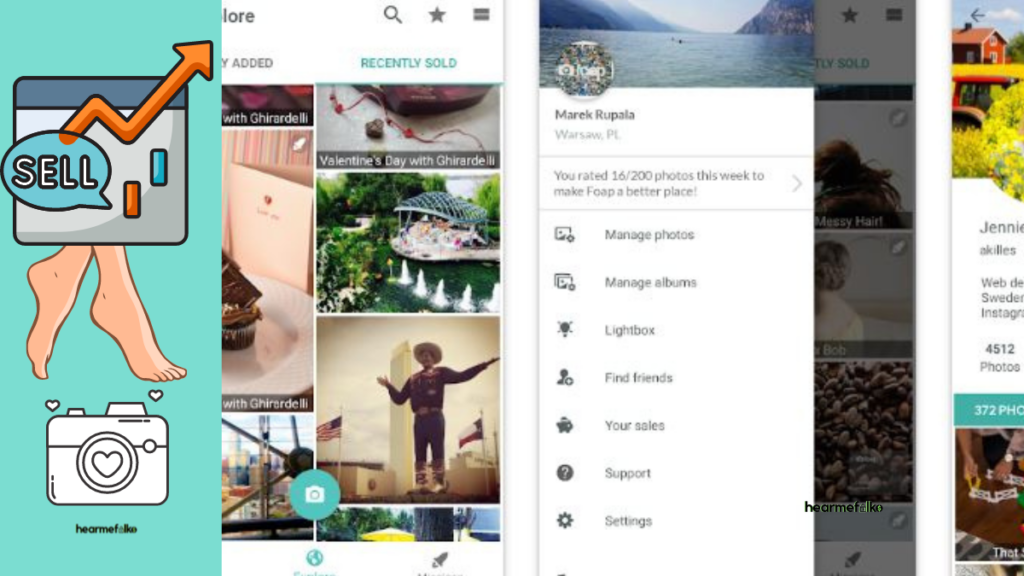 Foap App is legal, popular, and available on Android & iOS.
It offers a global network of potential buyers, including advertising agencies and footwear companies.
Creating multiple theme-focused albums on Foap dedicated to feet photography increases the chances of selling.
Foap Albums allow you to create photo collections and earn $0.25 per licensed photo.
The app operates on a profit-sharing model- 50:50.
Participating in foot-themed missions on Foap provides opportunities to earn rewards.
Foap pays earnings through PayPal, with a minimum withdrawal threshold of $5.
Some tips for selling include and are not limited to, targeting specific niches, showcasing high-quality photos, and seizing mission opportunities.
Adding relevant tags and engaging other users can increase visibility and connections.
Seeking inspiration from successful sellers and analyzing trending images can guide your feet' photography efforts.
Is It Illegal To Sell Feet Pics On Foap?
Selling feet photos on the Foap platform is not illegal. What's more, you can make a decent income if your photos get noticed. The app is designed specifically for selling photos. Creators can upload and sell their pics through the app, which is available for Android and iPhone users.
Why Sell Feet Pictures On Foap?
With over 5 million downloads and a remarkable rating of 3.1 on Google Play, and a 4.5 in the App Store, Foap App outperforms competitors in the realm of stock photo applications.
Considering its success, you can leverage Foap to sell your feet pictures. Below are more reasons why Foap is a perfect marketplace for photo creators:
1. Popular Platform
Source: https://www.foap.com/market
Foap is one of the most renowned and widely used stock photography platforms. It has a vast collection (40m+) of high-quality images and a large customer base.
Further, Foap is convenient for accessing images fast and from different design workflows.
2. Maximizing Your Opportunities
The key to increasing your chances of selling feet photos on Foap is creating multiple albums dedicated to feet photography.
The more albums you curate, the greater your chances of selling a photo from those albums specifically focused on feet.
3. The Potential of Being Specific
To enhance your sales prospects in an evolving marketplace, where countless "Feet" albums may exist, it is crucial to curate albums with a specific focus. This increases the likelihood of selling photos to buyers with precise preferences.
Avoid generic "Feet" albums by creating themed collections. For example, you can create separate albums for "Elegant Feet in High Heels", "Glamorous Feet with Jewelry", "Athletic Feet in Action", and "Adventurous Toes Exploring Nature".
Foap App Overview
How to Sell Feet Pictures On Foap
The app operates on a profit-sharing model, retaining 50% of the profit on each sale. To sell your pictures on Foap, you have two options to consider. Here is a fast look at each method:
1. The Foap Market
The Foap Market sets a fixed price of $10 per photo. When your photo is bought, you will receive $5, which is half of the total amount.
How to Sell Through Foap Market
Utilize the primary button in the app to effortlessly upload your feet pictures to your profile. Next, enhance discoverability by describing your photos using relevant keywords.
This strategic approach increases the chances of potential buyers finding and purchasing your stunning feet pics.
| Advantages of Selling Through Foap Market | Disadvantages of Selling Through Foap Market |
| --- | --- |
| While adhering to terms and conditions, you have the flexibility to upload many different feet photos | Patience may be required while waiting for potential buyers to discover and purchase your photos. |
| | Fixed earnings of $5 per photo, limiting your potential income. |
2. Feet-themed Missions
Source: https://www.foap.com/brand/foap-missions/mission/feetselfie
Participating in Foap offers various Missions with different rewards for each one. To gauge your potential earnings, you can review the specific rewards mentioned for each mission.
Your feet pictures are showcased worldwide, ultimately building your reputation in the field.
How to Join Missions
To explore exciting opportunities for selling your captivating feet photos, Click the Missions tab.
Browse through the available missions and carefully read the briefs to understand the desired theme.
Once you find a mission that aligns with your feet pics, upload your stunning shots to participate.
| Advantages Of Missions | Disadvantages Of Missions |
| --- | --- |
| Fast-track your earnings since missions typically run for 1 to 4 weeks. | Strict adherence to the mission brief is required. |
| Gain inspiration from mission briefs and fellow users' submissions. | Minimum age requirement of 18 years. |
| Collaborate with exceptional brands from around the world, amplifying your exposure. | |
How to Create a Foap Account to Start Selling Feet Pics?
There are a few steps that you can follow to create your seller account on Foap, a completely free process.
Step 1: Get and Install the app from App Store or Google Play.
Step 2. Launch the platform and tap Start Using Foap.
Step 3: Tap Create Account in the next window; you can also use your Facebook to sign into the platform at this point.
Step 4: Type in your Username, Email, and Password, then press Create Account.
Step 5: Open the email account you entered for a confirmation email from Foap and tap Activate Your Account link.
Step 6: You'll be redirected to the Foap App where the notification "Account successfully activated" will display.
How To Set Up Your Foap Album / Shop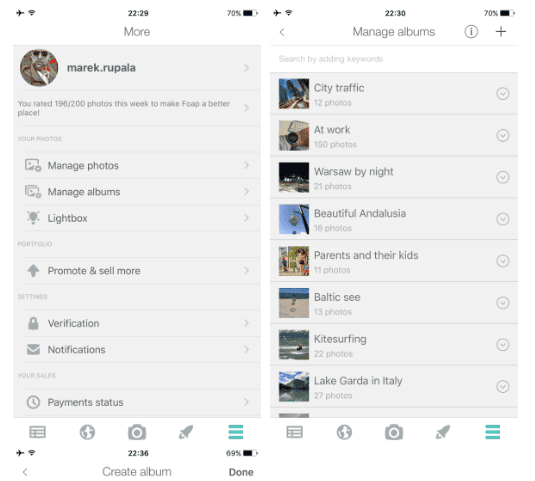 Source: https://community.foap.com/album-tutorial/
To run a shop on Foap, you need to create Foap Albums to provide a quick and easy way to sell captivating photo collections. Further, by setting up Albums, you enhance discoverability and experience for photo buyers.
Below is how to go about creating Foap albums.
Step 1: Launch your Apple Foap App.
Step 2: On the lower part of the Home screen, tap More.
Step 3: Press "Manage albums" on the next screen.
Step 4: Go to the top right corner and tap the plus icon (+).
Step 5: A Create Album screen will display. Give the album a name and a quick description.
Step 6: Tap Done on the top right.
Create several albums to complete your shop. Lastly, view your gallery via the app and start adding feet pics to the different categories by the green album button at the bottom of the screen.
Why Choose Foap Albums?
Over time, as you create albums, the marketplace search functionality will be enhanced. This improvement will lead to more specific results, benefitting both the buyers and sellers.
Benefits of Creating Foap Albums
Foap Albums contribute a substantial value to the entire Foap Community.
When your feet photo is featured in another user's album and sold, you earn the standard $5.
If you sell someone else's feet photo from your album, you receive $0.25 (while the original photographer still receives $5).
Selling your own photo from your album grants you the regular $5.
How to Get Paid for Feet Pics On Foap
You can withdraw your earnings once you reach a minimum threshold of $5 through Paypal. However, it's important to keep in mind that, PayPal deducts a fee of approximately 3-4.5% from your sales.
To access details regarding your account balance, navigate to the app's menu and select the "Withdraw money" option.
If your account holds a minimum balance of $5 or more, you can proceed by selecting the "Withdraw Now" button. Next, you receive a confirmation displaying the anticipated payment date.
Note, international payments can be intricate, with a typical timeframe of 30 to 60 days. Note, your PayPal account must be verified for money to hit your wallet.
Tips to Sell Feet Pics On Foap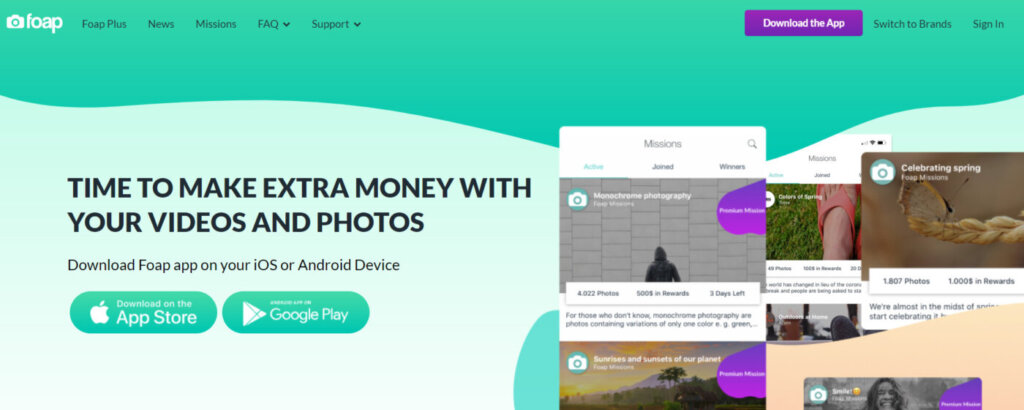 You need to go the extra mile to maximize your selling potential. The following are some invaluable tips for Foap Creators:
1. Specific Targeting
By embracing specificity, you differentiate yourself from the sea of generic albums and stay ahead of the competition. In the future, as the number of "Feet Pics" albums increases, standing out becomes crucial.
For example, while a general "Cute Feets" album may face tough competition, a more targeted "Cute Feets with Tattoos" album narrows the focus and attracts buyers searching for specific characteristics.
2. Showcase Stunning Quality
You can advance your skills and upload high-quality photos through Foap Academy. A superior portfolio sets you apart amidst the vast array of images on Foap.
With enhanced quality, you can catch the discerning eye of buyers who are constantly seeking that perfect picture.
To ensure optimal quality, it is required that your Foap feet pictures have a minimum resolution of 3 megapixels.
3. Seize Mission Opportunities

Take advantage of the exciting missions available on Foap. Each mission on Foap presents unique benefits, including video castings with payments of $2,000+.
4. Create the Right Tags
Tags are the key to making your feet photos discoverable in the Foap Market's search. Properly tag your photos with relevant keywords to enhance their visibility. You can add anywhere from 5 to 100 tags to each photo. Include as many tags as possible, ensuring they accurately describe your image to attract the right audience.
5. Engage the Community on Foap
Foap thrives on the camaraderie of passionate photographers.
So, join the vibrant Foap community by following fellow Foapers, leaving thoughtful comments on their remarkable photos, and expressing your appreciation.
This engagement not only enriches your learning experience but also helps you discover lucrative Foap feet video and photo missions.
6. Get Inspiration
To stand out, analyze the "Sold" tab in the "Explore" or Foap website's "Trending Images" to understand what buyers gravitate towards.
Additionally, you can examine the profiles of those who have won missions or sold photos, as they often possess a treasure trove of appealing images that can inspire and guide your own creations.
Pros and Cons Of Selling Feet Pics On Foap
| PROS | CONS |
| --- | --- |
| Foap is free to use; Registration is free, so you don't have to pay to join the platform. | Uploading multiple photos at once is not possible, requiring additional time and effort. |
| A vibrant community for creators. | PayPal is the only payment option available. |
| The application is lightweight and easy to use | The competition on the platform is intense and growing with an increase in user base. |
| Users can view sold images and gain recognition. | Foap charges 50% of each sale. |
| Direct access to paying brands via Missions. | |
| Low cash out threshold of $5. | |
Frequently Asked Questions (FAQs)
1. Can Guys Sell Feet Pics On Foap?
Yes, guys can definitely sell feet pics on Foap. This is an inclusive platform that welcomes users of all genders to sell their photos, including foot pics. That said, your feet photos or foot-related images must comply with Foap's terms and conditions.
2. Why Am I Having Trouble Uploading A Photo On Foap App?
Check that the photo size is 1280×960 resolution at the minimum. Also, grant the app access to photos in phone settings. Lastly, iCloud users may need to upload directly from their devices. In case of technical problems originating from Foap, their server issues are usually resolved within 24 hours.
3. How Are Mission Winners Chosen?
Real people review photos based on the mission brief. The criteria include alignment with brief, technical quality, creativity, and authenticity. In addition, votes and ratings may influence a brand's final decision.
4. How Can I Get More Votes And Higher Ratings For My Feet Pics?
To get good ratings for your feet pics, follow users, engage, and vote on other creators' photos. Also, comment and share opinions to attract voters to your personal collection. Most importantly, be kind and respectful during interactions with buyers, brands, and other sellers.
5. How Much Will I Earn on Foap When I Sell A Feet Pic?
Buyers pay $10 per photo; you receive 50% of the proceeds, which is $5 per feet pic. You can also get $0.25 for selling a pic from somebody else's Foap Album. The minimum withdrawal balance is $5 via PayPal.
How to Make Money Selling Feet Pics On Foap?
Whether you capture the beauty of feet through artful compositions, showcase feet in various activities, or evoke emotions through expressive feet photography, Foap provides you with a vast network and the market you need for your feet pics.
Remember, in a crowded marketplace, it's the albums with precise themes that capture the attention of eager buyers seeking unique and tailored feet photography.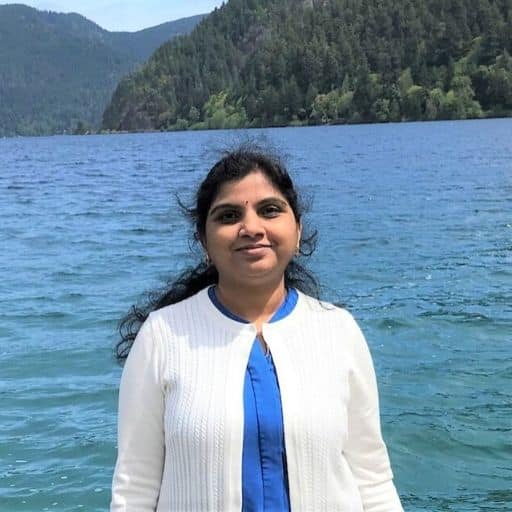 Howdy Folks, thanks for stopping by my blog.
I'm Swati, a proud mom, dedicated side hustler, full-time blogger, and a recognized millennial work-at-home expert. My expertise has been featured on esteemed platforms such as Forbes, CEO Blog Nation, Referral Rock, Vital Dollar, Databox blog, and many more. I have embarked on this incredible journey to share my firsthand experiences in the world of online income generation and to assist all of you in earning money from the comfort of your homes.
Join me in my mission to revolutionize the way we make money and achieve financial freedom. Trust me, it's not as challenging as it may seem!
Together, let's explore the boundless opportunities and pave our paths towards a prosperous future.