This Ampli review sheds more light on how Canadians can finally get their share of shopping rewards!
There are numerous cash reward apps that shoppers can take advantage of. Unfortunately for other countries, the residents of the US seem to get the lion's share of these goodies.
This cash back app stands out because it is Canadian, making this great news for our Canadian audience!
If you are Canadian, keep it here to find out everything you need to know about the Ampli app.
We'll get into how the reward app works, how much it pays, whether or not it is legit, and what other users think among other things to help you decide if it suits you.
Here goes our Ampli App review.
What Is Ampli?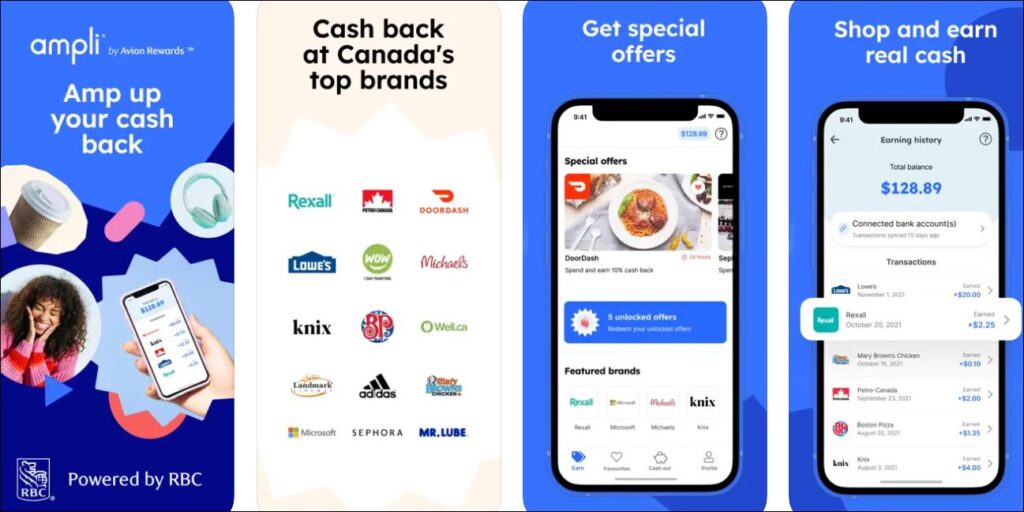 Ampli is a free RBC-owned cashback reward app that earns Canadian shoppers rebates for shopping online or in-store at participating stores.
To start earning with Ampli by Avion Rewards, you will need to connect your bank debit and credit cards. These are the cards you'll use for shopping on the app.
Ampli App Overview
| | |
| --- | --- |
| CRITERIA | FEATURES |
| Year Established | 2018 |
| Purpose | Cashback app |
| Available Countries | Canada only |
| Applicable | 18 years and older |
| Subscription Plans | None |
| Average Earnings | 1% to 15% Cashback |
| Cuts & Commissions | None |
| Payment Method | Bank Account |
| Minimum Payout | $15 |
| Bonus Program | Contest winnings – $1k to $5k |
| Google Play | 100k+ Downloads |
| App Store | 4.6 stars, 8.1k reviews |
| Ratings & Accreditations | The app |
| Final Verdict | Ampli is legit, safe, secure, and trustworthy. |
How Does the Ampli App Work?
The Ampli setup process is easy-peasy. You just need to download, install, and register on the app, link your accounts, then shop at Ampli Brands to start accumulating cashback money.
Best of all is that Ampli is available for Android and iOS users. The site goes on to provide official links to the apps, ensuring that you only download genuine platforms backed by RBC Bank.
So, how does Ampli work?
1. Download Ampli and Create an Account
You will get Ampli on the Google Play and App Store for Android and iOS app stores respectively.
After downloading, supply contact information like name, email address, and mobile device number to sign up in a matter of minutes.
During the final step of setup, you will receive an email that helps you activate your account and you are good to go.
Note: Ampli advises you to use Google Chrome for easier account activation.
2. Add Your Bank Account to Ampli
These entail all credit and debit cards that you use to shop.
To add your cards, log in to your app and browse the list of over 130 eligible financial institutions in Canada.
Linking your accounts to the app ensures that Ampli keeps up with the purchases you make at participating outlets. In addition, it makes it easier to match you up with relevant offers.
3. Spend and Get Cashback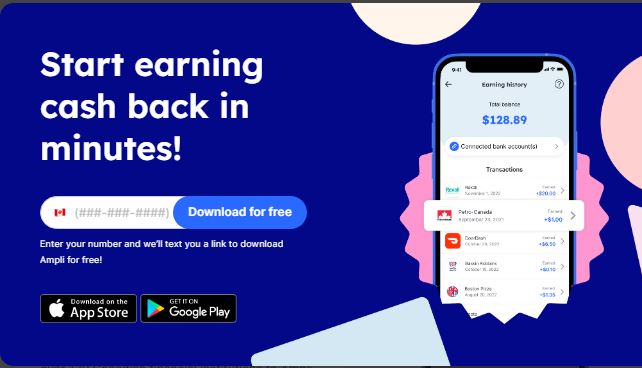 When you shop and pay using the linked cards, Ampli lets you earn cashback for purchases.
Unlike other cashback apps where further action like uploading receipts or redeeming points is needed, Ampli earns you cashback automatically.
Your earnings reflect on your Ampli rewards account within three to five business days and don't expire as long as your account is active.
How Does the Ampli Cashback Work?
Ampli by Avion Rewards Cashback combines offers that are common for all shoppers and others that are customized.
Available offers may therefore vary from one shopper to another based on an individual's spending habits as well as their account activity.
Examples of Ampli Cashback offers include;
Special Offers- occasional offers for brands' promotion.
Amplified Cashback- this comes from time to time and is limited to shopping using a linked RBC card.
Featured Offers- typically high-paying offers that are limited.
Offers for you- everyday offers for purchases.
Dreamstakes- Occasional contests where you can win $1,000 to $5,000. You can opt into the contest in-app or via a mail-in entry.
Further, certain offers may come with requirements such as spending a minimum amount of money, so it is essential to check this out.
That said, you are only eligible for offers displayed to you on your Ampli app.
As an added advantage, Ampli can allow you to earn rewards from your credit cards and other loyalty programs you've signed up for.
Ampli Cash Out
The minimum cash out for Ampli is $15, which is lower compared to most other cashback apps.
You cash out via Interac e-Transfer which takes 3-5 business days to hit the bank account you have opted for.
Ampli Cashback Referral Program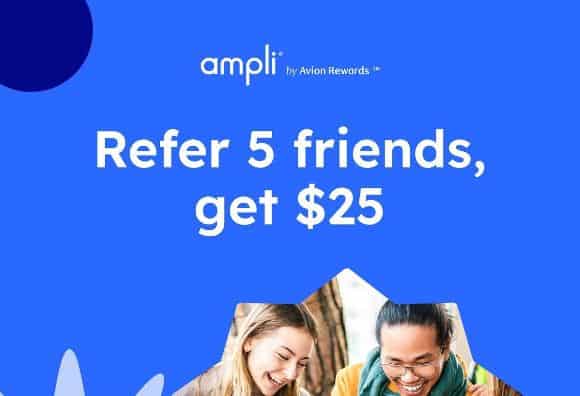 In the Ampli Referral program, when you invite people in your circle to sign up for Ampli, you earn $5 when they join using your code and link their accounts. You can only earn $25 within a calendar year through referrals.
What Brands Partner with Ampli?

Since the app keeps updating offers, the EARN screen within Ampli gives you a current list of the 75+ Brands from which you can get Ampli cash rewards. You can also keep an eye on RedFlagDeals for new Ampli offers.
Here are a few notable examples:
Company/Brand
Cashback
Company/Brand
Cashback
PetValu
15%
Petro Canada
$2
The Keg
$5
Hello Fresh
$2
Adidas
10%
Fairmont Hotel
1%
Indigo
2%
DoorDash
2% – 10%
Sporting Life
$50
Rexall
1%
Mcdonalds
5% – 20%
Baskin Robbins
5%
Mydoh
$20
Toys R Us
5%
Hudson's Bay
$10
Michaels
$5
Samsung
$4
WestJet
1%
Second Cup
$1
T & T Supermarkets
$1
Sephora
$5
Aldo
2%
Weight Watchers
5%
Foodora
6%
Home Depot
$20
H&M
20%
Boston Pizza
$20
* Cashback offers are subject to conditions such as minimum purchases, validity period, card transactions, stacking offers, and more depending on the partner brand.
How Much Does Ampli Pay?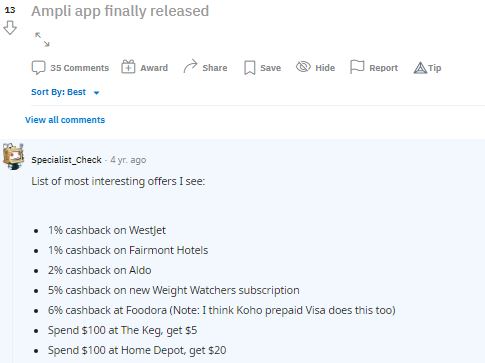 The amount of money that Ampli earns you mostly ranges between 1-15% of your purchases. It is not uncommon to get offers that go beyond 10% and up to 20% of the amount you spend especially for large purchases.
Ampli also features fixed dollar amount offers like 'spend $30 and earn $5 – it all comes down to your spending habits.
Precisely, factors like the list of participating brands, the available offers, requirements for qualifying purchases, and the offer that you choose will determine how much you end up getting.
As mentioned earlier, the offers presented to individual shoppers may vary. Above is a sample of offers as shared by a Redditor.
Is Ampli Legit?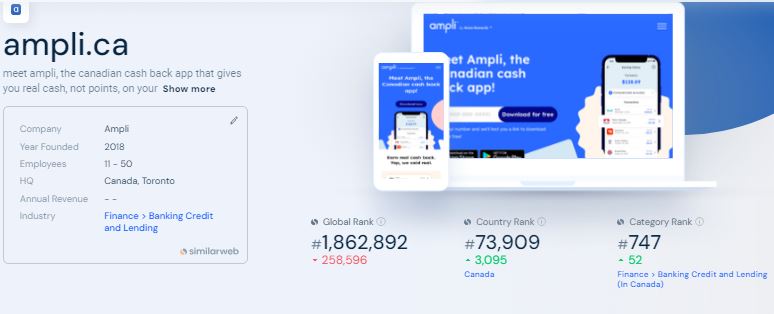 Ampli is a legitimate cashback website that is owned by Avion Rewards, a constituent company of the Royal Bank of Canada. Yes, the app is owned by one of the largest Canadian banks founded in 1874 and now has a client base of over 17M.
Also, as shown above, Ampli.com has a high rank in the Canadian market, especially in the Finance & banking category. Notably, the app is not verified or rated on Trustpilot, given that the review site mostly lists American companies.
That said, Ampli gets good reviews on sites like Reddit, as well shall see later in the article.
Ampli Pros and Cons
| Ampli App Pros | Ampli App Cons |
| --- | --- |
| Backed by a multinational bank. | You can only automatically earn cashback at Ampli partner stores. |
| Nice referral program. | Limited brand collaborations. |
| Great payment and operation reviews. | High minimum payout threshold. |
| Expedited bank account payout. | It's only a Canadian cashback app. |
| High contest amounts – up to $5k! | |
| Easy way to earn cashback passively. | |
| Rewards as advertised. | |
| User-friendly app. | |
Ampli Reviews

The Apmli cashback app has seen 100k+ on Google Play alone and records an impressive 4.8/5 star rating on App Store from 8.1 reviews. Users praise the site's decent cashback offers and timely cashouts to bank accounts.
On the negative side, there are concerns about glitches on the website, electronic payment system, and sharing of personal data. What you will note though, is that the app's developers respond to most, if not all, concerns posted on review sites.
Ampli Reviews (As Per Reddit)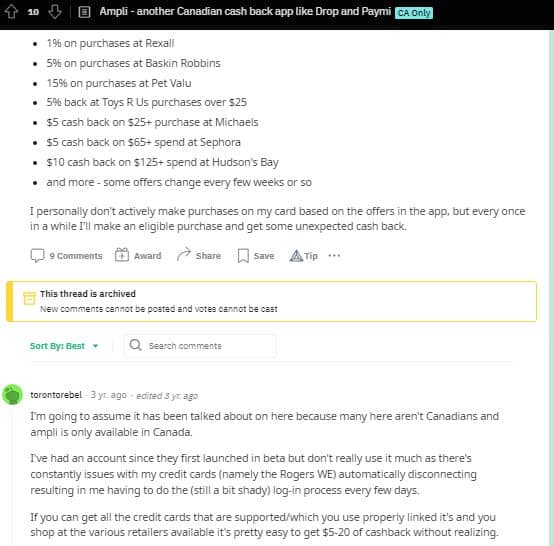 In the above thread on the popular Beer Money subreddit, Ampli gets many positive mentions. One reviewer shared that they got CAD 5 bonus after inviting a friend to join Ampli via their referral link.
That's free money in your bank account!
They are also happy with a way to earn extra cash, unexpectedly, when making qualifying purchases using Ampli. New users are also appraised of the numerous discounts accorded Ampli members including 15% at Pet Valu and 5% at Toys R Us.
The member also goes ahead to share their Ampli payment proof as shown above. Their Ampli account balance of $17.07 (CAD), which supersed the minimum Ampli withdrawal payout of $15 (CAD), was deposited into their Tangerine Bank account. All this points to a legit cashback app.
Ampli Reviews (As Per Reddit & Apple Store)
Calling Ampli a scam, the above user reckons that the app is a ruse by developers to drive sales for their partners. The reviewer claims to have made a purchase to earn cashback of $5, only to be told that the offer had lapsed.
The claim is that during purchasing, the offer is valid, only for it to disappear after you make the transaction is done. Further, upon reaching out to Ampli support over the issue, the team kept taking them in circles for over 6 weeks.
In the above negative Ampli review on App Store, the user highlights glitches in the site's interface. The issue was that the user was unsuccessful when creating an Ampli account, only to later receive an email to activate the said account.
However, note that the app's developer did reach out to resolve the matter.
It's also worth noting that most of the negative remarks were posted a few months after the app was launched. Since then, most of the reviews have been positive.
Also Read:
Ampli App Review: FAQs
1. Is Ampli Safe? Is Ampli Trustworthy?
Ampli is a safe and secure, trustworthy, and legit cashback website. The site is run by Avion Rewards, which is one of the flagship companies of RBC Bank.
As such, the app and users' information is accorded the same security practices you expect a bank to employ to protect your data and account.
The platform assures members that the latest 256-bit encryption tech is used to safeguard their details. However, back in 2019 Interac e-Transfer, the service that Ampli uses for money transfers, was hit by data breaches.
This resulted in financial consequences for account holders in both the bank and its subsidiary companies. Having said that, the company was fast to fill the loopholes and no recent reports of breaches have surfaced.
2. Who Is Ampli For?
To earn from Ampli, you must be 18 and over and live in Canada. Further, you need a valid bank account issued by Canadian financial institutions. Currently, using the app is not an option for people in the united states or other countries.
So, for U.S. cashback chasers, I recommend sites like Drop, Rakuten, and Ibotta that offer a way to earn rewards across borders.
3. How Does Ampli Cashback App Earn Money?
As you earn cashback rewards from Ampli's recommended brands, the company gets paid to incentivize you. Brands and sites that pay Ampli may also use your anonymized shopping data to track consumer trends.
Nonetheless, some users have noted that the number of cashback offers on the site differs from one user to the other. May take is that this may point to paid collaboration between Ampli and sellers for targeted marketing.
Is Ampli a Good App? [Final Thoughts]
Ampli is a legit good cashback app that is uniquely Canadian. Not only is it backed by the Royal Bank of Canada, but the platform also partners with most nationwide brands. It offers great cash back for various items including groceries, subscriptions, household goods, clothing, and skincare.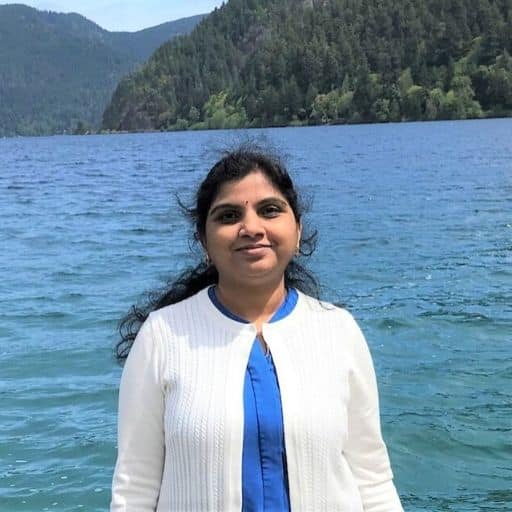 Howdy Folks, thanks for stopping by my blog.
I'm Swati, a proud mom, dedicated side hustler, full-time blogger, and a recognized millennial work-at-home expert. My expertise has been featured on esteemed platforms such as Forbes, CEO Blog Nation, Referral Rock, Vital Dollar, Databox blog, and many more. I have embarked on this incredible journey to share my firsthand experiences in the world of online income generation and to assist all of you in earning money from the comfort of your homes.
Join me in my mission to revolutionize the way we make money and achieve financial freedom. Trust me, it's not as challenging as it may seem!
Together, let's explore the boundless opportunities and pave our paths towards a prosperous future.