Finding PayPal surveys with no minimum payout sites can be a daunting task. The reason being that while completing surveys is a great way to make money online, this is not a well-regulated industry.
So, whether you want to get PayPal cash fast or earn some gift cards, you need to find a survey site that delivers what it claims.
When joining a survey site, you go there expecting consistent payments but that's not usually the case. Some platforms have you waiting for days, weeks, or even months to get paid.
At the same time, not every survey site is genuine, some are spammy websites out to get your banking details. So, before you sign up, make sure that the site is legit and that it really pays.
Also, once you have access to the user's dashboard, navigate the website or app for the payment schedule and conditions.
It's also worth noting that even with a "no minimum payout" offer, you may be expected to accumulate a given number of points (or money) before making the initial withdrawal.
Thereafter, you should be able to cash out the very moment your account is credited with points. But that's not to say that you won't come across survey sites that pay instantly for any and all account balances.
When all is said and done, which are the best surveys sites that allow users to get PayPal money fast? Read on for I have done combed the internet for everything to do with the topic.
This post covers not only the best survey sites but also other money-making streams and how much you can look forward to earning from them.
Let's get started with instant PayPal money surveys.
Surveys that Pay Through PayPal Instantly
The surveys in this category have lots of different payment options available as well, from PayPal to gift cards for well-known retailers like Walmart, Target, Amazon, and the Xbox.
Notably, these apps don't pay the same. Some pay per survey in dollar amounts while others reward you with redeemable points. You should also be on the lookout for gift card rewards for other microtasks.
Here are survey sites that pay fast…
1. PineCone Research

PineCone Research is a survey site that offers cash in exchange for your opinions. Most of their surveys are designed to review new products or services.
The site also notifies you by email when new surveys are available. The company is not rated by the Better Business Bureau (BBB) but gets favorable reviews on platforms such as Reddit.
Signing up is absolutely free! However, this is an invite-only site with strict qualification guidelines. Only current panelists can invite you in or you can register through banner ads posted on unsolicited websites.
Typically, PineCone surveys take no more than 2o minutes to complete. Once you've earned 300 points (worth $3), the company's minimum payout threshold, your earnings will automatically be redeemed for a check and sent to your home address – instantly!
Thereafter, you can choose to redeem your points for a wide selection of physical and digital gift cards. Such rewards include virtual Visa cards, branded merchandise, cinema vouchers, and sweepstakes entries.
Here's a list of the various PineCone survey payment options:
Cash via check

Amazon gift cards

Walmart gift cards

Starbucks gift cards

Prepaid debit and credit cards

Home Depot gift cards
Note: The platform periodically reviews payment options (PayPal include). Members are, however, notified beforehand to avoid inconveniences. Read my full review of PineCone Research
Join Pinecone Research and earn $3 per survey and $7 per product review.
My Points pays for taking surveys, watching entertaining videos, and shopping online.
This site will send you rewards every time you complete a survey. You can expect to answer surveys on different niches starting from fashion, travel, automobiles, to home and garden.
After completing a paid survey you will be rewarded with free gift cards from thousands of retailers. Additionally, you can also go for cash through Visa Gift cards or the dollar amount to your PayPal wallet.
MyPoints has a very low minimum payout threshold of just $5, which you can cash out for a variety of rewards, mainly gift cards.
You also get a free $10 gift card (Visa or Amazon) if you spend $20 shopping online. Surveys are accessible through the MyPoints website and app.
Join MyPoints today and receive a $10 welcome bonus
3. e-Research Global (e-RG)
e-Research claims to offer instant PayPal payout surveys paid within a day or two. To join a paid online survey, you must be at least 16 years or older. They pay their members with real money as a reward.
How much you make depends on the amount of time and difficulty involved in a survey. e-RG also rewards you for inviting new members.
Panel members are eligible to receive cash rewards when they have earned $2 USD from different surveys.
That said, e-RG members must accumulate at least 100 points to redeem and receive cash rewards via Paypal. Keep in mind that, depending on your area of residence, you can also be paid using Amazon Gift Cards or G codes.
Is Timebucks.com Real or Fake?
---
Pro Tip: Occasionally, PayPal also offers free $5 PayPal instantly to new users on opening an account and linking a bank account, credit card, or debit card. The offer may go as high as $10 plus an additional $10 per referral.
Check PayPal's free money offers here!
---
Instant Payout Survey Sites
There are many legitimate ways to earn some PayPal dollars without having to invest a huge chunk of your work hours. Awesome, right? For this, start by registering on the following instant-paying survey sites.
These are platforms where, as a member, you can withdraw your earnings after just completing one survey if you want to.
4. Opinion Outpost

Owned by Survey Sampling International (SSI), this site was founded in 1996 and has its HQ located in California, United States. It is a rewards website where you can make money from lots of different tasks including taking surveys.
According to the company, they pay out the equivalent of $390,000 a month to their members through commissioning 3M+ surveys every month. Survey varieties include product tests, advert reviews, daily studies, Ad studies, and focus groups.
The minimum payout per survey is 10 points which earns you $10. Nonetheless, depending on the difficulty, some surveys pay up to $25 (250 points).
Opinion Outpost allows you to redeem your earnings for a gift card for just $5 or get paid via a PayPal points for cash scheme.
Note, that the $5 minimum is for an Amazon or iTunes gift card only, if you want a PayPal instant payout, you must have a balance of at least $10 in rewards.
Register for Opinion Outpost surveys now!
5. SurveySavvy
SurveySavvy matches you with surveys that fit your profile and pays you cash after you complete them. Nevertheless, there is no guarantee as to how many surveys you may be invited to partake.
You can request payment by using the "Request Payment" tool under the Account section once you're logged in. This is only after you have gained more than $1 in incentives.
Payment is made by check, in USD, and mailed via the U.S. Post service, direct to the residence on file.
What I like about this platform is that by installing SurveySavvy's software, SavvyConnect, on your devices, you get paid $5 monthly for each device.
This means that you can link your laptop, mobile phone, and tablet and earn up to $15 per month ($5 per device type) and up to $180 in a year, simply for remaining active in the SavvyConnect community.
Now, that's what I call getting free money online!!!
The minimum cash out is $1 which is actually the least you can make from a single survey. You also get to earn through a two-tier referral program.
Another feature that I find interesting is a sweepstake that sees winners share $500. The platform also runs contests every now and then.
Ready to make passive income? Install SavvyConnect on all your devices.
Also Read: How to make $25 per survey on SurveySavvy
6. Grab Points
As a Grab Points member, you will be offered points in exchange for your point of view, watching videos, completing offers, downloading apps, and more.
Your Grab points are normally worth $1 for every 1,000 points. To redeem a reward, you will need at least 3,00o points minimum. In a day you can make up to $20,000 points – equating to $20!
The redemption options vary based on your total earnings.
For instance, you can cash out via Skrill or Paypal starting at a minimum of $5. You can also get your earnings through Amazon and Visa Gift cards, Free Spotify Premium subscription, and Walmart e-Gift cards.
Grab Points is also among the best sites to earn Steam Wallet Codes. On Trustpilot, the platform gets 4.7 stars from 1,200 reviews.
Create your Grab Points account for free
Earn PayPal Money no Minimum Payout no Surveys
As we've discussed above, there are quite a variety of surveys out there that have either no minimum payout or a very low payout threshold, sometimes as low as $1.
To make the best of these fast online money opportunities though, the purpose is to partake in more than just simple surveys.
Top on my list of such tasks includes focus groups, product testing, and field studies.
With that in mind, here are some sites that do not require minimum earnings for users to cash out.
7. Qmee
Known for making users free Google money with zero investment, Qmee is a free browser and mobile app that earns you cash rewards for sharing your thoughts. You can also earn rewards by searching and shopping online.
However, the site mainly focuses on paid surveys.
According to its users, surveys on Qmee pay around $1-$4/hour. This varies due to factors like disqualifications and survey lengths.
When you do surveys for money, Qmee adds your rewards to your PayPal account in real-time. Yes, that's right- PayPal money on the spot.
All you need is to have a verified PayPal account. The best part is that you also get to enjoy no minimum cashout on your earnings. On the other hand, you can choose to cash out for a gift card. Qmee also offers some of the best cashback deals.
Also, if you are looking for money-making games with no minimum payout, this is the site for you. There are all sorts of games on the site including puzzles and casino games.
Caution: You can't unlink a PayPal account once you've linked it on Qmee. So, make sure that you link to the correct PayPal account with your first cash out. Nonetheless, you can link additional PayPal accounts.
Download the Qmee App on App Store and Google Play.
Also Read: 13 Legit Sites Like Inbox Dollars
8. InstaGC
If you're looking for surveys that pay through PayPal instantly, then InstaGC is another great platform you may want to try. PayPal cash aside, you can earn instant gift cards from popular online marketplaces like Amazon, Netflix, Walmart, and Airbnb.
However, unlike Qmee, they will not give you cash directly. You can earn in the form of points. One InstaGC point is equivalent to $0.01, with 100 points equaling $1.
The number of points you earn every day depends on how much time you are willing to invest. InstaGC claims that some of its members make up to $20 daily.
With InstaGC, cashout depends on the payment option of choice, with 100 points being equivalent to $1. For example, the lowest denomination you can withdraw for a gift card is $1.
And apart from completing surveys, you can also earn money for things you do online like searching the web and shopping online, as well as watching videos.
Are you in Asia, Africa, or even South America? You will be happy to know that InstaGC accepts membership from almost all countries (excluding China and Vietnam).
The only condition is that PayPal is available where you are and that you are 18+ years old. Better yet, teens can also make money with InstaGC, provided that they have parental consent.
Click here to start earning with InstaGC
9. Surveytime.io
Surveytime.io is yet another instant PayPal payment survey. Your account is paid immediately after your survey ends, with every survey paying $1. Their surveys aren't complicated and only take a few minutes to get done.
For the most part, the number of surveys you receive depends largely on your demographic which is the case with Surveytie.io. Further, the site offers paid surveys in every country, matched to a user profile.
To ensure that you get invited for the right surveys, answer sign-up questions truthfully.
Then, after you complete your survey, the company will send out your $1 reward, either via PayPal, Amazon, Decathlon, or Target just to name a few of their cashout features.
Kids of 13+ years old, with adult supervision, can complete surveys on the platform.
Sign up for Surveytime using Facebook, Google, or Twitter
Instant PayPal Payout Apps
Isn't it great that technology has made it possible to send and receive money fast and from anywhere in the world? The development has made it possible for companies and marketers to access and pay for opinions instantly.
And in as much as some surveys send payments to your PayPal account within 24 hours after making a withdrawal, the system still beats waiting for a check.
Not forgetting, there are survey apps that pay you instantly at the touch of a button. These include:
10. Swagbucks
Swagbucks rewards you with points for shopping online, watching videos, searching the web, and answering surveys. While there are multiple sites similar to Swagbucks, this is undoubtedly the best for instant payments and PayPal games with no minimum payout.
Swagbucks surveys have different payouts, with some panelists making $50.
Most studies will pay less, but also take a very short time to complete. Expect to earn anywhere from 40 to 200 SB points per survey (100 SB = $1).
Redeem your points for gift cards from your favorite retailers like Amazon and Walmart. Swagbucks is also a leading cashback app and website that has rewarded users with a whooping 582M+ in cash and gift cards.
You can cash out rewards with a minimum of $1 for an Amazon gift card, however, if you choose PayPal, you're required to have a minimum of $5 in your account. It usually takes not more than 3 business days to receive your rewards.
When you invite your friend or family to join PayPal, you'll earn 10% of the referral earnings. Moreso, you and your referral get a 300 SB bonus when they make 300 points within the first month.
Swagbucks' referral bonus ranges at around $5 – $10, with other offers that can earn you up to $25 free!
Claim your $5 welcome bonus here
11. Feature Points
FeaturePoints claims that its users have made over $5 million since the platform came to be in 201. With this app, unlike the rest, not only do you get paid to answer questions but you can also scratch to win 50,000 points instantly!
And with 600 points being equivalent to one dollar, this could be your chance to make over $80 instantly.
The app is available for both iOS and Android devices and all you need to do is download and install it for free to get started.
Redemptions start at as little as $2, or 1,200 points, and can take under 48 hours to get processed and sent to your account. PayPal money cashouts start at $5 and up to $500.
Each referral earns you up to 50% each time your friend earns- for life! Yes, you heard it right, for life!
What's more, FeaturePoints allows you cashouts through Bitcoins and hundreds of select gift cards.
Also, you can earn cash back by redeeming points in various outlets such as Walmart, Target, PlayStation, X-box, and Forever 21.
The app gets a remarkable Trustpilot score of 3.2 stars out of the possible 5 stars on Trustpilot.
Also Read: How to Sign Up for Branded Surveys
12. PrizeRebel
Are you ready to make money online with PrizeRebel? Here, you complete paid online surveys, earn points, and redeem them for Paypal cash.
You can also go for gift cards from Amazon, eBay, Steam, Visa, Burger King, and more. For instance, you can use your money via an Amazon gift card starting at $2.
Signing up is free and within 10 seconds you'll be done!
PrizeRebel is available in most countries, but the opportunities vary depending on your region and demography. Upon completing a survey, funds are sent to your account within 24 hours.
The site also runs a referral program that awards you 20% of whatever your friend makes. Other opportunities to increase your earnings include 'offer walls' and various microtasks.
There is also a special monthly bonus that adds a % of points to your total points at the end of every month.
Join PrizeRebel for free and get paid for sharing your opinion.
13. Survey Junkie

Survey Junkie lets users rack up digital points each time they take a survey. These are rewards that are redeemable for PayPal cash or gift cards.
It has well over 3 million members to date and is regarded as one of the best survey reward sites in the world.
It's free to sign up, and the opinions you offer during surveys can actually help influence products and services that make it to the market. This is an A+ BBB-rated survey site with over 10 million users.
You won't earn a ton of money but you can expect to earn $0.50 to $3 for each survey you take. To earn consistently with SJ, complete every survey that you qualify for and be on your to making up to $300 per month.
Keep in mind that, with a low $5 minimum payout, you can choose to redeem your rewards via PayPal.
Besides cashing out through PayPal, you can also opt for gift cards from top brands like Amazon, Target, and more.
Click here to register for SurveyJunkie surveys
Ready for PayPal Surveys No Minimum Payout?
Survey sites that pay via PayPal without a minimum cashout requirement are your way to quick cash. With the right app or website, you can complete a questionnaire, submit your answers, and get paid right there and then.
Registering for online surveys is free and besides, you usually get bonus points or money to start off. As a survey taker, you also get to enjoy some products and services long before they debut in the market.
Note, surveys don't pay much money and are best taken as a side hustle. To make good money, combine surveys with other legit side gigs.
Lastly, it's your time to tell us about the best surveys and no minimum payout game apps you have across. How much was the pay and at what frequency? Join the discussion with your comments.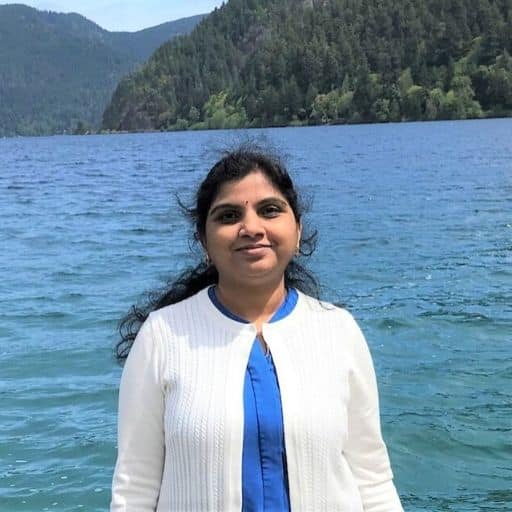 Howdy Folks, thanks for stopping by my blog.
I'm Swati, a proud mom, dedicated side hustler, full-time blogger, and a recognized millennial work-at-home expert. My expertise has been featured on esteemed platforms such as Forbes, CEO Blog Nation, Referral Rock, Vital Dollar, Databox blog, and many more. I have embarked on this incredible journey to share my firsthand experiences in the world of online income generation and to assist all of you in earning money from the comfort of your homes.
Join me in my mission to revolutionize the way we make money and achieve financial freedom. Trust me, it's not as challenging as it may seem!
Together, let's explore the boundless opportunities and pave our paths towards a prosperous future.