In this Pinecone Research review, I'll begin by examining the panel's trustworthiness. Why? Because it is in your best interests to be skeptical about the legitimacy of any paying website because of the rise in online scams.
It also aids in judging the payments made and services offered to previous and current members of the panel. Hence, checking reviews on user-generated forums such as Reddit is highly advisable for any survey site.
Additionally, most online-based companies are rated on platforms such as BBB and Trustpilot. These are trusted web content rating websites that provide a critical outlook of companies such as Pinecone Research.
Apart from finding out how the company ranks on such review sites, we shall look at the in and outs of working on this leading paid surveys site.
I will also take you through their sign-up process as well as the requirements for taking surveys on the site. And, before summarizing the pros and cons of working on Pinecone Research, this post will cover how the company works plus its main features.
Here we go…
What is Pinecone Research?
Pinecone Research is a trusted leader in voicing consumer opinions across the world. It is operated by the leading market research Nielsen Company, which offers insights and data about what people buy and watch.
Pinecone is an exclusive survey website dedicated to developing new and improvised products by collecting nationwide opinions from consumers.
It's an explicitly legit website that requires a special invitation (unlike other survey sites) and qualifications to join the Panel.
Members who qualify and have met requirements will be sent an email inviting them to select their cash-out preferences.
Typically, due to the exclusive nature of Pinecone Research signup and invite nature, Pinecone Research is able to regulate its member numbers. What this means for you is better services, more job opportunities, and most importantly, better pay.
The members of Pinecone Research, also referred to as Panelists, receive points for each completed survey. Surveys are mailed whenever available.
Occasionally, they will send you a product to test, too. On completing the survey, you get to earn points that are redeemable for either prizes or cash via check in just 1-2 days.
Sometimes you get to cash out on the same day!
Pinecone Research Features
To begin with, Pinecone Research is completely exclusive and FREE to JOIN.
Now, are you wondering what that means?
It means that in order to become a member of the programs they host, you need to be invited by random unsolicited links or invitations from the panelists. This itself should be more than enough to explain to you the authenticity of the website.
Typically, the surveys pay you an amount of $3-$5 on successful completion with each product review making you $6 which is a pretty decent amount.
Let's be real, all you are doing is filling out surveys and testing out products that are being sent to you for free, and to top it off, you are being paid for that.
Nothing gets better than that. Does it?
The one factor that makes Pinecone Research one of the best out there is the kind of process it follows. It is not like any other random survey website you come across. You don't choose to get the membership of the website, they choose you.
They have their standard guidelines based on which they make the choices, be it for demographics or some other factor.
The features are nothing much to ponder on. You get invited by a member and based on if you meet the certain standard criteria put on by Pinecone Research, you become a member too.
They conduct surveys as well as standard product reviews of varying brands and products. The same isn't constant and will definitely keep on varying depending on the clients they are approached with.
The main point of interest is – how does Pinecone Research work?
How Pinecone Research Works?
The process followed by the team behind Pinecone research is comparatively a lot different than the existing survey websites that you often cross paths with.
On this website, they select people that would fit their client requirements and demographics to test out products and fill out surveys.
This ensures to provide the companies in question with a more accurate review of the supposed product or service that they are thinking of launching.
That sounds about right, doesn't it? So, how does it work?
Pinecone Research Sign Up 2022: How To Join Pinecone Research?
Sign up for Pinecone Research through an invitation link. Without any form of invitation link, it isn't possible in any form for you to just sign up and become a member.
These invitation links are either:
Shared via the team of panelists or,

Pop up as unsolicited links on your social media feeds.
Once you get an invitation link, the second step in the process is for you to fill out an online questionnaire answering all the details they ask for.
Here, try to be as truthful as possible because there is no underlying agenda other than the fact that they seek this information to see whether or not you match up to their client's requirements.
Among the fields, you fill in include name, email address, physical address, and phone number. After you submit the form, you will receive an email with a link to confirm registration.
The link directs you to more questions that help in building your member profile for ease of survey selection.
Lastly, you need to create a password, set up a security question, and agree to their terms of service for the registration to succeed.
Caution: Pinecone Research does not have a Facebook account or any presence on the social network. So, if you get on a Facebook page inviting you to the company's surveys, then know that's a scam!
Pinecone Research Profile
Receiving a Pinecone Research invite does not necessarily mean that you get accepted to the site. It is your user profile that determines whether the company can slot you in for surveys or not.
What you need to understand is that surveys are targeted to specific people who meet the criteria set by the originating company.
So, if your profile matches up with the demographics that Pinecone's clients need and seek, you are readily going to be accepted to the website. And once that happens, you will be sent surveys to fill out via your e-mail that you can answer and then get paid for.
As such, working on paid surveys on Pinecone falls under legit non-phone jobs for home-based workers.
With that in mind, ensure that you complete the profile section and do so truthfully.
Not only does that help in getting you into surveys, but being factual also ensures that clients get the right feedback.
Remember, as a panelist you are to represent the actual market demographic outside the research company. Also, it's worth noting that the answers you provide are used for major business decisions.
Pinecone Research data is used in shaping products and services from different brands. Such impacts include styles, prices, packaging, rewards, offers, varieties, and so on. In light of this, give every profile question serious thought before submitting your answers.
Your profile is created from a list of 15 questions which takes about 10 minutes to complete. Depending on the available openings, the quiz can range from personal life to your current professional undertakings.
What are Pinecone Research Household Questions?
Equally important, you should know that the company will ask you some household questions. These are not paid surveys but questionnaires meant to update your profile for future jobs.
As such, do not overlook the questions and again, be truthful when answering. Furthermore, you can always contact Pinecone to update any changes in your household without prompting.
Pinecone Research Surveys Requirements
Apart from honesty and integrity, plus having to be invited to join, this online survey site has some minimum requirements for new members. These requirements are found in their membership agreement that, among other conditions, states that:
You must be 18 years or older to join the company

Only a single person can get approved per household

Points and rewards are not transferable to other members

As the account owner, any minors who participate in surveys (on direct request by Pinecone), do so with your consent

It is your duty to inform and get the consent of everyone in your household regarding the data that is collected from them for research use by Pinecone

No one involved in the studies is supposed to be employed in market research or advertising

As per the confidentiality agreement of each survey. You are liable for any contract breaches, such as copying or sharing of product ideas.
Just to reiterate, when you are accepted to join Pinecone, it's like getting approved for an exclusive club; terms and conditions are to be adhered to strictly. Failure to do so can lead to fraud charges against you on top of losing all of your available rewards and points.
Above all, Pinecone Research only communicates through one email address; Scott@pineconeresearch.com
How To Earn with Pinecone Research?
Most paid survey websites also pay you for different tasks such as playing games and watching videos. Unfortunately, Pinecone Research pays exclusively for market research tasks. These include:
1) Taking Surveys
When you receive a survey notification via email and accept, you are directed to a questionnaire. These surveys are commonly referred to as studies about products or services, and take 15 to 20 minutes to complete.
While it's not common for you to be dropped from the list of panelists, the company can discontinue your membership without notice. Such action is taken if you continually don't accept survey invites.
Letting other people in your home complete the studies on your behalf can also lead to the cancellation of membership.
Most importantly, Pinecone allows you to work on your own schedule. As s panelist, you can call and provide the dates you are planning to be unavailable and suspended invites.
Related: Is Survey Junkie Hack?
2) Product Testing
Among the surveys that you will come across are product studies. Such surveys seek to get insights on the merits of product ideas before launch, rather than feedback on a product that is in circulation.
That said, Pinecone Research also supplies panelists with actual products to test and provide a review.
This is a very unique way of making that also comes with the added advantage of having the first go at brand new products.
And the best part is, you don't pay a single penny for the product. You and your household get absolutely free stuff!
In the event that the product hasn't arrived before the commencement of the study, then you are required to desist from taking the survey.
Just like normal surveys, you are notified of product trials via email, so keep an eye on your inbox for these amazing opportunities.
Related Read: 25 Best Sites for Paid Product Testing Gigs
Pinecone Research Payments
Pinecone Research primarily works on a point basis system.
The first 300 points (which equates to $3) you earn will automatically be redeemed as a check and sent to your home address. This is a security feature to enable the company to verify your bank and personal information.
Once this initial transaction is complete, your point balance will accumulate and you can redeem for a wide selection of physical and digital gift cards, including virtual visa cards, and brand-name merchandise.
Here's a quick list of the various payment options:
Cash via check

Amazon gift cards

Walmart gift cards

Starbucks gift cards

Prepaid debit or credit cards

Home Depot gift cards

iTunes gift cards

Movie vouchers

Merchandise

Sweepstakes entries
Note: The platform did use to pay via PayPal, until recently when the option was scrapped.
Once you start filling out surveys and doing product reviews, you will earn points for them which can later be redeemed for money or gift cards.
Additionally, if you redeem your points for merchandise that happens to be defective, the company offers replacements at no charge.
Another key point about this survey is that your points remain valid for up to 1 year of no earning activity.
Pinecone Research Reviews
By this point, you know all there is to know about Pinecone. But before going through the pros and cons of taking surveys for money on this platform, let's see what netizens have to say about their services and pay.
First off, the panel is not accredited by the Better Business Bureau (BBB). However, this marketplace trust rater awards Pinecone 1.75 out of 5 stars.
This is not an encouraging score and needless to say, the same trend is seen across other business raters.
Case and point: On Trustpilot, Pinecone Research gets 1.8/5 stars from 48 reviews. But unlike other platforms with lots of user reviews to go on, the panel's reviews on Trustpilot are only 52.
Similarly, by publishing, the BBB rating was based on 28 reviews only.
Despite the below-average rank, none of the reviews talk of the panel being a scam. Most of the negative reviews have to do with the banning of accounts, being dropped from studies, and few survey opportunities.
A closer look at the company's terms of service can explain most of the issues raised. Such include occasional updating of the list of panelists to reflect changing market demographics and the strict nature of requirements for each review.
Here are more reviews to consider:
Pinecone Research Reviews on Reddit
On Reddit, Pinecone has a huge following with comments subreddits attracting hundreds of people. Here, both current and former workers with the platform, present a picture of a legit and well-paying company.
In the comment below, the Redditor says that they receive 1 to 2 invites per week.
They continue to say that each survey is up to 10 minutes long accompanied by occasional free samples.
From the subreddit, some of the free samples given to members include food products and clothing.
Also, some former members advise that you should set your account to vacation mode when unavailable for months to avoid getting kicked out.
In the next review, this Redditor complains of not getting any surveys for about a year. They do, however, admit to getting emails confirming non-qualification.
At the same time, the user writes that Pinecone Research has been sending them non-paying surveys- which if were to guess, is the company attempting to update the member's profile for better chances.
On the other hand, people who reacted to the comment portray a company with many surveys to go around. They even talk about being able to access the ShopTraker program through Pinecone Research.
This is a free rewards program that tracks and pays you $3 per month for shopping on Amazon.
Generally, the sentiments expressed in this subreddit showcase what you would expect in an exclusive paid surveys company: Some people get up to 2 surveys per week, while others go for a month without receiving any invites.
The takeaway here is that paid surveys are only meant to supplement your income from the main job or other side hustles. Just as the above redditors advised, sign up for the occasional $3 for up to 20 minutes of your time.
Pinecone Research Pro and Cons
PROS
Now that we have talked more or less about everything about the website, let us list down the pros of the website.
The first good thing about the website is the fact that it is completely free. You don't need to pay any penny to get access to surveys and products. You can get everything right to you without having to pay anything upfront.

Membership is free and registration only takes a few minutes – no endless forms to fill out.
Sends You Pre-qualified Surveys
How many times has it happened to you that you have been filling out a survey for 30 minutes only for the server to mention at the end that you aren't qualified enough for this? Plenty of times, right?

Well, that is not the case with Pinecone Research. They send you prequalified surveys which ensure that you are investing your time for good.

All of the earned payments are made within 48 hours of redemption. These are either made via cheques, gift cards, etc. The best part is that there is no minimum redemption balance on the website.

They conduct sweepstakes which are definitely an added bonus because you get to try out your luck at winning more than you could think of.

To begin receiving $3 for each product survey plus entries into a Sweepstakes to win additional cash prizes.
CONS
Let us list out the cons of the website.
It is an invite-only survey site. Without a formal invitation, it is not possible for you to gain access to the surveys.
It doesn't have any mobile application so you need to access the website via your desktop or tablets
A limited amount of surveys are given to selected people only. This is done to maintain the quality of the answers for accurate viewpoints
Demographics matter a lot. If the companies allied are not matching up to your demographic, chances are that you won't be selected for the surveys.
Here's a video on Pinecone Research Review that clearly explains - What makes the site exclusive along with Payment Proofs:
Best Alternatives to Pinecone Research
Due to the exclusive nature of Pinecone Research, you may opt for other legit and easy-to-join platforms. Here are my top picks:
1. Vindale Research
Vindale Research is a legit platform that scores 3.8 stars on Trustpilot. They pay for paid surveys, reward codes, watching videos, referrals, reading emails, and sharing payment pics.
You can make up to $75 for product trials and about $5 per hour completing surveys.
Read about Vindale Research sign-up process here.
2. Swagbucks (SB)
Swagbucks pays you for watching videos, answering surveys, shopping on the internet, participating in promotions, and referring friends to the platform.
The site scores 4.5 stars on Trustpilot with members making about $1 per survey and up to $2 in a day, working for just a few minutes.
Click here to join and claim a $5 sign-up bonus now.
3. Survey Savvy
This is an A+ BBB accredited survey site with a minimum payout of $1.
Members earn through referrals, surveys, and online contests. They also pay you $5 for each of the devices that you install their platform on.
Paid surveys on SurveySavvy pay between $1 and $25, depending on the length and scope of the study.
Follow this link to learn more about SurveySavvy.
Pinecone Research Review: FAQs
1. Is Pinecone Research Surveys Legit?
Yes, Pinecone Research is completely legit and pays what it promises for the time and effort that you put in. Moreover, they're owned by Nielson, one of the largest market research firms in the world, and require a special invitation (unlike other survey sites) and qualifications to join the Panel.
You can join Pinecone Research here
2. How much can I make from one survey?
Most of the paid surveys on Pinecone pay $3 per survey. That said, each survey pays differently. On a higher scale, you can make up to 5,000 points, which is equivalent to $50, from a single survey.
3. How long does it take for the rewards to reflect in my account?
Depending on the method through which you choose to redeem your points, your earnings apply to your account in 3 to 5 working days. Some redeeming methods can also pay you within 48 hours.
4. Do I get paid for completing household questionnaires?
No, household questions are definitely not paid surveys. These are in-house questionnaires prepared to collect personal data about Pinecone Research members.
The information you provide helps in creating your profile and ensures that you get invited to complete paid surveys that you qualify for and are best suited for.
5. How do I check my points and do points expire?
Once you log in, head to the members' section and you can view your points from here.
As long as your account is active in completing surveys, you can accumulate as many points as you wish without fear of expiry.
That said, if your account goes for a whole year (12 months) without participating in paid surveys, your points expire.
Is Pinecone Research Worth It?
Yes, Pinecone Research is worth a try! It is one of the best fast-evolving exclusive survey platforms. They pay their panelists promptly with very little complaints about payments or services.
While they may not pay a lot, surveys taken via Pinecone are definitely worthwhile and sometimes you get to test and keep a product for free!
They also have one of the most transparent get-paid-to websites with comprehensive coverage of FAQs.
Owing to the unique approach to their surveys and the process they follow, it is no debate that this website is definitely one of the best and best paying among the many.
And, did I mention that they have been doing this for the last 22 years? Yes, Pinecone is older than their minimum age requirement, making them one of the oldest legit and continuously running paid surveys platform.
So, what's keeping you from completing surveys from the comfort and convenience of your home and getting paid for sharing your opinions?
Join the PineCone Research Online Consumer Panel and help to influence tomorrow's products today!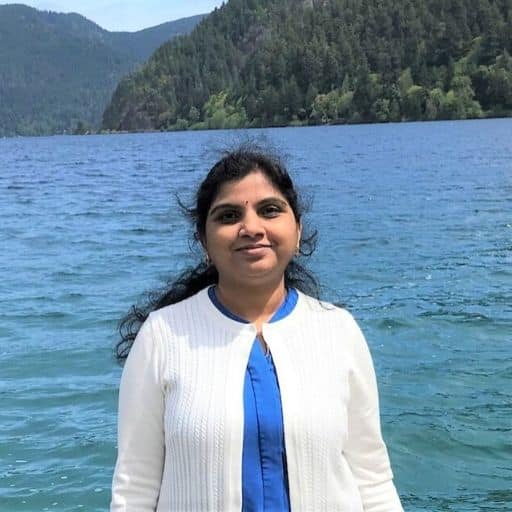 Howdy Folks, thanks for stopping by my blog.
I'm Swati, a proud mom, dedicated side hustler, full-time blogger, and a recognized millennial work-at-home expert. My expertise has been featured on esteemed platforms such as Forbes, CEO Blog Nation, Referral Rock, Vital Dollar, Databox blog, and many more. I have embarked on this incredible journey to share my firsthand experiences in the world of online income generation and to assist all of you in earning money from the comfort of your homes.
Join me in my mission to revolutionize the way we make money and achieve financial freedom. Trust me, it's not as challenging as it may seem!
Together, let's explore the boundless opportunities and pave our paths towards a prosperous future.