It is mandatory to be very skeptical about the authenticity of the website because of the kind of constant rise of the scam websites. That being said, it is not surprising at the least to know for a fact that whatever Pinecone Research claims is what it delivers.
What is Pinecone Research?
Pinecone Research is a trusted leader in voicing consumer opinions across the world. It is operated by the leading market research Nielsen Company, which offers insights and data about what people buy and watch.
Pinecone is an exclusive survey website dedicated to developing new and improvised products by collecting nationwide opinions from consumers. It's an explicitly legit site that requires a special invitation (unlike other survey sites) and qualification to join the Panel. Members who qualify and have met requirements will be sent an email inviting them to select PayPal as their point cash outs preference.
The members of Pinecone Research also referred to as Panelists receive points for each completed survey! Surveys are mailed whenever available. Occasionally, they will send you a product to test, too. On completing the survey, you get to earn points which can be redeemed for either prizes or cash via PayPal in just 1-2 days. Sometimes you can cash out on the same day!
The first 300 points (which equates to $3) you earn will automatically be redeemed as a check and sent to your home address. Once this initial transaction is complete, your point balance will accumulate as normal and you can redeem for a wide selection of physical and digital gift cards, including virtual visa cards, and brand-name merchandise. Here's a quick list of the various payment options:
Cash paid via PayPal
Cash paid via check
Amazon gift cards
Walmart gift cards
Starbucks gift cards
Prepaid debit or credit cards
Home Depot gift cards
iTunes gift cards
Movie vouchers
Merchandise
Sweepstakes entries
Features
Pinecone Research is a survey and website testing platform and that main catch of the website is the fact that it is completely exclusive and FREE to JOIN. Now, are you wondering what that means? It means that in order to become a member of the programs they host, you need to be invited by random unsolicited links or invitation from the panelists. This itself should be more than enough to explain you the authenticity of the website.
The surveys tend to pay you an amount of $3-$5 on successful completion and the product reviews pay you around $6 which is a pretty decent amount. Let's be real, all you are doing is filling out surveys and testing out products that are being sent you for free and to top it off, you are being paid for that. Nothing gets better than that, now, does it?
The one factor that makes Pinecone Research one of the best out there is the kind of process it follows. It is not like any other random survey website you come across. You don't choose to get the membership of the website, they choose you. They have their standard guidelines based on which they make the choices, be it for demographics or some other factor.
The features are nothing much to ponder on. You get invited by a member and based on if you meet the certain standard criteria put on by Pinecone Research, you become a member too.
They conduct surveys as well as standard product reviews of varying brands and products. The same isn't constant and will definitely keep on varying depending on the clients they are approached with.
The main point of interest is – how does the entire thing work?
How does Pinecone Research Surveys work?
The process followed by the team behind Pinecone research is comparatively a lot different than the existing survey websites that you often cross paths with. In this website, they select people that would fit their client requirements and demographics to test out products and fill out surveys.
This ensures to provide the companies in question with a more accurate review of the supposed product or service that they are thinking of launching. Sounds about right, doesn't it?
So, how does it work?
The very first to become a Pinecone member is for you to get an invitation link. Without any form of invitation link, it isn't possible in any form for you to just sign up and become a member. These invitation links are either shared via the team of panelists or even pop up as unsolicited links on your social media feeds.
Once you get an invitation link, the second step to the process is for you to fill out an online questionnaire answering all the details they ask for. Try to be as truthful as possible because there is no underlying agenda other than the fact that they seek this information to see whether or not you match up to their client requirements.
If you match up with the demographics that Pinecone's clients need and seek, you are readily going to be accepted to the website.
Once you get accepted on the platform, you will be sent surveys to fill out via your e-mail that you can answer and then get paid for.
Pinecone Research primarily works on a point basis system. Once you start filling out surveys and doing product reviews, you will earn points for them which can later be redeemed for money or gift cards.
PROS
Now that we have talked more or less everything about the website, let us list down the pros of the website.
The first good thing about the website is the fact that it is completely free. You don't need to pay any penny to get access to surveys and products. You can get everything right to you without having to pay anything upfront. Membership is free and registration only takes a few minutes – no endless forms to fill out.
Sends you pre-qualified surveys
How many times has it happened to you that you have been filling out a survey for 30 minutes only for the server to mention at the end that you aren't qualified enough for this? Plenty of times, right? Well, that is not the case with Pinecone Research. They send you prequalified surveys which ensure that you are investing your time for good.
Given everything and the constant rise of scam websites, we can genuinely assure you that is not the case with this one. Pinecone Research is completely legit and pays what it promises for the time and effort that you put in.
All of the earned payments are made within 48 hours or redemption. These are either made via cheques, PayPal etc. The best part is that there is no minimum redemption balance on the website.
They conduct sweepstakes which are definitely an added bonus because you get to try out your luck at winning more than you could think of.
To begin receiving $3 for each product survey plus entries into a Sweepstakes to win additional cash prizes.
CONS
Let us list out the cons of the website.
It is an invite-only survey site. Without formal invitation, it is not possible for you to gain access to the surveys.
It doesn't have any mobile application so you need to access the website via your desktop or tablets
A limited amount of surveys are given to selected people only. This is done to maintain the quality of the answers for accurate viewpoints
Demographics matter a lot. If the companies allied are not matching up to your demographic, chances are that you won't be selected for the surveys.
Here's a video on Pinecone Research Review that clearly explains - What makes the site exclusive along with Payment Proofs
Pinecone Research Review: My Final Take
Pinecone Research is one of the best fast evolving exclusive survey platforms.
It always pays its panelists and there's never been a problem with them as there are with some others. It may not pay a lot, but the surveys taken via Pinecone are definitely worthwhile and sometimes you get to test a product! None of the stated facts in the website is fake and they live up to every single claim that they have made.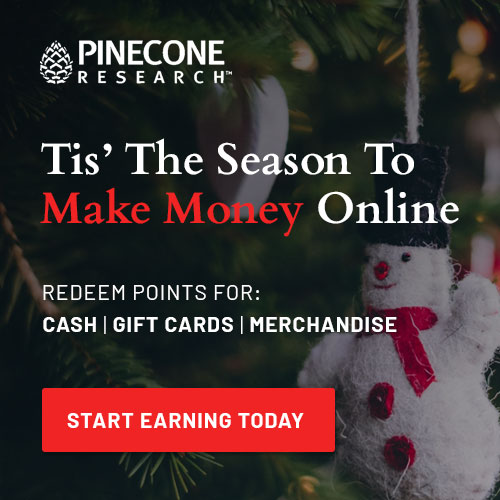 Owing to the unique approach to their surveys and the process they follow, it is no debate that this website is definitely one of the best in the lot. Complete surveys from the comfort and convenience of your computer and get paid for sharing your opinions. Join the PineCone Research Online Consumer Panel and help to influence tomorrow's products today!