This Literably review covers everything you need to know about Literably, from the application process to Literably job reviews.
As you will realize, Literably not only draws the attention of individual teachers, schools, and parents of K-8 students but also shows up in work-at-home job searches.
And, more specifically when it comes to online transcription jobs. So, how does one software bring these kinds of people together? More of this later. For now, let's delve more into why this literably review is necessary.
Any platform that catches the attention of the online community and also has money and people's hard work involved often raises the question of whether it is legit or a scam.
This is perfectly normal considering the fact that making or paying money online is often surrounded by lots of hype, false promises, misinformation, and scams.
Lucky for you, and especially if you are looking into real work-at-home jobs, this review explores the nitty-gritty of Literably.
Find out what the platform is all about, jobs opportunities, the application process, the pay, the word of those who have been there, and done it, and more importantly, whether Literably is legit or a scam.
If you are ready, we'll jump right in!
What Is Literably?
Literably is an online platform that assesses K-8 students' ability to read and comprehend. The goal of the platform is to identify a student's reading level and keep track of their progress.
This platform was designed in the wake of reports of reading and comprehension difficulties prevailing amongst US students. The reports, published by Resilient Educators, indicated that over 30 million adults in the US cannot read, write, or do basic math.
Literably is the creation of Tyler Borek and Habib Moody back in 2013. Both founders have an educational background from Yale University.
How To Use Literably?
Teachers and schools can download the software on a mobile device or computer. They pay a subscription fee in order to have access to the Literably classroom tools. Once downloaded, the students use Literably by speaking into the device. They read texts and answer comprehension questions.
24 hours after the student reads the text, Literably works with transcribers and scorers to create a report containing details of the student's performance. The report comprises fluency, accuracy, and comprehension with A-Z reading levels. This report helps the teachers to determine their students' reading ability.
Literably Transcriptionist Jobs
Once a student finishes recording, Literably will send transcriptionists the text and the recording of the student.
As a Literably scorer and transcriber, your work is to listen to the record of a student reading from the website's reading materials and answering comprehension questions.
You then make accurate entries of what they read including the errors they make into a transcript. Before submitting your work, you will grade the student's reading capability. Once you've fulfilled your duties, you submit the word document to Literably.
And you don't have to worry if you have no idea how to go about it. There are training resources available on Literably.
Literably Application
Literably is among those sites with an incredibly easy application process. However, before you proceed to the application, there are some general requirements that you must meet. They include:
Be at least 18 years

You must neither be living nor performing services for Literably in these cities; New Jersey, California, Montana,

Connecticut, Nebraska, or Massachusetts

Having a Paypal account for payment purposes

Possess high-quality headphones

Have a fast PC or laptop and access to a stable internet connection.
Having said that, let's proceed to the application process.
To be a transcriber or scorer on the platform, you need to sign up on the platform. You will need to give your user information including username, password, and email address. Since literably will pay you via Paypal, make sure to use your Paypal email address here.
Next, watch the training videos available for you so that you learn how to score and transcribe for Literably, then take the test.
How To Pass The Literably Test?
Typically, most other transcribing websites only accept transcribers with experience Literably has opened its doors to those aspiring to become transcribers. Even better, they provide free training for beginners after which you take a test.
First, you will be sent some transcribed files for you to look at so that you have an insight into what is expected of you. From there, you will take a test consisting of 6 transcription tasks which you should finish in 30 minutes or less. The secret to passing the test is to take every training session seriously.
It's only after you've passed the test that you can work as a transcriber and scorer for the Literably. If you fail, you can try the test a year after that day.
Unfortunately, due to high demand and a small team of reviewers, it may take 10-12 weeks before you hear back from the company. This is quite some time, especially for someone looking to make money quickly.
Meanwhile, you can check out numerous ways to make money fast and also explore ideas for things you can sell to make money.
Literably Pay
As at the time of publishing this Literably review, literably pays between $0.35 – $0.85 per audio minute. Just so we are clear, per audio minute is not similar to per minute. Normally, one audio minute will take you an average of 4-5 minutes to transcribe. This can however change depending on your skills and how fast you can work.
For example, in an hour (60 min), you will have around 15 minutes of paid time working at the typical speed. If you earn $0.35 per audio minute, then you will be making a gross hourly income of $5.25 as compared to the one earning $0.85 per audio minute who will take home $12.75 pre-tax.
Looking at some reviews, it seems that there's a general unanimity of $5-$10 per hour for beginners and $10-$20 for the experienced.
Literably App Review and Literably Job Reviews
Something I always do is check whether a company is listed and rated by the BBB. This helps me in knowing whether or not I can trust the company based on how they conduct their business activities.
Unfortunately for this Literably app review, the platform is not rated by BBB. On the App Store, the app has a rating of 2.9 and 4.0 on Trustpilot.
Literably Job Reviews
On the job side of reviews, as at the time I was writing this literably jobs review, there are only 9 reviews on Glassdoor.
From these reviews, there are only three major concerns with the platform. Some reviewers mentioned that this is a very demanding job that requires you to have a good ear and a firm grasp of the English language.
It is also a concern that the jobs are not always consistent especially during the summer season and the weekends. Other reviewers also see the payment as a bit low but compared to the level of effort input, considerably fair.
Despite the few complaints, many people like working with the company and for a good number of reasons.
For starters, despite the pay fluctuating, the assistance, motivation, and positivity of the company's support group, helps you get more experience to increase your transcribing and scoring skills.
You get to work at your own preferred time provided you finish the work on time. This means that you don't need to worry about getting in the office before time. Also, the process to start subscribing and earning is easy. There's no limit on the amount of time you can work as long as work is available.
The company is not known for delaying its payment. Normally, payments are made weekly and on time via Paypal. Finally, several transcribers find the fact that the platform is meant to help kids and schools an added inspiration.
Literably Reviews Reddit
It is apparent, there aren't many reviews of Literably online. This shouldn't get you worried because it's not really a red flag. I however managed to come across a review on Reddit where the reviewer said that the child was not audible enough. They noted background noise, a non-English accent, and the child making up some of the words not in the text as the main challenges.
From the above feedback, we can assume that the students using the app are not all native English speakers. This can make your work a little more difficult. Considering that you get paid per audio minute, then files with non-English accents and audio with poor quality may cost you much of your time.
Literably Transcription Review
Here, I will summarise what I think about Literably. More precisely, I will highlight what I like and what I don't like about the company.
What I like about Literably
Payment via Paypal-

the company performs all its payment transactions via Paypal, an easy and trusted platform to use.
Available for transcribers worldwide-

unlike some other platforms that provide work from home job opportunities to selective countries, Literably puts the offer on the table for everyone.
Flexible schedule-

Literably will never inflict a fixed schedule for use. It's up to you to come up with your own favorable work schedule. After all, you get paid depending on how fast and the number of files you've worked on for the week.
Weekly payments-

with Literably, you won't have to wait for weeks before you collect your reward as you get paid on a weekly basis.

Open to beginners-

unlike other transcription websites where it's a requirement that you have prior experience in this field, Literably accepts people who are aspiring to be great transcribers. They even have a training session put in place to help you reach your optimum potential.
What's not to Like about Literably
Work is inconsistent during the summer-

making

Literably transcription

jobs your only source of income is not a good idea. The reason being, the workload will be at its peak when the students are in school. On the other hand, during summer or holiday, it tends to be which makes it an unreliable source of income.
Not all voice recordings are from native English speakers-

it may take you some time to complete certain files, hence affecting your pay. Also, other factors such as background noise can make the work more difficult.

The approval process is time-consuming-

when applying for a job here, it will take you around 10-12 weeks before you hear from the company. That's way too much time to just wait for a response especially if you really need to make money quickly.
Is Literably a Scam?
Literably is not a scam. Whenever you come across an online or home-based job listing, you'll often ask whether it is legit or one of the online scams. Luckily there are indicators that might help you in distinguishing scams from legit websites.
Some of the red flags to look out for include interminable software issues, poor support from the platform, and consistency on delayed payments.
So, coming back to literally, the platform has a few things going for it. To begin with, having real people behind a platform or a program is always a good indicator that it's legit.
Also, many people have vouched for the legitimacy of the platform claiming that it truly hires and pays its transcribers. Furthermore, many teachers rely on the app in assessing their students' reading skills.
I'd advise you to not just take my word for it, but rather have a look at the evidence that supports my stand.
Literably has a LinkedIn account. As at the time I was writing this review, the company did not only have 1634 followers but also provided a link to 60 employees.
Literably also has a Twitter and Facebook account.
This proves that the company has a strong social media presence even though there is not much engagement. Also, you could visit the Literably official websites and have a look at their contacts including, phone numbers, email, and physical addresses.
Literably Review – Legit or Not?
If you are looking forward to becoming an excellent transcriber, then Literably is a good place to start before you can spread out your wings.
As a beginner, you will get training on how to transcribe and score a file. On the other hand, if you want to learn everything to do with transcription such that you can work anywhere, I recommend the TranscribeAnywhere Course.
At first, you will make less money on Literably transcription because of the learning curve. As you gain more experience, the work becomes more familiar. This means less time working and earning more in the process.
You will also not need to commit to a fixed time schedule. With Literably, you get to make your own schedule and work at your preferred time. This also gives you plenty of time to slot in other hustles.
Do you already feel drawn to transcription? There are plenty of other transcription jobs for beginners that you can check out.
Further, if you have a background in law or are well-versed in legal language, you can check out these online legal transcription jobs.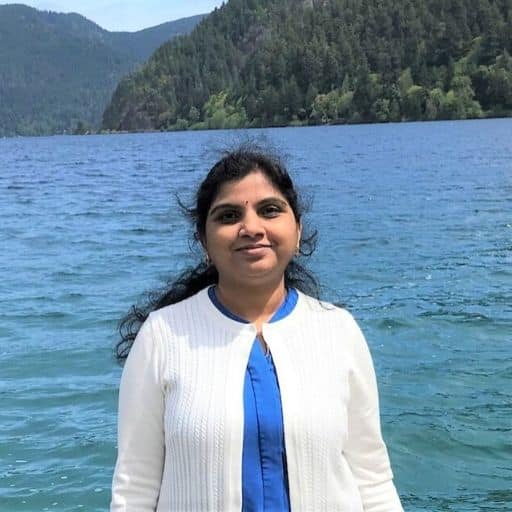 Howdy Folks, thanks for stopping by my blog.
I'm Swati, a proud mom, dedicated side hustler, full-time blogger, and a recognized millennial work-at-home expert. My expertise has been featured on esteemed platforms such as Forbes, CEO Blog Nation, Referral Rock, Vital Dollar, Databox blog, and many more. I have embarked on this incredible journey to share my firsthand experiences in the world of online income generation and to assist all of you in earning money from the comfort of your homes.
Join me in my mission to revolutionize the way we make money and achieve financial freedom. Trust me, it's not as challenging as it may seem!
Together, let's explore the boundless opportunities and pave our paths towards a prosperous future.