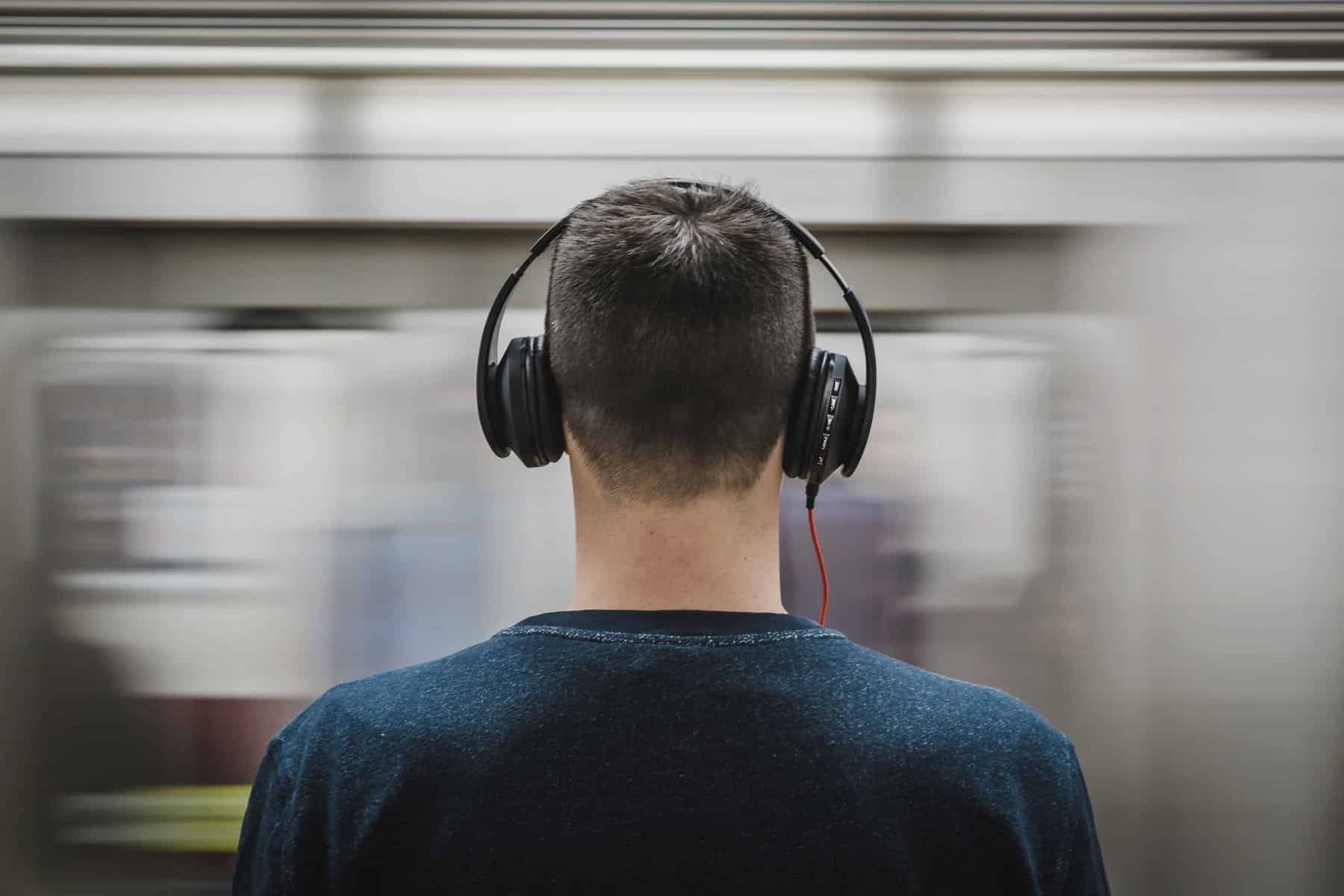 Is Daily Transcription Legit or a Scam? In our continued quest to point you in the direction of working-from-home opportunities, today we are bringing you up to speed with a thorough Daily Transcription review.
When it comes to side hustles or making money from the comfort of your home, transcription ranks high in the list of options. Combine this with passive income and you can more than pay your bills. Further, the job is relatively easy and doesn't require formal training.
The industry is, however, awash with sites where freelancers can bid for these kinds of gigs without any laid standards. Before signing up to be a transcriptionist, due diligence calls for in-depth knowledge of your preferred work platform.
With this in mind, we have researched everything to do with Daily Transcription (DT), from the company profile to user testimonials. Are you looking to join the DT workforce? Indulge yourself below.
What is Transcription?
Basically, transcription is converting audio into text. The audio in this context is usually a pre-recorded or live speech. In other instances, the format can also come in the form of a video file.
Usually, the goal is to make audio content more accessible to hard-to-hear or deaf people. Creating closed captions, which make up video subtitles, also fall under transcripts, albeit the text is time-coded to the video.
Transcription is also used to reduce the storage space that would otherwise be occupied by large video files. The conversion is presented in a text document or an electronic format, either in verbatim or clean-read transcripts. The former includes the entire speech including errors while the latter excludes errors and fillers.
What is Daily Transcription?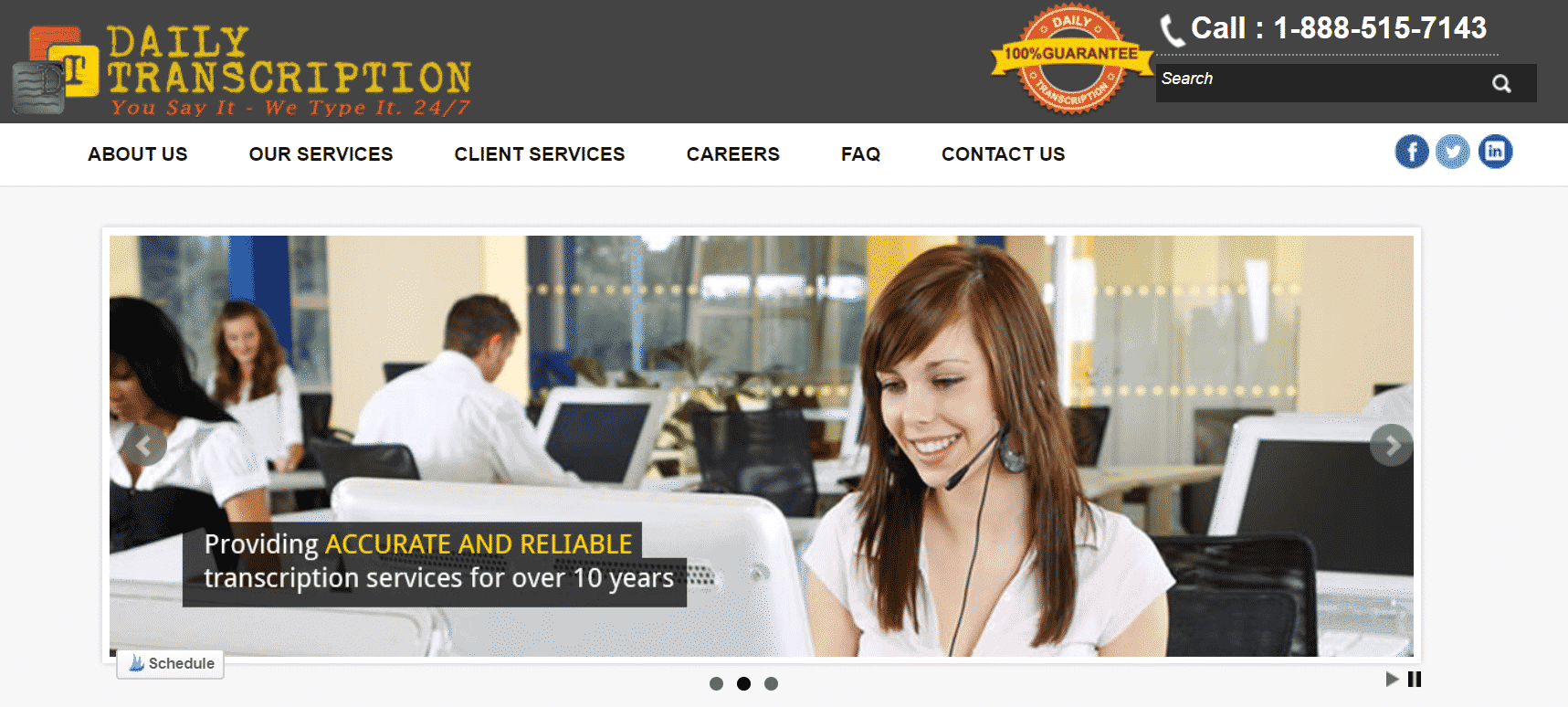 The Daily Transcription Company, simply known as DT, is a US-based company that offers transcription services. It remains at the forefront of the post-production world.
Jason Reeves, founder of Daily Transcription, was one of the pioneers in digital transcription systems, bringing over ten years post-production experience and leadership to the company.
The company has been in operation for over a decade with entertainment, legal, and corporate industries making up the bigger portion of the clientele. They also offer transcription services to academic institutions for theses, lectures, conferences, dissertations, etc. The work is done through freelancers who can work comfortably from home.
Additionally, DT provides translation services in over 30 languages well as technical analysis of transcriptions.
Daily Transcription BBB
As earlier noted, there are many platforms that offer transcription services. To decide on the best, clients and job seekers alike look at the practices of the companies. One of the leading marketplace behavior indicators is the Better Business Bureau (BBB) rating.
BBB compiles information from businesses and public reviews to form an opinion on how a company interacts with customers. The rating takes into account factors such as complaints, transparency, advertising issues, size, age, and type of business.
Once all the elements are compiled, a rating determined with A+ being the highest and F at the bottom end. While this rating is not a guarantee of a company's performance, it does give a clear picture of what customers are to expect.
So, how does DT fare in the BBB rating system? A look at the rating website shows that Daily Transcription is not BBB accredited.
That said, most of the other leading competitors, such as Speechpad and TranscribeMe, are also not BBB accredited.
Daily Transcription Jobs
Daily transcription jobs are a top choice for most freelancers due to a wide range of jobs and clients. Introverts also find these jobs appealing since they don't require any physical interactions with clients. All that the job requires is for you to listen to an audio/video file and transcribe it.
These jobs usually come from professional clientele who need transcripts of;
Video conferences

Conference calls

Voice memos

Official dictations

Sermons

Voicemails
Daily Transcription Company also has diverse jobs that require a little more than transcription training. Such opportunities include sign language interpretation and face to face interpretation services. These jobs are better done by freelancers who are available to meet with the client in the field.
Lastly, you can also bid for post-production transcription jobs. These are expert-level that calls for knowledge in film and TV production. Here, you will find yourself transcribing closed captions for interesting cooking videos, web series, and reality shows. Additional details in the scripts include action lines, act breaks, on-screen texts, and time codes.
Daily Transcription Salary: How Much Can You Make?
Although the daily transcription pay is not the highest in the industry, it is still quite decent. The starting rate is $0.75-$0.85 for each audio minute transcribed, which translates to $45-$51 per audio hour.
In comparison, Speechpad pays transcribers starting at $0.25-1.00 per audio minute, while TranscribeMe pays their independent contractors a rate of $0.25-0.30/min.
Your Daily Transcription salary can, however, be more than the standard rates depending on your skill and profession. Higher pays are seen in jobs that require expert knowledge in medicine, legal, and other such technical know-how.
DT offers no guarantees on the amount of work that you can do in a day. The company, however, claims that top their top transcriptionists make between $250 and $950 every week. The range is pretty wide but the work is usually steady, your speed and experience being the limiting factors.
Transcription Essentials: What Skills Do You Need?
To work for Daily Transcription you need to have normal typing skills. However, for a successful career with the company, your speed on the keys should be at least 50 wpm. Though 50 wpm is a little higher than what is normally considered average, you should aim for 100 wpm and over to be a top earner.
Next, you need to have excellent grammar skills and especially punctuation. Good listening skills and memory will also come in handy. Your work will be listening to endless speeches, calling you to be determined and focused too.
What of education? Unlike an on-site transcriptionist position which would require you to have a degree or certificate, DT makes no such demands. Basically, you need to know how to use a computer and basic software. If you can speak and write a foreign language, that will be an added advantage.
What Equipment Will You Need?
In terms of hardware, you will need a computer with a strong internet connection. A good pair of headphones is another must-have.
You could be spending over ten hours with the headphones on, so look for a comfortable pair. Go for light ones with ear cushions and if yours is a noisy environment, look for headphones with noise cancellation features.
Daily Transcriptions also recommends a high-quality foot pedal. Though not a must, a foot pedal helps to control audio playback while using transcription software.
For software, it's up to you to find what the market has to offer. Basically, you have the option of using online software such as oTranscribe or installing trusted versions like Express Scribe.
How To Get Started with Daily Transcription?
Hiring process at DT is straight forward on the condition that you pass the tests. It's free and doesn't cost money to apply at Daily Transcription. To begin, you need to be 18 (eighteen) years of age or older and have to fill up a career form. You also need to be a resident of the United States or Canada.
You can then submit your resume right here.
When on-boarding you will be required to complete a W-9 or W-8 and you will receive a 1099 at the end of the year for tax purposes.
The website offers three career options; transcriptionists, subtitler/captioner, and bilingual Spanish transcriptionists. To be accepted by the employer there are some tests that you need to pass. These include Skills Assessment and Transcription test.
To be accepted as a freelancer outside the two countries, you must provide proof of proficiency in at least one foreign language. The company does, however, offer training on key areas of transcription.
There is a training video that takes you through the basics as well as a style guide and a procedure document. To build confidence and improve your typing speed, DT provides you with any number of practice files as per your request.
Daily Transcription Test Answers
Just like in other freelancing jobs, it would help to be armed Daily Transcription test answers before you start the application process. Unfortunately, or fortunately, there is no written quiz, rather, you attempt to transcribe a video file.
Once you apply to join the company, you will be given some reading materials that offer guidance on the transcription style- the required punctuations and entering time codes.
After the guidelines comes a video file to transcribe. Again you will be provided with guidelines plus a template. The next step is to submit the document for grading.
The test file is to be transcribed in verbatim, and truth be told, it is not that audible. It seems that the provided file is 'poor quality' by design since once you pass and start the real work, the jobs are much easier.
Well… that's the feeling of most people working on the platform, you need to try and form your own opinion.
Communication for the reading material and test file is done by email and so will your acceptance or rejection letter.
Typically, the staff contacts you within a week after submitting the test.
Pro Tip: The test is fair by the industry's standards. A good place to start is this list of old typing jobs on Go Transcript. There, you can test your skills and see your mistakes for different audios- without even applying to join the platform.
Is Daily Transcription Worth Your Time?
Unlike a physical workplace where you can personally enquire specific details, for online work your best bet is to read reviews. Daily Transcription Testimonials on Reddit/Quora give the picture of an above-average workplace, if not the best.
Those working for several companies single out DT as having a decent pay, albeit with hard work. You will also find an active community that will help you navigate through the platform. Another thing going for DT is interesting work; the company does lots of work in film post-production creating the likelihood of stimulating work.
For a better look at Daily Transcription, here are the pros and cons right from the mouths of its independent contractors.
PROS
Decent wage starting at $0.75 per audio minute, with some jobs going for as high as $2 per audio minute.
Transcribing movies and television shows is one of the most interesting jobs in the transcribing world and DT is one of the sites with lots of such jobs. You get to watch shows before anybody else, but there will be an NDA to ensure silence.
The pay is automatic at the end of each week, summing up all earnings for the previous seven days.
Accepts newbies. Most transcription websites that accept newcomers without prior experience tend to pay low, compared to those that require past experience. The same cannot be said for Daily Transcription which starts off its freelancers with a standard rate no matter the inexperience.
Enough work. When on boarded the independent contractors are set up time on the schedule and the assignments are emailed to them.
CONS
Some of the high paying jobs on DT can be quite difficult. Think of $1 per audio minute file, but with multiple speakers talking at the same time off-camera.
Pay is via check only. This can be advantageous to some people but the majority would prefer faster means- waiting for USPS to deliver isn't all that interesting.
Poor communication. For a company that has been around for long, their communication is wanting. Freelancers talk of emails and guidelines full of typos.
Unattainable requests. Working on shows can be interesting but not always. Here is an example from a failed applicant; "I was told that I needed to research to find the tv show and names of the people in the show. I spent 20 minutes on Google trying to find the show and had no luck."
Is daily transcription legit? – Final Thoughts
Since the onset of the dot.com era, working online has grown to become a reliable workplace like any other. Whether you approach it as a side hustle or couple it with passive income, transcription can employ you permanently. Of the many companies out there, Daily Transcription ranks among the best employers.
With time and experience, you can aim for a $3800/month salary without leaving your home. If this is your kind of dream job, the above review guides you on how to get started, drawbacks, pay, and what to expect.
Happy Transcribing with Daily Transcription!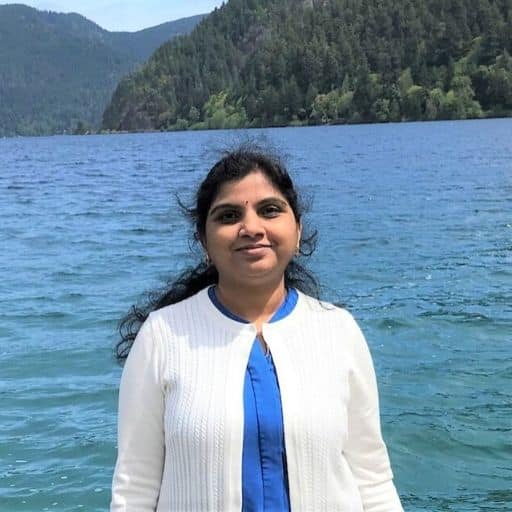 Howdy Folks, thanks for stopping by my blog.
I'm Swati, a proud mom, dedicated side hustler, full-time blogger, and a recognized millennial work-at-home expert. My expertise has been featured on esteemed platforms such as Forbes, CEO Blog Nation, Referral Rock, Vital Dollar, Databox blog, and many more. I have embarked on this incredible journey to share my firsthand experiences in the world of online income generation and to assist all of you in earning money from the comfort of your homes.
Join me in my mission to revolutionize the way we make money and achieve financial freedom. Trust me, it's not as challenging as it may seem!
Together, let's explore the boundless opportunities and pave our paths towards a prosperous future.