In this Tigerfish transcription review, you will learn more about Tigerfish transcribing jobs and transcription jobs in general.
For starters, transcription is a service that converts audio or video files into written text. Since the job can be done from anywhere, transcription is a flexible job for introverts. More to this, the job pays well making it a good choice for both part-time and full-time career moves.
However, if you have little information or are inexperienced in transcription you might often find yourself unable to make the transitions. Even with certification in transcription, you're not guaranteed to get employed as a transcriber.
This is because not all 'certifications' are accepted by employers across the board. The problem is also compounded by the fact that many times when online transcription jobs turn up to be scams.
So, is TigerFish transcription legit and how much can you earn as a transcriber? In this Tigerfish Transcribing review, you will get answers to all these crucial questions including how the platform works.
As an added bonus, I will direct you to alternative transcription websites that you can also try out.
Let's get started by first understanding what Tigerfish transcription is.
What is TigerFish Transcription?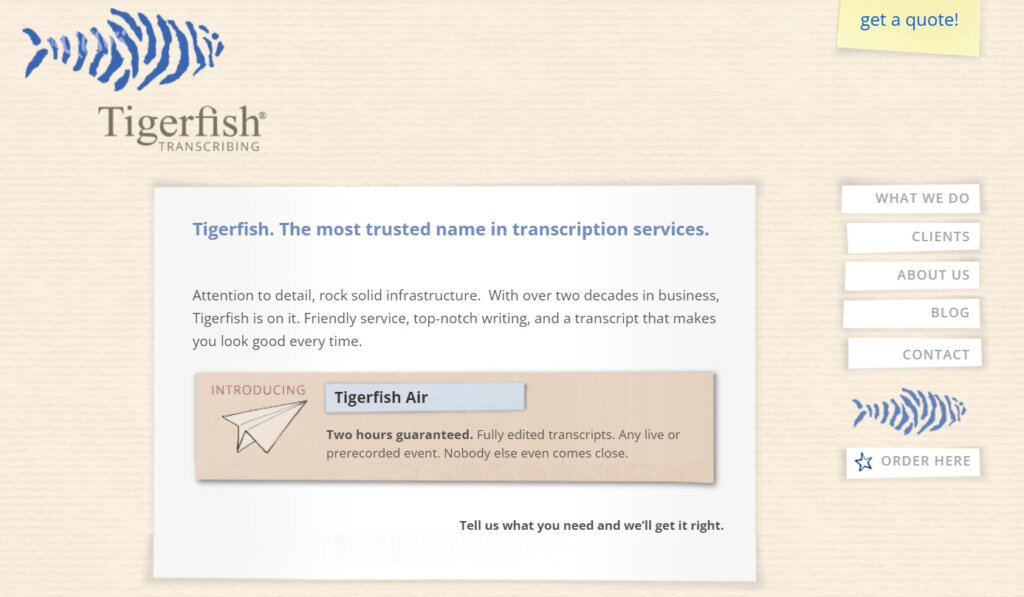 Having been up and running for 32years, TigerFish is a prominent online platform that provides transcription, proofreading, and editing services.
It is one of the best transcription companies operating online with physical offices in the New York and San Francisco areas.
The platform is known to maintain a regular pool of transcribers for years on end. Everyone is free to join Tigerfish including stay-at-home individuals, part-timers, and even beginners.
The company offers unprecedented service to their clients that guarantees to transcribe fully edited transcripts within a two-hour turnaround time.
From space exploration to earth science, from the courtroom to the boardroom, from police interrogations to depositions, TigerFish has built trust with esteemed clients from different industries. Such clients include big companies like Nike, SONY, Google, ESPN, and Samsung…the list is endless.
What's more, the platform hires freelance contractors like you. And here is another amazing thing, Tigerfish is among the very few companies that contract transcribers with zero experience.
Is Tigerfish Transcription Legitimate?
If you are going to take part in a transcription job either full-time or as a side hustle, then you need to ensure that it is legit. Working for such a platform can be tiresome and with strict deadlines which is why you need a guarantee that your effort is not worthless.
Moreover, to effect payment, online job companies require you to provide personal details. What this means is that if a company is fraudulent or unsafe, you may become a victim of online money fraud.
So is TigerFish transcription Legit? Is it a scam or not? People have trust issues, especially whether the company actually pays or not. From the word go, I can assure you that Tigerfish Transcribing is 100% legit.
Having been in service since 1989 is a clear indication that TigerFish is trustworthy and legit. Scams don't last over two decades in the business without the law catching up to them.
More importantly, there are no basic complaints about the firm not paying their independent contractors or engaging in monkey business with clients' work. On the money front, the company follows a crystal-clear payment mode without any obstacles.
On the corporate side, Tigerfish fairs very well too. How?
This assurance is backed by the fact that Tigerfish has gained confidence from multibillion-dollar companies such as NIKE and SONY.
Confidence in the platform is also cemented by the fact that public and government-run institutions contract them. I'm talking about the likes of NYU, the University of Washington, The New York Times, and NASA.
If that is not enough, its website is straightforward on what is required from transcribers, with emphasis on pay and the quality of output. The company also ensures flexibility, on-time payment, as well as career growth to both short and long-serving members.
How Much Does Tigerfish Transcription Pay?
You are here for the money, right?
Unfortunately, while other companies are clear about how much they are willing to pay their contractors TigerFish isn't.
Typically, transcriptionists get paid per audio or video minutes rates. Instead, Tigerfish pays per line also known as CPL (Cents Per Line). The rates range at around $0.03 – $ 0.04 CPL which is approximately $0.005 per word.
According to previous employers, Payments at Tigerfish are usually issued every week through PayPal. You can make up to $7 – $10 on average per hour.
If you are a budding transcriber, expect to receive more money when you transcribe specialized projects such as Tigerfish medical transcription or legal transcription tasks.
Even more, you can do Tiger phonetic transcription. But wait, what exactly is phonetic transcription? It is simply the use of the International Phonetic Alphabet (IPA). Here, pronunciations are written using universal symbols, but spoken in regular English.
How fast and accurate you heavily impact your pay rate. Some experienced transcribers on Tigerfish say that within an hour you can gain up to $15, depending on the project complexity and typing speed.
Ideally, a transcription beginner should hit typing speeds of 45 – 60 words per minute. As you gain experience, aim for speeds of over 100 wpm to make the big bucks.
That said, going by the median transcription salary, $15.19 according to Payscale, Tigerfish's pay is average. However, what I like most about Tiger is that they are keen on employee retention.
From many online reviews, you'll find freelancers who have been with the company for over 10 years! This speaks to a good work-life balance and remuneration that you may not find in other transcription companies.
Tigerfish Transcribing Requirements
What qualifications do you need to become a transcriber?
To begin with, Tigerfish only requires applicants to be at least 18 years of age and be legal residents of the United States of America.
They are strict on this, but if you come from elsewhere, this shouldn't stop you from pursuing a transcription career.
Consider other options like Rev Transcription and GoTranscript.
Back to Tigerfish, and transcription in general, you are expected to possess:
Great listening and comprehension skills

Excellent sense of written English language

The ability to write well

Accurate and quick typing speed (generally at least 65 words per minute)
The skills named above apply to every transcriber, experienced or not. As such, this contrasts with the general opinion that transcription is a simple and mindless job. The plain truth is that it requires a lot of skill, speed, and accuracy.
If you feel that you are short of these skills don't worry, there are many other work-from-home jobs worth looking into.
But if your mind is set on minting millions from transcription, Janet Shaugnessy has you covered. She is an expert transcriber and the brains behind TranscribeAnywhere, a website where beginners are trained to work as home-based transcriptionists.
The best part is that she offers a 7- Lesson Mini Transcription Course beginners' training that is completely free!
Sign up here right now to know whether transcription is for you.
Equipment Required to Transcribe for Tigerfish
There is really not much equipment you need to work for TigerFish and chances are that you already have some of the items at home. So, what does a transcriber's workspace look like?
To begin, you will require the most basic equipment, that is a PC. For this, you do not need anything fancy or expensive, just a reliable laptop or desktop computer will do.
Generally, many leading transcription software is compatible with Windows OS, including Express Scribe- the recommended software for Tiger transcription jobs.
Unfortunately, MACs are not compatible with this timecoding software.
So, to work, you need to download a copy of Express Scribe. The tool is free and you can get it by clicking here. This is the transcription program that you will use during the Tigerfish test and evaluation period.
Afterward, when you make the cut and get employed at the company, Tigerfish Transcribing advises that you purchase the Power Play Windows Media software by Start-Stop.
In total, the premium software bit can cost you around $230. Think it's an expensive investment? Not really, with the right mindset, you can make that much in under a week working on Tigerfish.
It also goes without saying that you need access to a high-speed internet connection. No unsteady dial-up connections. Also, Tigerfish transcription stipulates that you need a phone number where you can be reached regularly.
Pssst, here is a pro tip: Get yourself a basic transcription foot pedal. This is the equipment used by pro transcribers to navigate through video and audio files by using their feet only. The idea is to leave your fingers free to type fast and consistently.
Other items you need as a Transcriber
A comfortable headset to help cancel out any outside noise since you will be spending time listening to audio recordings

Microsoft Word, the leading word processor. Having access to the latest MS version is essential to ensure that your files can be accessed easily by clients.

Transcription Software. As stated above, for Tigerfish you need Express Scribe. Other best software in the transcription world includes The FTW Transcriber and InqScribe.
How do I Apply?
Before you go expecting to earn the above amounts, it takes a while to get used to transcription and you should also prepare to ace the Tiger test.
In particular, the Tigerfish application process may take longer than other companies, but keep in mind you do not need transcribing experience to pass. The application test is all Tigerfish uses to determine if you have the right set of skills to work for them.
Prior to taking the test, download 'Tiger Transcription Style Guide'. Take your time to read the pdf and understand it fully. Next, you will download some audio files, which can be found on their application page.
Mainly the recordings consist of three 5-minute segments; a focus group, an interview, and a presentation. Transcribe them using the right software as directed above.
Note that all 3 transcripts for that test should be saved in one document.
In addition to your sample work, provide a description of yourself, your education, writing abilities, and/or any other relevant experience.
You need to adhere to the guide without fail as you transcribe, edit, and submit your work. Any deviation from the specifications given and your application may be pushed to the bottom of the pile.
The test is not only to see if you have the required set of skills but also if you can follow the company's instructions.
When all is said and done, Tigerfish Company claims to receive tons of application emails. For this reason, it might take a while to hear back from them. That's not to say receiving an immediate response is unlikely. But if weeks or months go by without any reply, it's wise to try your luck again.
Alternatives to Tiger Fish
Working online is all about having the freedom to choose when and how you want to earn your money. Another key element of this life, as opposed to a 5-9 job, is creating job variety.
With that in mind, here are highlights of the best alternatives to Tigerfish Transcribing.
1. Rev Transcription
A San Francisco and Austin-based company that offers transcription, closed captioning, and Translation Company. The platform reports that the top earners make about $1,495 per month.
Rates: 30 cents to 90 cents per audio or video minute
Payment frequency: Weekly
Payment system: PayPal
Conditions for employment: Pass their test and basic typing skills
Check out our detailed rev transcription review right here
2. SpeakWrite
One of the best transcription job platforms, but with SpeakWrite you will need previous transcribing experience. Want to submit a submission? Below is an overall look at what the platform entails.
Rates: $0.005-$0.006 per word
Payment frequency: Twice per month
Payment system: Direct deposit or check
Conditions for employment: One year of experience, 60 or more words per minute and 90% accuracy.
3. Transcript Divas
They have rates that go up to $2.98 per audio minute. Additionally, no previous experience is required. Note though, they have high standards and only accept a tiny percentage of applicants.
Rates: An average of $1.39 per audio minute
Payment frequency: Not Stated
Payment system: Either PayPal or direct deposit
Conditions for employment: Experience is favored but it's not a basic requirement
4. GoTranscript
Founded in Scotland in 2006 Go Transcript offers jobs namely: Gotranscript Audio and Video Transcription, Gotranscript translation, Gotranscript subtitling, and captioning. What's more exciting is that their training is completely free!
Rates: $0.60 per minute audio/video
Payment frequency: Every Friday
Payment system: PayPal or Payoneer
Conditions of employment: Pass their test
Proceed here for the Gotranscript review.
5. Speechpad
Free to apply. You are required to do and pass transcription and grammar tests. You'll have ratings that impact heavily on the kind of job you get.
Rates: $0.2-$2.50 per audio minute
Payment frequency: Twice per week
Payment system: PayPal
Conditions for employment: Pass the test
6. Transcription Outsourcing LLC
In order to work here, you need to be based in the United States. The application process for this company requires you to pass at least one typing test.
Rates: $0.80 – $1.10 plus per audio minute
Payment frequency: Twice per month
Payment system: PayPal or direct deposit
Conditions for employment: Pass the test and be based in the United States
TigerFish Transcription Reviews
There aren't too many Tiger reviews on sites such as Glassdoor and other user platforms like Trustpilot. From my experience, this is not uncommon for online companies with low employee turnover.
But that's not to say that current and former Tigerfish transcribers have nothing to say about the platform.
Here are some reviews I managed to unearth from Reddit and Indeed.
It's all about positive vibes, on this thread on Reddit that goes back 3 years. The feel here is that Tiger is among the transcription sites with good rates. However, an interested applicant seems to have been put off by the US residents-only requirement.
As stated earlier, there is no negative report that Tigerfish don't pay their contractors. This claim is backed on Indeed by a current employee who according to the review, all you have to do is observe the deadlines, and your payment will always be on time.
Another not-so-flattering insight from this reviewer is that you should always go for 98% accuracy to get more coming your way and get good ratings. Remember, your ratings on Tigerfish determine your pay rate.
Pros and Cons Of Tigerfish
What I like about Tigerfish Transcription
It is legit

People of all educational backgrounds can join- as long as they pass the application test

A good amount of work is always available

Variety. One can choose to work on topics that they are really interested in.

Payment is on time via PayPal and the application process is straightforward and doable

Great platform for newbies to gain experience
What I don't Like about Tigerfish Transcription
High start-up fee, although you can download the free version of the software, you will later be needed to purchase the full version.

Average pay rate

High job accuracy requirement
Tigerfish Transcription Review: Is Tiger Fish Worth Your Time?
Tigerfish Transcribing, also simply known as Tiger Transcription, is a legit US-based transcription service. The platforms welcome both experienced and beginner transcribers with a pay rate that more than is fair within the home-based freelance industry.
So, yes, it's worth your time to start working with Tiger Transcribing today. You will be on your to making $15+ per hour, right from home and on your own schedule.
Are you currently working with Tigerfish? In which capacity is your job and does the platform pay well as it claims? I would love it if you can appraise our readers about your experience as a transcriber.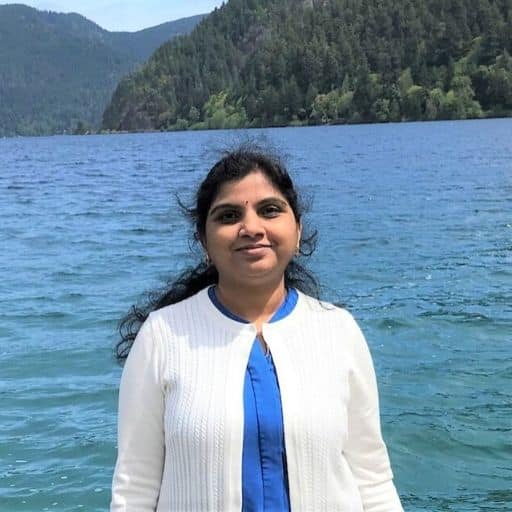 Howdy Folks, thanks for stopping by my blog.
I'm Swati, a proud mom, dedicated side hustler, full-time blogger, and a recognized millennial work-at-home expert. My expertise has been featured on esteemed platforms such as Forbes, CEO Blog Nation, Referral Rock, Vital Dollar, Databox blog, and many more. I have embarked on this incredible journey to share my firsthand experiences in the world of online income generation and to assist all of you in earning money from the comfort of your homes.
Join me in my mission to revolutionize the way we make money and achieve financial freedom. Trust me, it's not as challenging as it may seem!
Together, let's explore the boundless opportunities and pave our paths towards a prosperous future.