In this RentaFriend Review, we are going to answer all your burning questions about this amazing platform. Starting from whether the site is legit to its alternatives and everything in between.
Assuming you move to a new city or neighborhood, how are you supposed to make new friends? This is a question that plagues people in these busy times.
Trying to make ends meet leaves you with less time to make new friends and many have turned to social media.
However, these new norms have been proven to have the opposite effect.
Using social media excessively affects people's individual social skills when they meet in person. This leads to a large percentage becoming more lonely than ever!
In addition to this, if you look around, present-day neighborhoods are not in any way designed to embrace staying home and getting to interact with your neighbors like in the past.
Worry not though, it's here where platforms such as RentAFriend come in to offer friendships a new lease of life.
Let's dive in and learn exactly what RentAFriend.com is and how you can make money on the site.
Also, read on to find out the pros and cons of joining such a platform.
RentAFriend.com Review
| RENT A FRIEND CRITERIA | FEATURES |
| --- | --- |
| Year Established | 2009 |
| Purpose | Platonic Friendships |
| Available Countries | Worldwide |
| Applicable | 18 and over |
| Subscription Plans | Free for Friends | $24.95/mo or $69.95/year for Members |
| Average Earnings | $10 – $50 per hour |
| Cuts & Commissions | None |
| Payment Method | PayPal |
| Bonus Program | None |
| Google Play/App Store | None |
| Ratings & Accreditations | Not Rated on BBB and Trustpilot |
| Phrendly Review: Final Verdict | Legit, secure, and pays as advertised |
What is RentAFriend?
Just like you can rent your car or truck, you can do the same with friendship. The RentAFriend website allows you to rent friends worldwide.
Founded in 2009, that's over 12 years ago, RentAFriend.com is a platonic friendship website and not a dating website or an Escort agency which many people mistake it for.
Services on RentAFriend.com are strictly for friendship purposes only.
For example, you can rent a pal to hang out with, go to a movie or dinner, attend events or parties, and so much more.
What's your hobby, baking, cycling, or even wine tasting? Sign up on RentAFriend and get a friend to enjoy your likes with.
Membership plans for RentAFriend cost $24.95 a month or $69.95 a year. You can charge your services as a friend starting from $10 to $50 per hour.
However, how much you earn also depends on your interest and activities.
Further, the platform recently started offering "Virtual Friend Services" such as Zoom, Facetime, Texting, and more. This means more interactions both online and in-person.
How Does Rent a Friend Work?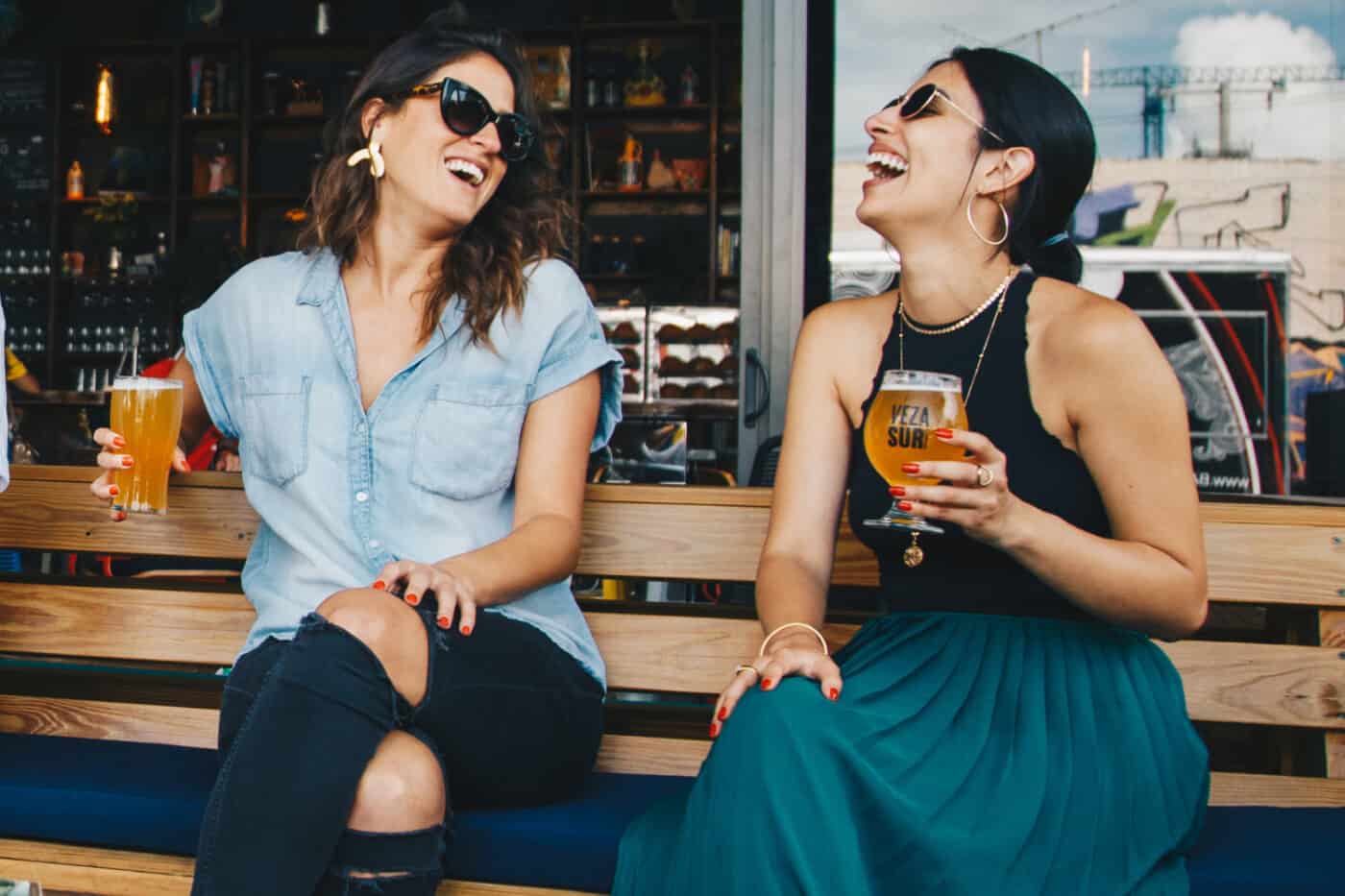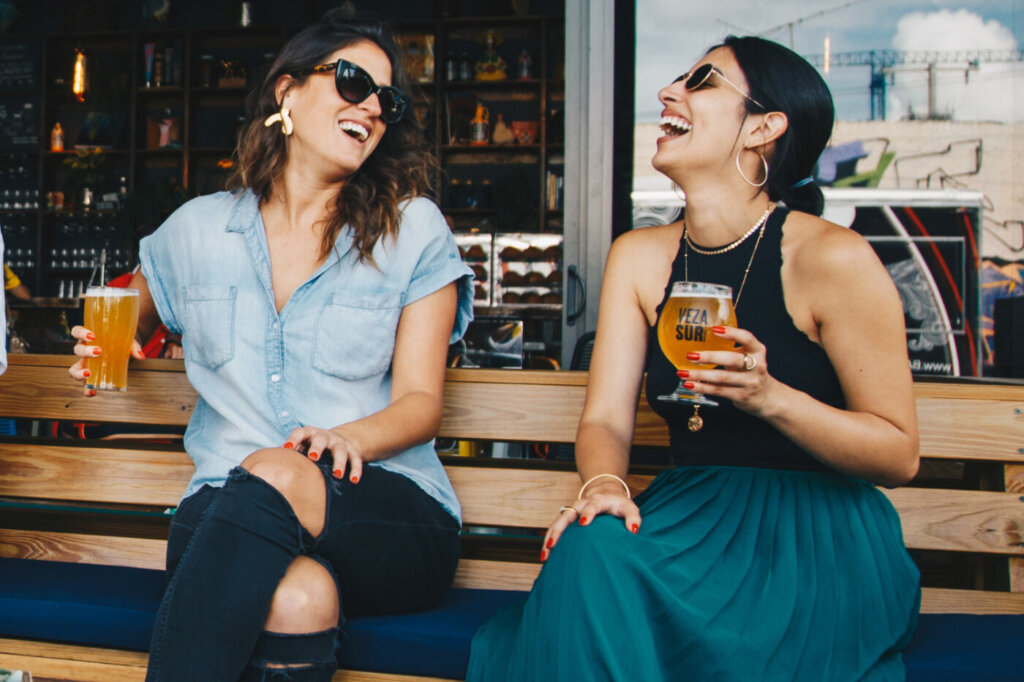 RentAFriend.com is extremely easy to use. The idea behind the site's success is that a stranger moving to a new location can hire a friend at a price.
You might be wondering why would a person actually pay to rent a friend. There are many reasons.
For instance, you'll find that most people that rent their friendship are lonely, especially those in new environments or jobs.
The rented friend will help them get to know the city or just for companionship and help them enjoy life better.
Most importantly, you, the rented friend, have the power to choose what activities you want to participate in and not just what the 'stranger' proposes.
RentAFriend recommends that you should only take part in an activity that you feel comfortable with and know about beforehand.
In case you have a tight schedule or you have some distrust about the person, you can always turn down a friend request.
Nonetheless, turning down too many requests can lead you to lose your RentAFriend.com account.
For your services, the minimum you can get from RentAFriend.com is $10 to $50 per hour.
Can RentAFriend Be Trusted?
Rent A Friend is a trusted social site that has been featured by leading media houses including Fox News, MSNBC, AOL, and ABC.
As long as you follow the necessary guidelines given by this strictly platonic friendship website, then you're in good hands.
Just so you know, you are eligible to face a penalty in case you violate any of their rules.
Note that this is not a dating site and also not a work-from-home job. The sole purpose of Rent A Friend is to provide a platform for platonic, non-sexual friendships between users.
Is Rent a Friend Safe?
Rent A Friend is safe, legit, and definitely not a scam. To start with, there are thousands of legit clients who are looking to pay people in exchange for their friendship.
In addition, RentAFriend.com doesn't charge you any commissions on what you earn. Moreso, the RentAFriend site welcomes the LGBT community to use the platform freely.
Is RentAFriend Legit?
RentAFriend is a legitimate platonic friendships site. Their terms and conditions are very clear on the fact that interactions made via the platform should not be of any sexual nature.
As such, if users behave as they would on a date, they then become eligible for penalties. The company is not accredited by BBB, Sitejabber, or TrustPilot.
Requirements to Join Rent A Friend
Even though Rent A Friend is free to join there are a few requirements you need, include:
Users must be over 18 years old.

One should never have been convicted of a felony or registered as a sex offender.

You should be ready to befriend strangers for payment.
How to Join Rent a Friend Jobs?
The first step to joining the RentAFriend website is to sign up by completing your application form.

Upon signing up, waiting for approval from the platform can take around one to two hours.

Upload quality photos, Indicate your location, area, and places near you where someone can request your company.

Members who like your profile will start reaching out to you almost instantly.

Negotiate your time and money at an hourly or flat rate, and your activities with your intending companion.

Lastly, start to make money with Rent a Friend by becoming a great friend.
How to Make Money With Rent A Friend?
How much you make it's up to you!
Some RentAFriend.com users can make over $2000 a week when working full-time. Others who just do it on the weekends can earn anything from $300 to $500.
Watching movies, skiing, snowboarding, shopping, and dining are some of the fun activities you can propose to your renter.
RentAFriend.com website does not pay you itself. Your payment will come from the people that seek to hire you for companionship.
When renting yourself out to befriend a particular individual, you get to set your own rate per hour. The fee rate can start from $10 to $50 per hour.
You get paid in cash by your new friend. Listen, if you feel that your client has spent too much on you already, maybe by taking you to some very expensive destination, you can choose not to charge.
Below are some of the steps you need to take in order to make money with Rent A Friend. Check them out.
1. Read Rules and Regulations
Unfortunately, there're lots of misinterpretations when it comes to renting yourself out for friendship to make money.
Most people think that RentAFriend.com is some sort of escort service that provides people with sexual pleasure.
However, Rent a Friend is very clear that it's a friendship-only website. Therefore, it's best to fully understand what RentAFriend.com is all about before jumping into it.
2. Check Reviews and Experiences
Read reviews and experiences that other people have shared online to give you a clear picture of what you can expect.
While most people who pay for your friendship are often strangers in a new place, you never know what the real intentions of anyone are.
Therefore, for your safety, RentAFriend recommends that you be very cautious while dealing with your renter. The site also cautions 'friends' to meeting in public.
3. Sign Up
After learning the ins and outs of renting a friend, you can sign up either as a member or a friend.
Becoming a Friend on RentAFriend.com is 100% free.

Verify your phone number and email address.

You will also have to share some basic details about yourself such as name, date of birth, gender, and the activities you like and dislike.

This makes it easier for a client to decide if you are what they want in a friend.

And finally, upload your picture.
How Much Does Rent a Friend Pay?
According to the website, you can make a minimum of $10 per hour for being a platonic friend. Your hourly charges can also be as much as $50, depending on the client and the activities required of you.
Top earners on the platform are making $2,000 in a week, amounting to a cool $8,000 every month. What's more, your new friend may treat you to free meals, out-of-state trips, and accommodation.
Does your new friend love sports? Becoming a RentAFriend user can see you get free tickets to sporting events around you. Other possible freebies include hot air balloon rides, bowling, concerts, and so much more.
Check Out: How to Make Money Sexting Online
Rent a Friend Reviews
This Rent a Friend review would be incomplete without looking at what current users are saying about the site.
On Trustpilot, RentAFriend has not been rated and has zero reviews. The business is also not accredited by the BBB (Better Business Bureau).
The website does get lots of positive reviews on Reddit with most commenters talking of having good experiences.
For the members, some have paid up to $250 and provided their "friends" with free drinks when they hung out.
In the thread above the friend got paid their hourly worth and also had all their day's expenses paid for by the client.
That said, some reviewers share concerns about the site looking "sketchy" and the whole idea as surreal.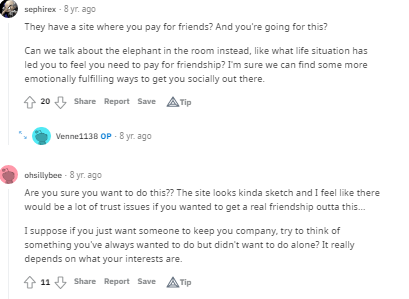 Is Rent A Friend Scam?
Is it possible to get scammed on Rentafriend.com? Most negative sentiments from both the people making money on the site and the paying members are falling into the hands of fraudsters.
The main worry is getting a friend who uses made-up sad stories to make you give them money. Friends, on the other hand, are wary of creating friendships with psychos and clients looking for sexual favors.
The site cautions that they "do not do any background searches on the Friends or Members on the website". However, they offer guidelines on spotting such scams and how to ensure your personal safety.
Rent A Friend Fees: How Much Does Rent a Friend Cost?
Here is a quick summary of RentAFriend cost.
You have two options here; to become either a member or a friend. To become a Member of RentAFriend.com means you hire friends and you must pay a Membership Fee.
Rent a Friend has two different subscription plans for members who hire friends. The two plans only differ in price and the number of days of membership. However, on both, you can access all the friends available on the website.
Plan 1
The cost is $24.95 monthly, your membership will then be renewed automatically every 30 days.
You can cancel billing whenever you want and your account will remain active until the 30 days are over.
Plan 2
The cost is a one-time fee of $69.95 annually.
This plan, unlike the 1st Plan, does not renew itself automatically. But your account will become inactive once the 365 days are up.
If you would like to continue with this plan, you have to manually re-enter your payment details.
This can be completed by logging into your account and clicking on "Subscription" on the left side menu. All charges are in US Dollars.
And as mentioned above listing yourself for renting is absolutely free.
How to Cancel RentAFriend Billing?
To cancel your billing, start by logging in to your account. On the left side menu on your dashboard, click on "Subscription"
Cancel the billing cycle from this page. Your account will only remain active for 30 days after which you will not receive any more charges.
Pros and Cons of Rent A Friend
Below is a quick summary of some advantages and disadvantages of becoming a Rent a Friend user, both as a renter or a friend for hire.
Pros
It is free to join. Very few websites will let you earn for free in the 21st century.

Outstanding recommendations from top media such as ABC, Fox News, etc.

You get to work on your own time and schedule.

It is available for use worldwide; anyone from any country and region can make money with Rent A Friend jobs. This is made possible by the inbuilt geolocation search that helps you to filter friends in your local environment and city.

Rent A Friend has a BBB rating of A+ as of the time of writing this review. Note though, the site is not yet accredited by this quality review platform.

RentAFriend comes with a dedicated customer support team that's on call 24/7.
Cons
The information you get in the company database cannot explain people's character and attitudes.

Your safety is entirely your responsibility- you cannot always be sure about the friend you're going to meet. Rent a Friend is not liable for any security issues that arise from meetings.

The site is not suitable for introverted people.
Rent a Friend Alternatives
There are countless RentAFriend alternatives to use. We can't list them all. After in-depth research, here are some of the more common rent a friend websites, in no particular order.
1. Rent A Local Friend (RALF)
Rent a Local Friend (RALF), is a digital platform that aims to help you get in touch with a local resident of a given city.
With more and more websites that provide you with the same opportunity as RentAFriend coming up, RALF is one of the safest sites to make money by just sharing your local knowledge with both locals and visitors.
To register, share your personal details such as name, country, telephone, and remember to choose a unique password for your account.
This platform has over 1500 local friends, around the world in at least 320 cities.
Additionally, it has 995 partners worldwide, and, to date, over 66,000 people have benefitted from this community.
If you are someone who wants to traverse different cities as a traveler, then trying using Rent a Local Friend is a fun way of exploring a new city, region, or country by just hiring a local to show you around.
Click here to create your profile as a Rent A Local Friend user.
2. Cuddle Comfort
With over 230,000 plus members, Cuddle Comfort is an online service that helps create friendships between people who love to cuddle without expecting more.
Physical and sexual contact is uncalled for here. Similar to the RentAFriend website, this is neither a dating nor an escort service agency.
The idea of paying someone to cuddle might sound weird but it's not exactly as strange as it sounds. Actually, much feedback from Cuddle Comfort users has been positive.
Cuddling plays a big part in our well-being. It's postulated that cuddling relieves anxiety, serves as an antidepressant, and also strengthens your immune system.
As a professional cuddler, you are responsible for setting your own rates, typically most of them charge $80 per hour.
You can cancel a booking up to 12 hours before a session begins. That said, the platform urges one to pay half of the session price upon cancellation.
Members can make up to $35 for 30 minutes. Basically, how much you earn depends on the duration and what kind of session takes place.
Signing up is completely free and takes only 30 seconds plus, and you can delete your account at will. To become a member, you should be 18 years old and above.
Join Cuddle Comfort here.
3. Friendmatch.com
Run by creator Katie Hartle, FriendMatch helps people of all ages and gender to make new friends either online or in-person from your neighborhood, anywhere in the world.
Similar to RentAFriend, It is also intended for people who move to a new area, and also for all the other reasons that people are looking for friends.
It has over 400,000 users from 200+ countries with most users registering from the US, Canada, and the UK. Members sign up and use the site's search tool to find new friends.
Note that this is not a dating site so, posting a nice picture isn't enough to get the most out of Friendsmatch.com. The best thing is to accurately complete your profile in order to be approached by potential new friends with similar interests.
That said, you can also block selected members from contacting you. This is a very important feature when you receive responses from users you are edgy about.
Sign up on FriendMatch for free here.
4. Stitch
Stitch is a social community that helps anyone over 50 improve their lives through shared interests and activities.
Known as 'Stitchers', members can engage in a range of different activities such as going to a new movie, exhibits, or dinner. Even married adults who are looking for non-romantic activity partners are welcome to join Stitch.
It is free to join and has two membership plans; Public and Full membership.
Public Stitch members can attend public events, join Public Groups, reply to messages, and communicate with activity organizers.
On the other hand, Full Stitch members can connect in all ways, that is including member-only events, chats, messages, and group rewards, all for a monthly fee starting at $5.
Recently, due to COVID-19, Stitch added virtual events, group chats, and online discussions effect and to help their members to stay connected through the crisis.
If you want to go ahead with Stitch sign up here and give this community a try.
5. Rent a Date
Another great RentAFriend alternative on our list is Rent a Date. The platform provides excellent companions for social events, functions, and nights in the town. They offer affordable rates ranging from about 50% to 75% less than what normal escort services charge.
After setting up your date online you'll receive an email confirming your selection. Within 24 hours, Rent A date will contact you via a call to verify your caller ID. That's it, you'll just wait for your companion to check-in and you'll receive a call from them to plan your date.
On D-day, Rent A Date will choose the exact location for your meetup. This will become both the pickup and drop-off point for your companion. To join, you'll have to show your State ID, fill in your Credit Card details, and complete your profile.
At the end of your date, as mentioned earlier, you'll drop your escort at the original meeting place. Register to Rent a Date Today.
Interested in getting paid to date websites? Check out the list here
Is Rent a Friend Legit or Scam?
RentAFriend is a legitimate website and it is definitely not a scam.
People who are willing to pay for platonic friendships turn to the site for their best friends in different localities. As a friend for rent, sign-up is free and you stand to make up to $50 an hour for just your company.
The site is not dangerous but ultimately, your safety is your responsibility. The site does, however, have security measures in place to keep undesirable characters away.
And while the website advocates for platonic relationships, there is no one stopping you from taking a special friendship to the next level.
So, are you on Rent a Friend to make money? Why not also sign up for other social sites that pay users for platonic engagements? To this end, I recommend you add OnlyFans and Flirtbucks to your list of make-money-from-home platforms.
What other real sites pay well for friendships? Let me know about your top picks in the comment section below.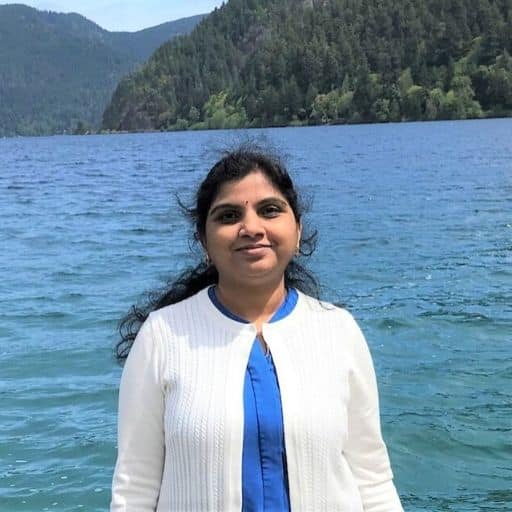 Howdy Folks, thanks for stopping by my blog.
I'm Swati, a proud mom, dedicated side hustler, full-time blogger, and a recognized millennial work-at-home expert. My expertise has been featured on esteemed platforms such as Forbes, CEO Blog Nation, Referral Rock, Vital Dollar, Databox blog, and many more. I have embarked on this incredible journey to share my firsthand experiences in the world of online income generation and to assist all of you in earning money from the comfort of your homes.
Join me in my mission to revolutionize the way we make money and achieve financial freedom. Trust me, it's not as challenging as it may seem!
Together, let's explore the boundless opportunities and pave our paths towards a prosperous future.