If you get to know how to become a professional cuddler, you can be on your way to one of the coolest gigs in the world.
The job not only pays handsomely but also offers you some much-needed human warmth.
As much as a cuddler's job description sounds cheeky, you should know that this is a professional gig. Your job is to simply meet up with strangers, hug them, and get paid.
Sounds simple enough, don't you think? Well, knowing how to cuddle and offering a professional cuddling session are two different things; this "get paid to" job requires some expertise.
To make money from this act of platonic professional companionship, you need to know the traits of a paid companion, where to get the jobs, and how much to charge.
This post takes you through who is best suited to be a pro cuddlist, offering cuddle comfort like a pro, and the best job boards for getting cuddle business.
Can you get training to become a certified cuddler? Continue reading to find out.
Who is a Professional Cuddler?
A professional cuddler is anyone who offers cuddling services at a fee. The job description involves offering platonic comfort through touch, hugs, cuddles, and spooning sessions.
It's all about providing human comfort in a world where people are ever busy with work and family.
Further, many people are finding out that online relationships and social media friendships can't fulfill the innate need for one on one human connection.
Put simply, sometimes all someone needs is a long bear hug during their lunch break, and that's where your services come in handy.
Is the Profession of Cuddling Real and Legit?
Professional cuddling jobs are legit gigs that fall under the category of touch therapy. This form of emotional comfort belongs to the art of energy healing.
Is cuddling a legit treatment or pseudoscience?
While the jury is still out on the matter, licensed therapists prescribe cuddling as a form of therapy to help with stress relief, improve functions of the immune system, reduce pain, and get better sleep, and pain reduction.
So yes, the profession of cuddling is real and comes with many health benefits, for both the snuggler and the client.
What's more, there are training sessions, online and in-person, to help you master the art of platonic physical contact. Further, there are online platforms where you can search for clients who need cuddling services.
Professional Cuddler Salary: How Much Money Do Professional Cuddlers Make?
Professional cuddlers, also known as pro snugglers or touch therapists, can make anything from $60 to $80 per hour.
The job can pay up to $100 per hour or more, depending on the extra services that may be involved.
For example, potential clients can pay top dollar for holding hands, talking to them, listening to their stories, and wearing their preferred perfume. Clients may also tip, increasing your pay per gig, depending on your job performance.
Can you make good earnings as a cuddler? Robin Marie, reports earnings of up to $40k a year while at an hourly rate of $80. She works as a full-time snuggler for up to 25 hours a week.
Each of her sessions can take up to 4 hours, a testament to her dedication to the hustle.
If you have good maternal instincts, you can also get a job cuddling babies in a hospital.
The job title is Neonatal Intensive Care Unit Cuddler, paying between $31,500 and $257,000 per year.
According to ZipRecruiter, trained NICU cuddlers across the country make $133,650/year on average.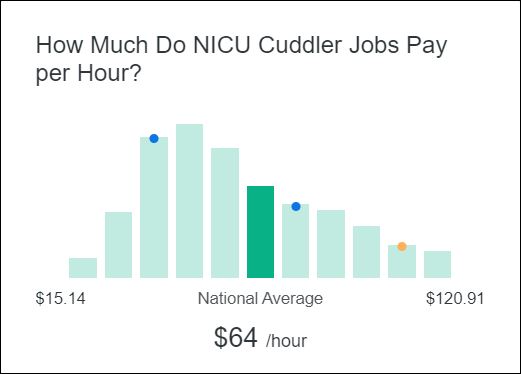 Who Can Become a Professional Cuddler?
If you have no qualms about meeting strangers and cuddling them, then you can become a cuddler. The job is open to anyone out for extra money providing close human comfort.
Your professional cuddler application should outline your interpersonal skill and activities that you are open to during the cuddling sessions. For example, clients expect you to be okay with light conversation, holding hands, watching TV shows together, and working with props.
Getting paid to cuddle may also require the willingness to work with the disabled or kids who are lonely and in need of human contact
The best part is that professional cuddling is meant to be non-sexual. You are not expected to show your naked body or even hug a person with skimpy clothing.
Sessions are between fully clothed participants, and you are free to set other boundaries to ensure that you feel safe during sessions.
In particular, you can require that you hold sessions in public locations such as the client's office space or your business premises. Lastly, while not an absolute necessity, to become a professional cuddler, anyone can enroll in a short cuddling course.
Do You Need a Degree To Be a Cuddler?
The only primary requirement for cuddling for pay is knowing how to provide lingering snuggles and platonic companionship.
As such, no education is necessary, except for basic knowledge in setting up a job profile, creating a resume, and communicating amicably with a potential client.
That said, potential clients can impose educational requirements of their liking. A GED or High School Diploma would be a basic requirement in such cases.
However, cuddling jobs within the hospital industry may require a certificate in a nursing discipline. NICU cuddlers, for example, are expected to be certified in first aid, neonatal care, and basic medical procedures.
How Do You Become a Professional Cuddler?
The first step on how to become a professional snuggler is to get the right training.
Next, find and apply for the best cuddling jobs in your area. Lastly, after excelling in a few freelance snuggling jobs, you can then open a personal cuddling business to earn the big bucks.
Below are the steps, in detail, on how to become a professional cuddler:
Step 1: Get Certified As A Cuddler
To cuddle at a professional level, you require some training. Here, you get to learn from top earners in the industry.
Further, the experience you get from interacting with professional cuddlers helps you master the art of cuddle therapy, how to sell the skill, and where the best cuddling jobs are.
The Cuddler training courses available online can take up to 30 hours or more to complete. These are not standardized or government-licensed courses, but rather training programs run by top-notch cuddling professionals.
1. Cuddlist.com
One such leading online course on cuddling is provided by Cuddlist.com. The company awards you a professional cuddler certification after you complete their course which takes a few weeks to complete.
Trainees learn about safe and comfortable cuddling when working with strangers. The course is fully online and costs a one-time fee of $149.
You get access to other snuggling trainees and resources to help establish yourself as a professional snuggler.
In addition to completing our online training course, you can become a cuddle member of Cuddlist, which makes you eligible to list your cuddling profile on Cuddlist.com for a monthly fee of $39.99
Click Here To Enroll On Cuddlist.com
2. Certified Cuddlers
Looking for free cuddler training lessons? I recommend trying the free workshop offered by Certified Cuddlers.
The training primarily deals with how to communicate your snuggling boundaries, the different levels of consent, and negotiating with clients.
The workshop takes place online and comprises 18 lessons only. You can also go for the Professional Cuddler Certification Program which costs $30 per month for 70 lessons.
Enroll in Free Cuddling Workshop
3. Cuddlers Professionals International (CPI)
For a Diploma in Cuddling, I recommend the CPI course which costs a one-time charge of £75. The training involves 20 modules plus assignments.
Among the units covered include Touch and Healing, Safety and Security, Boundaries and Consent, and Cuddle Business Marketing. Most importantly, you get access to cuddling position videos.
This is a home study course that offers trainees full-time access to cuddling resources. The only requirement for enrollment is being empathetic with an interest in holistic therapies.
Click Here To Get a Cuddling Diploma
4. Cuddle Sanctuary
Cuddle Sanctuary is yet another training website with lots of free snuggling resources and lessons. The site offers lessons on hugging strangers, both one on one or in a group setting.
They also have free webinars on safety tips for professional cuddlers, building cuddling communities, and finding cuddle events.
For access to expert training, you have to part with fees ranging from $7.95 to $130. Paid training helps you learn how to perform virtual hug sessions and a leadership guide for snuggling sessions.
Choose Your Cuddle Training Course Today
Step 2: Search For Cuddling Jobs
A cuddling certificate or diploma puts you in a prime position to get a cuddling job. Start by searching for snuggling gigs online.
You'll need to identify legit cuddling jobs and send in your application. Typically, these are odd jobs platforms or dedicated cuddling platforms with extensive search capabilities.
Ensure to search for jobs in your area to cut commuting fees. Among the expected requirements include submission of your cuddling certification and completing background checks.
How to Become a Professional Cuddler for Free
While there is no governing body for professional cuddlers, it helps to be listed on sites such as Cuddlist.com and Certifiedcuddlers.com.
This will ensure that your profile is marketed to high-paying clients.
Additionally, pad your profile by preparing personal cuddling materials for sharing with clients, as well as creating your own cuddling website.
Lastly, you need to deliver quality services on your jobs for top ratings; people that love to cuddle are sure to offer you earning opportunities when others say that you give hugs like a pro!
Here are some tips for cuddling like an expert:
Set boundaries to ensure you are safe and comfortable when snuggling with people for pay.
Try to be okay with cuddling different kinds of people. Be it race, gender, age, or size, you need to enjoy snuggling with any client who requires your hugs.
Practice and be comfortable with physical closeness to other people. Beware that your skin might touch them, though in a non-sexual manner.
Be physically fit to hold hands and maintain hugs for a long time.
Be attentive to your client's needs. This means being able to communicate with them both verbally and non-verbally.
Maintain confidentiality to build trust with your customers. Let them know that your business is safe and that you are reliable.
Ensure cleanliness in your premises and your body as well.
Ensure that you can pass criminal background tests. Most importantly, your past should not have acts of sexual abuse or bodily harm to others.
Maintain regular medical checks to avoid passing communicable diseases, like flu, to your clients. Depending on health laws in your area, you may need to display health certificates and vaccinations, for you and your staff.
Polish up on your positive vibes; be supportive, understanding, and likable. Do not drag negative energy to work – make your cuddling arena a happy place.
Strive to build a cuddling community around you. The more people are talking about your business, the more you'll get new buyers for your snuggling services.
Be passionate about cuddling. This means reading about snuggling, its health benefits, new techniques on touch therapy, and being your own boss.
Heard of the cuddle 'Bible'? Download the Cuddle Sutra and familiarize yourself with dozens of soothing and professional cuddling positions.
Professional Cuddler Jobs
The road to making money as a paid snuggler starts with getting training. The next step is to pick up jobs on cuddling websites and other independent-contractor job platforms.
Below are the platforms to get your cuddling hustle off the ground:
1. Local Cuddle Shops
Nowadays you can order more than coffee in walk-in cafes and restaurants. Though a recent development, you can now order cuddling off a menu inside storefront cuddle shops.
Check if such businesses operate in your area. You can get the information via the Google My Business platform. From the contact information displayed, call and ask for a job as a cuddler.
Expect an in-person interview plus a practical demonstration of your cuddling skills. Services offered here include hair strokes, holding hands, hand massages, and group snuggles.
Usually, the pay is hourly and the rates depend on your expertise and ability to fulfill clients' requests. Customers pay around $60 per hour for this form of human touch.
2. Cuddlist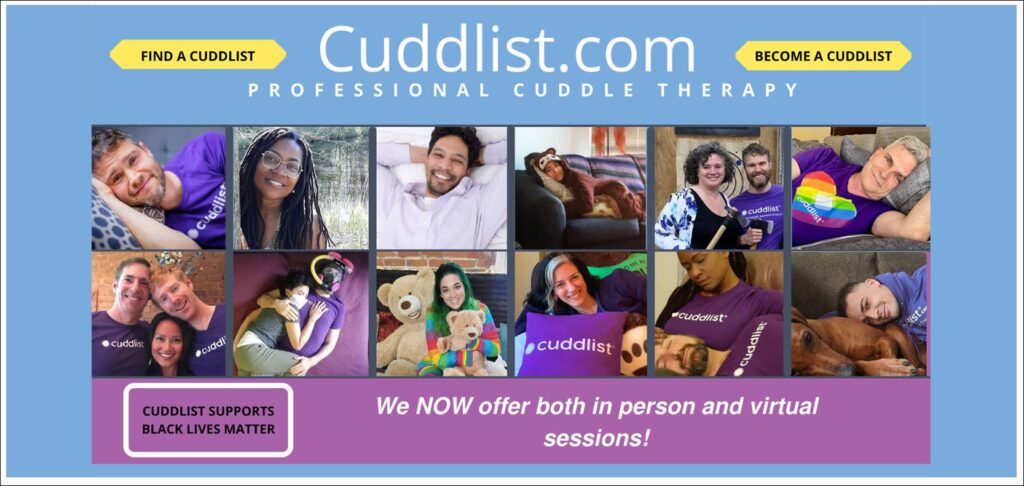 Cuddlist.com is more than a training platform for budding cuddlers; the site provides cuddling enthusiasts with a community of like-minded people.
Clients and cuddlers can get paid snugglers and paying clients, respectively, right on the website. To make money, you can list your cuddling profile on the website and wait for clients to reach out.
For you to become part of the professional pool of cuddlers at Cuddlist.com, there is a monthly fee of $39.99.
How Cuddlist.com Works
Once your membership is approved, you get a profile page where you can describe your services. This is your marketing page that showcases your personality, skills, and credentials.
You also receive and accept job requests on the page. The page also comes with a section where you list the days and hours that you are available for cuddling gigs.
Lastly, this is where you provide your work location and hourly rate. If travel is to be involved, you can also state your charge per mile or hour of commute.
At Cuddlist.com, the seller specifies their payment system.
Click Here To Join Cuddlist.com
3. Cuddle Comfort
Cuddle Comfort is a website where you can earn money through cuddling as a freelancer. This is one of the largest platforms for finding platonic cuddle buddies.
The platform is free to sign up for women without any membership fees for listing your profile. Males are the main target for professional cuddlers on the site.
How Cuddle Comfort Works
You need to be 18+ years old to join Cuddle Comfort. Sign-up requires your email address, name, location, gender, and profile picture.
Cuddlers get a profile page where you can specify your snuggling techniques, hourly rate, location, availability (private or public), and conduct client communication.
Payment is via PayPal with the site advising that you charge at least $80 per hour. A 15% fee of the charge for a cuddling session is taken by the company.
Depending on your client numbers, you can make around $1K per month for 3-hour sessions each week.
4. Start a Cuddling Business
To make cuddling a worthwhile side hustle, consider setting up your own Snuggling business. You can provide in-person or virtual cuddling sessions.
You'll need to hire a storefront for your cuddling gig. Considering that you have to buy some furniture and pay for interior decor, the business may eat into your savings.
The best part is that with a personal cuddling business, you don't have to pay for bookings or commissions whenever you get paid.
To advertise your hustle and connect with potential clients, create a cuddling website and advertise it via different social media platforms.
Interested in becoming your own boss? Learn How To Create a Business Blog
Example Of A Cuddling Business
A perfect example of this kind of business is Cuddle Up To Me. The website is owned by the famous professional cuddler Samantha Hess.
Hess charges $1 for each minute of cuddle time. She also makes money via cuddling training sessions that cost subscribers $79 to enroll and $30 per month for continued membership.
You can also go for a lifelong membership that costs a one-off payment of $1,500. Appointments on Cuddle Up To Me run for 1 hour, 1 1/2 hours, 2 hours, or 3 hours.
To ensure maximum satisfaction, the sessions start with a free 30-minute consultation to acquaint the client with cuddling platonically and the rules involved.
Hess accepts payments via Cash, PayPal, and Credit or Debit Cards.
How To Become A Professional Cuddler: FAQs
What Do Paid Cuddlers Wear?
What you wear during cuddling sessions is totally up to your discretion. It's up to you to accept or decline the client's request regarding their clothing preferences. For your own safety, insist on wearing what makes you feel comfortable and decent.
Do You Have to Perform Sexual Acts As a Professional Cuddler?
Absolutely not, cuddling for pay is purely platonic therapy. The only intimacy that's acceptable is snuggling, holding hands, and other acts that aren't intended to lead to sex.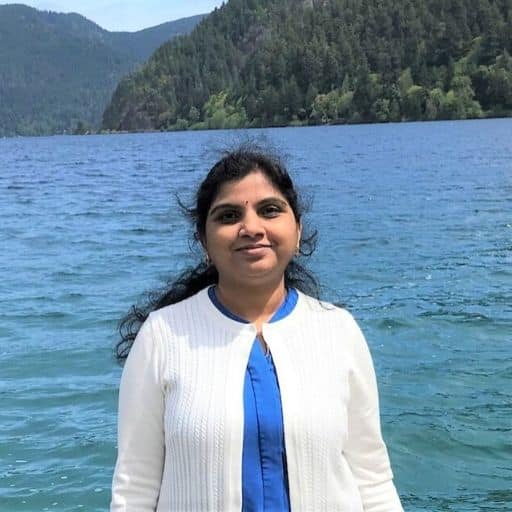 Howdy Folks, thanks for stopping by my blog.
I'm Swati, a proud mom, dedicated side hustler, full-time blogger, and a recognized millennial work-at-home expert. My expertise has been featured on esteemed platforms such as Forbes, CEO Blog Nation, Referral Rock, Vital Dollar, Databox blog, and many more. I have embarked on this incredible journey to share my firsthand experiences in the world of online income generation and to assist all of you in earning money from the comfort of your homes.
Join me in my mission to revolutionize the way we make money and achieve financial freedom. Trust me, it's not as challenging as it may seem!
Together, let's explore the boundless opportunities and pave our paths towards a prosperous future.