Do you have a massive DVD collection that is getting overcrowded by the day? Would you like to part with some of the entire collection for some hard cash? Well, now you can, if you decide to sell DVDs online?
But then we meet a roadblock with so many questions! Where to sell DVDs online or near you? What stores sell DVDs or are there apps to sell used DVDs? How much do people pay for used DVDs?
Believe it or not, there are several platforms to sell DVDs, CDs, Blu Rays and some do pay a handsome price depending on several factors.
Why Would One Buy DVDs [Used Or New]?
With the introduction of MP3 players, and digital music platforms like Spotify, YouTube, and Tidal, you may think that DVDs are obsolete, but you're in for a big surprise.
In the age of "Netflix and chill", most people consider DVDs as the dinosaurs of this era, but that prehistoric plastic could be worth some serious cash—sometimes as much as $500+
Before revealing who buys DVDs, it's worth mentioning the reasons to buy DVDs. DVD buyers and collectors say that they invest in what you probably consider prehistoric plastic for several reasons, most notably a more nostalgic, movie-watching experience.
Some buyers claim that watching a movie on a 4K DVD will look a lot better in terms of quality and sound than streaming the same movie in 4K on a streaming site.
Next, when you own a copy of a film on DVD (be it a Used/New one), it's basically yours, you own it, so you don't have to be disappointed if someday it's removed from the library of your streaming service.
And what's worse is when you cancel your subscription to the respective streaming service, you lose access to that movie title completely.
DVD collectors say that DVDs will stick around for a long time, and will be regarded as the vinyl records of the film business.
Adding to this, the feeling of holding a DVD in your hands is something different, just like holding a novel vs. an eBook.
Who Buys DVDs? And, Why Sell Used DVDs?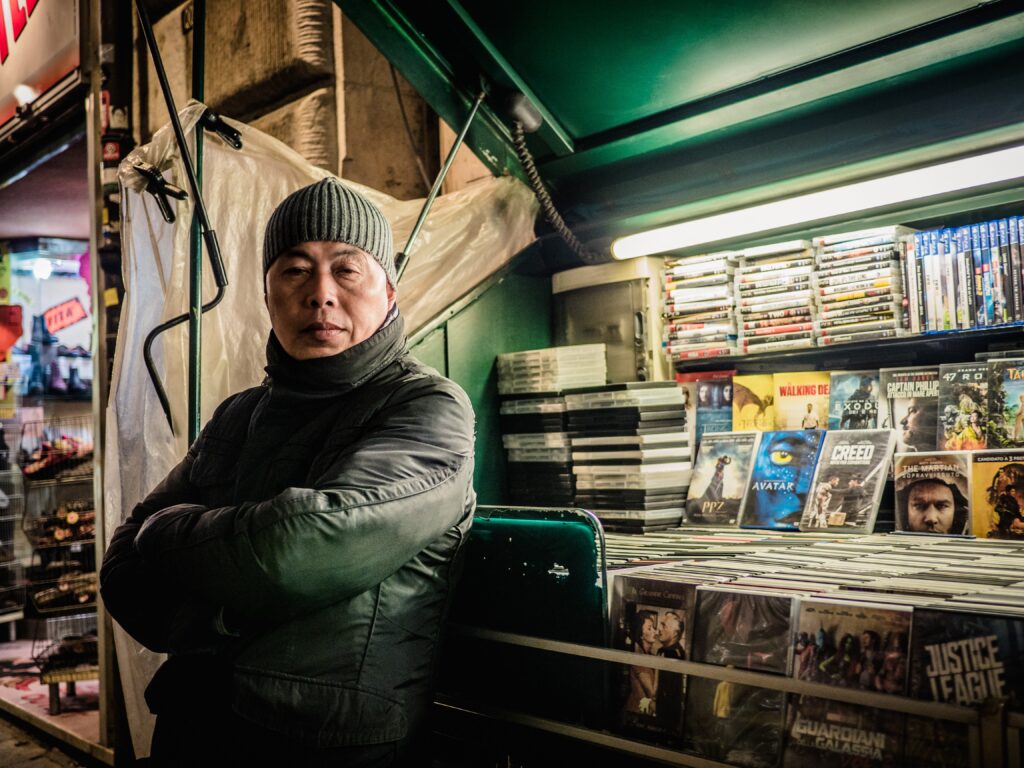 Many people still buy CDs and DVDs to support the artist and hold onto them as memorabilia.
Further, CDs and DVDs typically come with unique artwork on their covers, which in itself is worth preserving, and is something you don't get with streaming services.
Collectors love adding to their unique collections, from artwork, and coins to even priceless DVDs and box sets.
Next are middlemen such as pawnshops, electronic shops, vintage DVD sellers and resellers, and several online stores and third-party sellers on marketplaces such as eBay and Amazon.
Surprisingly, there are several avenues for you to explore to sell used DVDs primarily to declutter your space and make quick cash
If you visit the Yellow Pages website or download their app, you'll find several DVD player sellers in your area! The reason for this existence is because there's still a market for CDs, DVDs, and Blue Rays.
How to Sell DVDs Online?
1. Before you start selling DVDs online, it's important that you determine the right price for your collection.
2. The great thing about selling DVS online is that you have several options to choose from, so don't sell them to the first person that offers you an appealing price, because they could be worth a whole lot more.
3. When selling DVDs online, you'll probably have to take clear and crisp pictures to prove they're in good condition, therefore cleaning your DVDs.
As per this guide, there are several ways to clean your DVDs including a water-based lens cleaner, water-based detergent, or a mild solvent like rubbing alcohol or window cleaner. To reduce the chances of scratching your DVDs when cleaning:
Blow the dust off the DVDs with an air puffer
Use a microfiber cloth to lift dust and dirt particles instead of spreading them around when cleaning the DVDs.
When wiping the DVDs, follow a straight line from the center outward, and stand your DVDs vertically to dry them after cleaning.
Check out the payment options of the online DVD platform, and whether they pay cash in your Cash App, bank account, or in coupons, rewards, etc.
DVDs to Sell Online
The list of DVDs and Blu-rays that are extremely valuable, and sell like hot cakes are literally endless.
Even though there's no exact way of telling which DVDs will sell online or sell at all, here are some great examples of DVDs that have received a handsome price.
For example: The MXC (Most Extreme Elimination Challenge Vol. 4 & 5—the mid-2000s Spike TV series) recently sold for just under $200 on eBay. Adding to this list is the Killer, Criterion Collection DVD, which sold for $199 on eBay!!
And if you're old enough to remember History of Beavis and Butt-Head—a DVD released by MTV in 2002, it sold on eBay for $225.
Also Read: 30+ Things To Sell Online for Fast Cash!
DVD Price Guide (DVD Value Calculator)
As the saying goes—"one man's trash is another man's treasure", and there are several ways to determine the best price for your DVDs. That said here are some tips on how to price your used DVDs.
1. The first thing to do when deciding on a price is to figure out the release date for your DVDs, which should be available via a quick search online.
Remember, the originals are more valuable for hard-to-find DVDs, and the newer the DVD for re-released ones, the more they will be worth.
2. After thoroughly cleaning the DVD, cover, and case, take a look at it its condition to see if it shows significant signs of wear and tears yet is operational or is used or unpacked in perfect condition.
3. Include everything that may increase the value of the DVD such as if it came with any bonuses such as t-shirts, or if it had the producer's or director's autograph on it. Even being a store exclusive can increase the value compared to a standard edition.
4. There are several reputed sites that give you a rough estimate of how much you're DVDs are worth such as GETDVDPRICES.COM. Type in the name of your DVD in the field, and check the different prices available.
5. Next, check out online auction sites like eBay including recently ended auctions to check the closing prices and what people are willing to pay for the DVD.
PRO TIP: If you like to keep a copy of DVDs before selling them and decluttering your space, you can digitize them using software like WinX DVD Ripper Platinum.
Where Can I Sell DVDs (CDs & Blu-Rays) for Cash Near Me?
There's no shortage of places to sell DVDs, CDs, and Blu-rays near you, and some are as close as your own backyard, and by this we mean a yard sale!
Having a garage sale aka yard sale is one of the oldest techniques to sell literally anything, and best of all without any middlemen cutting into your profits. Keep in mind that selling DVDs at a garage sale may be feasible if you have a large collection (sell DVDs in bulk), but it isn't worth the effort if you only have a few items.
You can post flyers in your local community center and ads in your local newspapers to increase visitors to your yard sale. When writing the description in the flyer and ad, make sure to include what exactly you're selling, your address, directions, and phone number.
Check out local music stores, used book stores, and retail entertainment stores like Fye.com to verify if they accept in-store purchases of your used DVDs. Most of these stores build up their collection, so if you're lucky, you could snag a good deal on a popular title.
Here's a brief summary of platforms where you can sell your old/new DVDs for cash:
Site Name
Specialty
Pay Rate
Cash Converters
Lots of locations May pay well for certain DVDs
$.20 and $.30 cents for a single movie and $1.50 to $2 for a box set
Pawn Shops
Most buy DVDs in bulk Good choice for large collections
DVDs starting at $1
Decluttr
Easy process to sell DVDsEnter the barcode of the DVD on their website or download the Decluttr app
$2 to $20, and on average for $5, but box sets
Eagle Saver
Buys multi-disc Blu-ray and DVD sets if it includes all of the discs
Average of $1.50 per DVD
eBay
Free to sell at your price
Depends on the DVD, but more than $2 each
Textbook Rush
Usually sells books, but has recently expanded to CDs and DVDs too
Not clear how much Text Book Rush pays
Bonavendi
A search engine that connects with up to 20 buyback websites
Prices vary considerably
Second Spin Disk
They buy almost everything without having to scan the items!
CDS = 10 cents
DVDs = 20 cents
Ziffit
Buys DVDs in England and Ireland
Get paid once you reach a total of 10 items in your basket or £5
Local Used Bookstores
N/A
Pay a visit to find out
Music Stores
N/A
Pay a visit to find out
Craigslist
Free to sell at your price
Depends on the DVD, but more than $2 each
Facebook Marketplace
Free to sell at your price
Depends on the DVD, but more than $2 each
Amazon Trade-In store
Answer a few questions to get a quote
You will be notified if your submission qualifies for instant payment
1. Sell DVDs at Cash Converters
A lot of Cash Converter locations accept used DVDs, but they do have specific criteria for choosing DVDs. The CDs or DVDs should be in good working condition and are checked by professional staff before giving you the green light.
There are however several Cash Converter locations that don't buy CDs and DVDs, due to the majority of the public streaming movies online. It's best to call the Cash Converter location near you before heading out to sell your DVDs.
How Much Does Cash Converters Pay for DVDs?
Cash Converters doesn't pay much for DVDs, so sometimes it's best to get a quote and then check online options. In terms of price, Cash Converters pays anywhere between $.20 and $.30 cents for a single movie and $1.50 to $2 for a box set.
2. Pawn Shops that Buy DVDs
Stop by a nearby pawn shop and get a cash offer to sell your DVDs. If you're happy with their offer, they'll pay you in cash instantly.
There are a handful of pawnshops that buy DVDs such as USA Pawn, which has locations all across Mississippi, that buys and sells DVDs starting at $1, which is much better than what Cash Converters offers, making it worth the shot.
You can also get in touch with Pawn USA, a company that promises to pay an impressive 35 percent more than other shops for DVDs and Blu-rays.
How Much Do Pawn Shops Pay for DVDs?
The prices could vary across pawnshops, but it's a good idea to not expect higher prices from brick-and-mortar locations compared to online platforms.
To give you an idea, you should expect between $.20 cents to $1 for each DVD. You may be able to negotiate these rates if you have a valuable DVD such as one that came with a bonus or an autographed DVD.
Best Places to Sell DVDs Online
When selling DVDs, you have more online options than offline options to choose from. Here are the best ways to sell your DVDs online:
1. Decluttr To Sell DVDs: Best App to Sell DVDs, CDs, and Blu Rays
If you're looking to sell DVDs, CDs, Blu-rays, and much more including games and consoles, Decluttr is a smart option!
With a 4.4-star rating on Trustpilot, plus a 3.9 rating and an A-grade accreditation from BBB, Decluttr presents itself as a fast, easy, and hassle-free way of selling DVDs. They have paid out hundreds of millions of dollars to customers who are happy with their service.
You can either enter the barcode of the DVDs on their website or scan them with their handy app for an instant valuation. Pack them up in a box, and finally ship them for FREE.
Decluttr DVD Prices: What Does Decluttr Pay for DVDs?
With regards to how much Decluttr pays for DVDs, it depends and ranges between $2 to $20, and on average for $5, but box sets and collections may fetch a higher price. Get paid by direct deposit, PayPal, or check!
2. Sell DVDs, CDs, and Blu-Rays On Eagle Saver
If you want to sell multi-disc DVDs, CDs, or Blu-Rays Eagle Saver is the place to go! Just make sure the multi-disc Blu-ray or DVD set includes: all of the discs, and the case artwork, to be eligible for reselling. They also have an app that you can use to get a quote for your DVDs.
It works similar to Decluttr, you just need to enter a 12-digit UPC code (Audio CD, DVD/Blu-ray) and get an instant valuation. You then ship the item for FREE and get paid via Check or PayPal.
Eagle Saver DVD Prices: What Does Eagle Saver Pay for DVDs?
Many users claim that Eagle Savers pays an average of $1.50 per DVD, but this price could be higher for box sets and unique collections.
3. eBay.com
eBay is a go-to-choice for selling many different types of items, from CDs and DVDs to home & garden and sporting goods. You can sell both used and new DVDs, CDs, and Blu-Rays on eBay and make good money either as a collection or per piece!
To get started, create a listing for your DVDs by taking some photos, writing a catchy description, and setting a competitive price. Once your listing is live, you'll need to package up and ship your DVDs to the buyer when they make a purchase.
For more information on how to sell DVDs on eBay, check out this step-by-step video tutorial.
eBay DVD Prices: What Does eBay Pay for DVDs?
Depending on the collection, you can certainly sell your DVDs, CDs, and Blu-rays for a greater price on eBay than other online retailers, Cash Converters, or pawnshops.
For example, the Batman 3-disc set with slipcover sealed has a price tag of $17.50, Netflix Stranger Things Season 1, a 4-disc DVD set for $4.78, and the Muhammad Ali vs Joe Frazier trilogy DVD sells for $14.95!
4. Fye
If you're looking to get the most money for your used DVDs, FYE is the place to go. They have a wide selection of movies, TV shows, Music, and games, and are always on the lookout to extend their collection.
They offer top dollar for your discs, so you can rest assured that you're getting the best deal possible. Plus, FYE makes it easy to sell your DVDs.
As of date, FYE only accepts in-store purchases! Visit their store locator to find the store closest to you and verify if they accept used items.
So if you're ready to get rid of your old movies, TV shows, or games, head on over to FYE and take advantage of their great in-store trade-in program. You won't be disappointed!
5. Textbook Rush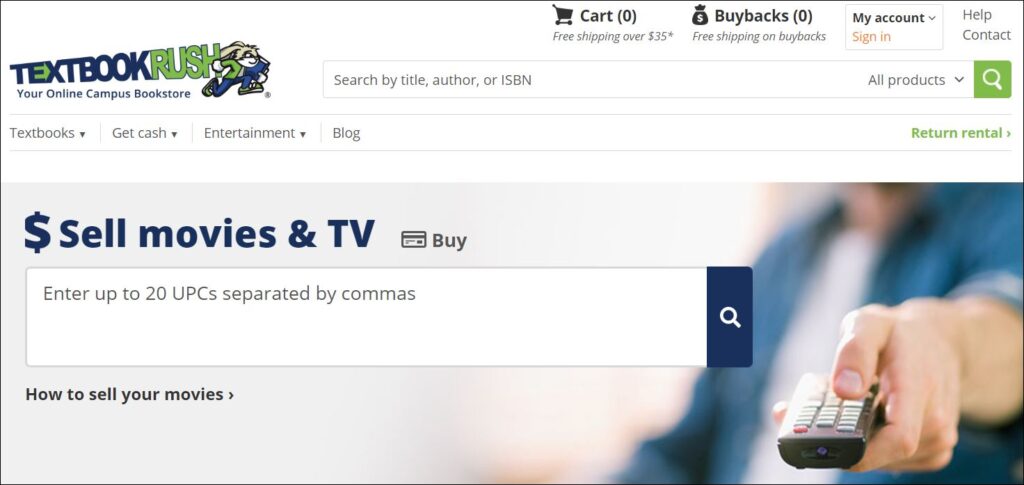 Although the name is somewhat misleading, Textbook Rush has recently expanded their service for people looking to sell used DVDs, CDs, Blu-rays, movies, and games.
You can enter up to 20 UPCs/title names in the search field, after which you can accept or refuse their offer.
Textbook Rush DVD Prices: What Does Textbook Rush Pay for DVDs?
It is unclear how much Textbook Rush pays for used DVDs, but you're not losing anything for getting a free quote.
Here's how it works:
Gather your used Blu-rays and DVDs.
Enter up to 20 UPCs or title names into the search field.
Review and accept their quote.
Inform how you want to be paid: store credit, cash payment, PayPal, etc.
Print a pre-paid shipping label and mail your collection.
6. Bonavendi
In the DVD buyer space, Bonavendi does things differently, in that it serves as a search engine, and compared prices with more than 20 different buyback websites.
This guarantees that you will always get the best price for your DVDs, without any complicated auctions.
Further, Bonavendi is an easy-to-use platform, where you start by entering the items into the search field, checking the best buyers that are paying the highest prices, and selling the items to the buyers.
Bonavendi DVD Prices: What Does Bonavendi Pay for DVDs?
Bonavendi doesn't buy your DVDs but connects you with the best buyback sites that do, so prices could vary considerably.
7. Sell Back Your Book
With over 10 million dollars paid out, this BBB-accredited business not only purchases books but also buys DVDs for fast money.
As with other websites, once you input the UPC number of your DVD, you will be offered an INSTANT price quote! The DVDs can then be sent for FREE and compensated.
All payments are processed within three business days of your item arriving!
8. Second Spin Disc
Launched in 2016, Second Spin Disk is a fairly new website to sell your DVDs even if they aren't in good condition. As stated on their website, they buy private collections, estate collections, reviewer/radio station surplus, and entire store inventories of CDs, DVDs, and Blu-Rays.
Second Spin Disk DVD Prices: What Does Second Spin Disk Pay for DVDs?
Ensure that CDs/DVDs have front and back album artwork, your name, address, and contact information on the reverse side, plus a list of the contents when mailing.
They pay a flat fee for your CDs/DVDs.
CDS = 10 cents
DVDs = 20 cents
9. Ziffit: Sell DVDs in UK
If you're looking to sell your DVDs in the UK, we've can't think of a better place than Ziffit.
The company buys DVDs from anyone in England and Ireland and offers a simple buyback process.
First, you scan the DVD barcodes using the Ziffit app or EANs, and after you've reached a total of 10 items in your basket or £5, you can receive your payment via PayPal or bank transfer.
Ziffit Disc DVD Prices: What Does Ziffit Pay for DVDs?
Ziffit will only give you a quote once you enter the barcode of your DVDs on their website or app.
Learn how you can get paid to scan barcodes
10. Local Bookstores
Many times, Local bookstores don't just sell used books and other types of paper material, but also buy and sell DVDs, CDs, video games, and movies. For example, Half Price Books has an excellent array of DVDs!
Bookstore DVD Prices: What Does a Used Bookstore Pay for DVDs?
The best thing to do is ring up your local bookstore (s) to confirm if they buy used DVDs. If they do buy used DVDs, do your research first to see what they're worth before visiting the store.
If you're looking to get rid of some old DVDs and don't have the time in hand, local bookstores can be a quick way to pocket some cash or store credits and just move on.
11. Local Music Stores
When we say music stores, it does not just stores that sell CDs and DVDs (they hardly exist), but stores that sell musical instruments.
The content of your DVDs doesn't necessarily have to be related to musical instruments, but can be old albums and movies.
12. Craigslist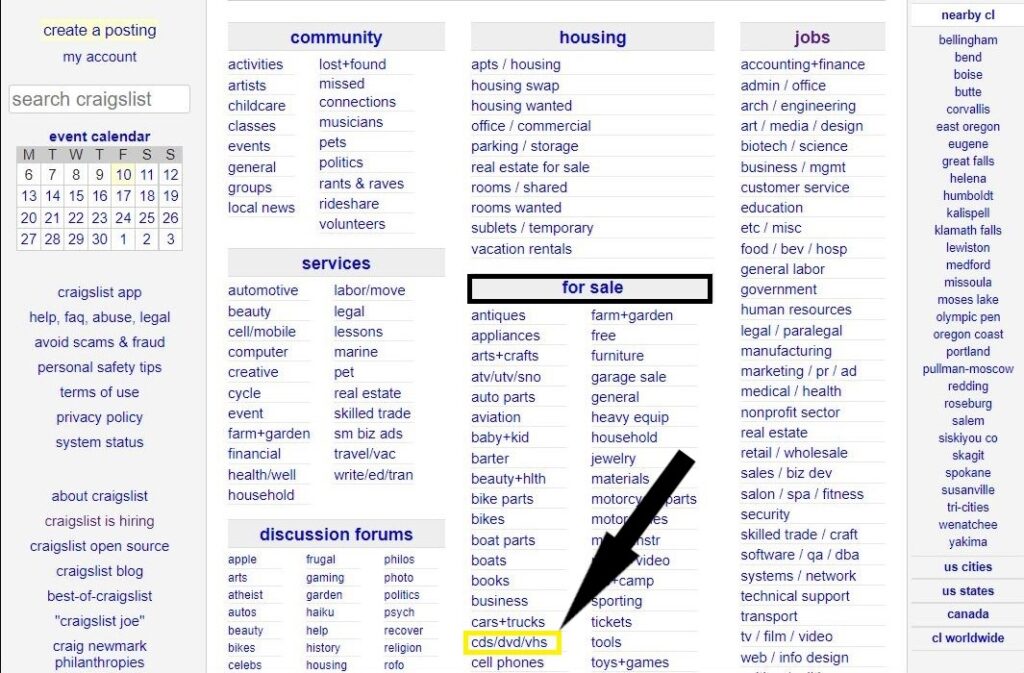 Just like eBay, Craigslist is another leading marketplace to sell your DVDs. The posting fees vary by location, but typically cost between $5 and $75 per listing.
Craigslist claims that charging a fee helps prevent spam, which sort of does make sense. Craigslist is a great place to sell your DVDs especially if you're targeting your local area.
13. Sell DVDs for Cash at GameStop
We reached out to GameStop to find out if they still buy DVDs – regrettably, their customer service informed us that they are currently not buying any DVDs.
They do however buy all other types of electronics such as used tablets, phones, video games, and video game systems. Further, they also buy broken or defective games, consoles, and accessories.
14. Facebook Marketplace to Sell DVDs Online
Facebook is the largest social media platform with a whopping 2.5 billion monthly users, and apart from sharing your photos and videos with friends, Facebook also offers a sprawling marketplace—"Facebook Marketplace" to sell your items.
To give some insights, the Facebook Marketplace is used in over 70 countries and by approximately 800 million people around the world every single month, so you can just imagine the exposure your DVDs will receive.
Facebook Marketplace isn't free to use, but Facebook does take 5 percent of the seller's fee with every transaction.
This isn't a downside per se, because it's much lower than competitors such as eBay and Craigslist.
Plus, you can list as many items as you want, which is particularly helpful if you've got a large stack of DVDs.
To sell your DVDs on the Facebook Marketplace, log in to Facebook, click on Marketplace in the left menu, click create a new listing, then item for sale, add photos and enter a description, click next and then publish to post your Marketplace listing.
Related Read: Tips for Selling Fast On Facebook Marketplace
15. Sell DVDs On Amazon
Amazon's rules with regards to selling used DVDs are a bit more stringent today than what they used to be a few years ago. But on a brighter note, you can still sell used DVDs on Amazon.
You can use the Amazon Trade-In store to sell your used DVDs, and here's how it works!
Visit the Amazon Trade-In Store, and click on the product you wish to sell. Next, answer a few questions about your DVDs including the condition of the item to receive a trade-in quote.
Here are the exact steps involved to submit a trade-in on Amazon:
Select items to add to your trade-in submission.
Select the condition of your item(s) based on the criteria listed.
Select what to do if your item is in a lower condition than selected.
Select Continue.
Select or enter an address from which you will ship your items. Note: This address is used to return any items that aren't accepted, at no additional shipping cost. PO Boxes and APO/FPO addresses aren't eligible.
Follow the on-screen instructions.
Select Confirm Trade-In to print your prepaid UPS shipping label.
Ship your items by the date indicated.
You will be notified if your submission qualifies for instant payment, after which you can ship your products for free.
Tips for Selling DVDs
Here are a few useful tips for selling your DVDs and fetching the best price for them.
1. Have a yard sale if you have a big stash of DVDs to see if you can sell them in your neighborhood with 100 percent profits.
2. Research what you're DVDs are worth and make sure they are in good working condition.
3. Most reputable buyers—online or offline should pay for shipping such as the Amazon Trade-In store.
4. Sell your DVDs with all the original stuff they came with such as artwork, etc.
5. Always be upfront about the condition of the DVD or they will be rejected.
Sell DVDs Online: FAQs
1. What is the best place to sell DVDs online?
When looking for the best place to sell your DVDs, you will be spoilt for choice, given the myriad options available.
Decluttr however tops the list, owing to their great buyback prices and convenient selling process. Next in line is eBay, because you can command the prices you'd like to receive for your DVD collection.
2. How Much Do DVDs Sell For? How Much are Used DVDs Worth?
This depends on the title of the DVD, its condition, and where you sell it.
Most places pay an average of $2 for a single DVD and a little higher for box sets. Collectables or special editions of course may be worth a lot more, which is why it's best to check online to get an idea of prices before approaching a buyer.
3. Can I Get Money for Old DVDs?
Many stores pay cash for old DVDs, and via several payment platforms like PayPal, Some stores such as Textbook Rush offer in-store credits, which is useful if you'd like to buy items from the same store at a later date.
4. Can I Pawn My DVDs?
In short, yes you can.
DVDs can be worth a decent amount of money, depending on the title and condition. However, pawn shops typically don't give you the full value of your DVD because they need to make a profit too.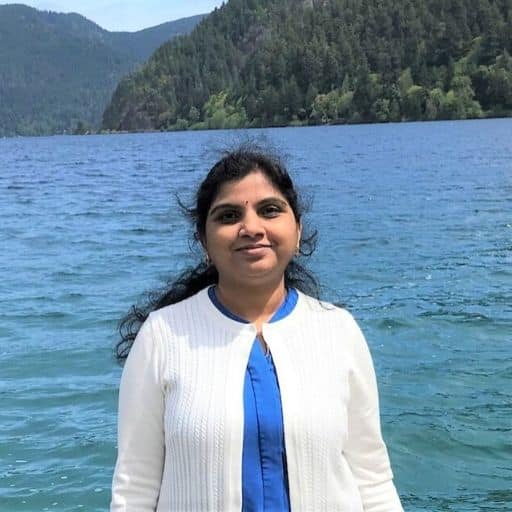 Howdy Folks, thanks for stopping by my blog.
I'm Swati, a proud mom, dedicated side hustler, full-time blogger, and a recognized millennial work-at-home expert. My expertise has been featured on esteemed platforms such as Forbes, CEO Blog Nation, Referral Rock, Vital Dollar, Databox blog, and many more. I have embarked on this incredible journey to share my firsthand experiences in the world of online income generation and to assist all of you in earning money from the comfort of your homes.
Join me in my mission to revolutionize the way we make money and achieve financial freedom. Trust me, it's not as challenging as it may seem!
Together, let's explore the boundless opportunities and pave our paths towards a prosperous future.