This Post May Contain Affiliate Links! Want to Learn More about it? Take a look at my
If you're newbie blogger looking for a list of the "best blogging tools and resources" to help grow your blog like a weed, I bet you're at the right spot.
During my 2 years of blogging, I've come with a list of amazing, budget-friendly blogging tools which saved my up to 40 hours a week. They also helped me save & make more money blogging every month.
I created this resource page to list out the recommendations that I believe are truly valuable based on my own experience. This way you can quickly find great products and services all in one place.
I work on a budget and believe that a 'penny saved is a penny made'. Hence, I prefer not to suggest something weird or expensive just to fill my pockets from your hard-earned money. 
Disclosure: This post may contain affiliate links, which means if you click the links below and sign up for a service, they will send me a little cash as a way to say "thank you for linking to us."
The Ultimate Budget-Friendly Blogging Tools Kit for Blogopreneurs
The list contains tools, recommended services, products, and companies that are trustworthy that are mostly FREE. While a few need a little investment but are affordable and within one's budget. I bet, you can easily save thousands of dollars and run a successful blog, if you can follow my recommendations on this page!
Don't wait any further, just grab these tools and get going with your startup blog at a minimal cost!
Domain Name
The single most important decision of your blogging career would be to choose the domain name (based on the niche you decide to blog). I finally decided upon 'HearMeFolks', after extended brainstorming.
NameCheap

Their services have grown in popularity recently owing to low pricing and good customer service. If you wish to register a domain for just 0.88$/yr at NameCheap then use this link. Pretty amazing isn't it!
Blogging Software
If you're serious about what you're doing, then you definitely need to choose a blog software that offers UNLIMITED functionality, flexibility and high-end customization. A self-hosted WordPress is my choice as it makes blogging easier and at the same time renders a professional look to my blog. It is a free software, and one of the most widely preferred platform because of its flexibility and ease of use for either personal or commercial purposes.
Blog Hosting
If domain name is your address, web host is the actual house on the web where your blog lives.
When it comes to Hosting, Siteground is undoubtedly my #1 recommendation. 
When I started blogging, I signed up with Godaddy. Pretty sooner, I realized my mistake and switched to Siteground. Yes, Hearmefolks is hosted on Siteground.
If you're scared to migrate your blog from a different host like I did… don't be'coz Siteground (offers free transfers).
Hop on Live Chat and they'll advise you on what you should do to initiate the migration.
Wondering, Why Siteground? – They got extra-ordinary live 24/7 support (I simply can't stress, how a crazy fan I'm). Their services are amazing and up to the mark. They offer ultimate up-time & blazing site speed, free migration and a 15$ worth domain name for free.
If you are planning to migrate to from a different host like I did… let me tell you that, Siteground (offers free transfers).
They have an awesome technical support, live chat and have been my backbone when my site was recently hacked.
If you're thinking of something reliable and affordable at the same time… then these can be the next best alternatives.
If you're looking to start at an affordable price…
Then the next best option would be Bluehost. It is the most recommended web host in the blogging community.
The starter plan worth 3.95$/month includes technical support, unlimited bandwidth, and dedicated server upgrades. If you signup through my link, you can get started for just 2.95$/mon & also get a domain name worth 15$ for free with this , instead of the regular price of $7.99/month. That's about 60% off regular price.
You'll also get FREE domain for one year, WordPress Hosting, 30-day money back guarantee, and more. That's a lot of great incentives for just $2.95/month.
Hostgator is yet another popular web-hosting provider recommended by pro bloggers. Just like Bluehost, this can be your other alternative for cheap WordPress hosting.
Even its smallest plan worth 3.95$/mon includes unlimited disc space and bandwidth. It also comes with a one-click WordPress installation making it easier for new bloggers to get started quickly. The best part about HostGator is you can take a trial for just a penny.
Avail a 60% discount and get started with HostGator for just 2.75$/month .
Free Grammar Checking Tool
Use Proper Grammar or Your Credibility is Shot 😡 
Even if your content is the best, you will still be judged based on your writing skills.  A grammatical error can make your readers' lose respect for you.
If you're not comfortable with your writing or aren't familiar with basic rules of grammar then you need to turn to a dependable source to avoid potential problems. One such best source is Grammarly.
It is a powerful grammar checking algorithm that makes sure everything you type is easy to read, effective, and mistake-free. It can Instantly fix over 250 types of errors, most of which Microsoft Word can't find.

Grammarly helps me craft mistake-free posts on Gmail, Facebook, Twitter, WordPress and everywhere else I write on the web. Add it to chrome, it's free!
Plugin Kit
Plugins are a way to extend the functionality of a blogging software (like WordPress)
Essential plugins for Your blog
[table id=6 /]
Blog Design Tool Kit
 Make your blog pop out of the rest with an awesome logo and a stunning blog template.
Logo Design
99 Designs – Want a professional looking logo for your blog, then 99 Designs is a great place, with over a million of highly talented great designers. Whether you are looking for a website design, graphic design, a header image, or anything else related to your website, you can get it done here with talented freelance designers online.
Fiverr – You can get it done for just 5$ here if you are on a budget!
Blog Themes
If you're looking for themes that are free/affordable, responsive, professional looking, SEO optimized, Adsense optimized and built for speed, readability and clarity, choose one!
Studiopress is an elite WordPress themes Club, powered by Genesis Framework & serving the community since 2010. If you want to capture attention in the digital space, you have to market yourself. Genesis-powered WordPress websites will help you do just that. Genesis provides the secure and search-engine-optimized foundation for your digital business. It delivers Responsive Turnkey Designs with start of the art theme customization, security, unlimited support, and speed.
This website is built on Genesis Framework + Market Child Theme — since then I've never looked back.
Here's the list of 10 Best Studiopress Themes in 2018
If you're struggling to choose between Divi and Studiopress, this might help you decide!
Divi Vs Genesis Studiopress – the most comprehensive detailed review (pros and cons of both the platforms).
Thrive Themes – Whether you want to turn your prospects into leads or visitors into subscribers, than thrive themes should be your ultimate preference! Thrive themes and plugins are conversion focused and will make your entire website convert.
A one-time payment of 49$ (for a single website) can create a professional looking website. It also includes all the features, unlimited free updates and 1 full year of free support. Its $67 for an unlimited license for all sites that you personally own and operate. Thrive Membership costs $19/month.
Looking for beautiful, responsive Feminine WordPress themes?
Restored themes is the place to go. It is an ultimate source of Premium WordPress Themes for Female Entrepreneurs. These themes are stunning and have an elegant look available for $75. You can use them forever, on an unlimited number of sites, and you'll always have access to support and updates.
My Recommendation:
If your intention is primarily to build your list and make money then I would suggest you to go for Thrive themes. If you're looking for something at a more affordable price then go for Mythemshop.
Free & Premium Stock Photos
I love photos! I personally feel that images are a great way to convey the essence of my post. Moreover placing photos and graphics is incredibly easy with today's photo sharing websites. Here is a list of few royalty free stock photos I use for my blog.
Graphic Designing and Image Editing Tool
Want to add text and graphics to your images and make them appealing, then you need to resort to the most popular photo editing tools that have both free and premium services. I use both Picmonkey and Canva for editing my images. These tools have proactively influenced my social sharing count on Pinterest, Twitter and Facebook making my images eye-catchy.
This is a paid plugin (and honestly, the only plugin I've ever paid for) that allows you to set an appropriate image for each social network. See, Facebook and Twitter like the images to be landscape, and without words; while Pinterest wants them portrait style, with words. My website theme doesn't play nice with those differences. Plus, I don't like seeing the title of the post in picture form right after seeing the title of the post. Social Warfare allows for a good-looking blog post, plus the right sized picture on Pinterest.
SEO Tools
SEO is the heart of blogging. A blog properly optimized can drive in loads of organic traffic from search engines. A proper SEO tool will bump up your rankings and your income.
Keyword Research
Whenever I come up with a topic, I immediately jump into keyword research to check for competition, average CPC, and keyword word count. I use Keysearch to look up for keywords that I want to rank for.
Jaaxy is a popular keyword research tool by Wealthy Affiliate, to find profitable long tail keywords with low SEO competition. The starter plan worth $20/month, is amazing. However, the free trial lets you avail 30 free searches.
Sign up here (no credit card needed) and check it out for yourself.
BEST ALTERNATIVE
Keysearch, is an easy to use keyword research tool with in-depth competition analysis, keyword difficulty checker, keyword suggestions, including search volume, CPC & PPC. The free plan is limited to just 3 searches per day, while the basic plan starts at $17/mon.
If you prefer to buy Keysearch.. don't forget to avail a 20% DISCOUNT, with my link & this coupon code 'KSDISC'.
I would definitely suggest a paid plan of either of these tools: Keysearch or Jaaxy to find those profitable golden keywords and start ranking today!
Backlink Research
I use Ahrefs for my SEO analysis and I believe that it is a must-have for serious digital marketers like you.
Ahrefs – is an ultimate backlink checker and the best of all SEO tools and the #1 tool recommended by pro bloggers. It helps you to learn why your competitors are ranking so high and what you need to do to outrank them. They also have the content explorer, keyword explorer, competitor research, position explorer tracker & more. In simple its a complete toolset for SEO and marketing.
Take a 7-Day Trial of Ahrefs for just $7!
Another gold mine I use is Google Search Console & Google Analytics
These two free SEO tools when used in conjunction can turn a blog from zero to hero. Google analytics if used properly can provide you with tons of actionable data which you need to monitor regularly. Google search console will give a complete overview of a site from an SEO perspective and will notify of crawling errors. You can even analyze traffic metrics and backlinks to your blog using this awesome free tool.
Digital Marketing Tools Kit
Email Marketing 
is a must if you want to survive in this highly competitive marketing world. Build your list and passive income with the right choice of tools to succeed. A good email marketing service can grow your list just by customizing and sharing built-in signup forms.
I use Mailerlite, and you can as well start building list today for free using it. Mailerlite is easy, free (upto 1000 subscribers) and requires no credit card. The starter plan allows to send unlimited emails per month. Another free alternative to Mailerlite is Mailchimp.
Mailchimp free forever (upto 2000 subscribers) and requires no credit card. The starter plan allows to send 12,000 automated emails per month to 2,000 subscribers.
You need to upgrade your free account to 10$/month to grow your list further above, send more emails per month, and take advantage of powerful features.
List Building Plugin
I use Convert Plus, it's an all-in one email list building plugin you can integrate to either Mailchimp or Mailerlite. You can create and freely design any type of opt-in forms, pop up forms, discount coupons, hello bar and grow your list faster than ever before. If you want to build a profitable mailing list then Convert Plus can be your choice, available for a one time payment of just $23.
Social Media Marketing
Social Warfare is an awesome wordPress plugin that adds beautiful, lightning-fast social share buttons to your website or blog. But that's only the beginning… 
It gives your site super powers that finally makes your post share worthy. It display social share counts prominently (even Twitter tweet counts). "After installing Social Warfare I straight away saw an increase in social shares and traffic.
This is a powerful psychological tool to encourage more shares and BY FAR the best looking social sharing plugin I have seen till date available for just 29$ !
Buy it, try it out for 45 days and if you don't love it, avail your money-back with no questions asked.
Nowadays it hard to network and promote on multiple sites. Social pilot is a Social Media Scheduling & Marketing Tool that increase your online marketing efficiency and save time. I use the social pilot to schedule my posts.The free plan can be used for up to 3 connected profiles,10 posts sharing per day and 30 posts in scheduling queue.The basic plan which starts at 4.99/mon can connect up to 10 profiles.
Here's the juicy "MONEY-MAKING' part!
When it comes, to traffic & conversions, I attribute my SUCCESS to this SMART budget-friendly app, that SAVED hours of work and made my posts viral on Pinterest. (More traffic, More eye balls, hence More money!). 
It's none other than Tailwind App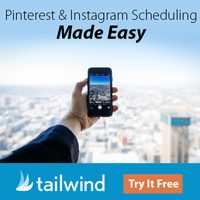 This smart Instagram & Pinterest scheduling app stole my heart. I can't conclude this page without mentioning this amazing app, that made marketing easier and skyrocketed my blog traffic with minimal work. If you're using either Pinterest or Instagram, I would say Tailwind is a must. Not to forget, its extremely affordable for Small Businesses & Bloggers.
For the money I make (on Pinterest), scheduling is extremely important (to maintain consistency) and Tailwind investment is worth every penny to achieve that with ease. Above all, the returns are amplified. As I said, Tailwind helps me from burning out myself due to repetitive manual pinning in order to maintain consistency on Pinterest & Instagram. Its kind of a 'Set it and forget It' model!
Try it out yourself for FREE, its a game changer!
Here are the most promising features of tailwind app:
It allows you to do bulk image upload, multi-board pinning and scheduling both on Pinterest and Instagram with TRENDING hashtag recommendations. Maximizes you reach by scheduling at the best times – when your audience is most engaged. Tailwind browser extension lets you easily create multiple posts from any site with one click – even repins on Pinterest and regrams on Instagram! 
The best part is Tailwind tribes which widely enhances the visibility and share-ability of pins. Tailwind offers deep analytics and insights to measure success to find out what's working and what's not. You'll reach more of the right people by having the best Instagram hashtags automatically suggested by their Hashtag Finder.
So, what else can you expect? Tailwind offers everything you need to grow your traffic and amplify your reach. Start Scheduling like a Pro, right at the best times! 

UPDATE: 
Last month, I eventually moved from Boardbooster to Tailwind, though the later helped me grow traffic enormously,  here why I changed my mind to Boardbooster, and I appreciate myself for the switch.
Boardbooster is limited in terms of the number of pins you can schedule (based on the plan you purchase).
Let's say, Tailwind Annual plan offers unlimited pinning for just $9.99/mon (this includes, Instagram scheduling too!). Isn't it amazing for an amazing price?
Boardbooster, on the other side, allows you to pin just 1000 pins a month for the same price. This makes Boardbooster, pretty pricey on the higher end.
Its no where close to Tailwind budget-friendly annual plan and you end up spending way more if you have to pin more than 1000 pins a month. Even then, you get more for what you spend (remember, instagram scheduling and hashtag finder, I mentioned earlier). Everything for the price of $9.99/mon (billed annually) !
Besides that, Tailwind also offers high-end analytics and pinning slots with 'best times' for scheduling right at the best times to either group boards or even your own boards and in intervals.
The best part of Boardbooster, is its looping feature, which makes the old pin resurface once again Pinterest. I loved Boardbooster, till the last moment
Phew! That's it guys..I'm done for now.
Will come up with more worthy stuff. In the meantime, get started with your blogging journey.
There is a lot involved in turning your blog into a profitable business.
For now, get inspired with these ideas…
10 smart blogging gadgets to help you build a profitable blog at a faster pace.
5 Best Blogging Books to Unlock the Secrets of Profitable Blogging
Want more? Keep looking for latest updates to this page.
Which of these tools do you use for your business? What's are your personal recommendations?