Valentine's Day is fast approaching, and I know you're super excited! I believe, you definitely want to surprise your Dear One with the unique choice of your gift. I get the feeling!
Though your love for him is limitless and unaltered, at times it takes special moves to showcase it. Actions always speak louder than words. Get going girl, make the choice!
5 Unique Valentines Gifts for Him Under $25
Here are a few amazing Valentine gift ideas, that make him feel very special!
This is an exceptional wallet for men of all ages and is a GREAT GIFT idea which comes beautifully packaged in a gift box. Slim Wallet is designed to hold up to 10 Cards. 1-2 in the front pocket, up to 5 in the inner protected pocket and up to 3 cards in the back pocket. The slim wallet is ideal for carrying business cards, credit and debit cards, driver's license etc. Take a look at it here.

#2 Pocket Watch – a fashionable alternative to a regular wrist watch

These mens' pocket watches, easily secured and accessed with the quality chain attachment are perfectly sized for most pockets and are laser engraved with 'To my husband, I loved you THEN I love you STILL, always have, always will' they are an extra special keepsake to treasure forever. This makes a stunning gift for your husband for this Valentine's Day.
#3 Gift Basket – Chocolate Cigars Keychain Bottle Opener Axe Spray
A StudBucket is the perfect way to show your appreciation for your Stud. Add your PERSONAL TOUCH, use the chocolate cigars and playful gift vouchers to create memorable moments together and put a big smile on his face. Plus you can even write your own customized gift message to be delivered with your StudBucket.
This cordless electric Wine Bottle opener removes the cork in seconds with a single push. It features a stainless steel housing with a transparent shell surrounding the corkscrew mechanism, no guesswork needed. The built-in rechargeable battery opens up to 30 bottles on a single charge. Pair it up with this Deluxe Wine Aerator to make a difference. The aerator infuses the wine with the optimal amount of air possible making it much tastier.
Six Pack Greeting Card Box is the perfect paper gifts for Beer Lovers! It includes love cards for him where you can write a special note on the inside of the card (BEER NOT INCLUDED)
Or this assortment of beer bottles ➡ Give the gift of his favorite brew personalized with these Valentine themed beer bottle labels. Perfect gift for the man in your life.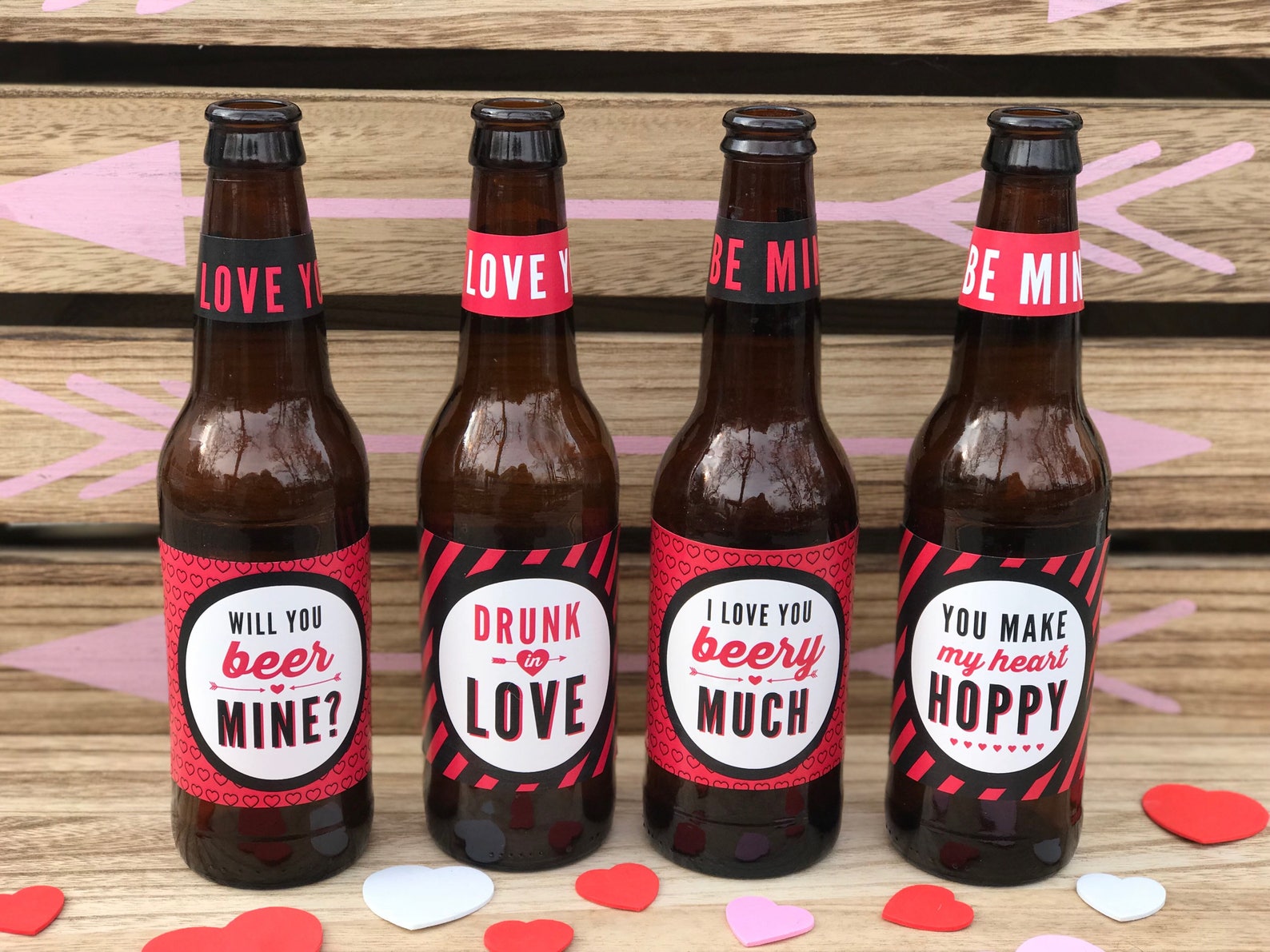 #6 HandMade Wooden Frame – 'Where You Met'
Perfect way to remember the where and when, even if you move away from the area! You can get it here.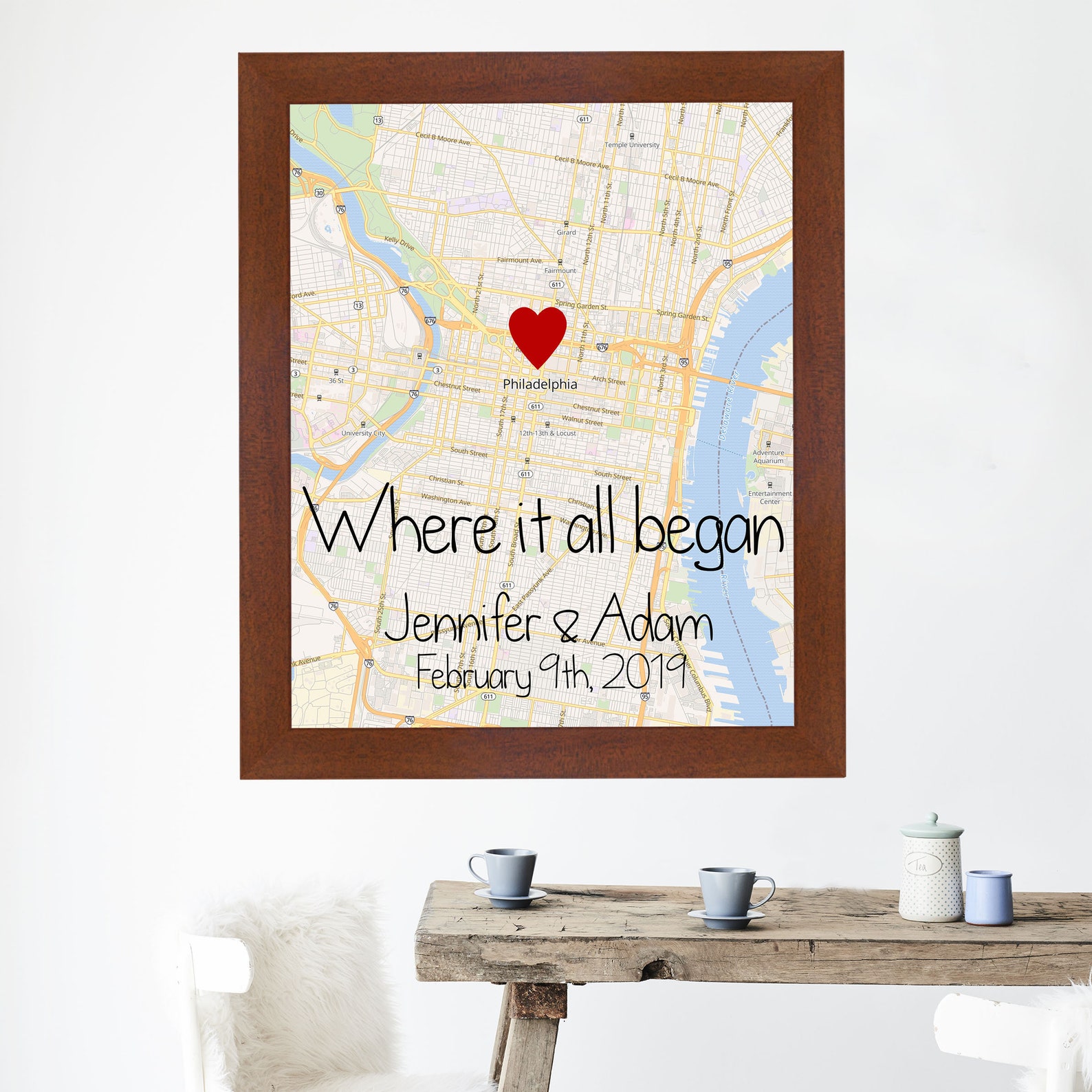 #7 10 Reasons Why You Love Him
10 Reasons Why I Love You Wooden Gift Box With 10 wooden personalised hearts – Interesting right? This perfect valentines day gift and 'the reasons why' can be customized to ensure a beautifully special touch to your gift. Get the box with your choice of ribbon colour and BLANK HEARTS for you to write on yourself at home.Any name can be chosen for the front of the box including standard 'wife' or 'boyfriend'.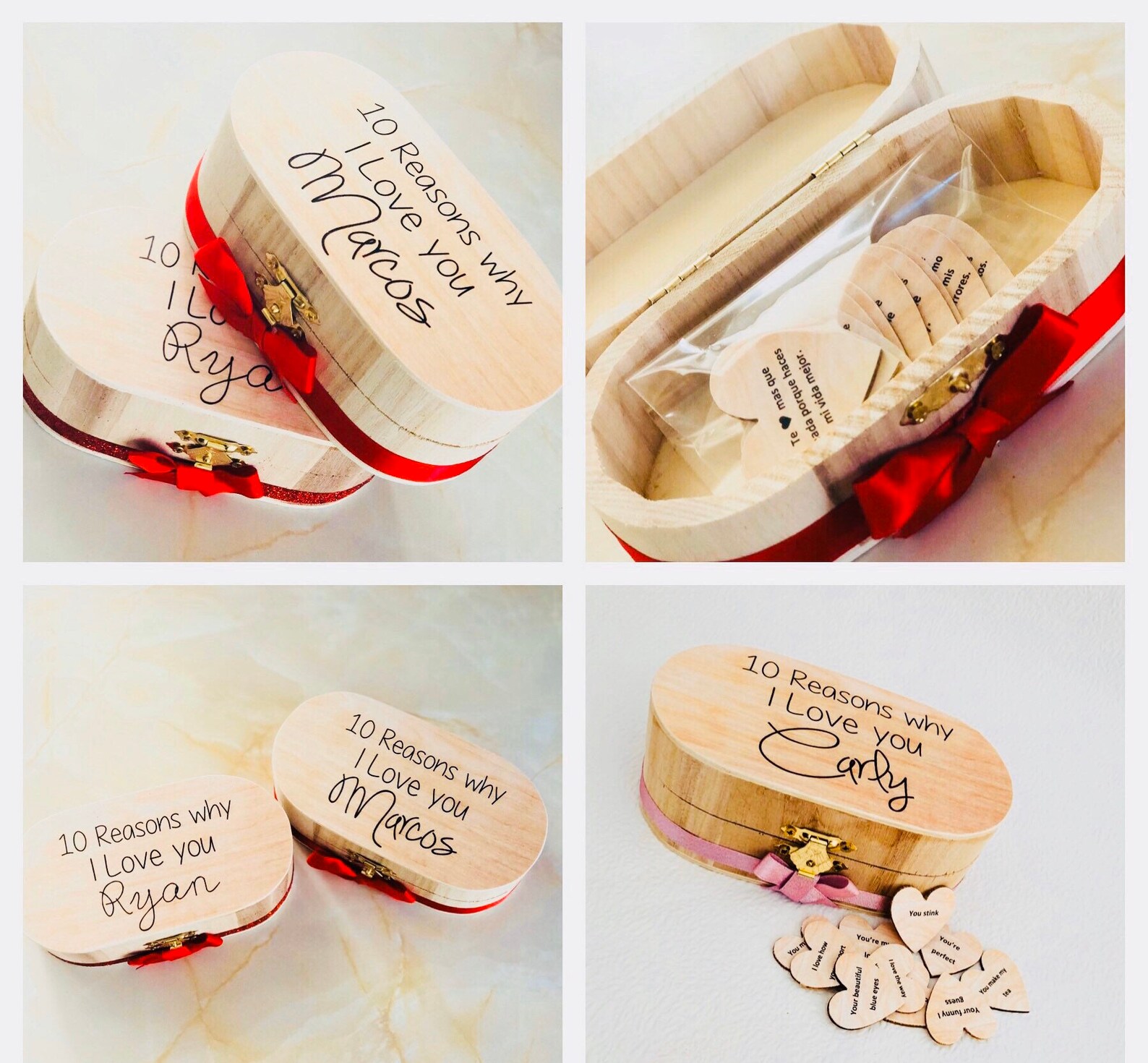 10 More Amazing Valentine's Day Gift Ideas for Him!
I hope your husband or boyfriend will really love the above ideas. But, here are some more that might interest you.
#1 Photo Valentine's Day cards
A Photo Framed Love Valentine's Day Card clubbed with a bouquet of roses & Classic chocolates, is great for Valentines Day and the perfect way to showcase your love for Him!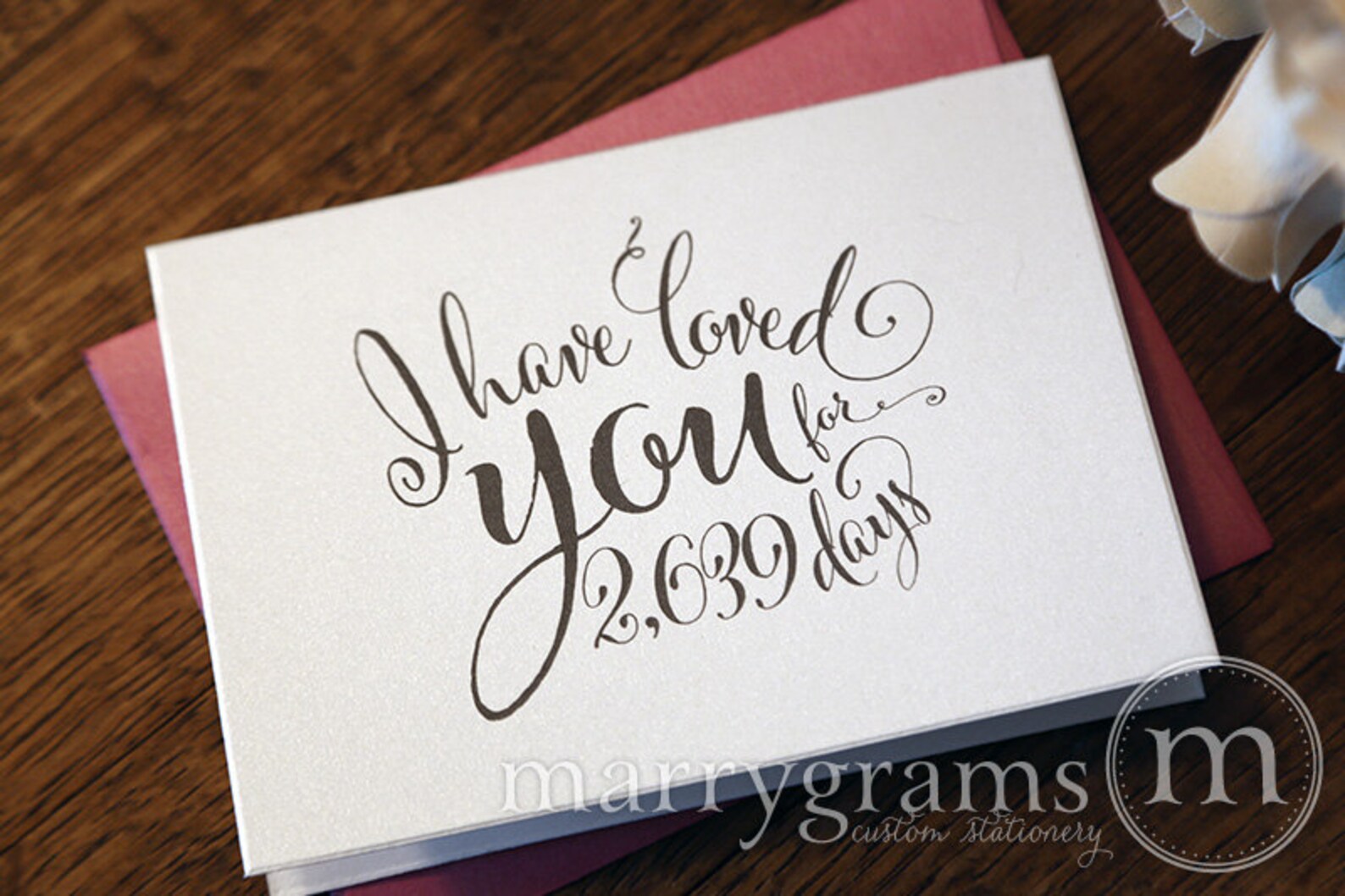 A practical and stylish addition to your man's dresser, that helps organize his things in a fashionable way. Organizes everything from watches, coins, jewelry and keys to mobile phones, MP3 players, and other accessories. These catch-all valet trays are great to place in the bedroom, the bathroom or the office.
#3 This Personalized Watch Case is the perfect gift for that special 'watch lover' in your life.
Looking for more options? Check out this 12 slot Luxury Carbon Fiber Design Display Case, with a plenty of space to accommodate watches of all size. These watch cases with an elegant gift box and the blank card make the most presentable gift giving. This makes a great gift for a father, boyfriend, husband, son, friend or any other watch lover in your life.
Perfect for boyfriend, husband, or any lover that are starting new romance or rekindling old one.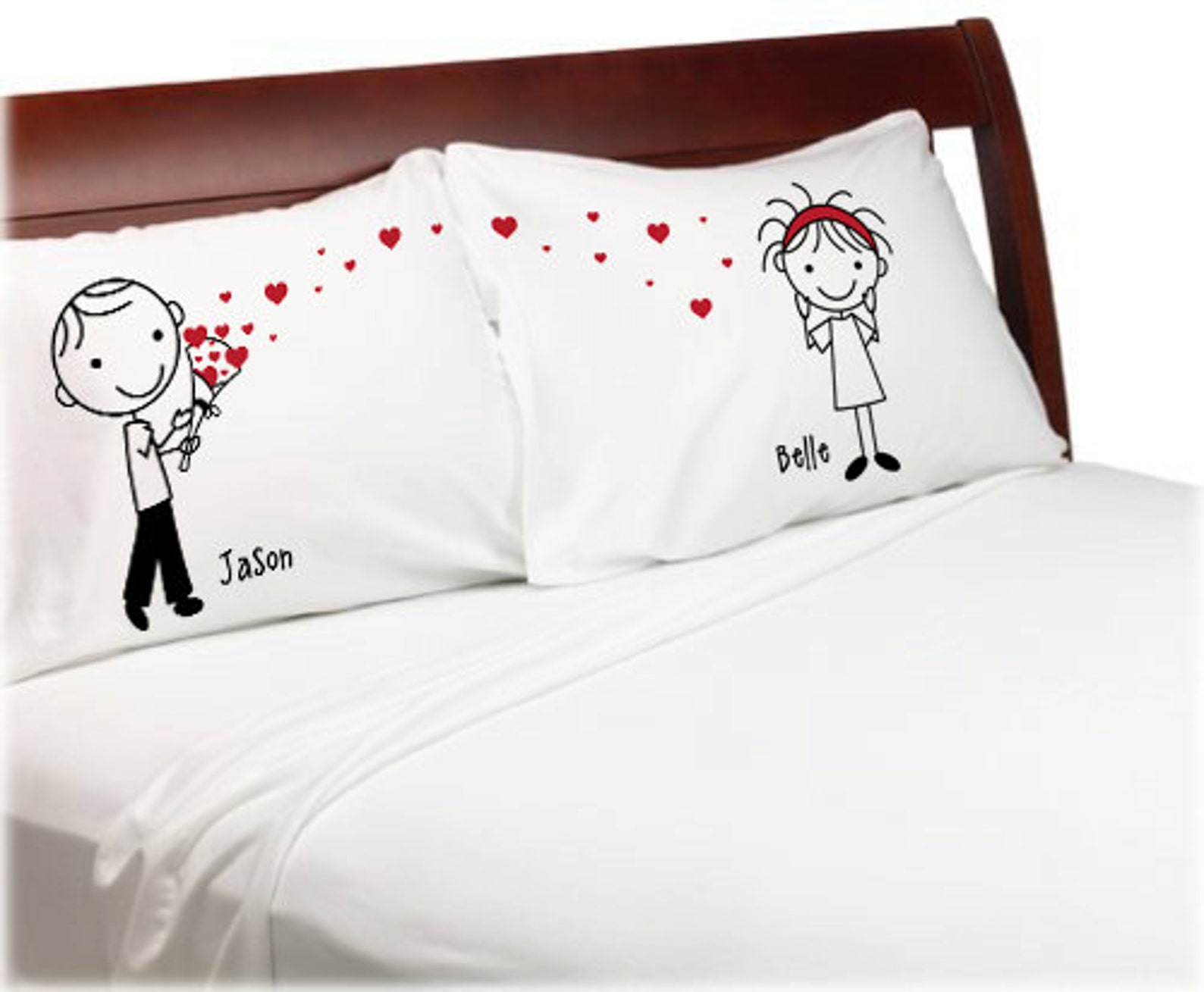 #5 Get this Fitness Tracker for the fitness freak in him
This activity tracker equipped with a splashproof design helps track physical activity easily and generate fitness insights and activity plans. The inbuilt smart Alarm wakes you at the optimal time in your sleep cycle.
Beside this, it helps
Track steps, sleep quality, exercise, and overall calories burned.
Log your meals and track calories with the UP barcode scanner, restaurant menu search and food database
Idle Alerts to help get moving when sitting too long
Tracks streaks and milestones
Friends and Family list lets you motivate each other
Set, track and meet goals
#6 Leather Jacket which can last them seasons to come
A super cool Faux Leather Jacket With Removable Hood, designed for men who like a leather jacket and outdoor activities like Bike racing, motorcycle riding, travel leisure, school or work days, and theme parties. The Removable hood jacket with drawstring shows two unique fashion style and will meet your different needs.
#7 Give the cushioning comfort for his tired feet with this
Casual Walking Slip-On
Athletic Sneakers
This fierce pair of super lightweight slip-on sneakers is sure to bring some sleek throwback vibes to your loved one's sneaker collection. I highly suggest this shoe, if you're a man trying to find a shoe that's lightweight and comfy. The shoes are good for running and sports.
Gift this portable, handheld MiniPresso Espresso Maker to let him quench coffee needs basically anywhere he goes. It brings coffeehouse-quality to the office, campsite or vacation place.
Treat the guy in your life with an REMINGTON All-In-One Grooming Kit gives you the power of precision with complete versatility for all of your grooming needs. The kit includes: a full- size trimmer; foil shaver; nose, ear and detail trimmer; hair clipper comb with 8 length settings; three beard and stubble combs; and a storage/travel pouch.
The modern looking jacket is very sleek, lightweight, and apt for the perfect date night.
Valentine's Day is all about showing your loved one how much he means to you. You can always find the perfect gift that fits in with his personality, style, and interests for this Valentine's Day. Want more… look into this cool list of 15 Valentine's Day Gifts in your budget!
Hope you liked this list!
Share your insights for lot more cool ideas and unique gifting items to please your loved ones.