Finding work and making money isn't that easy! Of the gazillion ways I've outlined earlier, 'Money Made on your own terms is the best kind'. Putting own creativity to work has always proven to be fruitful.
From what I've seen in recent years, it's easier to make money doing things on your own than looking for opportunities to be employed by someone else. Even if you find one, you might still want to escape the 9-5 grind, if not now, sometime later.
I always wanted to be on my own and live the dream of my life. Having more family time and doing what I love is the main criteria for me. That's the reason, why 'Hearmefolks' is right before you!
There are many such people I can quote, who've made a noteworthy difference in their lives.
Angela Mary Vaz, a 26-yr old Illustrator/creative artist and blogger at Stray Curls, is one such kind. She turned her hobby into a full-time business and happily supports a family of FOUR with absolutely no prior experience! Stray Curls, a comic series featured over 10+ prominent websites (like Scoop Whoop, 9 GAG, The Insider, BrightSide, etc) is dedicated for women – looking to embrace their creativity and do what they love.
Let's get to know more about her secret sauce to quick success that generates $3K per month of blog income.
#1 Hi Angela, I'm a huge fan of your work but my readers may not know you yet – So, can you please tell us a little more about yourself and what inspired you to get into this career?
Hello Swati! I am a Computer Science Engineer by profession. But it's not what I wanted to pursue. I wanted to spend time at home with my husband and dogs. So, I learned graphic designing and how to design websites. I worked as a freelancer while blogging for almost a year before learning how to make digital illustrations and comics.
I've always had a flair for drawing and writing. So, I wanted to harness my creative skills into something that would not only give me joy but help women like me make money from home.
Now, I use all the information I've learned over the past 3 years to blog about creativity and blogging.
#2 How much money do you make per month as a Blogger and Illustrator?
I currently make a little over $3000 a month by illustrating for clients as well as blogging. I take on a lot of clients each month and I'm definitely trying to move over to passive income so I can concentrate on writing and drawing for my blog more!
#3 How did you land up at your first freelancing project/client? What are some big obstacles you had to overcome getting started?
My first client found me through my Blog via a Facebook Group. She loved my hand-drawn logo and wanted one herself. That's when I realized that Facebook Groups are very powerful for gaining exposure and thus clients.
I think the biggest obstacle for me, in the beginning, was just putting myself out there. I was timid and shy and once I got over those feelings and started engaging with people, I started gaining clients easily.
#4 You've grown rather quickly for a new Blogger. Could you let us in on your trade secret?
There are two!
The first is figuring out what you are actually good at and using that information to help people. This also should align with writing about something that people are actually desperate to learn about.
I realized that I was able to build 2 successful businesses in a span of 3 years. And I knew that this is something a lot of women are interested in. So, I have dedicated my blog to just that. Helping bright, young women learn more about business and actually use their creativity to help start their business and make it stand out!
Secondly, I believe in over-delivering.
Almost every blog post I write is packed with content that is over 2000 words and includes lots of illustrations.
The main aim of my Blog is to build trust and engage while giving a good reading experience to my reader. And because I have been able to achieve that, I feel my blog grew quickly.
#5 You've written a new eBook called 'The Secret Sauce to Skyrocketing Your Traffic'. Tell us about that.
In the beginning, it's really hard to grow as a Blogger. Especially because there's so many things to get right – like how your website looks, how to write blog posts that build trust and engage with the right audience, how to write posts that actually convert traffic into clicks.
Most people focus on page views, instead of traffic that converts.
In my 6th month of Blogging, I was able to earn over $3000 with less than 50K page views. Sure, traffic is important, but building trust and converting that traffic is more so!
That's what my eBook is about. It will actually help a person take their blog from a hobby/side-business to a full-time business.
It covers everything in detail – how to choose a profitable niche, the dreaded SEO broke down in easy bits, a detailed guide on actually getting to the front page of Google Search results and so much more. In simple, it's 180+ pages of pure content and strategies to take your blog from a hobby or a side business to a full-time business!
Here's What You Can Learn:
How to grow your traffic with strategies that top bloggers have used to reach 100K pageviews.
Master blogging and crack the code of the dreaded SEO!
Simple marketing tips that will convert your traffic into clicks, subscribes, and raving fans who trust you and are dying to buy your products!
Click here to Order Your Copy Right Now>>
Get super-duper organized and grow your Online Business from scratch the right way!

Learn how to integrate digital products, services, and content all in one Blog without losing your marbles!
Master sales funnels, email marketing, and the art of gaining clients!
Learn how to grow your traffic with strategies that top bloggers have used to reach 100K pageviews.
Crack the code of the dreaded SEO!
Learn simple marketing tips that will convert your traffic into clicks, subscribes, and raving fans who trust you and are dying to buy your products!
Then, The Stray Curls Business Bundle is the ultimate resource for starting and growing an Online Business the right way. Learn to create a business that will thrive and earn you money on autopilot by following this roadmap!
#6 Why is your eBook different from other eBooks?
Ah, I'm so glad you asked that question.
My eBook focuses on the middle part of blogging. Most bloggers don't cover the strategies that actually help them get to the part where they become successful bloggers. That's where this eBook is different.
I actually discuss every single strategy I have used that got me to the point where I'm earning $3000 a month in this eBook. I haven't skipped out on anything. And if anyone buys the eBook, they are entitled to all of the future updates for free.
Meaning, as I grow my blog, I will keep updating the ebook with more strategies, and all the eBook purchasers will be in on those strategies as well!
Learn the Secret Sauce to explode your traffic – Get your copy right now!
#7 What advice would you give to Newbie Bloggers?
I would suggest to – write. Don't hesitate to pour your heart out and actually help people. There is no such thing as giving too much away. It's important to build relationships because this is how you make sales. This is how you build a brand.
Thank you, Angela, for taking the time to show us how to make money doing what we love. Guys, if you're looking to shop cute intentional digital printables, you can check them out here.
I would like to conclude, by saying – don't let certain unruly circumstances rule your future. If you have a creative spur to set up an Online business and expose your talent to the world, roll-up your sleeves, now is the time!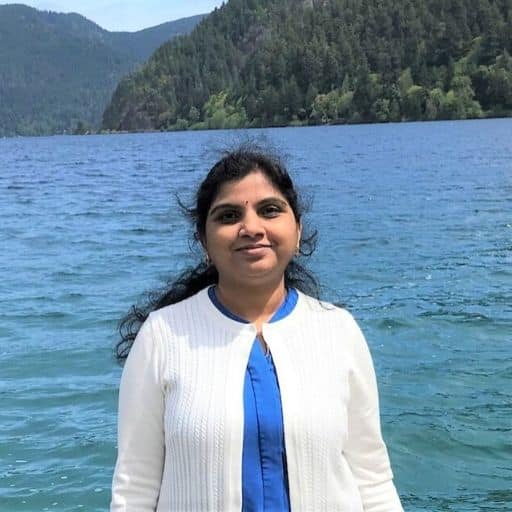 Howdy Folks, thanks for stopping by my blog.
I'm Swati, a proud mom, dedicated side hustler, full-time blogger, and a recognized millennial work-at-home expert. My expertise has been featured on esteemed platforms such as Forbes, CEO Blog Nation, Referral Rock, Vital Dollar, Databox blog, and many more. I have embarked on this incredible journey to share my firsthand experiences in the world of online income generation and to assist all of you in earning money from the comfort of your homes.
Join me in my mission to revolutionize the way we make money and achieve financial freedom. Trust me, it's not as challenging as it may seem!
Together, let's explore the boundless opportunities and pave our paths towards a prosperous future.