In a world with advancing technology, WordPress has made blogging easy with its free wordpress hosting service!
With wordpress, creating a professional looking site and publishing your content is as easy as pie! Your content goes lives in just 5 minutes after setup. Now that you feel its enough of bragging, lets get into the topic!
WordPress is the most popular blogging platform, trusted by millions of bloggers around the world.
The most recent stats from Web Technology Surveys reveal that:
WordPress is powering 26.6% of the Web, and it's on the rise.

It is still by far the most used CMS, with 59.5% market share.

With over 500 sites being created on a daily basis it is currently the fastest growing CMS .
Major Benefits of WordPress Hosting:
Varied Versions:
WordPress offers two versions of its software. Each version is designed to meet the various needs of bloggers.
The two different versions of WordPress are:
The hosted version at WordPress.com
The self-hosted or self-installed version at WordPress.org
Ease of Use:
One of the most frequently asked question in any blogging community is "How to run a blog without any prior knowledge of creating websites or coding?"
Both the hosted and self-hosted versions of wordpress hosting rule out the worries of owning a website.
With these versions of wordpress blogging software, you need not worry about coding anymore.
Customizability:
WordPress is extremely customizable. It offers a diverse collection of plugins and themes that allow you to customize your blog as per your goals.There are thousands of WordPress themes available. Many of them are free, while a few are available at affordable prices.
Strong Support:
WordPress offers extensive support system via forums, communities and blogs that simplify the usage of WordPress and offer the necessary support.
Spam Protection:
Every WordPress site comes with Akismet, which is a powerful spam fighting service that protects millions of WordPress sites from comment and contact form spam.It ensures that spam doesn't mess with your search engine rankings, and gives you more time to connect with your readers, instead of laboring through page after page of spam.
Choosing the free wordpress hosting (WordPress.com)
The hosted version at WordPress.com is a free wordpress hosting service. Wordpress hosted Service can make your make your message spread around the world without spending a dime.
Pros:
The beauty of this version is that it requires no software, no downloads and no installations.
Everything is done at the back end. You need not worry about the coding and rest of the technical stuff.
Log in to your blog's dashboard, write your post, and click publish to share your thoughts on the web.Its as simple as that!It requires no coding skills.
You can run unlimited number of blogs with unlimited number of writers.
It has hundreds of free themes to choose from, which makes the site look professional.You can customize these themes further by changing colour, background and images to suit your requirements.
WordPress comes with Akismet, a powerful anti spam software which protects spam from ever being posted.
WordPress.com comes with certain limitations.
Cons:
You cannot customize your website as per your requirements and goals.
Installation of plugins or themes is not permissible.
By default a wordpress.com hosting blog comes with a "wordpress.com" subdomain. For example: www.sitename.wrodpress.com Users must purchase a custom domain name & pay for a plan to add a domain name to their blog.
You cannot access the code files in case if you want to edit the html/css files.
Though, selling advertising or monetizing is not allowed on your blog affiliate links are allowed. Blogs with lots of traffic running on a paid plan with a custom domain can request an invitation to WordAds, WordPress.com's advertising network.
The storage space is limited to 3GB for images and other files. For more space you need to upgrade or buy a better overall plan.
The good news is that, in case if you want to move to the self-hosted WordPress.org software in future, you can easily do that.You need not worry about loosing the content. Your blog can be easily migrated from your Wordpress.com hosted blog to your new setup with a

self-hosted Wordpress.org software.
But even with its limitations, WordPress.com is an excellent platform to begin your blogging. Above all, it is a worthy option for those who are terrorized by the configuration requirements of the self-installed WordPress.org software.
Blogger Vs Free WordPress Hosting:
Here's a comparison chart between the two main leading free blog hosting platforms.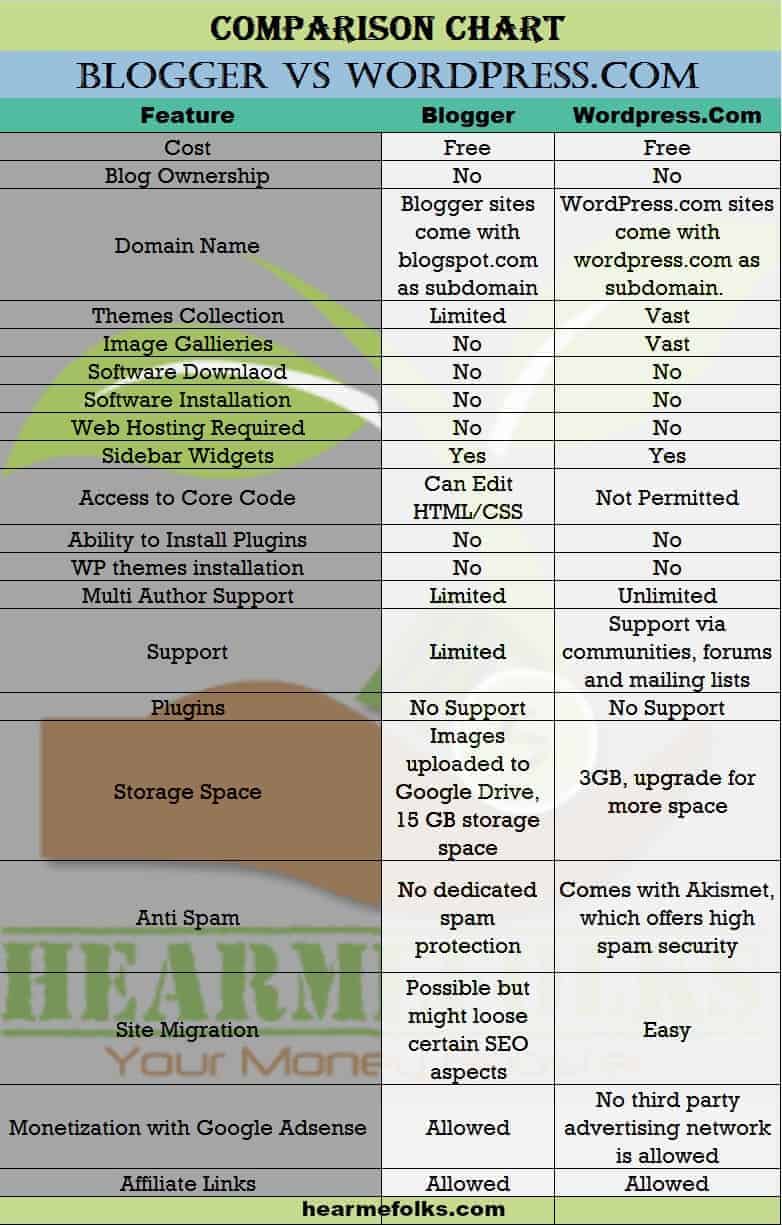 For more information: The Best Free blogging platform to host your blog
That's all about free wordpress hosting
In my opinion, WordPress dominates blogger in several ways.
Most bloggers prefer wordpress over blogger or any other free hosting platforms because of its additional functionalities.
Moreover, wordpress blogs possess professional looks unlike blogger blogs. The best part with a hosted wordpress blog is that you can easily upgrade to self-installed version without hassles. While with blogger, it takes effort and little risk of loosing certain seo aspects. But both are easy to setup and use for beginners.
Depending upon your goals and requirements for blogging, its upto you to decide between the two!
If you're already blogging on a different platform, such as blogspot or movable type, worry not! WordPress makes it simple for you to migrate your blog from that platform to WordPress.
Hope this article helped you get an overview about wordpress hosted service. Let me know if I have missed out any feature in the comparison chart. Share your experiences in working with Blogger and WordPress.com hosting.
Remember, there is nothing to loose in working with a free wordpress hosting. You can start your own blog straightaway in just 5 minutes without any hassles.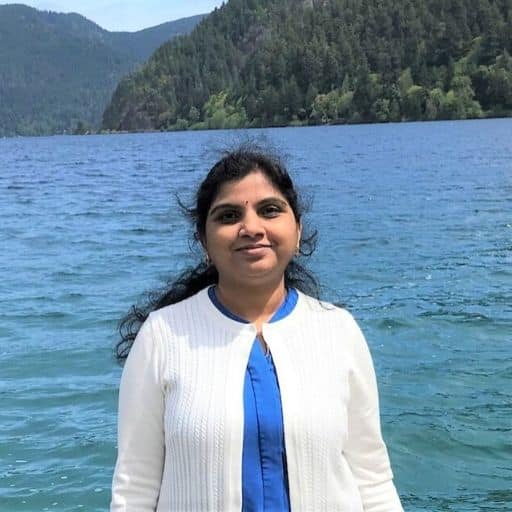 Hey Folks, thanks for stopping by my blog!
I'm Swati. I'm a mom, side hustler, full-time blogger and a millennial work-at-home expert featured on Forbes, CEO Blog Nation, Referral Rock, Vital Dollar, and Databox blog. I embarked on this impeccable journey to expose my online monetary experiences and help you all earn money from home. Come join my make money revolution and attain financial freedom – it's not as hard as you think!