Have you decided upon your domain name? No, then here are some 10 Quick Tips to help you choose the perfect name for your Blog. If you're already done with it, you need to register your domain name. Which domain name registration service do you prefer? Choosing the best is to look for a proper combination of price, features, customer service, and reliability.
Let's know about domain registration, the process involved and then look into the list of top 6 domain registrars.
How To Register Domain Name?
Domain name registrar is a company authorized by ICANN to issue and manage domain names. Domain Registration is the process of submitting a domain name to a domain registrar.
The first step in the domain registration process is to check domain availability. You can check domain availability by visiting a domain name registrar service. If the domain name is available, you can proceed with the registration process. To register the domain name, your contact information must be
provided. The domain name registrar offers the right to use a domain name for a specified period of time( generally for a single year or for multiple years at a time).Later on, it is available in the market for a fresh purchase. So generally, you have to renew after the registration expires to retain your website.Registration services also allow you to choose an auto-renew option. Many domain registration services also offer web-hosting and e-mail packages.
Hot Tip: Since, you can choose to register for your domain for a single year or for multiple years at a time. Registering for multiple years earns you a small discount. Domain name registrars often offer coupon codes. Be sure to use applicable codes before purchasing your desired domain name.
Caution: Make sure to renew your domain registration. If you have any changes to your domain or contact information, including your e-mail address, update your domain information immediately. If your information isn't current, you can lose access to your domain or miss e-mail reminders to renew your domain.
TOP 6 Domain Name Registrar Services:
Here is a list of top domain registrars, simply visit ,check domain availability, and then register. That's it, your registration is done!
GoDaddy
Browser : www.godaddy.com
GoDaddy is a popular web host and domain name registrar that provides domain hosting. web hosting. and e-mail address hosting. As of January 2016, GoDaddy was said to have had more than 61 million domain names under management, making it the world's largest ICANN-accredited registrar. It serves more than 13 million customers and employs more than 4,000 people.It has a good reputation and is easy to contact if you require assistance. Domain prices vary, but typically start at $0.99 for a year's registration.Check for the pricing details here.
NameCheap
Browser : www.namecheap.com
Namecheap is another most popular ICANN-accredited domain name registrar and web hosting company, based in Los Angeles, California. In November 2010, it was voted "the best domain name registrar" in a Lifehacker poll. Again, in September 2012 it was voted as "Most Popular Domain Name Registrar" in Lifehacker polls. The domain registration starts for just as low as $0.88/Year.The name itself reflects their prices. If you can afford more, you can get advanced services like Dynamic DNS and SSL certificates at bargain prices. The popularity of this site has sky-rocketed in the recent times due to its affordability and ease of registering, hosting, and managing domains.You can check these links to see their features, plans and pricing.

If you wish to register a domain for just 0.88$/yr at NameCheap then use this link. Pretty amazing isn't it!
Networksolutions
Browser : www.networksolutions.com
Network Solutions is forefather of all domain registrars.It was the first to operate the domain name system (DNS) registry in September 1991. In addition to being a domain name registrar, Network Solutions provides web services such as web hosting, website design and online marketing – including Search Engine Optimization and Pay Per Click Management.Domains are available for as little as $9.99/year. You can protect your privacy with a feature called domain privacy protection by providing alternate contact information for the listing of your domain name registration. Network Solutions also features Domain Expiration Protection which helps keep your domain safe for up to one year if you cannot charge your credit card or you are unable to renew on time.The services are flexible and all these options are available at affordable prices.Know more about its features and pricing here.
By April 2005, GoDaddy became the largest ICANN-accredited registrar on the Internet. They also surpassed Network Solutions in domain names registered.
Gandi
Browser : www.gandi.net
Gandi offers Management and Allocation of Domain Names on the Internet.It is a French company providing domain name registration, web hosting, and related services.By late 2011,Gandi.net was the 25th largest registrar in terms of the number of domains registered. Gandi does not advertise,their marketing relies primarily on "word of mouth" recommendations from existing customers. They are famous for their straightforward and simple approach to domain name registration and renewal. They earned a reputation for being honest, open, and up front with their customers, not to mention doing what they say.Here are Gandi's features and pricing.
Enom
Browser : www.enom.com
eNom, Inc. is a domain name registrar and Web hosting company that also sells other products closely tied to domain names, such as SSL certificates, e-mail services, and Website building software. eNom rose to become the second largest domain name registrar.For 15 years, eNOM has been one of the most reliable web hosts around, with millions of people relying on them for affordable service.Check out for eNom pricing here.
Hover
Browser : www.hover.com
Hover is the third largest ICANN-accredited domain name registrar in the world, only behind GoDaddy and eNom. It offers plain domain hosting services.The prices vary according to the choice of the domain extension.The prices start from $12.40/yr.They may not be offering affordable prices but they are great at offering full-time support with a highly accessible customer service team.With hover, every domain includes FREE Domain Privacy Protection.The more domains you have in your Hover account, the less you pay for renewals.The savings start at just ten domains, and they go up from there.You can personally check out for Hover's plans and pricing here.
Hot Tip: Select your preferred web hosting prior to purchasing your domain name.If you choose to host with your registrar service, you may be able to save money by purchasing both the services at the same time. Some web hosting services offer for minimal or free domain hosting services,so you need to research and compare the details of what different hosts provide.
If you're ready to get started, you can check below to see if your domain name is available:
Now that you've seen the list of top six domain name registrars,choose the one that's suits your requirements.If you have a favorite and it's not listed here,I wish to hear from you.
Let me know your experiences while working with your favorite domain name registrar.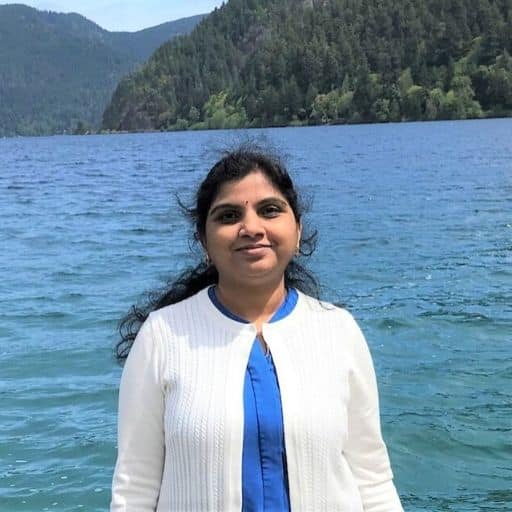 Howdy Folks, thanks for stopping by my blog.
I'm Swati, a proud mom, dedicated side hustler, full-time blogger, and a recognized millennial work-at-home expert. My expertise has been featured on esteemed platforms such as Forbes, CEO Blog Nation, Referral Rock, Vital Dollar, Databox blog, and many more. I have embarked on this incredible journey to share my firsthand experiences in the world of online income generation and to assist all of you in earning money from the comfort of your homes.
Join me in my mission to revolutionize the way we make money and achieve financial freedom. Trust me, it's not as challenging as it may seem!
Together, let's explore the boundless opportunities and pave our paths towards a prosperous future.