The pristine step to blogging is to choose a domain name for your blog. But before that, it's good to know about the role played by the domain name in the growth of your blog.
As said earlier, the choice of your domain name can help with the optimization of your blog as the name can be used to inform the search engines about the relevance of your blog. You might be trying to open up several possibilities and break down incorrect choices.
Choosing a blog name is not only to brainstorm ideas and plan ahead but also to know, how to pick the right one. Routinely, many fail to recognize important nuances when choosing their domain names. In this post, I intend to highlight the important factors to be considered while choosing a domain name for your blog.
Coming Up Next:
How to choose a perfect domain name for your Blog
Choose a domain name that:
1) Describe what you want to say and do:
As the internet becomes a more global phenomenon, a blog's domain name, whether its first glimpsed on a search engine or noticed in a list of URL's on another site, is likely to be the first impression the site makes on a Netizen even before they see the home page. Your domain should clearly describe the motto of your blog on its first glimpse.
Example: Kissmetrics.com offers the most important measurements, powerful analytics, and conversion optimization solutions, used by more than 800 customers today. Hence, they incorporated the word 'metrics' in their domain name.
2) Memorable:
The most important point to remember when you choose a domain name is to remember to make it memorable. Blogs with recognizable and memorable domain names tend to jump quickly to the top of their categories once they enter the Internet. Word of mouth is the primary way to discover new sites. If your blog name doesn't come trickling off the tongue of a satisfied Netizen, it could be losing one in five potential new visitors.
3) Short & Easy:
It should be easy to type and above all, easy to recall without struggling to find it on the Internet. Another pitfall to avoid is to choose a long domain name. choosing long, clunky domains invites users to make mistakes when typing the URL.
4) Clear & Catchy:
It should be clear when spoken, and catchy when heard so that a common man could type it into their browser when they hear it said, without the need to write it down on paper.
5) Unique:
Another strategy is to pick a word or phrase different from but related to the blog name. Think creatively to find a blog name and domain that is perfect for the goal of your site. Avoid choosing cryptic abbreviations that surfers are unlikely to remember.
Example: Proceeding further with Kissmetrics.com, while the word 'metrics' depicts the site's motto. Another smart move made it memorable, short, catchy, and unique. They attained this by attaching an unusual prefix 'kiss' to the suffix 'metrics', hence the resultant kissmetrics. What a clever thought!
6) Suitable Domain Extension:
Understanding the importance and the implied meanings of domain extensions is crucial for choosing one. By far '.com' is still the most dominant suffix you can choose for your site. But if a .com is not available for your chosen blog name you can use an appropriate domain extension that is relevant to your location. This does not mean that you cannot use another domain extension.
It is just easier to have your site identified correctly if you use the most appropriate extension for your country. The extension you choose also depends on your target audience.
Warning: When a .com domain you want is already taken. Usually, you might prefer going for a .net or .org. The problem with using a .net domain when the .com version is already taken is that netizens are likely to search for your home page under the .com name and get to someone else's site instead. Since .com is still by far the dominant suffix for most sites. In the long run, you might end up losing some traffic (like ProBlogger.net).
7) Relevance:
Your blog's name should tie closely into the domain name, or web address, that your visitors use to access your blog. If possible, your blog's name and URL, or domain name, should match exactly so that it's easy for readers to find you.
For example: If your personal blog is called brainweaver then you need to choose a domain name like www.brainweaver.com
8) Deploy Keywords:
Another most important strategy is to use keywords in your domain name to increase your relevance. Try to choose a domain name that is based on your topic keywords if possible.
Tip: If you want to start a blog about movies you can find .com names with a prefix or suffix to the word 'movies'. Something like moviebuzz.com works well!
9)Use your own brand:
If you're having trouble coming up with a name, consider using your name. Owning the domain for your own name is a good idea. You can use several domain names to reach the same blog, too, so using your own name as a domain might help people find you in search engines. In cases when the name doesn't tell too much about what the site is for, it can still become a memorable brand with aggressive word of mouth and sustained promotion.
Example:

Neil Patel, the co-founder of Crazy Egg, Hello Bar, and KISSmetrics, has built his brand with his own name neilpatel.com
10)Domain name age:
It is an important factor when it comes to optimizing your website for Google. Older domains are considered more established and less likely to be spamming in the view of Google.
Tip: Even if the .com domain name you want is already taken and you are running out of ideas, you can purchase an aged domain name of your choice rather than compromising with an irrelevant domain name or a .net or .org tld.
The problem is if you do not already have a domain with some age on its side you need to get one and start from square one. If you would like to get a domain name with some age on its side you can get one but it will cost you a little bit more depending on how old it is, what page rank, and how many links it has. "Buydomains" is one such place where you can purchase aged domains that are no longer required. You can even purchase websites that have been set up but are no longer required, to save yourself even more time.
To ensure you get a good domain name you need to check the following:
the domain has a page rank
the domain has links
the domain is the age they say it is
Winding Up:
Considering the above criteria, you can use any available, or not currently used, word or phrase as your domain name provided you avoid certain pitfalls.
Even if a domain name is available, that doesn't necessarily mean that it is safe to choose that name for your blog and purchase that domain. You should also check to see whether that blog name has already been registered as a trademark so that you can avoid accidentally infringing on someone else's mark.
To sum up, your domain should represent your blog's name and purpose. At the end of the day, there are no hard and fast rules. But before you deal with the single most important decision of your blogging career (aka the name of your blog!) take time to check these tips and choose a perfect domain name for your blog. Write down your topic keywords and then play with them around, to see the wondrous output.
If you have come up with a niche and are ready to get started, you can check below to see if your domain name is available:
If you find my post helpful please subscribe to get updates on the latest posts. Feel free to share your views with me in the comments section below.
Start playing the domain name game. Hope you choose a domain name appropriate, good, and perfect for your blog. Happy naming!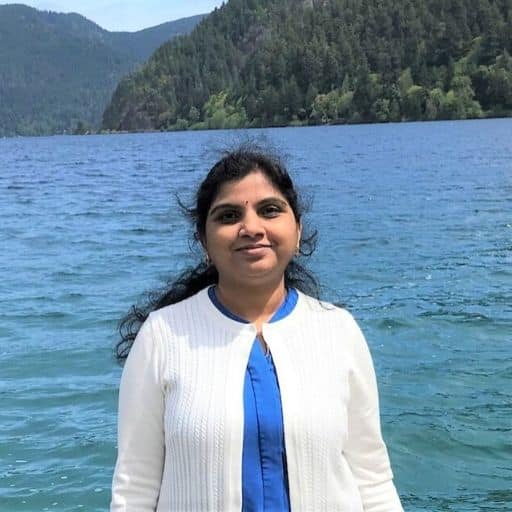 Howdy Folks, thanks for stopping by my blog.
I'm Swati, a proud mom, dedicated side hustler, full-time blogger, and a recognized millennial work-at-home expert. My expertise has been featured on esteemed platforms such as Forbes, CEO Blog Nation, Referral Rock, Vital Dollar, Databox blog, and many more. I have embarked on this incredible journey to share my firsthand experiences in the world of online income generation and to assist all of you in earning money from the comfort of your homes.
Join me in my mission to revolutionize the way we make money and achieve financial freedom. Trust me, it's not as challenging as it may seem!
Together, let's explore the boundless opportunities and pave our paths towards a prosperous future.