Whether you're shopping for your just your close relatives or your entire extended family, between birthdays and holiday season, gift shopping can seem completely overwhelming. This helpful breakdown let's you pick either one gift for whole family or gifts for every family member in your life. Either ways it's a win-win, and your family will thoroughly appreciate them. From siblings to children to grandparents, I have your gift search covered!
These gift ideas are sure not to break the bank since they are all $25 or Less on Amazon. You'll be surprised to see some cheap gifts under $10 and even $5 listed in here. Additionally, you can get them delivered in just 1 or 2 days with this 30-day free Amazon Prime Membership. Go ahead and search for gifts for everyone in your life by proceeding to this list by family members.
GIFT IDEAS FOR COUPLES:
1. Love at First Sight Sonogram Keepsake Photo Frame
This is the perfect gift for any expecting moms or dads in your life! The kit includes a "Love at First Sight" frame perfect for any sonogram photo, attached wall hangers, and an easel backing. This kit is especially perfect for anyone in your family looking forward to their first child as it allows for a proud display of the baby's first photo! This perfect gift for less than $10 on Amazon has dimensions of 7.1 inch width, 7.13 inch height, and 0.63 inch depth.
2. Kitchen Tour Clean Dirty Magnet for Dishwasher
This cheap gift for under $10 on Amazon works as a gift for anyone with a house. This little Dishwasher Magnet allows you to easily indicate whether the dishes in the dishwasher are clean or dirty. The magnet is non-scratch and comes in four different styles! This gift works especially well for couples who have just moved in or couples with older children!
3. Personalized Magnetic Bottle Opener
For under $5, you can get the perfect anniversary, birthday, or Christmas gift for the couples in your life! This little bottle opener depicts two adorable piggies, one kissing the other on the cheek. Additionally, the little pigs have a spot for a personalized initial! This is one of the cutest, cheapest gifts on Amazon that is perfect for couples.
4. Truth or Dare for Couples
This game includes 50 questions and challenges for after dinner amusements. It is an adult take on the classic party game "truth or dare". The game is super easily portable and has 13 sister games. The card game is perfect for any younger couples in your family. This is the perfect cheap, fun thing to buy on Amazon!
GIFT IDEAS FOR COLLEGE STUDENTS:
5. Haundry Mesh Shower Caddy Tote
This large and portable shower caddy is an absolute must have for any college student! This tote has 8 basket pockets with a key hook and 2 Oxford handles. The spacious carrying bag has 1 central pocket and 7 outer packers to organize all cosmetics, toiletries, and bath accessories in a way where they are easy to find and carry! The caddy is strong and sturdy and comes in a whopping 22 colors! And all for under 10 dollars on Amazon!
6. LED Photos Clips String Lights
One of the most important things to any college student is dorm decorations. Not only are these fairy lights 10 feet of warm white light, but they also come with clips and space to hang various photos, cards, memos, and art! These decorations immediately make any space more cozy so they work as a gift for anyone looking for home decorations despite being perfect for college students and their dorms. These LED string lights have two modes, both steady and flashing and are easily powered by 3 AA batteries.
Another set of lights that are perfect for decorating dorms, are these LED strip lights that are more versatile (and less girly) than the fairy lights.
These type of lights can be found in nearly every college student's dorm. This cheap, fun thing to buy on Amazon has red, blue, green, white, and 16 other colors. There are also 6 DIY color options meaning that truly any mood lighting is possible with these lights. These 16 feet of strip lights are super easy to install with no need for other tools as well as having 6 labels of brightness! It's hard not to buy them considering how much you get for the low price.
7. Rapid Mac Cooker
This is the world's fastest and easiest way to cook Rapid mac and cheese cooker, is perfect for the starving yet incapable college student in your life! It cooks any shape of macaroni in 5 minutes. The bowl is microwave safe, perfect for on the go, easy to clean, and comes in two colors: blue and orange. Ensure that your college kid will be able to feed himself with ease with this perfect kitchen utensil!
Alternatively, you can also try Rapid Ramen Cooker…
The Rapid Ramen Cooker is similar to the Mac Cooker but in a shape more suitable for ramen noodles, every college student's favorite meal! It is dishwasher safe and reduces sodium intake in addition to cooking ramen in only 3 minutes! Unlike the other bowl, this cooker comes in 5 different colors. Provide the college student in your life both a fast and a healthier way to cook ramen noodles.
GIFT IDEAS FOR TODDLERS :
8. iARTidea Plastic Cartoon Characters Stainless Steel Themed Teaspoon Set
This set of two spoons and two forks comes with adorable cartoon characters to keep toddlers happy and engaged while eating! This set of utensils comes in three different styles: blue and red, blue and lime, and Mickey and Minnie Mouse inspired. These utensils are the perfect size for tiny hands and mouths while still being sturdy. They are easy to clean and the perfect toddler gifts under 10 dollars.
9. Mini Bubble Wands
This is a truly insane deal that is perfect for both bulk and individual gifts. Truly cheap, fun things to buy, this set comes with 32 mini bubble wands to thrill any and all toddlers. The wands come in 8 different colors: red, pink, orange, yellow, green, blue, light blue, and purple. These bubble wands work for any and every occasion from baby showers and birthday parties to indoor bath time and yard fun! The bubbles are non-toxic and made of odor less soap solution so they are very safe for childrens' face and skin.
10. Wooden Percussion Musical Shake Eggs
These gifts for small kids are perfect for introducing toddlers to music and instruments! They work for stockings, easter baskets, and more. The shake eggs have adorable designs and are filled with little black beads. They help toddlers learn a sense of rhythm! The wooden percussion shake eggs are made of high quality wood and non-toxic paint so that are completely safe for little ones!
11. Baby Bath Squirt Toys
This gift for kids under ten is a must have for every toddlers bath time. Based on Disney movies, these little squirt toys come in four different styles so you can get your toddler's favorite character: Finding Nemo, Mickey Mouse, The Little Mermaid, and Toy Story. The toys are visually stimulating and colorful as well as the perfect size for little hands to grip. Each set contains three adorable squirt toys to help your toddler come to love bath time!
Related Read: Perfect gifts for kids ($10 or Less)!
GIFT IDEAS FOR TEEN BOYS :
12. Bag of Dog Farts Cotton Candy
A bag of cotton candy that the sugar loving teen in your life is sure to appreciate, each is labelled as a different type of farts to amuse your young rascal! This candy comes in 6 different styles: bunny farts, cat farts, dinosaur farts, dog farts, pony farts, and zombie farts. If your teen boy has a favorite animal or pet, or happens to love dinosaurs or zombies, he's sure to find this treat both hilarious and delicious!
13. Stretchy Poopster Sensory Toys Stress Relief
Another fun gift for boys is this super stretchy fidget toy shaped like poo! It is a great sensory and stress toy, but it also works fantastic for pranks! Any rascally young boy will love this gift which is restorable to its original poo shape with simple patting. This cheap toy also comes with a bonus bouncy ball! In addition to making the teen in your life laugh, this stretchy toy can help with focus, concentration, relaxation, anxiety, and ever works great for children with autism! This gift is sure to make your teen smile regardless of the occasion.
14. Dinosaur 3D LED Light
This Dinosaur 3D LED Light is sure to blow your teens mind. For the dinosaur lover in your life there are a number of varieties of this lamp: raptor, velociraptor, and three different displays with two dinosaurs! If giant reptiles are the teen in your life's thing, there are a variety of sports lights as well: hockey, football, and soccer! For under 10 dollars, you can transform your teens bedroom and impress them with optical technology that uses laser engraving on a flat acrylic panel to create a vivid figure! This creative gift has touch control, changing colors, and a USB cable connection.
15. Flying Ball
This cheap fun thing to buy will keep even the oldest teens entertained for hours. This flying ball can sense objects nearby and below it and moves in an intelligent way. Wirelessly controlling the ball is as easy as placing your hand below it! The endlessly entertaining helicopter ball is made of environmentally friendly and non-toxic materials as well as a built in rechargeable battery. It is lightweight and easy to operate while being sturdy and damage resistant. Plus, the ball has beautiful colorful LED lights and can be used in any environment, both inside and outside.
16. Do Not Disturb I'm Gaming Socks
When in doubt, socks are always a great gifts, especially for kids. These 90% cotton, 7% polyester, and 3% spandex socks are sure to bring a smile to your teens face with the "do not disturb, I'm gaming" emblazoned on the bottom. The black and white socks come in three sizes: medium, short, and long.
GIFT IDEAS FOR TEEN GIRLS:
17. Cloud LED Night Lights Emoji Face Marquee Light Signs
This adorable night light is a cool, cheap toy for 12 year old girls and up! A smiling cloud emoji, this light is remote controlled with on/off, three timer functions (10 minutes, 20 minutes, and 30 minutes) to save power once kids fall asleep, and brightness. The materials of the beautiful lamp are non-toxic and superior grade plastic resistant to falls and bumps paired with superior LED light bulbs that won't ever overheat. This lamp is both perfect decoration and a sleep aid for your teen!
You might as well like this…
Remote-controlled Alpaca Lamp Led Bulb Light perfect decor for your kids bedroom.
18. Fan Dangle Earrings

Nearly every teen girl, whether their ears are newly pierced or they are earring veterans, loves receiving earrings as a gift. These earrings under 5 dollars on Amazon is a beautiful set of earrings that comes in four styles: teardrop orange, green, and yellow; circle orange, green, and yellow; oval pastel rainbow; and circle pastel rainbow. These earrings are suitable for every occasion from everyday to dress up, and work for special teen occasions like Sweet Sixteens, Homecoming, or Prom. Plus, the teen in your life will think of you whenever she wears these earrings!
19. Unicorn Wall Decals
This Unicorn Wall Decal will help your teen decorate her room for the first time! These adorable unicorn and heart decals are made from high quality semi-gloss vinyl that is also environmentally friendly. This cute watercolor print with gold, purple, and green stars is the perfect gift for any occasion! The decals are easy to peel and stick and apply to practically any smooth surface. This is a fantastic and completely mess free teen room decor gift!
GIFT IDEAS FOR GRANDPARENTS :
20. Cutting Board for Grandma
This beautiful bamboo cutting board reads "Grandma's Kitchen" in black paint surrounded in hearts and flourishes. Any Grandmother who loves cookies will love this addition to her kitchen! The cutting board is 9.25 inches long, about 6.75 inches wide, and 0.375 inch thick. This cutting board is versatile, usable as decoration or for cutting veggies, fruit, and other food.
21. Love Between a Grandmother and Grandson is Forever Charm Bracelet
This beautiful bracelet is a fantastic gift for under 10 dollars on Amazon. The jewelry is made of zinc alloy and the main 1 inch pendant reads "the love between a grandmother and grandson is forever" framed by two smaller pendants reading "love." This heartwarming gift is 7.87 inches with a 2 inch extension so it is a perfect fit for any wrist given the adjustable lengthening chain and lobster clasp. This bracelet is sure to be loved by any and all grandmothers in your life.
22. Grandpa Keychain
A counterpart to the bracelet, any grandfather in your life is sure to love this fantastic keychain gift for under 10 dollars on Amazon. This main charm reads "If grandpa can't fix it, no one can" and is surrounded by a mini hammer, screwdriver, and wrench. The keychain is made out of both safe and eco-friendly recyclable stainless steel with no fading or distortion. It is entirely skin-friendly, and lead and nickel free. Plus, it even comes with a gray velvet Jewelry pouch for gifting.
23. Hanging Plaque with Rope
This hanging plaque is perfect for the grandparents in your life's house. The decoration is 12 inches by 5.5 inches and lists "Grandparents' House Rules" including "grandchildren always welcome" and "unlimited hugs and kisses." This is a very unique gift for any occasion – birthdays, anniversaries, Christmas – and is sure to warm your grandparents hearts.
GIFT IDEAS FOR BABIES :
24. Ultra Soft Bamboo Hooded Baby Towel with Ears
These gifts for small kids are perfect for even the smallest babies in your life! This adorably hooded ultra soft baby towel with ears is 35 inches by 35 inches. It is made of bamboo fiber so it is as soft as it is cute. The gift is entirely machine washable and comes in three styles: luxury, pink, and premium. This gift is perfect for baby showers, birthdays, and really any holiday given you have a young baby or expecting parent in your life!
25. Cute Animal Soft Baby Socks and Wrist Rattle Toys
This 4 piece set is scientifically proven to aid in the healthy development, especially sensory development of any baby in your life with its foot finders socks and wrist rattles. These gifts for small kids even help with your baby's hand, foot, and eye coordination. The socks are one size fits most and sport an adorable ladybug and butterfly while the one size fits all wrist rattles show off a beetle and a moth.
26. VTech Pop-a-Balls Push & Pop Bulldozer
A classic, yet cheap and fun gift for small kids, this pop-a-balls bulldozer rolls across the floor with a push of the handle to pop balls out of the chimney and into the bucket. The bulldozer comes fit with buttons that teach babies colors, numbers, phrases, and music! This gift engages motor skill development and comes in two colors: yellow and red.
27. Newborn Baby Blankets Plush Swaddle
This adorable plush swaddle blanket is the perfect gift for the babies or expecting parents in your life. This plush swaddle sports ears and is made of super warm, soft, and high quality material that is especially careful not to be too heavy for tender baby skin. The swaddle is adjustable, has feet that allows the baby to kick without it coming off, and keeps babies warm all night. It is 24 inches by 11 inches by 1.2 inches and comes in 5 colors: brown, grey, blue, pink, and white.
GIFT IDEAS FOR MEN AND WOMEN :
Hamilton Beach Breakfast Sandwich Maker
This sandwich maker can cook breakfast, lunch, or dinner in just minutes and is super easy to use. It is especially great for brunch or quick meals on the go. The layered machine allows you to fully customize whatever sandwich you can make, including 25 recipes that come with the maker. In just 4 steps, and with easy cleanup, a delicious and nutritious sandwich can be made in minutes. This essential kitchen machine comes in three colors: red, black, and silver.
Burt's Bees Classics Gift Set, 6 Products in Giftable Tin
This super giftable tin comes with cuticle cream, hand salve, lip balm, res-q ointment, hand repair cream, and foot cream that makes the perfect gift for anyone during any occasion. The high quality Burt's Bees products are sure to impress the gift receiver as they look through the products that can moisturize, soothe, hydrate, nourish, comfort, and more! The kit manages to span from head to two between products for your face and lips, to your hands and feet!
Dr. Scholl's 2 Pack Soothing Spa Low Cut Lavender and Vitamin e Socks

These soothing spa socks are 99% polyester, 1% spandex and help with movement through all of life's great moments. The socks come in shoe sizes 4-10 and five colors: pink/blue, black, blue, peach/gray, and peach/pink. The toes seam is specifically designed to minimize irritation and bunching while protecting your tired feet. This is the perfect gift for any stressed out or busy adult in your life in need of some relaxation!
Travel Cosmetic Bags Barrel Makeup Bag
This travel makeup bag is a super cute gift on Amazon for less than 10 dollars. It is multifunctional, foldable, portable, and lightweight so it can be used at home or for travel. It is super convenient with a size of 6.3 inches by 9.1 inches. It has a main cosmetic pouch with a mini zipper and a PVC pouch. The adorable gift for anyone needing some organization comes in four colors: light blue, pink, deep blue, and rose red.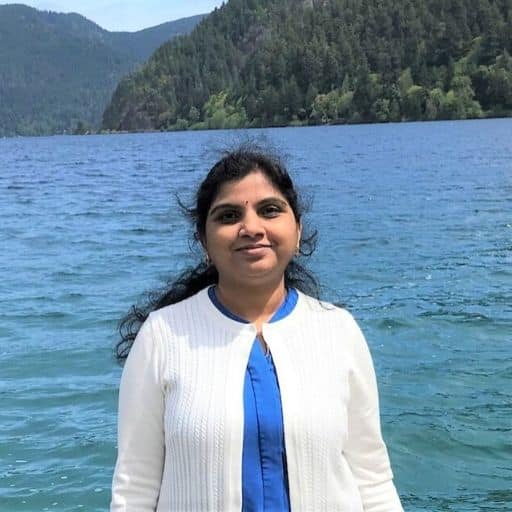 Howdy Folks, thanks for stopping by my blog.
I'm Swati, a proud mom, dedicated side hustler, full-time blogger, and a recognized millennial work-at-home expert. My expertise has been featured on esteemed platforms such as Forbes, CEO Blog Nation, Referral Rock, Vital Dollar, Databox blog, and many more. I have embarked on this incredible journey to share my firsthand experiences in the world of online income generation and to assist all of you in earning money from the comfort of your homes.
Join me in my mission to revolutionize the way we make money and achieve financial freedom. Trust me, it's not as challenging as it may seem!
Together, let's explore the boundless opportunities and pave our paths towards a prosperous future.