Getting paid to wear clothes is a real thing! Sounds too good to be true? Well, all you need to do is to get creative on what you wear, when you wear it, and why you wear it.
Some of the methods on our list may not be all about wearing clothes, others include offering opinions on clothing and fashion for pay.
Even better, if you are not willing to spend your hard-earned dollar on designer clothes, there are jobs that give you free clothes on my list today.
Chiefly, the industry requires a person who is fashion-forward. This simply means staying ahead of the fashion world. There are many ways to go about this including watching fashion galas and reading fashion magazines.
If that's something that comes naturally to you, below are the best ways to make money by simply wearing clothes.
Get Paid To Promote Brands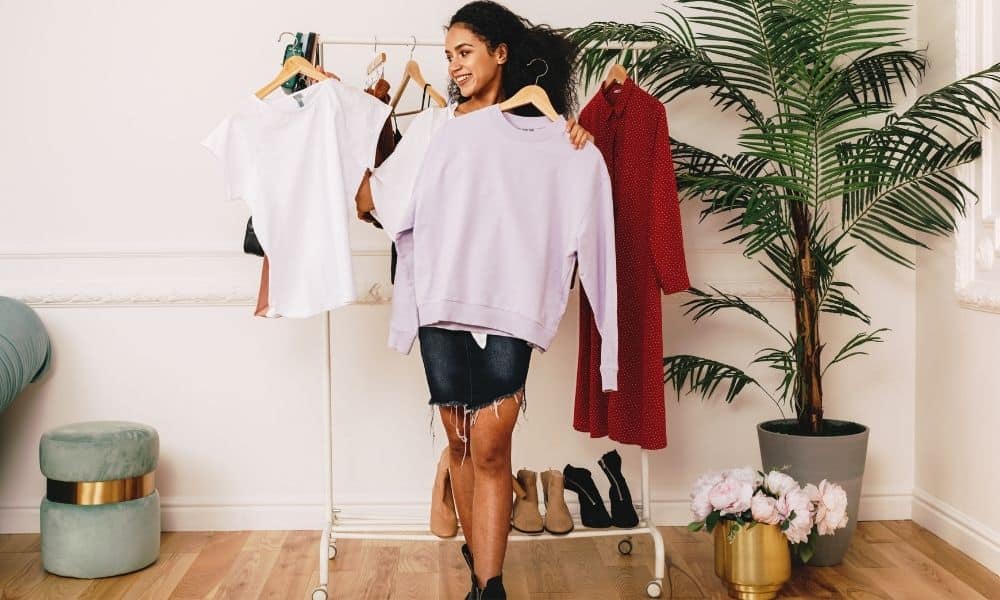 Let's first begin our discussion by learning how an individual can promote brands and make money. With hundreds of brands fighting to be noticed, advertisement becomes a huge money earner for people in the industry. To tap into this market, you can:
Work as a Brand Ambassador
(Annual salary: $52,101)
If you are looking for how to get paid to wear Nike, consider working as a brand ambassador. This job title means representing a brand as its face.
In this position, some of your roles include creating content such as writing blogs, marketing, launching new products, reviewing products/services, and so on.
Top brand ambassadors also use social media to advertise the brands they represent. Often, companies look for young charismatic applicants with flexible schedules. Some other basic requirements include job experience and a high school diploma, and in some job listings, an associate degree is equally important.
Along with other tasks, you'll be paid to wear branded clothes mostly at convenient stores, trade shows, and campus tours as a marketing strategy.
In fact, there are free online training courses to help you build a career as a brand ambassador; check out Udemy.
Recently, brands are becoming increasingly more aware of the importance of a strong online presence, and so they're looking to partner with micro-influencers, who can promote their product and increase their digital footprint. So, unlike before, you don't have to be an influential person with a large following to gain sponsorships.
According to Glassdoor, the average salary for a brand ambassador is roughly $52,000 annually 0r $25 hourly.
Brand ambassadorships programs for fashion enthusiasts can be found in the following companies:
This is an athletic brand targeting women of all ages. The brand sells everything from crop tops to leggings.
Overall, they are looking for women to model clothes in everyday situations. Just wear the brand as you shop, attend classes, pump gas, and so on.
Further, you need to galvanize people towards the brand through social media and other marketing channels.
In return, you get 20% discounts on Just Strong purchases and earn 10% of any sales made through your efforts. That's real cash in your PayPal account!
The best part is that you get a dashboard showing your progress as an ambassador, including tracking your sales in real-time.
Apply Now To Become a Just Strong Ambassador
Are you a conservationist at heart? Sand Cloud runs a brand ambassador program that seeks to highlight efforts to save the marine ecosystem. As a brand rep, you use clothes to bring awareness to the pollution of oceans.
The company makes clothing and accessories that brand promoters can use for their campaigns. Sand Cloud favors influencers with a good following and a passion for changing the world for the better.
Further, if you carry out the assigned task exceptionally, you get to feature on their Instagram page for increased publicity. Additionally, you get discounts on all of your clothing purchases with 10% of all sales going towards the conservation effort.
Become a Sand Cloud Ambassador
Instead of doing it alone, why not find an Influencer Marketing Agency like RealClever that can help you take care of your branding & achieve your business goals with minimal effort.
Become a Fashion Affiliate Marketer
(Annual salary: $75,041)
Besides working as a brand ambassador, affiliate marketing is another effective way to get paid to wear designer clothes.
Many businesses, including top fashion brands, are constantly looking to partner with affiliate marketers to help increase their sales. Ideally, you'll be promoting designer clothes through links on social media, websites, and blogs.
Basically, affiliate marketers earn a commission after landing a sale through independent links. To maximize your earning potential, add applicable graphics and text highlights to your products/services. Further, reviewing both pros and cons of a product, in an honest manner, is equally important.
Primarily, providing exceptional customer support, researching, product reviews, and creating awareness are all part of your job. To make the most out of affiliate marketing, I recommend working towards building a comprehensive trust foundation with your audience.
Sign up on Instagram, Pinterest, and Tik Tok if you don't have a blog. Lastly but most importantly, learn how to use relevant hashtags on your post for valuable results.
Earn Through Promoted/Sponsored Posts
(Pay per post: $50 – $50,000)
Brands and marketers use promoted posts to reach their target audience and potential customers. Here, influencers partner with top fashion brands to create and publish content on their own accounts. Creating quality content that is informative as well as entertaining is one way to attract brands.
To put yourself out there, you can start reviewing clothes from brands you already have with the aim to get recognition. If your content is valuable to them most brands will definitely reach out.
Even so, sponsored posts can be costly for the brands, meaning that chances are limited. As such, approach leading brands via emails or tagging them on social media.
Talking of social media, If you have a big following, landing yourself promoted post gigs becomes much easier. Just make brands aware that you welcome sponsorship on your blogs or social media handles.
Get Paid To Wear Workout Clothes
Apart from 'trendy clothes', you can also get paid to wear workout clothes. These are garments worn in gyms, fitness centers, and sports fields.
Sportswear companies are ready to 'dress' you and just to have their logos appear on your workout photos and videos. Sounds fun! Here is how to go about it:
Become a Fitness Model
(Annual salary: $48,219)
Are you searching for ways to get paid to wear gym clothes? From Nike to Under Armour, fashion brands hire fitness models to showcase their new workout attire.
Models are generally required to maintain high body fitness. Additionally, taking care of your general appearance is crucial; from your skin and hair to your nails.
Partnering with a makeup artist and a professional photographer is necessary for creating your personal image. After all, it's your portfolio that attracts top brands. Also, showcase your fitness routine via a website and link your portfolio to get brands' attention.
However, do not expect overnight success; modeling requires a combination of hard work and determination. If you have no idea where to start, there are modeling schools available that offer training.
If that's not enough, you can work as a runway model or a promotional model. Once your name becomes a brand on its own, gigs from companies that send you clothes to model.
Set Up a Fitness Blog
(Annual salary: $37,534)
A sizeable social media presence is great for fashion or fitness niches, but having a blog alongside your social pages is even better.
Many brands tend to partner with fashion & fitness bloggers to market their products through affiliate marketing, sponsored content, or in exchange for free merchandise.
As a matter of fact, leading social platforms have policies that go beyond what brands and influencers can control. For example, Twitter has a limited number of characters per post. On the contrary, you can post a whole article on a blog without worrying about how many characters you use.
As a blogger, you can get a lot more done on your own, or you can join platforms like She Media which can help you find the perfect brands to work with.
Additionally, blogs can be updated regularly making them relevant for search engines. However, you need to attract traffic to your blog in order to maximize your potential earnings. Mostly, you'll earn a commission if a buyer purchases a product through an affiliate link on your blog.
With this in mind, it's important to use social media to advertise your blog and vice versa to help you reach potential customers.
Get Paid to Wear Clothes on Instagram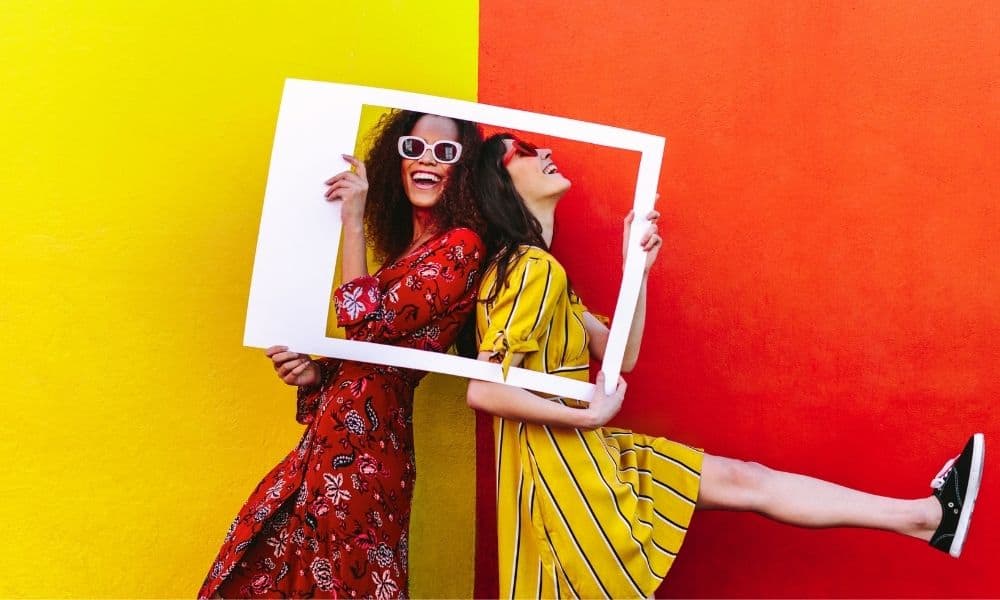 (Expected pay: $10 – $100 per post )
Are you wondering how to get free clothes as an influencer? Start your quest by opening an Instagram account. Using social media as a marketing tool has the potential of reaching a massive audience within a short period of time.
In particular, Instagram is a great place where influencers and brands use short-form content to sell their services/products.
Sign up for free and work towards growing your follower numbers. This can be done by regularly engaging your audience to see what kind of content they like.
In addition, you'll need to share multiple posts of yourself wearing different attires then tag the designer's page. You can also add links to posts where your followers can click on them and make a direct purchase. In return, you earn a commission as per the agreed terms.
Other social media platforms that offer the same earning criteria include Facebook, Pinterest, Twitter, and Tik Tok. Depending on your viewership, a single fashion post can make over $10k per post.
Get Paid to Wear T-shirts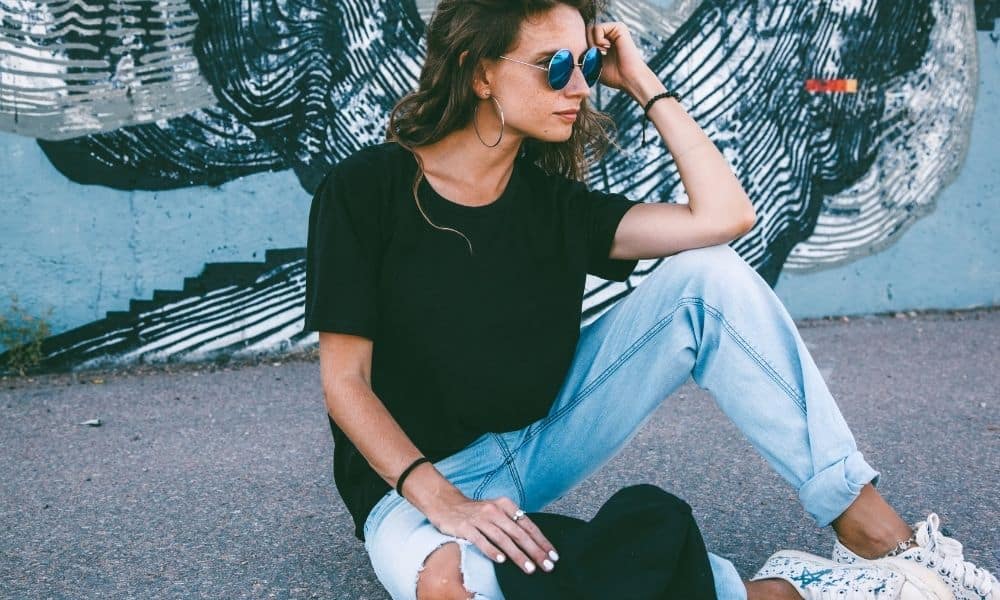 (Expected Salary: not defined)
Approaching brands and offering to advertise their company by wearing their t-shirts is a good way to get paid to wear t-shirts. If you have additional skills like photography, you can take pictures of these branded clothes and advertise them on social media (especially Instagram).
To be honest, such opportunities can be minimal, so think of how to start your own t-shirt selling company. If you are short on skills, consider partnering with a graphic designer to help you create unique t-shirt designs.
The best place to advertise yourself is through social media platforms. Start posting on WhatsApp status and ask your friends to post the same on theirs. This helps you create a huge pool of potential customers fast.
As your hustle grows, consider opening an Instagram account or Facebook page. In addition, you can ask your friends to wear your designs to school as part of your marketing strategy.
Wear Clothes as a Paid Product Tester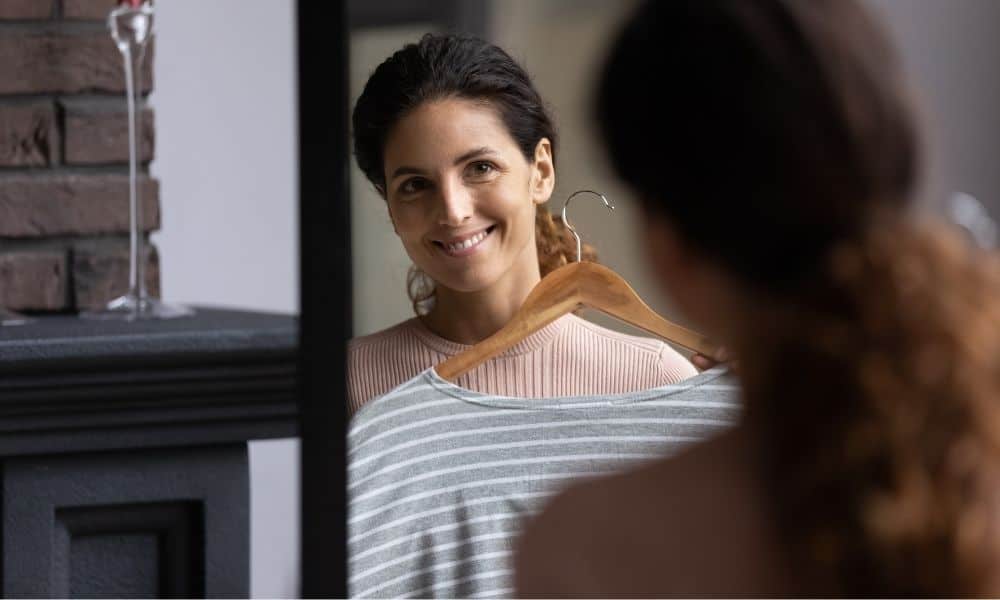 Do you like sharing your opinions about stuff? Then becoming a paid clothing product tester might be something you might want to tap into.
Fashion brands are looking for feedback about their clothes in order to help them improve their designs. They partner with survey sites that offer rewards to members to complete product questionnaires.
Here are a few websites and apps that pay you for sharing honest opinions about products and services.
a) Survey Junkie
(Monthly pay: $200 – $300)
Their surveys are easy and take about 15 minutes max to complete. Just create a profile in order to be matched to clothing and fashion surveys. They offer credit points for every completed survey.
You can redeem the points for cash via PayPal or gift cards from top retailers such as Target, Starbucks, and Amazon.
Become an Influencer of Survey Junkie
b) Pinecone Research – Get free clothes
(Base rate per survey: $3)
Pinecone Research is another reputable site that rewards users with money for honest opinions. Their offers also include product testing and reviewing concepts before they get to the market.
Such studies can be about clothing designs, ideas, textures, and marketing campaigns. Though the invitations may be few, you can expect anything between $3 to $7 per product survey (avail free products and merchandise).
Click here to Participate In Pinecone Research Studies
Get Paid to Shop for Clothes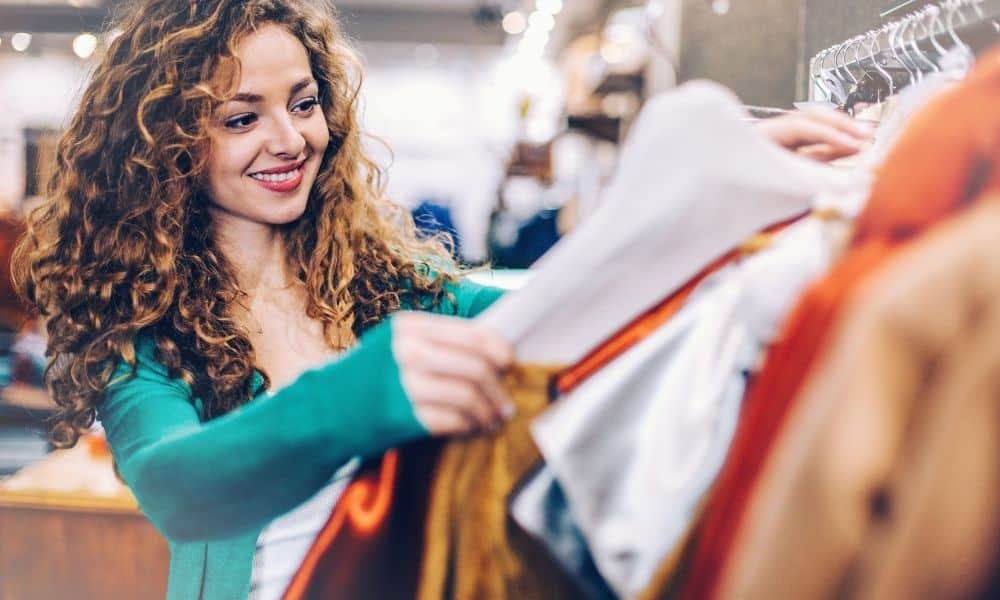 (Hourly rate: $18.37)
One of the best ways to get paid to shop for clothes is through referral programs. Nowadays, brands offer rewards to existing customers, either in cash or gift cards, just for inviting their friends/family to join specific platforms. Direct, incentivized, and reputation are the three main types of referral programs.
Typically, referrals are done through a link or code that has a specific ID that can be traced. Oftentimes, there are certain set guidelines that one should meet in order to activate a referral bonus.
For example, your friend must make a certain amount of purchases within a given period. Check out companies like Swap.com and Rent the Runway, to see how their referral program works.
Mystery shopping for clothes is another easy way to get paid to shop for clothes.
Mystery Shopping
This is a tool used to assess different customer touchpoints from retailers and services providers. The job can be as simple as making a call to the service center or undertaking an in-person shopping experience.
Among the objects of a mystery shopper is to gauge a service against industry expectations. You'll also rank any improvements, if any, from a previous visit.
Other programs also seek to know the security of the shoppers. Some of the leading mystery shopping sites for fashion lovers include:
a) Market Force
Market Force has over 100,000 mystery shops under research. To date, testers and survey takers have carried out 1m+ studies under the company. The aim is to deliver marketing solutions to different industries including restaurants, theaters, clothing stores, and financial services.
You get to shop and try out clothes, then complete surveys on the customer service accorded, displays, prices, and cleanliness. Your shopping expenses are reimbursed, meaning you get to wear and own clothes for free.
Sign up is free and you get mystery shopping opportunities on the go through an app. What I like most about the platform is that you get a map with participating retailers. Just pick the clothing store that's nearest, schedule a visit, complete the survey, and get paid.
b) Mystery Shoppers
This is a UK-based market research company that works with shoppers who are 17 years or older. Are in Africa looking for mystery shopping assignments, this is the site for you. Apart from the UK and Ireland, the company also runs franchises in Kenya and Botswana.
The company has over 330,000 testers globally working as shoppers, managers, students, guests, and auditors. Once you have carried out your shopping for clothes assignment, you then fill out an online form or record a discreet video/audio during the fieldwork.
Sign Up For Mystery Shopping Tasks
Companies That Will Pay You To Wear Their Clothes
If you are into passive income, this section should interest you. Here, you just sign up, get clothes delivered to your doorstep, wear them, and earn real money.
Basically, you'll have to showcase the clothes on social media and at popular events, but the gist of this method is that you just wear clothes and make money. Check out the following companies for such offers:
a) OpenSponsorship
(Annual salary: $102,102)
As you may know, sponsorship is the financial pillar of sports, and that's where OpenSponsorship comes in; to ensure that teams or athletes benefit from marketing partnerships. This is a platform that connects athletes or teams with corporate brands for sports sponsorship.
From college students and seasoned pros to retired athletes, everyone is welcome to join OpenSponsorship.
Teams and individuals create profiles with detailed descriptions of themselves, personal interests, and rates for easy matching with brands. To highlight, the platform has over 11,000 athletes across 50 sports.
Some of the big names under their programs include Rose Lavelle, Serene Williams, and Derrick Rose, just to name a few. Yes, the company features athletes with net worths of millions of dollars!
Signing up for OpenSponsorship is free, taking less than 10 minutes to complete. Here you'll enter into a sponsorship deal with a brand as an 'ambassador' and you'll get paid to advertise clothes, mostly sports gear.
If you are keen to join OpenSponsorship as an athlete click here.
b) Unemployed Denim
Another company that pays you to wear their clothes is Unemployed Denim.
As their name suggests, they are well known for designing denim wear. They also customize jeans, t-shirts, and jackets as part of their collection. This New York-based company mainly uses vintage material for custom clothing whilst working towards eliminating waste.
According to the official site, the company is always looking to expand its brand ambassador teams. They partner with fashion enthusiasts to help increase sales within and outside NY.
Applying for an ambassador position is currently not available. However, they regularly open for new applicants to join. How much you earn is not yet clear but they assure you some privileges along the way.
How To Get Paid To Wear Nike?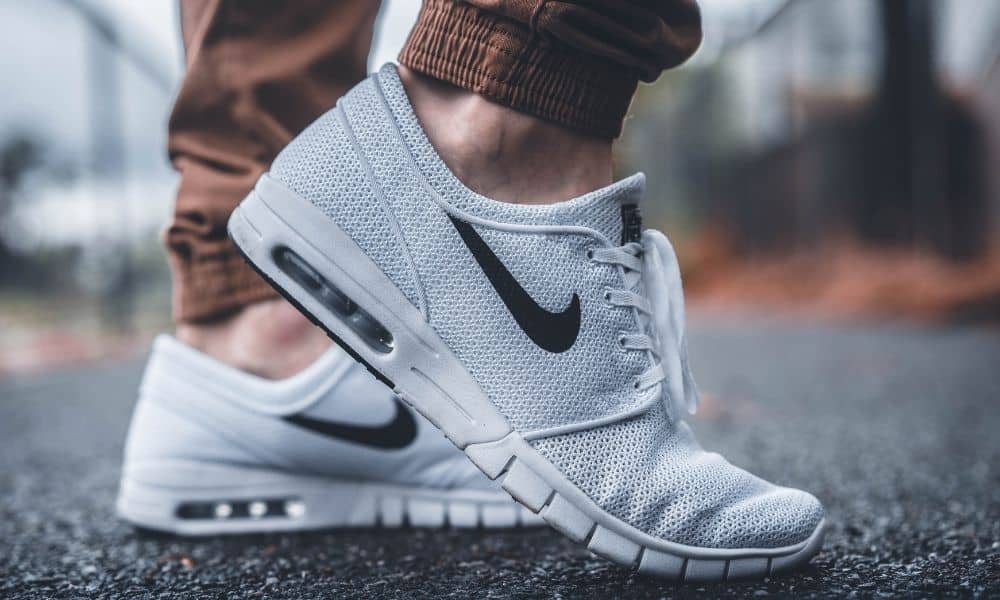 Ever wondered how to get your hands on a brand new pair of Nike clicks for free? Well, it's not easy but it can be done through the company's product testing program.
As one of the largest sports and athletic wear companies, Nike sells globally and is known for revolutionary clothing designs.
In particular, there are two ways of making money through Nike product testing: on-site and remotely.
First off, on-site testers work within the company's facilities. This means that you become part of their internal workforce with an annual salary.
On the other hand, remote testers fill out an application form online and wait for the company to approve them. If successful, Nike mail you products to wear, test, and log your experience.
In return, you get to keep the product. As such, you can save hundreds of dollars on your clothing budget considering the high prices of the brand.
Can You Really Get Paid for Wearing Clothes?
Yes! In fact, there are many ways to make money wearing clothes, you just need to know where and how to do it. Mainly, this is a reserve for fashion icons who advertise certain clothing brands for money.
Nonetheless, as long as you have a good social media presence and a blog, you can start earning right away from referrals and ads. Nevertheless, this is a competitive field that requires one to be patient and nothing is guaranteed.
How to Get Paid for Wearing Companies Clothes?
Here are a few ways that can get you paid for wearing companies clothes:
By becoming a brand ambassador.

Starting a fashion blog.

By becoming a mode e.g a runway model or a fitness model.

Through affiliate marketing.

Through sponsored posts.

By joining clothing sponsorship applications companies like OpenSponsorship that match athletes with sponsoring brands.

Become a product tester.
How to Get Money for Clothes You Don't Wear?
You can sell clothes at your local stores or choose to sell at online marketplaces such as Poshmark, Etsy, or even Social Media platforms like FB Marketplace, TikTok, and Instagram. For example, Poshmark allows you to post pictures of clothes you don't wear. People can then browse through and make a purchase.
How to Get Free Clothes from Companies?
You can get free clothes by modeling for fashion brands. That said, this is a job for influencers who can increase awareness of a new clothes collection and drive up sales.
Additionally, companies also give out free clothes for people to test and write reviews that influence design and marketing decisions.
Such offers can be found on both small and big brands including Under Armour, Nike, and Reebok.
Wear Clothes for Money: Conclusion
Making money from wearing clothes is a creative hustle that can see you earn six figures easily.
Nonetheless, the field is highly competitive with famous personalities being the go-to brand sponsors. To break into this exclusive industry, start by creating a sizeable social media following and fashion websites.
Additionally, you'll need to stay up to date with celebrity lifestyles, fashion shows, professional stylists, and trendy wear.
As a beginner, you'll most likely earn from sales referrals and online surveys. With time though, you can set up an online shop to sell your old clothes and advertise new collections for a nice paycheck.
Are you currently making money through fashion? Tell us how below.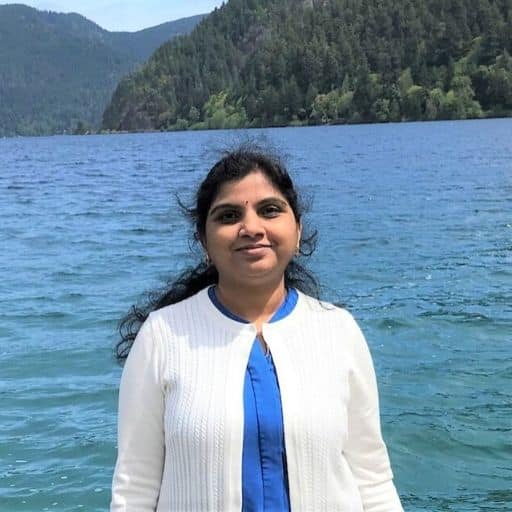 Howdy Folks, thanks for stopping by my blog.
I'm Swati, a proud mom, dedicated side hustler, full-time blogger, and a recognized millennial work-at-home expert. My expertise has been featured on esteemed platforms such as Forbes, CEO Blog Nation, Referral Rock, Vital Dollar, Databox blog, and many more. I have embarked on this incredible journey to share my firsthand experiences in the world of online income generation and to assist all of you in earning money from the comfort of your homes.
Join me in my mission to revolutionize the way we make money and achieve financial freedom. Trust me, it's not as challenging as it may seem!
Together, let's explore the boundless opportunities and pave our paths towards a prosperous future.