Disclaimer: I am an affiliate of Bluehost & Siteground, so I will receive a commission if you sign up through my referral link, at no additional cost to you.
Planning to start a money-making blog?
Overwhelmed with the unlimited choices available for web-hosting? Two years ago, I was in a similar state and made many bad choices. I thought I should share my experience with wannabe bloggers (like YOU) — and save you from unwanted blogging troubles.
See the complete detailed review, to find out the right choice for your WordPress Blog.
When to go for Web-hosting?
Many of the free blog hosting services available to bloggers offer a basic blogging package at no cost. Blogging on a free hosting service is living with limitations.
A great number of self-hosted blogging software (like WordPress) are free, but the web servers that you need to install them on aren't free. You need to rent the space and host your blog on these servers. Shared Server Hosting is the most common and affordable form of website hosting and WordPress is the most common CMS (Content Management System or Software)
The most flexible, powerful, and professional way to run a blog is to own a self-hosted blog with a custom domain name.
Need help, choosing a domain name?
The Attributes of a Good Blog host
To ensure you get a good web host make sure :
Reasonable Pricing
99.99% Guaranteed Uptime
Regular Backup
24×7 customer support by phone or live chat
A user-friendly and functional control panel
Supported server-side software and upgrades
Good reviews across the Internet
While, there are 'N' number of web-hosting platforms, out there in the market.
I honestly recommend just ONE, at the most TWO of them for beginner bloggers
Bluehost & Siteground are the two most popular, widely recommended WordPress hosting providers in the webspace. Both these giants offer a wide variety of hosting plans for beginners to larger businesses with 24/7 customer support.
Each of these web-hosts has both amazing traits and viable downsides worth mentioning before you make the right choice.
It's my third year into blogging, for two years I hosted this site successfully on Siteground until I moved recently to Bluehost. I wanted to try Bluehost hosting and their service before I could share an honest Bluehost review.
I should say, I'm still in love with Siteground for varied reasons. Go ahead, Read to know why?
Siteground Vs Bluehost: An In-depth Honest Review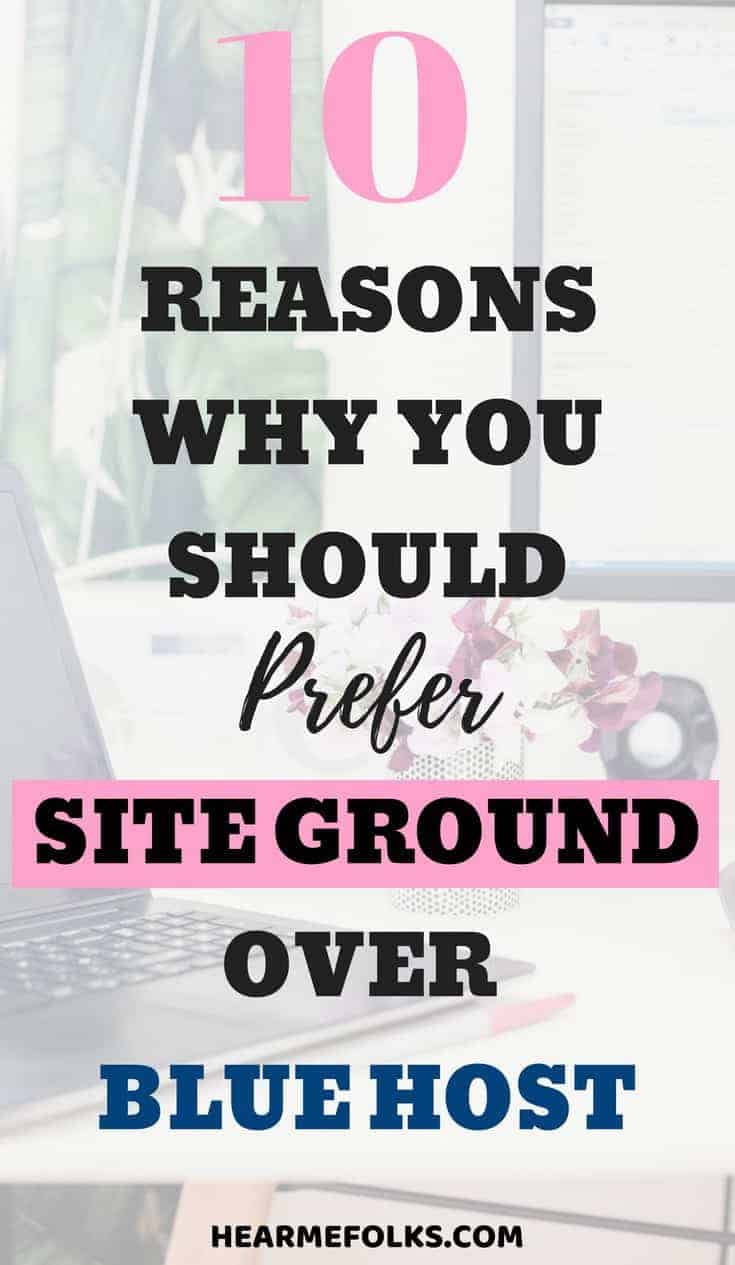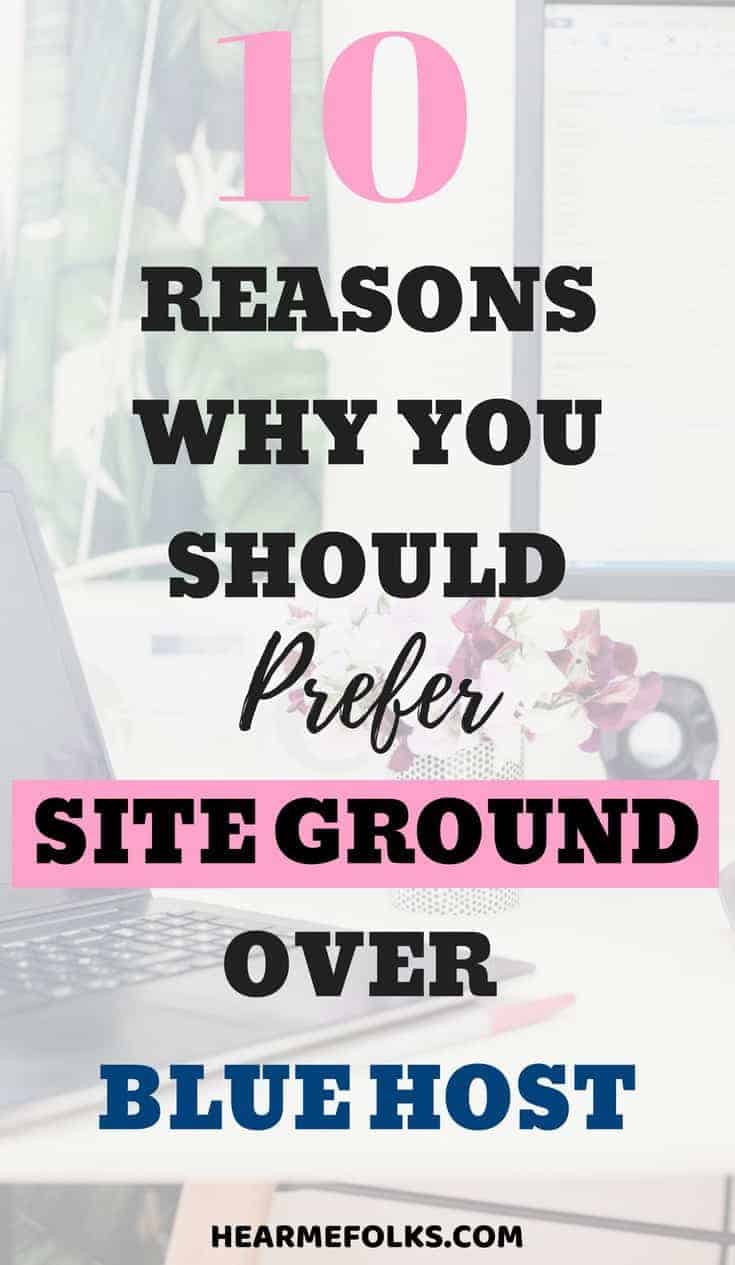 PRICING
Both Siteground and Bluehost have reasonable prices for their shared hosting plans.
Siteground basic plans start at $3.95/mon, which includes a Free Let's Encrypt SSLs, a Free Domain, and a free Site Builder with templates. This Startup plan is only suitable for small businesses, that attract no more than 10,000 unique visits per month on a regular basis online.
Anything above, you'll have to upgrade to Growbig ($14.95/mon for existing customers and $5.95/mon for new customers). The Growbig plan, is perfect for those, who manage multiple websites, as it can accommodate multiple sites in one account at no additional cost.
The final web-hosting plan – GoGeeks, is crafted for the Real Web Geeks. If you have a really heavily-visited or resource-intensive website then the GoGeek plan is your best option. The prices vary from $11.95/mon – $29.95/mon for new to existing customers.
Additionally, this plan is great for average-sized e-commerce websites because it can accommodate a much larger product line and also includes server PCI compliance!
The ONLY reason, I preferred to try Bluehost is their incredibly cheap pricing — yes, you heard me right, it's just $3.95/mon for a 3-yr shared hosting plan! That's costs, around $100 for 3 yrs of web-hosting (free domain-hosting for 1-yr and a free SSL). While, the plus and the prime plans, loaded with amazing deets are available for just $5.95/mon.
WEBSITE SPACE
Bluehost's basic plan comes with a 50GB website space, while Siteground is limited to just 10GB and 10,000 unique monthly visits. On Siteground, you'll have to pay 3.95/mon for the first time and later $9.99/mon for every renewal.
Bluehost hosts one domain and 25 subdomains, 5 email accounts of 100 MB storage for each account. For the first term, you'll pay $2.95 per month. When you renew the account, you'll have to pay $7.99 per month.
Here's Why I Still LOVE Siteground…
SERVER UPTIME
The most crucial factor, when deciding on a web-host is UPTIME!!
Uptime ensures that your site is up and running when someone attempts to visit your site. They shouldn't find it difficult to access it due to technical problems. Most web hosts promise a guaranteed uptime (the amount of time a website will be available online under normal loads). Though a 100% guarantee is ideal for any website, shared hosting typically do just fine with a 99.9% or 99.99% uptime.
Siteground is well-known for its First Class – 99.99% guaranteed UP-TIME as promised! They have pretty much the most reliable servers in the entire web hosting industry.
Bluehost is more or less in-line with their 99.9% guaranteed uptime. Not bad, but not quite up to par with Siteground.
SITE SPEED & RELIABILITY
The next most important factor is Site Speed!!
When it comes to building a conversion Proven, search engine optimized website – in short, money-making site, site speed and reliability play a vital role. It is said that a 1-second drop in website speed can decrease your conversion rate by 7%, and a 3-second delay can cost you 50% of your traffic.
There are many factors that might SLOW down your site.
But, choosing the right host, can reduce the risk of dampening your site speed to a vast majority.
The websites stored on Sitegorund's shared and cloud hosting plans are loaded with an amazing combination of cutting-edge Solid State Drives (SSDs), NGINX web server technology, Geeky SuperCacher, and HTTP/2 enabled servers (Let's Encrypt free SSL Certificates) to speeds up your website dramatically.
Above all, a Free CDN helps the websites LOAD FASTER FROM ANYWHERE…
Though Bluehost offers a Free SSL, sites loaded on Bluehost are a bit slower than Siteground.
In-terms of Site speed and Reliability Sitegorund is way more superior to Bluehost!!
DAILY BACKUPS
Siteground, unlike Bluehost, offers auto daily backups for free. Codeguard enabled Daily Backups are offered on Bluehost for an additional $2.99/mon. If you prefer to go for Bluehost, I would suggest the Updraft plugin(free) for daily backups.
CUSTOMER SUPPORT
I can't stress, the importance of amazing customer service. While both Bluehost and Sitegorund offer 24 x 7 customer support by phone or live chat. Siteground is the best!
My Personal Experience With Siteground
Siteground helped me resolve a technical issue in about 10 minutes. It's not just once, but I was on several occasions. There were instances when they had to spend half an hour patiently, explain, and help resolve my issue.
I would say, the SiteGround live chat support team is helpful, trustworthy, patient, and well-mannered. I was more than happy with their support and never left less than a 5-star rating for their amazing services. I personally felt safe, with my website throughout the stay, under such an amazing service and exemplary support.
My Personal Experience With Bluehost
Bluehost live chat is just above average, and can be awarded a 3.5 rating at the most!
Their live chat isn't as prompt as Siteground. One needs to wait patiently in queue, for the support to attend to the ticket. And there is every chance, one might lose patience, because of their delayed responses.
Winner – Their customer service is prompt, fast, and simply extraordinary.
SITE TRANSFERS
⇒⇒ HERE COMES THE BEST FEATURE OF SITEGROUND and A COOL TIP!
Let me tell ya, Siteground offers FREE TRANSFERS/MIGRATIONS, unlike Bluehost.
Whether you're technically unsavvy or don't want to handle the risks of domain migration ( to me, it's probably the scariest step as I sure don't want to lose my domain by mistake) then, Siteground live chat is the place to go.
Siteground also helps you start a blog with a click.
If you don't want to handle the WordPress installation and other technical stuff, Siteground does that for you.
Hop on to their live chat, and there they appear in a flash of a second (zero waiting time), ready to help you with anything. In fact, they once helped me point my landing pages to their servers when I was a blogging novice.
Hats off to Sitegorund for their amazing professionalism and dedicated support!
Are you unhappy with your host? Want to Make a Move from your Host?
Wait no more…migrate Seamlessly with Siteground Assistance from your current host.
Other Added Bonuses on Both the Platforms
Both Siteground and Bluehost are loaded with amazing bonuses like:
Free Let's Encrypt SSLs
30-Day Money-Back Guarantee
cPanel & SSH Access
WINNER: SITEGROUND – Get Started Now
Conclusion: Bluehost or Siteground? What is Right for your WordPress Blog?
Still wondering, what is right for you?
I suggest you 'GO for Siteground'!!
On the other hand, Bluehost should be your option ONLY if you're on a tight budget.
But, I think, there isn't much of a price difference, if you plan for just a year of hosting. If you plan to stay for 2 or more years then, Bluehost is definitely affordable than Siteground. Besides that, with Bluehost, you'll also get a FREE SSL, FREE Domain Name, and 50GB website space with 30 Day Money Back Guarantee
A 3-yr plan (excluding domain renewal) would cost:
Bluehost – $3.95/mon ($143 for 3 years without addons). While, Siteground charges $5.95/mon for 1 year and thereafter $9.95/mon ($47.4 + 2×119.88 = 287.16 for 3 years). Get started with Bluehost!
Here's Why "Siteground" is Clearly THE WINNER!!
World-class customer support,
High guaranteed uptime most of the time,
Amazing Site Speed,
FREE SSL,
Daily Auto Backups,
FREE Cloudflare CDN
60% of any hosting plan for new customers and
30 Day Money Back Guarantee Policy.
Coming back, I had a good experience with Bluehost so far. But, genuinely, Siteground out beats Bluehost in clear ways. Hosting on Siteground is such a delight and I believe, anyone would agree with me on this, without any debate.
If you haven't experienced this charm, I bet you definitely will once you get-in!
Start blogging like a pro in no time… here's my step-by-step detailed guide on how to start a blog in less than 15 minutes!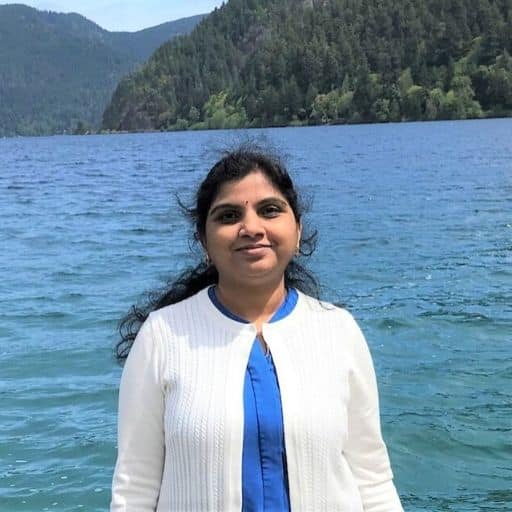 Howdy Folks, thanks for stopping by my blog.
I'm Swati, a proud mom, dedicated side hustler, full-time blogger, and a recognized millennial work-at-home expert. My expertise has been featured on esteemed platforms such as Forbes, CEO Blog Nation, Referral Rock, Vital Dollar, Databox blog, and many more. I have embarked on this incredible journey to share my firsthand experiences in the world of online income generation and to assist all of you in earning money from the comfort of your homes.
Join me in my mission to revolutionize the way we make money and achieve financial freedom. Trust me, it's not as challenging as it may seem!
Together, let's explore the boundless opportunities and pave our paths towards a prosperous future.