What is Adsense RPM and how to increase it? RPM is an acronym for revenue per thousand impressions. Then what is eCPM? It is the effective cost per thousand impressions. These terms aren't just vital but they are confusing enough to be misleading. While the older AdSense interface refers to eCPM, the newer version shows RPM. But, technically both mean and are the same.
As you read along with the post, you are sure to get a clear picture of both. But, before we dive straight into these terms, it's highly important to gloss over the basic terminology of the Adsense tracking system.
Whether you're planning to sell advertisements on your website or want to study the ad progress & performance reports or arrive at the Adsense estimated earnings, which you must be well aware of the terminology incorporated in the Adsense performance reports.
CPC (cost-per-click)
Impressions
CPM (cost-per-mile)
RPM
Page Views
CTR (click-through-rate)
Active View Viewable
Estimated Earnings
Most of these terms are fairly straightforward. Like for example CPC. While a few might need clear perception.
CPC (cost-per-click)
CPC is a widely used acronym for Cost per click. This represents how much advertisers are willing to pay for a click on a specific keyword This parameter helps you decide, how much you can make per ad click on your website. If the advertisers are willing to pay a lot of money for a certain keyword you are using on your website, and if you're getting a considerable amount of traffic then it can bring in a lot of money for you.
As per Wikipedia :
Cost per click (CPC) also called as Pay Per Click, is an internet advertising model used to direct traffic to websites, in which an advertiser pays a publisher (typically a website owner or a network of websites) when the ad is clicked.
Cost-per-click is important because it is the number that is going to determine the amount you're going to be paid for the clicks generated on your site.
While most people get confused between Page views and Impressions. Here's how they differ.
Page Views
A page view is what Google counts every time a user views a page displaying Google ads regardless of the number of ads displayed on that page.
Impressions
While an impression is the number of ad units (for content ads) or search queries (for search ads) that showed ads.
Note: While "clicks" refer to clicks made on ads. "Impressions" however, include both the link unit and the ads that appear on the ad page.
Active View Viewable
The percentage of impressions that are viewable out of all measurable impressions.
Note: This metric only includes impressions from regular AdSense for content ad units, AdSense for video and AdSense for games ad units, it doesn't include data from link units.
Estimated Earnings
It is the amount you earned for the clicks and impressions overall.
CTR (click-through-rate)
Click-through rate is the number of ad clicks divided by the number of individual ad impressions. Suppose you are showing 3 AdSense ads on every page, your 1-page view is equal to 3 ad impressions.
CTR = ( Clicks / Ad Impressions ) * 100
Suppose, you get 5 clicks out of 500 ad impressions, your CTR would be 1%.
So What's Adsense RPM & eCPM?
Here's what you want !!
eCPM/RPM
The revenue per thousand impressions (RPM) is the average earnings per one thousand ad impressions. eCPM is the effective cost per thousand impressions. While the term eCPM was used in the old interface, RPM has come into usage in the latest interface.
According to Inside Adsense, "RPM is a commonly used metric in advertising programs, so using this term may find it helpful for comparing revenue across different channels." So, to avoid confusion in the future, Google prefers to use only one term (RPM).
RPM is the amount an advertiser is willing to pay for 1,000 impressions. It is an income model where advertisers pay you a fixed price per thousand impressions. No click on them is necessary for you to earn something from AdSense.
To calculate this figure, you need to divide your estimated earnings by the number of page views, impressions or queries that you received, then multiply by 1000.
eCPM/RPM = (Estimated earnings / Page Impressions) * 1000
For example: If your estimated earnings are $0.50 from 100 page views, then your page eCPM or RPM would equal ($0.50 / 100) * 1000 or $5.00.
Both the terms are referring to the same thing. eCPM and RPM represent your estimated earnings for every 1000 impressions.
Just 15 Steps to Increase Your Adsense RPM!!
Hold tight, there is a good news!! Beware, there is a bad news too!!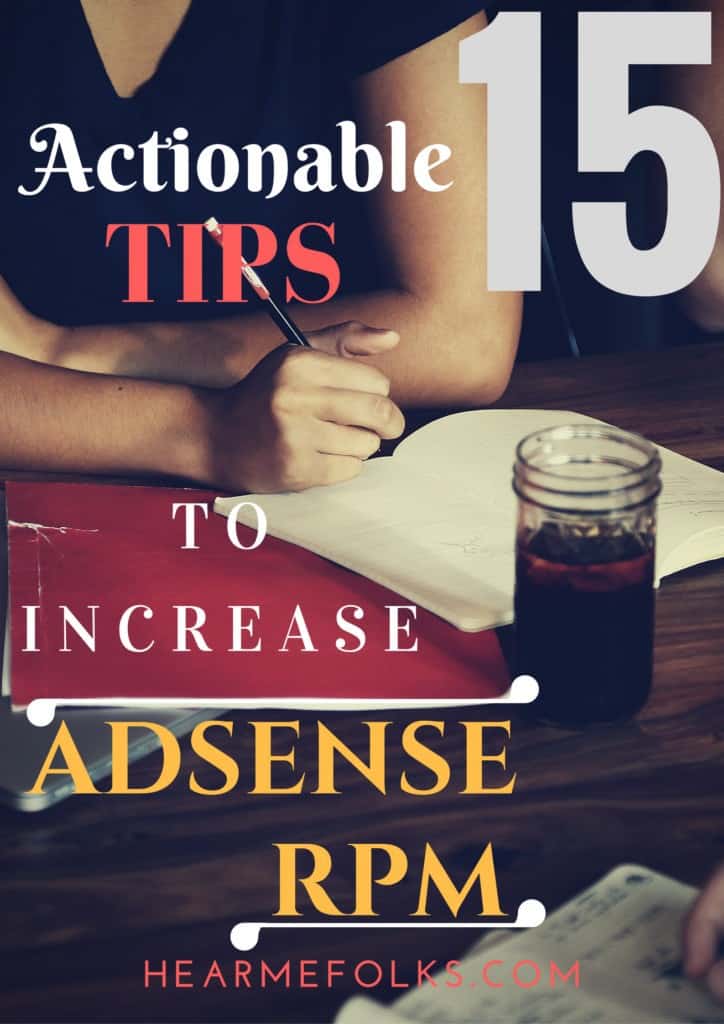 Good News:: Adsense RPM is not affected by the CTR.
It means that in this revenue model, "No clicks are necessary to earn money from Adsense".
Hurray, let's make the best of this now 🙂
Bad News:: You need to remove certain ads. Yes, you heard me right. Don't panic, I will help you out.
Here's a tabular form of the 'Most Recommended Google Ad Sizes' you can impetuously adopt.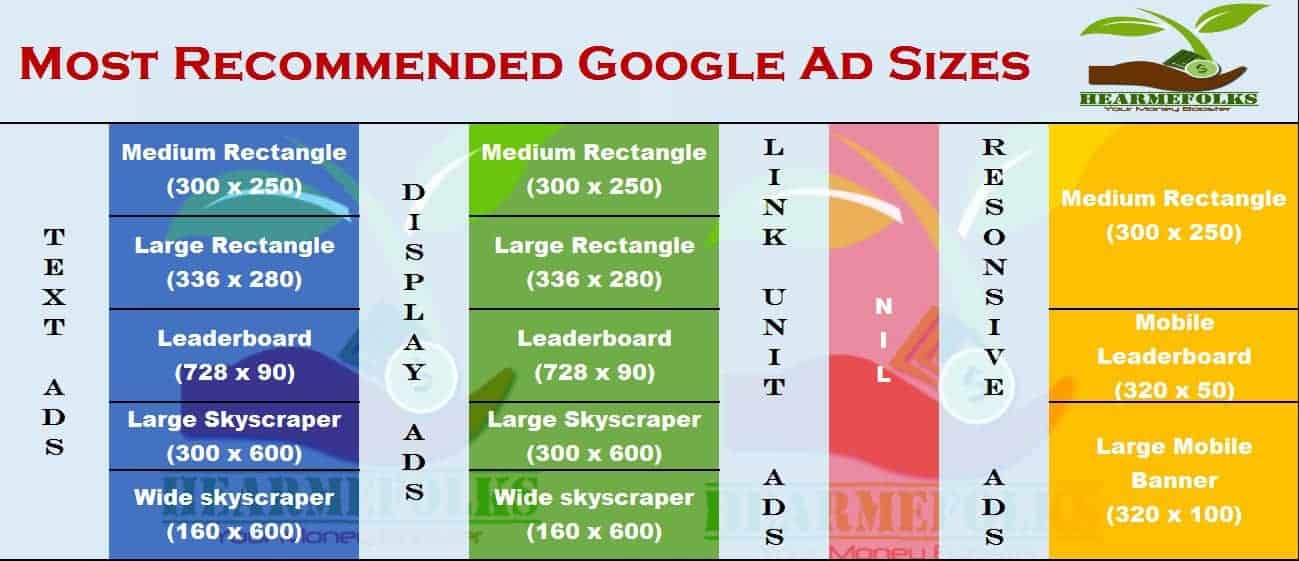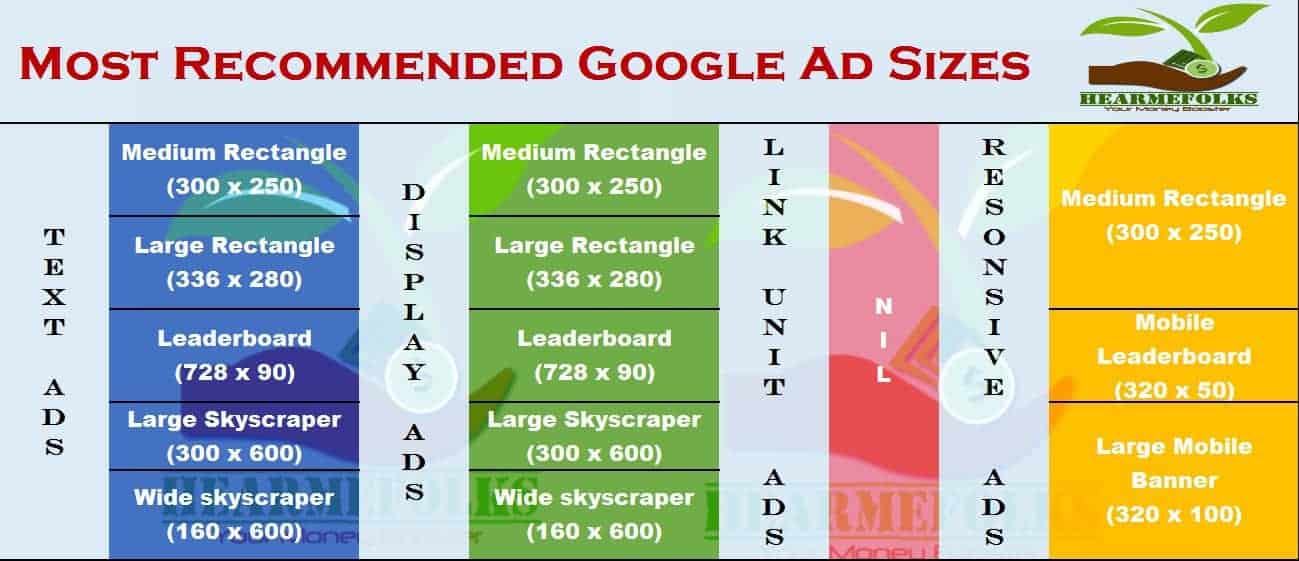 Check out these 5 Best Google Ad Placement Tips and adopt them on your blog. Do not experiment!
Write killer content on subjects related to high CPC keywords, to target relevant contextual ads with high advertising bids.
Do OnPage & OffPage SEO to build organic traffic.
Write compelling headlines and share your content on social media.
Test out whether text ads or display ads work best for you and place them accordingly. Take a look at this read on the best performing google ad formats.
Customize your adsense ad units so as to increase CTR
Carefully place them next to these expensive keywords just "Above the fold".
Distribute your ads wisely considering the Adsense heat maps.
Head over to Gtmetrix, or google page speed insights to evaluate your site speed. If required, take necessary steps to increase site speed, for the ads to load faster. No ad impression no revenue.
Adopt a highly responsive theme, for the ads to load quickly on mobile devices.
Style your ads in a way so as to blend well with the theme and layout. Do not overdo!!
Create Custom Channels to track the performance of specific ad units.
Use section targeting to improve ad targeting.
Section targeting allows you to add HTML code to your page to tell the Adsense crawler what section of the page you would like the crawler to pay attention to when choosing the ads for your page.
Ruthlessly Block the ads irrelevant to your niche.
***Try various ad placements (depending on blog layout) and run the experiments for at least a week/fortnight for maximum results.
Winding Up
Finally, one last word. More traffic! More Ad Impressions. Hence, More Revenue. So make efforts to drive maximum traffic & reap maximum benefits so as to increase your Adsense RPM!!
Just proceed with these tips to yield maximum results and increase your Adsense revenue. What worked for me will definitely work for you as well.
Do not jump to conclusions immediately.
If you like this post, spare a second to share this post 🙂 Do let me know the outcome of implementing the above tips and strategies on your blog specifically the ones that helped increase Adsense rpm.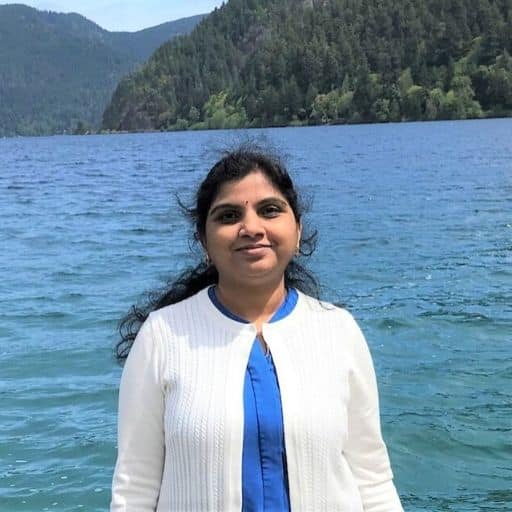 Howdy Folks, thanks for stopping by my blog.
I'm Swati, a proud mom, dedicated side hustler, full-time blogger, and a recognized millennial work-at-home expert. My expertise has been featured on esteemed platforms such as Forbes, CEO Blog Nation, Referral Rock, Vital Dollar, Databox blog, and many more. I have embarked on this incredible journey to share my firsthand experiences in the world of online income generation and to assist all of you in earning money from the comfort of your homes.
Join me in my mission to revolutionize the way we make money and achieve financial freedom. Trust me, it's not as challenging as it may seem!
Together, let's explore the boundless opportunities and pave our paths towards a prosperous future.