If you're looking for the best vlogging cameras for your YouTube channel then I bet you're in the right spot. Why, because you might want to know answers to questions like, 'Which is a good camera for vlogging?', 'What to choose?' & 'How much to spend?'
I know picking a camera that offers an all-around better vlogging experience, besides being affordable is an uphill battle.
I've gone through it myself!
There are many great cameras available in the market now, which are an excellent tool for vlogging.
So, I've curated a list of the best vlogging cameras based on the recommendations of some top-notch YouTubers and my research as a passionate photographer. Hope this will help videography enthusiasts (like you) choose the best camera for vlogging within your budget.
But, before we dive into the list, take a look at my top pick…
Best Canon Vlogging Camera:
| PROS: | CONS: |
| --- | --- |
| The Dual Pixel CMOS technology is highly efficient, with continuous autofocusing that delivers smooth and crisp 1080p full-HD videos | You'll need to correct the white balance during outdoor shooting as it automatically cools the image during sunny weather |
| The 3-inch, 1.04m-Dot Vari-Angle LCD touch screen display offers a bright and clear view and can rotate up to 270 degrees | It cannot shoot videos via the Canon app |
| The high-quality glass pentaprism viewfinder offers 98% frame coverage with 0.95x magnification | It has a single SD card slot can be a little problematic during longer shoots. |
| It has in-built Wi-Fi that's extremely handy for remote capturing and easy image-sharing through Canon iOS and Android app. | |
| The 1/8000 maximum shutter speed is highly efficient for taking crisp images. | |
| The ability to shoot at 7 fps in full-HD mode delivers a way sharper video quality than any other camera in this price bracket. | |
| The battery life is quite good, although, it would be a wise decision to have spare batteries during continuous shooting. | |
Final Verdict:
Canon EOS 70D comes in at around $1500+ (depending on the kit), though you may be able to find more options for lower prices if you shop around online. This camera is a vast upgrade from the 60D, combining the best features of that body, the T5i, 6D, and 7D, with superior movie motion tracking.
A really great thing about the Canon 70D is the live view auto-focus system.
This itself can make a huge difference. Besides that, it offers a lot more control, and you can buy interchangeable lenses for indoor, outdoor, night-time, long-distance, and other shooting conditions.
So, if you're looking for very good video quality for your YouTube channel and vlogs, this is the one, you can go for without a second thought. You can find more information here.
Best Panasonic Vlogging Camera:
The all new Panasonic Lumix DC-GH5 Mirrorless Digital Camera is one of the best options for vlogging if you have a budget of around $1500. It features a 20.3-megapixel sensor that captures vivid videos and sharp images. Besides, it comes with 5-axis dual image stabilization technology that is hugely beneficial for making great videos for your vlog.
The magnesium alloy body is extremely durable and comes with weather sealing to make it splash and dust proof. Besides, it can seamlessly capture stunning images and videos in extreme weather conditions up to -10 degree. This quality also makes it a perfect choice if you are more into travel blogging.
It can capture 60p full-HD 4K videos with accurate white balance even in sunny conditions. Besides, the 225-point autofocus technology ensures a sharp and crystal clear video recording like high-end camcorders.
| PROS: | CONS: |
| --- | --- |
| It delivers the best 10-bit 4K full-HD video quality among all the mirrorless cameras available right now; | The autofocus is a little slower than the other high-end cameras, although it has 225-area autofocus mode; |
| The 1,620k-dot 3.2-inch LCD and 3,680k-dot electronic viewfinder delivers the real-time output and also has a great focus peaking quality; | Lenses are a bit more expensive than Canon or Nikon lenses. |
| The sensor has a 10-bit 4:2:2 processing capacity that delivers better color resolution and crispier images; | |
| It comes with two SD card slot to make it useful while traveling or during a longer shoot. | |
Final Verdict:
While most of the high-end DSLRs and mirrorless cameras usually shoot at 30p in full-HD 4K video with 8-bit output, Panasonic Lumix GH5 can effortlessly deliver a 10-bit output at 60p in 4K full-HD video shooting mode.
This quality makes it an absolute winner if you want Hollywood-style video quality in your personal vlog. Besides, the battery performance is also quite good if you compare it with other mirrorless cameras.
Best Sony Vlogging Camera:
After trying my hands on Sony A7 III, I can confidently say that it is undoubtedly one of the best full-frame DSLRs available till date. The super-advanced 24.2 megapixel full-frame Exmor R™ CMOS sensor works like a charm during image or video capture. Besides, the sensor has 1.8X readout speed with the ISO limit of 50 to 204,800!
Unbelievable, isn't it?
In both the electronic and mechanical shutter mode, you can shoot at 10 fps continuously. Besides, it can deliver accurate color even in broad daylight. The 5-axis image stabilization also makes it suitable for outdoor video shooting and low-shutter speed image captures.
Sony A7 III comes with a hybrid blazing-fast autofocus system that features 693 phase-detection points and 425 contrast-detection points to capture or shoot effortlessly. It has twice as fast autofocusing capacity than its predecessors.
It can capture 4K ultra-HD videos at up to 30 frames per second. In 1080p full-HD mode, you can shoot at 120 fps. Besides, it has a 2.4x oversampling quality that enables it for detailed rendering. This camera also enables you for more precise color and gamma controls to make amazingly sharp videos for your vlog.
| PROS: | CONS: |
| --- | --- |
| It features a 3-inch full-HD 922k-dot LCD touch screen that you can rotate with absolute ease. Besides, it delivers good performance even in daylight | It comes with a magnesium alloy body which is not fully weatherproof. So, it's better to use it with protective cover during outdoor shooting; |
| You can assign 81 dedicated functions in 11 customizable buttons for faster and easier operation | The touch screen is very responsive but has limited control. |
| This camera is powered by high-performance NP-FZ100 battery and it also comes with dual SD card slot, making it perfect for longer shooting durations; | |
| It has almost no shutter sound, which makes it absolutely perfect for wildlife photographers and vloggers where even the slightest sound can make a difference. | |
Final Verdict:
It is way lighter and more compact than high-end DSLRs, although you won't find a significant difference after attaching a large Tele lens.
Sony A7 III is not just a great camera for taking brilliant images but also an excellent decide to capture marvelous videos for your vlog.
Moreover, the special Zeiss T coating on the LCD eliminates obtrusive reflections, which is quite useful if you are not fond of looking through the viewfinder.
Best Vlogging Cameras Under $800 :
is one of the best vlogging Canon cameras happily endorsed by many famous Youtubers. This is also the best vlogging camera with a flip screen.
G7 X Mark II is a well-designed camera that captures high-resolution images and stunning 1080p Full HD video in MP4 format with stereo sound and fast burst shooting (up to 8 fps). The camera has a comfortable grip that keeps the otherwise slippery body from sliding out of your hand.
The camera comes with a built-in Wi-Fi and NFC capability which allows for easy sharing and transferring of images and videos. The in-camera RAW conversion makes it possible to preview modified images on the camera, without the use of a computer.
With a useful 24-100mm equivalent focal range and F1.8-2.8 maximum aperture, the built-in lens is well-suited for low light photography. Its flip screen with tilting touchscreen technology makes it ideal for selfies and also for taking pictures at high and low angles with ease. It has an in-lens stabilization that makes the shots smoother..which is good.
You can shoot time lapses, slow motions, vlog so technically this can be an all-rounder vlogging camera. The pretty good thing about it is the amazing audio quality, but since the speakers lie on the top if you mistakingly place your fingers on the top, it might mute your video. Night shooting is great, and it's very easy to do time lapses and get quality images of the night sky.
The major missing feature is you can't plug in an external mic, so if you want directional sound you need to use this with the GH4. It doesn't have an interchangeable lens. The lens is a fixed 24-100mm.
In simple, G7 X Mark II is lightweight and ultra-portable, small enough to fit in your jeans pocket, loaded with features that suit your budget and make it perfect for vlogging.
| PROS: | CONS: |
| --- | --- |
| It delivers the best color quality in images and videos in the 1-inch sensor category | Cannot shoot in 4K resolution; |
| The combination of improved 20.1-megapixel camera and a DIGIC 7 image processor helps to capture detailed and actual-colored photos, especially when using the RAW file output | No built-in optical or electronic viewfinder, although, it is quite common in this category. |
| The 3-inch responsive LCD touch screen can now be tilted 45 degrees in the downward direction, unlike its predecessor Canon G7 X | |
| Best in class video recording in 1080p full-HD resolution at 60 frames per second. | |
Final Verdict:
It is the first PowerShot camera by Canon to come with EOS image processing technology that delivers incredible detailing with auto light adjustment.
The touch screen functionality and responsiveness is outstanding, although it lacks a viewfinder. The built-in ND filter and flash will help you to shoot in low-light conditions.
Besides, the Wi-Fi NFC of this camera now supports remote control, which is also helpful for vloggers.
Best Vlogging Cameras Under $600 :
Canon G7 X is the earlier version of Canon PowerShot G7 X Mark II that comes with the same features like flip screen, build in wifi, self-portraits and also fast burst shooting good for vlogging.
The primal way they both differ is, the later one (G7 X Mark II) can shoot in 24P (frame rate) and is 100$ pricier than the earlier version.
Mark II is more compact and also comes with a perfect grip. In addition, this camera can be charged via cable, as opposed to having to charge via the charger. If you forget to pack the charger on vacation, and you have the cable, you're good to go. It has better battery management than the original G7 X (265 shots against 210), but most of its peers can take a lot more shots per charge.
If you're looking for a cheaper version that comes with all the above robust features of G7 X Mark II than Canon G7 X is the one that suffices all your vlogging requirements.
EOS M3 is a stylish looking wonderfully lightweight (but slightly more than G7 X) and compact camera.
If you're looking for a portable camera that performs similarly to SLRs then this is the best choice. It comes with a 24.2 Megapixel CMOS sensor that captures photos and videos with stunning detail even in challenging lighting situations.
The touch screen 3.0 tilt-type (180° up/45° down) LCD monitor is perfect for selfies. You can easily transfer images and videos to a compatible smartphone or tablet with built-in Wi-Fi and NFC capability and share on social networking sites or view on an HDTV. You can create Full HD movies in MP4 format.
The M3 offers the build quality, controls and customizability of its more expensive peers, yet is priced closer to entry-level models. Unfortunately, the M3 falls short in really important areas: autofocus, image quality, and battery life.
This camera does just what a good mirrorless for vlogging should do. It has everything you will want as a Vlogger to have a good experience recording videos for a good price: flip screen, good image quality, external microphone port, built-in WiFi, and Touchscreen.
It can be appealing to any vlogger who appreciates a portable, mirrorless body with all the benefits of the best vlogging camera at an affordable price.
| PROS: | CONS: |
| --- | --- |
| It is one of the only few mirrorless cameras in the compact category that has a 24 Megapixel APS-C sensor to deliver sharp and detailed images | It doesn't have any built-in mechanical or electronic viewfinder |
| The 3-inch touch-enabled LCD screen delivers a real-time output and can be titled 180 degrees in the upward direction and 45 degrees in the downward direction | The option of compatible lenses available is limited, as of 2019. |
| You can completely customize the 'My Menu' section on the touchscreen. Besides, you can also customize many physical buttons | |
| The newly introduced Hybrid CMOS AF III autofocusing technology enables it for superfast focusing even in low-light conditions. | |
Final Verdict:
Based on my experience, I'd have to say that Canon EOS M3 gives its best performance with 2.36M-Dots EVF-DC1 electronic viewfinder which was separately sold by Canon for 200 bucks.
However, it is a good investment, because, in many other cameras, the LCD screen seems to lag a little. Moreover, one of the major attractions of this camera, besides its great video recording quality, is the image stabilization quality. Priced at just under $600, it's an ideal option for vlogging.

Nikon COOLPIX A900 is a versatile camera that takes beautiful 20-megapixel photos and 4K Ultra High Definition (UHD) videos- even in low light. Its creative mode makes it easy to create artistic photos and videos, right inside the camera.
It is ultra-portable and comes with super-telephoto NIKKOR glass lens that has the most zoom power of any COOLPIX Slim Zoom camera 35x optical zoom and a whopping 70x Dynamic Fine Zoom, that helps you capture distant subjects in staggering detail with brilliant image quality in nearly any light. The camera has a built-in Wi-Fi, NFC and Bluetooth low energy (BLE) that maintain a constant connection between the app and your camera, so each shot you take automatically transfers to your smartphone or tablet for sharing, editing with photo apps or uploading to your favorite sites.
The camera has a built-in Wi-Fi, NFC and Bluetooth low energy (BLE) that maintain a constant connection between the app and your camera, so each shot you take automatically transfers to your smartphone or tablet for sharing, editing with photo apps or uploading to your favorite sites.
Similar to Canon, Nikon also comes with a tilting LCD 3.0-inch screen that makes it easy to compose your shots and monitor your video recording. You can also use it to find exciting new shooting angles.
Nikon COOLPIX A900 reviews aren't quite as good as the earlier ones, but it's several hundred dollars cheaper, which is a reasonable tradeoff for all of its benefits. If you're looking for the best vlogging camera under 400$ with a flip camera then you can go for A900.
As a hobby blogger, I tried Nikon COOLPIX A900. I must say, this Nikon vlog camera is worth the money I spent.
In my opinion, you don't need a high-end camera to become a successful video creator and
ELPH 330 HS proves this.
ELPH 330 HS is yet another well-known vlogging camera for YouTubers. It is an excellent budget camera (rather cheap) that records 1080p Full HD videos in stereo sound perfect for start-up Youtubers.
It's highly popular among the vloggers for being super compact and sleek than the Canon G7 X. The 12.1MP Digital Camera delivers sharply detailed images with vivid, natural color, even in dark lighting. The camera also comes with an Optical Image Stabilizer that corrects the unwanted camera movement caused due to handheld shooting.
It has a built-in Wi-Fi that enables you to comment on photos and share them to social networking sites quickly and easily – even within specific groups.
In simple, ELPH 330 HS gives the complete HD experience for a cheaper price and is a compact camera that fits in your pocket. If you're a start-up vlogger then this is really all you need to start out.
---
However, while choosing what to buy, you should keep in mind several factors.
1. So, What is a good camera for Vlogging?
Firstly, you need to select your camera according to your vlogging category. This means, if you vlog about traveling or any other niche that needs regular outdoor activity, then you should go for cameras that have image stabilization properties. Besides, dust and water protection is an added advantage.
Secondly, you need to choose the one that fits your budget. The price of the camera now varies from several thousand to just under a hundred bucks. So, if you are a newbie in this La La Land of vlogging, then you should opt for a right balance of price and quality.
And finally, a camera that has an inbuilt microphone will be an added advantage for vlogging. But, if you have more budget to invest in your vlogging equipment, then you can go for a microphone. However, for new vloggers, a camera with a good internal microphone is an added advantage indeed.
2. What Camera Do Most YouTubers Use?
There are mainly two types of vloggers we generally find on video-sharing platforms like YouTube: one that shoots in the outdoor and one that shoots in a studio setup.
So, basically, their requirements are quite different.
Most of the vloggers that shoot outdoors generally prefer cameras that are lightweight, compact, and have image stabilization. Besides, they also check for the water and shock protection qualities. And, the vloggers who usually shoot in a home or studio setup generally choose bigger cameras that deliver clearer video output and have more panning capacity.
Canon Powershot G7 X is a compact camera that is used by several great YouTubers such as Pewdiepie, Joey Graceffa, Faze Rug, Zoella, Roman Atwood, and Marzia. They love this camera because of its state-of-the-art features an extremely lightweight yet durable body.
Vloggers like McJugger Nuggets and Aspyn Ovard now use Canon EOS 70D for its huge variety of lenses. Besides, they also like the precise and blazing-fast autofocus system of this particular camera.
Many great YouTubers are now trying their hands at the Canon Rebel Series, too. Canon EOS Rebel SL2 is one such camera in the series, which has received extremely positive reviews from vloggers. Popular YouTube stars like Connor Franta, Jenn Im, Trisha Paytas, and LaurDIY are now using products from this series as their primary camera.
3. What kind of camera is best for YouTube videos?
If you want to shoot indoors or in a studio setup and have a good budget, then pick Canon EOS 70D or Panasonic Lumix GH5. Both of these cameras can deliver optimum performance. Besides, you will have a wide variety of lens options to choose from.
Choose Canon EOS M3 Mirrorless Camera or Sony Cyber-Shot RX100 IV if you have a moderate budget. Both of them are compact and have amazing specifications to fulfill all your vlogging needs. Famous YouTube stars Faze Rain and Faze Apex now use Sony Cyber-Shot RX100.
Canon Power Shot G7 X Mark II and Fujifilm X-T20 Mirrorless Camera are the best outdoor vlogging cameras available in 2019. Both of these cameras are incredibly compact yet powerful to make them the grand old daddy of outdoor, travel, and adventure vlogging. YouTubers like Gordon Laing and ArtoftheImage now use the Fujifilm X-T20 Mirrorless, even for their indoor shoots.
And, if you want a camera that can deliver good output in both the indoor and outdoor setups, go for Sony A7 III. It is indeed a little pricey, but it won't give you a chance to complain and will serve all your vlogging purposes. Famous YouTubers like Jake Paul, Ricegum, Tanner Fox, and Jesse from BFvsGF now solely rely on this particular series.
4. Are GoPro Cameras Good for Vlogging?
You can find many great travel and adventure vloggers on YouTube, who mainly shoot with their GoPro Hero 7. YouTube stars like Peter McKinnon, Jeven Dovey, Matthew Karsten, Abe Kislevitz, Travis Burke, and Chris Spooner rely only on their GoPros for shooting amazing outdoor videos. Besides the video quality, they also like the compactness and water-resistant quality of this vlogging cam.
GoPro is a way better option for vlogging if you compare it to camcorders. It is way more portable and lightweight than the old-school bulky camcorders. Besides, it can shoot in a 4K resolution, which is impossible even for many high-end DSLRs.
The audio recording quality of GoPro is far better than most of the cameras available in 2019. According to my own experience, the inbuilt microphones of most of the cameras or camcorders are basically useless, as you really need a decent sound quality for vlogging. GoPro has the edge over other cameras as it can deliver good audio recording performance.
GoPro has another advantage for travel and adventure bloggers. It can be easily mounted almost anywhere, be it the hand or the head. And, this feature makes it an absolute beast when you want to be hands-free, like during rock-climbing or surfing. It is also an excellent advantage for vloggers who want to capture videos while riding their bikes or cycles.
5. What Camera Do Bloggers use?
Unlike vloggers, bloggers often need to capture video clips, besides still images. And, for that, they need a camera that can serve both the purposes of capturing images and videos. They also go for a camera that has an excellent inbuilt microphone to capture the audio. However, many bloggers now prefer a separate microphone for better sound quality.
In my experience, if you are more into blogging that requires awesome outdoor shots with great adventure clippings, then go for Canon Powershot G7 X or Sony Cyber-Shot RX100 IV. However, if you are more into beauty or lifestyle blogging, then go for a big camera such as SONY A7 III or Canon EOS 70D for crisper image and video quality.
You can also choose GoPro Hero 7 as it can capture stunning images, besides recording 4K video clips that are vitally needed for a great blogger. Besides, you can deliver an optimum experience to your audience as this adventure cam can also provide a decent sound output.
---
Conclusion: Best Vlogging Camera in 2019!
Believe me, these cameras are so cool that you'll feel like trying your hands on creating awesome videos even if you're a newbie.
If you're looking for the best value vlog camera for the money, and that DSLR quality, then G7X Mark II is what you should go for. Is it worth the extra dollars? Well, I'll leave that up for you to decide. I personally believe it does…
But, if you're on a budget then
ELPH 330 HS will do justice. it proved itself as the best vlogging camera for YouTubers on a budget. It's good for vlogging/because it achieves just what you need and it's easy to carry around.
I would like to conclude by saying that, your choice of the camera totally depends on your goals for vlogging and the budget you allocate. Let's get going!
Do let us know which of these cameras, do you consider as the best vlogging camera and why?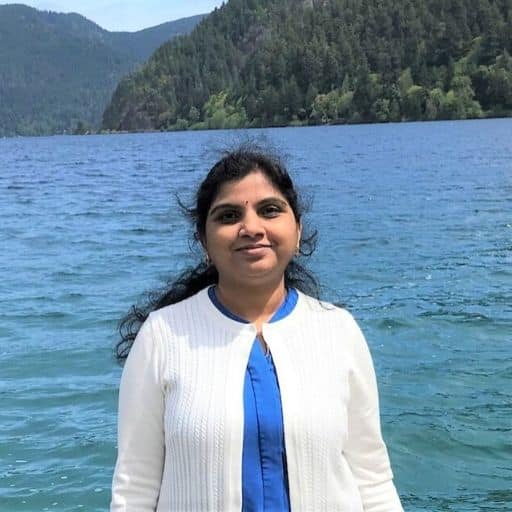 Hey Folks, thanks for stopping by my blog!
I'm Swati. I'm a mom, side hustler, full-time blogger and a millennial work-at-home expert featured on Forbes, CEO Blog Nation, Referral Rock, Vital Dollar, and Databox blog. I embarked on this impeccable journey to expose my online monetary experiences and help you all earn money from home. Come join my make money revolution and attain financial freedom – it's not as hard as you think!