Looking for a comprehensive Cash App Boosts list? You are in luck.
This timely post looks at the various instant Cash app discounts that you can earn when you use your Cash Card or Cash App account to make purchases.
Basically, the boost feature on Cash App allows you to save money instantly when you shop online and in-store.
Is this extra cash worth the effort? I say yes. Savvy Cash Card users get up to 50% off on card purchases, with a discount on one order ranging between $1 and $75+.
To help you understand this rewards program, we shall look at how to start using the Cash App Boosts feature, the list of Cash app boosts, the different types of boosts, and the limits you can expect from the program.
Before we get to that, do you have a Cash App account?
I invite you to join one of 2022's leading mobile money and banking apps. You can send and receive money, bank, and invest your money via this service from Block Inc, formerly Square Cash.
Sign Up Now using my Cash App free money code 2022 "ZFXCWHR", for which you'll get a free 5 dollars and 15 dollars for each of your successful referrals.
What are Cash App Boosts?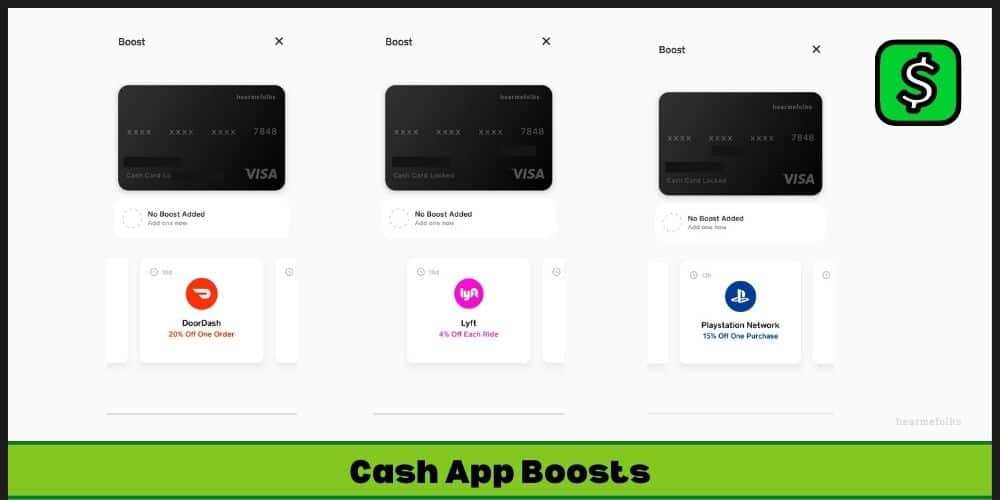 Boosts is a cash-back program offered by Cash App to Cash Cardholders when they shop at select merchants, restaurants, retailers, and coffee shops.
This is an instant cash-back system that allows you to save money by getting a discount whenever you accept and take advantage of a current Cash App Boost.
Unlike most cash back programs here, you don't need to submit any receipts or lodge a claim; Cash app card discounts lower your Cash Card purchases the very moment you pay for an item.
However, while all Cash App users can benefit from these cash back offers, only those who activate a given Boost get to save money on the specific purchase.
How to Add Boost On Cash App?
If you don't have a Cash Card, you can't access Boosts from the Cash App.
To get your Cash App account, click here to sign up and after your account is approved, apply for a free Visa Debit Cash Card.
Go to the Cash App home screen and tap Cash Card.
Select Get Cash Card.
Choose your favorite color and tap Continue.
Continue adding artwork to the card by tapping Tap to Customize.
Once you complete designing the card, input your name and email address.
Tap Continue.
Note:
a) You need to be 18 years old to apply for a Cash App Cash Card. Nevertheless, teens aged 13 to 17 can get a Cash Card for Teens with a parent's or guardian's approval.
b) You get your Card within 10 days but can start using it on Apple Pay and Google Pay, immediately after you make the application.
How To Add Boosts?
Once you get your Cash Card, it's time to hunt for boost active offers and earn cash via discounts. To view and use boosts as often as possible:
From your App's home screen, click Cash Card. The tab is at the bottom part of the screen.
Click Add Boost to display the different boost offers.
Tap to select the boost you want.
Tap Add.
To use a boost, you first need to view the restrictions after which you tap on Activate Boosts to agree to the offer's terms and conditions.
Note: You can only use one Boost at a time. According to Cash App, to get cash back from different offers, you have to switch from the old to the new boost. Also, each Cash App's discount has an expiration date.
Cash App Boosts List
To get an instant Cash App Card Boost today, tap Add Boost to reveal the Cash App deals available for your account. Lookout for the following best Cash App Cash Card boosts:
1. Cash App $100 off Boost 2022
This is one of the highest Cash App boosts available to all users. How does the $100 boost work on Cash app? You earn free $100 when you have deposited a minimum of $300 in your Cash App.
This is a one-time offer that earns your gift card to retailers like Amazon that accepts Cash App payments.
According to this subreddit, the boost is usually available to people who hit the minimum deposit from paychecks. To use the cash app $100 off boost, ensure your purchases amount to at least $100.
You can also get a $100 giveaway via Cash App's sweepstakes that run on the company's Twitter and Instagram.
2. Cash App $50 Boost
Are you a fan of VUDU Fandango streaming services? This is a US-based digital video service that's owned jointly by NBC and Warner Bros.
For your online on-demand video rentals, you get 5% off for each purchase through Cash App Cash Card.
The minimum allowable purchase for the boost is $1 with the maximum boost capped at $50, hence the name cash app $50 boost.
3. Cash App Boost 99% Off

For a short while, Cash App ran a 99% off Boost for a minimum purchase of $1.50. The maximum discount allowable was capped at $20.
However, like other boosts, the offer was not applied to cash back transactions and was viable for 20 minutes only.
After a user added the boost, their next purchase to "anywhere" only cost them 1% of the offer price.
Get such limited and high-value boosts via Cash App on Instagram or through tweets.
4. Cash App Boost Instacart
Instacart is an American grocery delivery service that is available in both the US and Canada. It allows freelance personal shoppers to make money via delivery fees and tips from customers.
Through boosts, customers who make Instacart purchases with the Cash App Cash Card can expect occasional discounts.
In one such offer, shoppers got 99% off their Instacart+ (formerly Instacart Express) membership for a month. The fee is currently $9.99 per month, meaning the lucky user got a $9+ discount.
Related Post: Best Food Delivery Jobs
5. Cash App DoorDash Boost
DoorDash is yet another delivery service that can get you a Boost when you purchase with your Cash Card. How the service works is that you order food from restaurants and a Dasher delivers it to your doorstep.
There have been many Cash App DoorDash discount offers over the last 2+ years. A typical one gets you 15% for orders of $2 or more, with the maximum earnings being $15.
Another boost gave you 10% off for any DoorDash order. Further, with a total of at least 3 orders, new DoorDash users could get a $5 off Boost.
6. Cash App Restaurant Boost
Cash App has introduced a 10% restaurant boost. Usually, you can use these boosts every week, and usually after you have made a direct deposit.
The boost is active to the likes of Mcdonalds, Chick-Fil-A, and Dominos. Also, the restaurant boost can be used to earn you 10% in Bitcoin for one order, once a week.
7. Cash App Anywhere Boost
Looking for a Cash App 30 dollars off boost? By using the Cash Card regularly and following the Cash App on social media, you are eligible to get instant "anywhere" Cash Boosts of different values.
These are discounts that you can get from food retailers like grocery stores or coffee shops, as well as large retailers like Target and Home Depot.
A typical boost earns you $30 free cash off your next big purchase.
NOTE: This cash discount requires that your account is identity-verified and has a physical address.
8. Cash App Coffee Boost
When you use your Cash Card at coffee shops, you can save $1 when you spend a minimum of $1.50.
Oftentimes the boost renews after 30 minutes or so with the maximum discount set at $7.50 for each purchase.
The boost is active in establishments like Starbucks, Dunkin' Donuts, and Tea Leaf. Other participating brands include Chipotle and Taco Bell.
9. Cash App Walmart Boost
First off, the Cash app 10% grocery store boost does not apply to stores like Walmart and Target. As Cash App explains, such businesses "are more than a grocery store".
That said, you occasionally get a Walmart-specific promotion. The boost is usually a 5% discount for big box stores and is capped at between $7.50 and $50.
When active, such boosts work every hour with their validity period lasting between a day and 4 weeks.
10. Cash App Debit Card Boost
After you have downloaded the Cash App and applied for a card, your Cash App menu starts getting populated with debit card boosts.
You need to have the Cash App activated with the most popular of the boosts being the $100 for $300 in direct deposits.
The deposit can be from paychecks, gifts from friends, or other Visa payment services.
List of Cash App Boosts
| Brand/Type | Maximum Boost |
| --- | --- |
| Anywhere | 99%, max $20 |
| Cash App Check Deposit | $100 for depositing $300 |
| Vudu Fundago | 5%, max $50 |
| Instacart Express Membership | 99% for a month |
| DoorDash | 15%, max $15 |
| Walmart | 5%, max $50 |
| Burger King | 5%, max $7.50 |
| Starbucks | 15%, max $7.50 |
| Twitch | 50%, max $15 |
| Sam's Club | 5%, max $20 |
| 7-Eleven | 15%, max $7.50 |
| Playstation | 5%, max $5 |
| Popeyes | 15%, max $7.50 |
| Xbox | 15%, max $5 |
| GOAT | 5%, max $15 |
| Flight Club | 5%, max $15 |
| Domino's | 5%, max $3 |
| Dell | 5%, max $75 |
| Little Caesars | 5-6%, max $10 |
| Adidas | 5%, max $75 |
| Albertsons | 5%, max $10 |
| Lyft | 8%, max $5 |
| Chewy | 5%, max $7.50 |
| Bitcoin | 10%, max $7.50 |
| USPS | 20%, max 7.50 |
| Chick-fil-A | 5%, max 7.50 |
| GoPuff | 10%, max $5 |
| McDonald's | 10%, max $7.50 |
| Any Coffee Shop | $1 every half hour |
| Miller's Ale House | 10%, max $7.50 |
| Pollo Tropical | 10%, max $7.50 |
| Mattress Firm | 5%, max $300 |
| Any Grocery Store | 10%, max $7.50 |
| Shake Shack | 15%, max $7.50 |
| Dairy Queen | 10%, max $75 |
| Walgreens | 10%, max $7.50 |
| Whataburger | 5%, max $7.50 |
| Panda Express | 10%, max $75 |
| Taco Bell | 5%, max $5 |
Also Checkout: Free Cash App ATMs
How to Unlock a Boost?
While Cash App boosts are worth real money with your purchases, the discounts are not automatic and must be activated.
Simply put, all the boosts in your menu are "locked" with a lock icon and remain inactive until you "unlock" them.
To unlock locked boosts;
Start by viewing the specific offers by tapping the Cash Card tab from the home screen.
Next, tap the Boost that you are currently and click Swap.
Scroll through the different offers to see the boost with a lock icon and tap on it.
The program details for making the offer active will be displayed.
For example, you may already enjoy the boost and have to allow a certain period to lapse before you can use the discount again.
The conditions details may also require you to have a minimum Cash App balance.
Missing Boost On Cash App? [Here's What to Do]
If you check the app for a boost and apply it, you should expect the discount to immediately reflect on your cash balance.
For example, if you qualify for a $10 off Cash App Boost that requires you to spend $50 at a Nike or Goat store, and have a balance of $150, then you expect your Cash App to display $110 instantaneously after you make the payment.
If the balance shows $100, it means the boost is missing and wasn't applied.
To this end, Cash App provides you with a way to dispute and review such boosts. Here is how to go about it:
From the home screen, click on the Activity Tab.
Go to the payment with a missing boost and select it.
Tap on the three dots (…) at the top to display menu options.
Select Missing Boost.
A new screen will display, click Submit For Review.
Cash App support will get back to you, via email, with a) a reason as to why the boost did not materialize or b) credit to your balance with the missing discount.
Cash App Boosts to Earn Bitcoin
Boosts aren't the only way to earn money on Cash App. You can buy and sell crypto with just an initial investment of $1. The best part is that you can rack up Bitcoin for the initial investment from Boosts.
Bitcoin Boosts are listed in the same carousel as the other cash boosts, and all you need is to tap to activate the offer. After you make the required purchase, the discount is applied to your Bitcoin balance.
A typical boost can get 10 percent worth of Bitcoin when you make a minimum purchase of $1.50 at any restaurant, with maximum earnings capped at $7.50 in cryptocurrency.
View your Cash App Bitcoin balance by going to the home screen and clicking the Investing tab, followed by selecting Bitcoin.
For everything you need to know about the Cash App Bitcoin boosts, check out #CashAppBTCWeek and #CashAppBoostWeek on Twitter.
Cash App Boosts to Earn Stocks
Apart from Bitcoin, you also make money investing stocks via Cash App. These are fractional shares of companies like Lyft that you can buy and sell when the prices soar.
The minimum buy is $1 and you can accumulate your stock shares through boosts. At the same time, you can earn stocks through giveaways like the one above.
The offer gave new Cash App investors $5,000 worth of stocks. The boost required no purchases with the Cash Card; just sharing the original post and including the name of the company's stock you were interested in.
Cash App Boost Limits
Cash App giveaways and boosts are governed by strict rules. Such guidelines include limits on how much you can get from every boost and the minimum amount of spending that allows you to claim a discount.
At the same time, you can't use every boost simultaneously, but rather you have to switch between one offer and the next, or Swap to opt out of a boost to activate the next one.
Lastly, boosts are typically available to users who make payments via Cash App Card Card only.
Click Here To Get Your Cash App and apply for your Cash Card.
List Of Cash App Boosts: FAQs
1. Do Cash App Boosts Expire?
The one thing that many people don't know about boosts on Cash App is that they expire, whether or not you use the discount. The expiration date can vary from a few minutes to a month. Expired boosts may, however, renew after an hour or so depending on the offer.
2. Are There Any Cash App Boost Hacks?
Cash boosts are free discount opportunities that are open to all Cash Card users. Any person promising you big returns for applying boost hacks is more than likely running an illegal Cash App scheme to steal your money, personal information, or banking details.
3. Can You Use Cash App Boost Online?
Currently, boosts are only available to Cash App users who pay using a Cash Card. As a matter of fact, you have to start by getting the Visa Credit Card before your Cash App can access available boosts.
4. What is Considered a Grocery Store on Cash App Boost?
Cash App rules on grocery boosts state that the discount is offered by exclusive grocery stores, both local and nationwide retailers.
Nevertheless, big box retailers like Walmart and Target aren't considered under the category, even though they sell groceries, since "they are more than a grocery store".
5. Does Walmart Count as a Grocery Store for Cash App Boost?
Although Walmart sells groceries, the retail giant does not feature as a grocery store in the Cash app boost grocery store list. The reason is that the company stocks more than groceries.
There are, however, occasional Walmart-specific boosts that you can apply irrespective of what you purchase at the store.
6. Can You Swap Boosts?
You can only apply a single boost discount at a time. That said, you can swap between boosts, whether or not you got to use the previous boosts.
The Swap feature can be accessed via the home screen > Cash Card > Swap (the active boost) > Add Boost (new boost).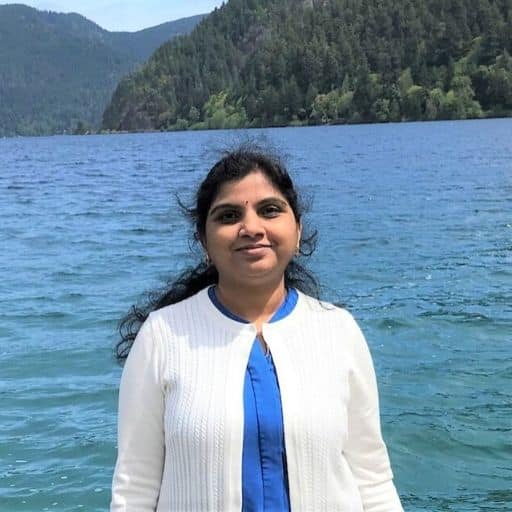 Howdy Folks, thanks for stopping by my blog.
I'm Swati, a proud mom, dedicated side hustler, full-time blogger, and a recognized millennial work-at-home expert. My expertise has been featured on esteemed platforms such as Forbes, CEO Blog Nation, Referral Rock, Vital Dollar, Databox blog, and many more. I have embarked on this incredible journey to share my firsthand experiences in the world of online income generation and to assist all of you in earning money from the comfort of your homes.
Join me in my mission to revolutionize the way we make money and achieve financial freedom. Trust me, it's not as challenging as it may seem!
Together, let's explore the boundless opportunities and pave our paths towards a prosperous future.