The question of whether or not you can get paid to attend events is a simple one. On one hand, there are definitely opportunities out there for people who are willing to put in the time and effort to attend events and report back on them.
On the other hand, there are also plenty of scams and shady paid event operators. These are scammers who will promise you the moon and then leave you high and dry.
Without question though, getting paid to attend events is a simple side hustle that can see you earn real cash. You can earn by attending ball games, seminars, e-games, weddings, corporate events, dinners, and more.
In this article, we'll take a closer look at some of the different ways that people can make money by being a +1. Also, the post covers some of the pitfalls to watch out for.
Is Getting Paid to Attend Events Legit or a Scam?
Of course, not all opportunities to make money by attending events are legitimate. There are plenty of fraudsters that promise to pay you for attending events, but then fail to deliver on the promises.
Some of these scams involve paying a fee upfront in order to gain access to a list of events that you can supposedly attend and earn.
Others may offer to pay you for your time but then require you to purchase products or subscribe to services in order to access payment.
To ensure you are not scammed, here are some guidelines to get paid for events:
Never pay money upfront in order to participate in an event. Legitimate opportunities will not require you to pay anything in order to attend an event.
Exercise caution when presented with offers that appear excessively beneficial. If you are being offered thousands of dollars to attend an event and you aren't a celeb think twice; it is most likely a fraudulent scheme.
Not all events are created equal when it comes to making money. Some events may be more lucrative than others, depending on the type of work you are doing and the amount of time and effort required.
For example, working as a brand ambassador at a large trade show may be more lucrative than covering a small local festival for a blog.
Also, the amount of money you can earn is influenced by various factors. They include your abilities, expertise, and your readiness to invest the necessary time and work.
While there are definitely opportunities out there for people who are willing to get paid to work events, it's important to be cautious and do your research before committing to any GPT hustle.
Do You Really Get Paid to Attend Events?
Getting paid to attend events is a real opportunity that sees you earn for showing up at parties, conferences, seminars, contests, studies, product launches, and more. The hustle requires you to be in a professional capacity to add value to the event, during or after it takes place.
As a blogger, social media influencer, or brand ambassador, you might have come across offers to attend events and get paid for them. This might seem like an easy and fun way to make money, but why do you really get paid to attend events?
First, let's define what we mean by "getting paid to attend events."
Typically, this refers to receiving compensation for attending an event as a guest, either in the form of cash, gift cards, or products.
This differs from being hired as an event staff member, which would involve working during the event and being paid an hourly or daily rate.
How to Get Paid to Attend Events?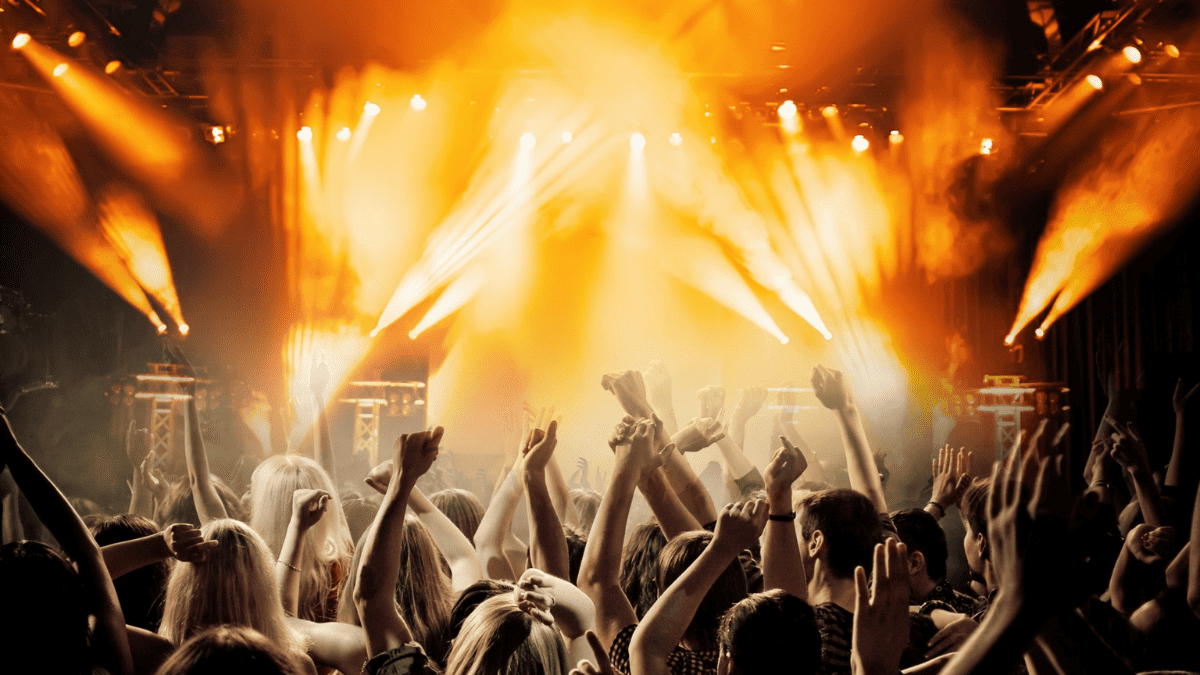 Here is a breakdown of the different ways you can potentially earn at events:
1. Sponsored Content
Sponsored content means that a brand or event organizer will pay you to create content before, during, or after the event that promotes their product, service, or event.
The content can take many forms including website articles, social media posts, and viral videos.
To be eligible for sponsored content opportunities, you'll need to have a significant following. Also, your followers need to be on a platform that aligns with the brand or event's target audience.
For example, if you're attending a fitness expo, a brand might be interested in sponsoring your Instagram post. This is only possible if you have a large following of fitness enthusiasts.
The money you get from sponsored content will vary depending on your audience size and the scope of the campaign.
Some brands may pay a flat rate for a single post. Others may offer a package deal for multiple posts or content formats.
2. Speaking Engagements
If you have a specific area of expertise or are well-known in your industry, you might be invited to speak at events as a guest speaker, in person, or online.
In this case, you would be paid for your time and expertise rather than just for attending the event as a guest.
The amount you can earn for speaking engagements can vary widely depending on the function and your level of experience.
Some speakers may be paid a few hundred dollars for a short talk, while others may earn thousands of dollars for a keynote address.
Keep in mind that landing speaking engagements usually requires a significant amount of networking and building a reputation in your industry.
It's not something that typically happens overnight, but can be a great way to earn money and establish yourself as an authority in your field.
3. Event Sponsorship
If you have a large following and a highly engaged audience, you might be able to secure an event sponsorship.
This means that a brand or event organizer will pay you to attend the event as a guest and promote their product or service to your followers.
In this case, you would be expected to create content that promotes the brand or the event before, during, and after the event. You might also be asked to attend certain activities or participate in a specific way to help promote the brand or event.
The amount you can earn will depend on the scope of the campaign and your audience size.
Some brands may offer a flat rate for the entire campaign, while others may offer a commission-based payment structure based on the number of attendees that use a specific discount code or link.
4. Affiliate Marketing
Some influencers may be able to earn money through affiliate marketing at events.
In this model, you earn money by endorsing a product or service to your followers. The payment is a percentage of the sales that are generated using your discount code or your personal affiliate link.
Affiliate marketing can be a great way to get paid to work events, but it requires a bit more work than just attending an event as a guest. You'll need to create content promoting the product or service, and you'll need to actively encourage your audience to use your affiliate link or discount code.
It's good to note that affiliate marketing may not be a steady source of income.
Success depends on a variety of factors, including your audience size, engagement rate, and how well the product or service aligns with your audience's interests.
Related Post: Best Affiliate Marketing Programs in 2023
5. Guest Blogging or Covering Events as a Journalist
If you have a blog or website, you can get paid to attend events by writing guest blog posts for event organizers or sponsors. This is a great way to gain exposure for your brand and earn money at the same time.
By working as a journalist or blogger, you attend an event and then write about it for publication.
Depending on the outlet you are working for, you may be paid a flat fee for your coverage, or you may be compensated based on the number of page views your article receives.
6. Brand Ambassador or Influencer
Brand ambassadorship is closely related to affiliate marketing in that you are required to market products on behalf of a company. The gig is, however, more prestigious and pays better.
Also, you are likely to travel on the company's dime, from one event to the other. Additionally, your sponsor may require wearing and using their merchandise.
Depending on the specifics of the job, you might be paid a flat fee for your services, or you might be compensated per event on top of travel allowances and products.
7. Product Reviews and Surveys
Companies pay reviewers to appraise their merchandise. You can participate in events where the merchandise is being presented and later offer feedback and reviews on your blog or social media accounts.
Sponsored product reviews are a win-win situation for both the brand and the influencer; the company benefits from the influencer's audience and reputation, while the influencer earns money and receives free products to review.
However, it's important to maintain transparency by letting your readers know you feature sponsored content for authenticity.
8. Contest Judging
Some events will hold contests and competitions as part of their programming. You can get paid to judge such competitions, which can include anything from photography competitions to cooking contests.
9. Social Media Takeovers
Brands may pay influencers to take over their social media accounts during events. For example, Facebook Live paid events include posting live updates, sharing photos and videos, and interacting with followers.
10. VIP Access
Some events may offer VIP access to influencers and bloggers in exchange for coverage of the event. This can include access to exclusive areas, early entry, and special perks like free food and drinks.
Get Paid to Attend Events
By leveraging your online presence, and networking with brands and event organizers, you can potentially earn a significant income while attending events that interest you.
Whether you're creating sponsored posts, reviewing products, or speaking at conferences, there are many opportunities to turn your love of events into a source of income. Below are some examples of paid events:
11. Participating in Market Research Studies
Many companies conduct market research studies at events in order to gather feedback from attendees.
These studies may involve filling out surveys, participating in focus groups, or testing out new products. In most cases, you are paid for your time and feedback.
12. Selling Products or Services at Events
If you have a product or service that is relevant to the attendees of an event, you may be able to set up a booth or table and sell your wares. Depending on the event, this could be a lucrative way to get paid to work events.
13. Providing Event Photography or Videography Services
Event organizers are always on the lookout for skilled photographers and videographers to document their events.
By hiring you to capture the essence of their event, they can have high-quality visual content to promote future events or showcase their brand.
As a photographer or videographer, you can showcase your talent and build your portfolio while also earning a paycheck. The service can be a timely opportunity for anyone looking to gain more experience in event post-production.
New Post: Where Can I Sell My Photos
14. Providing Event Planning or Coordination Services
With experience in event planning or coordination, you can offer your services to event organizers. This can involve helping with logistics, coordinating vendors, or managing an entire event.
15. Providing Entertainment or Performances at Events
This would include performing on stage, providing background entertainment, or leading interactive activities for the attendees.
Depending on the type of event, organizers may be looking for various forms of entertainment to enhance the experience of their guests.
For instance, if the event is a corporate conference, they may be looking for a motivational speaker or a comedian who can lighten the atmosphere.
Alternatively, if it's a music festival or concert, they may be searching for musical performers who can add to the excitement and ambiance of the event.
As an influencer, offering your performance services to the event organizers can not only help you earn a fee but also allow you to showcase your talent to a larger audience.
16. Working as a Booth Host or Hostess
Many events require booth hosts or hostesses to greet attendees, answer questions, and provide information about the event or product being promoted. In this role, you would be paid for your time, sales experience, and communication skills.
17. Providing Translation or Interpretation Services
If you are fluent in multiple languages, you may be able to offer your services as a translator or interpreter at events where attendees speak different languages.
This could involve translating materials, interpreting for keynote speakers, or facilitating conversations between attendees.
Interested in getting paid for your typing skills? As a translator, you can translate and type for your clients to read off a screen, miles away.
18. Providing Technical Support or Audiovisual Services
To ensure the smooth operation of many events, technical support or audiovisual services may be necessary.
Such services include managing and setting up audiovisual equipment, addressing technical issues, or offering other types of technical support when needed.
Get Paid to Attend Seminars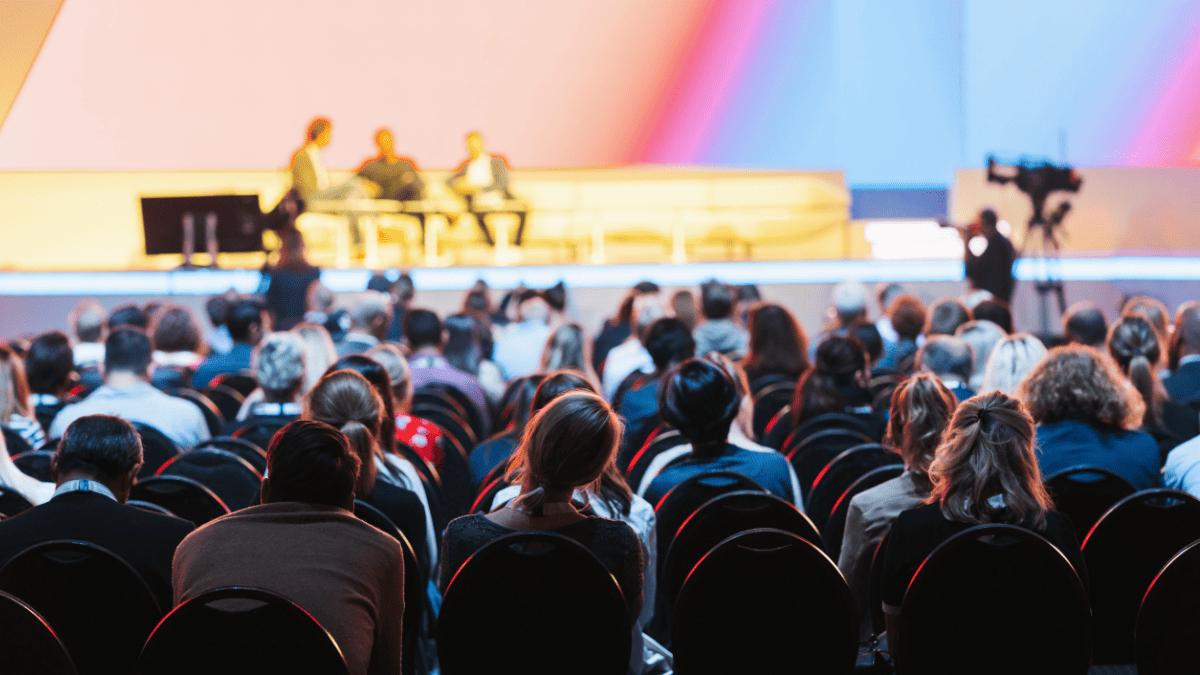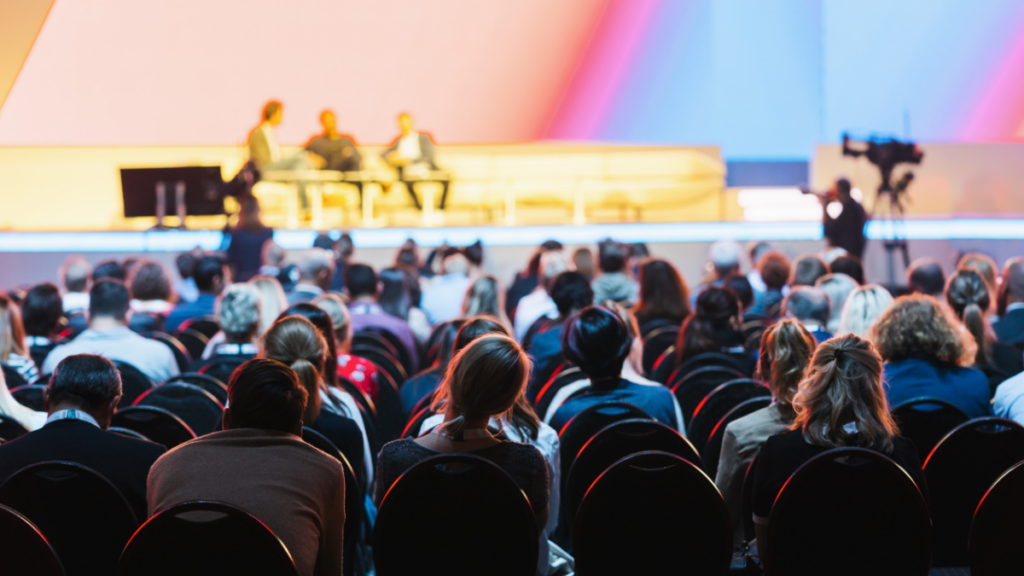 Seminars are a great way for companies and organizations to share information, educate people, and promote their products/services.
But attending a seminar can be expensive, especially if it requires travel or takes place over several days. That's why the companies below are willing to pay influencers to attend their seminars and put the word out.
19. Adobe MAX Conference
Adobe is a well-known software company that provides creative solutions for professionals in the digital marketing industry.
Every year, Adobe holds its MAX Conference, a three-day event that includes keynote presentations, hands-on labs, and networking opportunities.
The conference is attended by leaders in the creative industry. Invitations go out to the likes of graphic designers and videographers.
To promote its products and services, Adobe invites influencers to attend the conference and share their experiences on social media.
These influencers are paid for attendance in exchange for creating content about the event and the new services being rolled out. In exchange, Adobe gets exposure to the influencers' followers and potential customers.
Enroll for Adobe Max News & Events Today
20. Social Media Marketing World
This is a yearly event that brings together professionals in the social media marketing industry. The conference features keynote presentations, marketing tech, workshops, and networking opportunities.
Social Media Examiner, the organization responsible for organizing a conference, invites influencers to attend the event as a promotional strategy for the conference and its sponsors.
You receive payment for attending the conference and are expected to share your experiences and thoughts about the event on your social media handles.
In turn, you help raise awareness and generate interest in the conference. Your attendance is based on the size of their following and the relevance of your niche or area of expertise.
Register for Social Media Marketing World Events
21. CES Trade Shows
This is an annual trade show that showcases the latest technology products and services. To promote their products and services, technology companies invite influencers to attend CES and share their experiences on social media.
These influencers are paid to attend the event and create content about the products and services they encounter. In exchange, the companies get exposure to the influencers' followers and potential customers.
Join Consumer Electronics Show Events
22. Participating in TED Conferences
TED is a nonprofit organization hosting conferences and events around the world. The conferences feature speakers who give TED Talks on various topics, from science and technology to social issues and culture.
To promote the conferences and its speakers, TED invites influencers to attend the events and share their experiences on social media.
You get paid to attend and create content about the speakers and their talks. In exchange, TED gets exposure to your followers and potential donors.
23. Salesforce Seminars
As a global leader in customer relationship management (CRM) software, Salesforce frequently organizes seminars and conferences to share insights on the latest technology trends, best practices, and product updates.
To boost attendance and create buzz, the company invites influential people including thought leaders, bloggers, and social media personalities to its events.
You are offered VIP access, exclusive perks, and even cash rewards in exchange for social media mentions, live-tweeting, and blog posts about the event.
Get Paid to Go Clubbing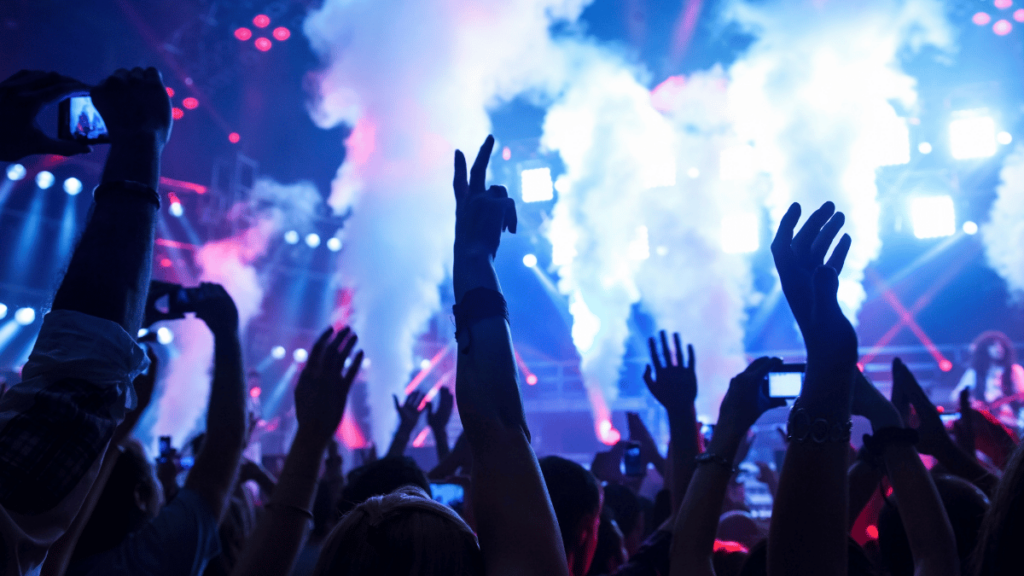 If you're looking for a fun and exciting way to earn some extra cash, getting paid to go clubbing may be the perfect opportunity for you.
Whether you're a promoter, VIP host, dancer, photographer, or bartender, there are plenty of companies out there that are willing to pay you to party.
24. Become a Promoter
Promotional staffing agencies like Experience Staff, PromoStaff, and Varsity Promo Group hire people to work at events, including nightclubs.
As a promoter, you are responsible for promoting a particular brand or product at a nightclub, distributing free samples or swag, or simply encouraging people to have a good time.
The pay rate for this type of work can vary, but you can typically earn anywhere from $15 to $30 per hour.
According to ZipRecruiter, as of April 2023, promoters earn around $17 per hour, translating to an annual salary of $35,895.
25. Work as a VIP Host
As a VIP host, you'll be responsible for ensuring that your clients have a great time at the club, and you may be expected to network with other VIPs and industry professionals.
The pay rate for this type of work can be quite lucrative, with some hosts earning up to $500 per night.
According to ZipRecruiter, a VIP Casino Host in the United States earns an average annual salary of $39,043; this amounts to an hourly wage of about $18.77
26. Become a Go-Go Dancer
Go-Go dancers are typically hired by clubs and entertainment venues to dance on stage or in cages, and the pay rate for this type of work can vary depending on the venue and your experience level.
According to Comparably, GoGo Dancers in the US earn an average salary of $33,993 and receive an average bonus of $411 per year.
They earn the highest salaries in San Francisco, with an average annual income of $40,464, which is 19% higher than the national average.
27. Nightlife Photographer
Many clubs and entertainment venues hire photographers to capture the energy and excitement of their events. The pay rate for this type of photography is approximately $17.80 per hour.
28. Work as a Bartender
Many clubs and entertainment venues hire bartenders to mix drinks and serve customers. With stellar mixology skills, you can get a free pass to exclusive clubs.
The pay rate for bartending can range from $20 to $40 per hour. As of March 2023, the typical salary for bartenders in the United States was $22,620 annually.
Note, several key factors, such as education, certifications, additional skills, and work experience, can significantly influence the salary range.
29. Participate in a Club Promotion
Some entertainment venues run promotions where they offer cash prizes or other incentives to people who attend their events.
The promotions may include things like dance contests, costume contests, or other interactive activities. Participating in these promotions can be a fun and easy way to earn some extra cash while enjoying the party atmosphere.
How to Make Money Partying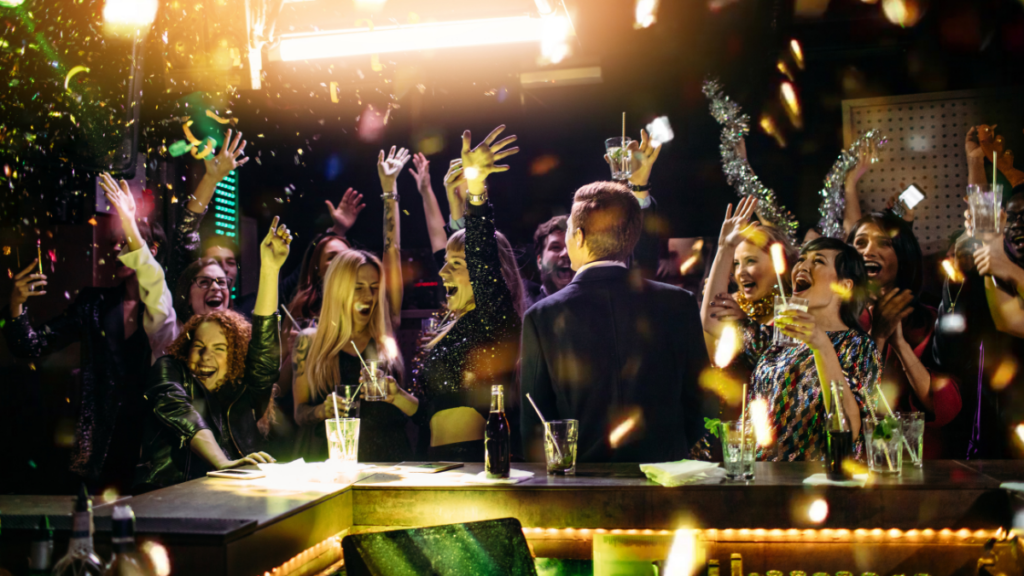 Do you love to party? Do you find yourself constantly scrolling through your Instagram feed, admiring the luxurious lifestyles of social media influencers?
It's time to channel your need for partying into cold hard cash. Here are some pointers:
29. Subscribe to Hooch App
Hooch is a subscription-based app that offers its members one free drink per day at participating bars and nightclubs.
They also offer exclusive access to events and parties, and they're always on the lookout for brand ambassadors to help spread the word about their app.
Initially, Hooch provided a simple and enjoyable offer that for $9.99 every month, you could get one free drink daily from participating restaurants and bars.
However, the company later introduced a more expensive subscription called Hooch Black that came with extra benefits such as hotel discounts and concierge services.
The app has already alluded to the idea of using blockchain technology to create a decentralized approach to customer rewards.
30. Join Party Host Helpers
Party Host Helpers is a party staffing company that provides hosts, bartenders, servers, and other event staff to clients.
They're always hiring outgoing and friendly people to attend and work parties as hosts.
The pay rate for host helpers can range from $15 to $30 per hour. ZipRecruiter reports that as of April 2023, the job pays $25 an hour in the United States.
Apply to Become a Party Helper
31. RMC Events
RMC Events is a renowned event staffing organization in Virginia. The company has grown by focusing on hiring good people and fostering a family culture.
The company provides event staffing services to 10,000+ events annually and has more than 2,000 employees.
The agency specializes in event staffing with a 'Fan First Focus' and offers personnel for roles such as parking management, ticket sales and collection, access control, and crowd management.
Some of the events that RMC works on include the Firefly Music Festival, the State Fair of Virginia, Richmond Nascar, and the VCU Athletic Games.
32. Nightlife Media
Nightlife Media is a media company that focuses on covering the nightlife scene in major cities across the country. They're always looking for photographers, writers, and other content creators to help cover events and parties.
The company hires students to assist in publishing regular content on their latest platform in various clubs and bars in the region.
Your main duties will include generating fresh content, collaborating with club and bar partners to organize events, and approaching local venues to integrate the platform into their everyday marketing strategy.
The pay rate is around $50 to $300 per assignment. View a Typical Nightlife Media Job Opportunity
Paid Events On Facebook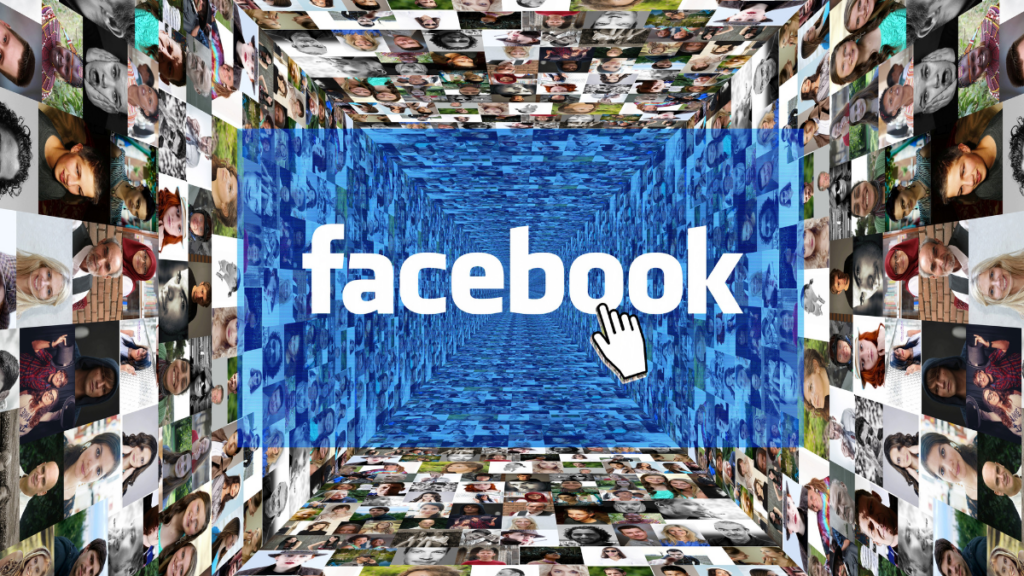 If you're an avid Facebook user, you may have noticed that the platform has become a hub for events of all kinds.
From birthday parties to music festivals, Facebook Live paid events have become a go-to resource for planning and promoting events.
First things first, how do you find paid events on Facebook? It's actually pretty simple.
When you're browsing events on Facebook, you can filter your search results by selecting "Paid events" under the "Type" filter. The generated list will be functions that require payment for attendance.
So, what kind of events can you expect to find on Facebook that require payment? Some common examples include:
33. Online Courses and Workshops
Facebook offers a plethora of online courses and workshops that require payment. These courses are often taught by experts in different fields and can be a great way to enhance your professional or personal development.
34. Music Festivals and Concerts
You can find plenty of Facebook Live events such as music festivals and concerts on the platform that require payment to attend. These events often feature popular artists and offer exclusive perks like VIP access or backstage tours.
35. Food and Drink Tastings
As a foodie or a wine connoisseur, you'll love the paid food and drink tastings on Facebook.
These events offer the opportunity to try new and exciting foods and beverages while mingling with like-minded individuals.
The companies behind such events can be eateries, breweries, and outside caterers.
36. Fitness Classes and Wellness Retreats
Facebook has become a popular platform for fitness enthusiasts and wellness seekers. The site helps people to find and participate in a wide range of paid fitness classes and retreats.
Some classes are designed for varying fitness levels or goals. For example, you can have classes for weight loss, stress relief, mental acuity, or stress relief.
Participants can interact with the trainers and instructors during the classes, ask questions, and get personalized feedback. Typically, participants hope to learn new techniques.
Wellness retreats, on the other hand, are immersive experiences that last for several days and offer a variety of activities. Such activities include yoga and meditation, outdoor adventures, healthy eating workshops, and spa treatments.
These retreats can be a great way to disconnect from everyday life and focus on your physical and mental health. Further, they help you learn new skills and make connections with like-minded people.
37. Art Exhibitions and Performances
Facebook offers a diverse selection of paid art exhibitions and performances. The opportunity is for attendees to immerse themselves in the world of art and experience new forms of creative expression.
Live exhibitions may include paintings, sculptures, installations, and other visual arts, while performances may include music, dance, theater, and spoken word. For renowned creatives, organizers pay you to publicize the events.
Attending these events can be an enriching experience for those interested in the arts, providing exposure to new artists and works, and fostering a deeper appreciation for creative expression.
38. Conferences & Networking Events
The social media giant offers an opportunity to mingle and hook up with other personalities in your industry.
Just like in TED Talks, you can be paid to host and coordinate the events, provided that you are a big name in your field.
39. Charity Events and Fundraisers
If you're looking to give back to your community or support a cause you care about, Facebook offers a variety of paid charity events and fundraisers. These events allow you to make a difference while enjoying a fun and meaningful experience.
Do Influencers Get Paid to Attend Events?
Have you ever wondered if influencers get paid to attend events? Let's explore the answer to that question by looking at some of the events influencers get paid to attend.
40. Product Launches
One of the most common events influencers get paid to attend is product launches.
Brands will often invite influencers to attend their launch events to promote their products on social media. This can include posting about the product, sharing visual content from the function, and fulfilling content requests.
Below are real-life examples of product launches driven by influencers:
Banza, a New York company that specializes in making chickpea pasta, had confidence that their product could succeed if influencers helped promote it.
This strategy eventually paid off as many influencers joined tried Banza products and wrote great reviews to their followers, leading to increased brand awareness and sales.
ButcherBox, a Boston-based meat subscription service, was founded with the goal of making high-quality grass-fed beef more accessible to people.
The company created quite a buzz by launching a successful Kickstarter campaign. First, health influencer Chris Kresser tweeted about the company leading to many sign-ups.
The company reached out to other influencers, as well as food and health bloggers, who helped to promote it to consumers.
Thanks in part to this influencer marketing strategy, ButcherBox now has over 10,000 customers who use their meats for meals, generating more than $20 million in annual revenue.
3. Glossier
Glossier, a beauty product startup based in New York, has become one of the most successful skincare brands in the United States.
They have achieved this by creating many popular skincare and make-up products and taking a unique approach to influencer marketing.
Instead of targeting traditional influencers, Glossier sends its products to ambassadors who help spread the word about new releases.
4. Leesa
This company has reinvented the mattress industry in the United States. Basically, it has done away with storefronts and now lets buyers get mattresses dropped at their doorsteps.
Basically, the company has carved out its own niche and disrupted the mattress marketplace. It pursued influencers from Instagram, popular blogs, and other channels.
YouTube helped spread the word faster especially after viewers could see the mattresses unboxed by famous vloggers.
5. MVMT
The Los Angeles-based outfit was started via crowdfunding, then used influencer marketing to introduce the brand to the world.
This strategy helped MVMT gain a significant following and become a recognizable brand in the watch industry. Since its launch in 2013, MVMT has expanded beyond watches to include sunglasses, jewelry, and other accessories.
The success of MVMT shows how influencer marketing can help even small startups with limited resources build brand awareness and grow quickly.
Join the MVMT Ambassador Program
41. Fashion Shows
Influencers with a good following in the fashion field are often invited to attend fashion shows. Brands will pay influencers to attend these events and promote their clothing or accessories on their social platforms.
For example, fashion influencer Chiara Ferragni was reportedly paid millions of dollars to attend the Dior fashion show.
42. Music Festivals
These events are typically attended by thousands of music enthusiasts, many of whom are active on social media platforms. As a result, brands have recognized the potential of music festivals as a platform for influencer marketing.
For example, REVOLVE, a fashion brand, hosts its own influencer-studded festival called "REVOLVE Festival" every year during Coachella, where they pay influencers to attend.
43. Trade Shows
Trade shows are events where professionals gather to market their products, mingle with peers, and discover the latest trends and innovations in the industry.
Influencers who have built a following in a particular industry can provide valuable insights and perspectives on these events, making them an attractive target for brands looking to promote their products or services to a targeted audience.
For instance, an influencer with expertise in the tech industry might be invited to attend a show focused on the latest advancements in technology.
Similarly, beauty influencers may be invited to attend trade shows that feature new beauty products, trends, and hair techniques.
44. Sporting Events
Influencers who have built a following in the sports industry, such as athletes, sports commentators, or sports journalists, can be invited to attend major sporting events such as the Olympics or the Super Bowl.
These events attract massive global attention, and having an influencer present can help to generate even more buzz and excitement.
Brands and event organizers may invite you to attend the games and share your experiences with your followers. If you have enough clout, you may get paid to participate in interviews and panel discussions.
Rachel Stuhlmann, a famous tennis influencer known as the "world's sexiest tennis influencer," recently surprised her fans by flaunting Super Bowl-themed bras in support of the matchday contenders.
45. Charity Events
Influencers who have a passion for giving back may get invites to charity events. Brands will pay influencers to attend these events and promote the charity on their social media.
For instance, actor and influencer Jamie Foxx is a common face in the Down Syndrome Foundation events.
46. Movie Premieres
Influencers in the entertainment industry may be invited to attend movie premieres. Brands, sponsors, and media companies pay influencers to promote the movie on their social media platforms.
Sometimes, popular influencers are paid to post about being cast in certain films, just to generate interest before the premiere.
47. Food Festivals
Food festivals are events that celebrate various types of cuisine, culinary traditions, and food culture.
These festivals provide an opportunity for food enthusiasts and professionals to come together, share their knowledge, and explore new trends and flavors.
Many food events invite influencers who have a following in the food industry to promote the festival to a wider audience.
For instance, food influencer Claire Thomas earns for food and wine-tasting events and festivals attendance.
48. Travel Events
Travel events can include everything from industry conferences to press trips sponsored by travel companies or tourism boards.
Influencers get the opportunity to earn and connect with other professionals in the travel industry. You also learn about new travel products and services and create engaging content to share with your followers.
To illustrate, Marriott International launched a 65-person content studio to implement its "3Cs" strategy -content, community, and commerce.
The content studio's purpose is to create and distribute digital content across various platforms. Marriott International also creates global communities of travel enthusiasts, thereby increasing business for the company's hotels.
In the video above, the company hired influential vlogger JacksGap to showcase Instabul, a city where the company has a presence.
49. Influencer Conferences
Influencers may be paid to attend conferences that are specifically targeted toward them. Brands sponsor these conferences and pay influencers to attend and promote their products or services.
For instance, the influencer conference Create & Cultivate pays influencers to attend their events and speak on panels.
So, the next time you get an event invite, don't hesitate to ask if there's an opportunity to partner with a brand.
Get Paid to Go to Events: FAQs
1. Are Facebook Paid Events Worth It?
Yes, they are totally worth it! One great thing about paid events on Facebook is that they often offer exclusive perks and experiences that you wouldn't get at a free event.
For example, a paid music festival might offer VIP access or backstage tours. On the other hand, a paid fitness class might include a one-on-one session with a personal trainer.
Also, events often offer more quality activities than free events. Finally, attending a paid event helps to invest in yourself and grow your influence.
2. How Much Do You Get Paid To Attend Events?
Whether you are hired to wait in line, host a party, or provide coverage for an event, there is money to be made as a paid attendee.
Depending on the gig, you can get $10 – $50 per hour. You can also earn thousands of dollars if your attendance is bound to generate considerable interest.
3. How Much Do Influencers Make?
There is no industry standard on what influencers ask for promotions. Basically, though, the more followers you have, the higher your charges.
Depending on your follower numbers and niche, you can make between $2 and $2,000 per post; with the big bucks being reserved for mega influencers (1m+ followers)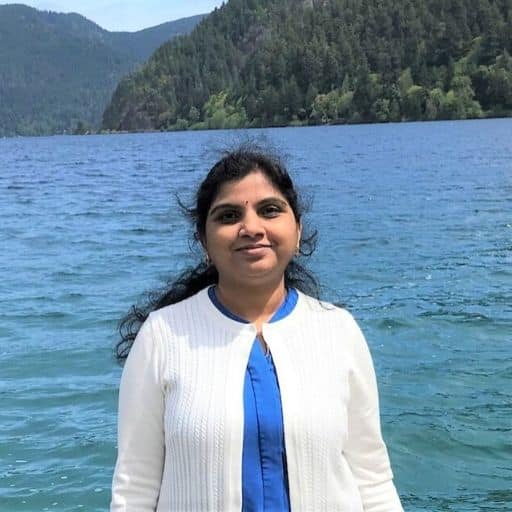 Howdy Folks, thanks for stopping by my blog.
I'm Swati, a proud mom, dedicated side hustler, full-time blogger, and a recognized millennial work-at-home expert. My expertise has been featured on esteemed platforms such as Forbes, CEO Blog Nation, Referral Rock, Vital Dollar, Databox blog, and many more. I have embarked on this incredible journey to share my firsthand experiences in the world of online income generation and to assist all of you in earning money from the comfort of your homes.
Join me in my mission to revolutionize the way we make money and achieve financial freedom. Trust me, it's not as challenging as it may seem!
Together, let's explore the boundless opportunities and pave our paths towards a prosperous future.