If you searching for Nectar Points Calculator or Nectar Points value in general, then you are probably out for rewards and discounts.
As of now, Nectar is the UK's largest loyalty program. The scheme is owned by Nectar 360 Ltd, a subsidiary of Sainsbury's.
You get to collect Nectar points every time you shop or spend money at any of their partner outlets including British Airways and DHL Express. In some instances, you even get to double up your points.
So, what's the value of Nectar points and how can you spend your reward? For this and more info about Nectar points, read to the end.
What is Nectar?
Nectar is a loyalty scheme used by most of the popular brands in the UK. Sainsbury's, the current owner of the program is just one of these brands. To be part of this loyalty scheme, you have to register with Nectar.
You can do this from their website or by downloading the Nectar app available on Google Play and App Store, for free.
You'll in return receive your Nectar card that you can use to shop and collect Nectar points at your local participating stores. You can also get Nectar points shopping on online marketplaces such as eBay.
Basically, Nectar has partnered with over 400 online stores and 14 companies. What's the need of collecting Nectar points? Well, you can turn them into cash which you can use to save on expenses.
Alternatively, you can turn your points into e-vouchers for use in Nectar partner retailers like Argos, Caffe Nero, and Caffe Nero.
What's more, Nectar points don't ever expire, provided that your account does not remain inactive for over a year. This means that you can accumulate points for long-term purchases like train tickets or even a vacation.
Nectar Points Value: How Much are Nectar Points Worth?
You are probably asking yourself some questions like "how much are my nectar points worth?" or "how much are 500 nectar points worth?" Let's get to the bottom of this.
With a Nectar card, every time you go shopping and spend £1, you are rewarded with 1 Nectar point. In simple terms, it's like you get 0.5p (1/2 penny) back each time you spend £1. So, to get £1 in cash you'd be required to collect 200 Nectar points.
I know it sounds like they are of little value, but they add up with time especially if you take advantage of Sainsbury's double-up Nectar points offers.
You can use the below Nectar Points Calculator, to sum up, the actual value of your Nectar points. To help you with this below is a complete breakdown.
As you can see 200 Nectar Points are worth £1 while 10,000 Nectar points are worth £50, and so on!
Nectar Double Up Points
Every year Sainsbury's offers a Sainsbury's double-up nectar points event. What happens is that during such a period, you receive double the value of your Nectar points. You, however, have to spend them during the offer period.
For instance, if the Nectar double-up event takes place in October, you have to spend your vouchers no later than November. Most of the time, this double-up event takes place in the weeks or a few months before Christmas.
You, therefore, have to swap your points on Nectar's website or app for vouchers to enjoy the offer. Additionally, they do set a limit of up to 10,000 points and a minimum of 1,000 points for you to be part of this double-up promotion.
To put this into perspective, if for example, you have 2,000 NPs (Nectar points), the promotion doubles their worth to £20 instead of the usual £10.
Where Can You Spend Your Double Up Nectar Points?
Sainsbury's releases calendar dates for this double-up event a few months before the actual event takes place. As such, they are yet to announce this year's Nectar double-up dates. Stay tuned for the Nectar double-up 2021 event later in the year.
Besides Sainsbury's stores, you can spend your e-voucher buying from other partner companies like Brakes, Caffe Nero, Daily Mail, DFDS, eBay, Esso, Eurostar, Expedia, First Group, ICI Dulux Decorator Centers, Viking-Direct, and VUE Cinemas.
Some of the goods you can spend your voucher on fall in the following categories.
Electricals

Liquor

Fragrance

Gifting

Cosmetics

Homeware

Seasonal

Entertainment

Toys

Skincare

TU Clothing
VUE Cinema for instance gets you £2.50 off your ticket for 500 Nectar points. Dulux requires you to have a minimum of 4,000 points to participate. Such points are worth £20. On the other hand, Eurostar requires a minimum of 2,000 Nectar points for £10.
Its also worth noting that, you cannot spend your voucher on food in-store. You also need to carry your Nectar card when shopping with your double up voucher. This time, however, you won't earn points while shopping.
As a note, these vouchers can only be used in Sainsbury's stores. You can't spend them online, in Sainsbury's Locals, gas stations, or Argos.
How Does Nectar Double Up Work?
Double-up vouchers are available only during the double-up event. To order them, you can go through the website or mobile app.
You could, in the past, convert your points to double-up vouchers through customer service. That is no longer the case today. Sainsbury's terminated this option probably because there were too many customers calling in with the request.
A neat trick is to save your Nectar points for use later when the promotion pops up. Note that if you double up and don't spend them during the stipulated time, you lose them all.
How to Get a Nectar Card?
Don't have a Nectar card with you? Here's how to get one.
One way to get a Nectar card is by filling out an application form in-store and leaving it with the customer service desk. Your Nectar card will be ready for collection within 10 days.
If you prefer the digital way, sign up for a nectar card from their website or app. You'll be required to fill out your name, birth date, home address, and email.
After completing the signup process you become a Nectar member and you'll receive your card within 10 days.
Where To Collect Nectar Points?

There are many places where you can collect Nectar points, both in-store and online. Here is are the highlights of companies and services where your spending is rewarded with NP!
Since Nectar is owned by Sainsbury's, this is the most obvious way to collect your Nectar points. Here you earn points by shopping in Sainsbury's supermarkets. You get 1 nectar point for every £1 you spend. But sometimes throughout the year, there are double points offers.
Keep a close eye on such events. Most times if you pay your bills through tills, Sainsbury's rewards with double points vouchers.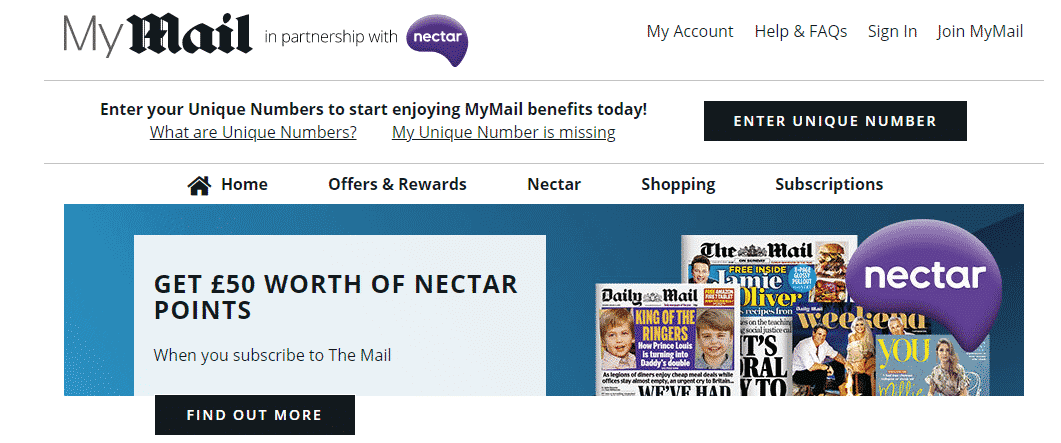 Buying a copy of the Daily Mail newspaper also earns you free Nectar points. If you are a member of the MyMail Club there is a unique code that comes with every copy of the Daily Mail. This code is normally located on the back page. Inputting this code earns you free Nectar points. You can earn up to 80 Nectar points in a week.
Become a member of the MyMail club today and start collecting free Nectar points. Read more about Daily Mail rewards here.
You can also collect free Nectar points by traveling by some train lines such as GWR, Avanti West Coast, South Western Railway, and Transpennine Express.
If you book directly, you get rewarded with 2 Nectar points for every £1. There are other bonuses for buying weekly, monthly, or yearly train tickets. Such bonuses include:
50 Nectar points for weekly train tickets

200 nectar points for monthly train tickets

2,500 nectar points for annual train tickets
How to Earn Nectar Points from Home?
How do you like the idea of earning from home? Yes, you can collect free Nectar points at the comfort of your home and this is how to go about it.
If you download the

Nectar Notifier

, you get 100 free Nectar points. You can use it as your default search engine. For every two searches, you make with this notifier, you earn 1 Nectar point. From the searches alone, you can potentially collect more than 200 Nectar points in a month.

Another way to collect points is using

Nectar Canvas

to complete surveys. You get to earn even 120 Nectar points for completing one survey.
1) Collect from Argos
Sainsbury's took over Argos in 2016 and you can now collect Nectar points when you make a purchase from their website. This includes buying some home delivery items.
More to this, you can earn points if you shop in-store. Every £1 you spend earns you 1 nectar point. If you buy in-store, you get 500 points for £2.50.
2) Collect from eBay
If you link your Nectar account to eBay, then you get to collect free Nectar points for everything you buy on the marketplace be it a buy-it-now purchase, offer, or an auction. However, you can't collect points if you shop through Tesco's eBay outlet.
3) Next
Here you can earn 2 nectar points for spending £1. It's an online shop where you can buy uniforms for your kids or your own clothes.
4) Domino's Pizza
Love Domino's pizza? Treating yourself here also gives you 2 Nectar points for each £1 spent. However, there are offers from time to time when you can collect more points.
For example, during Black Fridays, you get an additional 9 Nectar points for every £1. The condition here is that you have to make your purchase through Domino's eShops.
5) Get Petrol
Refueling your car at Esso gas station rewards you with 1 Nectar point for every liter. Spending £1 in their shop gives you 2 Nectar points. Keep an eye on offers where you get bonus points for refueling at Esso over a certain time span.
6) Travel Money
Need to travel abroad? Sainsbury's also offers these services. Their kiosks reward you with free Nectar points if you exchange currency at Sainsbury's. As a note, you should carry your Nectar card since they'll need to record your card number.
7) Expedia
Booking a holiday with Expedia 2 nectar points for every £1 spent. However, to be eligible for this you have to access this website via Nectar.
8) ASOS
You can collect 2 Nectar points for every £1 spent shopping at Asos. There are also offers when you can collect up to 6 Nectar points for each £1 spent.
9) Home Insurance
Need home insurance? Collect 4,000 Nectar points in addition to a free £25 movie voucher as a new insurance customer with Sainsbury's. They'll also give you a 35% discount as a Nectar cardholder.
10) Nectar Newsletter Sign-up
Not everyone is a fan of junk emails. On the contrary, signing up for weekly eShops earns you free 100 Nectar points. This is for just receiving their latest deals and offers. You can later unsubscribe if you don't like them.
11) Collect on Credit
If you love credit cards, Sainsbury's bank rewards you with a whopping 10,000 Nectar points when you spend £400 in either Argos or Sainsbury's from their Nectar Credit Cards. This has to be within the first 2 months after registering for your card.
This offer sounds great, but remember that you can collect the 10,000 points for spending just £50 in-store.
How to Increase Nectar points
Need to boost your Nectar points? Signing up for some specific products can boost your Nectar points. But which products are they? Let's find out
Sainsbury's Life Insurance
Collect 6,000 Nectar points with Sainsbury's life insurance that goes for about £30.
Sky Mobile Phone Contract
Sky mobile phone contract is cheaper than most services and at the same time gives you 4750 Nectar points
Signing up with NOW TV rewards you with 3,500 Nectar points. You however have to adhere to certain terms. Make sure you read them carefully before signing up.
New Nectar Scheme
Sainsbury's has recently rolled out a New nectar Scheme which is basically digitizing their app-based system. You'll still collect Nectar points for shopping.
In addition to this, the new scheme will reward you as a shopper with free Nectar points for choosing weekly offers.
As a Nectar cardholder, you'll also give feedback regarding the offers you like and ones you don't like. More to this, you can pick 5 permanent offers that will be giving you points throughout the year.
This is just a way of Sainsbury's increasing their engagement with their customers. They plan to roll out this scheme in the course of 2021.
Wrap Up
From this review, you can see there are a variety of ways you can collect and spend your Nectar points.
However, there is a limit to the maximum points you can spend at a go, which is 40,000 Nectar points; equivalent to £200. You should also ensure that you remain active otherwise you'll risk your account being closed.
The places that I have mentioned above, where you can earn free Nectar points, are just a snapshot. For a full list, check out the Nectar website here.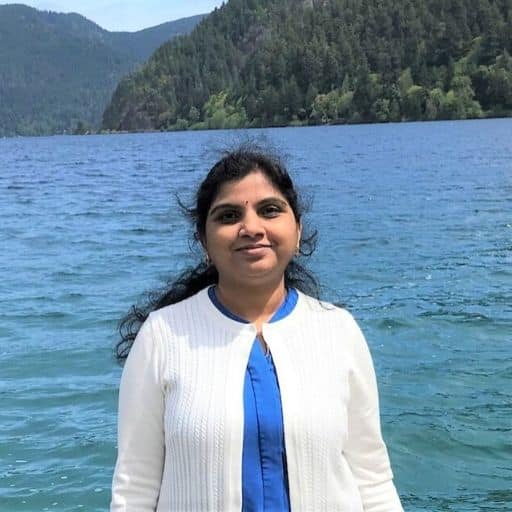 Howdy Folks, thanks for stopping by my blog.
I'm Swati, a proud mom, dedicated side hustler, full-time blogger, and a recognized millennial work-at-home expert. My expertise has been featured on esteemed platforms such as Forbes, CEO Blog Nation, Referral Rock, Vital Dollar, Databox blog, and many more. I have embarked on this incredible journey to share my firsthand experiences in the world of online income generation and to assist all of you in earning money from the comfort of your homes.
Join me in my mission to revolutionize the way we make money and achieve financial freedom. Trust me, it's not as challenging as it may seem!
Together, let's explore the boundless opportunities and pave our paths towards a prosperous future.