Is Qkids a legit company? Is it a scam? Do not break a sweat; in this Qkids review, I am going to answer all questions regarding Qkids authenticity.
With the high rise of virtual learning today, many platforms like Qkids have come up. The main concern is whether they are but just another swindle in the making. Reading Qkids' reviews on the internet will leave you sitting on the fence. Questions like "should I try it or not" will pop up in your head every now and then.
I did the groundwork for you to provide you with every detail you need to know about Qkids, down to the last bit.
Let's get started.
What is Qkids Website?
Qkids is an interactive learning platform that connects native English teachers in North America and Canada to Chinese students aged 4-12 years. It's sort of a virtual classroom that uses a narrative game-based learning technique. This online classroom includes drawing tools, games, animations, video chat, unique characters, and best of all, pre-planned lessons.
Founded in 2015, Qkids has really grown in numbers:
Connects with over 800,000 Chinese students

A national leader in cross-cultural online education

Has established offices in China: Shenzhen, Xiamen, Guangzhou, and Beijing.
On top of this, Qkids has completed its series C1 financing round, spearheaded by Baidu. In layman's language, businesses that make it to the series C funding sessions are already successful. All they need is additional funding to expand to new markets.
And with their current trend, this platform is expected to build lasting growth across the globe.
Qkids Hours & Schedule
Being based in China, Qkids teaching hours are scheduled to revolve around Beijing Time (GMT+8).
What this means is that, depending on where you are located, the hours for your lessons may fall at nighttime. For instance; if you are based in Canada or the United States, you are likely to face early morning and late-night hours. It's not uncommon for Qkids teachers in North America to wake up at 3.00 am for their first lesson of the day.
Here is a look at how the day of a teacher in New York (GMT-5) looks like:
Qkids Time Slots
Monday to Sunday: 6.30 AM-9.00 AM
Friday & Saturday: 8.30 PM-11.40 PM
Qkids Classes
7 days a week (Morning Classes): 6.30 am-7.00 AM, 7.10 AM-7.40 AM, 7.50 AM-8.20 AM, 8.30 AM-9.00 AM
Friday and Saturday (Evening Classes): 8.30 PM-9.00 PM, 9.10 PM-9.40 PM, 9.50 PM-10.20 PM, 10.30 PM-11.00 PM, 11.10 PM -11.40 PM
Each Lesson on Qkids is 30 mins long, pairing you with about 1-4 kids. And the best part is, you work from home. Teaching hours per week is a minimum of 6 hours to a maximum of 19 hours. You get to choose between morning classes(7 days a week), or evening classes (Friday and Saturday).
Note: Though Qkids says that classes are 30 mins long, there is a 10-minute buffer window between lessons. This adds up to 40 minutes per class. Also, you cannot teach or fit 2 classes in 1 hour.
Keep this in mind when calculating your pay per hour on this platform.
Qkids Teacher Requirements
Adhering to the specific requirements set for the Qkids application guarantees that your application will be reviewed in hopes of getting hired as a teacher in the Qkids platform.
Here is a complete list of the requirements that you need to meet when applying on the platform.
Upload proof of that you attained a Bachelor's degree or diploma in any subject

Your teaching license or English teaching certificates (TESOL, TEFL, CELTA, ESL). If you don't own one, you can apply for this 120-hour teaching course here.

Proof of legal right to work in Canada or the United States with English as your native language

Availability to teach a minimum of 12 classes per week (6hours) or more.

Your teaching resume

Experience or a background working with kids is an added advantage
Tech Requirements
The most important skill that you need to possess is digital literacy, i.e. working with computers and software. To this end, you will need to upload a screenshot or picture that shows your computer meets the desired requirements which include:
A computer with a webcam or in-built camera.

A stable and reliable internet connection of 2 Mbps for upload and 4 Mbps for download.

Quality headsets with good sound boost.
This superior quality headset with noise cancelling technology reduces ambient noise for enhanced voice quality, to pick up your voice clearly and loudly (perfect for work at home jobs). The soft microphone which can be twisted discretionarily picks up your voice loud & clear Intelligent noise-cancellation blocks out background noise and bring crisp clear audio. With the help of this headset, you could take your classes with extreme comfort and flexibilty. Think no more – Get this headset right now
How to Apply for Qkids?
Application for Qkids is as easy as taking a walk in the park. Why? Being an online English teaching platform, you simply click on the Qkids website then head into the application section indicated as "Apply now, it's quick and easy".
You are required to sign up with your email address. You can also enter a referral code if you were referred by someone else. This will come handy for the person that referred you. More on this later.
Then you'll undergo Qkids' hiring process which I've covered below…
Qkids Hiring Process
The entire reviewing process of the submitted Qkids applications takes about two weeks. Here is the process in brief:

Step 1
Submit all of the required documents as stipulated.
Step 2
Via the WeChat app, initial screening follows where you are expected to record a brief introduction of yourself giving basic information of who you are, your residence, your previous experiences working with or teaching kids, and your educational background.
Then, you need to narrate a kids' story. So, make sure to be animated and interesting.
Step 3
Complete Demo Interview 1. Here, you are required to study and prepare a lesson plan that will be provided to you. You will then present it to an employee who will be taking the role of a child.
Step 4
Complete Demo Interview 2. Here, you are provided with a lesson plan to study and prepare well for two trial classes. This time around though, you'll be teaching real kids. Qkids pays you a base pay of $16 for the trial classes, thumbs up for this platform.
And finally, after meeting all the criteria, Qkids gives you a six-month contract indicating you officially become hired.
Lastly, the company carries out thorough background checks. As such, ensure that you provide factual credentials to be hired.
Click Here To Start Your Qkids Application Today!
Qkids Pay: How Much Can You Make On Qkids?
You are probably wondering how much Qkids pays its teachers, right? The average pay is between $16 and $20 per hour. The base pay is $8 per class (30 min session), regardless of your educational background or experience.
If you can manage to teach all the possible 19 hours in a week, then you can expect to walk away with around $1500 in a month.
But here's the kicker; Qkids has additional incentives and bonuses that include;
Attendance Bonus
You get to earn an extra $1 per class if you teach 15 classes or more in one week.
Performance Bonus
You earn $1 per class if you get positive feedback from parents. This means that you must get at least 4 stars out of 5 from parents for that one class.
You'll also hear the phrase "standby classes" being thrown around by the Qkids community. This is when you fill in for another teacher. If it converts into a real class, you'll earn your $8 base pay. Regardless, if it remains just a standby class, you pocket $4.
Then there is a referral bonus of $100 for every teacher that you recruit and help through the hiring process.
Also, the summer holiday in China runs longer from the beginning of July to the beginning of September. As such, when kids are out of school, Qkids opens more time slots. This provides an opportunity for English Qkids teachers to earn more by holding summer classes.
Unlike other online teaching platforms, Qkids doesn't penalize its teachers for canceled classes. However, you need to confirm the cancellation 5 hours before the class begins.
How often do you get paid with Qkids?
Qkids pays you once per month, deposited directly to your bank account before the 15th of every month. And don't worry about international money transfer fees; this platform caters to them- without any deductions on your paycheck.
Qkids teacher review: Is Qkids good to work for?
For a fact, Qkids receives a lot of reviews, both positive and negative. But I have to admit that many of its members find it more than okay.
Here are some typical teachers' reviews from those working or previously worked with: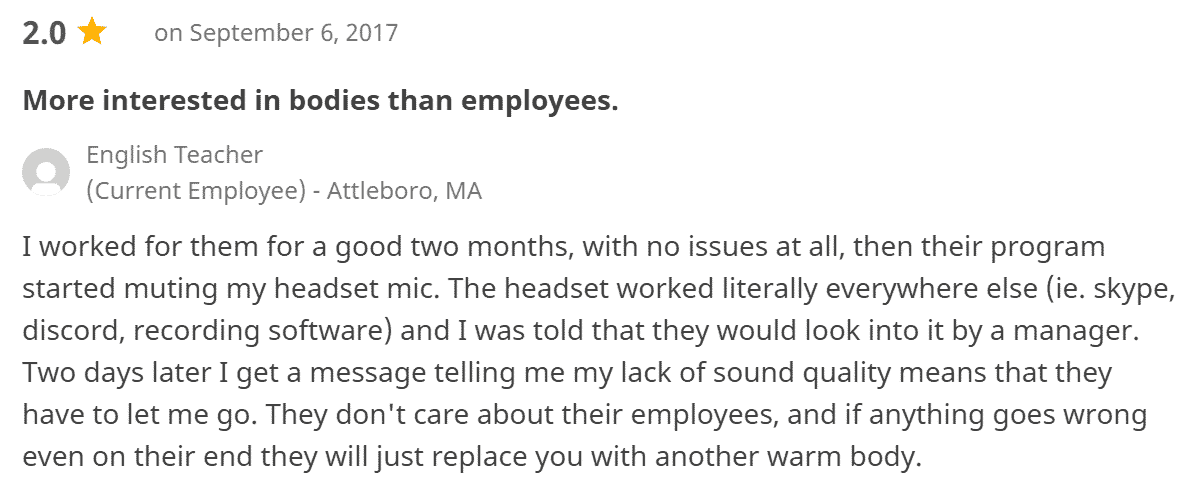 Source: https://www.indeed.com/cmp/Qkids/reviews
The above review doesn't claim that Qkids is a scam, instead this teacher rants about being fired due to a headset problem. Why would Qkids mute your headset? It does not add up. Notably, the reviewer admits that the kids and working hours were good.
Either way, this platform seems to pay much attention to the relationship between you and the kids, that's why they insist on you having some requirements before applying for this job.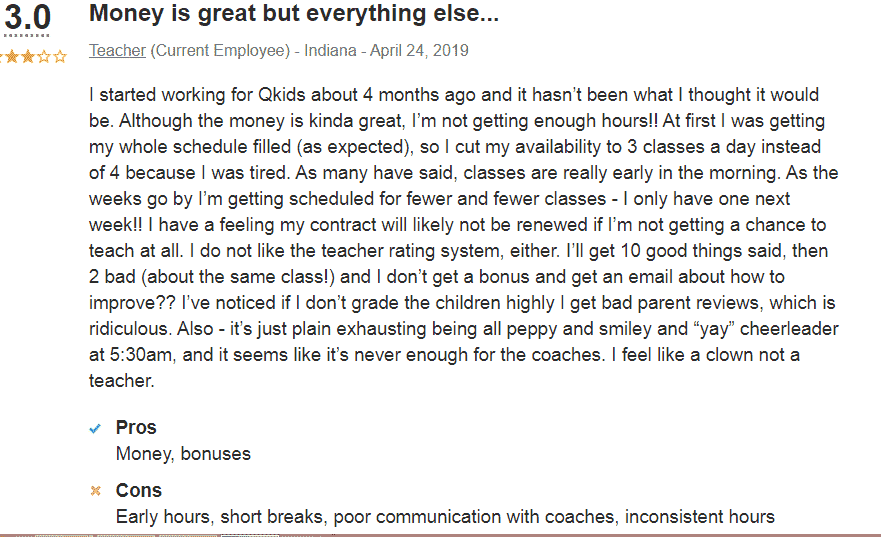 Source: https://www.indeed.com/cmp/Qkids/reviews
This 3-star review complains about a common misunderstanding between him and the employment terms.
What needs to be understood here is that Qkids hires you as an independent contractor, therefore, state labor laws don't apply here. Therefore, one needs to read and understand Qkids' employment terms before registering.
It's no secret that from the above negative reviews, both teachers seem to enjoy working with kids, proving that Qkids is 100% legit. But let's have a sneak peek at the positive reviews…
Source: https://www.indeed.com/cmp/Qkids/reviews
To help you give a fair judgment, have a look at Qkids' overall rating on Glassdoor.com.
Source: Glassdoor
My verdict is that Qkids is a top tier online platform that many people enjoy working for, provided you don't misinterpret the contractor-customer relationship.
That said, people who want to work part time as virtual teachers find the China-based time slots quite hard to keep up with. Besides that, all other factors seem content to a big percent of teachers.
Working for Qkids Vs Vipkids?
Wondering which online platform to work for?
Qkids and Vipkids are the two biggest online teaching platforms. They have more similarities than differences. For example, both platforms pay up to about $20 per hour. However, there are some fundamental differences such as the number of hours that you can work on each.
In this section, I will compare them by looking at the pros and cons of each platform. Proceed here if you're looking for a detailed comparison.
Qkids Pros and Cons
Pros
Virtual classrooms with decent tools to use including games that make the app fun and enjoyable for both the teacher and student. There is no need for props.

Lots of bonuses and additional payments. Not forgetting the referral program where you earn an additional $100.

No need of creating a lesson plan prior to teaching a lesson. They are already pre-planned.

Qkid is 100% legit.

You get to choose your working hours, from 6 to 19 hours per week
Cons
This teaching program is only available to the USA and Canadian citizens.

The hiring process is a little strict and demanding. It requires you to possess academic qualifications which are not a privilege to everyone.

Morning working hours are inconvenient to a large population since Qkids schedule is based on Beijing time.

There is no pay raise working for Qkids.

One teacher teaches 4 students at a given time, which can be a burden sometimes.
Vip Kids Pros and Cons
Pros
Vip Kids doesn't restrict the teaching hours, they offer full-time hours where you can even teach more than 40 hours per week.
Classes here are 1 on 1, meaning one teacher teaches one student at a given time.
Vip Kids offers TESOL certification. You don't have to acquire this course from an outside source.
Cons
New teachers on Vip Kids complain that they find it hard to book classes

The hiring process is very strict

Teachers on Vipkids earn far less due to their recent change in payment structure.
How To Get Hired At Qkids?
Getting hired at Qkids may require some tricks.
To begin with, ensure that you have the necessary requirements, especially a bachelor degree. Next, do not fill "no experience" on the application. Everyone has some teaching experience, including during your student days. Use that to prove at least one year experience. Finally, ensure that you ace both Demo classes.
Qkids Teacher Review on Reddit
From the teachers' review above, most people find the working conditions on Qkids pretty conducive. Let's see what they have to say about payment on this platform.
Source: reddit.com
From the above reviews, working for Qkids is a double-edged sword. Some find this platform quite rewarding, while others find the rates as just peanuts. Some consider not being fully booked on Qkids as a drawback due to job security.
Overall, considering that it is not a full-time job, payment is pretty good compared to other online platforms, plus the schedule is flexible.
Final Thoughts: Is Qkids a legit Job or A Scam?
Qkids is a legit company, no brainer. If you are a qualified teacher, it's worth a shot. And you get to work from home connecting with kids, making it fun and enjoyable.
The pay is quite rewarding compared to other online platforms. You get to earn $20 per hour. The job is also flexible because you get to choose your schedule depending on what time you are available. And with additional bonuses, you can pocket even $1500 per month. If you are not yet convinced, you can check out these other legit work from home jobs.
Ready to become a teacher on Qkids? Apply for a job right away and begin the hiring process.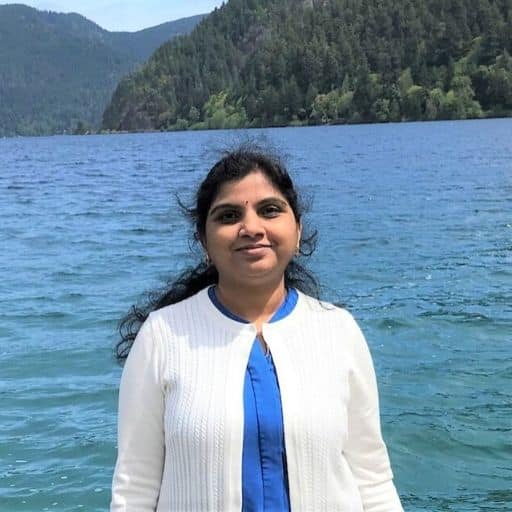 Howdy Folks, thanks for stopping by my blog.
I'm Swati, a proud mom, dedicated side hustler, full-time blogger, and a recognized millennial work-at-home expert. My expertise has been featured on esteemed platforms such as Forbes, CEO Blog Nation, Referral Rock, Vital Dollar, Databox blog, and many more. I have embarked on this incredible journey to share my firsthand experiences in the world of online income generation and to assist all of you in earning money from the comfort of your homes.
Join me in my mission to revolutionize the way we make money and achieve financial freedom. Trust me, it's not as challenging as it may seem!
Together, let's explore the boundless opportunities and pave our paths towards a prosperous future.