Did you know that you can sell used socks? Yeah, that's right!
The internet has opened us to a world where you can find a market for anything, including dirty underwear and filthy sweaty pairs of socks.
When it comes down to making money from home, trust me to find you every possible hustle you can engage. Today, I have my sights set on helping you sell dirty socks.
This post outlines everything you need to know on how to sell used socks for money and in particular if selling dirty socks is legal, whether you can make good money and how much, where to sell, and tips to help you sell better.
Are you ready? Hold on to your pile of dirty socks and let's get started!
Is It Legal to Sell Used Socks?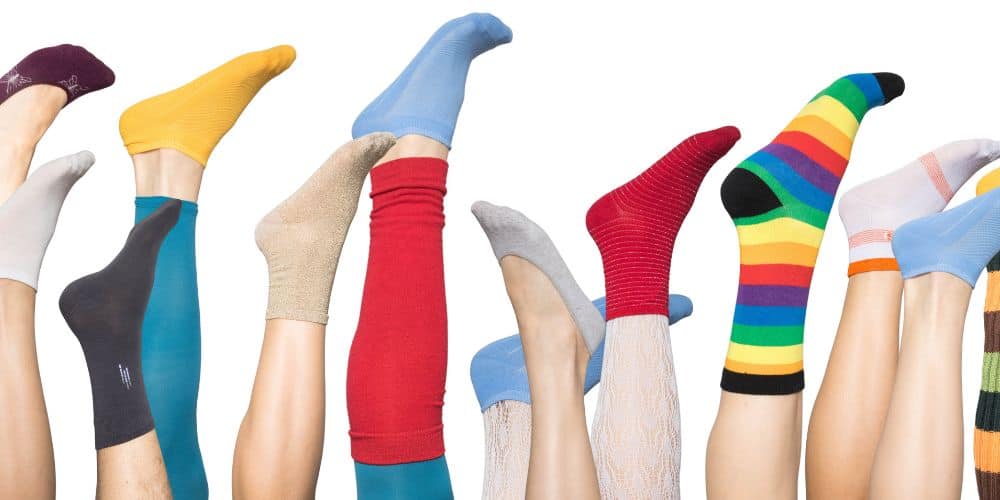 There are no rules that make the sale of used socks illegal.
However, given the association of dirty socks with sexual fetishes, a rule of thumb dictates that you be over 18 years and above before engaging in this venture and ensure that you don't sell to underage people.
Also, the complete disclosure of what you are selling and its condition is paramount so that your used socks don't end up in the hands of an unsuspecting buyer.
That said, you might want to check if there are laws regarding the sale of worn clothing in your particular location as well as policies about the same on the platforms that you choose to sell your products to avoid wasting time on a quest that will not bear fruit.
Can You Make Money Selling Socks?
Yes, absolutely! To start with, sock fetish is real and there are people willing to spend good money for a whiff of your worn socks.
A good example is 'Mr. D', a businessman who admits to spending £200 (about $239) each month on dirty socks just to satisfy his sock fetish.
Also, if this post on Daily Star is anything to go by, sock fetish is growing tremendously with about 492,000 posts relating to sock fetishes found on social media at the time of publishing.
Sellers who are jumping into the bandwagon are raking in good cash.
What's more, away from the major online marketplaces, there are platforms like OnlyFans, Snifffr, Sofia Gray, and All Things Worn where you can link up with ready buyers and sell worn socks.
Such sites are specifically dedicated to the selling and buying of fetish-related and other adult content-related items.
How Much Can You Make Selling Used Socks?
You can make as little as $10 or below or as much as $200 and above for a pair depending on your set price and how much the buyer is willing to pay for your worn socks.
Other factors that determine the price of used socks include how dirty they are, what you were doing while wearing them, special requests, and how well you market your products.
That said, how much money you end up making in a period of say, a week or a month will depend on how many pairs of dirty socks you can sell.
Billy-Joe Gray, for example, makes about $1900 a month selling 5-12 pairs of sweaty socks per week while 'Carla' used to make $500 per month selling a combination of used underwear, socks, and photos of her feet.
See? The amount varies from one person to another and the combo that you are selling.
Best Places to Sell Used Socks Online
Wondering where to sell used socks online? There are plenty of platforms where your venture can thrive.
Below is a list of the best places to list worn socks for sale.
Sofia Gray works like Snifffr where you keep 100% of your earnings and only need to pay a listing fee either monthly or to cover several months at once.
You will need to create a shop where you can list your worn socks and other items such as used underwear and sex toys.
Whatever you choose to show of yourself on the platform is entirely up to you.
The platform allows you to message buyers directly in order to pique their interest in your used socks and to take custom orders from them.
Note, sellers have to part with a membership fee ($14.97/month) to list items on this marketplace. Get a 10% discount on your listing fee with our exclusive coupon code 'hearmefolks'.
Related Post: How to Make Money On Sofia Gray [In-Depth Guide].
2. Sell Dirty Socks On Snifffr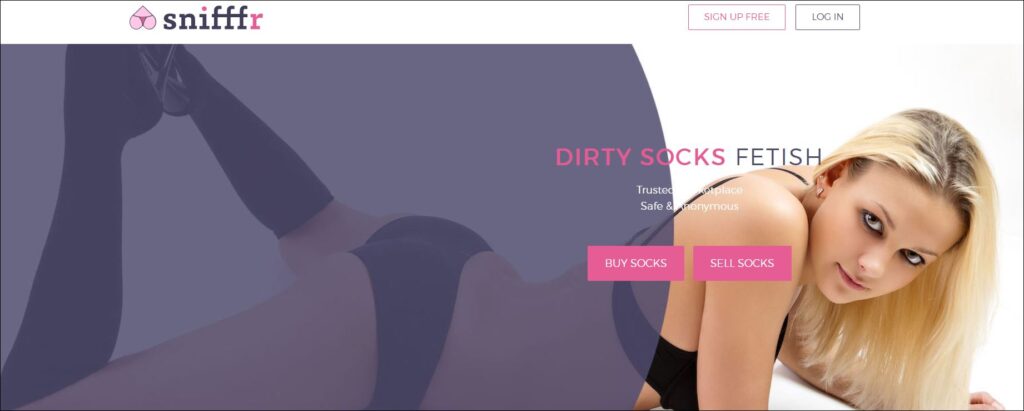 Snifffr is one of the platforms where you can sell dirty socks and keep all your earnings.
If you want to use features such as live chats and private messaging to market your dirty socks, the platform charges a set fee that is constant no matter how many times you transact.
To sell on Snifffr, you need to sign up for an account and create your profile. Then you can upload photos of your used socks or better yet, photos of you wearing the dirty socks- you don't have to show your face.
Once you are set, you can start engaging with willing buyers to agree on what they want and what you are able to do for them.
Notably, Snifffr does not get involved in the transaction so you have to also agree on the method of payment and the shipping process.
Related Post: How to Earn On Snifffr.
3. Sell Used Socks On eBay
According to eBay's policy on used clothing, the sale of used underwear and socks is strictly prohibited even when such items are clean.
Still, according to a Quora review, people may still get away with marketing new socks or underwear on eBay and then making private arrangements with the buyer to condition the items to the buyers' preferences before shipping.
Another way that other people have sold fetish-related items including dirty socks on eBay is by being contacted privately by buyers for special requests far from what they have listed on their accounts.
One eBay seller, for example, was contacted by a buyer who first wanted foot content and then went on to buy other things including nudes and worn leggings from her.
The buyer contacted her based on her photo where she models a dress she was selling on eBay.
If you sell your dirty socks on eBay, there is a possibility of losing your account for violation of the policy if you are discovered or reported.
Also, if you use PayPal for payment, you may get in trouble as the platform prohibits activities that involve the sale of sexually oriented materials or services.
It all depends on how discrete you are in handling your transaction.
4. Reddit for Selling Used Socks
As long as you are on the right subreddit, you can sell practically anything. To find people fond of buying used socks, you want to head over to r/usedsocks to promote and sell your wares.
You will need to take good photos of your used socks to give potential buyers an idea of what they are buying.
Each subreddit is, however, governed by certain practices which you must embrace if you are to use it for your gain.
For starters, you need to be a member of that specific community in order to connect with other members, become a valuable contributing member, and build some trust.
Also, there are rules for each community which are usually listed on a sidebar of the page.
Reddit isn't exactly a marketplace and is probably not one of the best places to sell used socks but it is definitely worth a shot. There are sellers that have done well on the platform.
arianova2 for example pays her rent by selling used socks, panties, and other fetish items on Reddit and other platforms. She recommends building a great profile, engaging buyers, getting reviews from buyers, posting regularly, and messaging potential buyers. She also advises sellers not to send anything before payment and to keep the payment and mailing process discreet.
5. Sell Used Socks On Etsy
Starting from the 1st of December 2022, you might not be able to list used socks for sale on Etsy due to seller policy that prohibits reselling. The platform defines 'reselling' as the sale of items that you have not made or designed.
Reselling is, however, allowed for vintage items. Here's the catch; vintage items have to be 20 years old- how many pairs of your socks are 20 years old?
Even if you did have several, depending on how Etsy views your listing, your dirty socks might be prohibited for sale if they fall under 'used intimate items' which are also restricted.
These policies notwithstanding, a quick search on Etsy results in a good number of well-worn socks that are listed for sale so if you are feeling lucky, you might want to try your luck as well.
6. Sell Used Socks On Vinted
Deducing on Vinted's catalog rules, you may not be allowed to sell dirty socks on Vinted.
Although the catalog doesn't mention socks, the prohibition on 'items that do not comply with hygienic standards' is clear.
These items include undergarments and underwear sets.
The guidelines further state that items such as tights, bras, and bathing suits are allowed as long as they are properly washed and clearly described as worn-see. So, no room for dirty and smelly socks!
7. AllThingsWorn
As the name suggests, the platform is meant for selling used underwear, shoes, hosiery (tights, socks, and stockings), clothing as well as adult content, and anything else you can think of in the world of fetishes.
To get started on AllThingsWorn (ATW), you sign up for a free account that allows you to check out the platform before you can list used socks for sale.
The full use of the site comes with a premium seller package of $14.99 per month or $69.99 for 6 months after which you get to keep all the money from your sales.
The membership allows you to reach out to buyers directly, send unlimited messages, list unlimited items, check out all buyers, and upload posts and images.
When you get willing buyers, you make payment arrangements with the buyer and ship the socks – ATW has a payment method that doesn't require you to fill out your personal information.
8. Selling Used Socks on Poshmark
There is a whole category Poshmark dedicated to well-worn women's accessories, hosiery, and socks.
However, I doubt your account will see the light of day with descriptions that suggest your socks are dirty, smelly, or stinky.
The platform's policy on prohibited items states that pre-owned items sold on Poshmark should be clean and in good condition.
If you are interested in selling well-worn but clean socks on Poshmark, you need to create an account with an email address, username, and password. Next, you upload up to 16 images of your worn socks and fill out the required information regarding the description of your socks, set the price, and you are good to go.
You can share your listing within the app and to your social networks to increase visibility.
When you are ready to make a sale, Poshmark provides a free shipping label, and once your buyer receives the package, the payment is released to your Poshmark account from which you can cash out to your PayPal, bank account, or Venmo.
Poshmark charges a flat commission on the final order price of your sales; $2.95 for sales under $15 and 20% for sales above $15.
Other perks of selling on Poshmark include free credit card processing and tax processing.
9. Selling Used Socks On Craigslist
You can also sell your used socks on Craigslist. The platform is free you use and you can list your socks by heading over to the Craiglist Website and creating an Ad.
Note that the audience on Craiglist is the general kind that you will find on other major marketplaces like eBay and Amazon. This means that you might not land as many clients as you would on fetish-oriented sites like AllThingsWorn and Snifffr.
Also, you will be responsible for protecting your personal and financial information since the platform does not back any transactions on its site.
For this reason, Craigslist works better with the local market where you can arrange to meet buyers in person and do the exchange.
If you want to stay anonymous, Craiglist might not be your best bet.
Nevertheless, tips like withholding private information, dealing in cash or secured forms of payment, and not sending your items before receiving payment can help you transact safely.
Selling Men's Used Socks
Women's used socks tend to sell better than men's on most platforms. Still, as long as you appeal to the right buyers, you can make good money selling men's used socks on whatever platform you choose.
Bill-Joe Gray, as earlier mentioned, seems to have resonated with an LGBTQ+ audience via Instagram.
Sites like OnlyFans, Snifffr, SofiaGray, and Reddit are great platforms to list and sell men's used socks. However, you might have to work harder to stand out compared to sellers selling women's items.
If you want a platform dedicated to men's fetish items, you want to list mens used socks for sale on MaleThingsWorn, a sister site to AllThingsWorn.
Just like with ATW, you will need to sign up for a free account before selling.
To post on the activity feed, reach out to potential buyers, contact them via unlimited messages, and sell as many dirty socks as you would like, you will require to sign up for a premium membership with a monthly or 6-months fee of $14.99 and $69.99 respectively.
You don't pay commission from your sales, plus you can use the platform's payment method to remain anonymous.
Selling Used Socks for Money
Selling used socks for money is actually a thing and there's a ready market and an equally ready supply. To make this even more hassle-free, there are many platforms that act as the meeting point for willing sellers and willing buyers.
Selling used socks for money requires less effort than most other business ideas. You simply wear your socks as you normally would and sell them instead of tossing them into the washing machine.
The only difference is that some custom requests would require you to go a little out of your way to condition them to the buyer's liking but again, you don't have to do anything you are not comfortable doing.
In return, you get to make extra bucks and if you are lucky, even enough to pay a few bills.
Tips On How to Sell Used Socks for Money
With so many other sellers zeroing in on the opportunity to sell their used socks, how to manage the process can make or break your hustle.
The tips below can help you stand out from the crowd.
Maximize your selling efforts more on fetish-related platforms like Sofia Gray, subreddits, Snifffr, OnlyFans, and AllThingsWorn than on the general marketplaces.
Do your research to find out the kind of dirty socks that sell well, anticipate the needs of your target audience and try your best to match the demand.
Set different prices to keep your account exciting and to ensure that everyone gets something. For example, you can have a low price for socks worn one day to the gym, a medium one for 3 days, and a higher price for more days or custom requests.
When setting prices, check out what others with similar socks or similar niches are selling for to avoid either scaring potential buyers away or selling yourself short.
Stay anonymous and safe – hide your face and your name, and don't share information that can be used to identify or track you.
Don't do anything you are not comfortable doing and communicate this to your audience clearly so nobody is misled.- if you are in this for the long haul, you want to stay in control of everything including what you sell, what you can do, and what you cannot do.
Share impeccable photos- they attract attention, evoke emotions and stay memorable in the minds of potential buyers long before anyone can read your written content.
Make your descriptions concise, enticing, easy to understand, and thorough – nobody has time to read long texts; let anyone reading through your listing get information such as the kind, color, brand, and pattern of your socks at a glance. What you did while wearing the socks and for how long is equally important.
Use as many channels as you can to promote your used socks.
Buy your socks in packs to reduce cost and save money
Seal in the smell of your used socks using airtight ziplock bags or similar packaging for shipping.
Check out your competitor's profiles, see what they are doing differently and learn a thing or two.
Engage your audience- on most platforms you can use chats, messaging, polls, and posts to engage and interact with fans- this can help you anticipate their needs and tailor your products accordingly.
FAQs:
1. Can you Sell Used Socks on eBay?
The sale of used socks is prohibited in eBay's policy on used clothing. Violating this policy can lead to the suspension of your eBay account.
2. Can you Sell Used Socks on Etsy?
At the time of publishing, there are sellers using Etsy to sell used socks so you too can probably sell. However, a seller policy effective from the 1st of December 2022 prohibits the sale of items you have not made or designed. However, items that are 20 years old and above, including clothing, can be sold under the Vintage items category.
3. Can you sell Used Socks on Poshmark?
You can sell used socks in the well-worn women's accessories, hosiery, and socks categories. The Platform's policy however dictates that the worn items be clean and in good condition.
4. What to Do with Old Pairs Of Socks?
If you have an old pair of socks, you can sell them on sites OnlyFans, Snifffr, Sofia Gray, AllThingsWorn, and Reddit. If it is at least 20 years old, you can sell it in the vintage category of Etsy. Another option would be donating it to charity.
5. Can you Sell Socks at a Yard Sale?
You can sell anything you want at a yard sale. Nonetheless, it is advisable to not sell used socks and other intimate clothing like underwear, bras, and bathing suits at a yard sale for the sake of people who might view them as unsanitary.
Further, such items will not fetch much at a yard sale compared to platforms where people are actually looking to buy them.
Sell Your Dirty Socks: Final Thoughts
Some people would cringe at the thought of anyone seeing, leave alone touching, their worn dirty socks. If you are such kind of a person, this idea might not be for you.
If you have no problem with using your socks and shipping them to someone who does whatever they want with them, then this is your chance to rake in some extra cash.
The information above gives you plenty of places to start as well as tips to help your business thrive.
Do you think this is something you want to try? We would like to hear all about it plus more. Feel free to share your thoughts in the comments section below.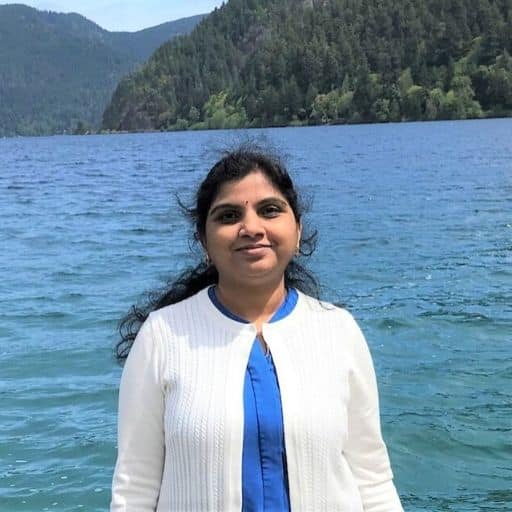 Howdy Folks, thanks for stopping by my blog.
I'm Swati, a proud mom, dedicated side hustler, full-time blogger, and a recognized millennial work-at-home expert. My expertise has been featured on esteemed platforms such as Forbes, CEO Blog Nation, Referral Rock, Vital Dollar, Databox blog, and many more. I have embarked on this incredible journey to share my firsthand experiences in the world of online income generation and to assist all of you in earning money from the comfort of your homes.
Join me in my mission to revolutionize the way we make money and achieve financial freedom. Trust me, it's not as challenging as it may seem!
Together, let's explore the boundless opportunities and pave our paths towards a prosperous future.