In this Snifffr Review, we shall be looking into the newest fad – buying and selling used panties and socks. Yes, it's a real thing and it pays.
With the internet virtually in everyone's palms, there is a ready market for anything imaginable.
So, be it undies that have only been worn once or ones that have seen repeated use, there is someone out there willing to buy them.
The market is fueled by atypical fetishism, which is basically a fetish for inanimate objects. The question is, how do you get hold of people with such paraphilia?
Snifffr is just one platform in a marketplace that includes the likes of PantyDeal and Scented Pansy.
Here you'll learn how to price your used underwear, stockings, bras, leggings, pantyhoses, and other similar pieces of clothing.
Also, read on to find how much you can realistically make and what kind of panties sell fast.
Snifffr Review at a Glance
| SNIFFFR | FEATURES |
| --- | --- |
| Year Established | December 2018 |
| Purpose | Buying and Selling Used Panties, Sexting, and Webcam |
| Available Countries | Global |
| Applicable | All genders 18 years and above |
| Snifffr Pricing | FREE for Buyers; $5.95 per month for Sellers |
| Commissions | None |
| Avg Earnings | $15 – $100 per Pair of Panties |
| Minimum Payout | No minimum payout |
| Payment Method | Wise; or Any Other Method |
| Referral Program | No referral scheme |
| Seller Rating | 2.7 out of 5 on Trustpilot |
| Snifffr Verdict | The site is 100% legit. But, it's not safe or worth your time! |
What Is Snifffr?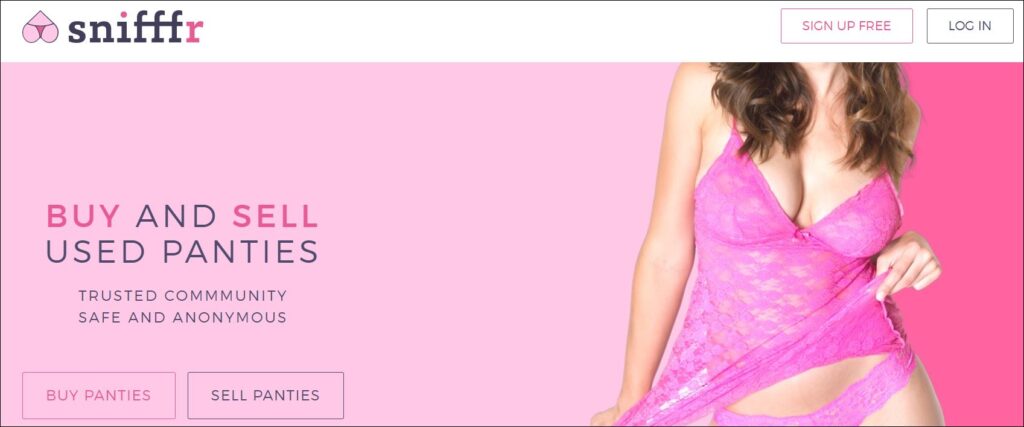 Snifffr is a marketplace where adults can anonymously buy and sell used panties.
Opening an account is free, but a set fee ($9 per month) applies to allow you access to chat and messaging features.
The features make it easy to communicate with interested buyers, pique their curiosity, and get them to place orders. However, Snifffr only provides you with a platform to interact with like-minded people.
What do I mean?
To make actual sales, you and the buyer have to agree on the price, shipping, and payment arrangements.
The site does facilitate online transactions through digital Coins that can be redeemed for real cash through Wise (formerly TransferWise).
That said, the buyer and seller are free to agree on the mode of payment. As such, both parties assume all the risks when transacting.
NOTE:
The site also insists on the buyer pay upfront, a requirement that is not popular with most used underwear lovers.
How Snifffr Works?
To sell used underwear on Snifffr, you start by setting up a free account.
The information you are required to fill in includes your user name, email address, and whether you are a buyer or a seller.
The account setup procedure also lets you choose the payment method of your preference
For your profile, you fill out the name that you want on the display, your age (birthday), and your country.
It's worth noting that Snifffr keeps personal details, such as email addresses and phone contact, of both buyers and sellers hidden.
Other details of anonymity such as using your real name or real photo for the profile are at your discretion. Notably, most buyers prefer that you show your face.
Once your account is set, you can upload videos and images to help you sell your dirty panties or other underwear fast.
Remember, to contact, chat, and arrange sales with sellers, you need to pay for a premium subscription.
The normal rate is $9 per month, but you can get offers for as low as $5.95/mo.
What Can You Sell On Snifffr?
Time to take inventory of your closet for the following used items that sell fast on Snifffr.com.
First off, the site's primary product is dirty panties, items that attract 12% of fetishists according to research.
Apart from panties, undies, knickers, underwear, or pants (depending on your tongue), you can stock your Snifffr shop with used;
Bras
Pantyhose
Facemasks
Stockings
Additionally, the site allows you to make money by sexting and performing on a webcam.
Note, both men and women can sell here, so aim to give the best girlfriend or boyfriend experience when on camera or exchanging texts.
Caution: Snifffr prohibits the sale of pornographic imagery or items in any form. The same goes for sex solicitation, sex trafficking, or the use of sexually inappropriate words.
Find the entire list of Snifffr don'ts here.
How Much Money Can You Make On Snifffr?
According to their blog, worn panties range from $15 – $100.
The amount of money you make selling used underwear can vary based on factors such as buyer preferences, custom requests, demand, and how much you want to make.
For example, natural scent is a key factor.
The longer the panties are worn, the stronger the odor, and the more they are likely to make. Further, custom requests like orgasm panties cost more than ordinarily worn panties.
Snifffr Review: Is Snifffr Legit & Safe?
Before we get to how you can expect to earn on Snifffr, let's go through some buyer and seller reviews on trusted review sites.
In my experience, it's from blunt reviews from the likes of Reddit and Trustpilot that you can tell a scam from a legit business opportunity.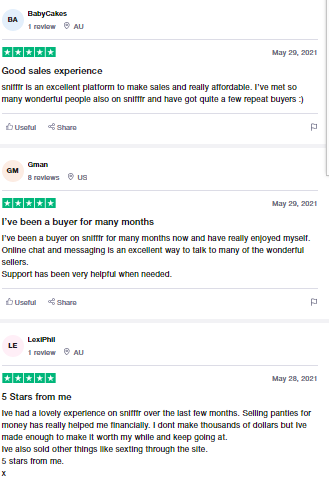 Above are some Snifffr 5-star reviews on Trustpilot. Buyers find it easy to get repeat buyers for used underwear, and at a good price.
Sellers enjoy the chat service that makes it easy to engage with 'wonderful people'.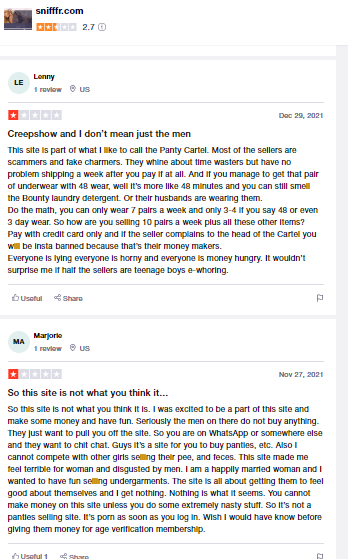 Negative reviews point to a platform where sellers scam people with false products.
One reviewer finds it implausible that you can list 10 pairs of undies that have all been used in the last 48 hours.
I agree, that's false advertising. There is also the issue of 'potential' buyers only being in it for the free chat and flirtation.
The same sentiments are shared by Redditors with fetish inclinations. However, as the review below shows, there are genuine used panty buyers.
The $9 monthly subscription also gets a positive nod, especially when it leads to great sales. In addition, Snifffr Customer Support comes across as a competent team.
So, Is Snifffr Legit and Safe?
Snifffr is a legit website for selling undergarments but it is not safe, especially for buyers. It gets a 2.7 star ranking on Trustpilot from 26 reviews.
42% of the reviewers give the site an above-average score, with the rest rating it as 'poor'.
The fact that Snifffr does not have an in-house payment system means that buyers aren't guaranteed to get what they pay for. As such, sellers are left to deal with clients who are suspicious of the platform.
How to Sell On Snifffr?
The next step involves making connections with potential buyers. You can start by browsing buyer profiles to see what they are looking for.
Once you identify potential buyers for your used underwear, connect with them via live online chats or private messaging on Snifffr to 'entice' them to buy your underwear.
Another way to make money on Snifffr is to upload images and videos to the Private Content Section on your account. For this, you need a premium account and for buyers to access your private content, they subscribe at a price that you set.
For subscriptions, buyers pay using Snifffr coins that they purchase on the platform. You then cash out the coins from the site.
When a buyer is ready to buy your underwear, you agree on the payment method and the shipping details and then finalize the transaction.
Using the buyer's address as the return address helps to maintain your anonymity.
As I mentioned earlier, all transactions on the platform are between you and the buyer so Snifffr recommends that you receive payment before shipping your underwear to the buyer.
Tips To Get The Most Out Of Your Snifffr Account
Instead of one type of undergarments, say, panties, sell varieties including bras, socks, pantyhose, stockings, etc.
Check special buyer preferences that you can meet including scent, brand, type, color, material, design, ethnicity, etc- exact preferences fetch more money.
When setting a subscription fee for your private content, consider discounting longer subscriptions- say 3 months or more- to make it more appealing and get more money in one go.
Keep your private content fresh and updated and alert your subscribers whenever there's new content
Promote your private content on your live chats and private messages with prospects
Upload teaser videos to direct people who view your profile to your 'products'.
Lastly, stick to Snifffr's model of payment first before you ship your undies to the buyer.
Snifffr Website Review
To know the ins and outs of the Snifffr you have to subscribe to the premium service. That's the only way to know typical daily potential buyers and the going price for dirty knickers and used socks.
From different reviews, though, it helps to be cautious when selling merchandise targeting fetishists. While you may have 1,000 buyers reaching out on your profile, the serious ones could be less than 100.
This calls for due diligence on your part: Avoid protracted chats that have nothing to do with purchasing from your online used panties store.
The site helps you weed out such users by adding asterisks (***) to vulgar and unwarranted messages.
Apart from freeloaders, beware of 'sugar daddies', or 'sugar mamas', who ask for a commitment fee with the promise of buying from you or sending your free cash later.
Read: Snifffr Alternative – How to Start Selling On Sofia Gray?
The Bottomline: Is Snifffr Worth It?
From this comprehensive Sniffer review, it's evident that Snifffr platform is a legit place for making extra money by selling your used undergarments. It is also just the site to sext for cash, as well as video chatting for money.
However, the possibility of getting scammed is, nevertheless, high with plenty of people signing up for free sexting.
Employing the above seller tips might help create a steady supply of genuine buyers for your dirty, unwashed, and used undies.
And if this is your kind of business, why not upscale by selling other fetishist products and services?
How? Here are some posts that you will find worth your time:
Which other unorthodox ways can you make money online? Outline them below: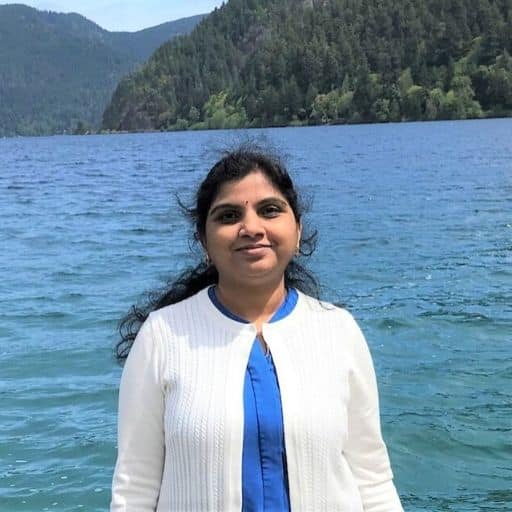 Howdy Folks, thanks for stopping by my blog.
I'm Swati, a proud mom, dedicated side hustler, full-time blogger, and a recognized millennial work-at-home expert. My expertise has been featured on esteemed platforms such as Forbes, CEO Blog Nation, Referral Rock, Vital Dollar, Databox blog, and many more. I have embarked on this incredible journey to share my firsthand experiences in the world of online income generation and to assist all of you in earning money from the comfort of your homes.
Join me in my mission to revolutionize the way we make money and achieve financial freedom. Trust me, it's not as challenging as it may seem!
Together, let's explore the boundless opportunities and pave our paths towards a prosperous future.